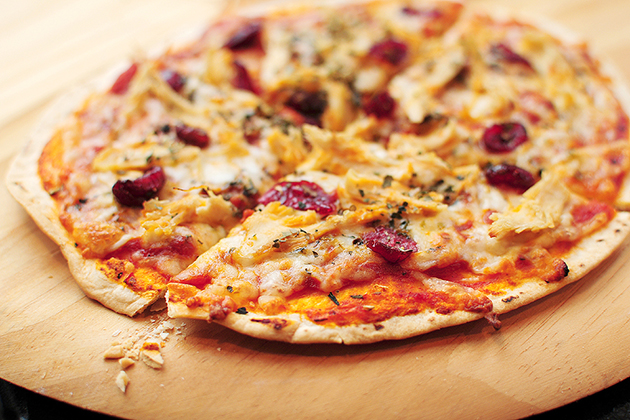 Confession time: I've never mastered the pizza dough. Nope. It's always turned out mushy, doughy, and, well, just wrong. I'll keep working on it, but in the meantime, I found with this recipe for Cracker Pizza, submitted by Tasty Kitchen member, Mrs. Schwartz, I don't really have to worry about it right now. Plus, I've grown quite fond of a crispy, crunchy pizza. It's good eating if you ask me. And this recipe is as simple as it gets. I'm guessing a quick 15 minutes from start to that first crunchy bite.
This Cracker Pizza recipe would be great to use for a pizza party, especially with teenagers. Prepare a pizza bar with a bunch of toppings and let everyone fix their own favorite combo. Fun!
Let me show you how easy it is.
To get started you'll need: tortillas, pizza sauce, mozzarella cheese, pepperoni or your favorite toppings, and pizza seasoning (or create your own; I used basil, oregano, garlic powder, and black pepper).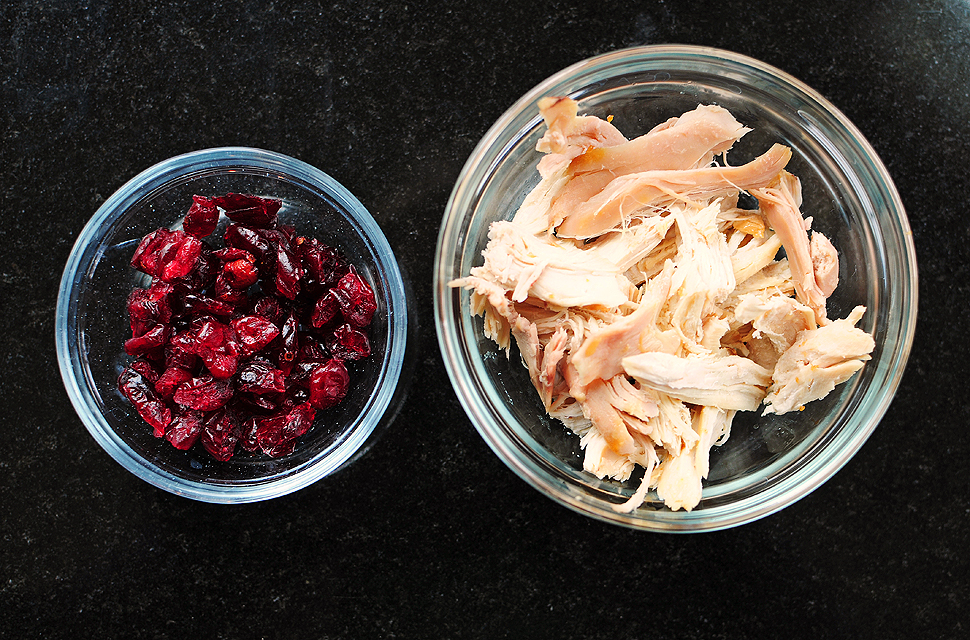 In addition to the pepperoni, I used some leftover chicken with dried cranberries for a holiday-inspired pizza. That leftover turkey would be veddy, veddy good here too.
Evenly spread the pizza sauce over the tortilla, and then the cheese, please.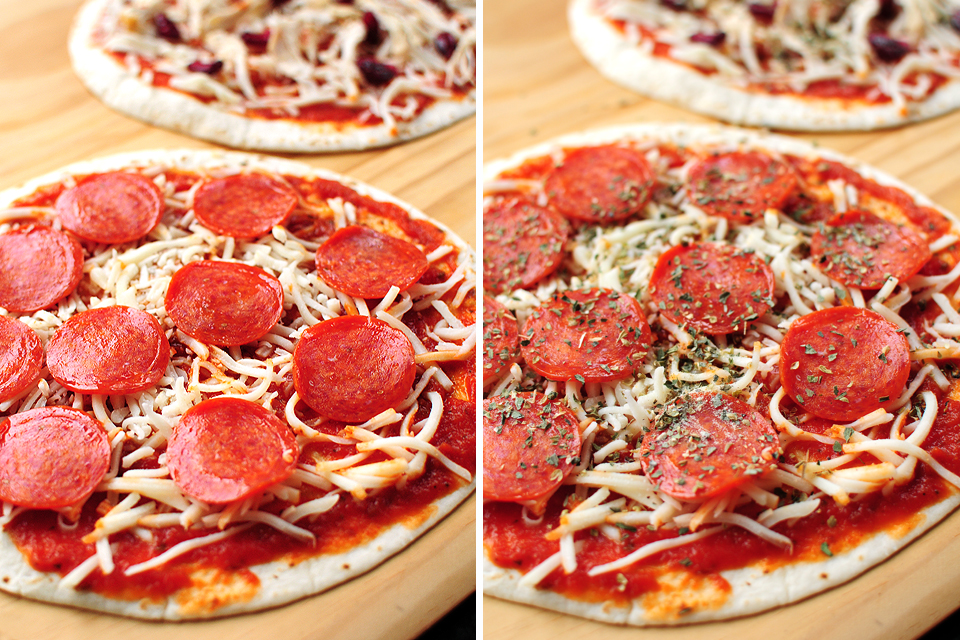 Add your favorite toppings, and evenly sprinkle the pizza with seasonings.
The chicken and cranberry pizza is looking good.
Now it's time to bake, for about 10 minutes. Be sure to watch carefully to avoid burning the crust.
Yum! Melty cheese on top of a crunchy cracker-style crust.
And the chicken cranberry combo turned out very nice. The crust is so crispy! It's hard to believe it only takes 10 minutes for a plain, boring flour tortilla to turn into such deliciousness.
I'm thinking I may serve a few different combinations of these for appetizers at our next gathering. So simple, and the ingredients are basic enough to keep on hand for snacks, or last-minute appetizers.
Dear Mrs. Schwartz,
The recipe for Cracker Pizza is most certainly a keeper. And now I can make pizza any time I want even though I'm stinking up the pizza dough.
Thanks for sharing it with all of us!
Sincerely,
Pizza Dough Challenged Mrs. Johnson
Printable Recipe
See post on Krysten Schwartz 's site!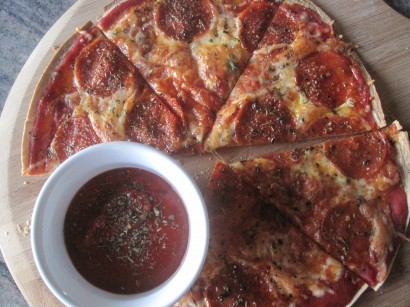 Description
Quick, easy and healthy(er) fix to that pizza craving!
Ingredients
1 whole Large Tortilla
3 Tablespoons Pizza Sauce (or Additional Depending On Your Preference)
¼ cups Mozzarella Cheese
10 slices Pepperoni
3 dashes Pizza Seasoning
Preparation Instructions
Preheat your oven to 415ºF. You want it very hot so the "crust" (tortilla) gets nice and crispy.
Spoon the pizza sauce onto the tortilla, spread it out almost to the edges, evenly.
Top with cheese and pepperoni. Sprinkle with pizza seasoning.
Bake for about 10 minutes. This will brown fast so pay close attention while it is in the oven.
You can modify this with any type of pizza toppings you prefer!
Enjoy!


_______________________________________
Amy Johnson is a blogger who writes about food, travel, the home (both inside and out), and various observations and random musings about anything and everything. Visit her blog She Wears Many Hats for a dose of deliciousness, practicality, hilarity, or just plain fun. She lives in South Carolina with her husband and two children.