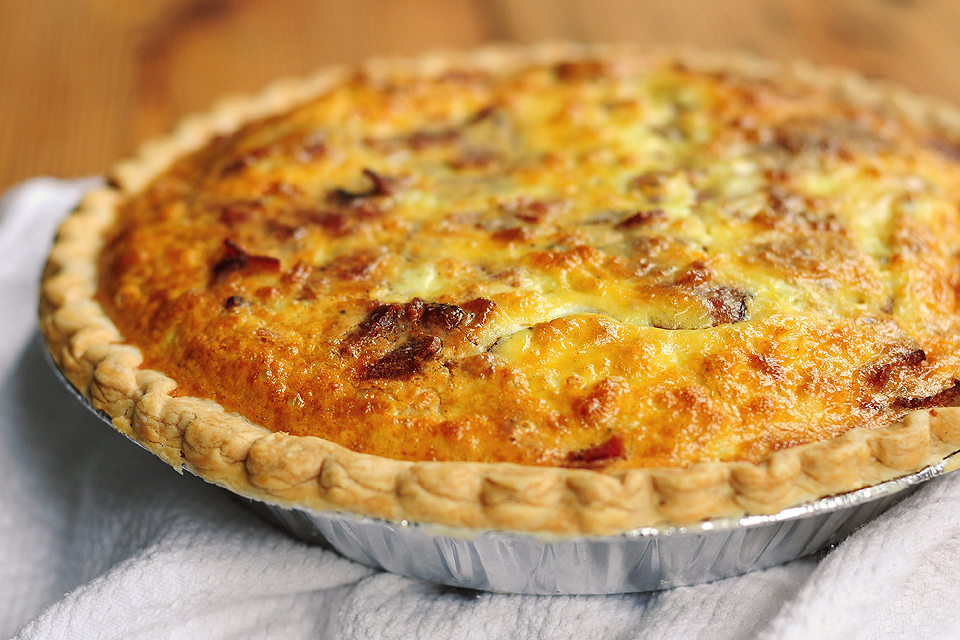 Quiche may be considered the quintessential fare for Mother's Day, a bridal luncheon, or any event centered around food and women. But my husband was quite swept away by this Brie and Bacon Quiche from Tasty Kitchen member Nancy in New Mexico. And, yes, he's a real man, apparently a real man who recognizes an excellent quiche when he tastes it.
Quiche is so flexible. Over the years I've prepared many combinations, except this one. After one bite it seemed so obvious. Brie and bacon. Bacon and brie. Why hadn't I thought of the duo before? They certainly make for a good marriage. But you just need to see for yourself. Wanna see how?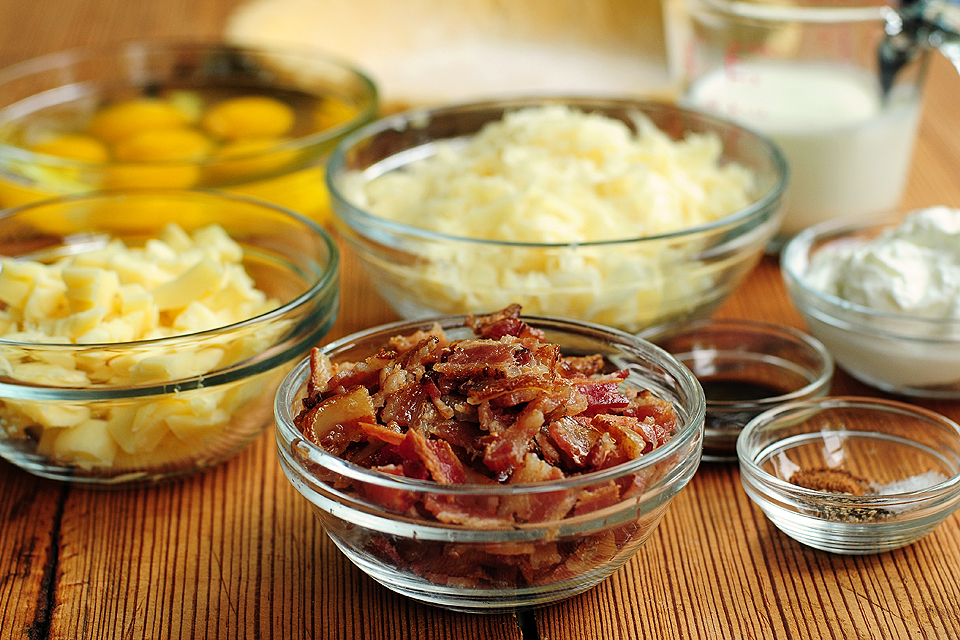 To get started you'll need a deep dish pie crust (I used a 9″), Brie cheese, Swiss cheese, cooked and crumbled bacon, eggs, whipping cream, sour cream, Worcestershire sauce, nutmeg, salt and pepper.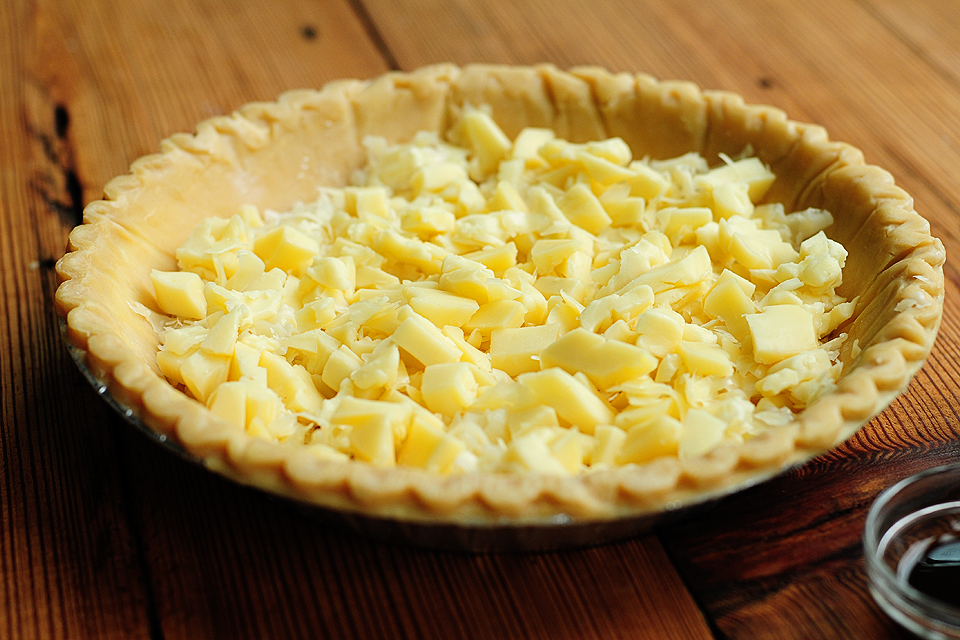 Begin by crumbling the cheese (or shredding, or cutting) and placing it in the bottom of the pie shell. I did not pre-bake my pie shell, because the, yep, frozen one from the grocery store didn't instruct me to do so. I'm sure many of you have a fabulous pie crust you can whip up and use just as easily.
And just curious, while on the subject, what's the rule for pre-baking or not pre-baking a pie crust? That always stumps me.
Moving right along …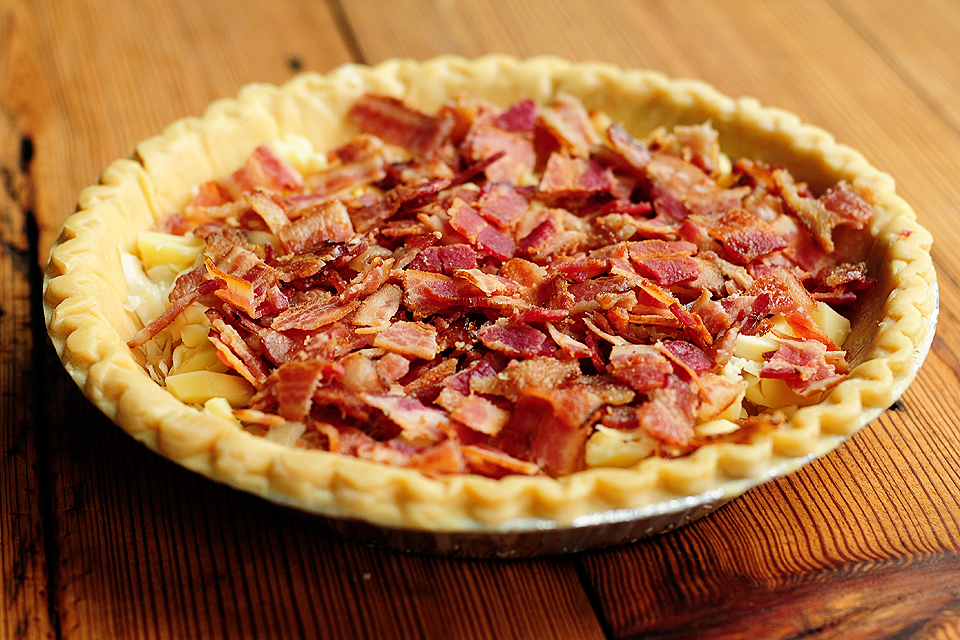 Next, top the cheese with the crumbled bacon.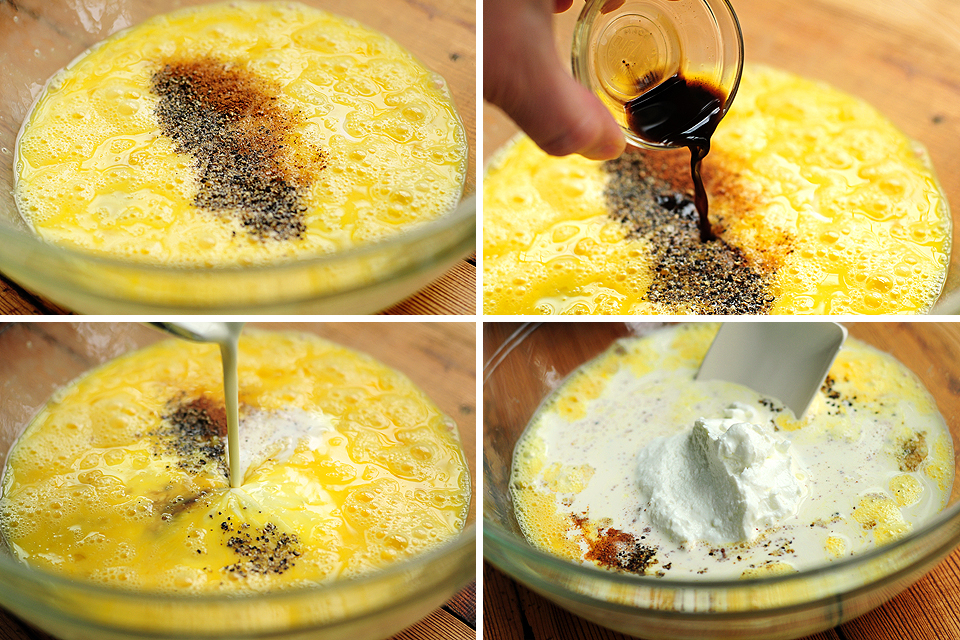 Now for some light mixing. In a bowl, beat the eggs, then add the nutmeg, salt, pepper, Worcestershire, whipping cream, and sour cream.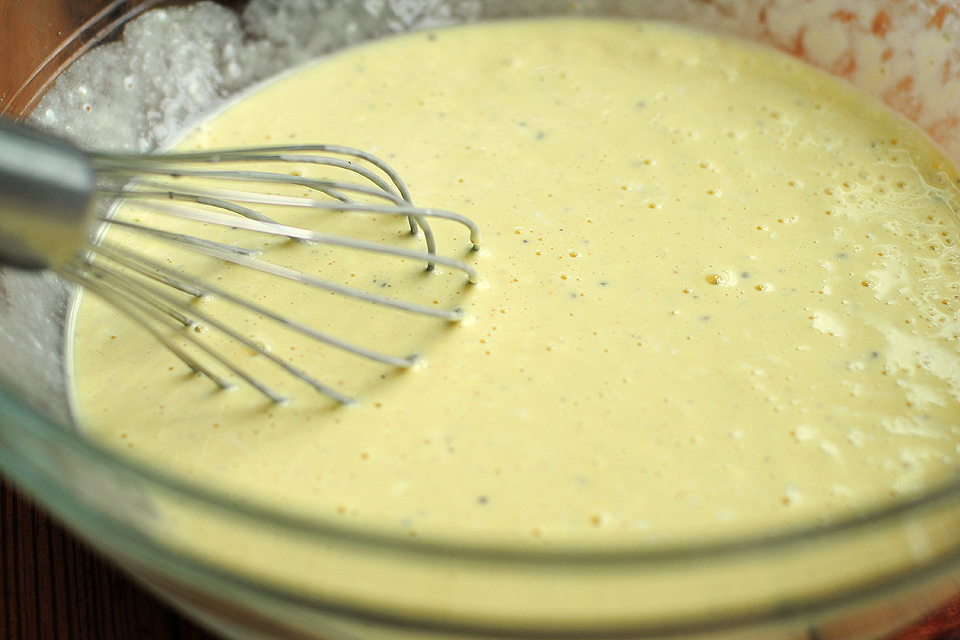 Mix it all up real good.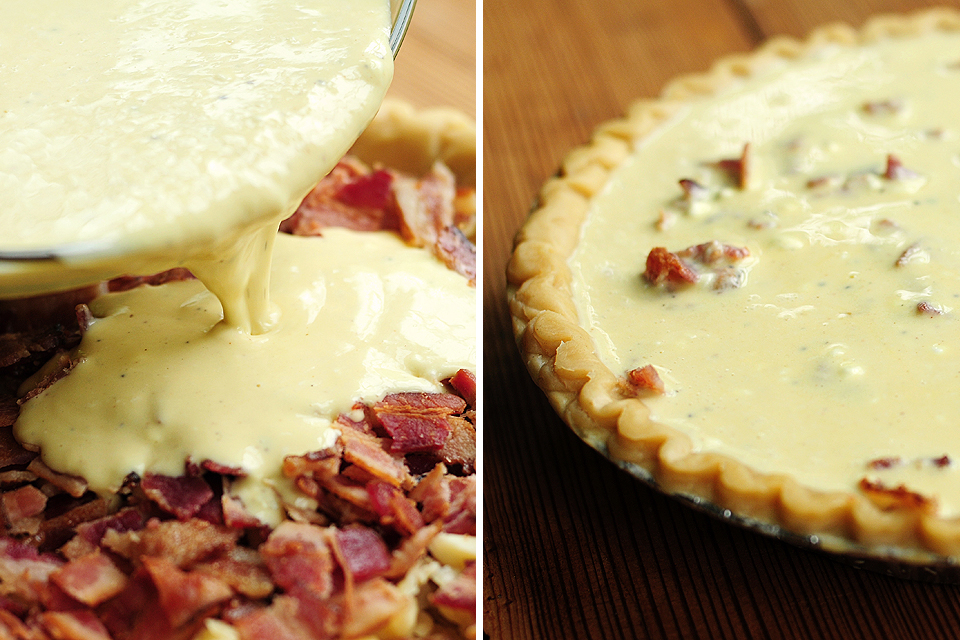 Pour the egg mixture over the cheese- and bacon-filled pie shell, then bake according to recipe directions (the link to the entire printable recipe is at the bottom of this post).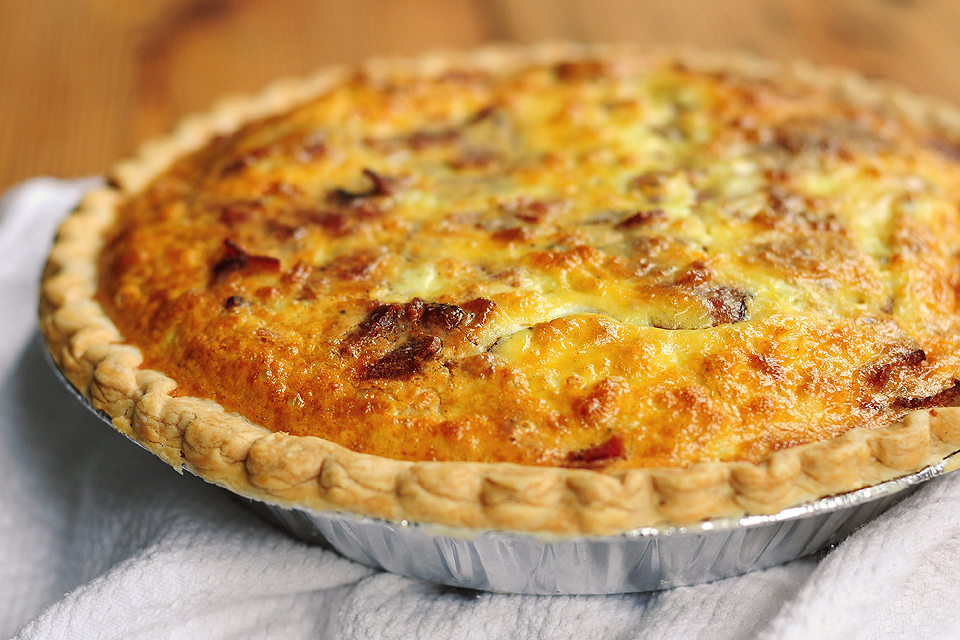 Golden perfection. No runny quiche here. Perfect proportions for this recipe.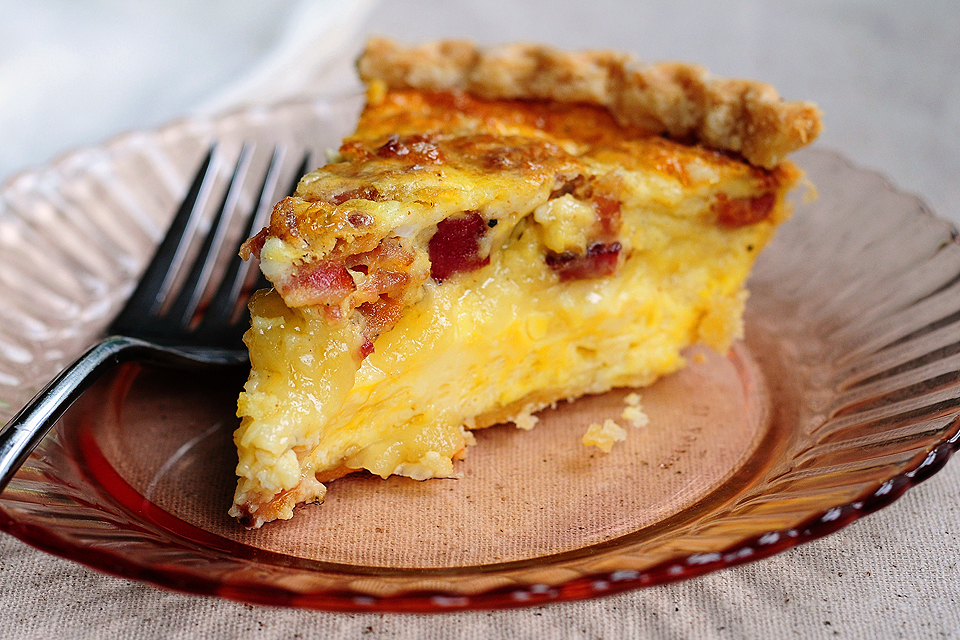 Beautiful and tasty. Thanks Nancy in New Mexico for sharing this yummy recipe. I think real men all over the world will be very pleased, and, of course, us ladies too.
And here's one final quick tip: make two.
Happy cooking!
Printable Recipe
See post on Nancy in New Mexico's site!
Description
Delicious recipe that incorporates creamy Brie cheese, Swiss cheese, and crispy bacon.
Ingredients
1 package Deep Dish Pie Crust, Pre-baked If Instructed
4 ounces, weight Brie Cheese (rind Removed If Preferred)
4 ounces, weight Swiss Cheese, Diced
10 slices Bacon, Cooked Crisp, Drained, Crumbled
6 whole Large Eggs
½ cups Whipping Cream
½ cups Sour Cream
1 teaspoon Worcestershire Sauce
1 dash Each Nutmeg, Salt, Pepper
Preparation Instructions
Crumble cheeses in the bottom of the pie. Spread crumbled bacon on top. Mix all remaining ingredients thoroughly and pour into the pie pan.
Bake in a preheated 375 degree F oven for about 45 minutes, until a pick inserted in the center comes out clean. Cool slightly before serving.


_______________________________________
Amy Johnson is a blogger who writes about food, travel, the home (both inside and out), and various observations and random musings about anything and everything. Visit her blog She Wears Many Hats for a dose of deliciousness, practicality, hilarity, or just plain fun. She lives in South Carolina with her husband and two children.