Holidays are here and while we're all planning for the big meals, what about breakfast? I don't know about you, but I think about lunch and supper menus and then totally forget about breakfast until the last minute. And breakfast is important, especially if your family tends to eat a late lunch like mine does. This Apple Bourbon French Toast Casserole recipe, submitted by Tasty Kitchen member Courtney, caught my eye as perfect breakfast option for those busy holiday mornings, because it can easily be made ahead and popped in the oven when the sun comes up.
It's a wonderful mix of apples, brown sugar, cinnamon, with a splash of bourbon. Quite honestly though, it would make a perfect dessert. Or just think, leftovers from breakfast can be enjoyed for dessert later that evening. So is it breakfast or dessert? Breakfast? Or dessert? Or maybe a new Tasty Kitchen category altogether: Bressert. I'm going to talk to those in charge around here about it. I think Ree would agree. Bressert. It's a good thing.
So let's get started on this bressert thing.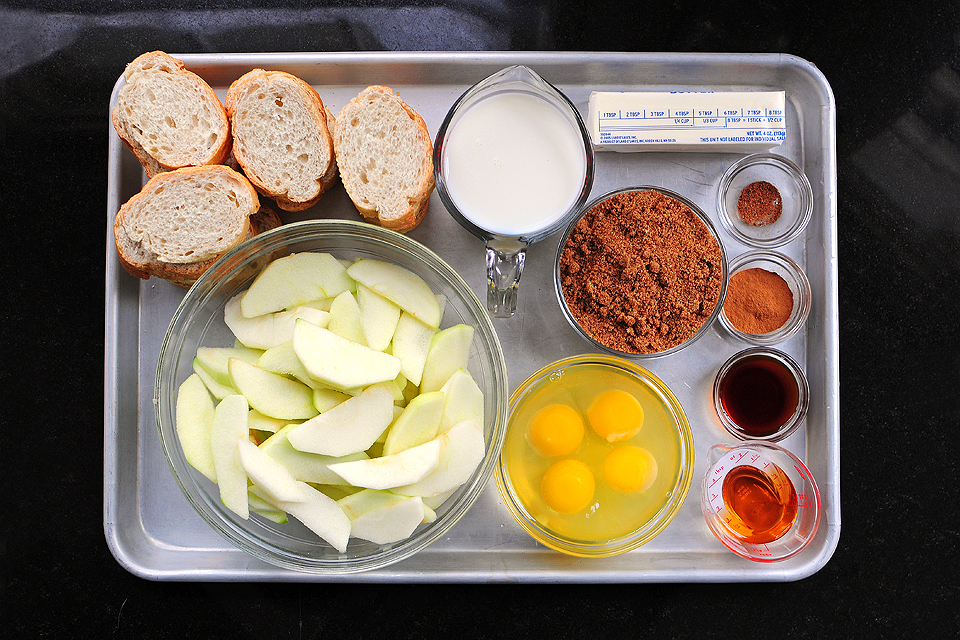 You'll need butter, brown sugar, bourbon, apples, thick, day old bread, eggs, milk, vanilla, cinnamon, and nutmeg. Courtney's recipe calls for 6 thick slices of day old bread, but I substituted a crusty French baguette and sliced them thick.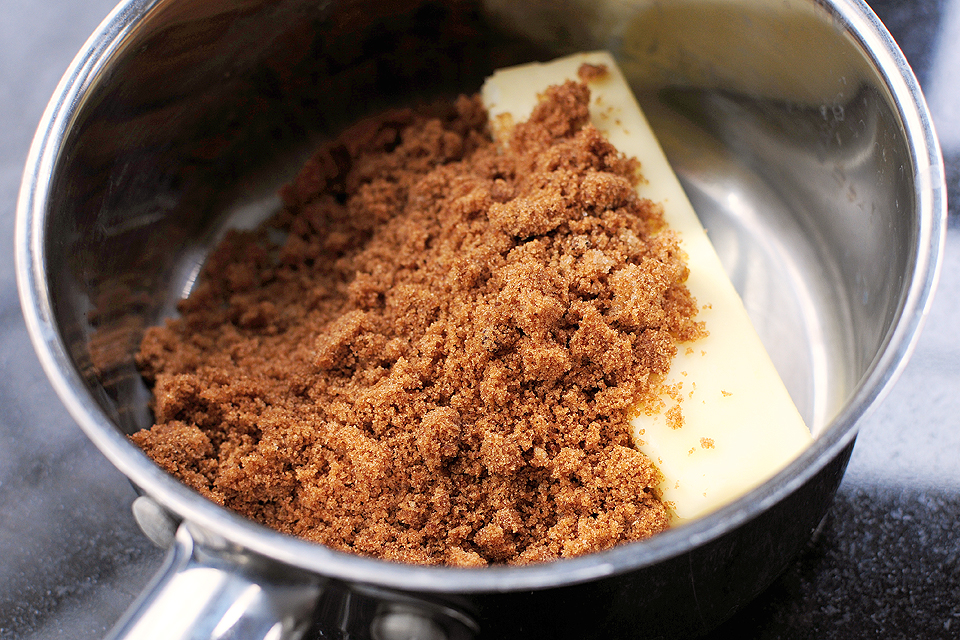 Begin by melting the butter and sugar together in a small pan.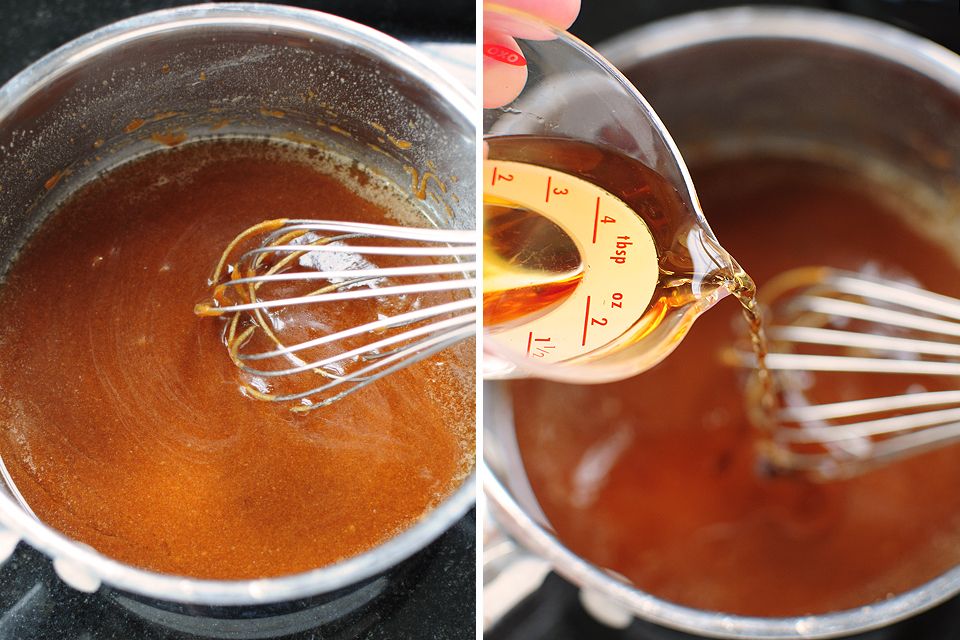 Whisk it together to combine. Whisk in the bourbon and cook until slightly thickened.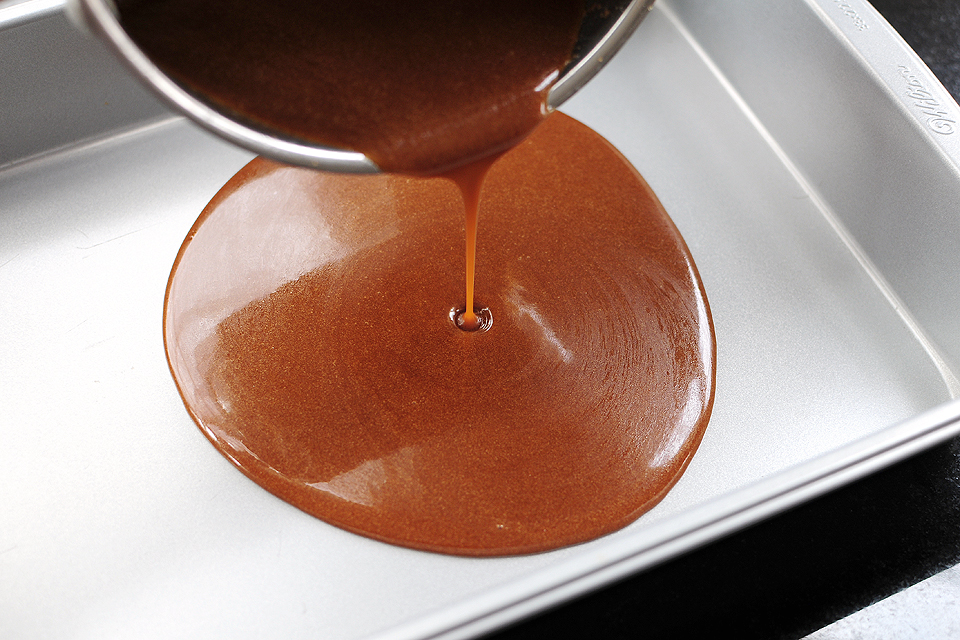 Pour the butter/bourbon mixture (otherwise known as delicious goodness) into a baking pan.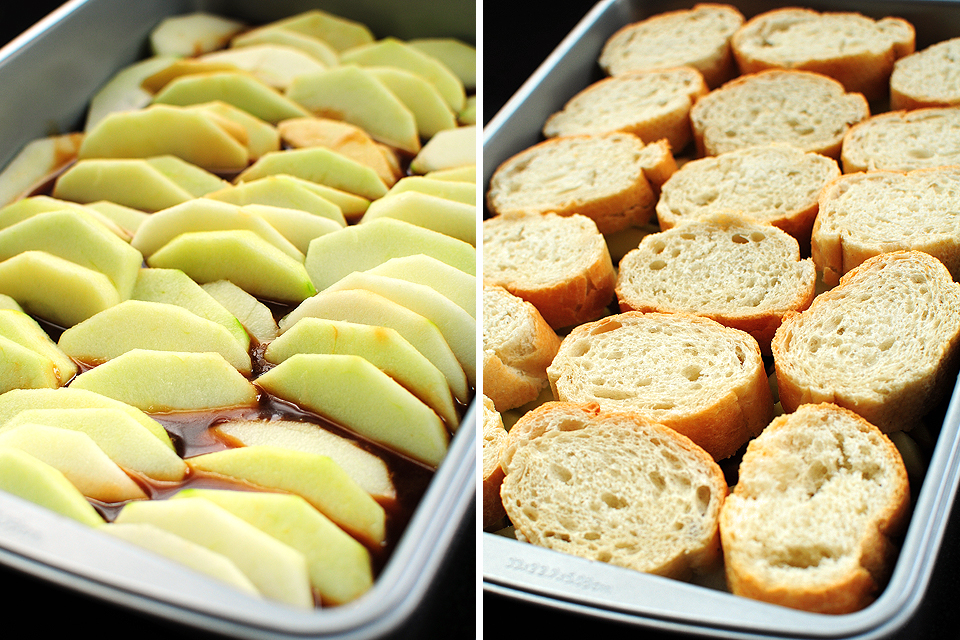 Top with sliced apples. I cut my apples pretty thin, but you can do whatever you like. Diced apples would be nice too. Add the sliced bread in a single layer on top of the apples.
Almost finished!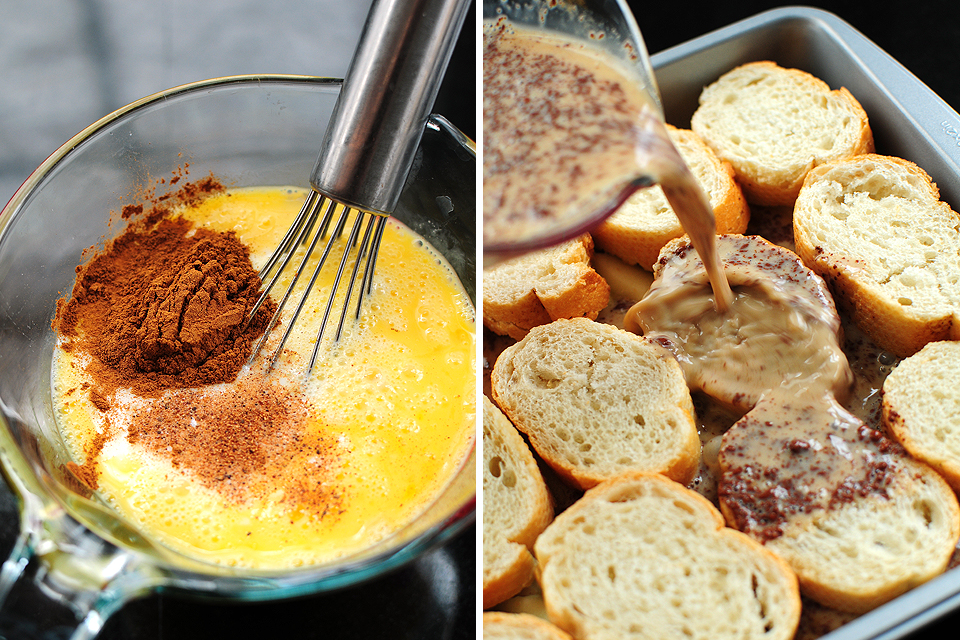 Beat together the eggs, milk, vanilla, cinnamon and nutmeg. Pour the egg mixture evenly over the bread and let it soak in.
You can either cover the dish and refrigerate it overnight. Or, if you are not making it ahead of time, dip bread slices in the egg mixture before laying them in the pan, then pour the remaining egg mixture over the casserole.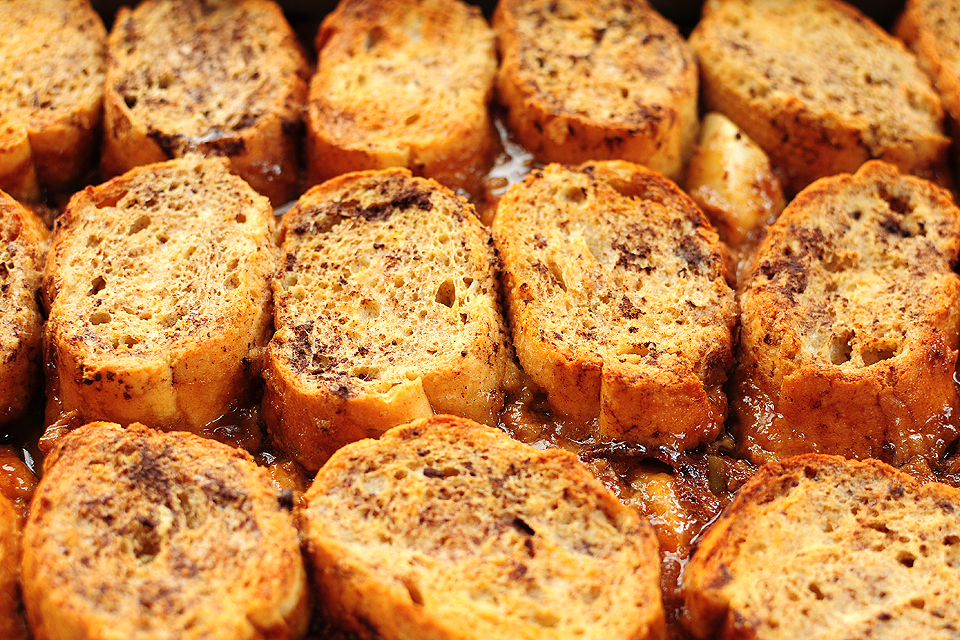 Bake it up! It turns a lovely golden brown, with a crusty top, and an ooey, gooey, sweet bottom.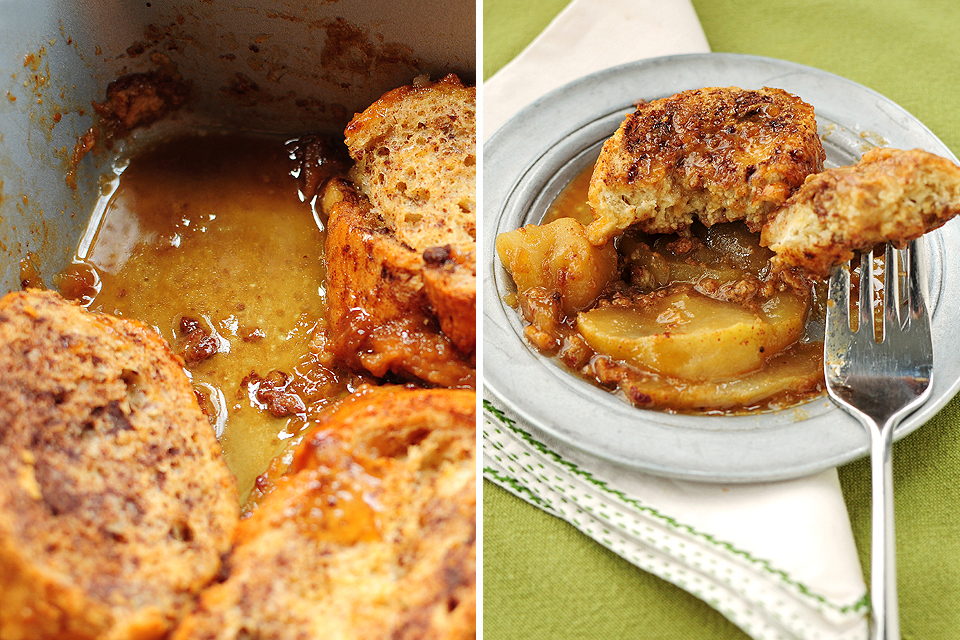 Look at the delicious goodness at the bottom. YUM! What better way to start—or end—the day. The perfect bressert, I'd say.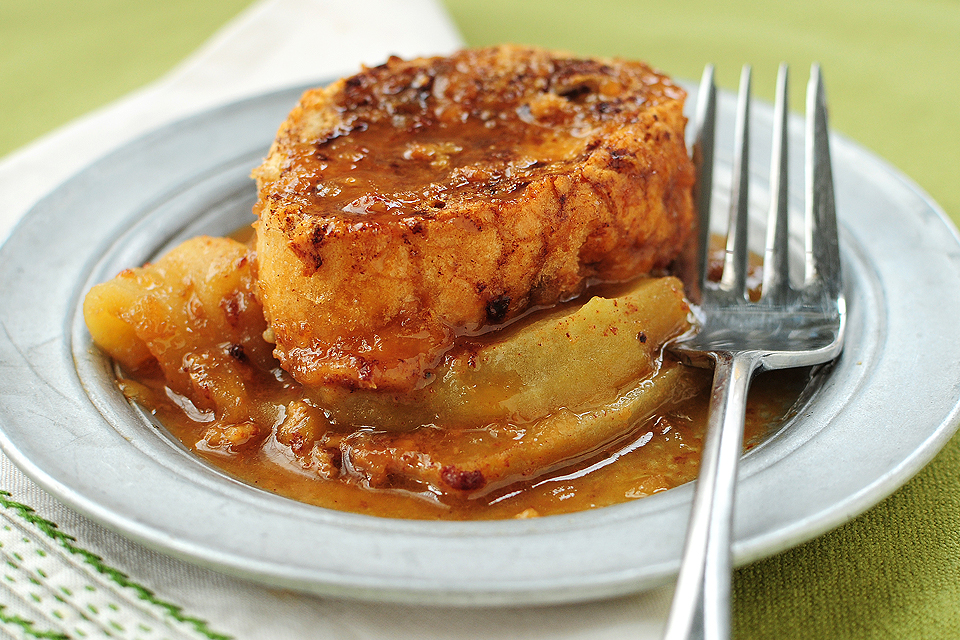 A big thanks to Courtney for submitting this recipe. It's going in my bressert file for ever and ever. Which pretty much is in keeping with the name of Courtney's blog: Bake. Eat. Repeat.
Printable Recipe
See post on Courtney's site!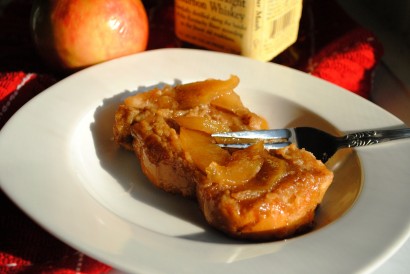 Description
Bourbon caramel coated apples and cinnamon spiked French toast make for a quick and decadent make-ahead breakfast!
Ingredients
½ cups Butter
1 cup Brown Sugar
2 Tablespoons Bourbon
3 Large Baking Apples, Cored, Peeled, And Sliced
6 slices Day Old Bread, Sliced Thick
4 Eggs
1 cup Milk
1 Tablespoon Vanilla Extract
1-½ teaspoon Cinnamon
1 dash Nutmeg
Preparation Instructions
1. In a small pan melt butter and sugar together. Whisk to combine. Cook until slightly thickened. Add bourbon and whisk again. Continue to cook for about 1 minute.
2. Pour butter mixture into a 9″ x13″ pan. Arrange sliced apples on top.
3. Arrange slices of bread on top of apples.
4. In a large bowl, beat together eggs, milk, vanilla, cinnamon, and nutmeg. Pour mixture over bread.
5. Cover dish and refrigerate overnight (see note below). In the morning, place casserole dish in the oven. Heat to 350ºF. Bake for 45 minutes to 1 hour, or until apple slices have softened and bread is golden brown.
Note: If you are preparing the casserole the morning you are serving it, dip bread slices in egg mixture before putting them in the pan. Pour remaining egg mixture over the top of bread slices. Bake at 350ºF for 40-45 minutes.


_______________________________________
Amy Johnson is a blogger who writes about food, travel, the home (both inside and out), and various observations and random musings about anything and everything. Visit her blog She Wears Many Hats for a dose of deliciousness, practicality, hilarity, or just plain fun. She lives in South Carolina with her husband and two children.