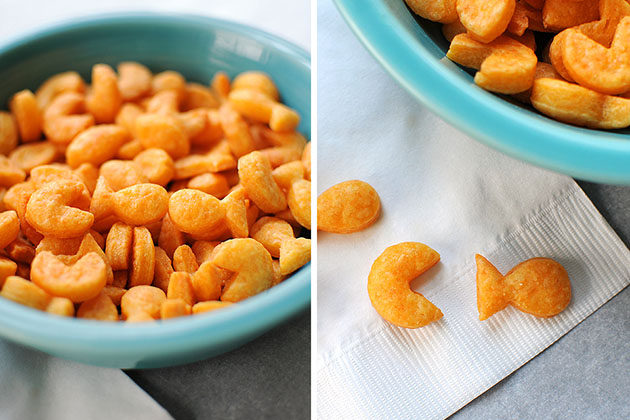 There are amazing recipes all over the internets—impressive cakes and cookies, pies galore, delicious pasta dishes, fantastic dinner ideas, and so much more. But what has had me a little stumped were homemade crackers. Homemade crackers? Who in the world has time to make homemade crackers? They looked like they'd be difficult and totally something I wouldn't be able to pull off. But when these Homemade Goldfish Crackers from Erin popped up here on Tasty Kitchen, I decided to try my hand at them.
Let me tell ya, they were pretty darn easy. And cheesy, too. The recipe was adapted from ReadyMade magazine and it's totally a fun little cooking project to do with kids. My children are older now, but when they were younger this would have been a great rainy day project to have them join in on. There are only five ingredients with very little prep. The cutting takes a little more time but that's where the fun for the kids comes in. Use itty bitty cookie cutters, icing tips or make your own cookie cutter shapes out of an aluminum can (see below). The crackers puff up to a chewy, cheesy bite.
Wanna see how?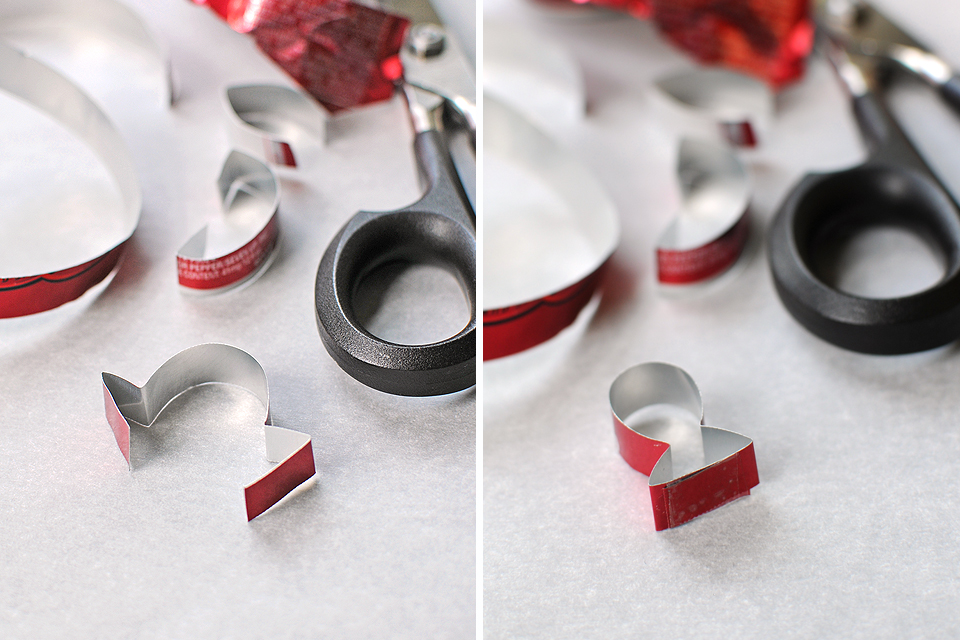 Before getting started, decide on what shapes you'll be cutting out. Using an aluminum can and tape, I cut a thin strip and formed my fishy, then taped the edges together with clear packing tape.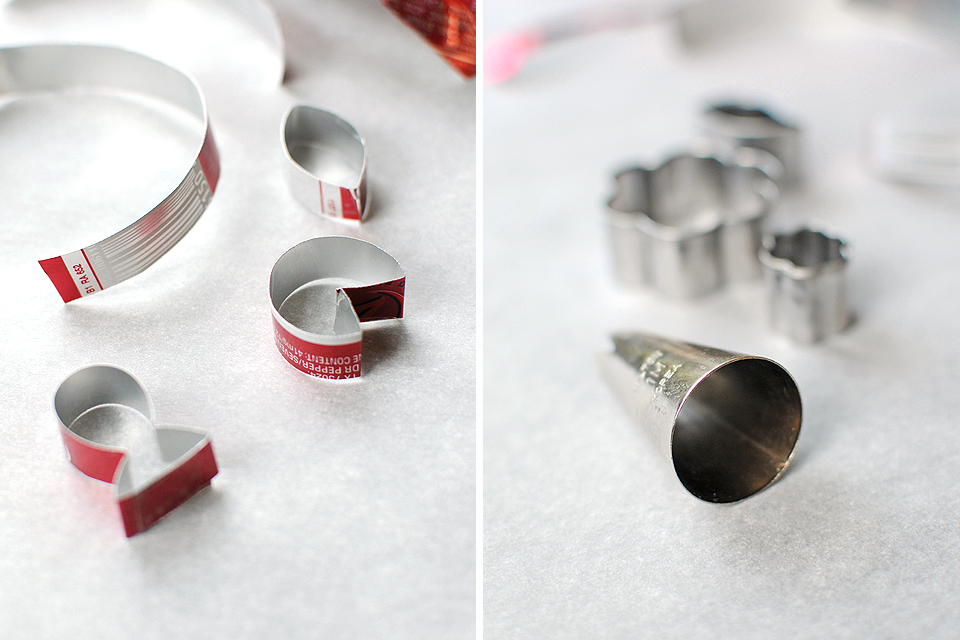 I had so much fun I couldn't stop, and made a Pac-Man and a football. The ideas for shapes you could create are endless! Large icing tips and small cookie cutters work well, too.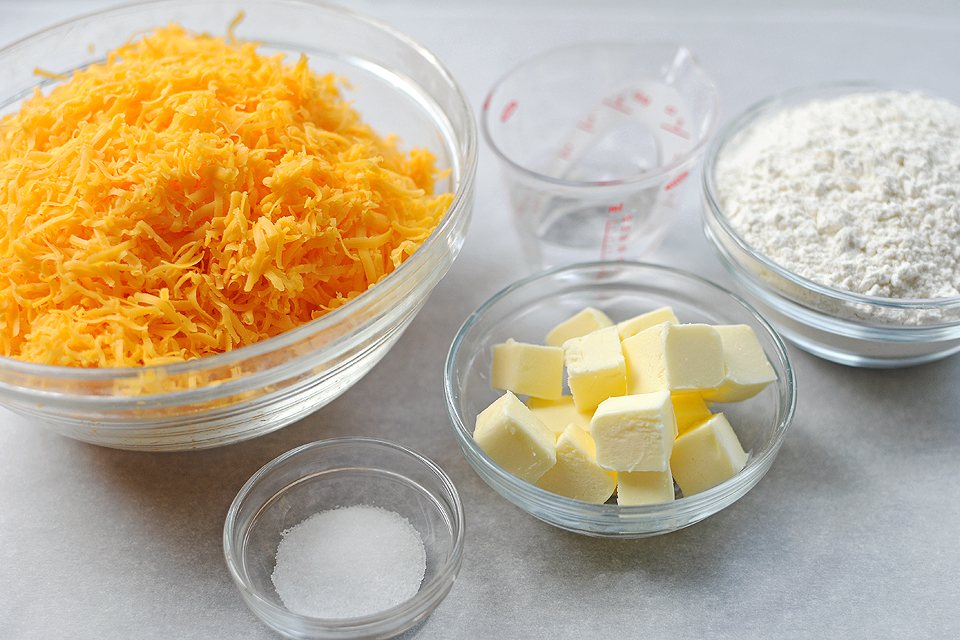 You'll need just a few simple ingredients: shredded cheese, butter, flour, salt and cold water. That's it!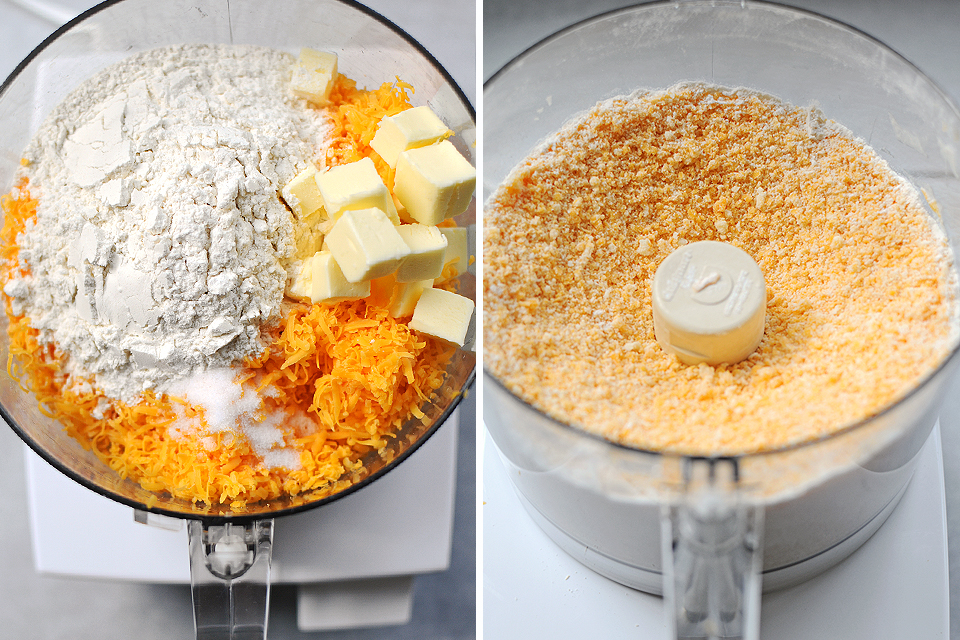 Begin combining everything, except the water, in a food processor until the dough looks like sand.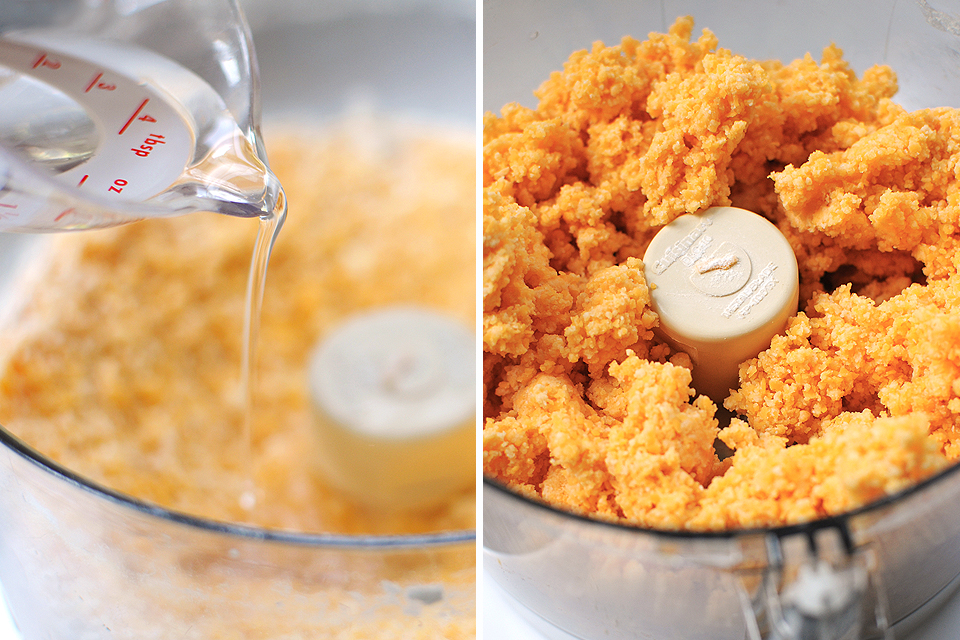 Next, pulse in the water, 1 tablespoon at a time, until combined.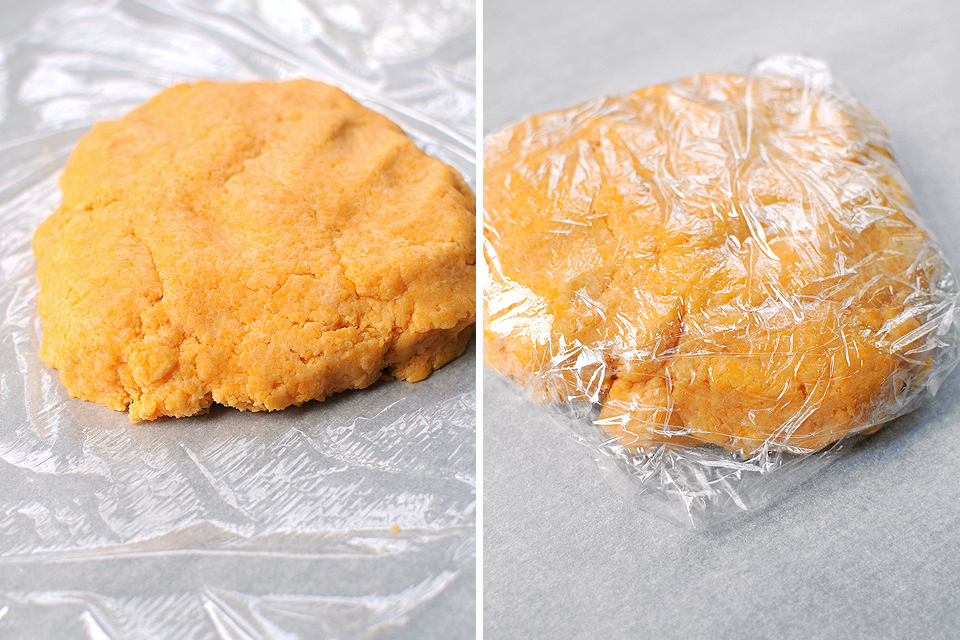 Remove the dough from the processor and form into a small, tidy package. Wrap in plastic and chill for 20 minutes.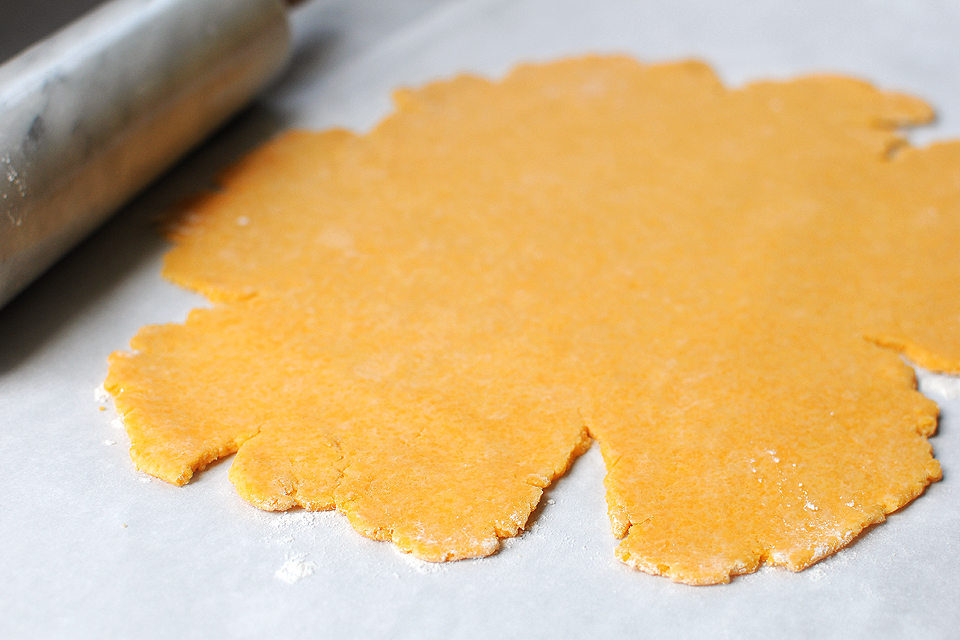 Once chilled, roll out the dough. I found the thinner the dough, the crispier the cracker.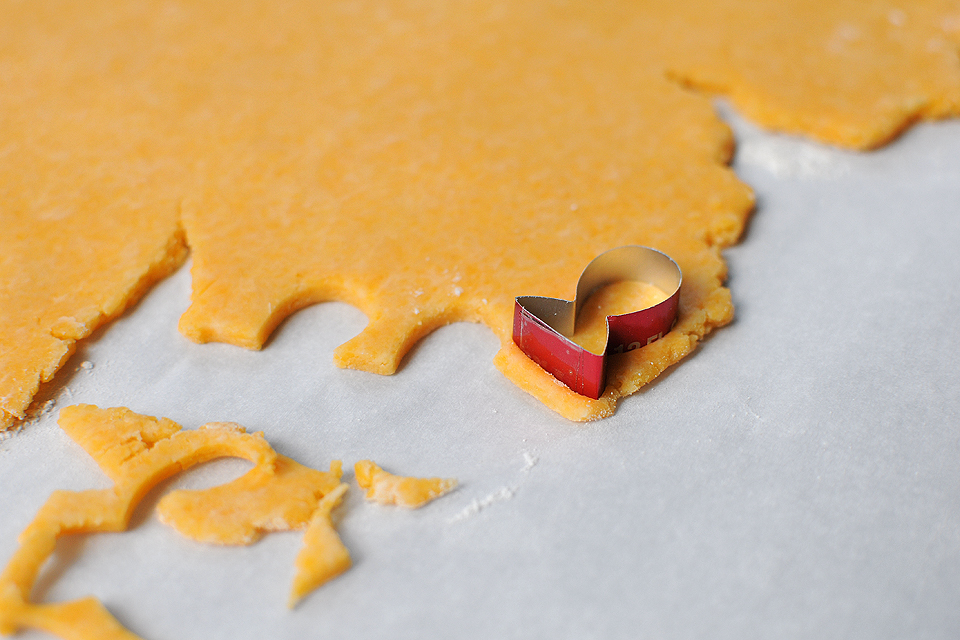 Now, the cutting fun begins!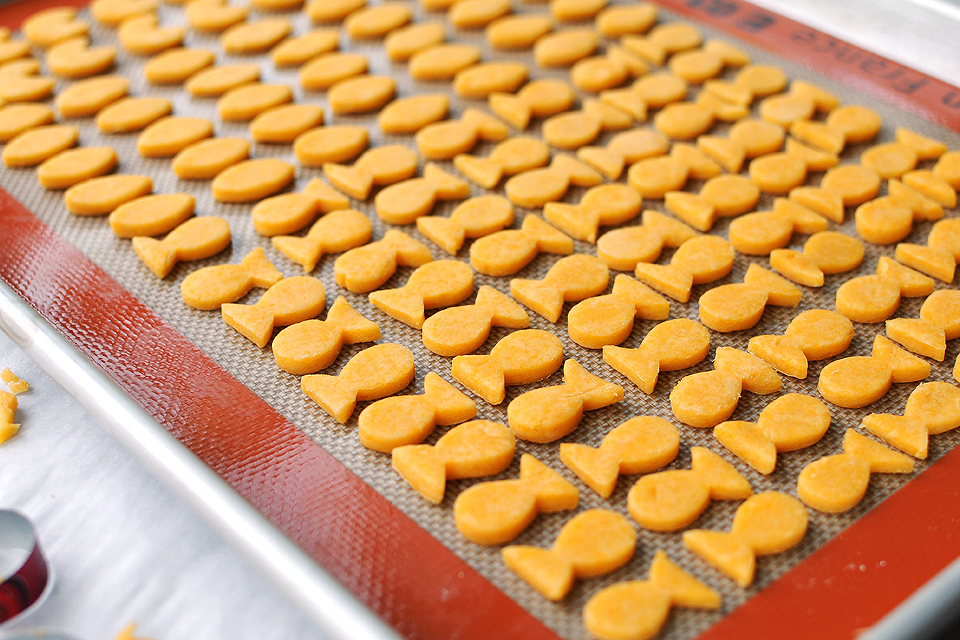 Place crackers on a lined cookie sheet and bake at 350°F for about 15 minutes. I began with little fishies.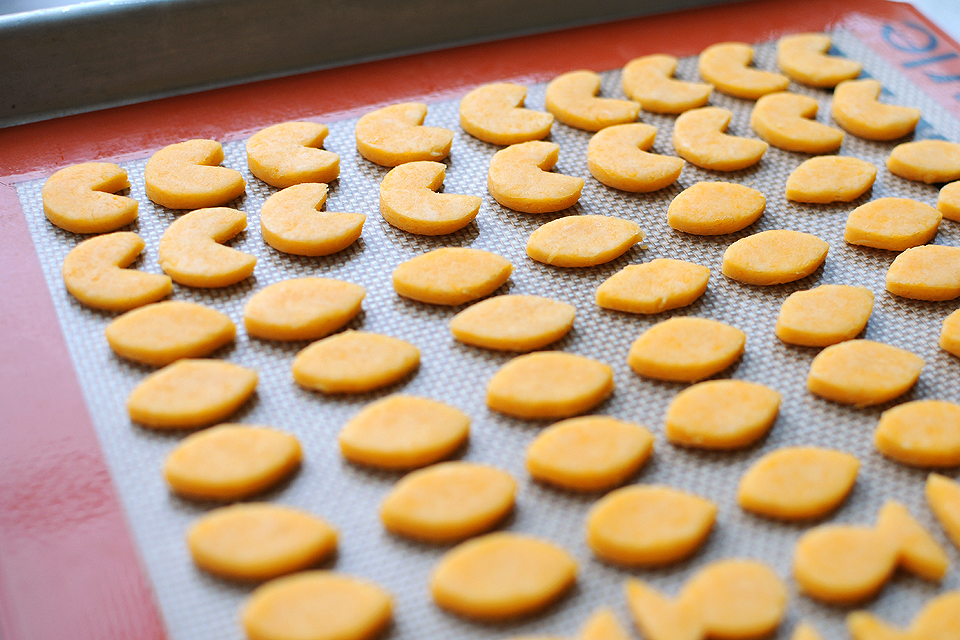 Then moved on to the footballs and then the Pac-Man (or Mrs. Pac-Man).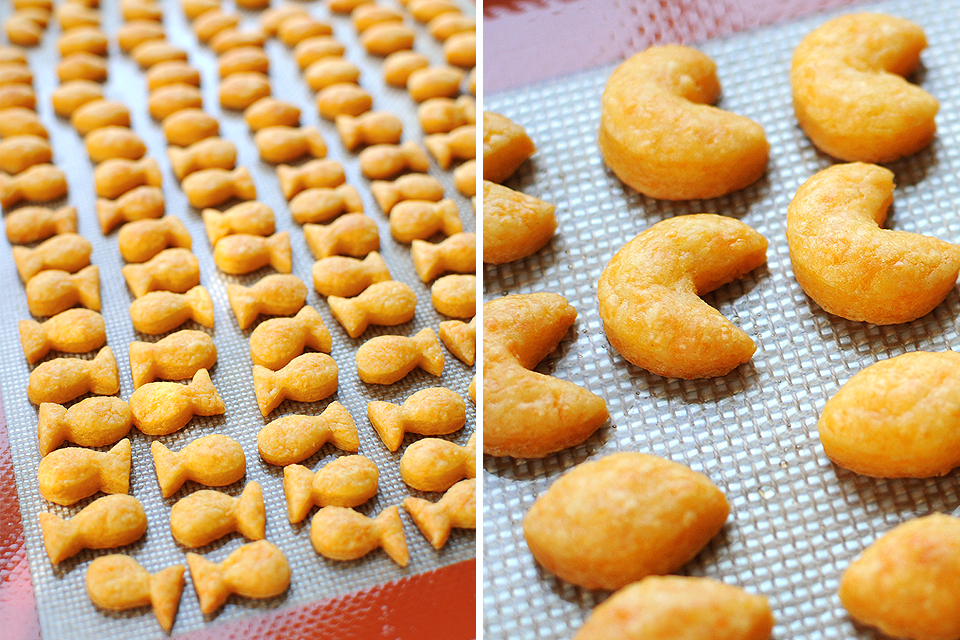 Aren't they cute? They puff up a tad, resulting in a chewy, cheesy cracker.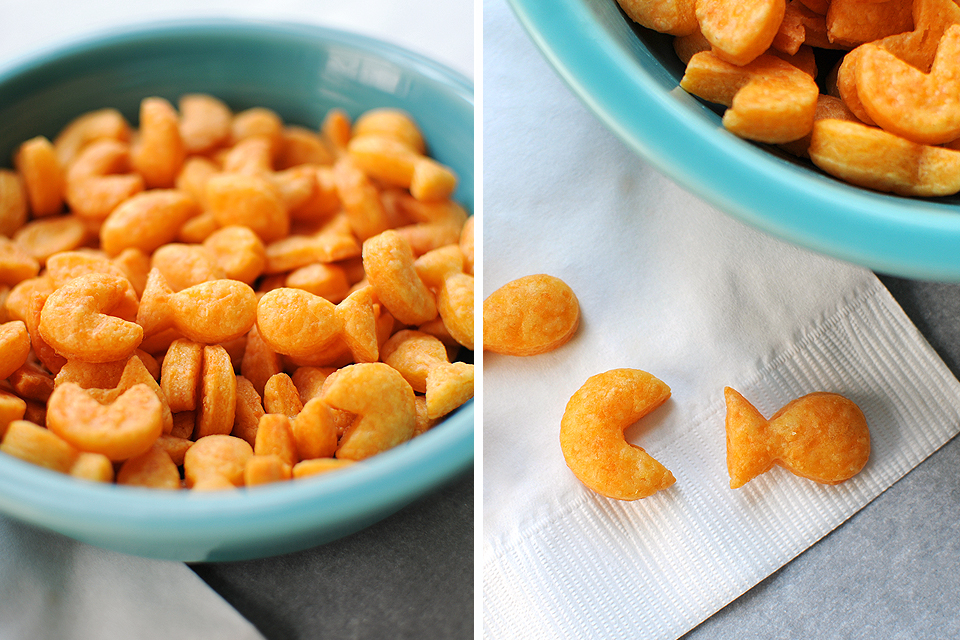 Look! Pac-Man is after a fish.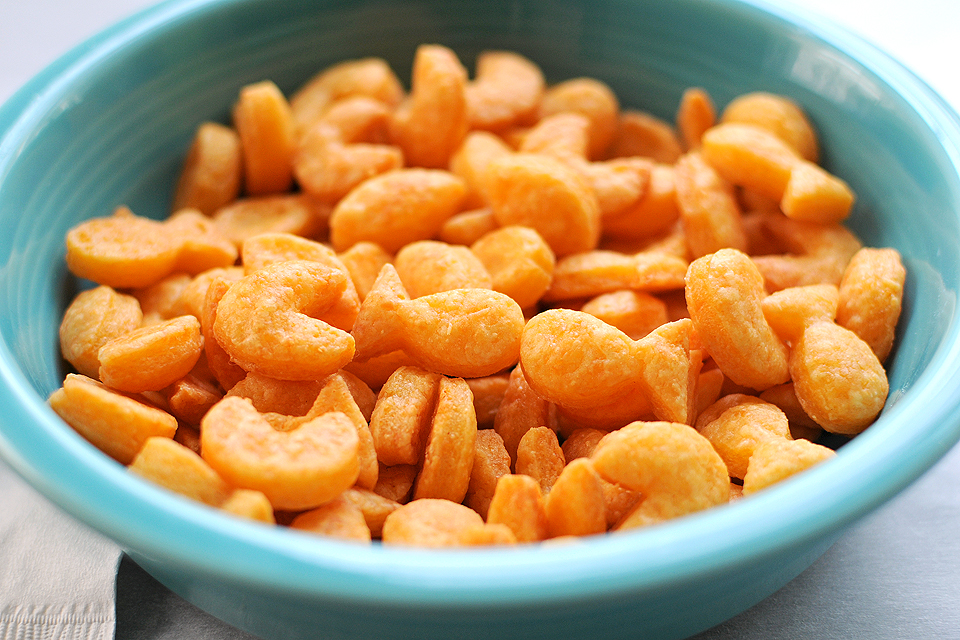 Have fun with this one y'all! I enjoyed making these and I think you will too. Get creative and let the kids join in!
Thanks Erin for submitting this darling recipe. I felt like a kid again! Be sure to check out Erin's blog, Dinners, Dishes, and Desserts, for more of her recipes.
Printable Recipe
See post on Erin's site!
Description
Your favorite fish cracker made at home – and it is SUPER easy.
Ingredients
8 ounces, weight Sharp Cheddar Cheese, Shredded
4 Tablespoons Butter, Cut Into Cubes
1 cup Flour
¾ teaspoons Salt
2 Tablespoons Cold Water
Preparation Instructions
Pulse everything (except water) together in the food processor until the dough resembles coarse sand.
Pulse in water, 1 tablespoon at a time.
Remove dough from the processor, wrap in plastic, and chill for 20 minutes.
Roll out the dough and cut into desired shapes. You can use a toothpick to make the eyes and smile if desired. Place on a parchment paper lined cookie sheet.
Bake at 350 degrees F for about 15 minutes, or until crispy.
Makes approximately 7 dozen crackers.


_______________________________________
Amy Johnson is a blogger who writes about food, travel, the home (both inside and out), and various observations and random musings about anything and everything. Visit her blog She Wears Many Hats for a dose of deliciousness, practicality, hilarity, or just plain fun. She lives in South Carolina with her husband and two children.