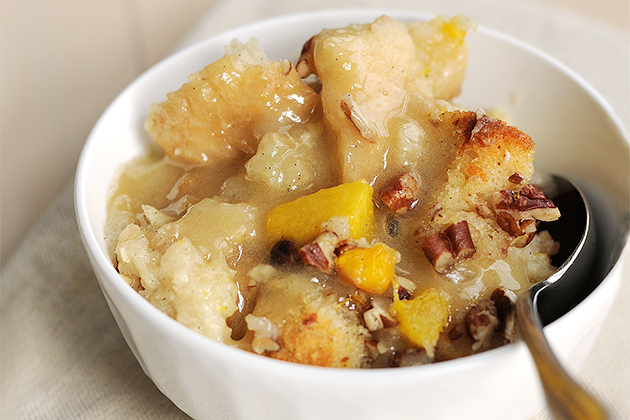 Tasty Kitchen is such a fun online community. Discovering delicious recipes is great, but what makes it even better is making new friends. Each time I find a recipe here on Tasty Kitchen, it's as if a new friend has invited me into their kitchen, into their home, for a peek into their lives through my taste buds. That's pretty cool, I think.
Take Marvin, for example. Marvin and I have been friends for a while now (he just doesn't know it). I've had his recipes bookmarked, and know all about him and his wife, Jane, on their blog. They're a talented couple of artists from Texas. Marvin doesn't know me from Adam. But I know him. I know him and his Peachy Bread Pudding.
Marvin is the type of guy you'd want as a next door neighbor. The neighbor you casually drop in on because maybe the wafting aroma of his Peachy Bread Pudding or Sausage and Potato Bake caught you up in a trance that propelled you to his front door with the excuse of needing to let him know that in a few months you'd be going out of town for a day and … "What's that Marvin? Is that bread pudding I smell?" Yep, he'd make a darn good neighbor I say. Maybe one day we'll meet in person, and I can thank him for sharing his delicious version of Peachy Bread Pudding. But until then, knowing him through Tasty Kitchen will do just fine. Just fine indeed.
Wanna get to know Marvin a little better too? Let me show you his Peachy Bread Pudding, and y'all will become the best of friends in no time. It's a really marvelous dish by Marvin. The sauce alone is a keeper to serve with many other desserts. Just perfect! Let's get to it.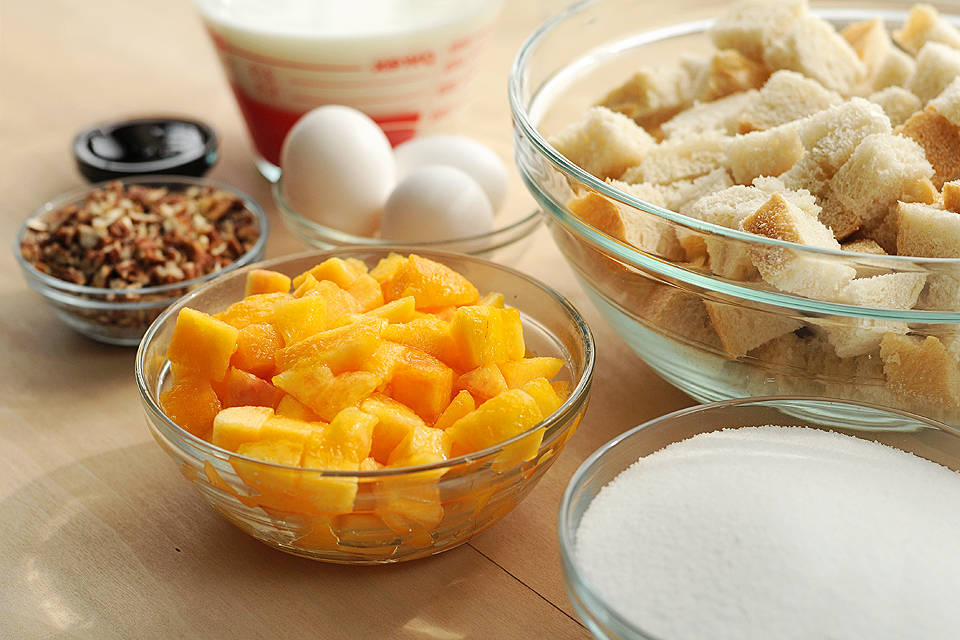 For the bread pudding you'll need: eggs, melted butter, vanilla, half and half or milk, sugar, fresh peaches, sourdough bread and pecans.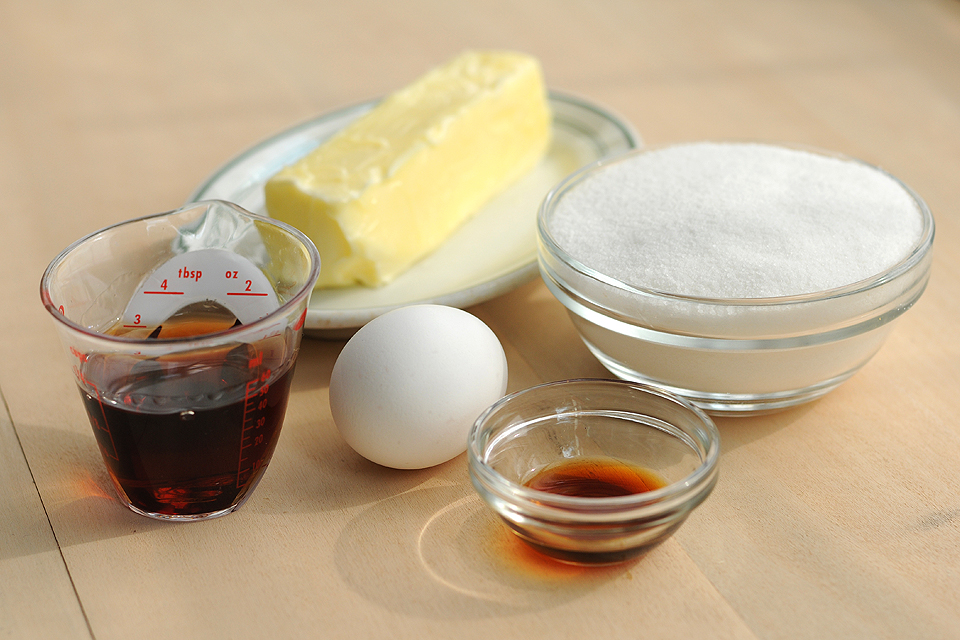 To make that yummy sauce, you'll need: butter, sugar, vanilla, an egg, and rum.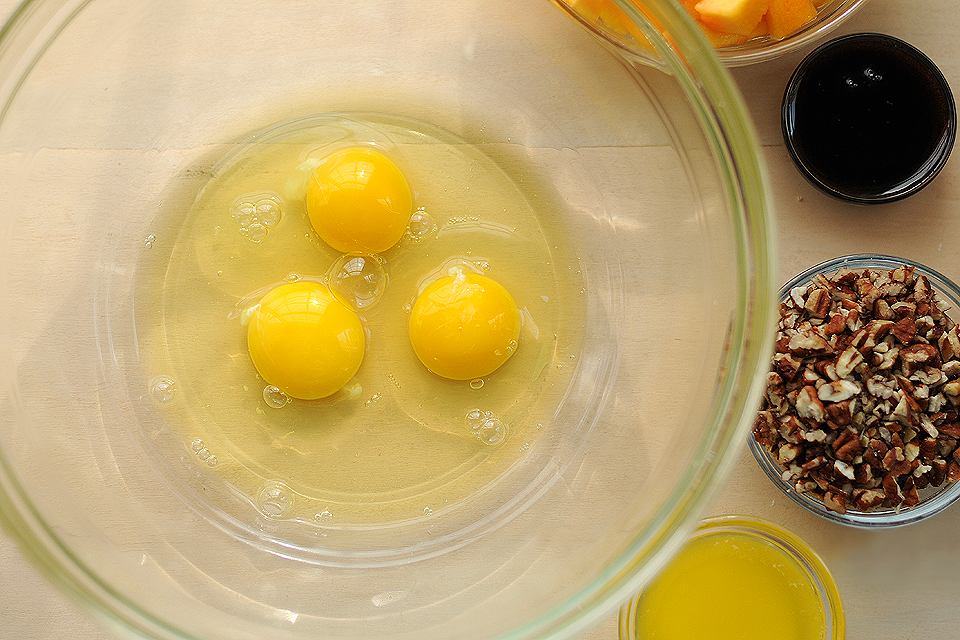 To prepare the bread pudding for baking, add the three eggs to a large bowl.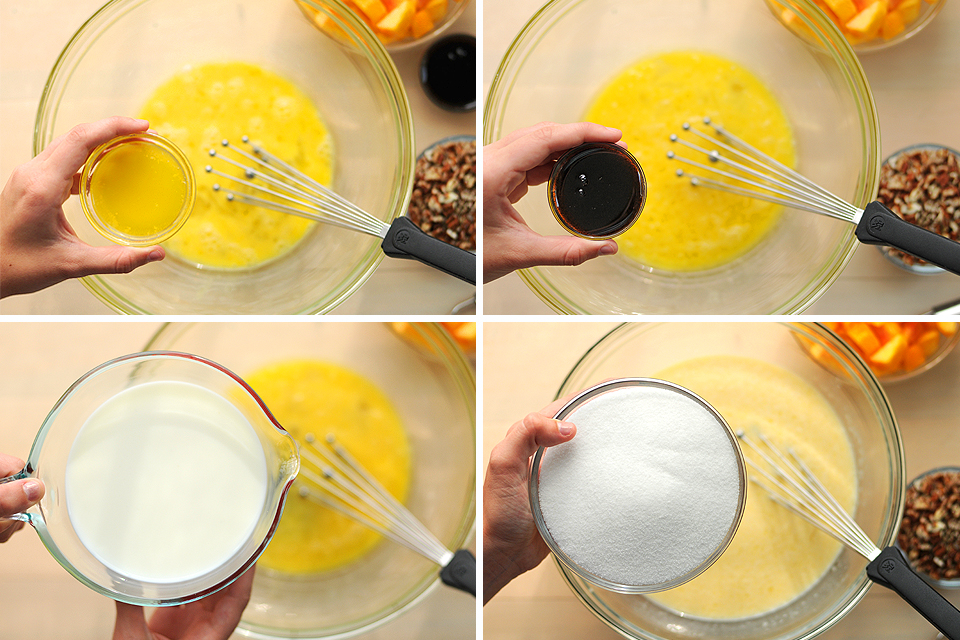 Next goes in the melted butter, vanilla, half-and-half (or milk). Combine those well first, then add the sugar.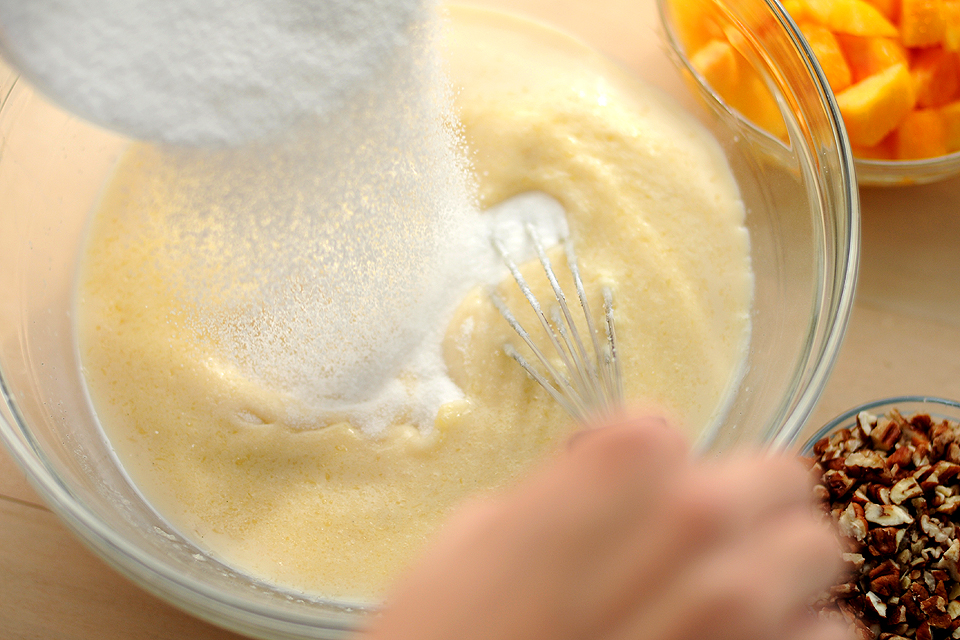 Add the sugar slowly, stirring as you go until the sugar is dissolved.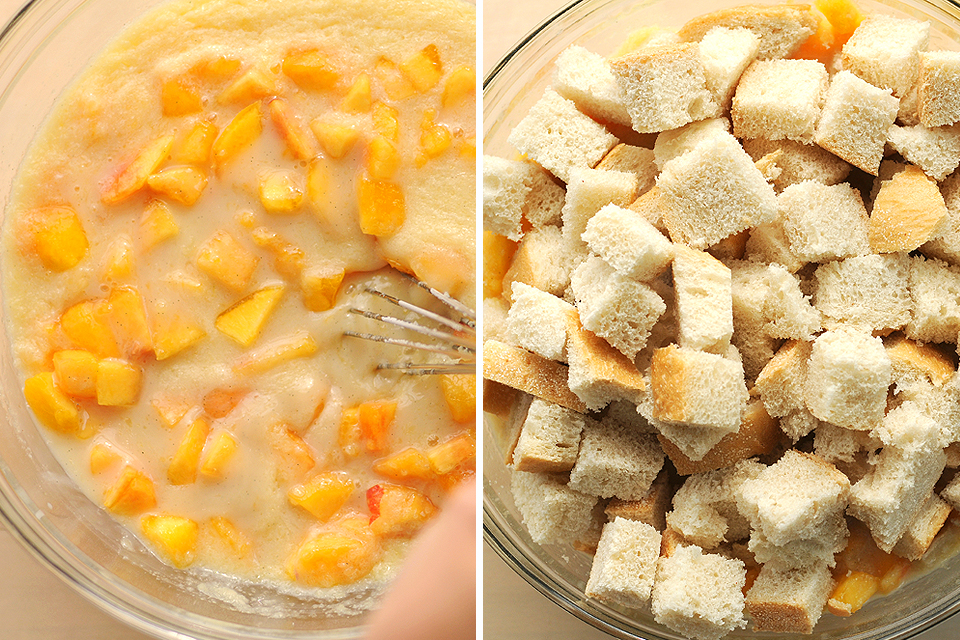 Now, the lovely peaches (nectarines will do too!). Mix it up. And finally, the bread.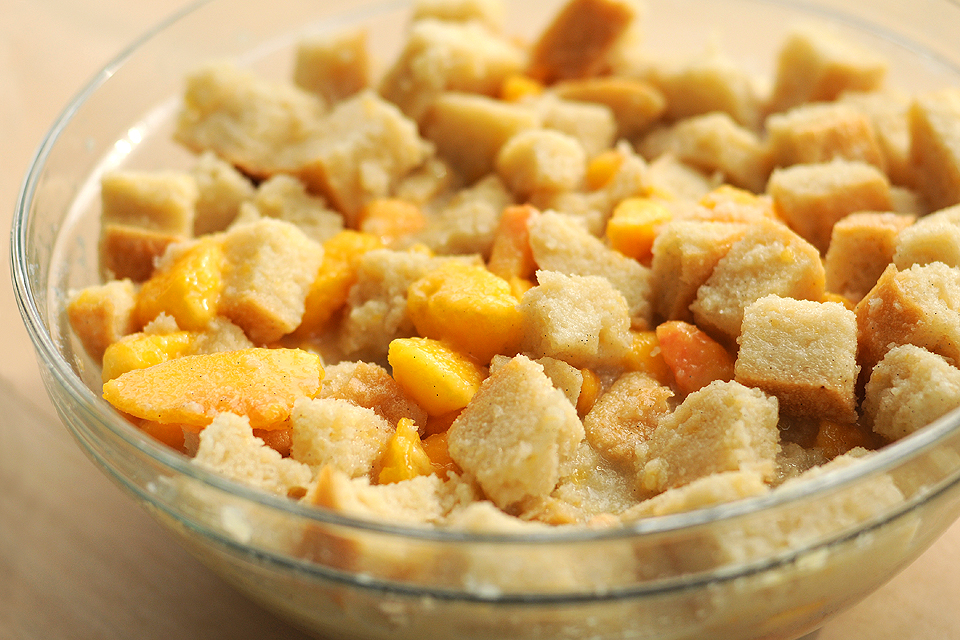 Gently push the cubed bread down into the mixture so it can soak up all the goodness, like little sponges. Let it soak for about 30 minutes.
It's not shown here, but butter the dish you'll be baking the bread pudding up real good, ya here? It helps to avoid sticking and adds some more flavor, too.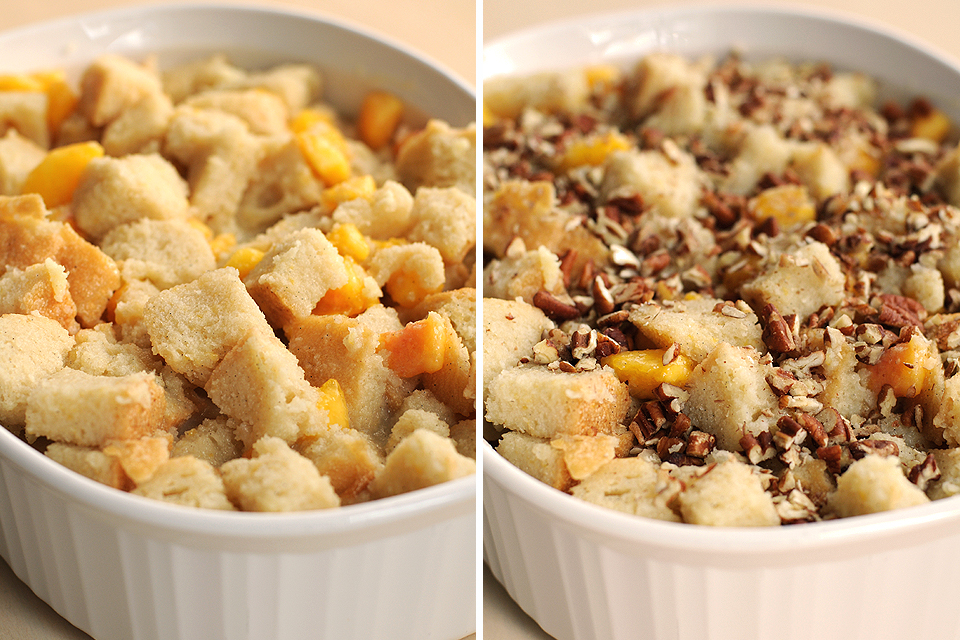 After the bread has soaked, spread the mixture into your baking dish and sprinkle with the chopped pecans. Bake uncovered for 50-60 minutes.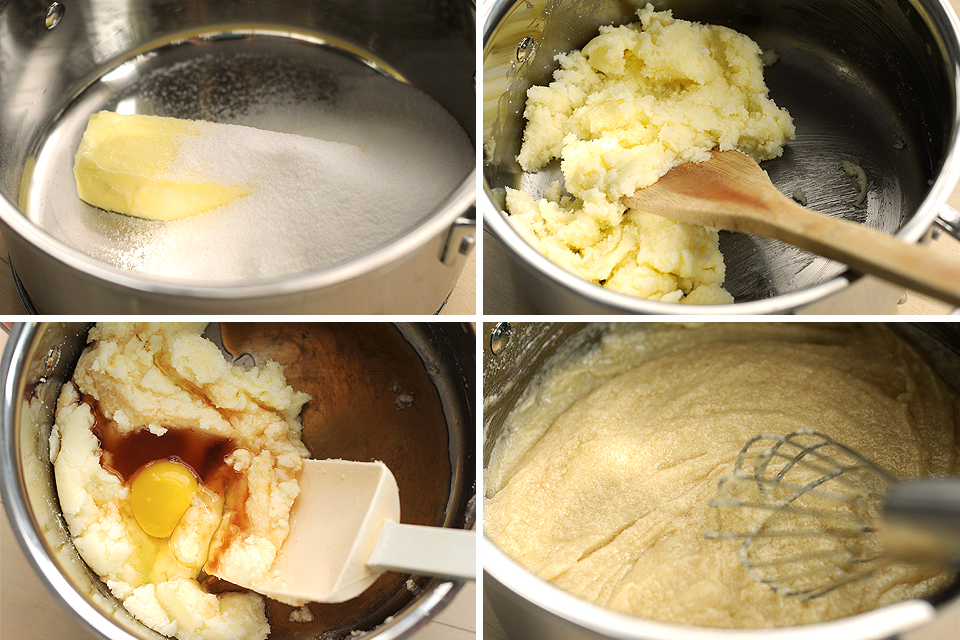 While the bread pudding is baking, put together the sauce. In a pan, cream together the softened butter and sugar. Add the vanilla, egg, rum and combine well.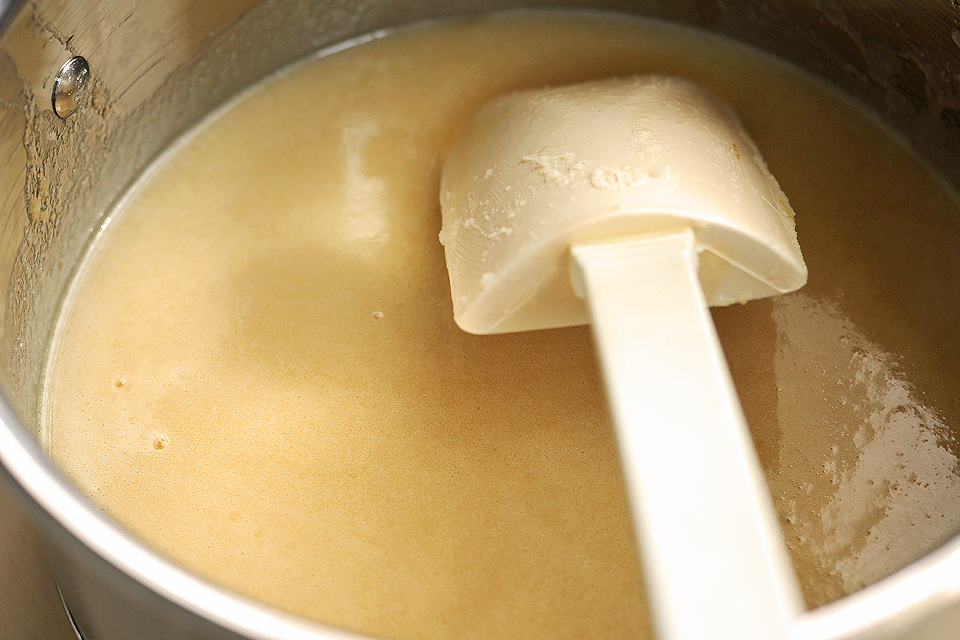 Over low-medium heat, stir for about 5 minutes until sugar has dissolved and the sauce is smooth. Like I said before, this sauce is something you'll want to remember for other desserts. It would be the perfect complement to pound cake, or as an ice cream topping. Seriously tasty!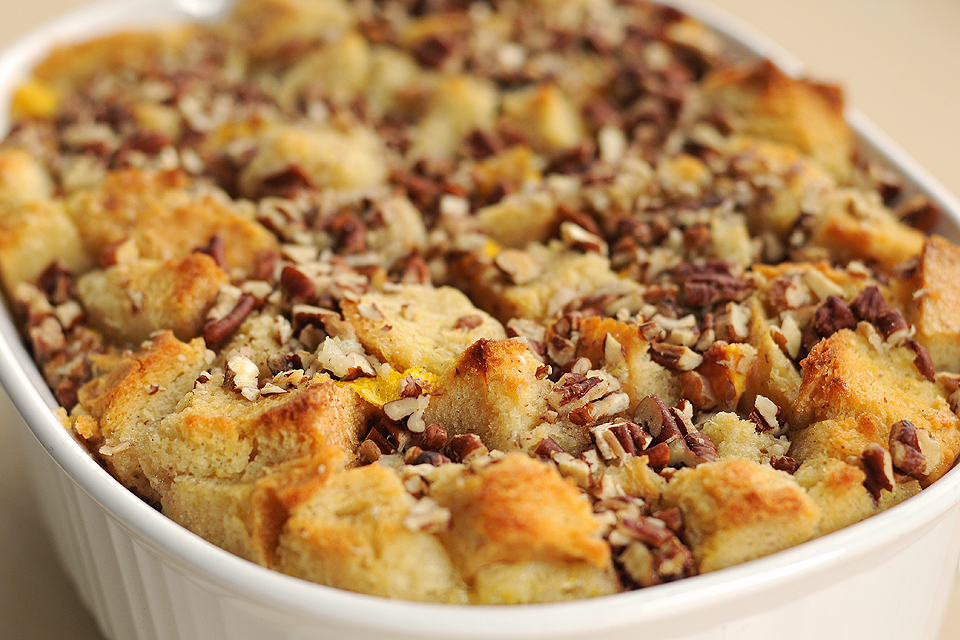 Back to the oven. You'll want to check the bread pudding for doneness in the center with a knife. If it comes out clean, she's done; if not, keep her cooking. I had to add about 10-15 more minutes to the baking time.
What a beautiful golden brown. And, oh, the aroma!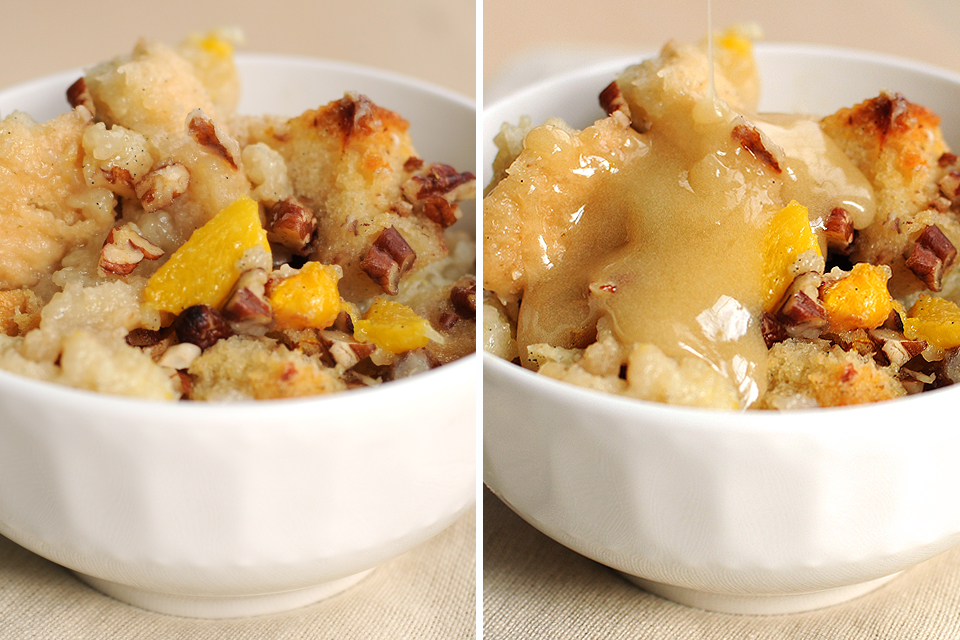 Serve warm, with some of the sauce drizzled over the top.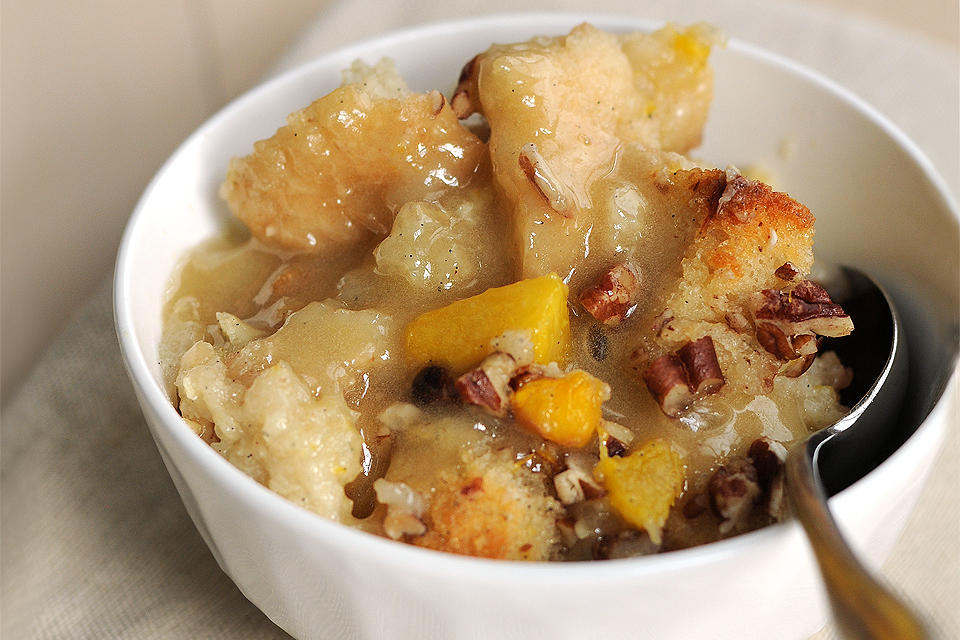 The perfect bite!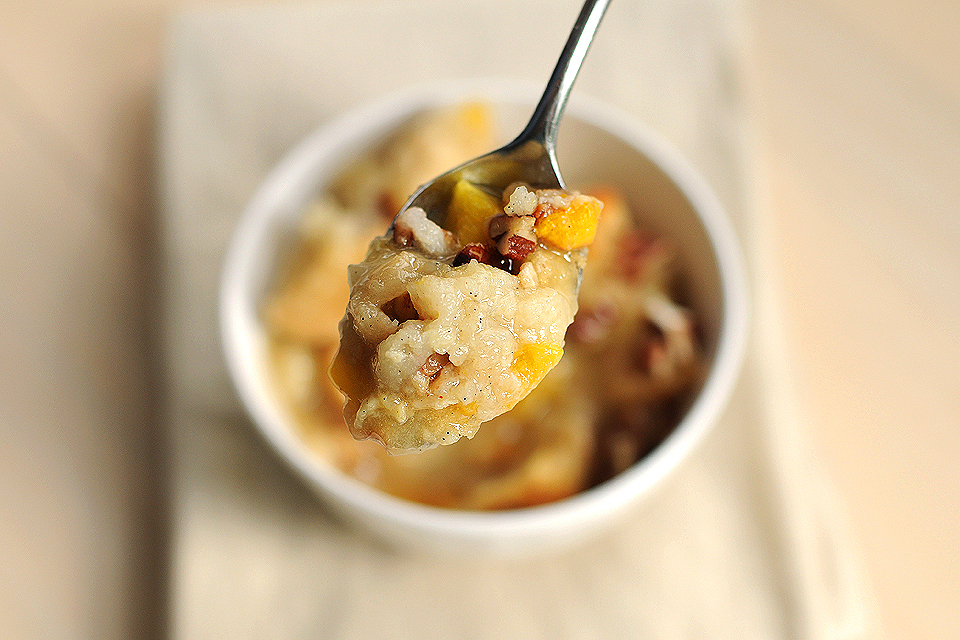 I was never a bread pudding fan, but that Marvin changed my mind with this one. He's a good friend to have. Thanks Marvin!
Printable Recipe
Description
Bread pudding with fresh peaches, and rum sauce.
Ingredients
FOR BREAD PUDDING:
3 whole Eggs
3 Tablespoons Butter, Melted
2 Tablespoons Vanilla
2-½ cups Half-and-Half Or Milk
2 cups Sugar
2 cups Fresh Peaches, Pitted And Diced
1 pound Sourdough Bread, 1" Cubed
½ cups Pecans, Chopped (optional)
_____
FOR RUM SAUCE
½ cups Butter
1 cup Sugar
1 teaspoon Vanilla
1 whole Egg
3 Tablespoons Rum, Or To Taste
Preparation Instructions
Preheat oven to 325 degrees F.
In a large bowl beat 3 eggs, add 3 tablespoons melted butter, 2 tablespoons vanilla, and 2 1/2 cups half and half. Add 2 cups sugar slowly, stirring until it is dissolved. Add peaches and bread, mixing well. Allow mixture to soak into bread 30 minutes.
Spread a bit of butter in a 9 X 13 X 2-inch pan or dish. Pour in the bread mixture, and sprinkle on pecans if using. Bake uncovered 50 to 60 minutes, or until knife inserted in center comes out clean.
For rum sauce:
Cream 1/2 cup butter with 1 cup sugar. Add 1 teaspoon vanilla. Stir in 1 egg, then add rum. Stir over low heat for about 5 minutes. Serve warm over individual servings of pudding.


_______________________________________
Amy Johnson is a blogger who writes about food, travel, the home (both inside and out), and various observations and random musings about anything and everything. Visit her blog She Wears Many Hats for a dose of deliciousness, practicality, hilarity, or just plain fun. She lives in South Carolina with her husband and two children.