It's funny how our bodies crave certain things at different times of the year isn't it? As soon as the temperature rises—and it has risen indeed, my friends—my taste buds crave all things citrus. So when this Lemon Cream Fruit Dip from The Suzzzz was recently added to Tasty Kitchen, I didn't waste any time trying it out.
This dip, like many other scrumptious findings here at Tasty Kitchen, combines well with other recipes. There's a whole list of sauces, dips and dressings, sweet and savory, that can round out or pull together an otherwise ordinary dish. I decided to combine this Lemon Cream Dip with Three Many Cooks' lovely Great Granola recipe and some fresh blueberries for a parfait perfectly perfect for a light warm weather treat.
The Lemon Cream Fruit Dip and Great Granola can both be made ahead, which makes for easy assembling of the parfaits closer to serving time.
Let's walk through the Lemon Cream Fruit Dip recipe process.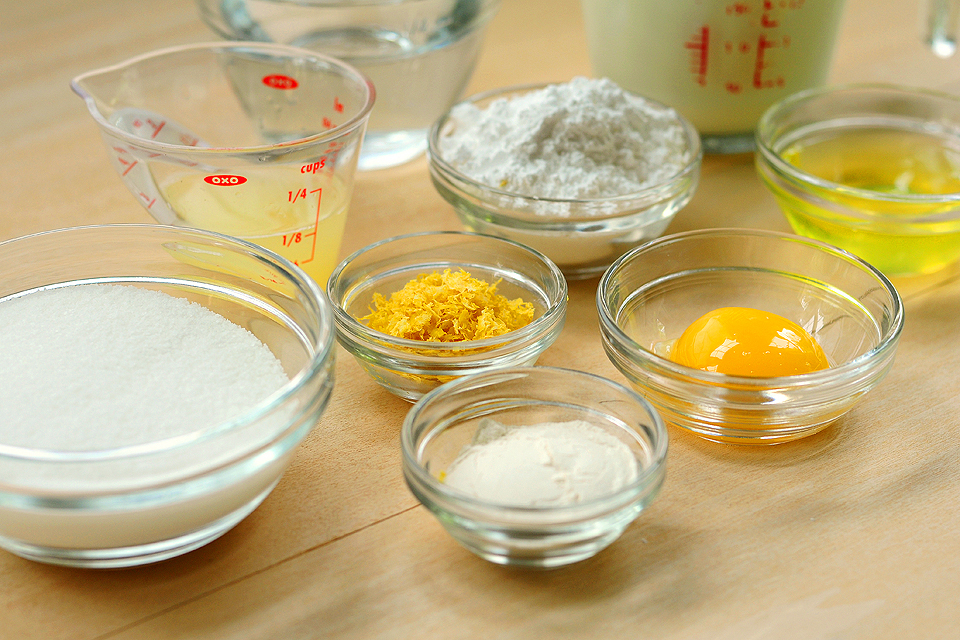 You'll need some basic ingredients to get started: granulated sugar, flour, lemon juice, lemon zest, an egg, boiling water, heavy cream and powdered sugar. For the full list of ingredient measurements, be sure to check the link at the end of this post.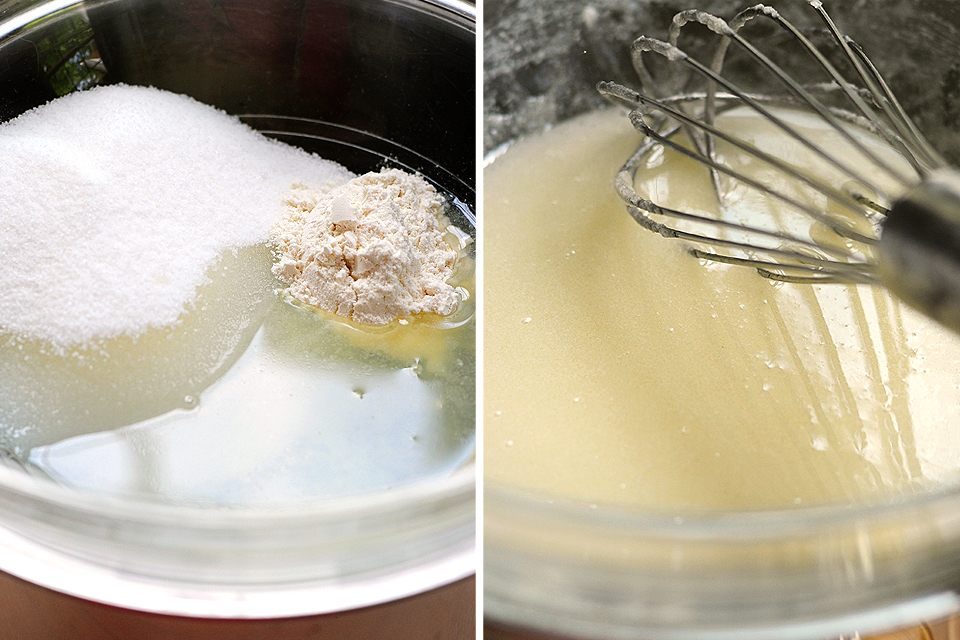 Begin by combining the sugar, flour and lemon juice in a double boiler over low heat. I don't own a double boiler, so I improvise with a glass (heat safe of course) bowl over a saucepan. It works just fine.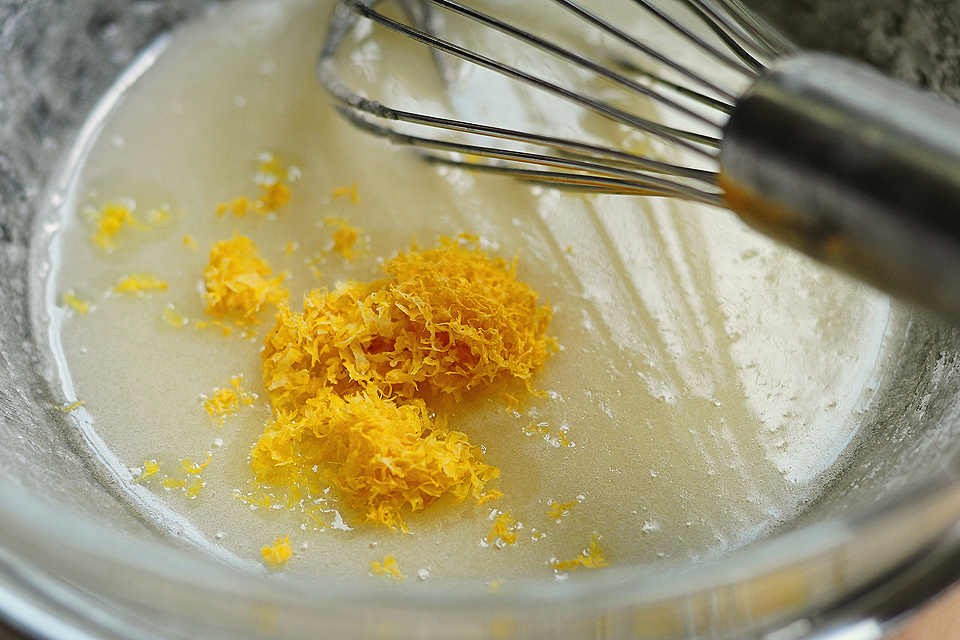 Next, add the lemon zest. Don't you just love the fresh fragrance of lemon zest? So perky!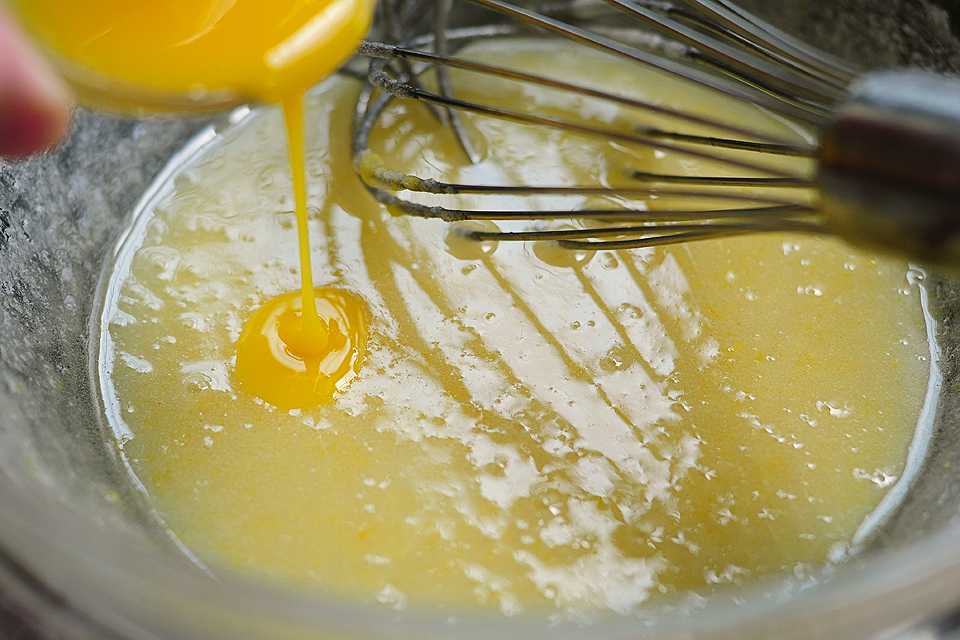 Beat the egg yolk and stir a little at a time into the lemon mixture. You want to just add a tad at a time so as not to scramble the egg yolk. And be sure to stir as you're adding it in.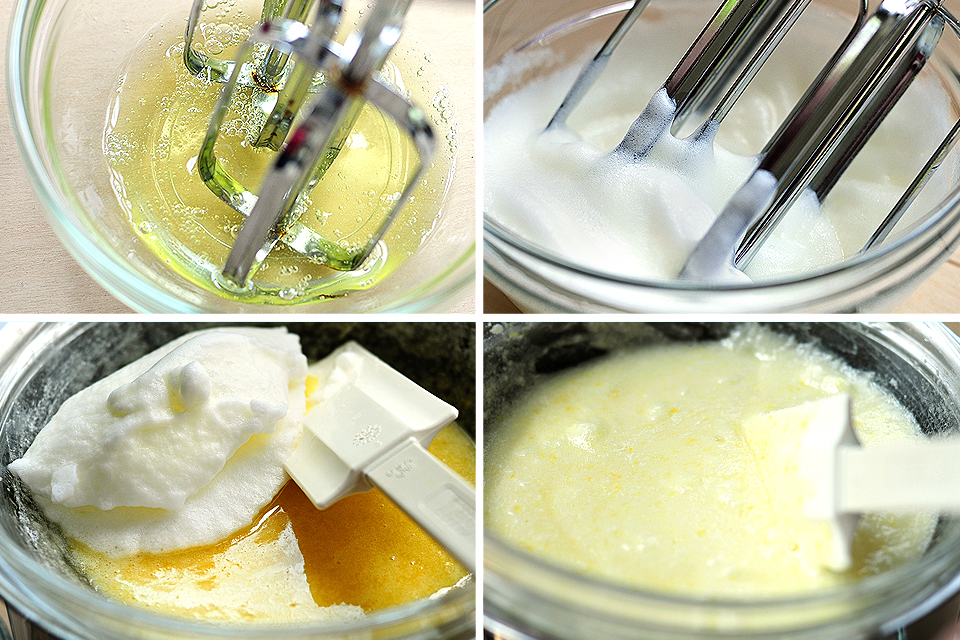 Beat the egg white until stiff. Then fold it into the lemon mixture.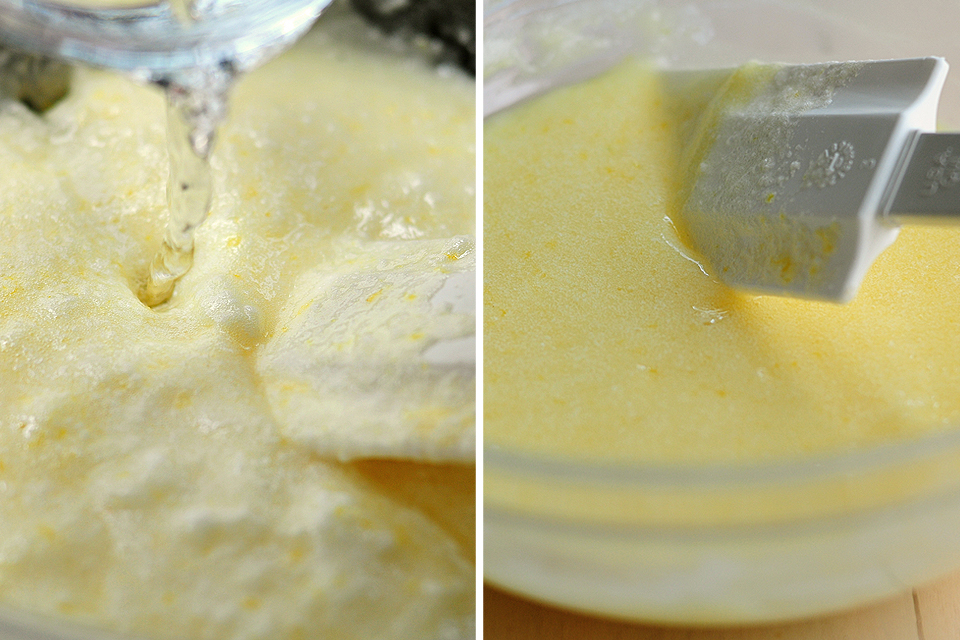 Add the boiling water and cook in the double boiler until it thickens, stirring occasionally. It should take about 10-15 minutes. Remove from heat when the mixture has thickened and let cool. (I covered it and stuck it in the fridge, because I had to run and pick my kids up.)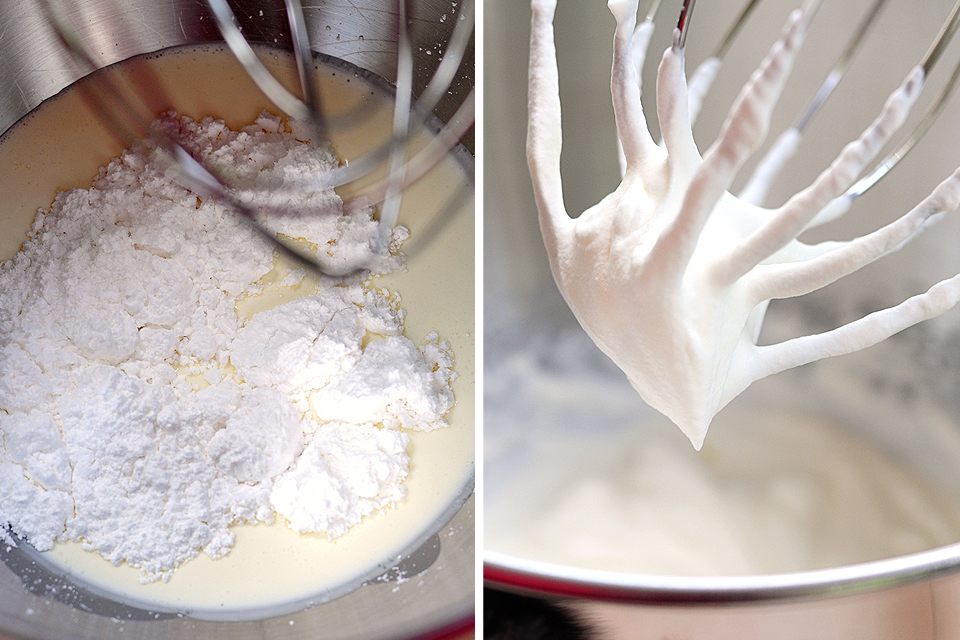 In a mixing bowl, whip the cream and the powdered sugar until soft peaks form.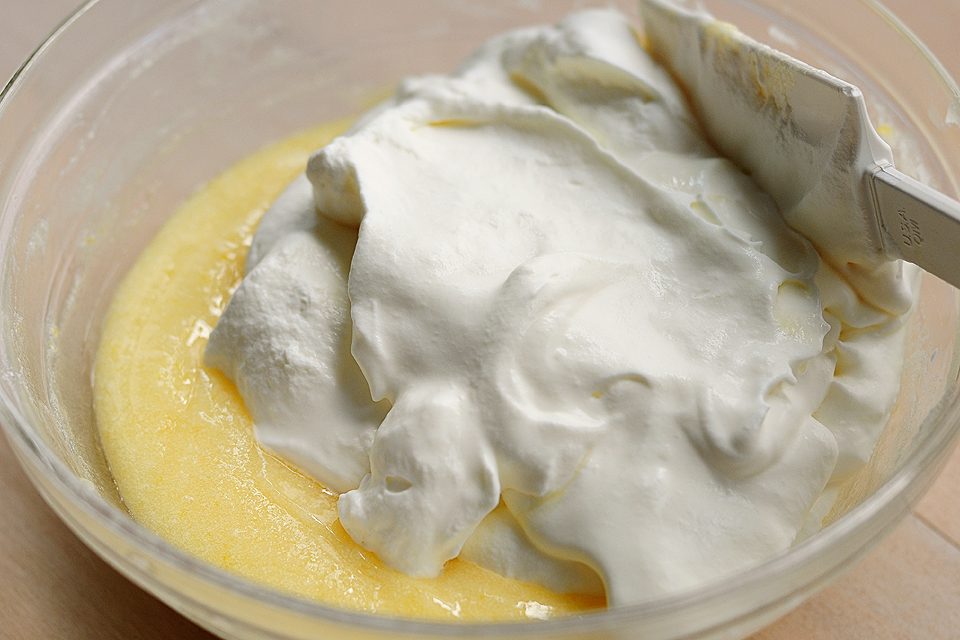 Fold the whipped cream into the lemon mixture. Don't over mix.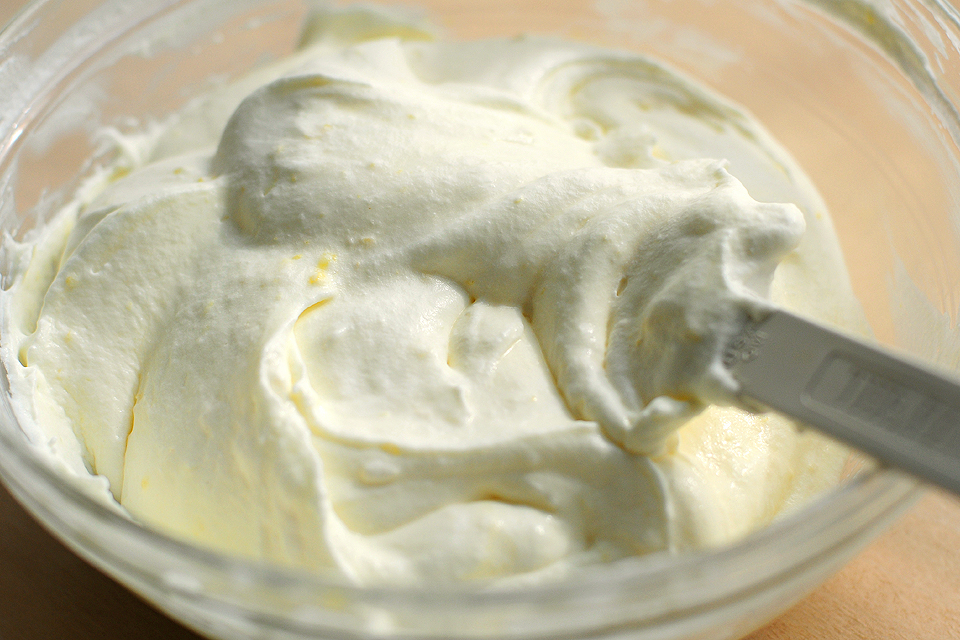 Gently fold it in until combined. It should be light and fluffy. And such a pretty pale yellow color. Now, you can stop here and just use it as a dip with fruit (or your finger), but we're moving onward to the parfait.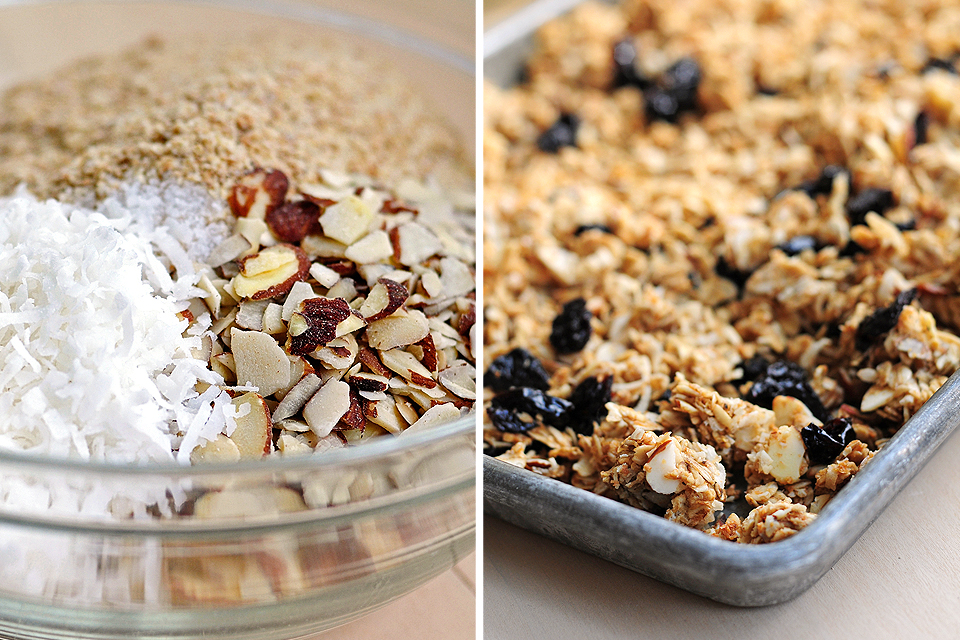 Again, the granola recipe used here is the Great Granola from Three Many Cooks. It's easy to put together, and oh so tasty. Great granola for sure! The recipe makes a good amount, so you'll have plenty to use for the parfaits and some leftover for snacking. Or add some milk for a mighty fine bowl of cereal. The full recipe link is at the end of this post.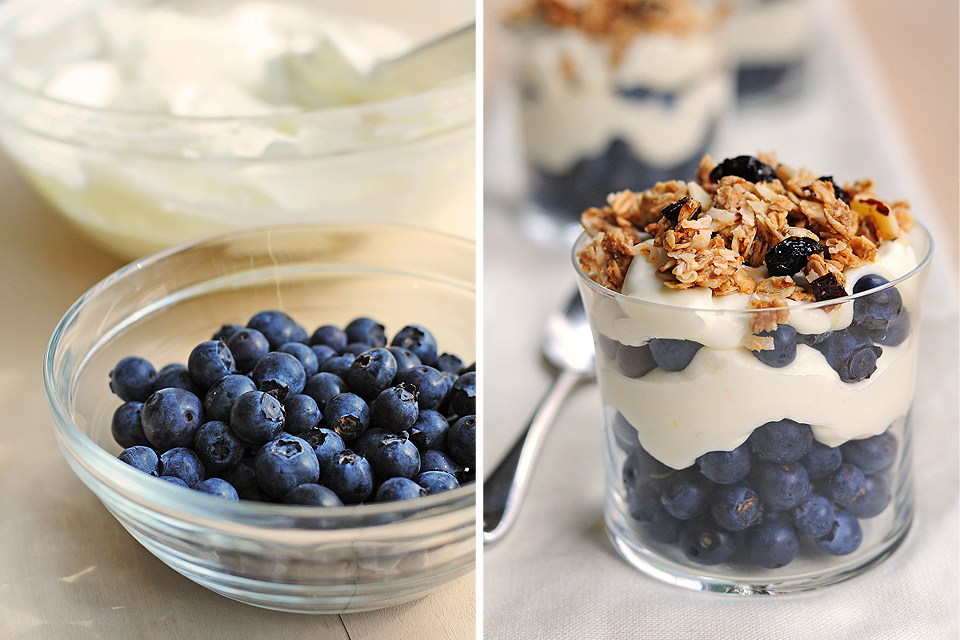 When you're ready to assemble the parfaits, simply layer the berries (I chose blueberry, but any berry or fruit will do) with the Lemon Cream Fruit Dip, then top it off with the crunchy granola.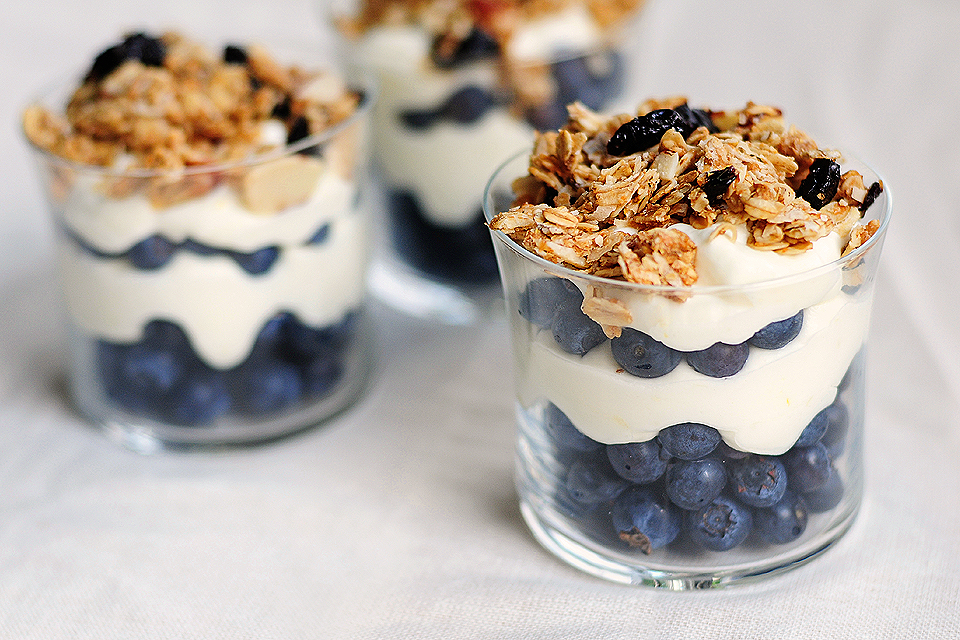 An excellent flavor and texture combination. And easy to make ahead, too! Wouldn't they be perfect for a picnic or poolside party, in small mason jars?
A big thanks to The Suzzzz and Three Many Cooks for sharing your recipes with us all. I don't know about you, but I can think of all sorts of parfait combinations that this Lemon Cream Fruit Dip and Great Granola could complete.
Printable Recipe
Description
Light, fluffy summer dip to serve with cut fruit, melons, angel food cake, or doughnut holes.
Ingredients
½ cups Granulated Sugar
1 Tablespoon Flour
2 Tablespoons Lemon Juice
1 Tablespoon Lemon Zest
1 whole Egg, Separated
½ cups Boiling Water
1 cup Heavy Cream
¼ cups Powdered Sugar
Preparation Instructions
In a double boiler over low heat, dissolve sugar, flour, and lemon juice. Stir in zest. Beat egg yolk and slowly stir in to the lemon mixture. Beat egg white until stiff and fold into the lemon mixture. Add boiling water and cook in the double boiler until glossy and thick (about 10-15 minutes). Remove from heat and allow to thoroughly cool. Whip cream and powdered sugar until soft peaks form. Fold into the lemon sauce.
Printable Recipe
See post on ThreeManyCooks's site!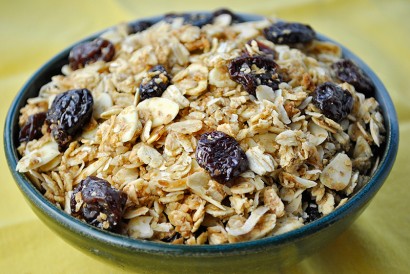 Description
Described by many as "the best granola … ever." Need we say more?
Ingredients
2 cups Old Fashioned Oats
½ cups Wheat Germ
¼ teaspoons Salt
⅓ cups Sliced Almonds
⅓ cups Sweetened, Flaked Coconut
¼ cups Maple Syrup
3 Tablespoons Flavorless Oil (such As Vegetable Or Canola)
2 Tablespoons Warm Water
¾ teaspoons Almond Extract
⅓ cups Dried Cherries
Preparation Instructions
Adjust oven rack to middle position and heat oven to 275 degrees. Mix oats, wheat germ, salt, almonds and coconut in a medium bowl. Heat syrup, oil, water, and almond extract to a simmer in a small saucepan over medium heat. Drizzle over oat mixture and stir to combine. Pour mixture into a 13-by 9-inch pan coated with vegetable cooking spray. Working a handful at a time, squeeze cereal to form small clumps. Bake for 30 minutes. Stir in cherries. Continue to bake until golden brown, about 20 to 25 minutes longer. Let cool and serve. (Can be stored in an airtight tin for 1 month.)


_______________________________________
Amy Johnson is a blogger who writes about food, travel, the home (both inside and out), and various observations and random musings about anything and everything. Visit her blog She Wears Many Hats for a dose of deliciousness, practicality, hilarity, or just plain fun. She lives in South Carolina with her husband and two children.