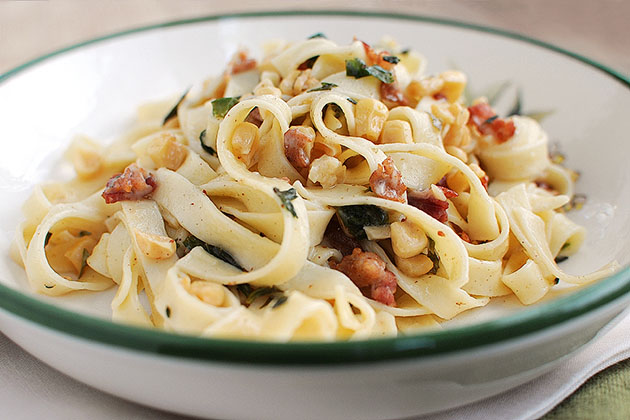 Nothing tempts my palate more than a tasty plate of pasta, and Tasty Kitchen is chock full of fabulous pasta recipes. There's so many to choose from. How do you ever begin to decide? Decisions, decisions …
Since I still have jalapeño coming out of my ears, I decided to try a version of pasta carbonara from Erin that she adapted from Everyday with Rachael Ray called Pasta Carbonara with Corn and Chiles. It combines sweet corn, spicy jalapeño, with the savory traditional carbonara ingredients to create a perfect pasta bite.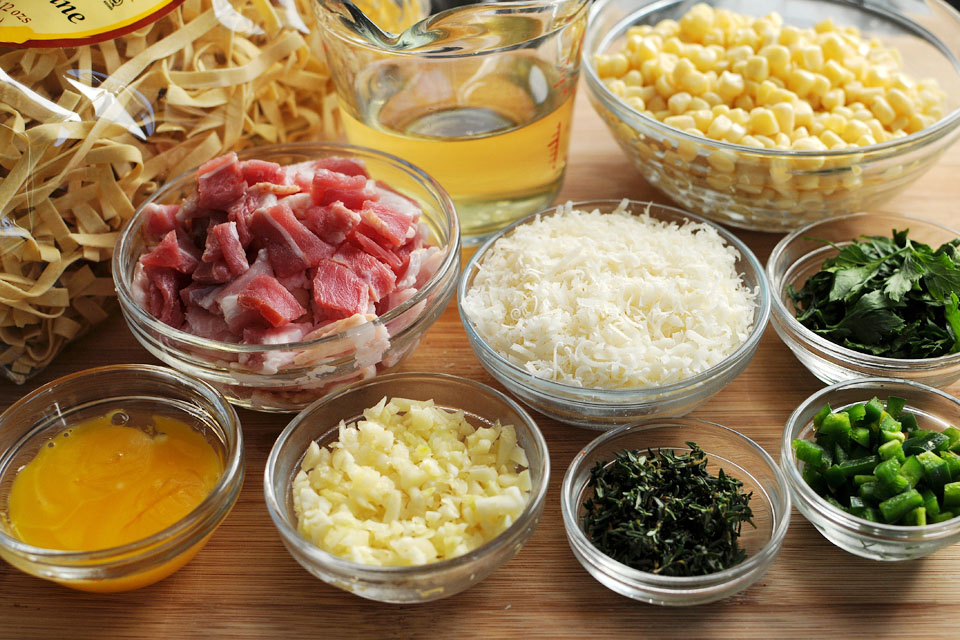 Here's what you'll need: egg noodles (or pasta of choice), bacon, sweet corn, jalapeño, garlic, thyme, parsley, white wine, egg yolks, parmesan cheese, and of course, salt and pepper to taste.
Begin by cooking your pasta according to package directions. Before draining the pasta, you'll need to save one cup of the pasta water for use in the recipe. Be sure to read through the full printable recipe for detailed directions for amounts, etcetera.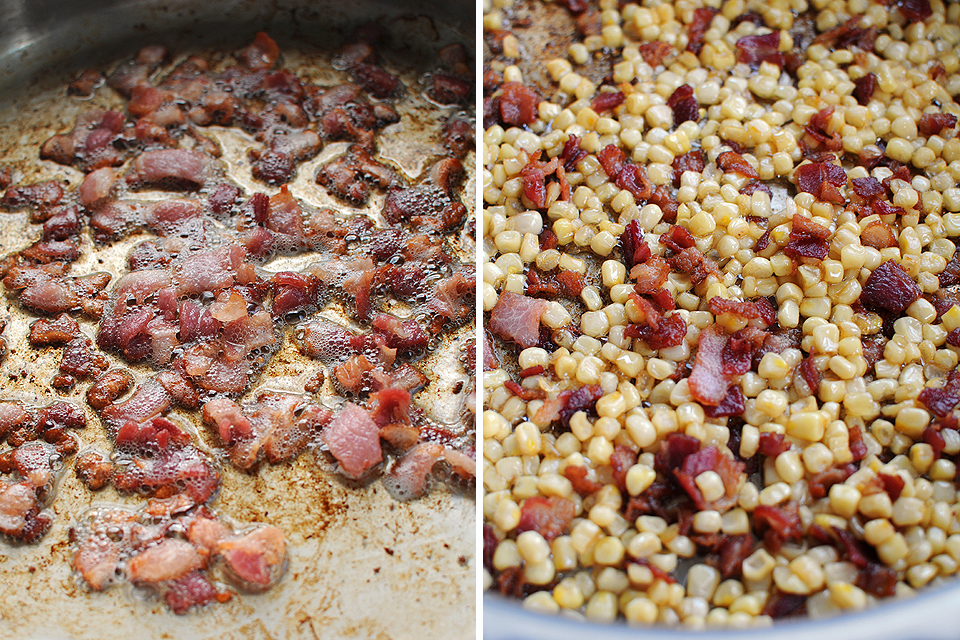 While the pasta is cooking, brown the bacon over medium-high heat.
Add the corn and let it cook until slightly beginning to brown on the edges, about 5 minutes.
The recipe calls for fresh corn, scraped off the cob. I didn't have any so I substituted canned sweet corn. (Egads!) It worked just fine, but when available, fresh is always better.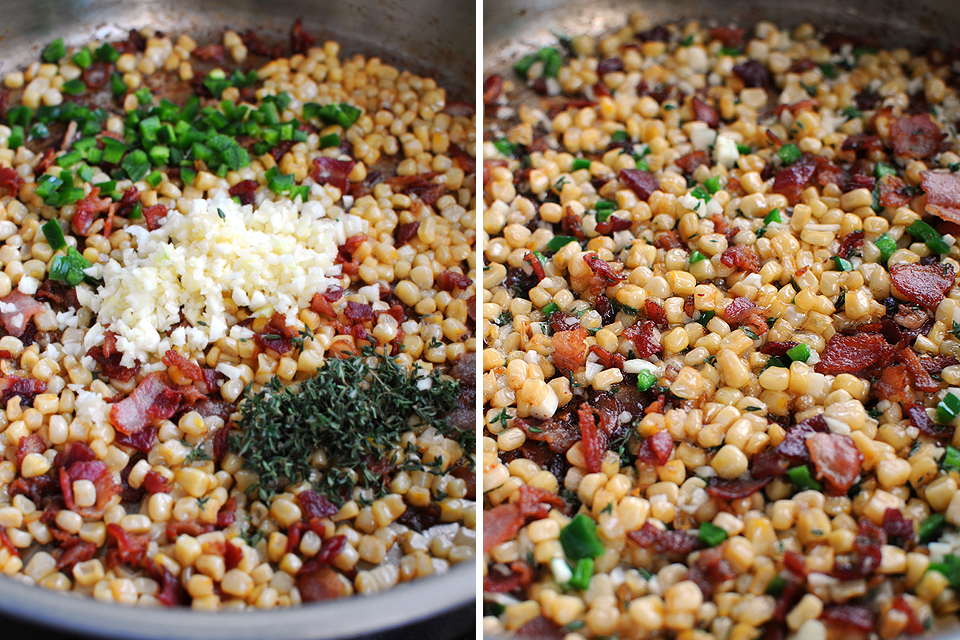 Next goes in the jalapeño, garlic and thyme. Stir it all up and cook for another couple of minutes.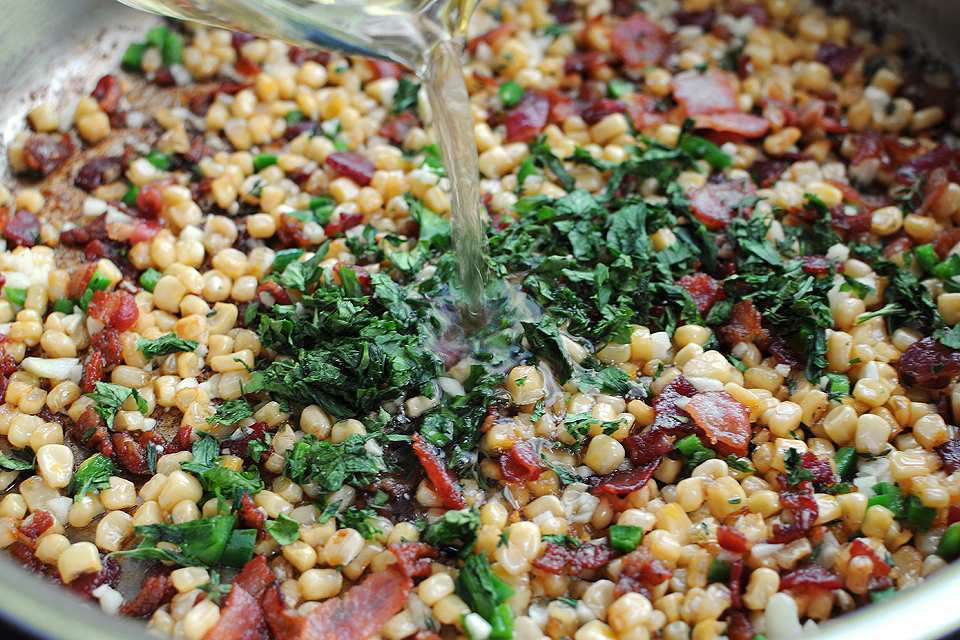 The parsley and wine get mixed in next. Then simmer on low heat while you prepare the rest of the dish.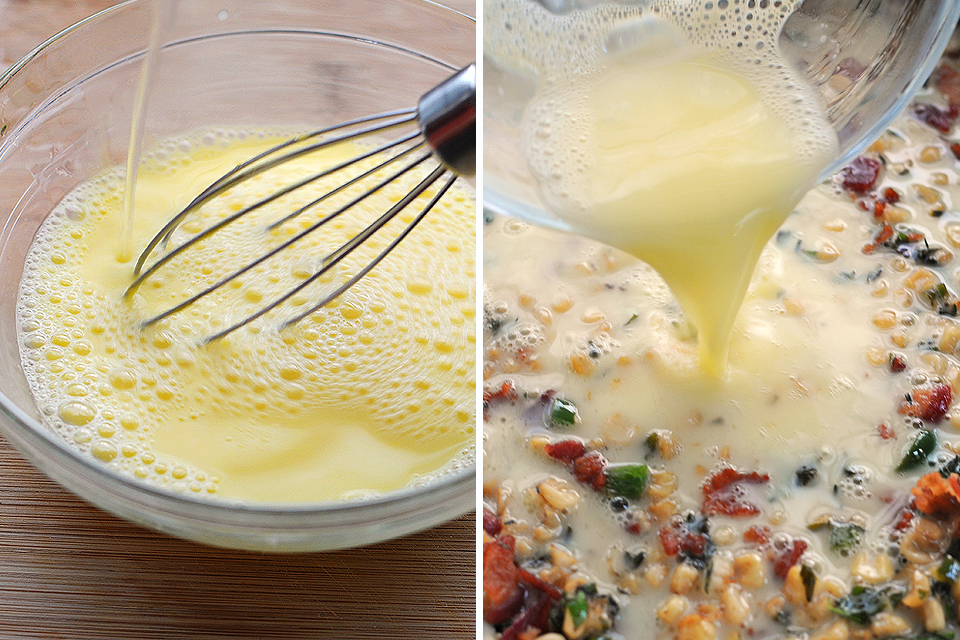 Beat the egg yolks in a small bowl, then slowly whisk in the reserved cup of pasta water to temper them, so they slowly warm without scrambling. Take your time, then add to the mixture.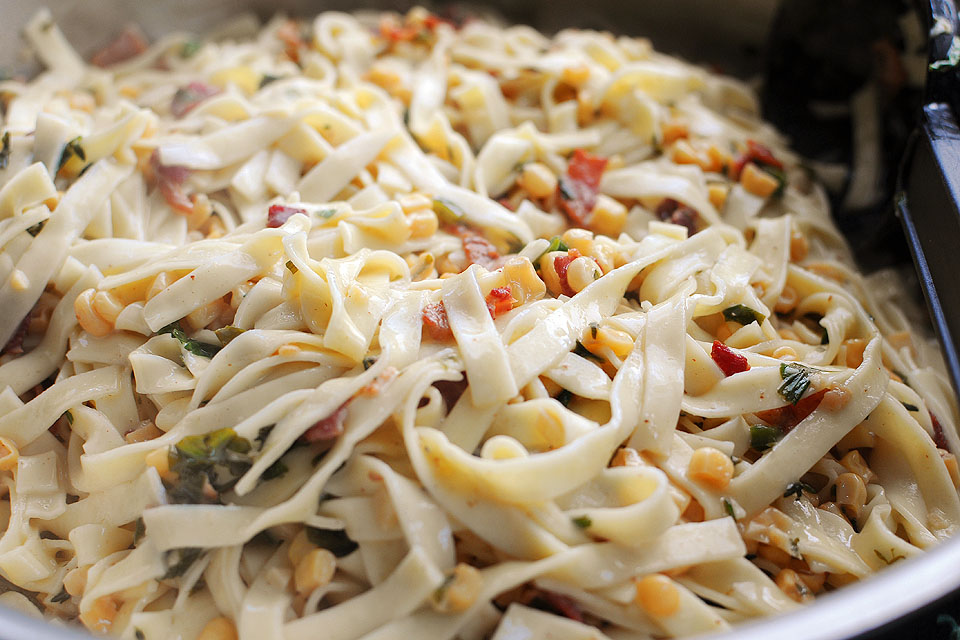 Add the pasta and toss it all well to coat. Try very hard to not dive in now because you have one more thing to add: the cheese.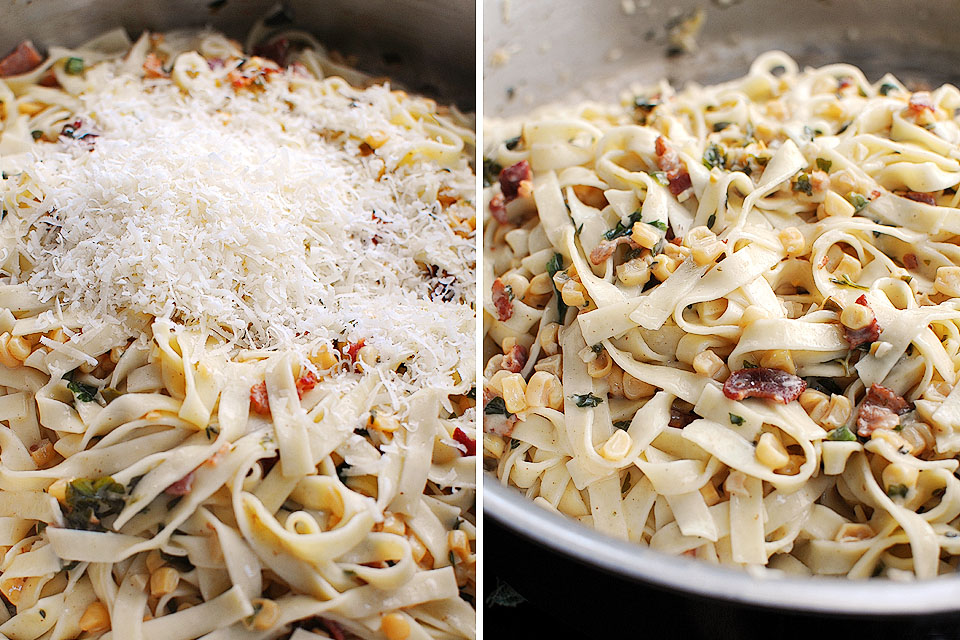 Cut the heat, in goes the cheese, and toss until all pasta is coated well.
Yummy. Yum. Yum.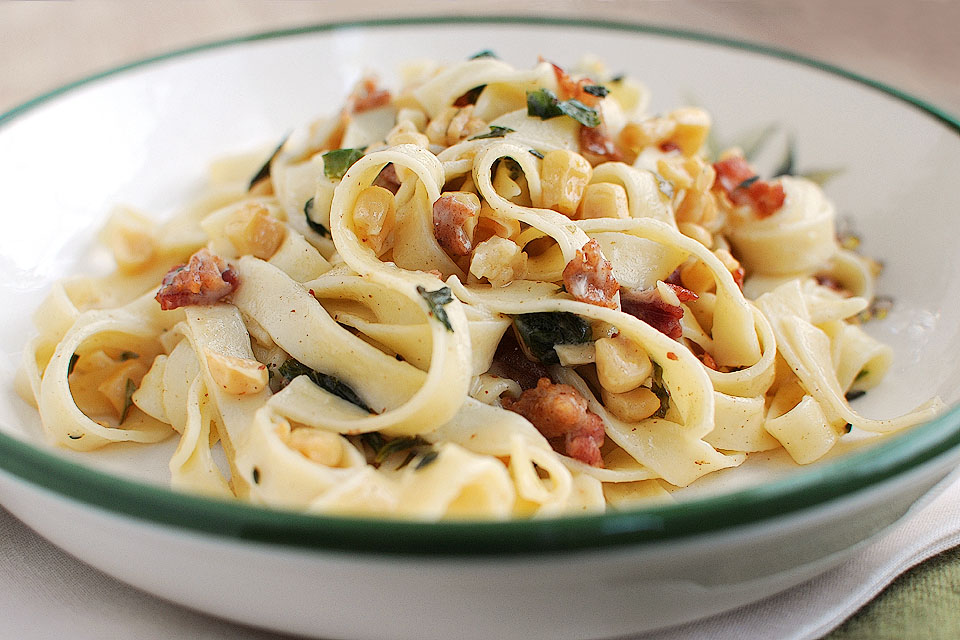 I honestly could enjoy this a couple of times a week, or, truth be told, everyday. But all good things in moderation right?
Thanks Erin for adding this one to the pasta mix here on Tasty Kitchen. My kitchen was definitely a tasty place to be with this dish. Visit Erin's blog Dinners, Dishes and Desserts for more deliciousness!
Remember to check out the full printable recipe below for all measurements and more detailed instructions.
Printable Recipe
See post on Erin's site!
Description
Creamy Pasta Carbonara with Fresh Sweet Corn and a little kick!
Ingredients
1 pound Egg Noodles
⅓ pounds Bacon, Diced
4 ears Sweet Corn, Scraped
½ whole Jalapeno, Seeded And Chopped
6 cloves Garlic, Chopped
1 Tablespoon Fresh Thyme
¼ cups Fresh Parsley, Chopped
½ cups Dry White Wine
3 whole Egg Yolks
½ cups Parmesan Cheese
Preparation Instructions
Cook the pasta according to the package directions. Reserve 1 cup of the cooking liquid.
While the pasta is cooking, over medium-high heat, brown the bacon. Add the corn and lightly brown the edges. After about 5 minutes, add the jalapeno, garlic, and thyme. Stir for 2 minutes. Add the parsley and wine. Simmer on low heat.
In a small bowl, beat the eggs. Slowly add in the reserved cooking liquid to temper them. Add the pasta and egg yolks to the corn mixture and toss. Remove from heat, add the cheese and toss vigorously to form a silky sauce, 1 to 2 minutes.
Top with extra cheese and chives if desired.


_______________________________________
Amy Johnson is a blogger who writes about food, travel, the home (both inside and out), and various observations and random musings about anything and everything. Visit her blog She Wears Many Hats for a dose of deliciousness, practicality, hilarity, or just plain fun. She lives in South Carolina with her husband and two children.