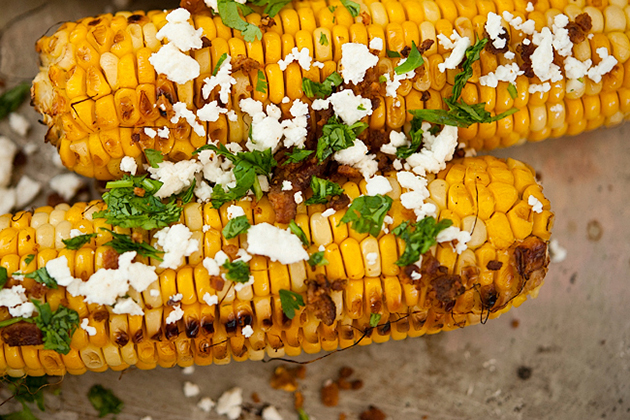 Hi everyone! Do you see that bright golden haze in the meadow? No, really. There's a bright golden haze on the meadow. And the corn is as high as an elephant's eye! It looks like it's climbing clear up to the sky. Oh what a beautiful morning …
Ahem. Sorry. Kinda got carried away there.
I've been singing that song to myself these past few days every time we drive past a meadow or any patch of land that resembles a corn field. I've been singing it in grocery stores and farmers markets too, as I walk past the beautiful ears of corn for sale. I apologize if you live in my area and have had to endure my shameless humming, but I can't help myself. Because mmmm. Corn. It makes me happy.
For me, corn and summer go together like pumpkin and fall. Throwing a few ears of corn on the grill makes for an instant, easy BBQ side dish, and frankly, often I'm quite content with just that and some butter. But I also love corn kernels in cornbread, mixed in with grits, polenta, rice pudding, or just about any kind of stir fry. I even love corn ice cream, which might sound weird to some, but try it and you'll know what I mean.
Corn is plentiful during the summer, and before the season ends, let's try a few new ways to enjoy it! Tell us:
What's your favorite way to enjoy corn?
I shared my favorites above, which can be summarized in one simple statement: "I'll eat corn with everything." But I'm always open to new ideas! So share your corn recipes, your tips and tricks for buying or shucking or cooking corn. Or maybe you have a preferred kind of corn (white? yellow? bi-color?) that you seek out at the market. Tell us all about it below!