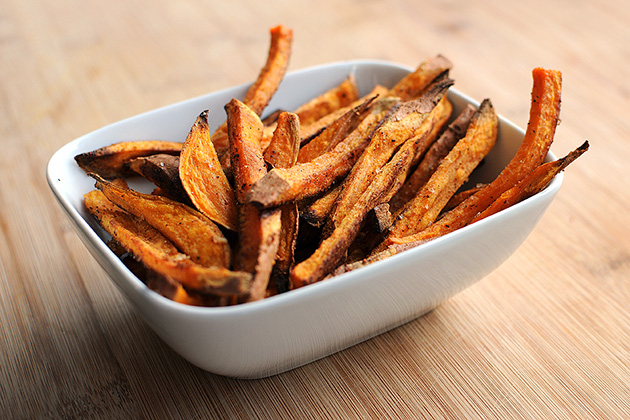 Healthy snack options mean, well, it means options. And options are good, especially when we're heading into the holiday season, packed with all flavors of goodies at every turn. Yes, having healthy and tasty options in your repertoire is always a good thing. This recipe for Baked Sweet Potato Fries submitted by Tasty Kitchen member Caitlin is one of those options. Sweet potatoes are packed with carotenoids, vitamin C, potassium, and fiber, and baking the fries, as this recipe calls for, keeps the fat down. Good for snacking, or as a side dish, these Baked Sweet Potato Fries are satisfying to the max. Simple too. Let me show ya.
For starters, I'd recommend doubling or tripling this recipe right off the bat. They're good and will get gobbled up quick.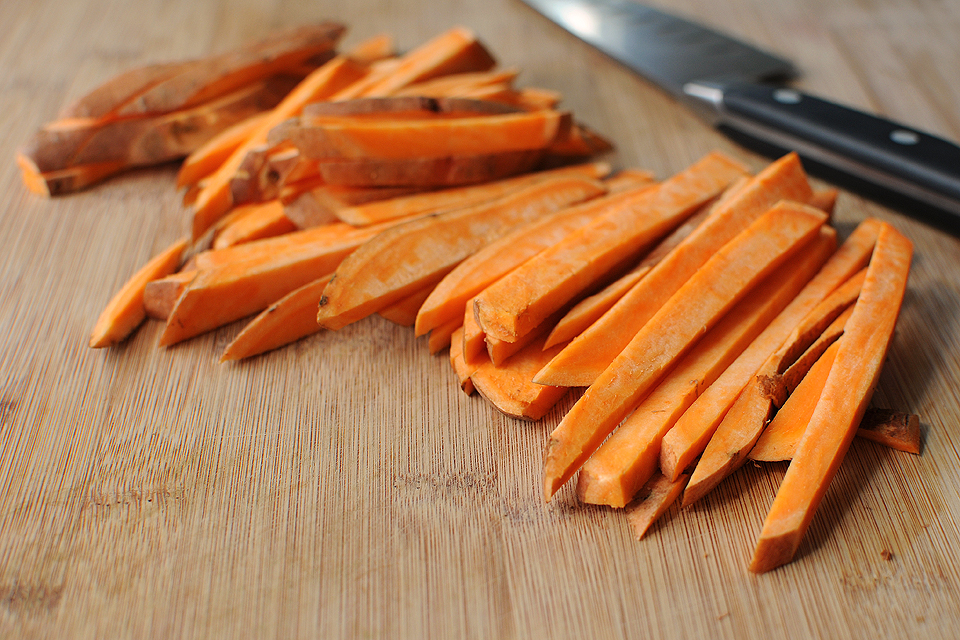 You'll need: sweet potato(es), olive oil, salt, pepper, garlic powder, and cayenne pepper.
(The spices/herbs can easily be changed for different flavor combos, so be creative with these. Maybe rosemary, salt, and olive oil? A simple trio, but mighty tasty too.)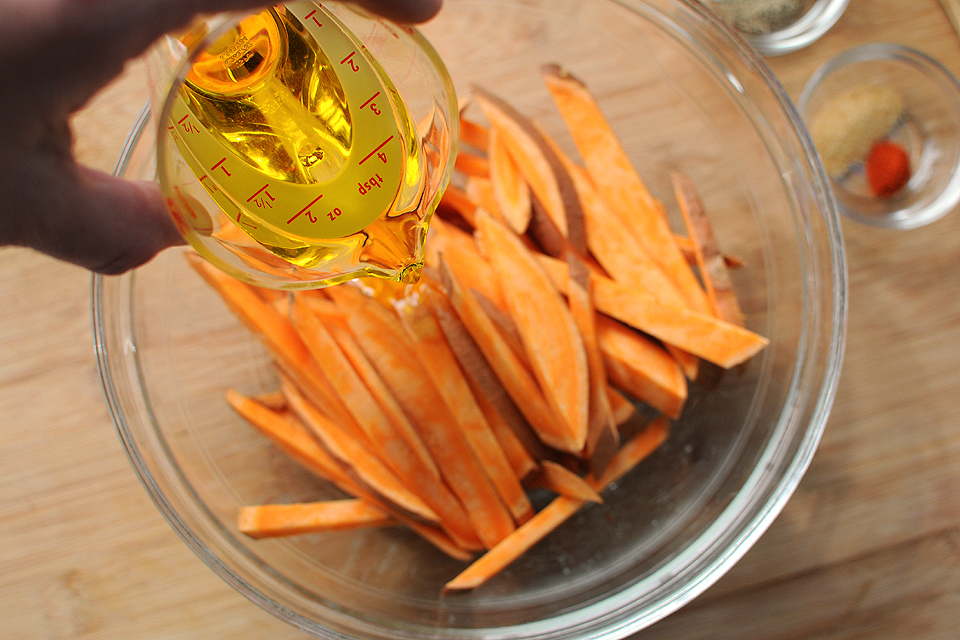 Slice the sweet potato into strips, about 1/2″ thick. The thinner they are, the crispier they'll be. They'll cook quicker too, so make sure you account for that in the cook time.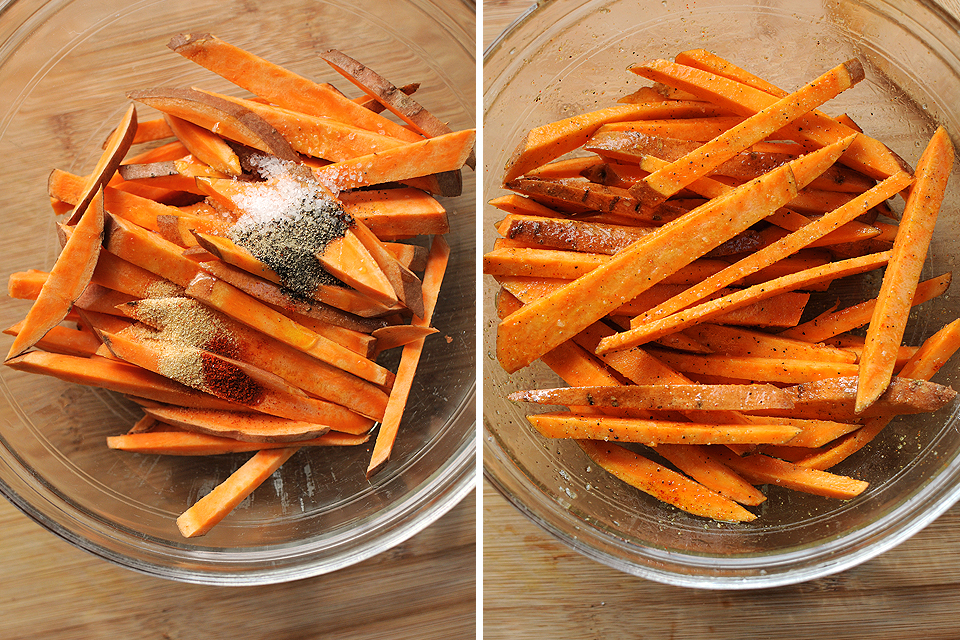 Place the fries in a bowl and add the olive oil.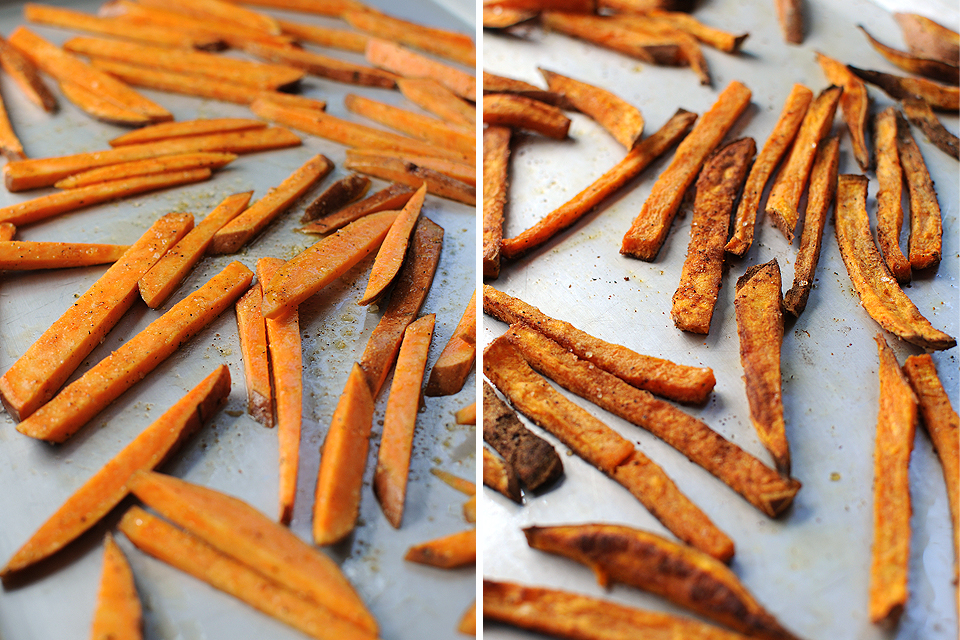 Then add the spices and combine well, coating all fries evenly. We like it spicy, so I added a full 1/8 teaspoon of cayenne to ours. Yum!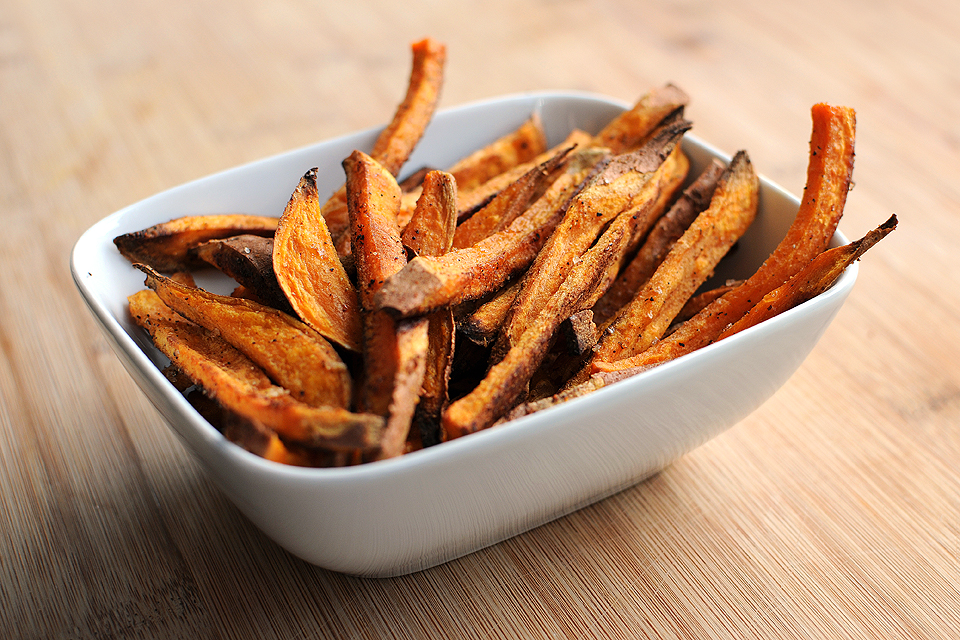 Spread in a single layer on a baking sheet and bake for 15 minutes. Toss and continue baking another 10-15 minutes until crisp. Ovens vary, so make sure to watch your first batch closely to see what cook time is appropriate for your oven.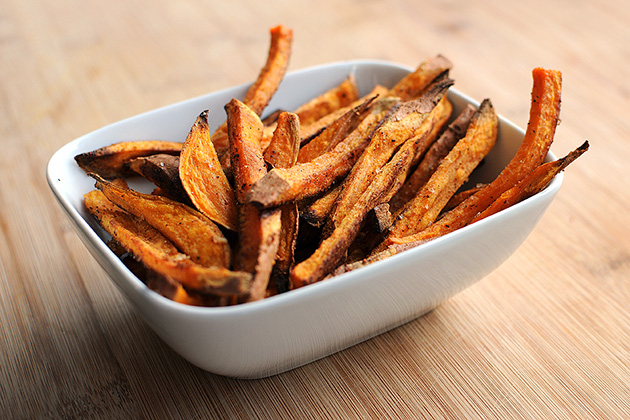 That's it! Easy huh? And totally drool worthy. Try them soon and let me know what you think. And again, you may wanna double the batch.
A big thanks to Caitlin for the recipe. We've already made it three times this week. My 13-year-old son even asked for them for a snack. Smart kid, I think. Definitely a good option.
Printable Recipe
Description
These puppies are quickly becoming my new popcorn, a.k.a. my new late-night, movie watching snack. They are quick and easy, as well as healthier than the starchy alternative. I leave the skins on them, because Maude tells me to, but you should follow your instincts on that one. Don't be surprised if you find yourself making these at 11 pm when everyone else is asleep, but you have a lot of Grey's Anatomy to catch up on.
Ingredients
1 whole Sweet Potato
2 Tablespoons Olive Oil
½ teaspoons Kosher Salt
¼ teaspoons Freshly Ground Pepper
¼ teaspoons Garlic Powder
1 pinch Cayenne Pepper (if You're Down With That)
Preparation Instructions
1. Preheat the oven to 450F.
2. Scrub the sweet potato and cut into 1/2 inch slices (or thinner if you like your fries crispier).
3. In a bowl, toss the sweet potatoes with the olive oil, kosher salt, pepper, garlic powder, and cayenne (if you like-ah some spice-ah).
4. Arrange fries evenly on a cookie sheet and bake for about 20 to 30 minutes minutes, checking after 20 minutes to prevent burning (ovens vary). Flip halfway so they cook evenly.
5. Settle in for a good movie and a glass of wine with a delicious snack.
Suggestion: Try throwing on some parmesan cheese during the last few minutes of baking for a yummy surprise!


_______________________________________
Amy Johnson is a blogger who writes about food, travel, the home (both inside and out), and various observations and random musings about anything and everything. Visit her blog She Wears Many Hats for a dose of deliciousness, practicality, hilarity, or just plain fun. She lives in South Carolina with her husband and two children.