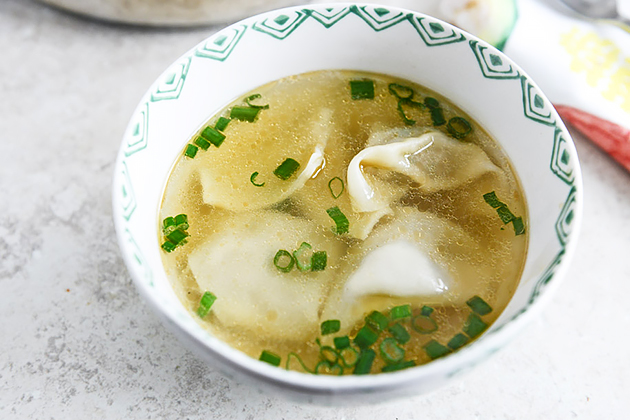 Oh my gosh. Today we're going to make some easy comfort food and it's like a giant hug in a bowl. So much flavor, so much punch!
I've loved wonton soup forever and a day, but I never thought it was something that was doable at home. Being totally uneducated about it, I was clueless when it came to prepping something like this. But I came across Sarah's recipe for Simple Wonton Soup and the "simple" part seriously sold me. You mean it isn't that tough to make wonton soup?
It so isn't. It's doable, even on a weeknight, but better yet, this recipe makes a lot of wontons, so you can store them in the freezer and have soup for days. What's better than that?
Let's get started.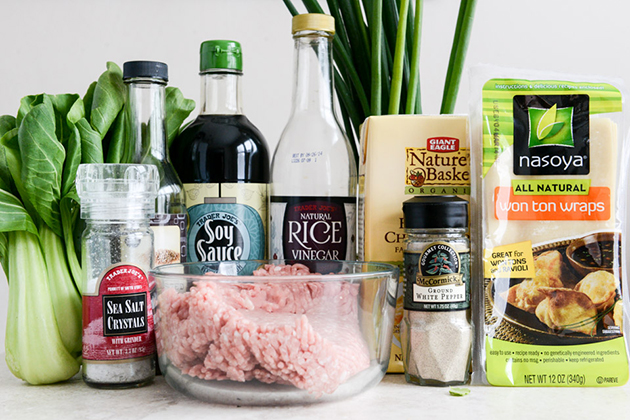 Here are the goods that you need: baby bok choy, sesame oil (I used toasted), soy sauce, shoaxing wine (I subbed rice wine vinegar), green onions, chicken stock, wonton wraps, ground pork, salt and pepper. Pretty simple stuff—I actually had most of it on hand.
First, you make the wontons. It's definitely simple as the recipe title portrays but it's slightly time-consuming and requires a little bit of patience. Not lots! Just a little.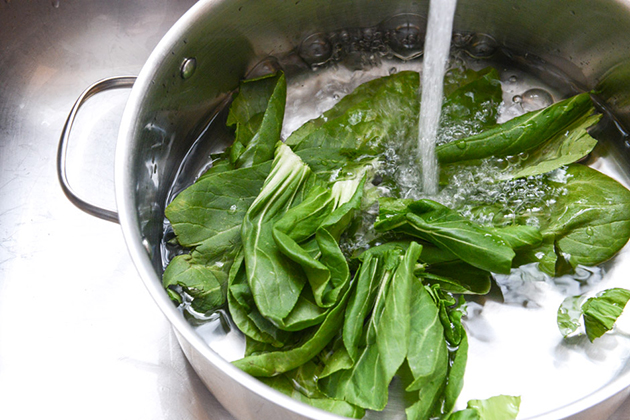 The initial step is to bring your bok choy greens to a boil quickly, then blanch them in cold water.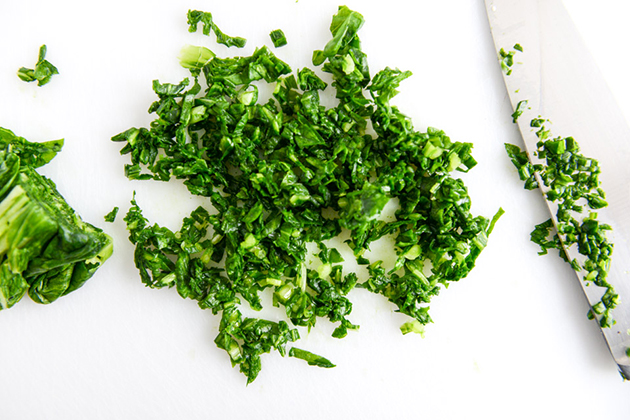 Grab the bunch and squeeze out as much water as you can, then finely chop the greens.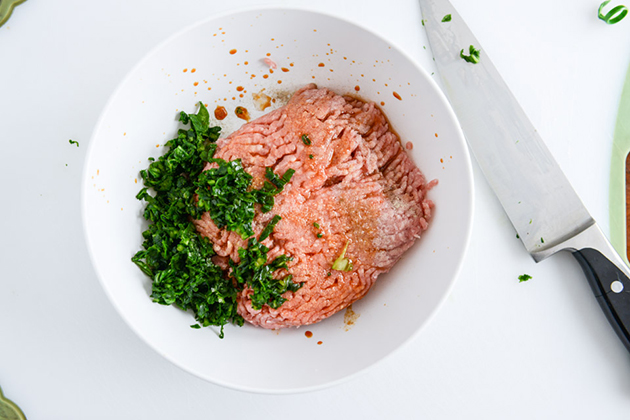 Mix together the ground pork, soy sauce, sesame oil, rice wine vinegar salt, pepper and wilted greens. Stir, stir, stir. Even use your hands. You want it super mixed, almost to the point of being paste-like. After that, grab a small bowl and fill it with water.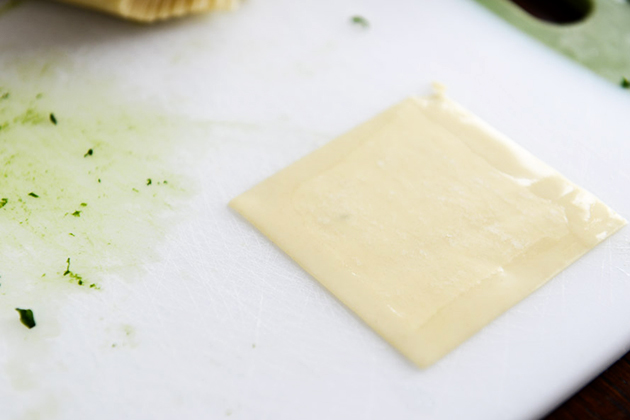 Dip your finger or a thin pastry brunch in the water and brush it along the edges of the wrapper. This will help seal this sucker together.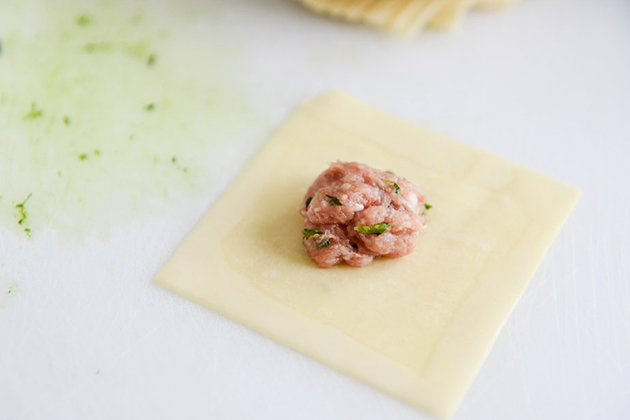 Place about a teaspoon of the ground pork mixture in the center of the wonton…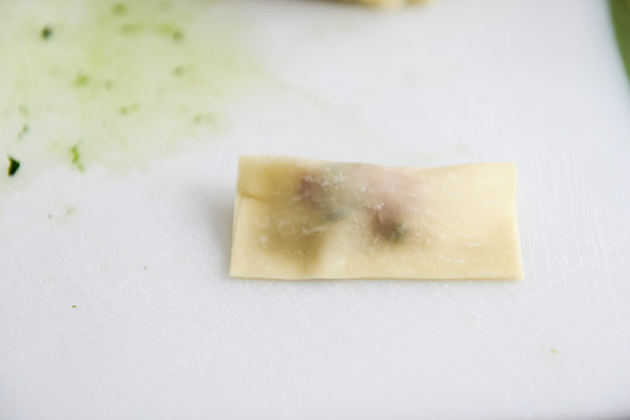 Then fold it in half and press the edges together. I also squeeze out any air in the wrapper with my fingers.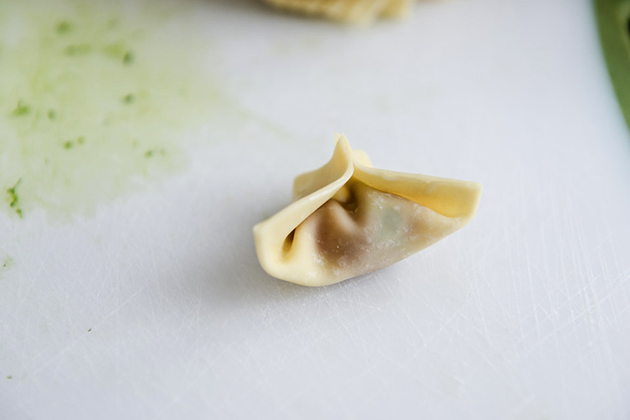 Brush a drop of water on one sealed corner of the wrapper and bring it to meet the other corner, forming a little package. So cute!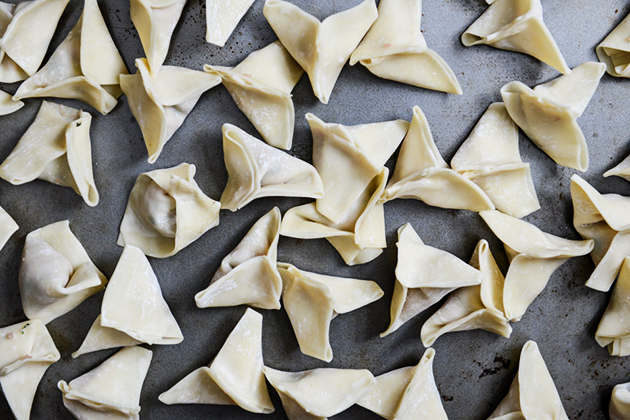 Do so with the remaining wrappers and pork until you have a big old tray. It's kind of soothing and the type of busy work that I love.
Once all of the wontons are made, you can use them or freeze a bunch for later use. To serve two of us, I kept about a quarter of the wontons out and froze the rest. This way, they are ready at the drop of a hat for some soup.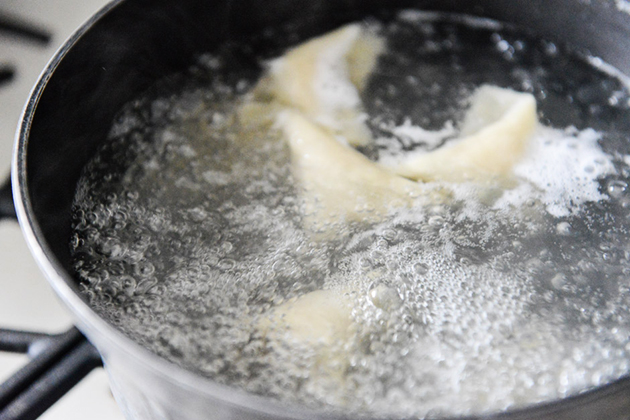 Bring a pot of water to a boil. Once boiling, add the wontons and cook just until they float. At the same time, add the chicken stock to a large pot and bring it to a simmer. When it's simmering, add in the salt, pepper and sesame oil.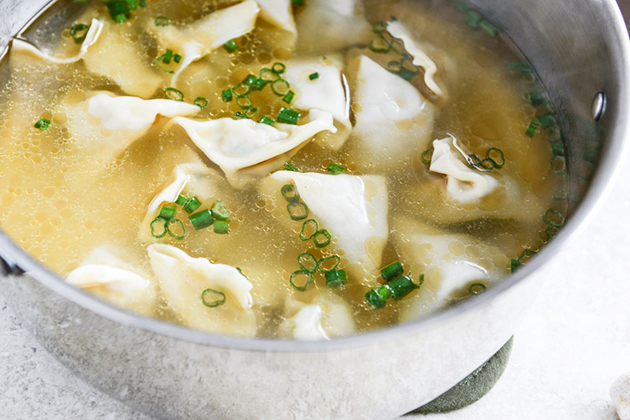 Remove the wontons from the water as soon as they are floating. You don't want to overcook them or else the wontons get very mushy and soft. If you're serving immediately, you can throw them in the simmering chicken stock, but make sure you're eating right away. The recipe calls for adding your wontons to a bowl and pouring your chicken stock over when ready to eat. Either way works well. Add some green onions to the broth and you're good to go.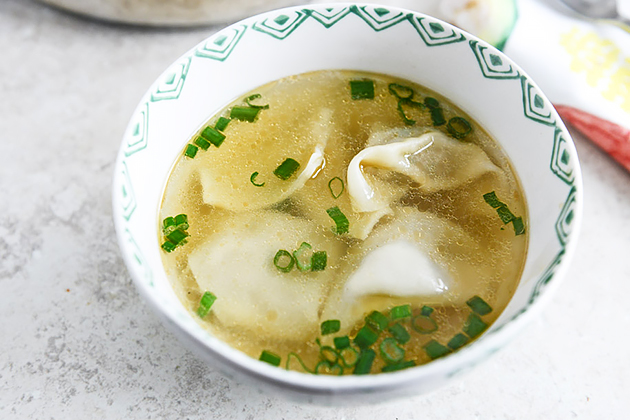 Ah! This was so good. Such comfort food that reminded me of when I was a kid and we'd get take-out Chinese food. It was such a treat. It really is simple yet I never thought I'd be able to make something like this at home with ease. Glad I was wrong. This one's a keeper.
Be sure to check out Sarah's blog, The Woks of Life, where she shares more delicious recipes and an array of cuisines!
Printable Recipe
See post on Sarah @ The Woks of Life's site!
Description
This is the best thing ever on a cold wintry day. Surprisingly simple and so good. You'll love this!
Ingredients
FOR THE WONTONS:
10 ounces, weight Baby Bok Choy Or Similar Green Leafy Vegetable
1 cup Ground Pork
2-½ Tablespoons Sesame Oil
1 pinch White Pepper
1 Tablespoon Soy Sauce
½ teaspoons Salt
1 Tablespoon Shaoxing Wine
1 package Wonton Skins, 12 Ounce Package
FOR THE SOUP:
6 cups Good Chicken Stock
1 Tablespoon Sesame Oil
1 teaspoon Salt, Or To Taste
¼ teaspoons White Pepper
1 whole Scallion, Chopped
Preparation Instructions
Start by thoroughly washing the greens. Bring a large pot of water to a boil, add the greens and blanch them just until wilted (this will only take a couple of minutes). Drain off the hot water and rinse the greens in cold water.
Grab a good clump of greens and carefully squeeze out as much water as you can. Very finely chop them (you can also speed up the process by throwing them in the food processor).
In a medium bowl, add the finely chopped greens, ground pork, sesame oil, white pepper, soy sauce, salt and wine. Mix very thoroughly until the mixture is totally emulsified—almost like a paste.
Now it's time to assemble! Fill a small bowl with water. Grab a wrapper and use your finger to moisten the edges of the wrapper. Add a little over a teaspoon of filling to the middle. Fold the wrapper in half and press the two sides together so you get a firm seal.
Hold the bottom two corners of the little rectangle you just made and bring the two corners together. You can use a bit of water to make sure they stick. And that's it! Place the assembled wonton on a baking sheet or plate lined with parchment paper to prevent sticking. Keep assembling until all the filling is gone.
At this point, you can cover the wontons with plastic wrap, put the baking sheet/plate into the freezer, and then transfer them to Ziploc bags once they're frozen. They'll keep for a couple months in the freezer and be ready for wonton soup whenever you want it.
To make the soup, heat your chicken stock to a simmer in a large pot. Then add sesame oil, salt and white pepper and keep it simmering.
Bring a separate pot of water to a boil. Carefully add the wontons one at a time to the pot. Pick up the pot and use a swirling, twisting motion to keep the pot moving and prevent the wontons from sticking to the bottom. If they do stick, don't worry, They should come free once they're cooked. They're done when they float. Take care not to over-cook them. Remove the wontons with a slotted spoon and put them in bowls.
Pour the broth over the wontons and garnish with scallions. Serve!


_______________________________________
Jessica Merchant is a personal trainer turned food writer and blogger. Her blog, How Sweet Eats, is where she proclaims her love for all things sweet, all things bacon, and everything else in between. She works her magic in her Pittsburgh kitchen, which she shares with her husband of 2 years.