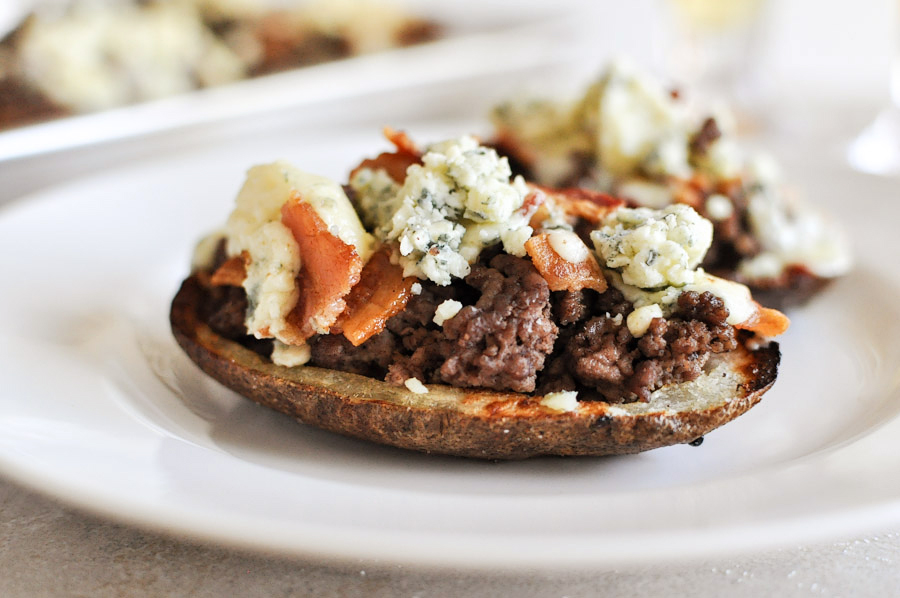 Oh boy. Do I have a treat for you.
Have you ever had a fabulous bacon and blue cheeseburger? Please say yes. If not, please imagine that you have. Thick and crunchy bacon. Covered in gooey Gorgonzola or Stilton or your blue of choice. And now, imagine that entire combination stuffed into a crispy potato skin. YES. Just like that.
This recipe is like one giant explosion of flavor in your face. It's fabulous. It's perfect for a twist on a game day favorite but it also makes for an awesome weekend dinner. And maybe even … a quick breakfast. On the weekend of course. Because you know, calories don't count on the weekend.
Let's get started!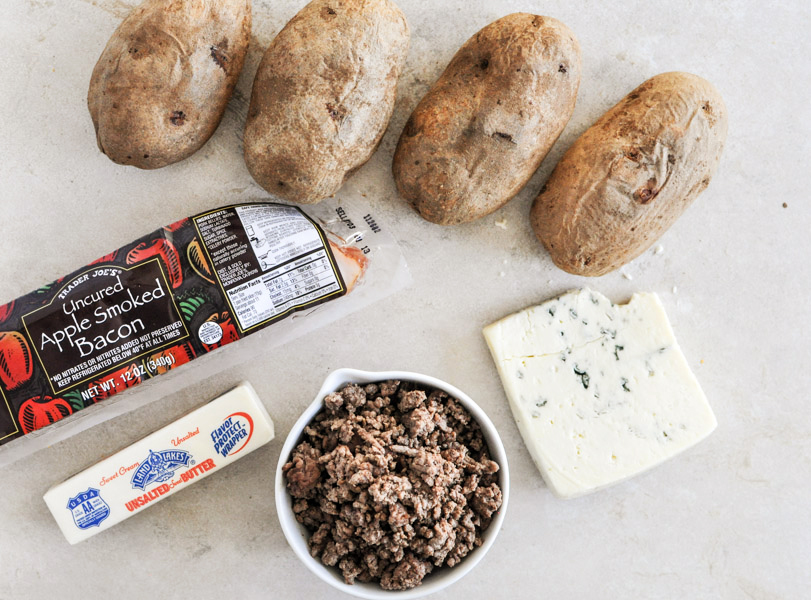 While complex in flavor, these are actually super simple. All you need are four potatoes, a bit of butter, bacon, browned ground beef and blue cheese. Oh, and some good old salt and pepper.
First up, poke the tops of each potato with a fork a few times and bake for about one hour. Do something fun during that time, like paint your nails! Or clean. Whatever.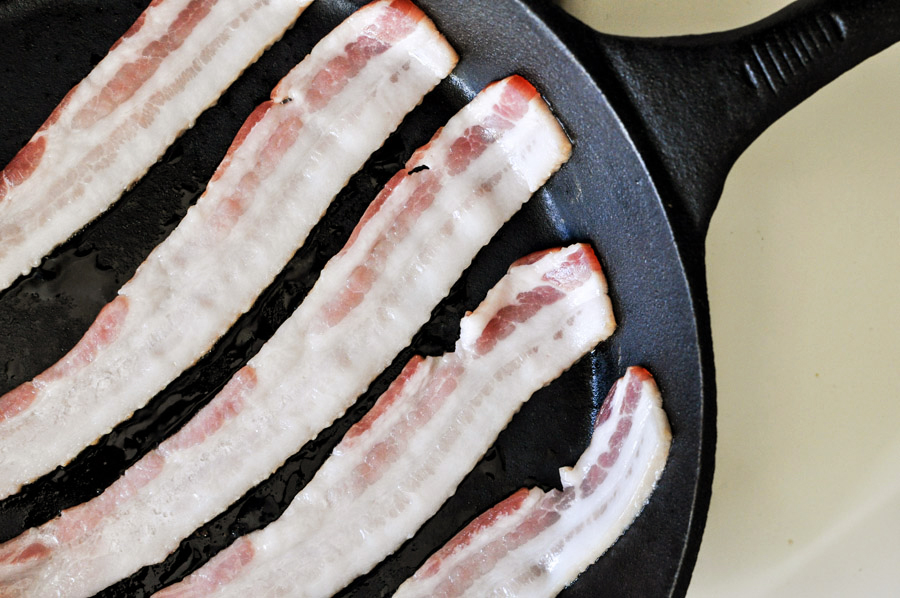 After the potatoes have baked, let them cool until you can touch them. In the meantime, you can fry up some bacon. Never heard any complaints about that one …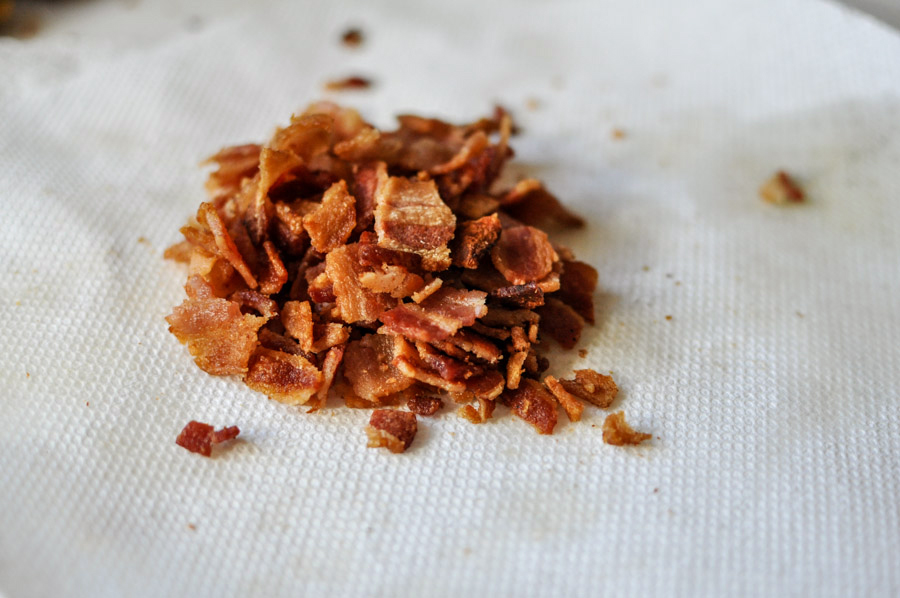 Afterwards, let it drain and cool on a paper towel, then crumble it up. You know the drill: Make a few extra slices because you know you're going to be eating it. I hope.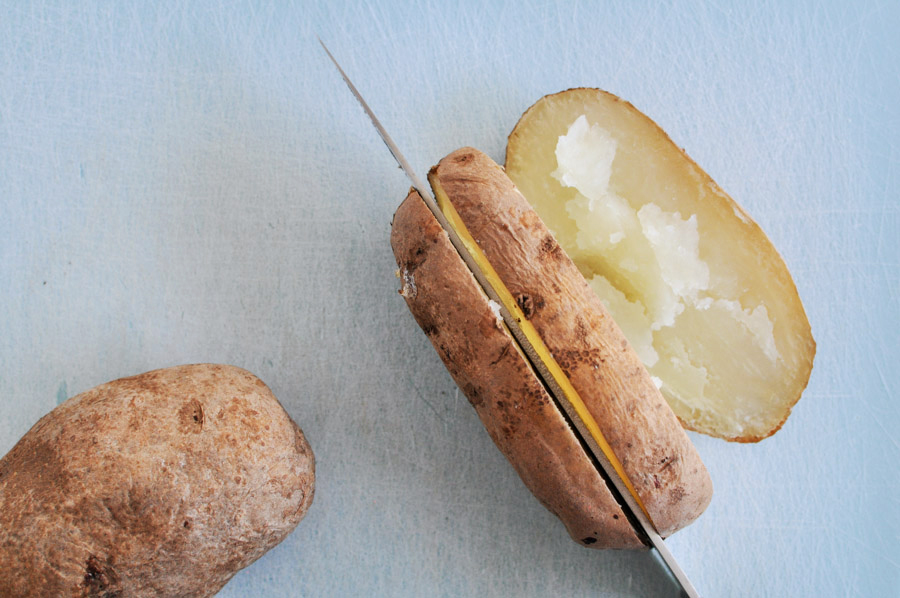 Once the potatoes are cool, you are going to cut them into thirds. Slice them lengthwise and discard the centers. Save all that extra starch for breakfast or something. You are going to have some bacon grease anyway.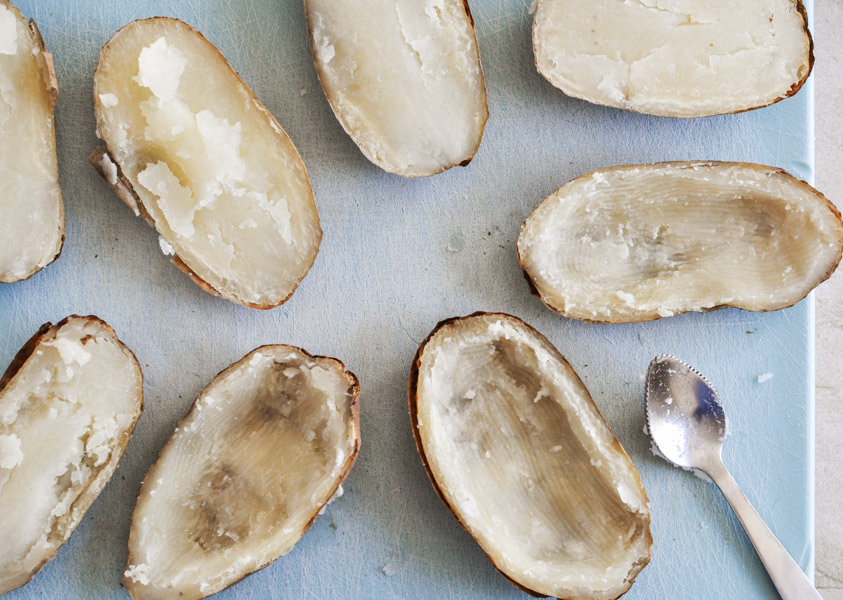 Once you have the ends of each potato, you want to scoop out some of the flesh. FYI, if you have a serrated spoon (like a grapefruit spoon), I find that these work so well. Love 'em!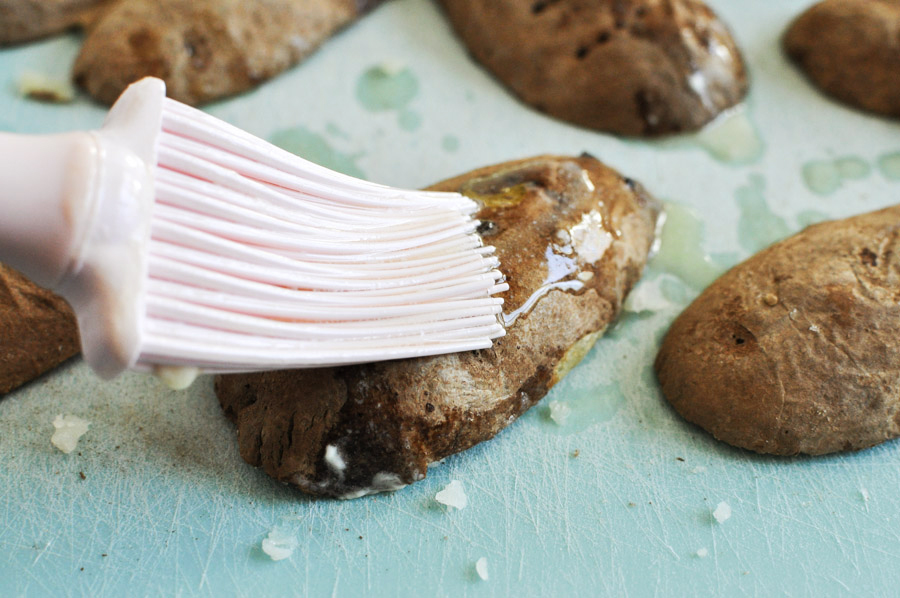 Brush the tops and bottoms of each 'tater skin with melted butter, then cover in a little salt and pepper. Place on a baking sheet and throw under the broiler for close to 10 minutes, until they get all crispy.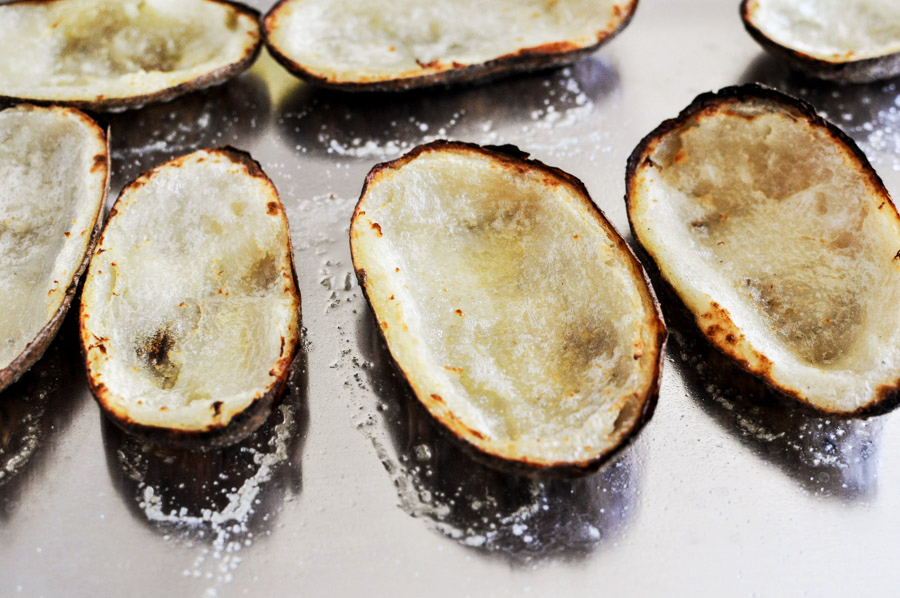 When you remove them, the butter will be bubbling and it's almost like a giant potato chip. Ugh. So hard to resist.
Now comes the fun part. Fill each skin with a few spoonfuls of ground beef.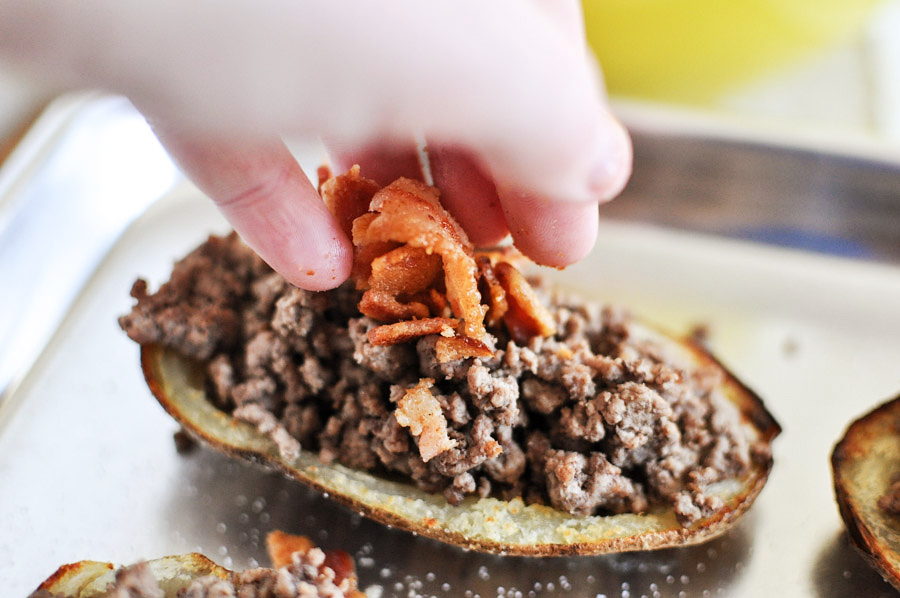 Then top that off with some bacon.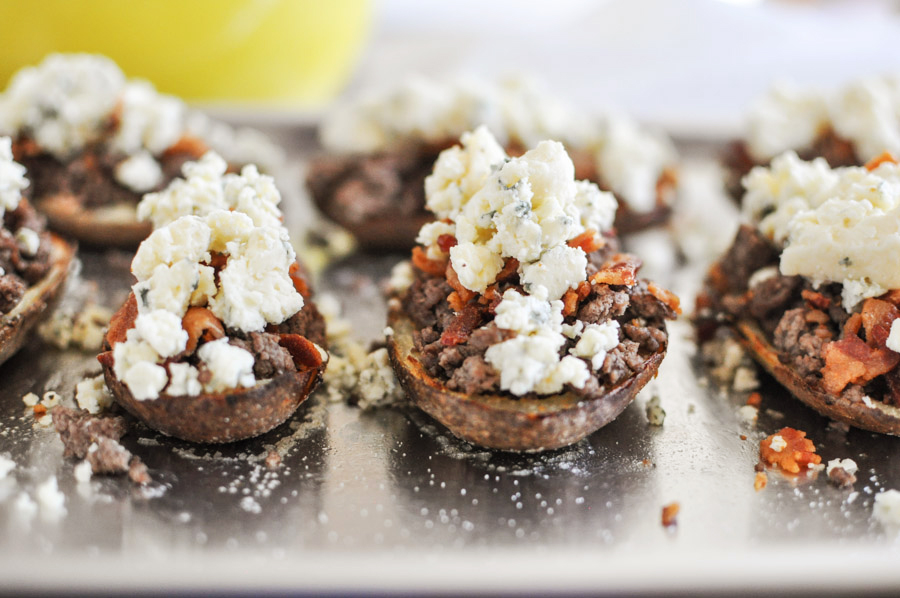 And finally, a few handfuls of crumbled blue.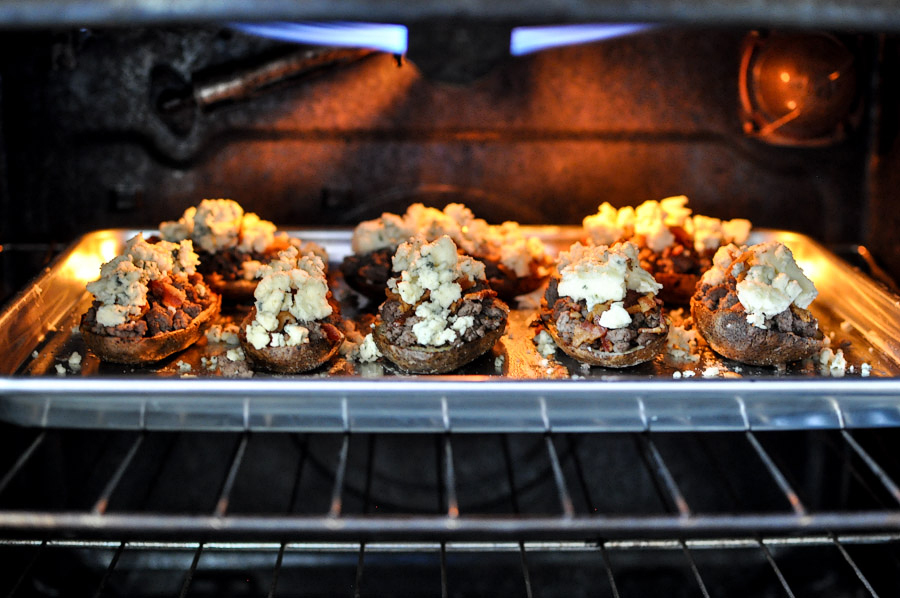 Back under the broiler they go!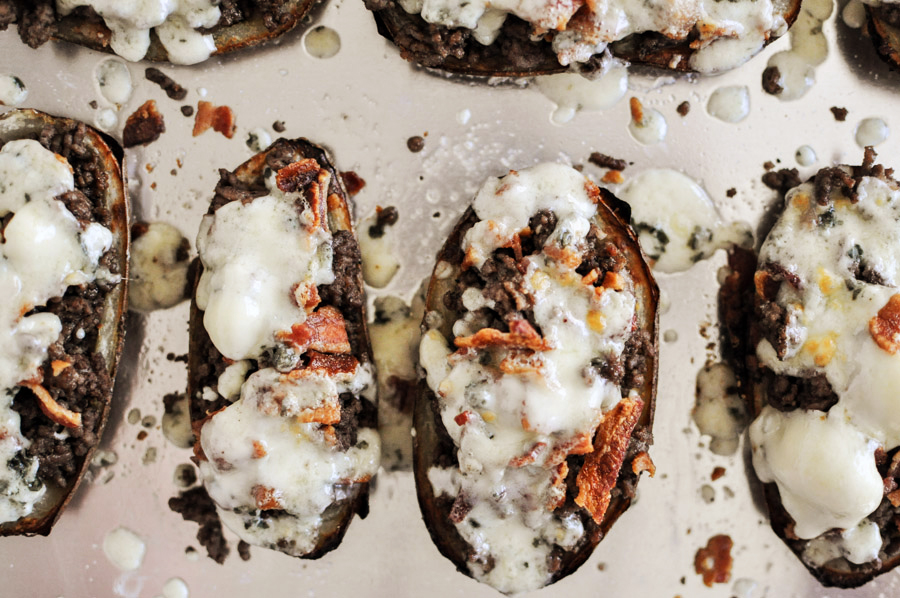 After a few minutes under the heat, remove the baking sheet. Oh my gosh. Not gonna lie. I scraped that baking sheet clean.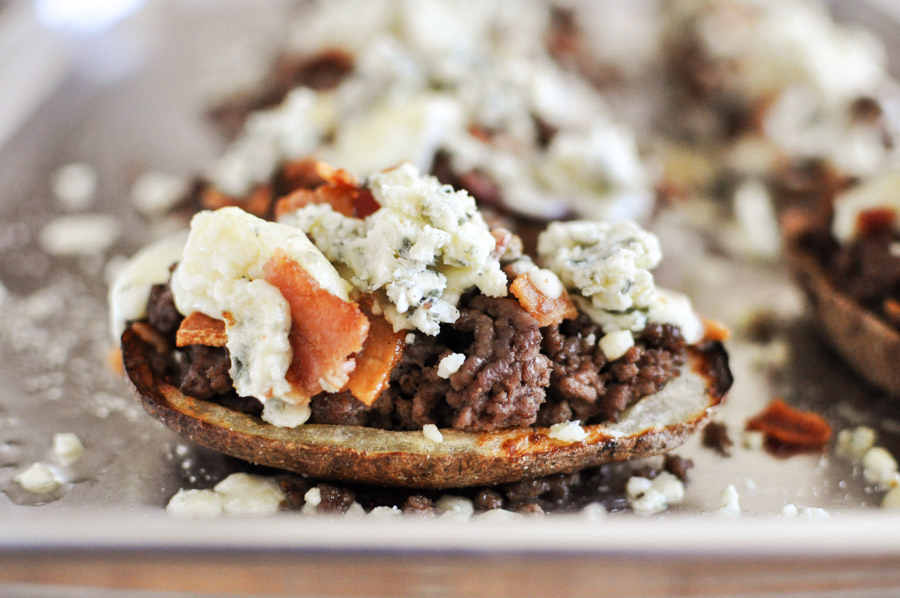 Top with a bit more crumbled blue …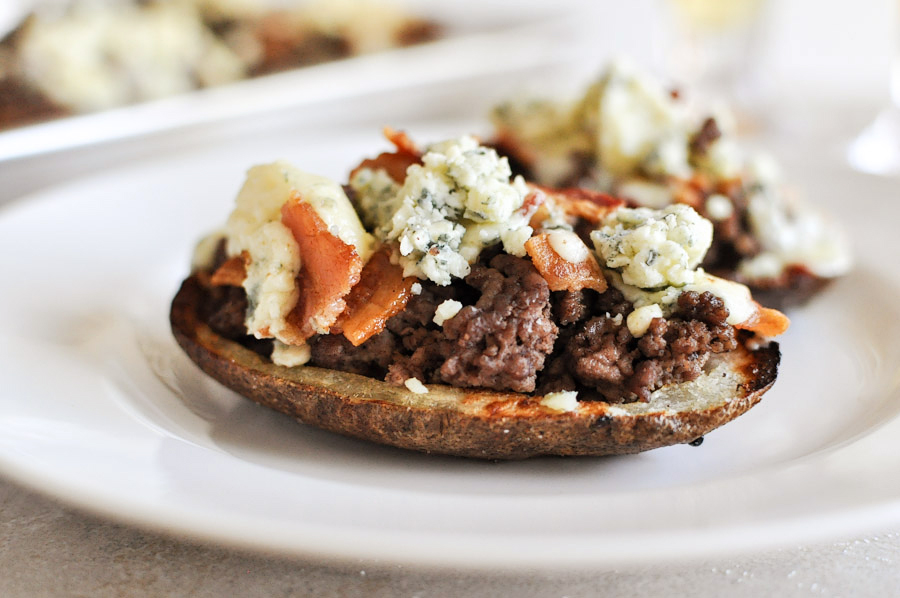 And go to town.
As you can imagine, these were truly insane. So few ingredients but so much flavor. Potato skins have always been a huge favorite of mine, albeit if only for nostalgic reasons, given it was one of my grandmother's favorite treats. This was SUCH a fun twist on the original. Thanks so much to Dax for the fun recipe! Be sure to check out his blog, Simple Comfort Food, where he features tons of other mouthwatering meals.
Printable Recipe
See post on Dax Phillips's site!
Description
A simple twist on a classic loaded potato skin. Introducing a bit of ground beef and double cream blue cheese puts this one over the top.
Ingredients
4 whole Russet Potatoes, Cleaned
6 slices Nueske's (or Your Favorite) Bacon
3 Tablespoons Unsalted Butter, melted
1 teaspoon Salt To Taste
1 teaspoon Cracked Black Pepper, To Taste
¼ pounds Ground Beef, Browned
½ cups Great Blue Cheese, I Used Hook's Blue Paradise
Preparation Instructions
Begin by preheating your oven to 400 F. Poke the top of each potato with a fork and place on a baking sheet. Cook in the oven for 1 hour. Once cooked, remove potatoes from the baking sheet and place them on a plate to cool for about 15 minutes.
Cook your bacon in a skillet on low heat for about 15-20 minutes. The low and slow process, in my opinion, is the only way to cook bacon as it really yields perfect bacon every time. Remove the bacon from the skillet and drain it on some paper towels before you crumble it.
Once your potatoes are cooled, use a sharp bread knife and cut them lengthwise. For each potato you'll have three long segments—two nice rounded sections, one from each side for the skins and one thin cutout from the center. Place the middle slice in a bowl for later use, such as breakfast the following morning. Or heck for that matter, add some butter, salt, and cream, and make some rustic mashed potatoes.
Continue this cutting process with the rest of the potatoes. You should then have 8 skins. With a small spoon, carefully scoop out about 70 percent of the potato. You still want some potato near the skin, to hold the structure of your boat.
Next, melt your butter in the microwave. Get your broiler heated to high. Brush the butter on the inside and outside of each potato skin and place them back onto the baking sheet. Season the inside of each skin with salt and pepper.
Place them under the broiler for 8-10 minutes until the insides get a bit crispy from the melted butter. Pull them out of the oven and place generous amounts of the cooked ground beef into each skin, topping with bacon pieces and about one tablespoon of blue cheese for each skin. Place these back under the broiler for about 3-4 minutes until the cheese is nice and bubbly. Carefully remove from the oven, top with just a bit more blue cheese, and get ready for a flavor of explosion.
Serve on a platter and have your guests dig in. The subtle crisp from the exterior of the potato skin, with the tenderness of the potato on the inside will satisfy your french fry craving. Then your burger fix comes in with just the right balance of bacon and sharp creaminess from the blue cheese. Small in size and packed with flavor, these skins definitely satisfied my craving for a burger. If you are a fan of blue cheese on your burger, definitely make these. You will be happy you did!


_______________________________________
Jessica Merchant is a personal trainer turned food writer and blogger. Her blog, How Sweet Eats, is where she proclaims her love for all things sweet, all things bacon, and everything else in between. She works her magic in her Pittsburgh kitchen, which she shares with her husband of 2 years.