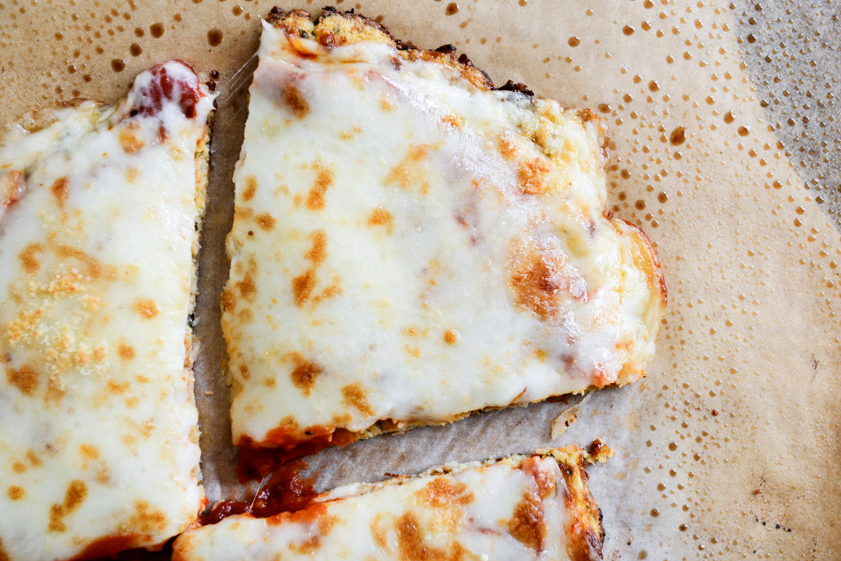 Oh cauliflower pizza crust, I have been skeptical of you for so long. So, so long. The first time I attempted a cauliflower crust was back in the day, long before Pinterest existed or I knew what a blog was, after getting a recipe from someone in my local gym. I didn't love cauliflower at the time but I didn't loathe it either. Plus, it came loaded with lots of cheese, so it had to be a win. Right?
Wrong. It was pretty terrible. So terrible in fact that, until I found this recipe—this recipe for The Best Cauliflower Crust Pizza ever—I vowed that I wouldn't succumb to the trend once again.
Now, I'm so glad that I did. Michelle is one smart cookie.
Not only is the crust simple, it is FAST. That's the key for me. Now, let me say that I don't think I will ever replace my favorite pizza crust. I make a mean whole-wheat dough and love it all up. But this is an awesome recipe for when you want pizza and you are short on time, or when you want pizza but are willing to draw outside the lines a bit, or when you want pizza but need to stay away from gluten. Or maybe you're trying to sneak in some extra veg. Story of my life.
This gets even better with an array of toppings. I am boring in my pizza choices so I kept it simple with some cheese and sauce. But now, all I'm envisioning is buffalo chicken, grilled vegetables, cheeseburger pizza, and other endless options. So excited. Let's get started!
This is all you need for your crust: a small (emphasis on small!) head of cauliflower, one egg, some mozzarella and Parmesan cheese, salt, pepper, garlic powder, oregano, basil and crushed red pepper flakes. That's it! Plus, whatever toppings you choose.
This specific method uses a pizza stone or baking sheet. Begin by adding the stone or sheet to the oven and preheating your oven. Having a pizza peel is ideal, but if you have another object (like a cutting board) that you can flour, it will work too.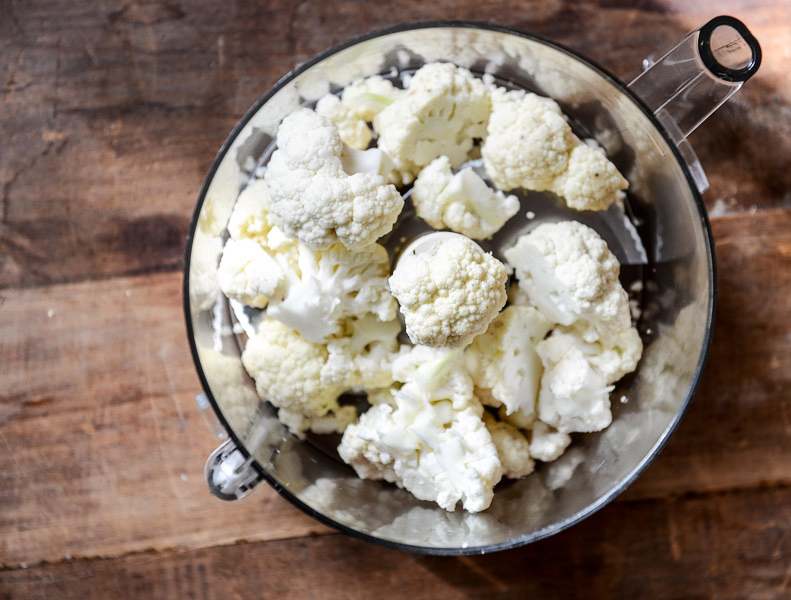 First up, add the cauliflower to your food processor and pulse.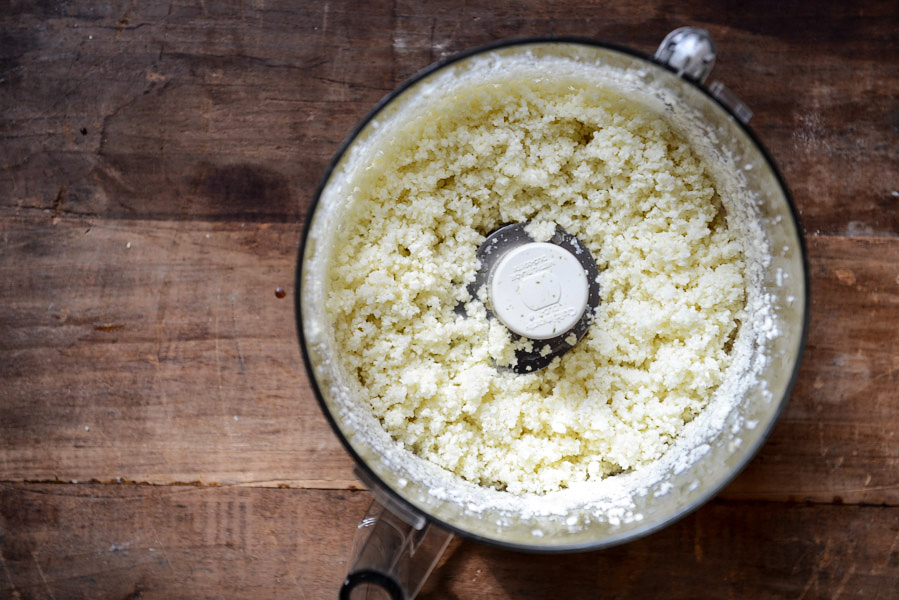 You want it to look like cauliflower "snow." That expression made me so happy.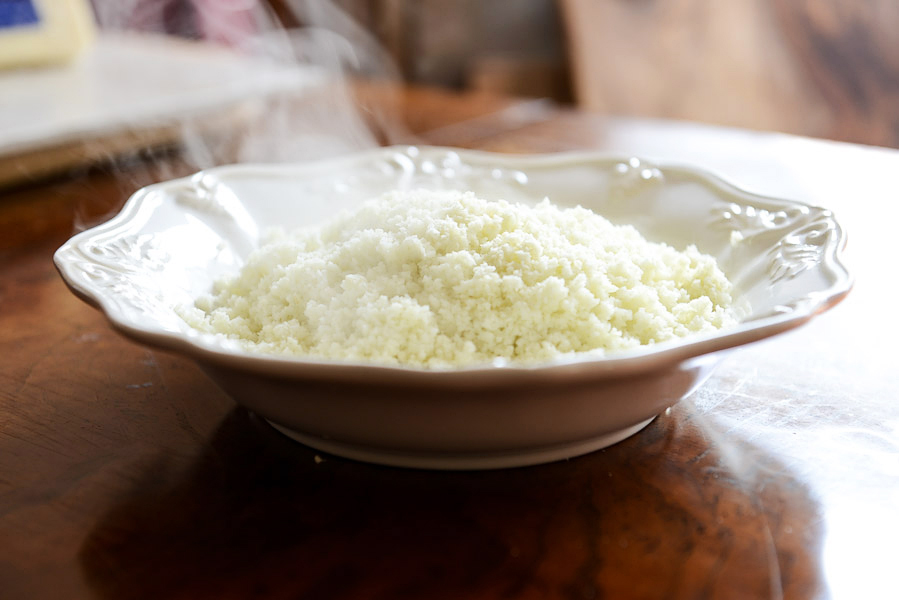 Once your cauliflower is pulsed into tiny crumbs, you want to microwave it. Let it cool completely or else you'll burn the heck out of your hands.
After the cauliflower has cooled, place it in a towel and ring the heck out of it to remove as much liquid as possible.
You will be left with something like this—a sort of cauliflower "pulp," if you will.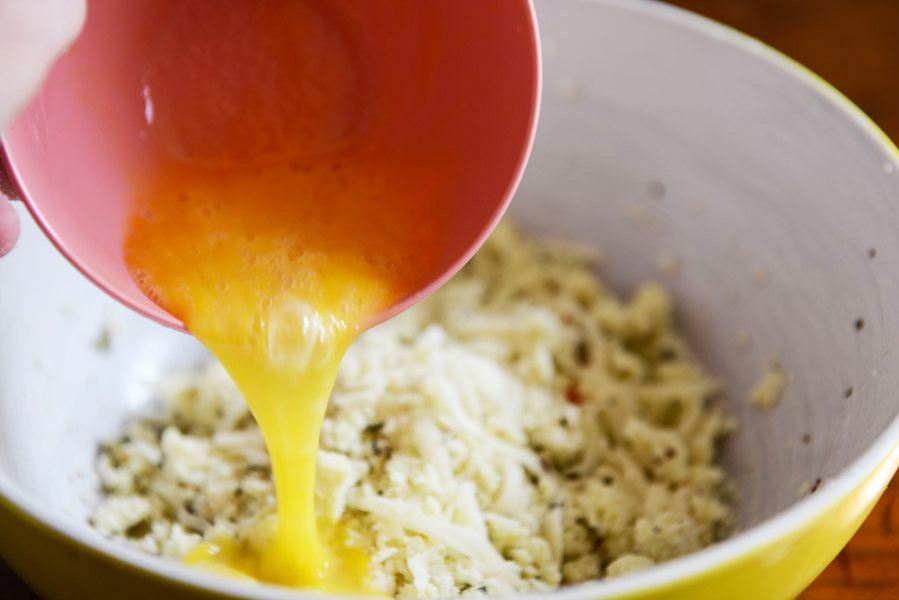 Add in the cheeses and the spices and mix the mixture until combined. Then add in your egg.
Using your hands to bring the dough together is necessary, and it happens easily. Form the dough into a ball. Spray a sheet of parchment paper with nonstick spray and place it on top of a pizza peel. Add the dough ball on top.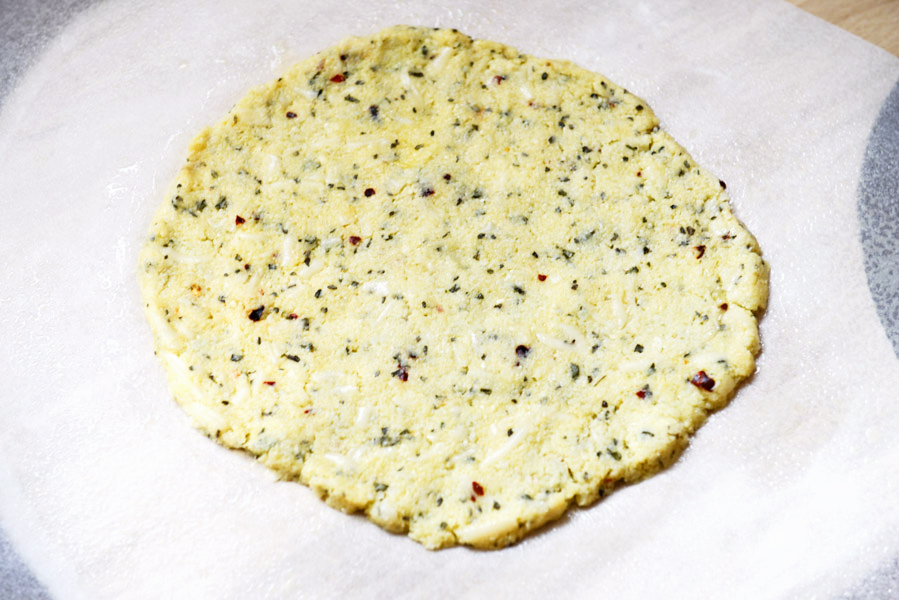 Form the dough into a thin circle and bake it for a few minutes until golden.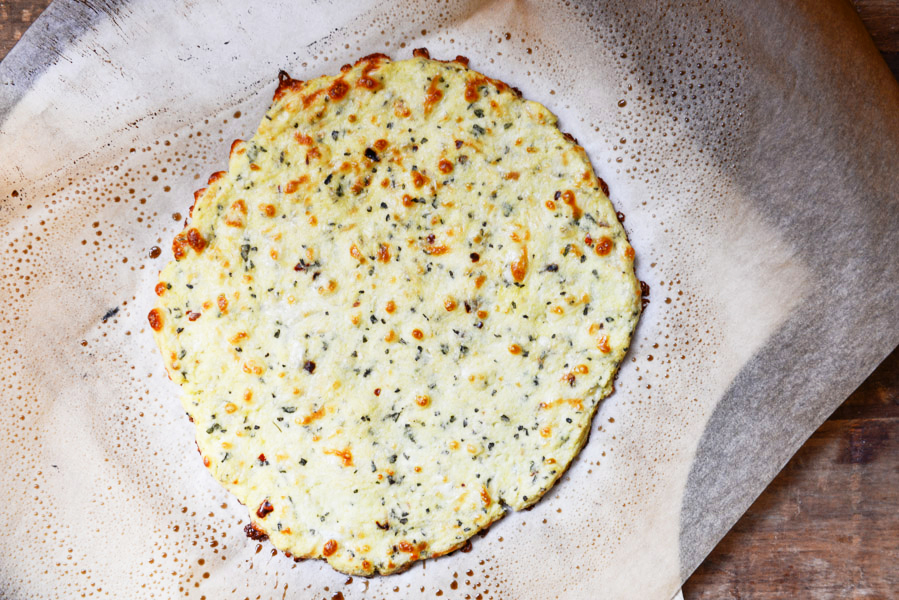 It will look like this! At this point, it smells freaking delicious. Definitely good enough to eat. So much cheeeeeeese.
But clearly not enough cheese, as you add your toppings and bake it a bit longer. Uh huh.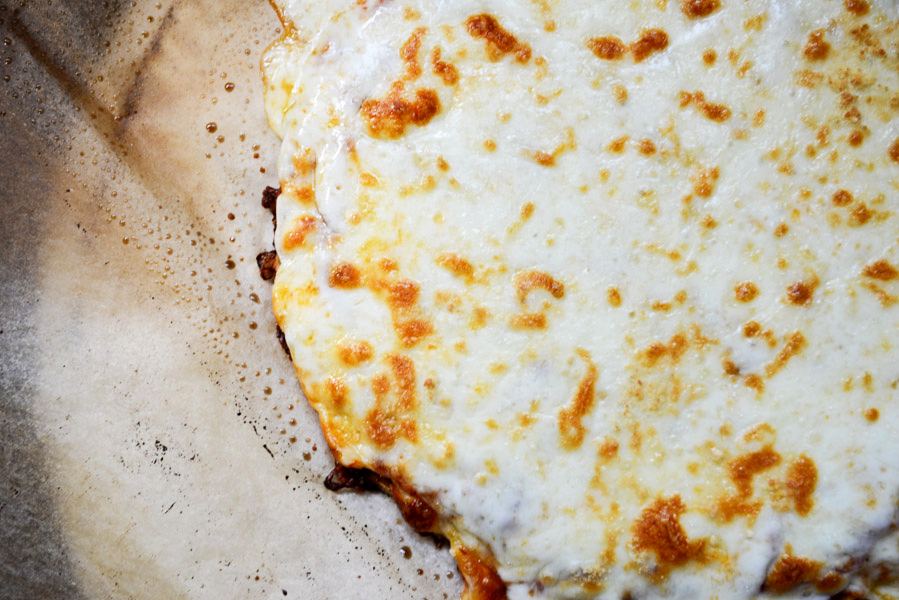 Cheesy goodness. All the way.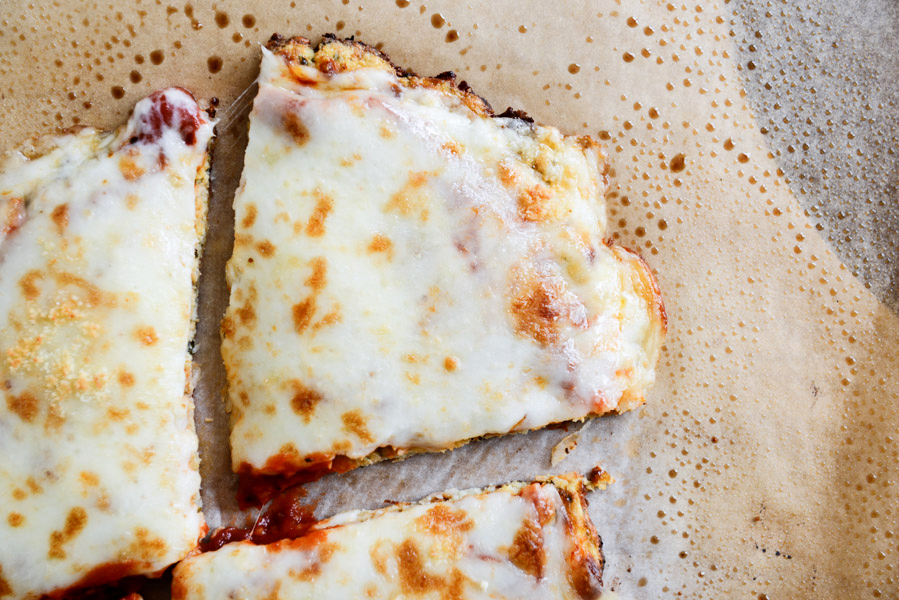 Let the pizza cool slightly before cutting. By doing this, the crust remains intact.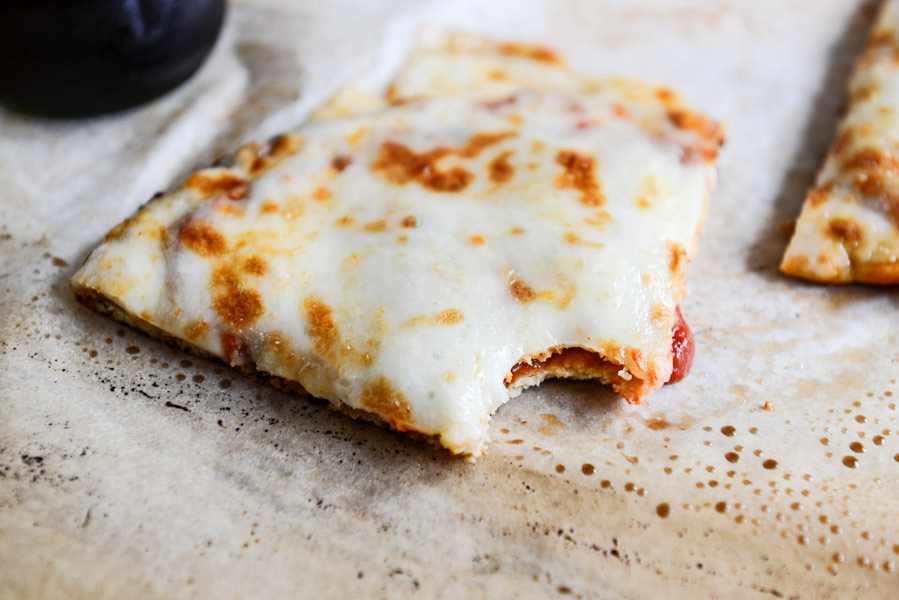 Serve it up. Savor the cheese. So, so good.
I am so glad I took another shot at the cauliflower crust because my mind has changed. It's totally a winner in my book. Thanks so much to Michelle for the fabulous recipe. Be sure to check out her blog, The Lucky Penny, for more delicious recipes.
Printable Recipe
See post on The Lucky Penny Blog's site!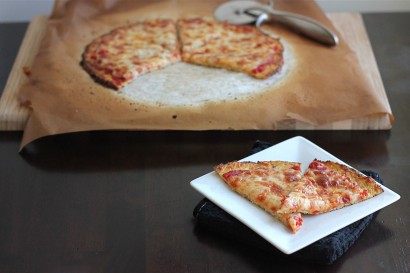 Description
This cauliflower crust pizza is so good it's hard to believe it is gluten and grain-free! You can even pick it up like a regular slice of pizza.
Ingredients
1 head (Small Head) Cauliflower
¼ cups Parmesan Cheese
¼ cups Mozzarella Cheese
¼ teaspoons Kosher Salt
½ teaspoons Dried Basil
½ teaspoons Dried Oregano
½ teaspoons Garlic Powder
Red Pepper Flakes (optional)
1 Tablespoon Almond Meal (optional)
1 whole Egg
Preparation Instructions
Place a pizza stone in the oven, or baking sheet if you don't have a pizza stone. Preheat oven to 450ºF. On a cutting board, place a large piece of parchment paper and spray it with nonstick cooking oil.
Wash and throughly dry a small head of cauliflower. Don't get one the size of your head unless you are planning on making 2 pizzas. Cut off the florets—you don't need much stem, just stick with the florets. Pulse in your food processor for about 30 seconds, until you get powdery snow like cauliflower. You should end up with 2 to 3 cups cauliflower "snow". Place the cauliflower in a microwave safe bowl and cover. Cook for 4 minutes. Dump cooked cauliflower onto a clean tea towel and allow to cool for a bit before attempting the next step.
Once cauliflower is cool enough to handle, wrap it up in the dish towel and wring the heck out of it. You want to squeeze out as much water as possible. This will ensure you get a chewy pizza like crust instead of a crumbly mess.
Dumped squeezed cauliflower into a bowl. Now add Parmesan cheese, mozzarella cheese, kosher salt, dried basil (crush up the leaves even more between your fingers before adding), dried oregano (crush up the leaves even more between your fingers before adding), garlic powder (not garlic salt), and a dash of red pepper if you want. I also added 1 tablespoon almond meal because my cauliflower yielded closer to 2 cups of cauli snow; this is optional and I would not add the almond meal if you have closer to 3 cups of cauli snow. Now add the egg and mix away. Hands tend to work best.
Once mixed together, use your hands to form the dough into a crust on your oiled parchment paper. Pat it down throughly, you want it nice and tightly formed together. Don't make it too thick or thin either.
Using a cutting board, slide the parchment paper onto your hot pizza stone or baking sheet in the oven. Bake for 8-11 minutes, until it starts to turn golden brown. Remove from oven.
Add however much sauce, cheese, and toppings you want. I'm not gonna give you measurements for this. You know how you like your pizza—so go for it! Slide parchment with topped pizza back in the hot oven and cook for another 5 to 7 minutes until the cheese is melted, bubbly, and slightly golden.
Test your patience and allow it to cool for a minute or two. Probably closer to two. Then using a pizza cutter and a spatula, serve up your delicious grain-free cauliflower crust pizza!


_______________________________________
Jessica Merchant is a personal trainer turned food writer and blogger. Her blog, How Sweet Eats, is where she proclaims her love for all things sweet, all things bacon, and everything else in between. She works her magic in her Pittsburgh kitchen, which she shares with her husband of 2 years.