Oh my goodness. You know when you have one of those desserts that completely knocks your socks off? This is it. And it's simple, too. It's like the new Holy Grail of treats!
It's not very often that I get to bake with ricotta because my husband swears that he dislikes it. Even though—of course—he's eaten it in multiple dishes and I've watched him enjoy a full meal where ricotta is involved, but whatever. I can occasionally slip in a tablespoon or so here and there without him noticing, but an entire dessert made from the stuff? This would be tricky.
However, tricky as it was, it actually worked. After seeing this Cannoli Tart from The Seaside Baker, I knew I had to make it immediately. And immediately I did—like nearly one day later. Not only did it pass my sweet tooth test with flying colors, the ricotta-hater loved it too. You know what that means. You must must must try it!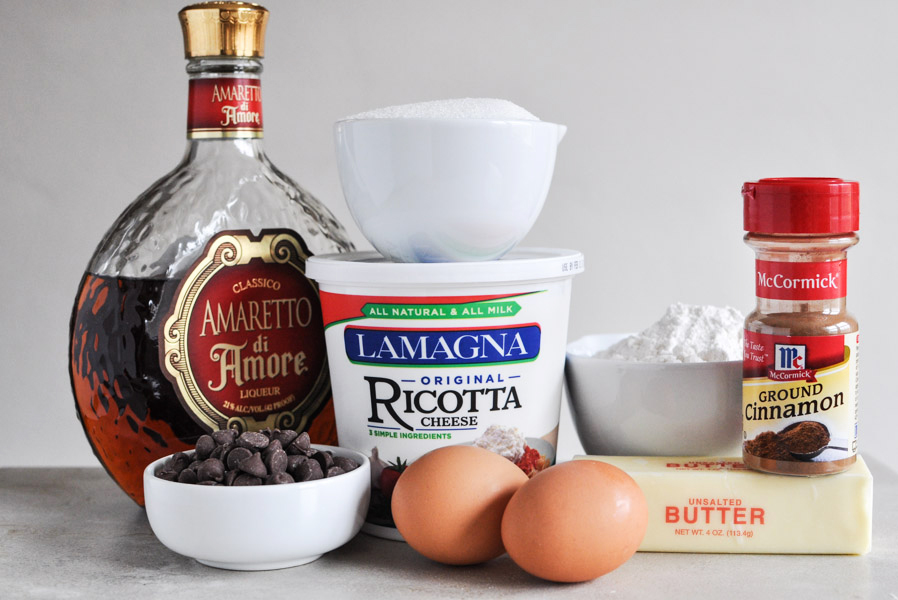 For the crust and the tart filling, all you need is some amaretto, ricotta cheese, eggs, cold butter, flour, sugar, cinnamon, salt and chocolate chips. Oh, you also need a little milk. About one tablespoon. This is, like, the easiest dessert ever!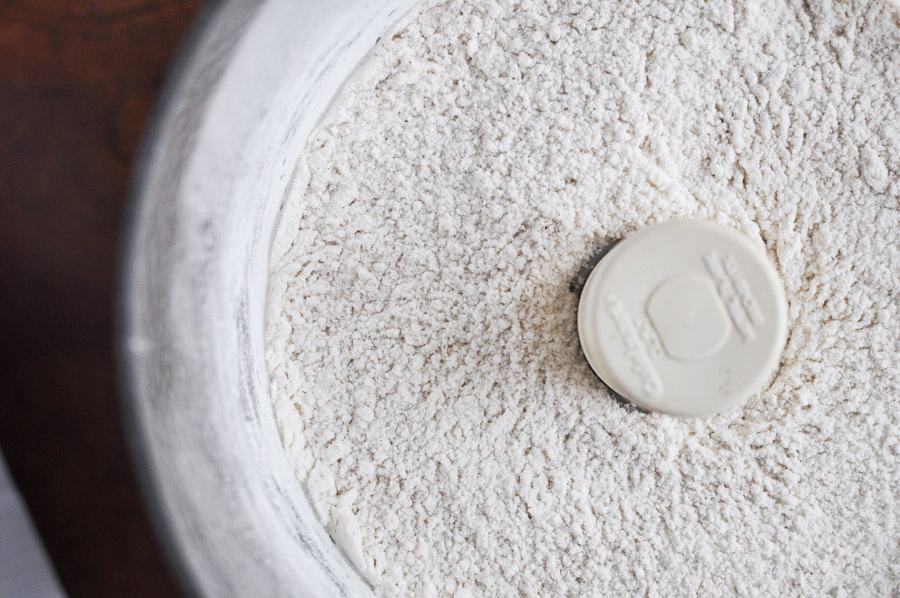 Begin by making the crust. First, give the flour, sugar, salt and cinnamon a good whirl in your food processor.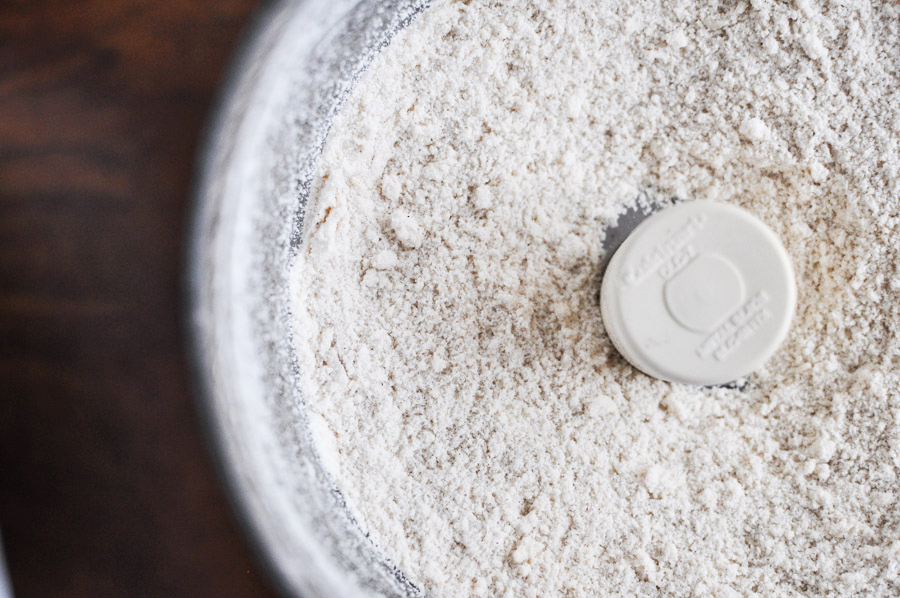 Then add the cold butter and pulse until it forms little crumbs. Can you see the slight difference here from the picture above? There are some pea-sized, flour-coated butter chunks! Yum.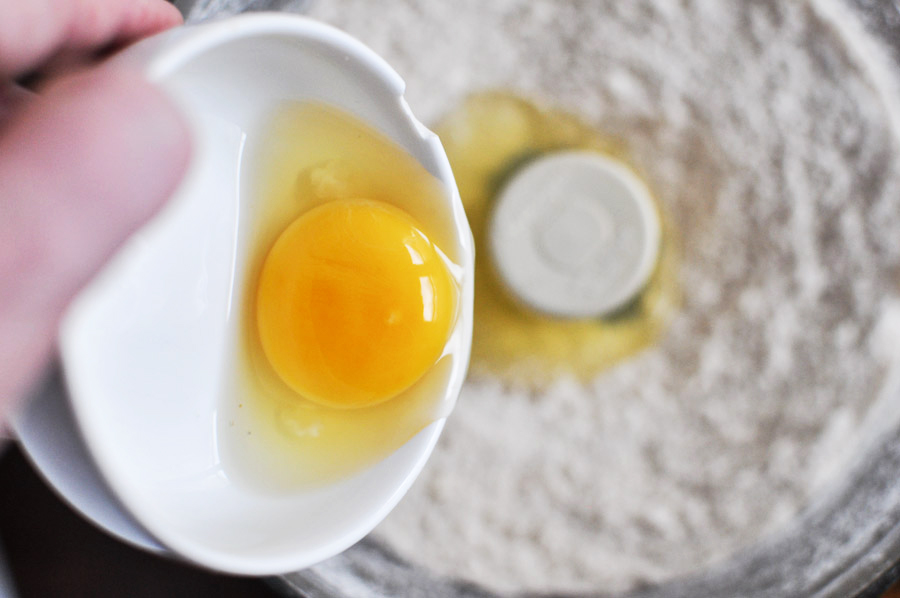 Add the egg and milk, then process until the dough comes together …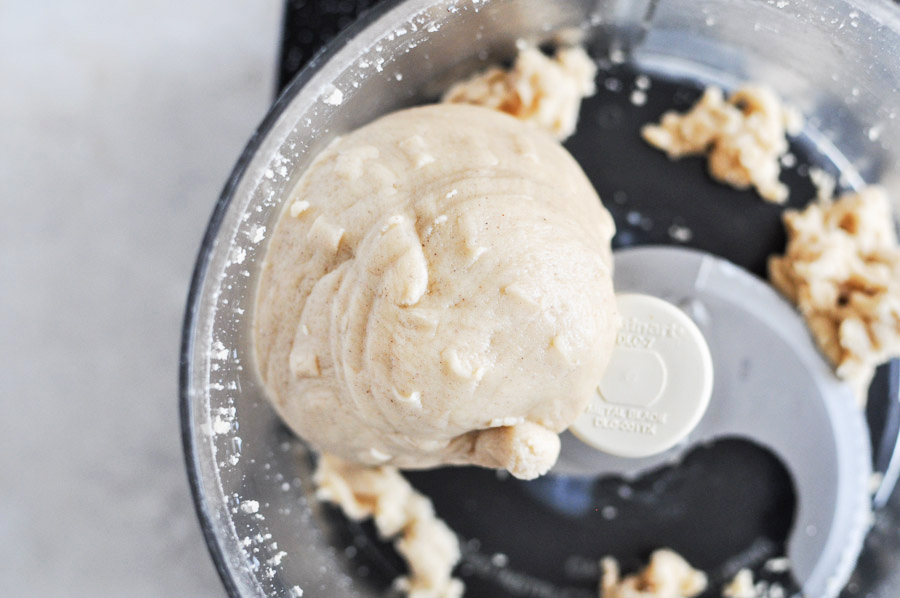 … and forms a ball like so. Pretty cool, huh? If there are a few crumbs left, just press them into the dough ball with your hands.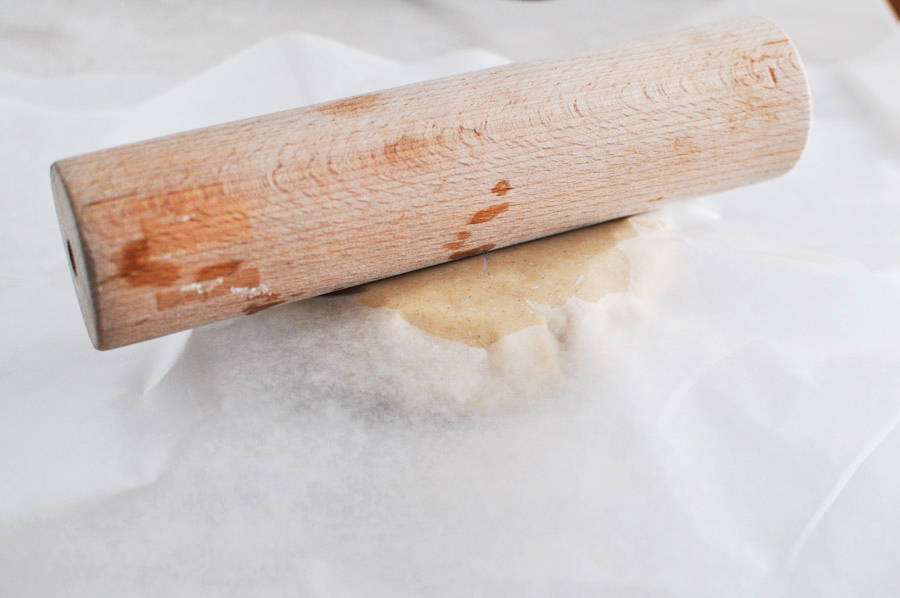 Next, place the dough ball between two sheets of parchment paper. I actually used wax paper because I never seem to have parchment when I need it. Also, stop laughing at my mess of a rolling pin. It lost its arms. I keep meaning to buy a new one but then … I forget.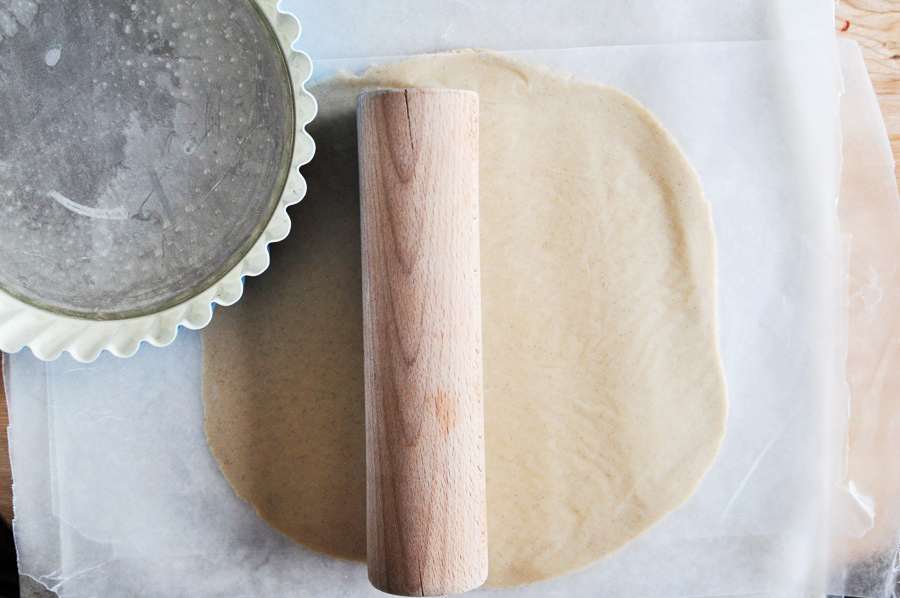 Use the rolling pin (or something similar, like say, a bottle of wine?) to roll the dough out to fit your tart pan or pie plate. Gently lift it up and place it over the pan.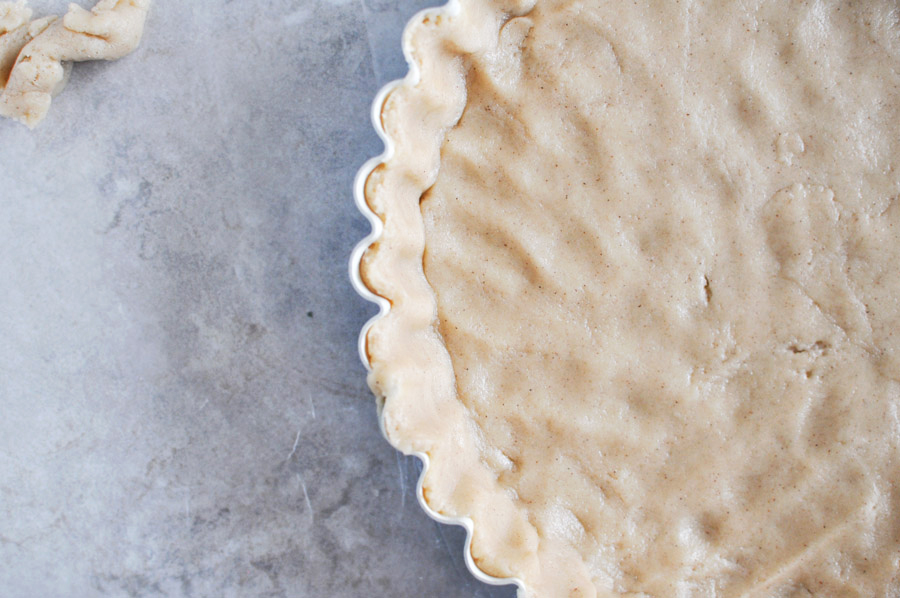 Press the dough into the pan or plate with your fingers. Clearly, pie-like dough is not one of my strengths. I have many pie crust issues. But this just proves that it doesn't have to be perfect. Just get it in there, then refrigerate while you make the filling.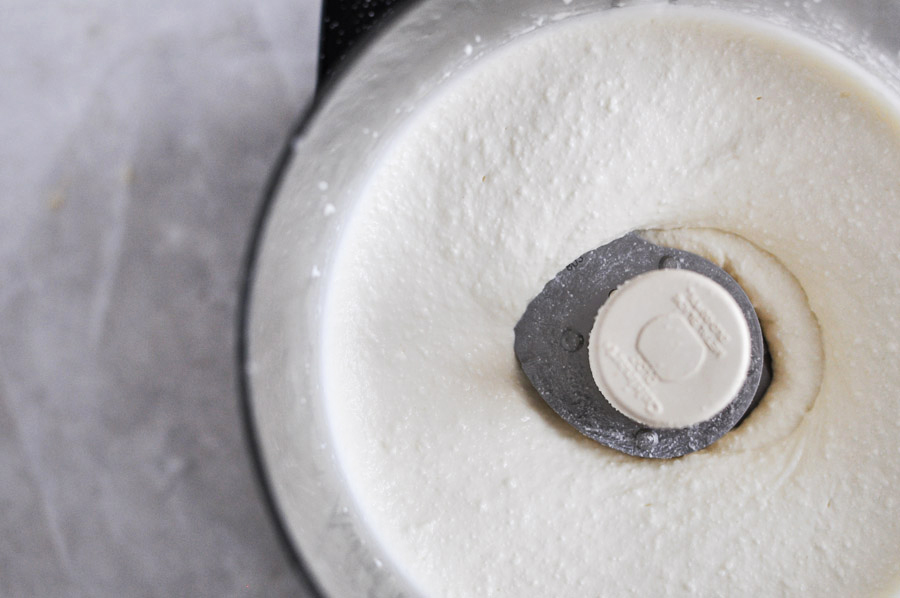 For the filling, I simply gave my food processor a quick wipe down since it was already out. All you have to do is add the ricotta, sugar, egg and amaretto and blend until just combined. So creamy.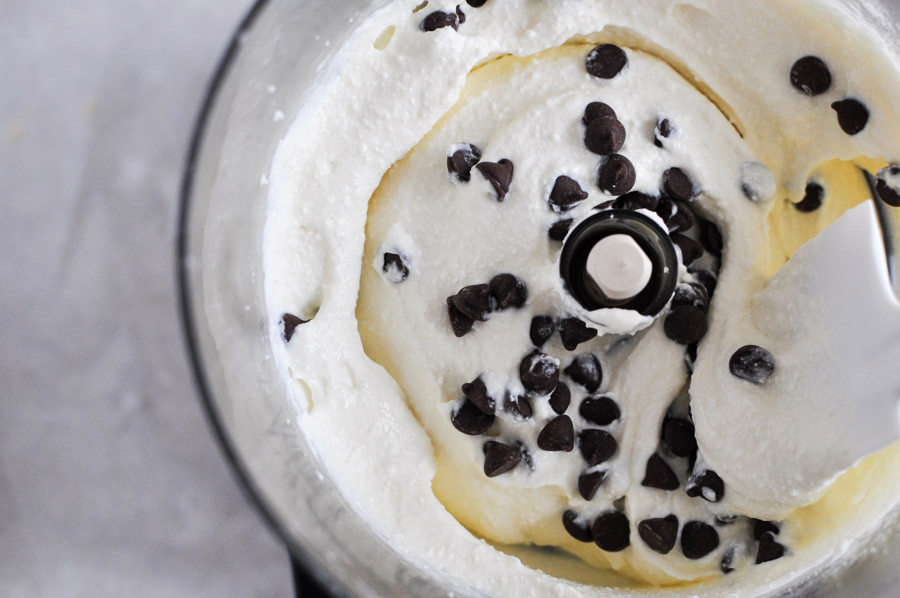 Then fold in the chocolate chips.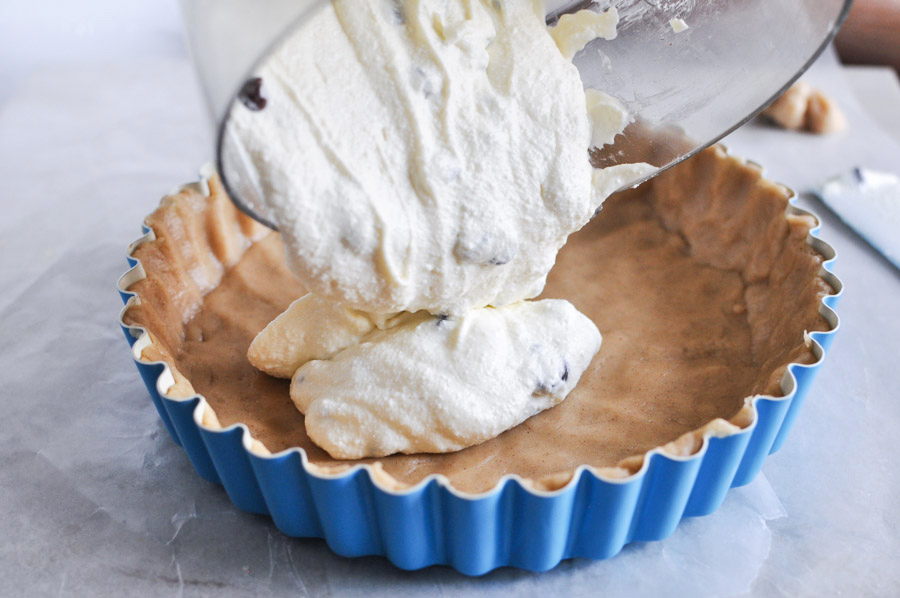 Pour the filling in the tart pan …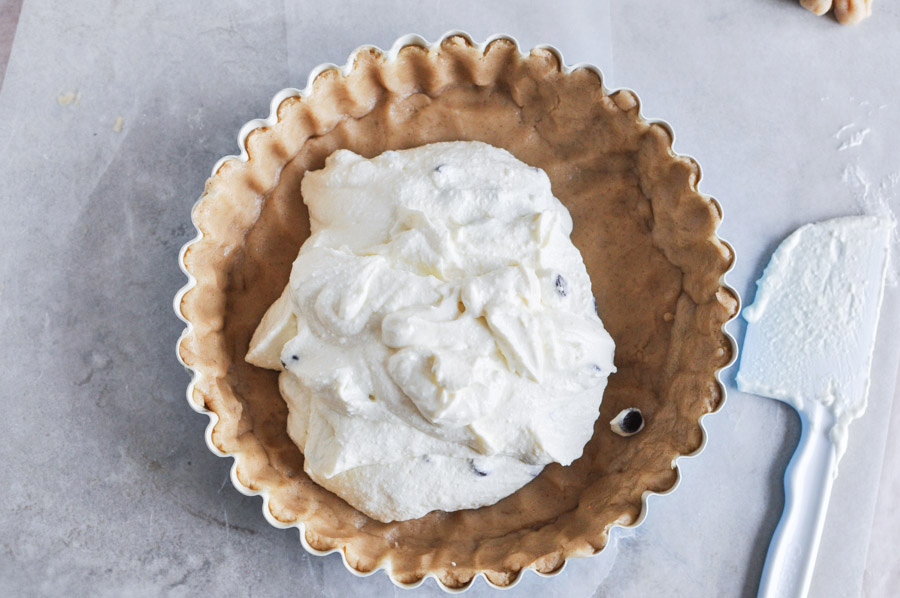 … then spread it out evenly and bake for about 35 minutes.
Once you remove the tart, you want it to cool completely. You can place it in the fridge. Trust me, I was skeptical too, but it is totally worth it. I served the tart chilled and holy cow, it was incredible.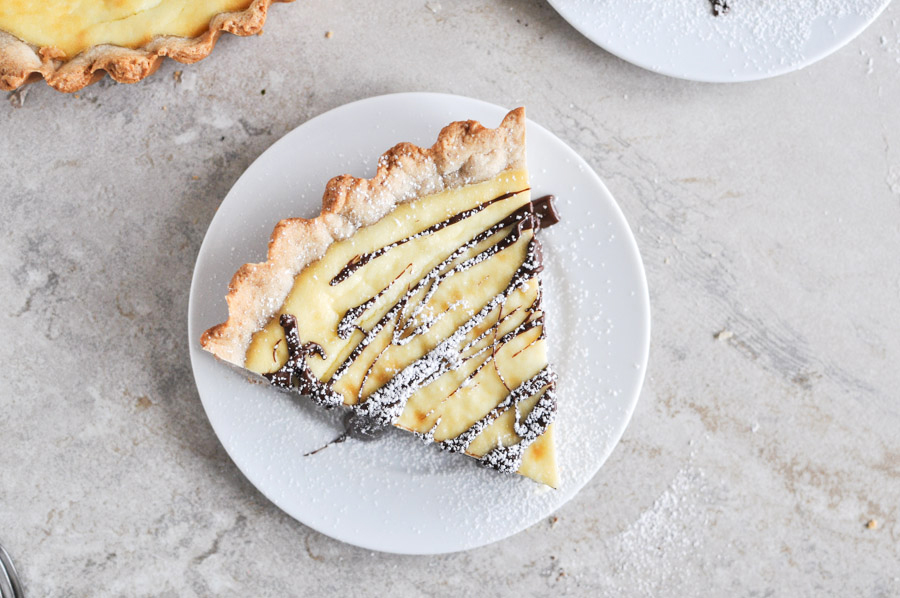 After chilling and right before serving, add a drizzle of chocolate and a shake of powdered sugar.
Can you even handle this?
To say this tart far exceeded my expectations would be an understatement. It was out of this world. It isn't super sweet either, which makes me think it is highly versatile for even those (crazy folks?) who don't love sweet dishes. You gotta try it.
Thanks so much to The Seaside Baker for the recipe. Be sure to check out her blog for even more tempting and delicious dishes.
Printable Recipe
See post on theseasidebaker's site!
Description
A delicious creamy cannoli in tart form.
Ingredients
FOR THE CRUST:
2 cups Sifted Flour
½ cups Plus 1 Tablespoon Sugar
½ teaspoons Salt
1 teaspoon Cinnamon
⅓ cups Cold Butter
1 whole Egg
1 Tablespoon Milk
FOR THE FILLING:
2-¼ cups Ricotta
1 whole Egg
2 teaspoons Sugar
2 teaspoons Amaretto
½ cups Chocolate Chips Or Chunks
Preparation Instructions
For the crust:
If using a food processor, add flour, sugar, salt and cinnamon and pulse a few times. Add butter, and pulse until butter and flour have formed pea-sized crumbles. Add egg and milk and pulse until a large ball is formed.
If mixing by hand, in a bowl combine flour, sugar, salt and cinnamon. Whisk a few times to mix up. Cut in butter until the mixture forms pea-sized crumbles. With your hands, mix in egg and milk and knead into a ball.
Place the dough ball in between 2 pieces of parchment paper. Roll dough out large enough to fit a deep dish pie pan or deep dish tart pan. Grease pan with butter or nonstick cooking spray. Gently place the dough into pan. Refrigerate while you make your filling and your oven is preheating.
For the filling:
In a food processor or mixer, blend ricotta, egg, sugar, and amaretto until just combined. Stir in chocolate chips. Pour into crust.
Bake at 350ºF for around 25-35 minutes, or until your crust has slightly browned and the filling has puffed a bit. Serve cold or at room temp sprinkled with powdered sugar or drizzled with chocolate.


_______________________________________
Jessica Merchant is a personal trainer turned food writer and blogger. Her blog, How Sweet Eats, is where she proclaims her love for all things sweet, all things bacon, and everything else in between. She works her magic in her Pittsburgh kitchen, which she shares with her husband of 2 years.