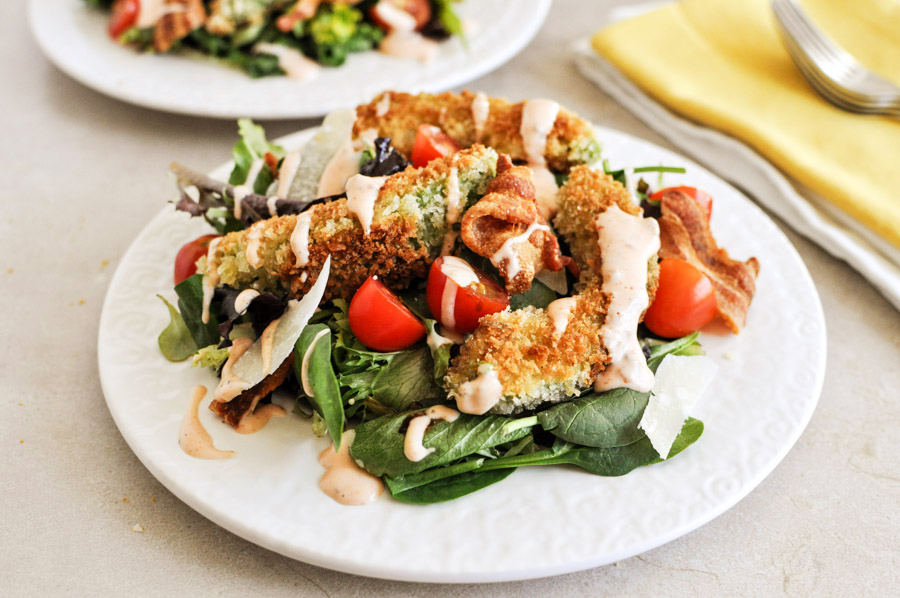 Crispy fried avocado. Yes, this is a thing. And I couldn't be more excited!
Two of my favorite foods, right here on a bunch of lettuce leaves. I can totally let the lettuce leaves slide, if only because the big bacon slices and crunchy avocado pieces make up for it. Actually those two things make up for everything, period. What a fabulous combination.
When I came across this Crispy Avocado Bacon and Tomato Salad recipe from TK member Colleen, I immediately made it for dinner. If the title alone doesn't sell you, perhaps the honey lime vinaigrette or spicy ranch drizzle is convincing enough? Total flavor domination. I cannot say enough good things.
Plus, we put this stuff on a SALAD. So it's healthy, right?
Right.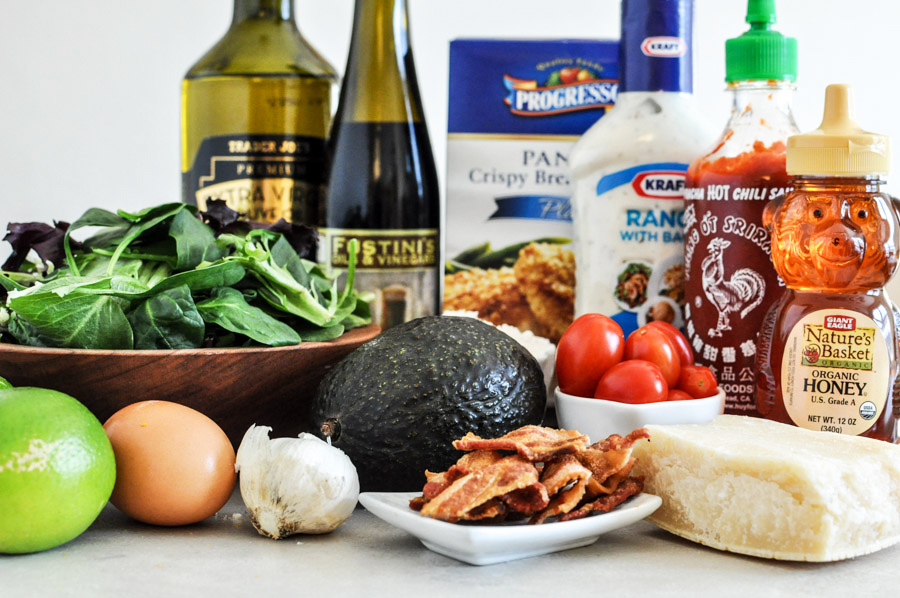 Let's see. We need: your lettuce of choice, a lime, one egg, garlic, avocados, olive oil, balsamic vinegar, panko bread crumbs, flour, ranch dressing, Sriracha (or your favorite hot sauce), honey, tomatoes and Parmesan cheese. Lots of stuff for lots of flavor.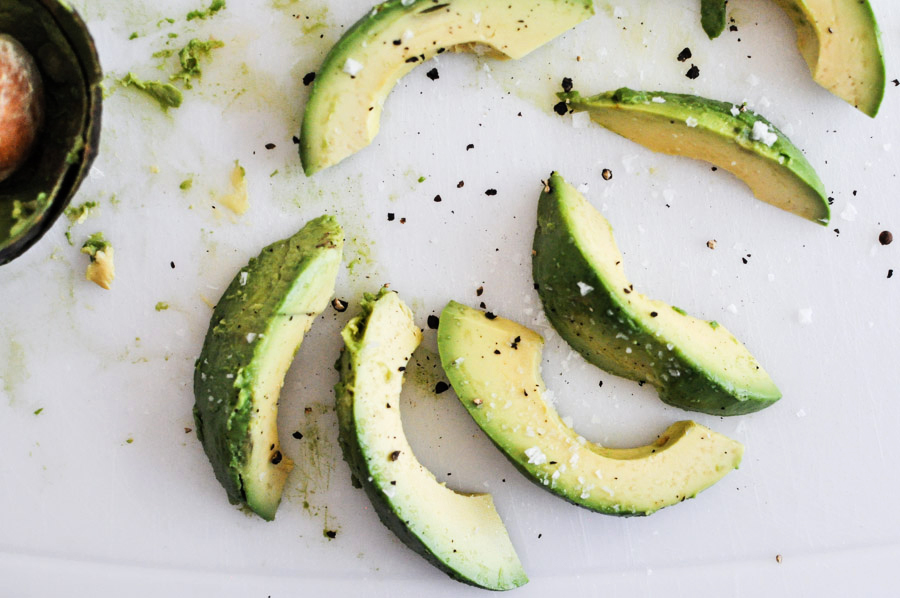 First, slice the avocado and season it with salt and pepper.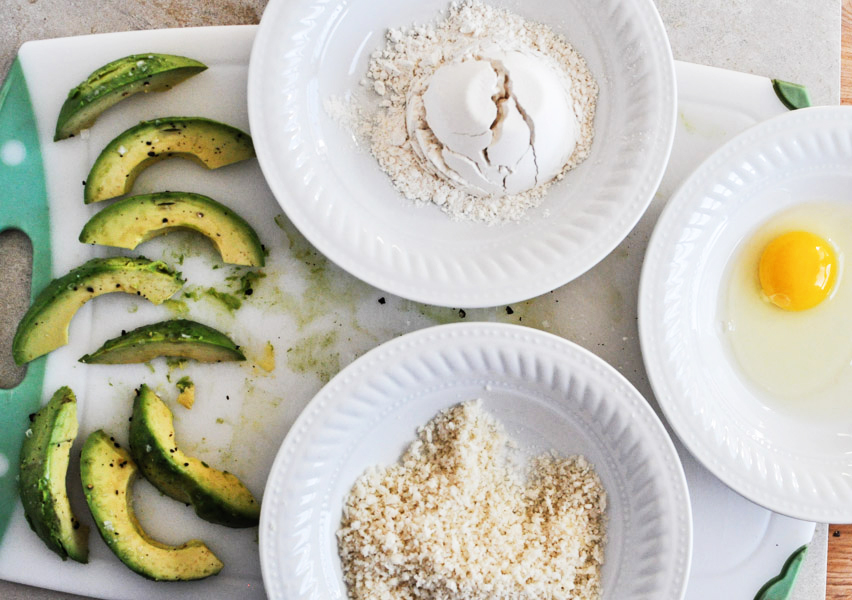 Set up a little dipping station with bowls of flour, beaten egg and a Parmesan panko mixture. Ummm yes.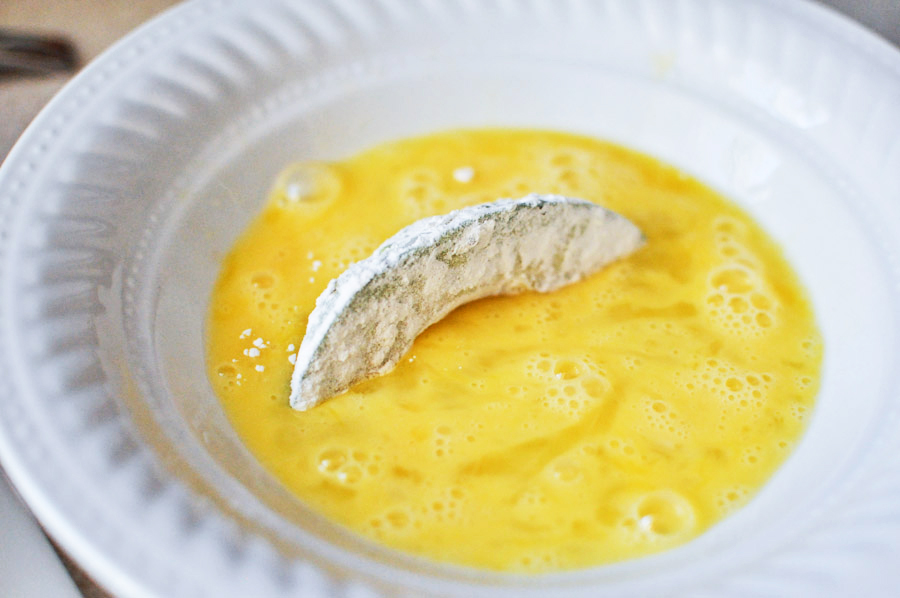 Dip the avocado into the flour, then into the egg and finally into the panko, gently press to coat.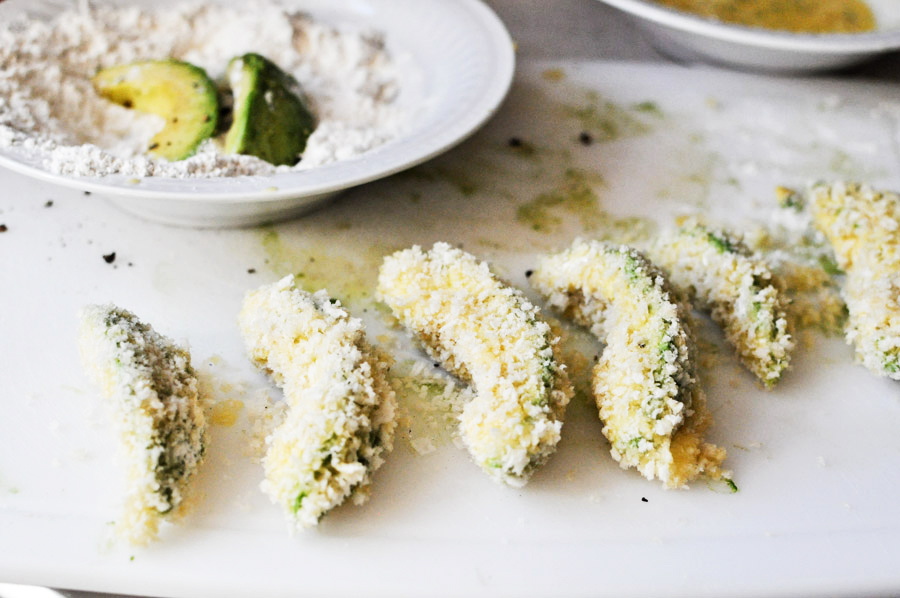 Carefully place the dipped avocado on a cutting board or baking sheet and heat a bit of olive oil in a skillet. Time to fry!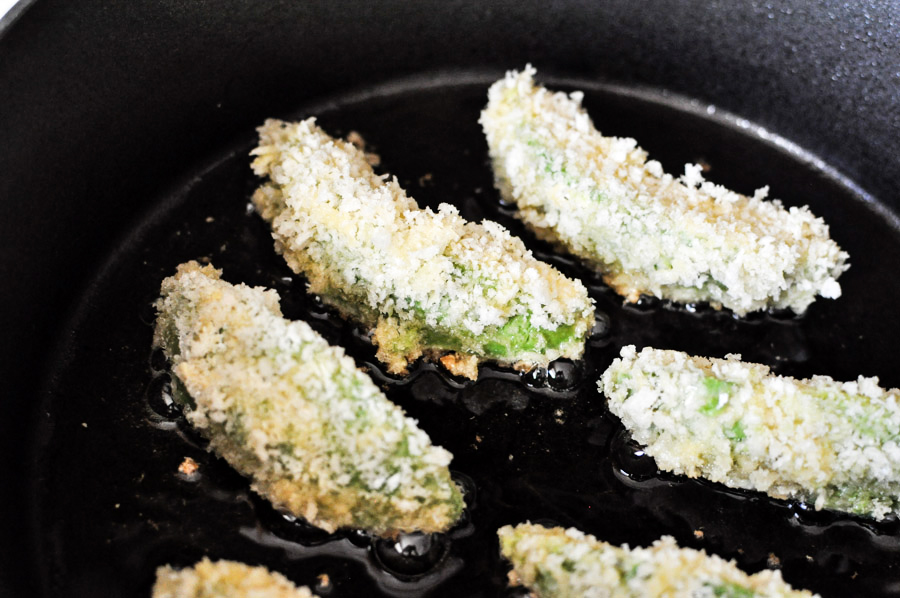 Once the oil is hot, place each avocado slice into the oil and cook until golden brown…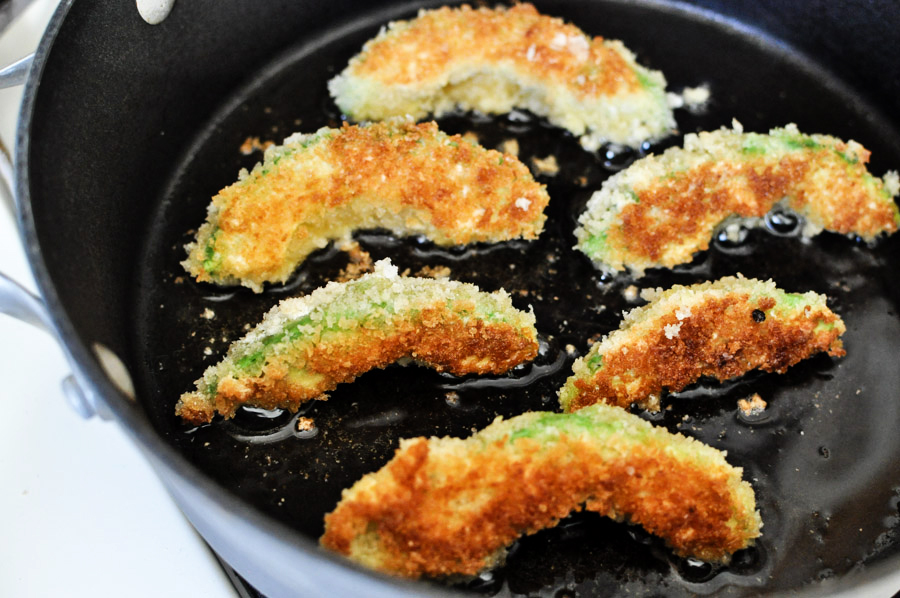 …then flip! I used kitchen tongs to gently flip each slice, and the breading held on very well. Once each slice is crispy and golden, remove from the skillet and let drain on a paper towel.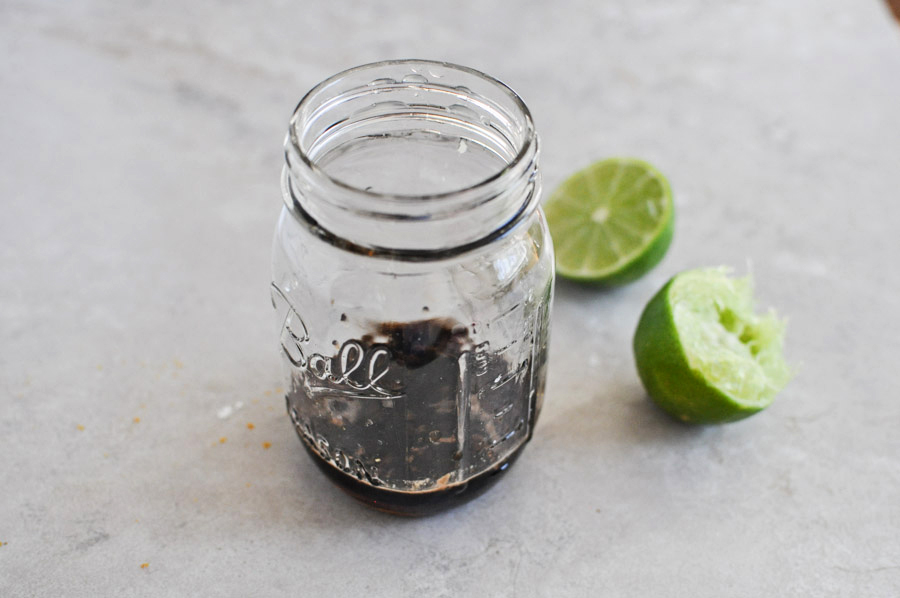 While that's happening, combine the vinegar, honey, salt, pepper, lime juice and garlic in a Mason jar to make the dressing.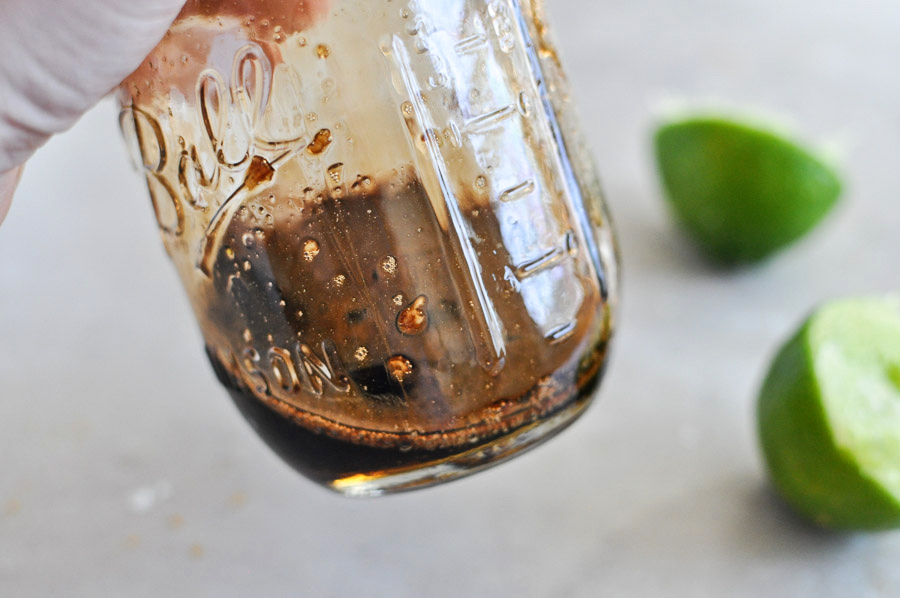 Shake, shake shake!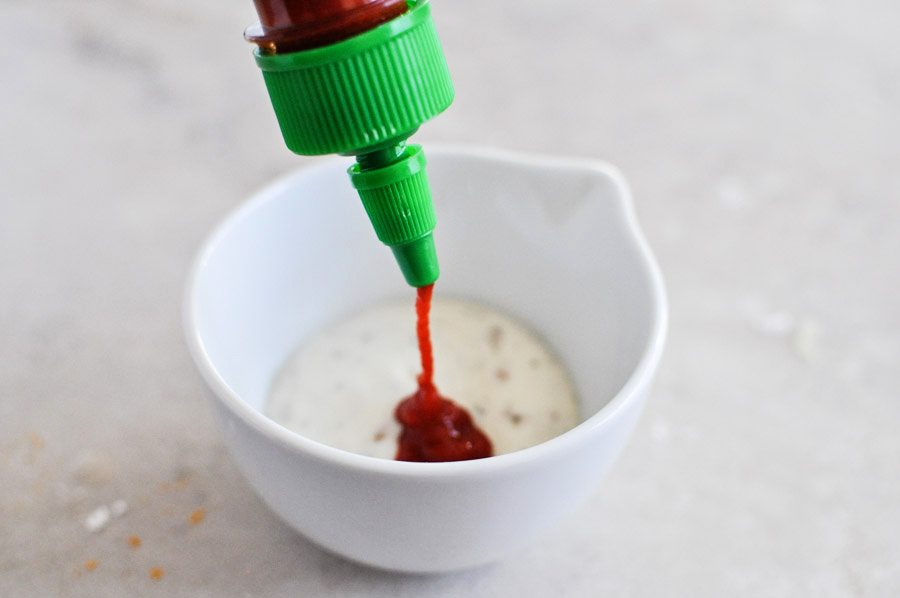 You can also throw together the Sriracha ranch at this time. You can do it beforehand if you prefer, same with the dressing. I personally think it would be wise to keep a very large vat of this ranch in the fridge at all times. Like, I'm ready to go swimming in it.
Time to assemble your salad! Arrange the greens, tomatoes, bacon and avocado on a plate.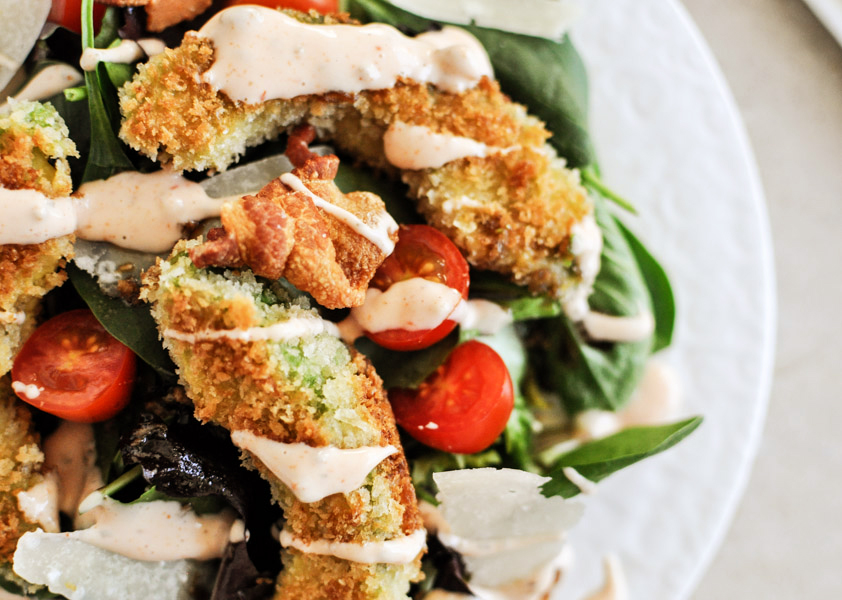 Drizzle in the honey lime balsamic and spicy ranch. Oh mylanta. Add some cheese shavings.
I love cheese shavings.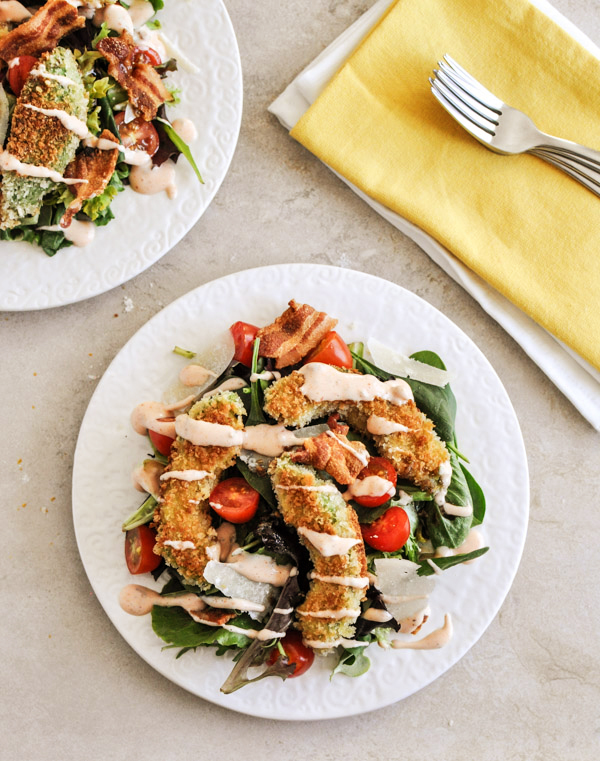 Go to town!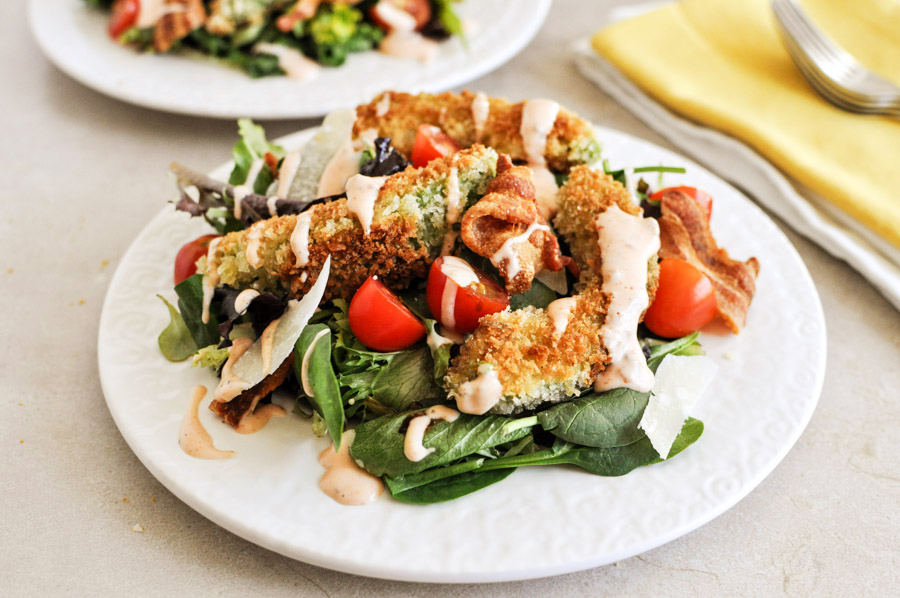 Wow wow wow. This salad is turning my non-salad loving self into a giant salad lover. I am a pretty big "texture person" and the texture on this salad is incredible, not to mention the flavor. A lot going on, but all of it is fabulous.
Thank you so much to Colleen for the recipe! Be sure to check out her blog, Soufflé Bombay where she shares tons of decadent recipes.
Printable Recipe
See post on soufflebombay's site!
Description
Crispy avocado, bacon and cheese put this salad over the top!
Ingredients
FOR THE CRISPY AVOCADO:
1 whole Avocado, Semi-firm, Not Mushy
Pinch Of Kosher Salt And Pepper
⅓ cups Flour
1 whole Egg, Beaten
½ cups Panko
2 Tablespoons Grated Parmesan Cheese
Olive Oil, For Frying
FOR THE SALAD:
Field Greens Or Spring Mix
Tomatoes
2 Tablespoons Shaved Parmesan Cheese
2 slices Cooked Bacon, Crumbled
FOR THE HONEY-LIME DRESSING:
2-½ Tablespoons Honey
2 Tablespoons Balsamic Vinegar
1 clove Garlic, Minced
3 Tablespoons Fresh Squeezed Lime Juice
Pinch Of Salt And Pepper
FOR THE SPICY RANCH DRIZZLE:
⅓ cups Ranch Dressing
½ teaspoons Or More Of Chili With Garlic Sauce (or You Can Use Tabasco Or Sriracha)
Preparation Instructions
For the crispy avocado:
Halve your avocado and run a sharp knife gently around the perimeter of each half to loosen the meat from the skin. Gently remove the skin and the seed. Slice each half into wedges. You should be able to get 8-10 wedges from the avocado, depending on its size. Don't slice them too thin; you want them to hold up to the breading and frying. Sprinkle the wedges with a bit of kosher salt and pepper.
Place the flour in a shallow bowl. Place the egg (beaten) in another bowl and the panko and Parmesan cheese in another bowl. Dredge each piece in the flour, gently shake off any excess flour. Dip into the egg mixture, then finally into the panko mixture, coating all sides well. Set aside.
Heat your oil in a frying pan. Place just enough olive oil in your pan to just cover the bottom of the pan. Heat over medium high heat until oil becomes hot enough to fry. It usually begins to make a sound once it's close. Gently set your avocado pieces in the oil. Fry on all sides until browned, a total of about 1 1/2 – 2 minutes. Gently remove from the pan, set on a paper towel-lined plate.
For the salad:
Assemble your salad(s) with the greens, tomatoes, shaved Parmesan cheese, and crumbled bacon. Top with crispy avocado.
For the honey-lime dressing:
Combine honey, vinegar, garlic, lime juice, salt and pepper in a Mason jar or shaker; shake until fully combined. Adjust to your liking (sweeter or add more vinegar—I went for a sweet flavor). Drizzle over salad.
For the drizzle:
Combine the ranch dressing and chili with garlic sauce (or Sriracha or Tabasco) in a small bowl and mix until fully incorporated. Adjust to your taste. Drizzle over salad.
Enjoy!


_______________________________________
Jessica Merchant is a personal trainer turned food writer and blogger. Her blog, How Sweet Eats, is where she proclaims her love for all things sweet, all things bacon, and everything else in between. She works her magic in her Pittsburgh kitchen, which she shares with her husband of 2 years.