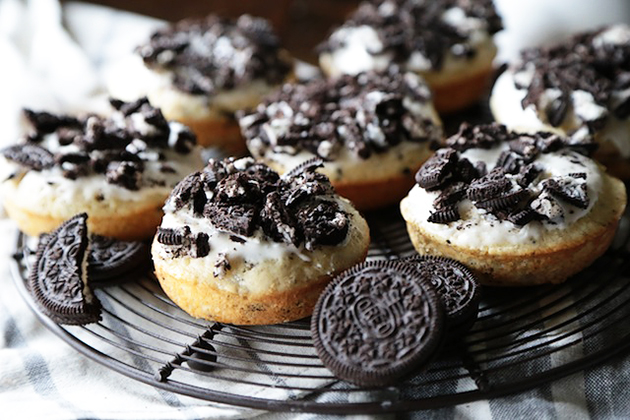 There's a persistent debate in the food scene, and it can grow very heated at times, even among friends. Do you want to know what it is? It's this: doughnut vs. donut. What's the correct way to spell it? Are both correct? Can they be used interchangeably? Is one fried and the other baked? As for me, I'm usually too busy burying my face in a platter of glazed carbs to give two hoots about it. Spell it however you want, just hand over the goods!
However you and your closest friends choose to resolve your donut/doughnut spelling squabbles, just make sure you discuss it over a batch of these Cookies and Cream Donuts from Tasty Kitchen member Heather.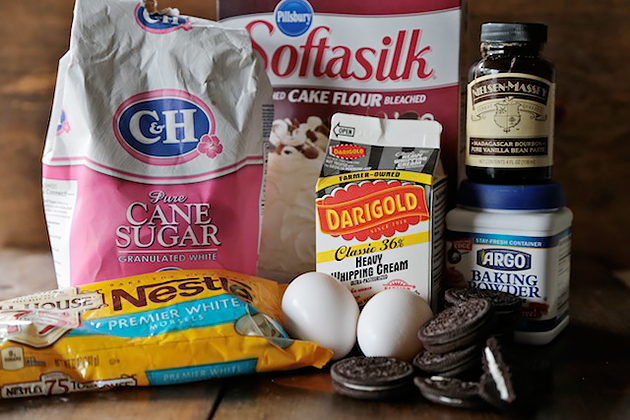 I was drawn to this recipe not just because I knew it would be a home run (because everything that comes out of Heather's kitchen is!), but because it's packed full of my favorite: Oreos.
For your ingredients, you will need a few basics, including cake flour, sugar, baking powder, salt, cream, eggs, vanilla and melted butter. One ingredient my store didn't carry was Hershey's Cookies and Cream Pieces, so I substituted white chocolate chips and chopped up Oreos instead.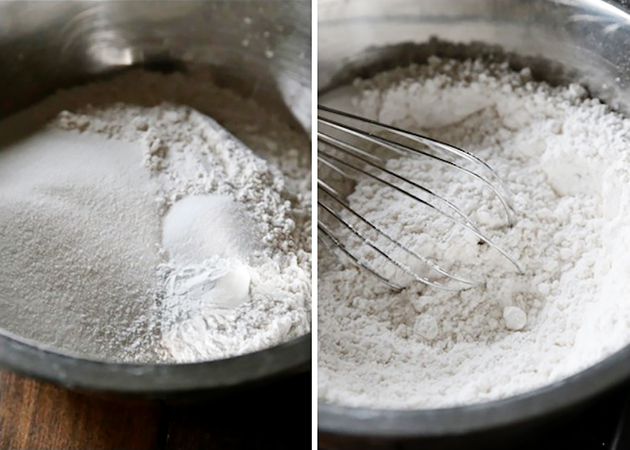 Into a bowl, whisk together the flour, sugar, baking soda, and salt.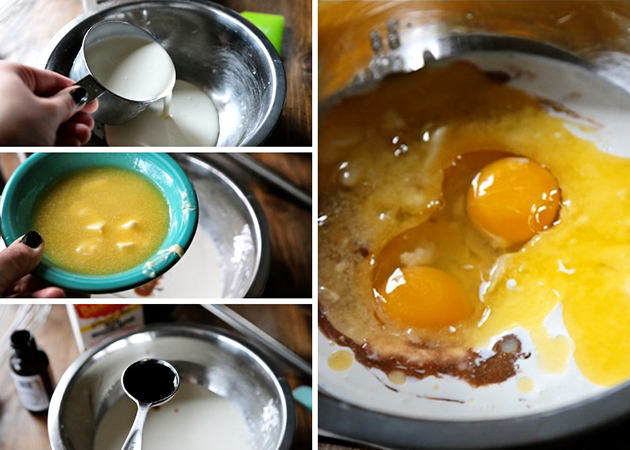 Next, in another bowl, whisk together the cream, eggs, vanilla and butter. Beat these together until combined.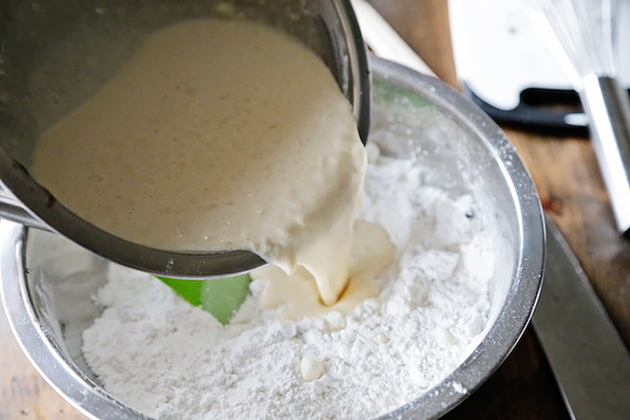 Pour the cream and egg mixture into the dry mixture and fold together until just combined.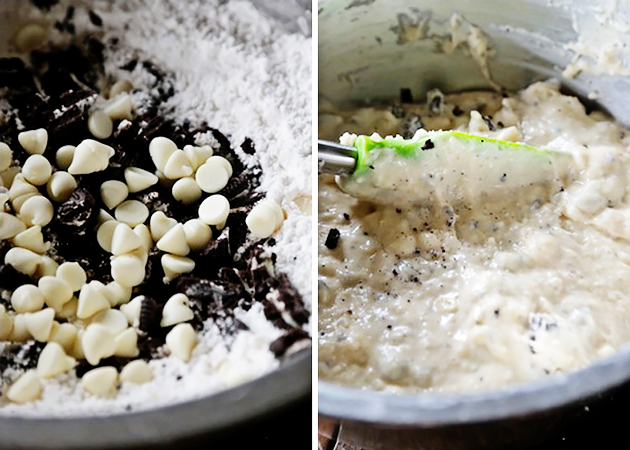 And don't forget the cookies and cream pieces. As I mentioned earlier, I had to make a substitution here since I couldn't find the cookies and cream pieces. I substituted 1/2 cup of white chocolate chips and 1/2 cup of chopped Oreos here. It worked like a charm. Fold these in until just combined.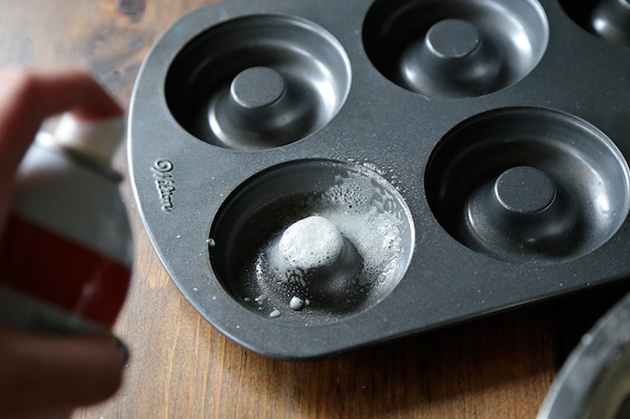 Now, spray a donut pan to help the donuts release after baking.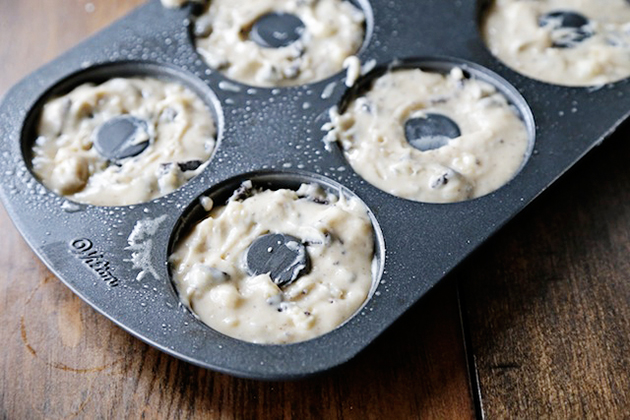 Fill each cavity with batter. Bake donuts for 10–12 minutes, or until they are golden brown on top and when a toothpick inserted into them comes out clean. Remove them from the pan and cool them on a wire rack.
Whilst the donuts cool completely, go ahead and begin preparing your glaze. (Because what's a donut without a glaze? It's a muffin.)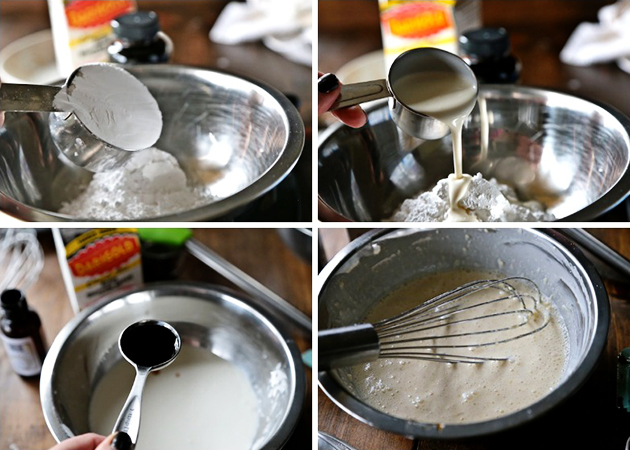 In a bowl, whisk together the heavy cream, vanilla and powdered sugar until smooth. It may be thick, but that is good. You want to make sure the cookie pieces stick to the top and don't slide off.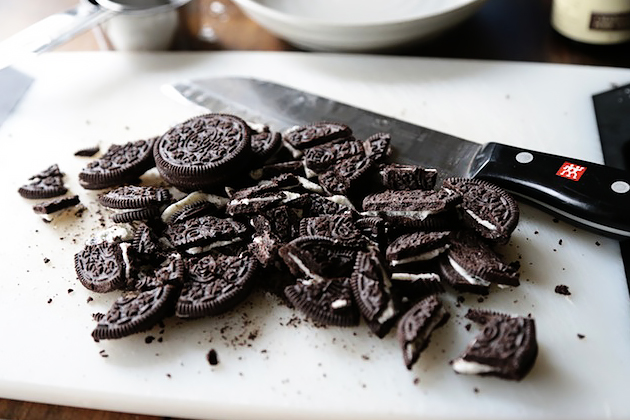 Crush additional Oreos if necessary, and place on a plate or in a bowl.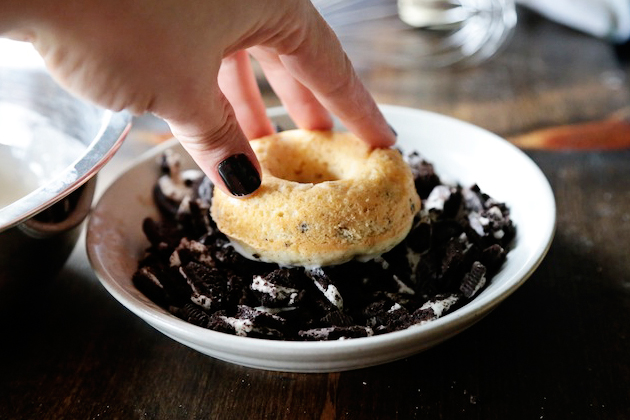 Dip the top of each donut into the glaze and then invert into the crushed Oreos. Place back on the wire rack (with something under it to catch any glaze that drips off) to set. Then, serve!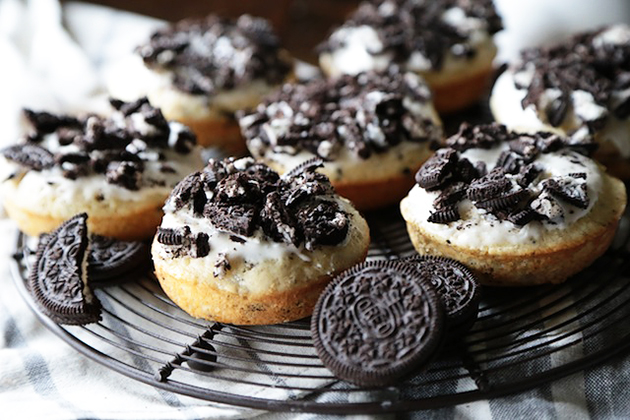 If you can't get enough of these Cookies and Cream Donuts from Heather, be sure to check out more of her incredible creations, like these Chicken Flautas with Spicy Avocado Sauce/. Be sure to rifle through her TK recipe box for more delicious creations.
What is your favorite donut combination? Do you like the traditional types, or do you shake it up with new flavors? Share your favorites, and links, in the comments so we can get some new inspiration from our Tasty Kitchen Community!
Printable Recipe
See post on Heather Christo's site!
Description
Baked cookie donuts slathered in creamy glaze and crushed Oreos!
Ingredients
FOR THE DONUTS:
½ cups Cookies And Cream Pieces (in The Baking Section, By Hersheys)
2-¼ cups Cake Flour
1 cup Sugar
2 teaspoons Baking Powder
1 teaspoon Salt
1 cup Heavy Cream
2 Eggs
1 Tablespoon Vanilla
4 Tablespoons Melted Butter
FOR THE GLAZE AND TOPPING:
¼ cups Heavy Cream
1 teaspoon Vanilla
1 cup Powdered Sugar
½ cups Oreo Cookies, Crushed
Preparation Instructions
1. Preheat the oven to 350 F. Grease donut pans well with baking spray. Recipe makes roughly 18 full size donuts.
2. Roughly chop the cookies and cream pieces and set aside.
3. Sift together all of the dry ingredients (flour through salt) in a large bowl. In a smaller bowl, combine the cream, eggs, vanilla and butter and whisk together. Pour the wet ingredients into the dry ingredients and fold the batter until well combined.
4. Fold in the cookies and cream pieces.
5. Either spoon the batter into the prepared pan, or transfer the batter to a Ziploc or piping bag, snip off a corner of the bag and pipe into the donut pan (it's a little neater this way).
6. Bake the donuts until just cooked through and golden on top 10-12 minutes.
7. Remove pan from the oven. Let the donuts cool on a wire rack after turning them out of the pans.
8. While the donuts are cooling, make the glaze by whisking the cream, vanilla and powdered sugar together in a medium sized bowl.
9. Dip the cooled donuts in the glaze until they have a nice thick coating. Generously sprinkle on the crushed Oreo chunks and crumbs.
10. Enjoy!


_______________________________________
Megan Keno is the writer and photographer of Country Cleaver, a food blog fueled by Nutella and images of June Cleaver—if June wore cowboy boots and flannel, that is. A self-proclaimed country bum, Megan creates from-scratch recipes that range from simple to sublime and how-to's to build your cooking repertoire. But she couldn't do it without the help of her trusty—and furry—sous chef, Huckleberry. He's a world class floor cleaner.