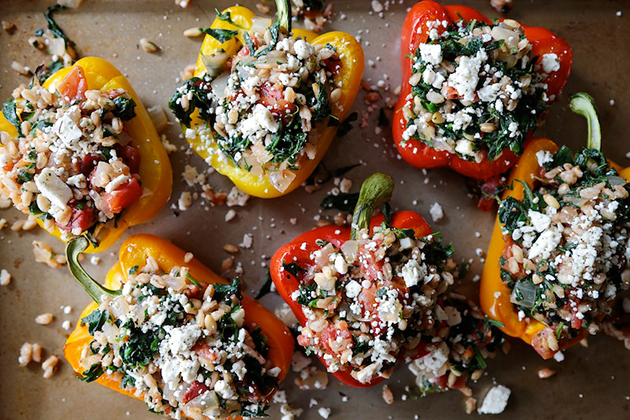 If you're like me and want to feed your family fun, new dishes worth raving about, you come here to Tasty Kitchen for inspiration. And even more so when you're trying to find recipes that are healthy! I've found so many wonderful, healthy creations to make in my own kitchen. This one from Jen for Greek Stuffed Peppers with Feta & Spinach was perfection. It's packed with whole grains, vegetables, and even a little cheese so you don't feel like you're left wanting. So if you are looking for a Meatless Monday meal, or just to incorporate more vegetables into your routine, these are a sure-fire hit.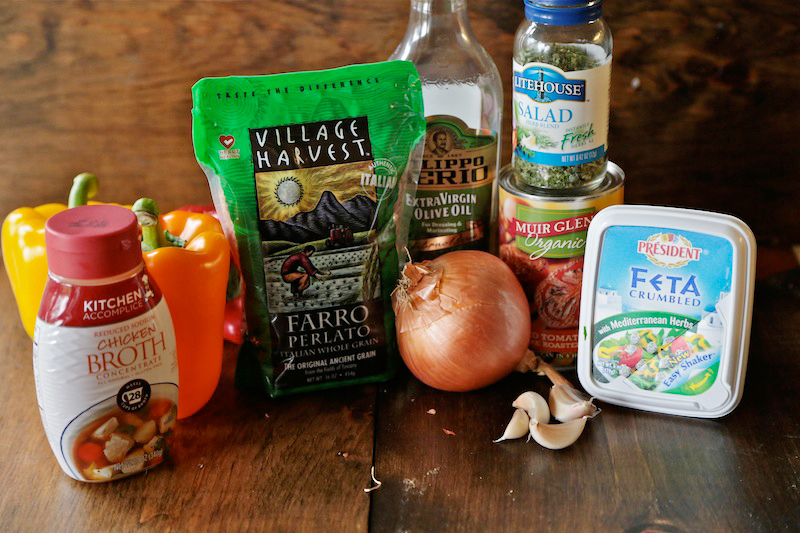 Stuffed peppers are always great for weeknight meals. For these, round up bell peppers, farro (or its cousin barley), onion, canned tomatoes, olive oil, garlic, vegetable or chicken broth, spinach, and crumbled feta cheese.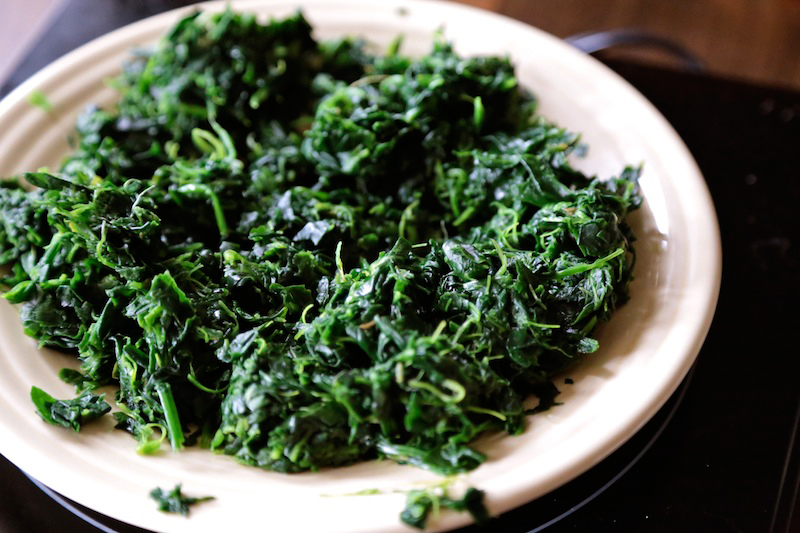 And whoops, don't forget the spinach! I used a package of frozen chopped spinach and thawed it in my microwave according to the package directions. After the spinach is thawed, be sure to squeeze it out well to get rid of any extra water. The extra water will just make the pepper filling soggy, and no one wants that!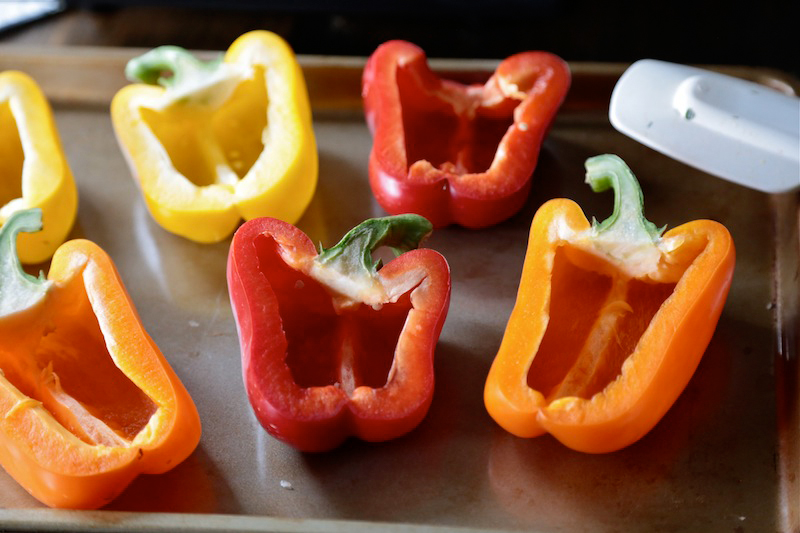 Preheat your oven to 350ºF. Next, prepare your bell peppers. Slice the peppers in half and remove the inner seeds and the white pith. Place them on a baking sheet and brush with a little olive oil.
Place them into the oven and bake until fork-tender, about 20 minutes.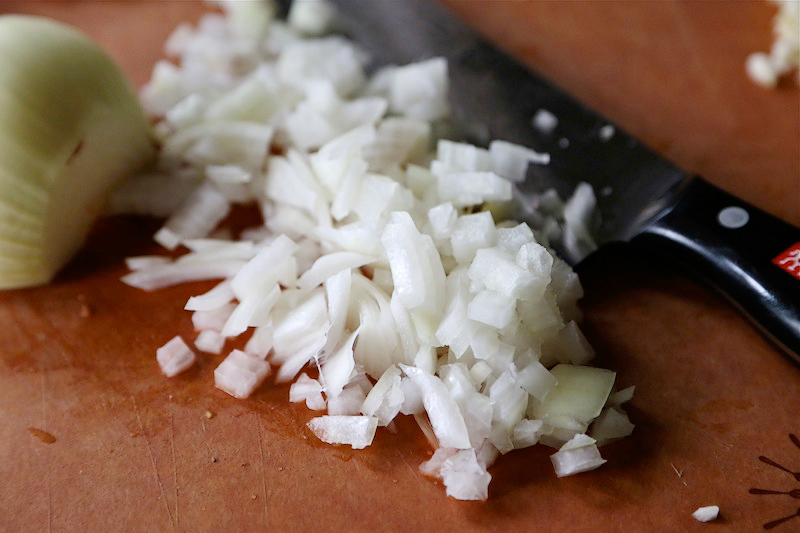 While the peppers are in the oven, move on to chopping the onion. Chop it into fine pieces.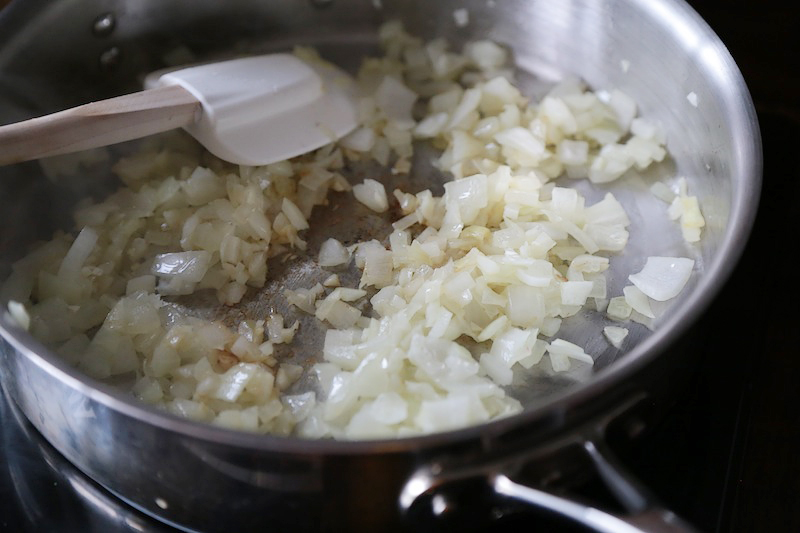 In a sauté pan over medium heat, add in a little olive oil and heat until glistening. Saute the onions until they are soft and just starting to turn translucent. Then add in the garlic and sauté until just fragrant, about 1 minute.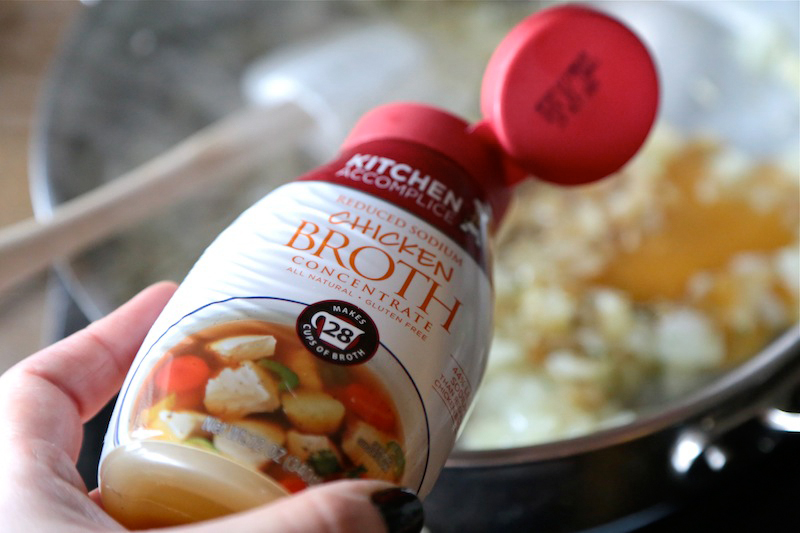 Next, add the broth. I used chicken broth because that it what I had on hand. But to make this truly vegetarian, be sure to use vegetable broth.
This concentrated chicken broth bottle was a neato find at my grocery store. It only requires 2 teaspoons of concentrate, and 2 cups of water to make chicken broth. It's handy so I don't have lots of half-opened containers of broth in my fridge. My husband is very thankful for this discovery!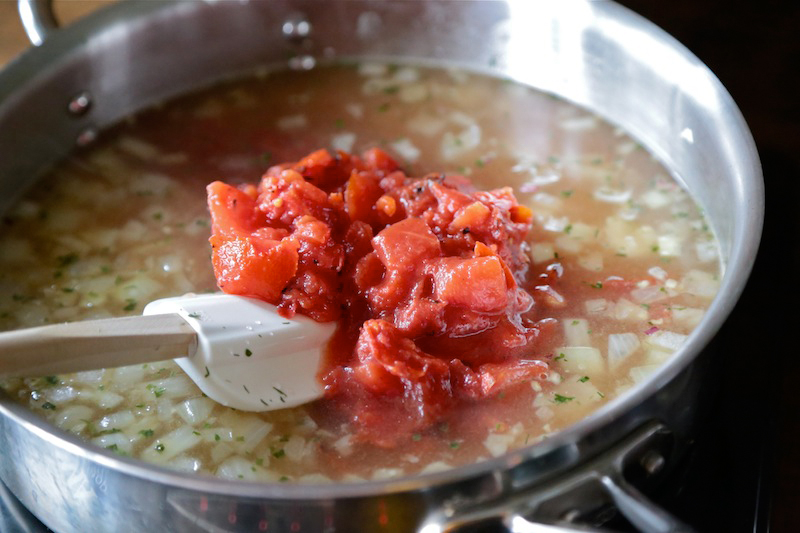 Once the broth is added in, the tomatoes are next.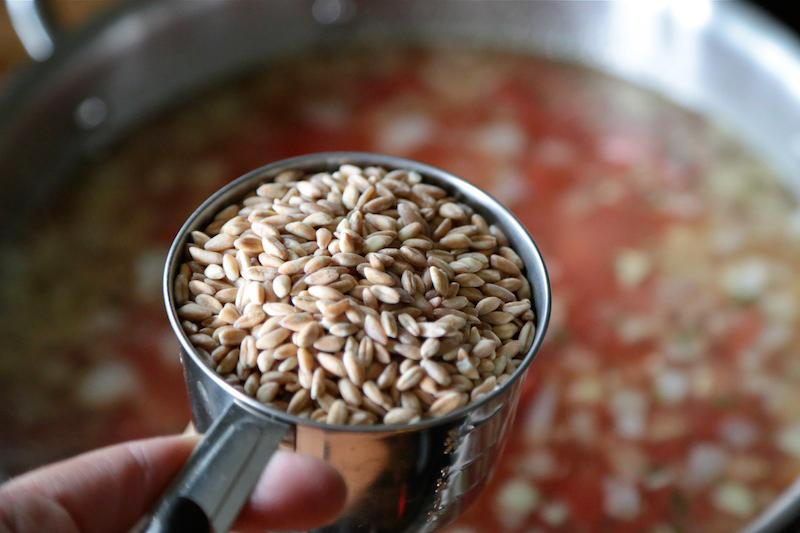 Along with the farro! Farro and barley are whole grain cousins, so use either one for this recipe.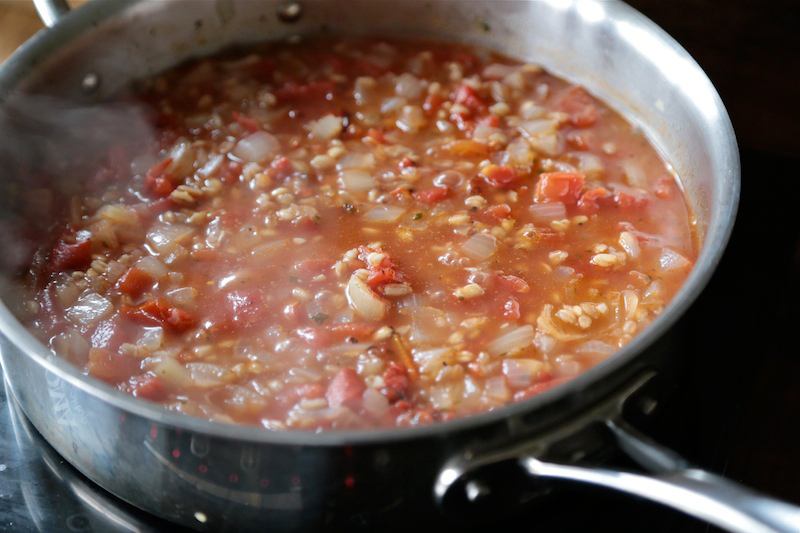 Add in the remaining spices and bring the whole mixture up to a simmer. Cover and let it do its thing until the moisture is absorbed and the farro is soft.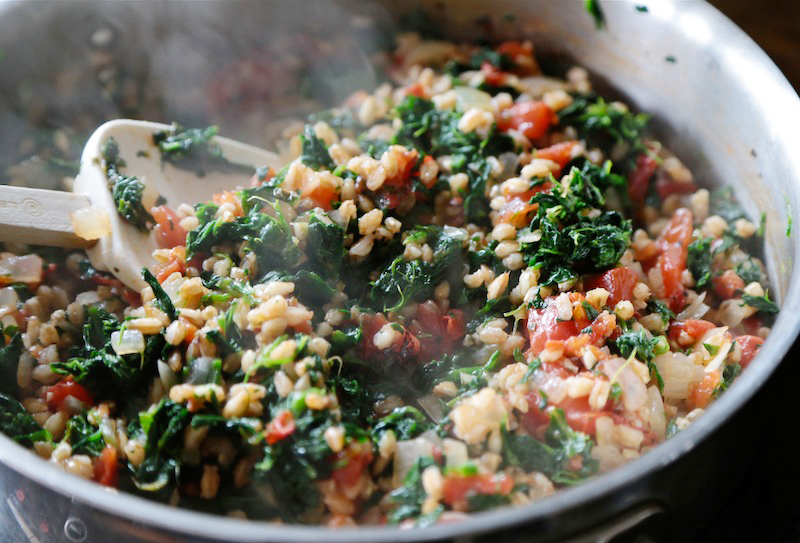 Once the farro is done, it's time to add in the spinach. Fold it in until it's mixed evenly.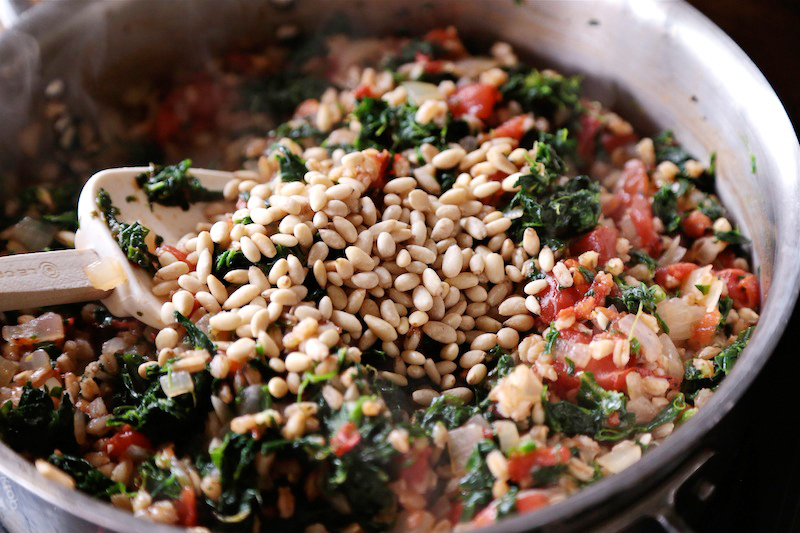 Then it's time for the pine nuts!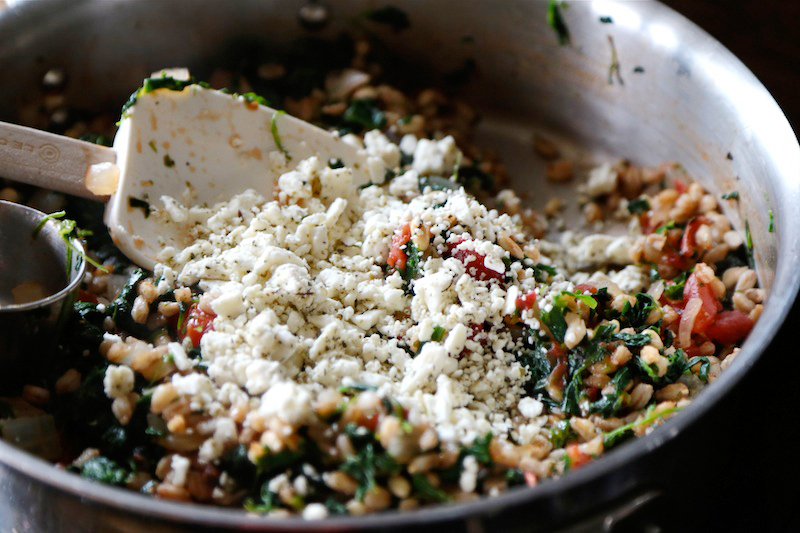 For the finishing touch, add in half of the crumbled feta and fold in to combine.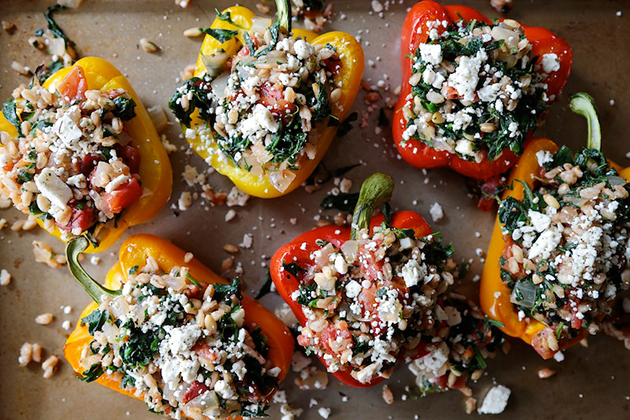 Fill each roasted bell pepper with a healthy dollop of the farro vegetable mixture and crumble the remaining feta on top. Serve immediately.
I had so many of these left over that I ended up eating them for lunch the next day and they tasted incredible. Take them to lunch for a twist on a cold salad. If you need more healthy inspiration, check out these Coconut Vegan Pancakes!
Thanks for sharing your recipe, Jen! Be sure to stop by Jen's blog, The Scrumptious Pumpkin, and her TK recipe box for more delicious creations.
Do you incorporate a meatless meal into your weekly routine? What is your favorite meatless meal? Leave a link to your favorite or shout it out in the comments for me and your Tasty Kitchen friends to find!
Printable Recipe
See post on The Scrumptious Pumpkin's site!
Description
A healthy meatless meal idea! Greek-inspired stuffed peppers, richly flavored with spinach, tomatoes, pine nuts and feta!
Ingredients
3 Tablespoons Olive Oil
2 cloves Garlic, Minced
1 Small Onion, Diced
13 ounces, weight Chopped Tomatoes (or Diced Tomatoes)
2-½ cups Vegetable Broth
2-½ teaspoons Dried Oregano
1 cup Farro
¼ cups Pine Nuts
3 Large Orange Or Yellow Bell Peppers, Halved Stem-to-base, Seeds Removed
1-½ cup Frozen Chopped Spinach
⅔ cups Crumbled Feta Cheese
Salt And Freshly Ground Black Pepper
Preparation Instructions
Preheat oven to 350 F.
Heat 2 tablespoons olive oil in a large, deep sauté pan over medium heat. Add the garlic and onion and cook until softened, about 4-5 minutes. Add the tomatoes, broth, oregano, and farro. Bring to a boil, then reduce heat to a light simmer. Cook, partially covered, until farro is tender, about 30 minutes.
Meanwhile, as farro cooks, arrange pine nuts on a parchment-lined baking sheet and toast in the oven for about 5-7 minutes, or until lightly golden. Watch carefully because they burn quickly! Set toasted pine nuts aside.
Increase oven heat to 400 F.
Arrange pepper halves on a baking sheet and brush with 1 tablespoon olive oil. Season with salt and pepper. Bake in the oven until tender, about 20-25 minutes.
Meanwhile, measure out the frozen chopped spinach and place it in a heat-safe container. Microwave for 30 seconds at a time until thawed. When cool enough to handle, transfer thawed spinach to a fine mesh strainer. Arrange the strainer over a large mixing bowl and squeeze spinach, wringing it dry, until all excess water is drained from the spinach.
When farro is fully cooked and tender and all of the broth is absorbed, add the toasted pine nuts and chopped spinach. Add feta and stir until well combined. Season to taste with salt and pepper.
Stuff cooked bell pepper halves with heaping spoonfuls of farro mixture. Serve.


_______________________________________
Megan Keno is the writer and photographer of Country Cleaver, a food blog fueled by Nutella and images of June Cleaver—if June wore cowboy boots and flannel, that is. A self-proclaimed country bum, Megan creates from-scratch recipes that range from simple to sublime and how-to's to build your cooking repertoire. But she couldn't do it without the help of her trusty—and furry—sous chef, Huckleberry. He's a world class floor cleaner.