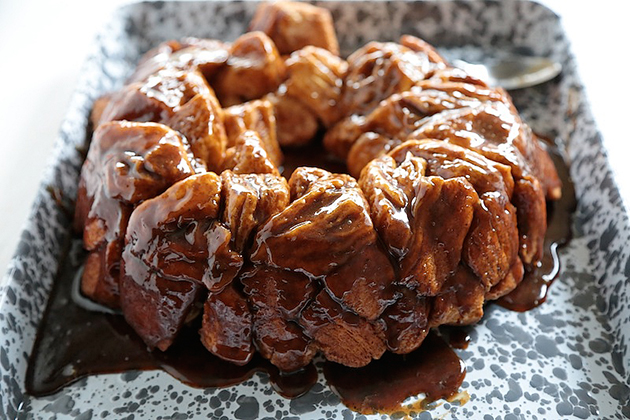 You can't beat the smell of warm gingerbread, especially in the winter. It's such a warm and cozy smell, especially fresh out of the oven. And that gingerbread smell gets even better when it's swimming around in a bundt pan of monkey bread!
Tasty Kitchen member Jeni really knocks it out of the park with this Gingerbread Monkey Bread. Carboholics will rejoice in this gooey, gingered creation. Try to stop at one doughy roll, I dare you.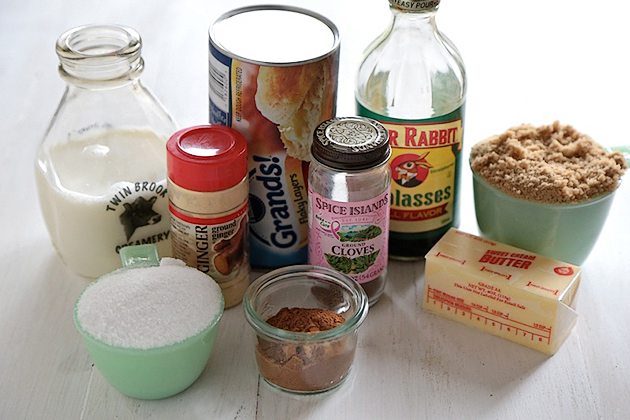 The list of must-haves for this recipe is pretty simple. There is no shame in shortcuts, and the canned biscuits totally save you precious time. The rest of the ingredients include sugar, cinnamon, cloves, ginger, molasses, along with a little butter, sugar, and brown sugar for the caramel sauce.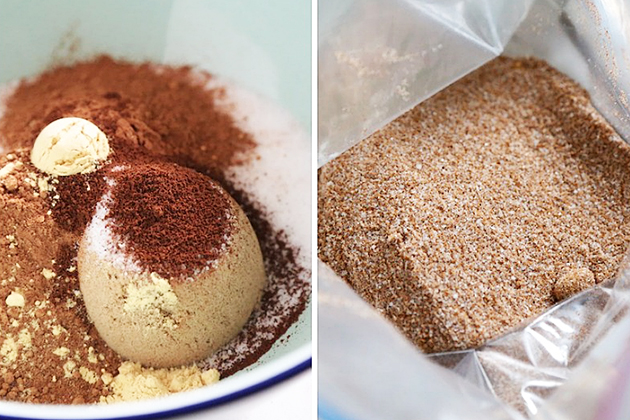 In a bowl, stir together the sugar, and spices whisking together until evenly mixed. For easy coating of the biscuit rolls, I added the sugar mix to a plastic zip top bag to shake them around.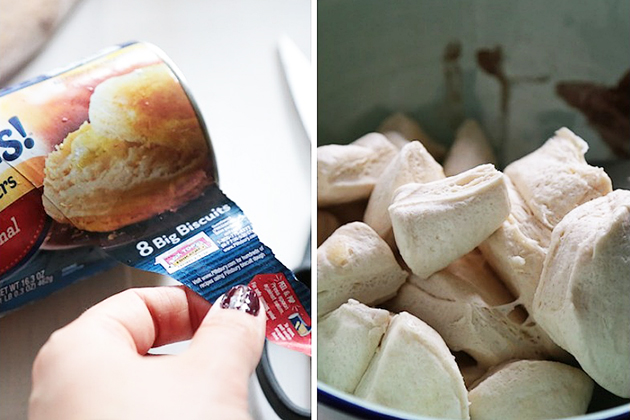 Next, pop a can of biscuits, try not to jump too high, and cut each biscuit into four or five pieces. Use a pair of clean kitchen shears to move through them quickly.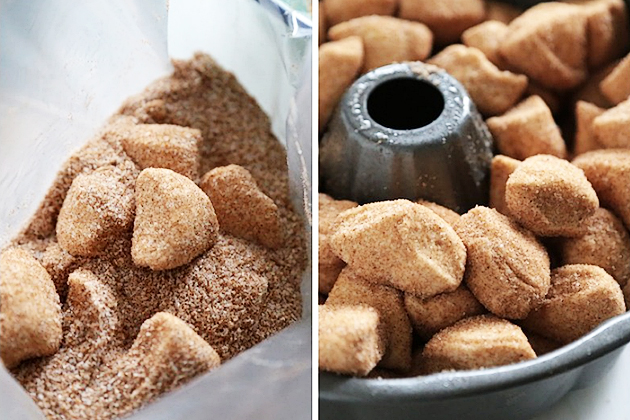 Toss a few of the cut biscuits into the sugar-filled bag and toss to coat each piece thoroughly. Then add them to a bundt pan. Set the bundt pan aside.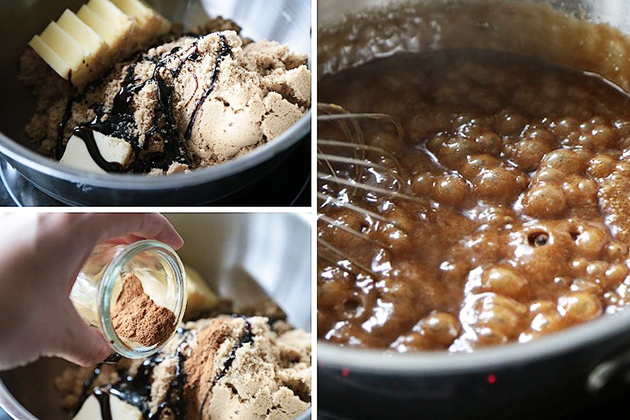 For the caramel sauce, combine the brown sugar, butter, molasses, milk, and pumpkin pie spice in a saucepan over medium heat. Bring the mixture to a boil until all the sugar is melted completely.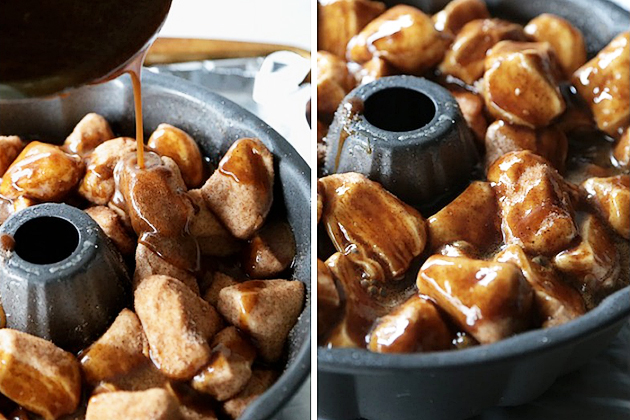 Pour the caramel mix over the coated biscuits in the bundt pan and bake immediately. Bake in a 350ºF oven for 20–25 minutes. Once it's out of the oven, ya know, try to resist the immediate urge to face plant right into the pan. Let it cool for a few minutes before turning out onto a serving dish.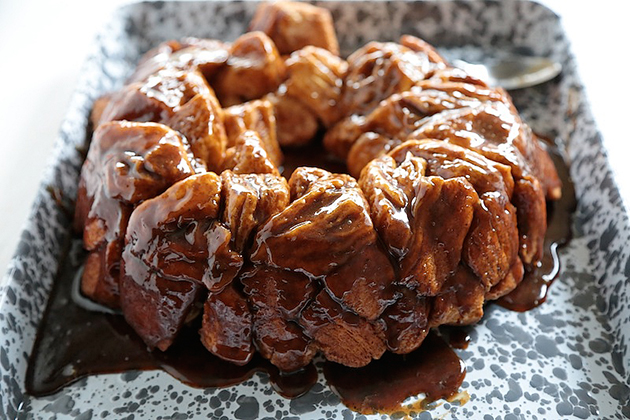 Then, devour.
Printable Recipe
Description
My husband loves monkey bread, but he wanted something with a holiday flair. Easy, spiced-up monkey bread to satisfy any sweet tooth!
Ingredients
2-½ cups Brown Sugar, Divided
1 cup White Sugar
3 Tablespoons Pumpkin Pie Spice, Divided
1 teaspoon Cloves
1 teaspoon Ground Ginger
32 ounces, weight Pillsbury Reduced Fat Refrigerated Biscuit Dough
1 stick Butter
2 Tablespoons Molasses
¼ cups Milk
Preparation Instructions
Preheat oven to 350ºF.
Mix 1/2 cup brown sugar, white sugar, 2 tablespoons pumpkin pie spice, cloves and ginger in a large Ziplock bag. Tear each biscuit into 4 or 5 pieces and add pieces into the Ziplock bag. Seal the bag and shake to coat all pieces. Place sugared dough into a greased bundt pan.
In a medium-sized saucepan, bring butter, molasses, milk, remaining 2 cups of brown sugar and 1 tablespoon of pumpkin pie spice to a boil. Pour brown sugar mix over the biscuit dough in the bundt pan. Bake for 20–25 minutes.
Note: If your bundt pan seems a bit full, place a piece of foil under it in the oven so the brown sugar doesn't boil over.


_______________________________________
Megan Keno is the writer and photographer of Country Cleaver, a food blog fueled by Nutella and images of June Cleaver—if June wore cowboy boots and flannel, that is. A self-proclaimed country bum, Megan creates from-scratch recipes that range from simple to sublime and how-to's to build your cooking repertoire. But she couldn't do it without the help of her trusty—and furry—sous chef, Huckleberry. He's a world class floor cleaner.