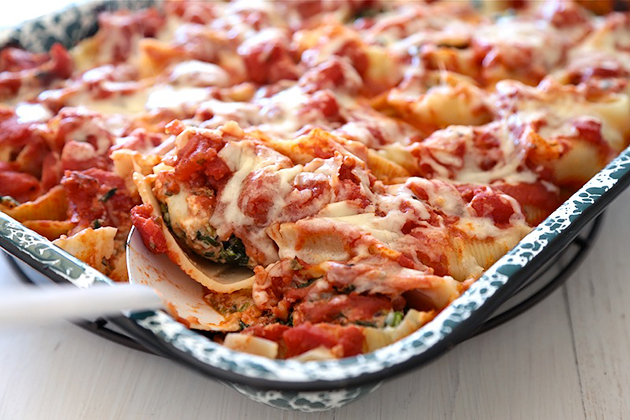 Is pasta a big weakness for anyone else? It's impossible to resist, and always on top of the "Yup, I want that" list. Emily has totally set the bar with this Spinach and Prosciutto Stuffed Shells dish. The flavors are out of this world and, dare I say it, make even more amazing leftovers! It makes a full pan, so you know you will eat this for a couple of days—and I loved it more each time I ate it.
Give it a try!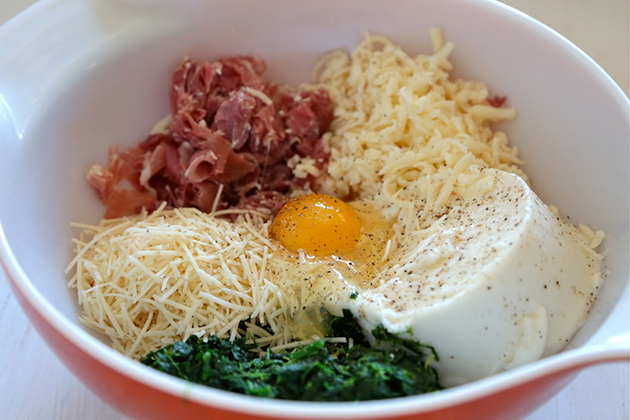 For busy weeknights, a meal that has a short ingredient list is key. These pasta shells are simple and scrumptious, using prosciutto, grated Parmesan cheese, ricotta, spinach, egg, mozzarella and a touch of salt and pepper. Add a little red sauce on top and you're all set!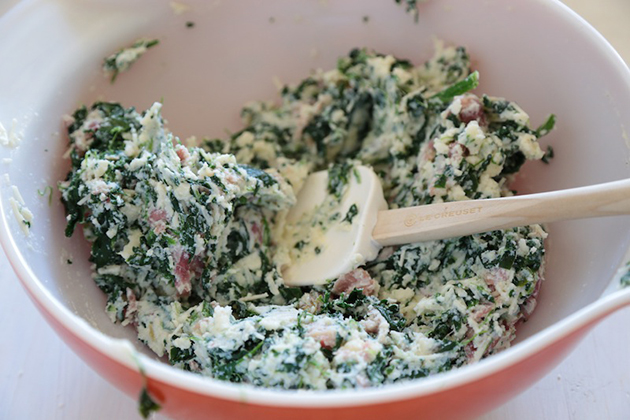 Begin to prepare the filling, which is the same filling in Giada's lasagna rolls. Mix together the spinach, mozzarella, Parmesan, sliced prosciutto, egg, salt and pepper. Set aside.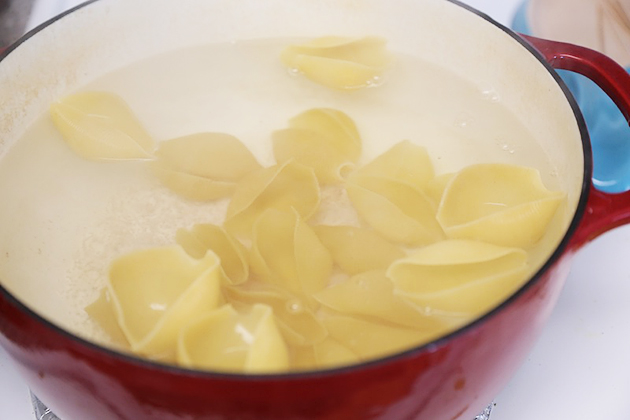 Prepare the shells according to the package directions. I found a few of my shells broke apart and split while cooking. Don't despair, save them and you can use them to tuck into the dish when you fill the remaining shells. More pasta is never a bad thing, so keep the duds, they still taste great!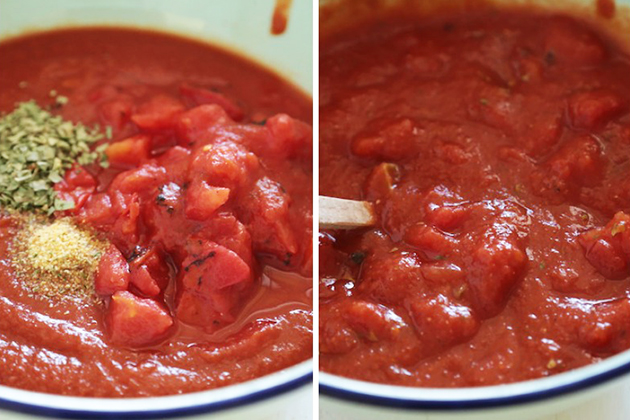 In a bowl, mix together the canned tomatoes and remaining spices. Don't skimp on the spices, or add more if you feel the need. It's all to your taste.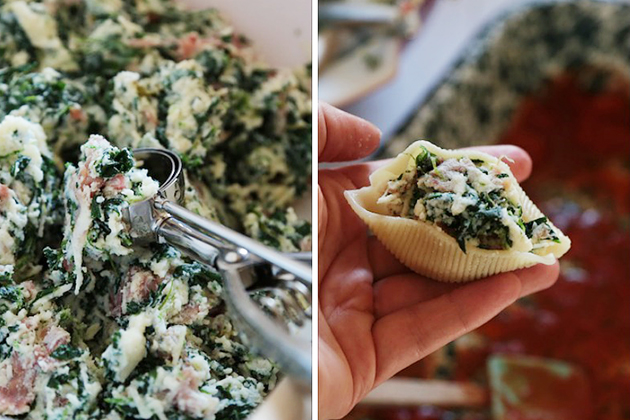 Next, fill the shells. I used a small cookie scoop to help with this, which made it a breeze. Fill each shell and place into a 13×9 inch baking dish that has a thin coating of tomato sauce on the bottom. Fill each shell with the prosciutto mix. If you have small gaps in between filled shells, this is the perfect place to use the broken shells you had left over. Fill in the gaps with extra pasta!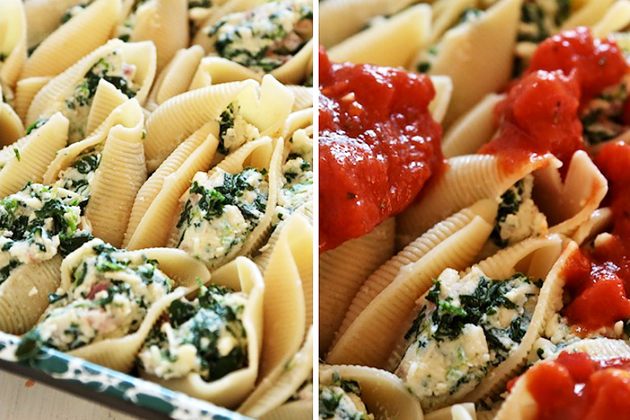 Cover the filled shells with the remaining tomato sauce and sprinkle with a little extra Parmesan or mozzarella you might have on hand. Cover and bake for 20 minutes, and then uncover and bake an additional 15 minutes. Serve while piping hot!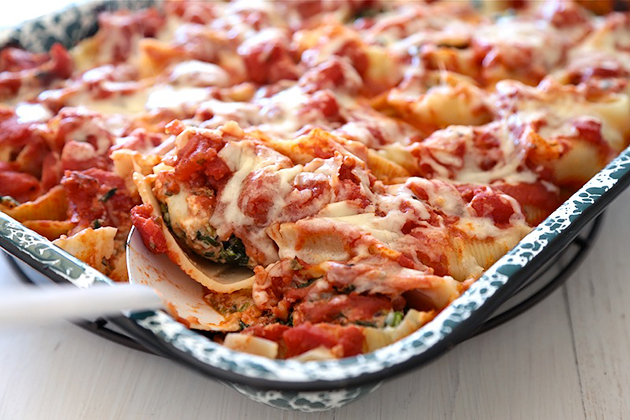 This was a great, comforting dish—Emily really set the stage for my next pasta craving. Visit her site Gather & Dine for more inspired creations!
Printable Recipe
See post on Gather & Dine's site!
Description
These flavorful spinach and prosciutto stuffed shells are a great make-ahead meal to serve to company.
Ingredients
FOR THE SHELLS:
20 Large Pasta Shells
8 ounces, weight Fresh Baby Spinach
15 ounces, weight Whole Milk Ricotta
½ cups Grated Mozzarella Cheese
½ cups Grated Parmesan Cheese
3 ounces, weight Thinly Sliced Prosciutto, Chopped
1 Large Egg (slightly Beaten)
½ teaspoons Salt
¼ teaspoons Pepper
Additional Shredded Mozzarella And Parmesan For Sprinkling On Top
FOR THE SAUCE:
14-½ ounces, weight Canned Stewed Tomatoes
14-½ ounces, weight Canned Tomato Sauce
½ teaspoons Dried Basil
½ teaspoons Dried Oregano
¼ teaspoons Garlic Salt
Preparation Instructions
Preheat oven to 400 F. Cook pasta shells in a pot of salted boiling water according to package directions.
Cook the spinach in another pot of boiling water for 1-2 minutes until wilted. Then drain it, squeeze out the excess water and roughly chop.
In a medium bowl, mix the ricotta, spinach, mozzarella, Parmesan, prosciutto, egg, salt and pepper until well blended. Set aside.
In another medium bowl, mix the stewed tomatoes, tomato sauce, basil, oregano and salt.
In a 9×13 baking dish, spread a thin layer of the tomato mixture to cover the bottom of the pan. Divide the ricotta filling among the stuffed shells, about 1½ – 2 tablespoons per shell. Arrange the shells neatly in the baking pan with the filling side facing up. Spoon remaining tomato mixture over the shells and sprinkle with extra mozzarella and Parmesan cheese.
Cover tightly with foil and bake for 20 minutes at 400 F. Uncover and continue baking for another 15 minutes, until cheese is melted.
Filling recipe from Giada De Laurentiis' Lasagna Rolls.


_______________________________________
Megan Keno is the writer and photographer of Country Cleaver, a food blog fueled by Nutella and images of June Cleaver—if June wore cowboy boots and flannel, that is. A self-proclaimed country bum, Megan creates from-scratch recipes that range from simple to sublime and how-to's to build your cooking repertoire. But she couldn't do it without the help of her trusty—and furry—sous chef, Huckleberry. He's a world class floor cleaner.