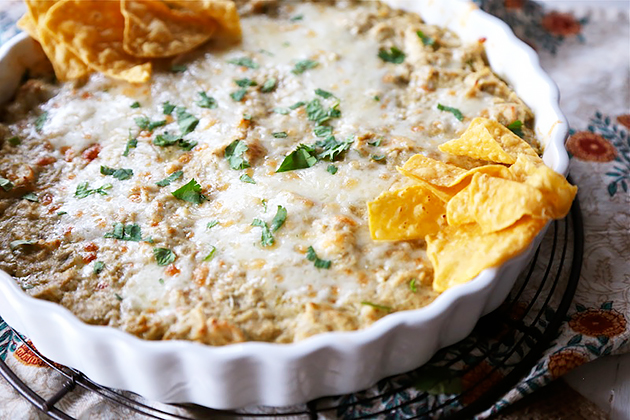 There's never a time when Mexican food doesn't sound good. It sounds good all the time: the flavors, the cheese, the limes, the spices … I'm hungry just thinking about it. Aren't you? I know you're going to love this Skinny Green Chile Chicken Enchilada Dip from TK member Danae. I felt no guilt whatsoever diving head first into this. Face plant right in the middle there. See that cilantro? Use that as your bull's eye.
Danae makes this recipe in the slow cooker, but it suits a baking dish just fine, too. Whatever cooking vessel you have, just make sure you make this!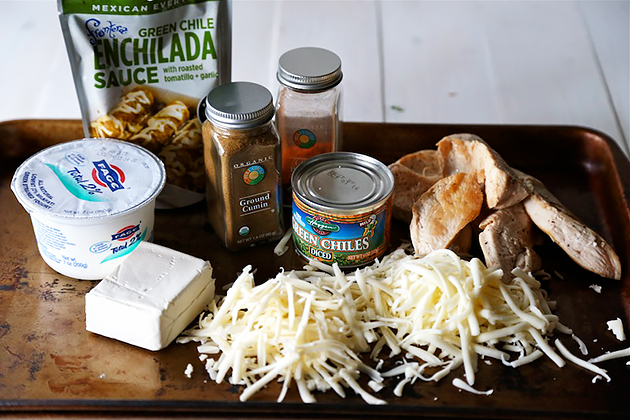 The must-have ingredients includes part skim mozzarella, fat-free plain Greek yogurt (all I could find was 2%), reduced fat cream cheese, Jack cheese, diced green chiles, green enchilada sauce, chili powder, cumin, and 3 cups of cooked shredded chicken.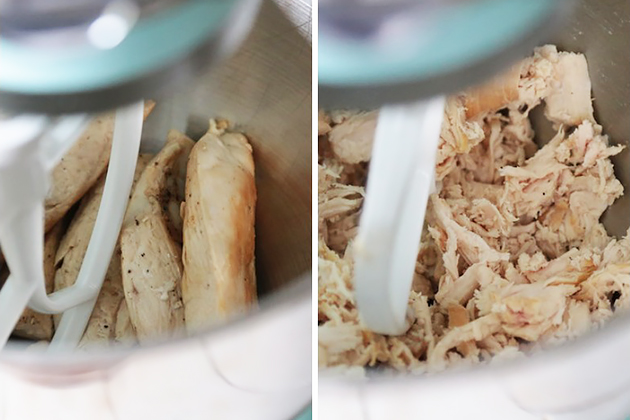 I precooked a chicken breast the night before and just used the leftovers for this recipe. There are a couple of ways you can go about shredding chicken for this recipe. Using two forks is one way. But since I had my mixer out already, I opted to shred the chicken in my mixer! Have you tried this yet? It's my new favorite way. Start by attaching the paddle beater to your mixer, and adding the cooked chicken to the bowl.
Then lock and load! Turn the mixer on low and let it do the work. The mixer makes super quick work out of it, shredding the chicken in a flash. Once it's shredded, transfer to a plate and set it aside.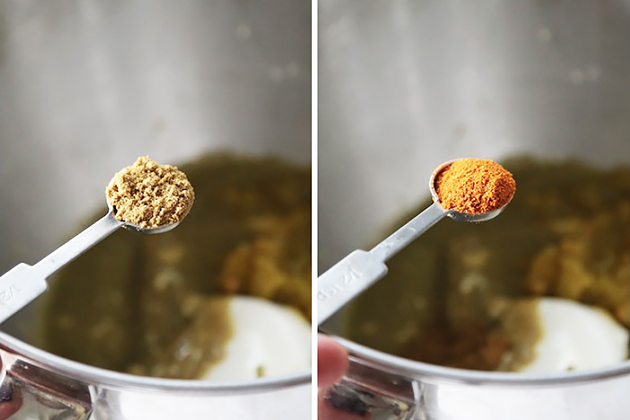 Since the bowl is already dirty, I decided to finish the rest of the dip in the mixer instead of hand mixing it. Add in cream cheese, Greek yogurt, and enchilada sauce, followed by chili powder and cumin. The smells really start taking shape here friends!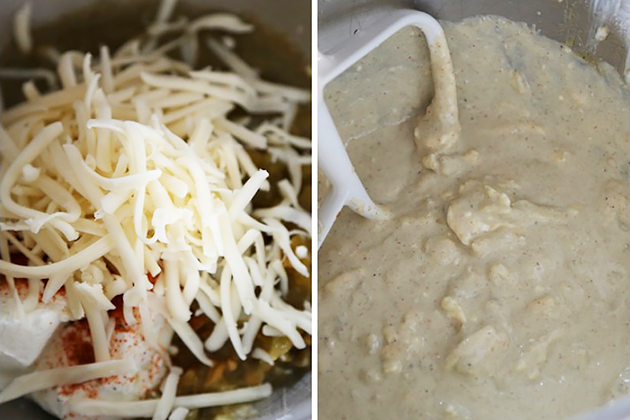 Top off with jack and mozzarella cheeses, leaving only a little behind for the very top of the dip. Turn the mixer back on and beat slowly until combined.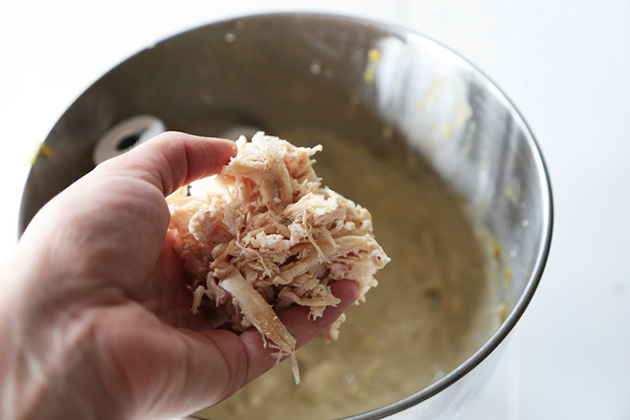 You're almost there. Now, add in that gorgeous chicken and mix to combine.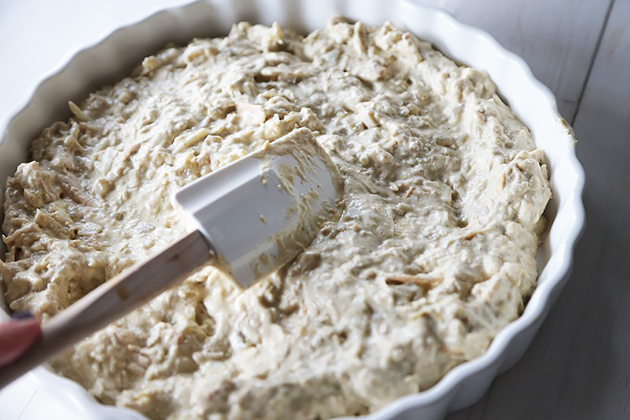 Danae suggests pouring this into a slow cooker and letting it cook for a couple of hours until ready. I'm a little too impatient and chose to bake mine in a baking dish. Mine baked at 350ºF for 25 minutes, until bubbling around the edges. And that was that!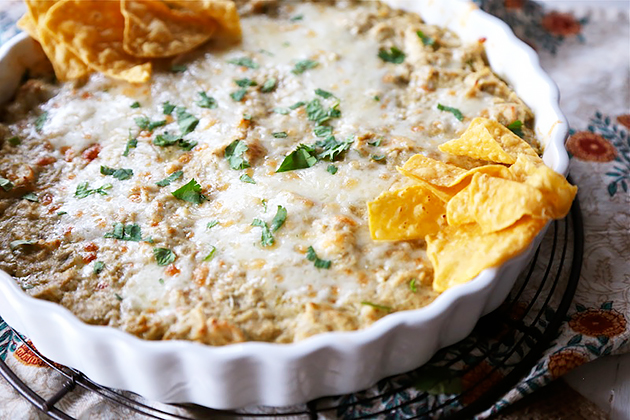 This dip definitely puts other dips to shame, and just because the Super Bowl is over doesn't mean the season for dips is over, too. Make sure you give this a go for your next party, or even just for an afternoon lazing on the couch!
Try this and Danae's other recipes from her TK recipe box, or visit her site, Recipe Runner, for great creations—like these Sweet Potato Quinoa Bowls!
Are you a cold dip lover or a hot dip fiend? Leave a link to your favorite Tasty Kitchen dips in the comments section and share the love!
Printable Recipe
See post on Danae | Recipe Runner's site!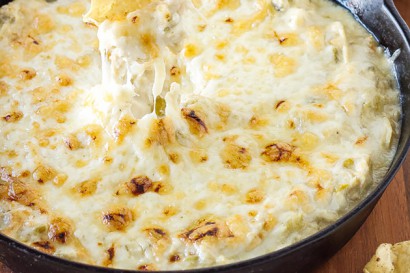 Description
Warm, cheesy, green chile chicken enchilada dip has a fraction of the calories and fat compared to regular dip!
Ingredients
4 ounces, weight Low Fat Cream Cheese, Room Temperature
1 cup Plain, Non-fat Greek Yogurt
½ cups Green Enchilada Sauce
7 ounces, weight Canned Diced Green Chiles
½ teaspoons Cumin
½ teaspoons Chile Powder
½ teaspoons Kosher Salt
3 cups Shredded, Cooked Chicken Breast
½ cups Shredded Part Skim Mozzarella
½ cups Shredded Monterey Jack Cheese, Divided
Preparation Instructions
In a large bowl whisk together the cream cheese, yogurt, enchilada sauce, green chiles and spices. Fold in the shredded chicken, mozzarella and half of the Monterey jack cheese. Place all of the ingredients in a small slow cooker and cook on low for 2 hours.
Remove the dip from the slow cooker and put it in an oven safe dish. I used a 10-inch cast iron skillet but an 8×8 oven-safe dish is fine as well. Top with the remaining cheese and stick it under the broiler until the cheese is lightly browned.
Serve with chips, crackers or vegetables.


_______________________________________
Megan Keno is the writer and photographer of Country Cleaver, a food blog fueled by Nutella and images of June Cleaver—if June wore cowboy boots and flannel, that is. A self-proclaimed country bum, Megan creates from-scratch recipes that range from simple to sublime and how-to's to build your cooking repertoire. But she couldn't do it without the help of her trusty—and furry—sous chef, Huckleberry. He's a world class floor cleaner.