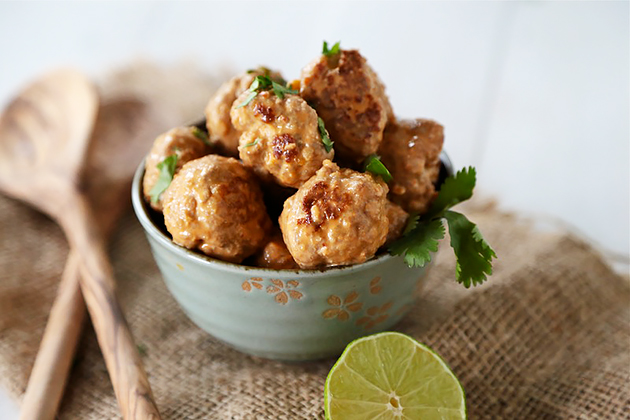 Super Bowl season is about two things: the commercials and the food. Maybe the game, if your hometown team is in contention for the title. My hometown team (and current world champ, go Seahawks!) surely gets me in the spirit, and so does the food. So you know I'll be parked in front of the TV hoping to see them go all the way! If not, I know one thing is for sure: the food is always going to be the winner!
If you want to elevate your game day grub just a bit, go for these Thai Red Curry Chicken Meatballs from TK member Kelley. One of my favorite foods is Thai cuisine, so as soon as my eyes gazed upon these, I was hooked. They were out of this world! If you want to serve something exotic for game day, or any day, put these on the menu!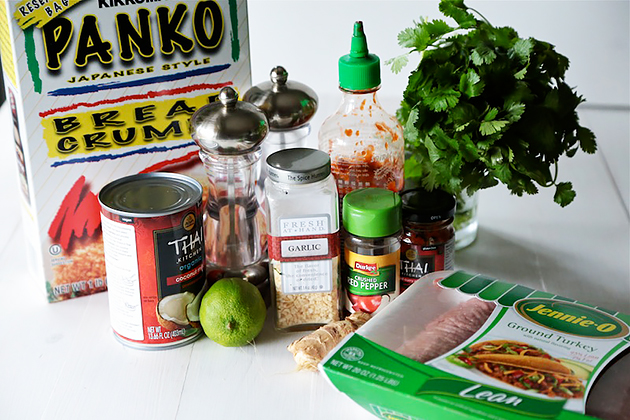 The list of ingredients for this recipe isn't super crazy—just a few things that can be easily found at most groceries with an Asian food aisle, including panko bread crumbs, coconut milk, lime, garlic, red curry paste, Sriracha chili sauce, cilantro, ground chicken (or turkey, which I used), and salt and pepper. All of these ingredients go into both the meatballs and the sauce. The flavors are so vibrant and fresh, you'll go wild!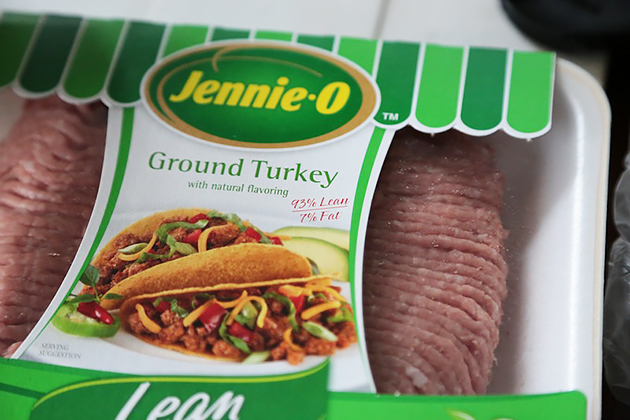 Into a bowl, add the ground turkey. I used ground turkey that was 93% lean, so it'll have some sticking power and won't dry out.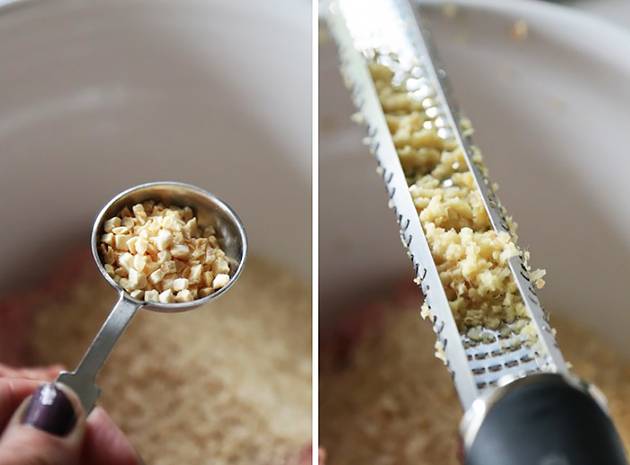 Next, add your garlic. I keep freeze-dried garlic on hand so I can just pour and go. It plumps right up when cooking, yields great flavor, and saves me some time. Also add some minced or grated ginger. I used a microplane to get it really fine.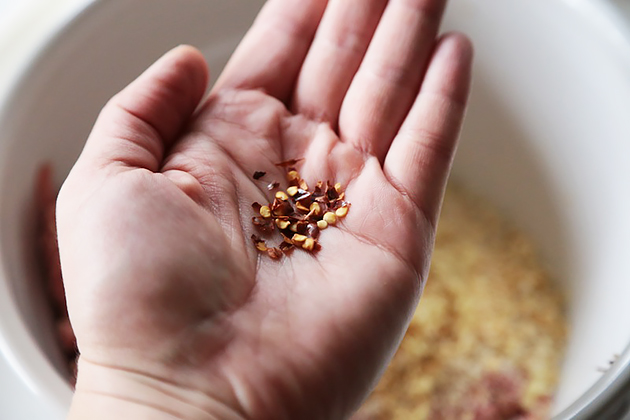 Red pepper flakes and minced cilantro go in next, according to the directions. But guess what? Yours truly is a total dingbat and didn't realize she forgot the cilantro until she had rolled the meatballs. So let's use our imagination and pretend there are little flakes of wondrous green cilantro in there, okay? Okay!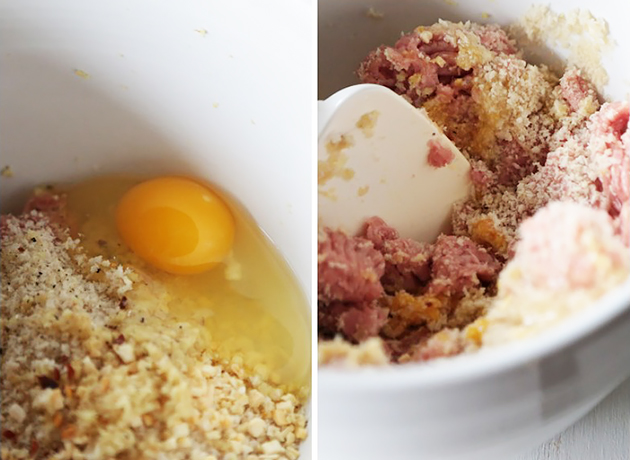 To add to the meatball sticking power, add an egg to the ground turkey mixture. Using a spatula or your hands, mix the batch together until everything is uniform and just combined, but do not over-mix.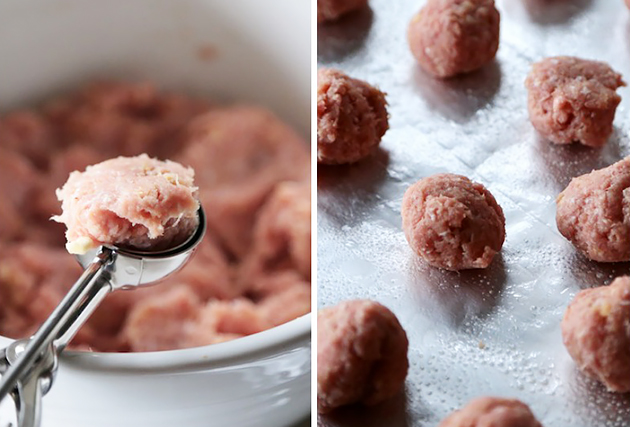 To make the meatballs a uniform size, I used a 1-inch cookie scoop, then rolled them between my hands to make them a little more round. These will make them perfectly bite-sized meatballs, though Kelley's original recipe says she made them into 12! That would be massive, though I'm not complaining. They are so good, I would tackle one of those in a heartbeat!
Place the meatballs into a preheated oven and bake for 15–20 minutes (or until the temperature reaches at least 165ºF), turning the meatballs halfway through cooking. While they are in the oven, move on to the sauce!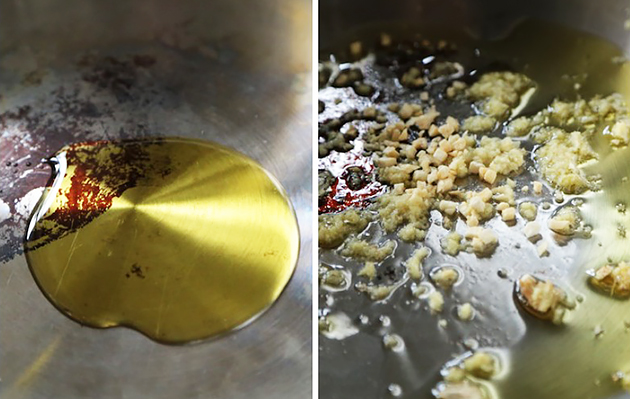 In a sauté pan, heat olive oil until simmering, and plop in your garlic and ginger, stirring until fragrant.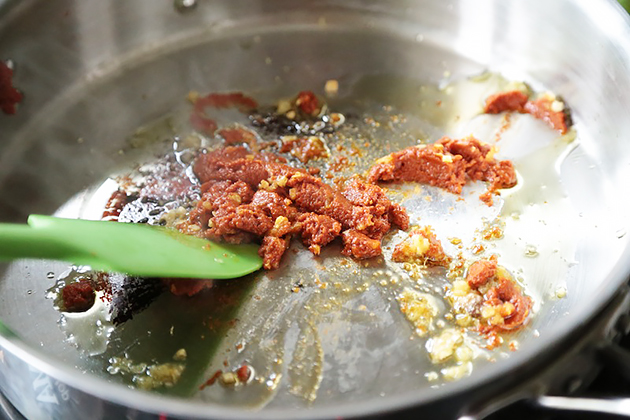 Add the red curry paste. Man, we are cooking here!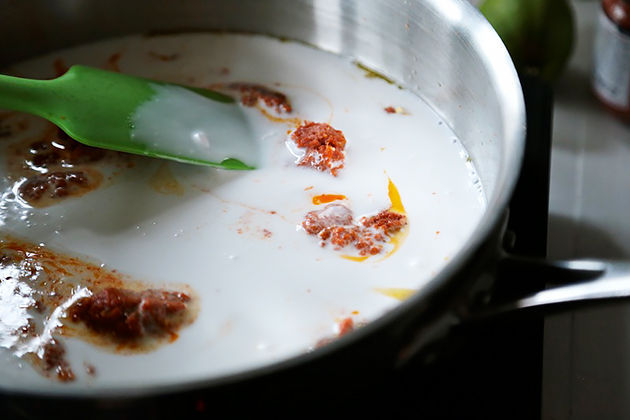 Whisk in the coconut milk and stir until smooth.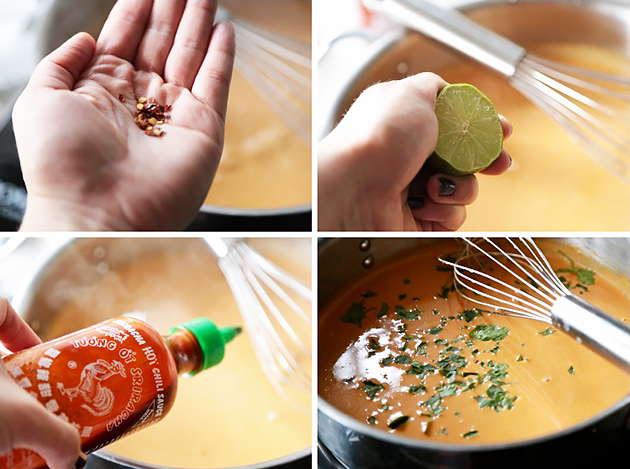 Add in the remaining red pepper flakes, Sriracha sauce, lime, and of course the cilantro! If you're like me, the more cilantro the better. Allow the sauce to thicken slightly, and once the meatballs are out of the oven and ready to go, place on a platter or in a serving dish and pour the sauce over the top.
If you want to keep these hot for game day, I suggest putting them in a slow cooker set to "warm" and they will be ready all day long!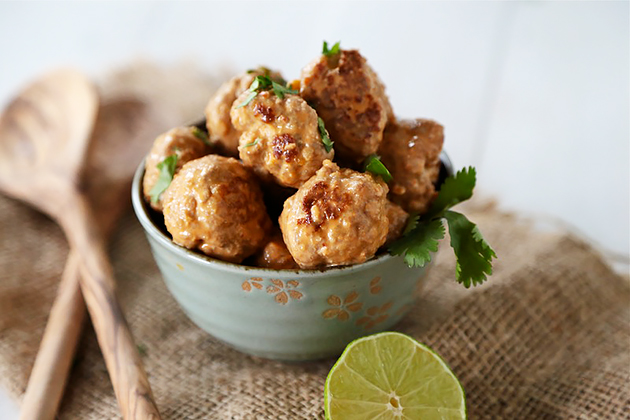 I fell in love with these meatballs. Next up on my list of recipes to make? Kelley's 5-Ingredient Peanut Butter Energy Bites. Be sure to stop by her blog, Chef Savvy, for more delicious creations.
What are your game day must-haves? How do you prepare for the big day? Share them in the comments so we can serve up sure winners on the big day and cheer on our favorite team!
Printable Recipe
See post on Kelley Simmons @ Chef Savvy's site!
Description
A quick weeknight dinner that takes less than 30 minutes to make.
Ingredients
FOR THE MEATBALLS:
16 ounces, weight Ground Chicken
½ cups Panko Breadcrumbs
2 cloves Garlic, Minced
1 teaspoon Ginger, Minced
1 whole Egg
⅛ teaspoons Salt
⅛ teaspoons Pepper
⅛ teaspoons Crushed Red Pepper Flakes
1 Tablespoon Cilantro, Chopped
FOR THE THAI CURRY SAUCE:
½ Tablespoons Extra Virgin Olive Oil
1 teaspoon Ground Ginger, Minced
2 cloves Garlic, Minced
2 Tablespoons Concentrated Red Curry Paste
¾ cups Coconut Milk
1 teaspoon Sriracha
⅛ teaspoons Pepper
⅛ teaspoons Salt
⅛ teaspoons Red Pepper Flakes
1 Tablespoon Cilantro, Chopped
1 Tablespoon Lime Juice
Preparation Instructions
For the Thai red curry chicken meatballs:
Preheat oven to 400 F. Lightly grease a rimmed baking sheet with oil.
In a large bowl add all of the meatball ingredients. Mix to combine. Make sure not to over mix. Portion out 12 equal-sized large meatballs. Working with slightly wet hands helps the meatballs from sticking to your hands. Place meatballs on the oiled baking sheet and cook for 15-20 minutes or until caramelized on the outside and cooked through, flipping them halfway through cooking (prepare the sauce while they bake).
When done, take meatballs out of the oven and toss them in the Thai red curry sauce. Garnish with extra cilantro if desired. Serve immediately.
Note: If you are freezing the meatballs do not toss with sauce until ready to serve.
For the Thai curry sauce:
Heat oil in small saucepan over medium heat. Add garlic and ginger and cook for 1 minute. Add the curry paste and cook for an additional minute. Whisk in coconut milk and continue whisking until thick. Take pan off the heat. Stir in Sriracha, pepper, salt, red pepper flakes, cilantro and lime juice. Set aside until ready to toss with meatballs.


_______________________________________
Megan Keno is the writer and photographer of Country Cleaver, a food blog fueled by Nutella and images of June Cleaver—if June wore cowboy boots and flannel, that is. A self-proclaimed country bum, Megan creates from-scratch recipes that range from simple to sublime and how-to's to build your cooking repertoire. But she couldn't do it without the help of her trusty—and furry—sous chef, Huckleberry. He's a world class floor cleaner.