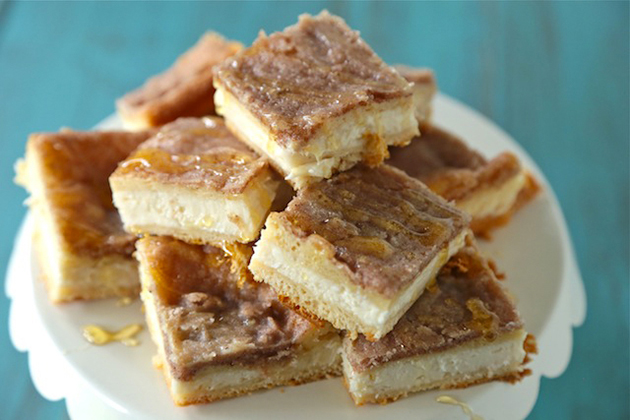 Just like the fortune cookie at the end of my Chinese take-out, the sopapilla at the end of the night out at my husband's and my favorite Mexican restaurant is what I look forward to most. That little bit of sweet and crunchy just seals the deal. Okay, fine, I like the margaritas too. And the chip basket. And the cheesy enchilada. Fine, it's all amazing, but you can't deny the absolute crave-ability of those little crunchy sopapillas. And making them into Sopapilla Cheesecake Squares? Are you kidding me? Signed, sealed, delivered, I'm yours!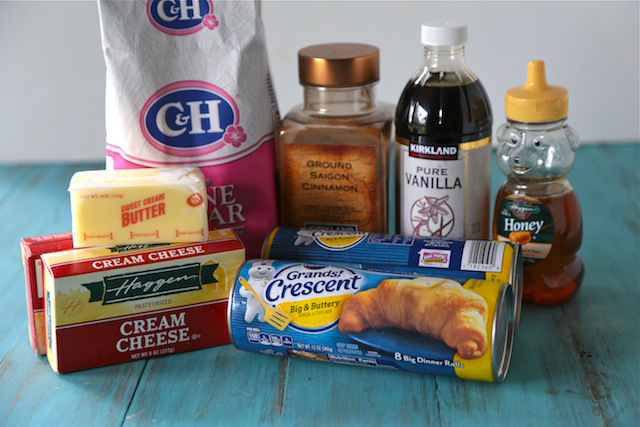 Talk about the easiest recipe ever! Jennifer says bring with you two packages of cream cheese, some sugar, vanilla extract, refrigerated crescent rolls, and a little cinnamon, butter, and honey.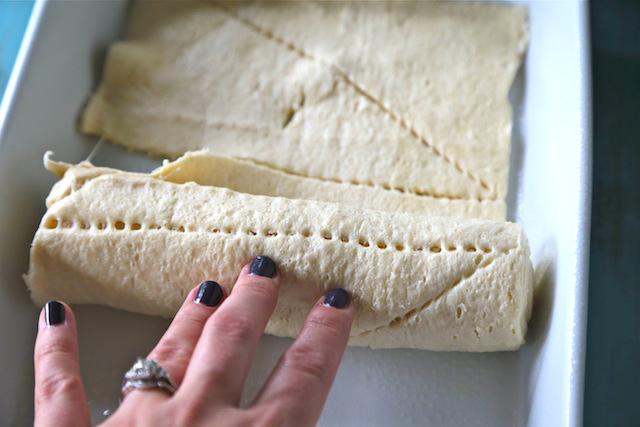 Preheat your oven to 350 degrees. Spray the bottom of a 13×9 inch pan with nonstick spray. Roll out one of the two crescent dough rolls out into the pan. Gently press the seams together so they all adhere.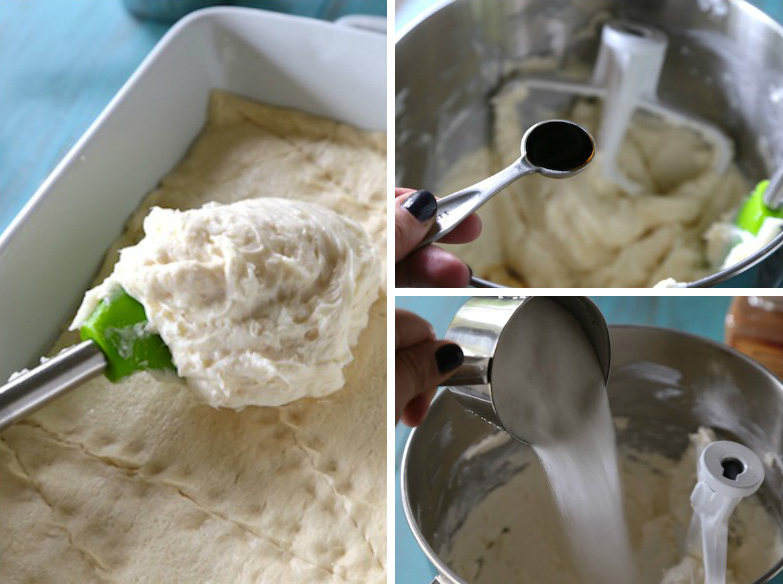 Next, whisk together the cream cheese, 1 cup of sugar, and the vanilla until smooth. Spread the mix onto the crescent rolls in the bottom of the pan. And there's a lot to go in there. Yum!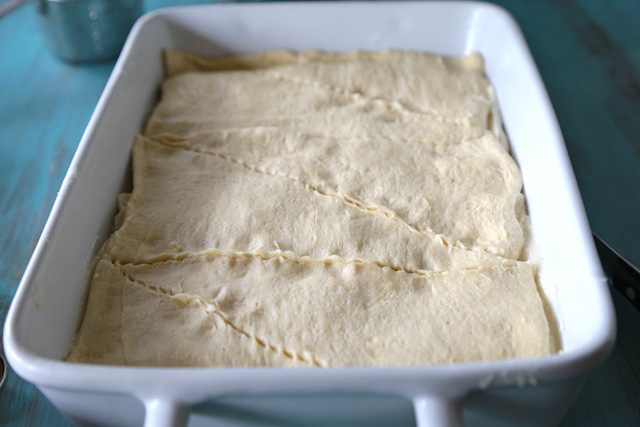 Place the other unrolled crescent dough on top of the cream cheese spread.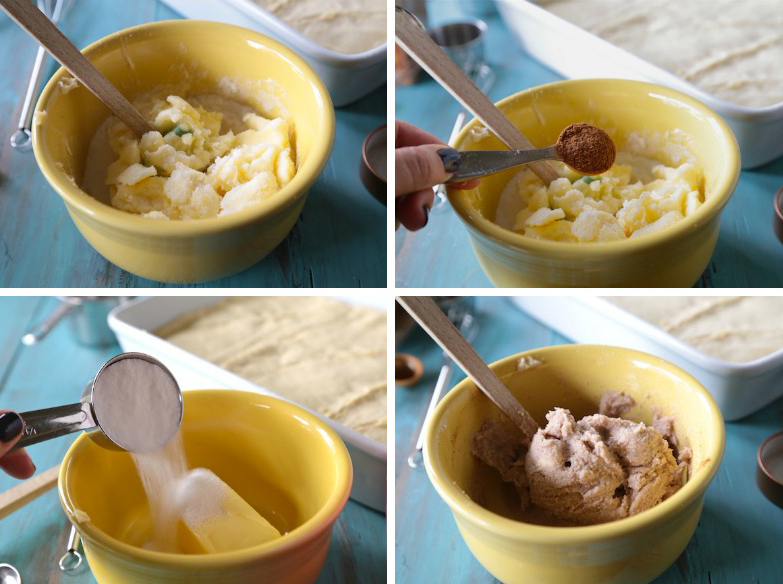 In a small bowl, mix together the butter, remaining sugar, and cinnamon until you have a smooth cream.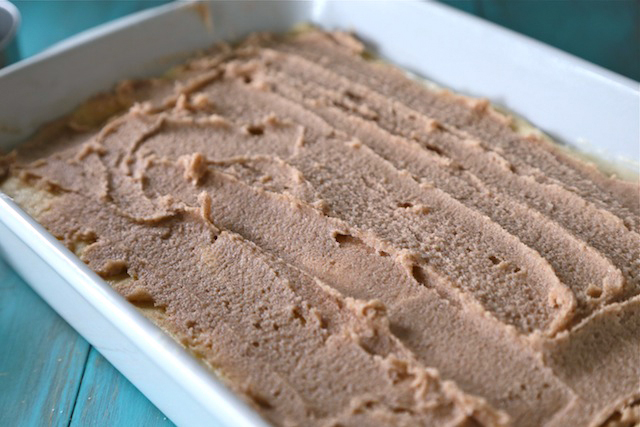 Next, spread that cinnamon sugar deliciousness right on top of the unrolled crescents. Spread it evenly over the top and don't miss any spots. That would be a tragedy.
Bake for about 30 minutes and let them cool completely before cutting into squares. Top with drizzled honey just before you serve these delights.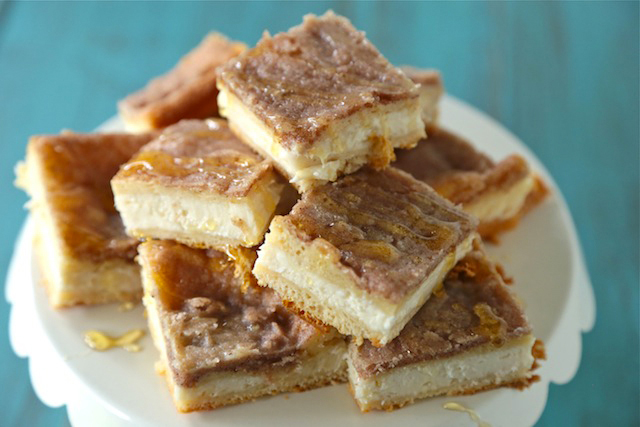 These will be a crowd-pleaser at your next BBQ or summer family reunion. I bet they would be the first thing from the dessert table to disappear. Make them soon and find out!
If you need more summer inspiration, try this Seared Salmon with Browned Butter Lime Sauce, also from Jennifer's blog In Jen's Kitchen. And be sure to stop by her TK recipe box for more delicious creations!
What are your favorite summer crowd pleasing desserts? Leave a comment below, or share a link to your Tasty Kitchen recipes for all to see!
Printable Recipe
See post on Jennifer Kimbrell's site!
Description
Creamy cheesecake sandwiched in between flaky layers of crescent dough, smothered with a dreamy cinnamon sugar butter and drizzled with honey while it's warm.
Ingredients
2 packages (8 Oz. Size) Cream Cheese, Room Temperature
1-¾ cup White Sugar, Divided
1 teaspoon Vanilla Extract
2 cans (8 Oz. Size) Refrigerated Crescent Rolls
½ cups Butter, Softened
1 teaspoon Ground Cinnamon
¼ cups Honey
Preparation Instructions
1. Preheat oven to 350 F. Spray a 9×13″ baking dish with cooking spray.
2. In a mixing bowl using an electric mixer, beat the cream cheese with 1 cup of sugar and the vanilla extract until smooth. Set aside.
3. Unroll 1 can of crescent dough and place dough into the bottom of the 9×13″ pan (I just press the seams together). Evenly spread the cream cheese mixture over the crescent dough. Unroll the other can of crescent dough, press the seams together, then place it on top of the cream cheese layer.
4. Stir together the remaining 3/4 cup sugar, butter and cinnamon. Dollop the mixture all over the top of the crescent dough.
5. Bake in the preheated oven until the crescent dough has puffed and it is golden brown, about 30 minutes. Remove from the oven and drizzle with honey (just drizzle straight from the bottle and eyeball the amount). Cool completely before cutting into 12 squares. Enjoy!
Note: I usually keep these refrigerated, but store them however you prefer.
Recipe adapted from From Allrecipes.com, Sopapilla Cheesecake Pie.


_______________________________________
Megan Keno is the writer and photographer of Country Cleaver, a food blog fueled by Nutella and images of June Cleaver—if June wore cowboy boots and flannel, that is. A self-proclaimed country bum, Megan creates from-scratch recipes that range from simple to sublime and how-to's to build your cooking repertoire. But she couldn't do it without the help of her trusty—and furry—sous chef, Huckleberry. He's a world class floor cleaner.