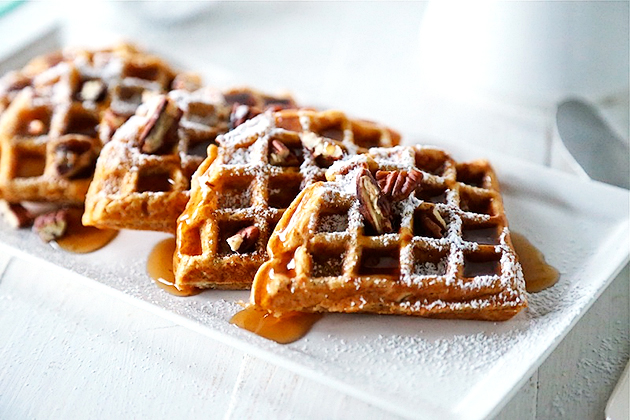 "And in the morning, I'm makin' waffles!"
That is probably my favorite line from the movie Shrek, because I get just as excited as Donkey does about breakfast—and waffles. My husband works nights, so breakfast on the weekends, when he is getting off shift and I am just waking up, is a special time for us to spend together. I like making us a special breakfast, and usually it's pancakes or waffles. I made these Sweet Potato Waffles from TK member Carolina Heartstrings one morning and these were perfect for my breakfast and his dinner.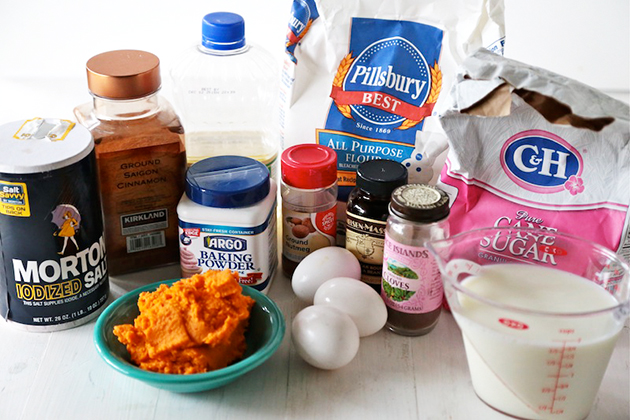 These require just a few basic ingredients that you probably already have on hand.
The most time-consuming part may be roasting the sweet potatoes, so I suggest doing that beforehand to save some time when you make these Saturday morning. Or, see if your local store has canned sweet potatoes. Or substitute pumpkin! Either way, these are a win.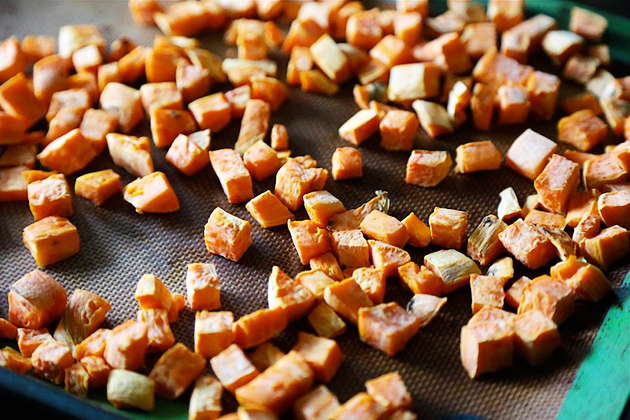 I roasted my own sweet potatoes, in small cubes in the oven until fork-tender. These are a favorite, and I like using them in my favorite breakfast: Sweet Potato Spinach Breakfast Hash.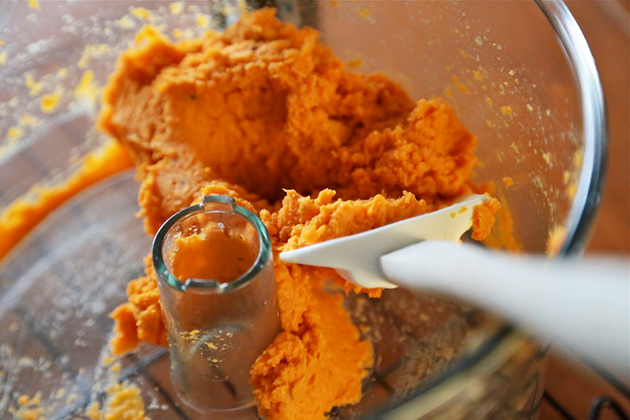 After roasting, mash or puree them in a food processor until smooth. Scrape down the bowl a few times if necessary.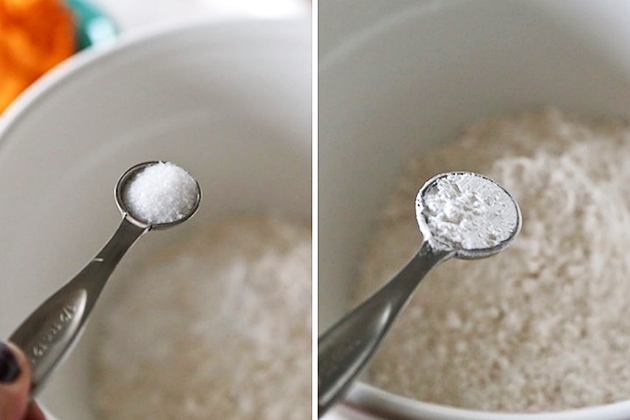 In a mixing bowl, whisk together the dry ingredients, including the flour, baking powder, and salt.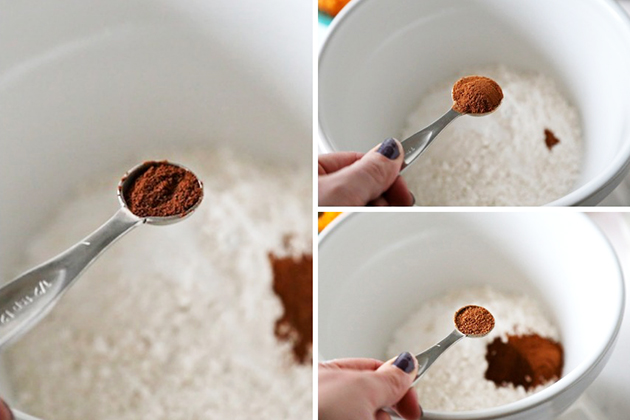 Next, add in all those cozy spices, like the cinnamon, nutmeg and cloves. Set aside.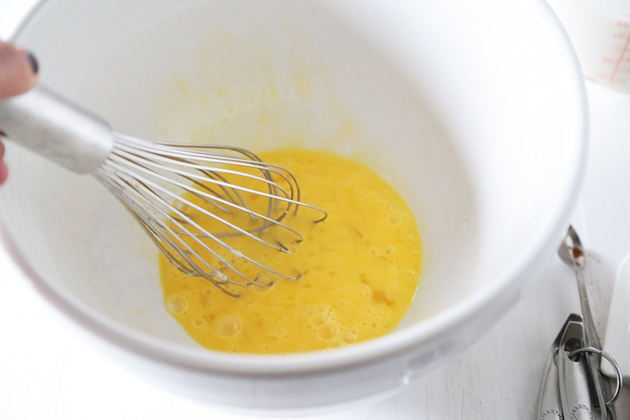 In another bowl, whisk the eggs.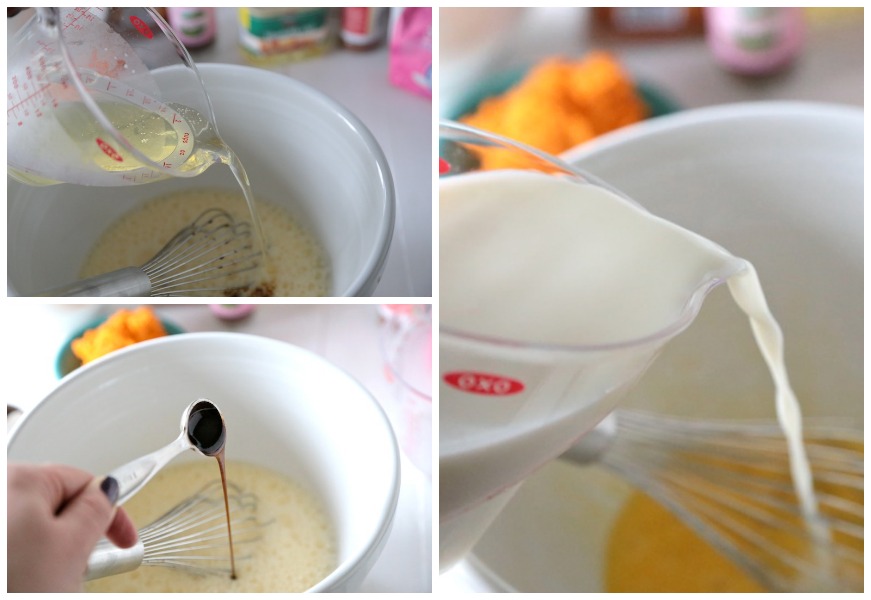 Beat in the milk, oil and the vanilla.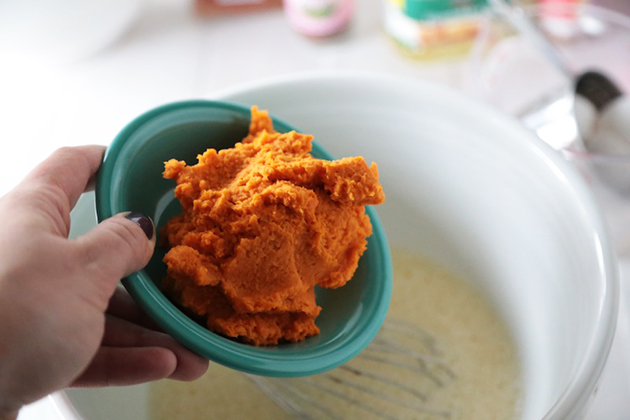 Don't forget the sweet potato!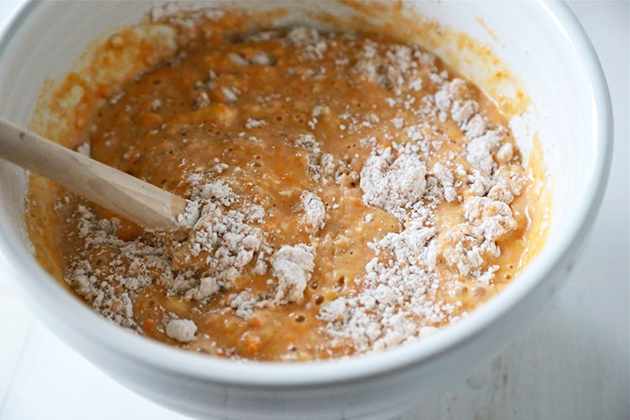 Now, fold the dry and wet ingredients together until just combined. The baking powder will begin to activate and you will start to see some bubbles.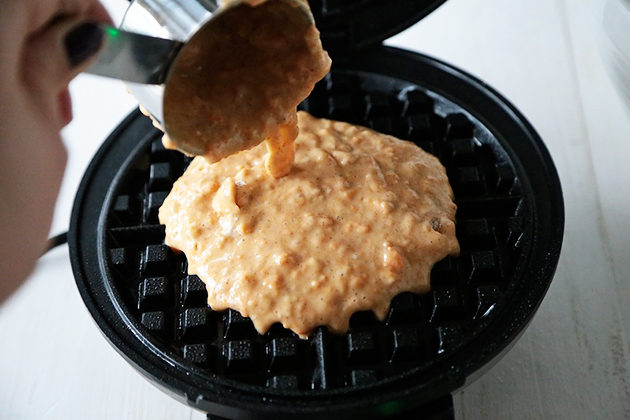 Heat up your waffle iron until piping hot and spray with some nonstick spray. Pour about 1/2 cup batter, or however much your waffle iron accommodates (all models are different), and close.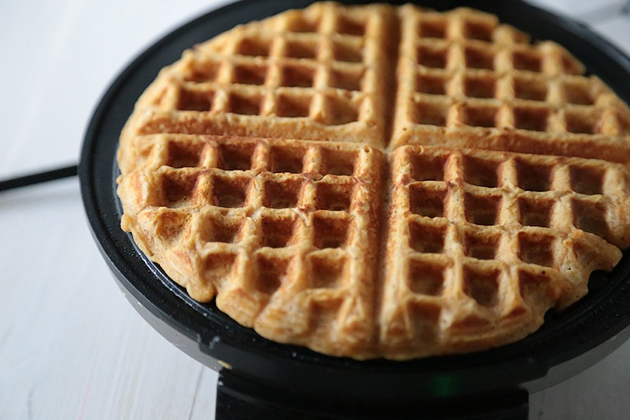 Cook until baked through and golden brown. Voila! Serve immediately.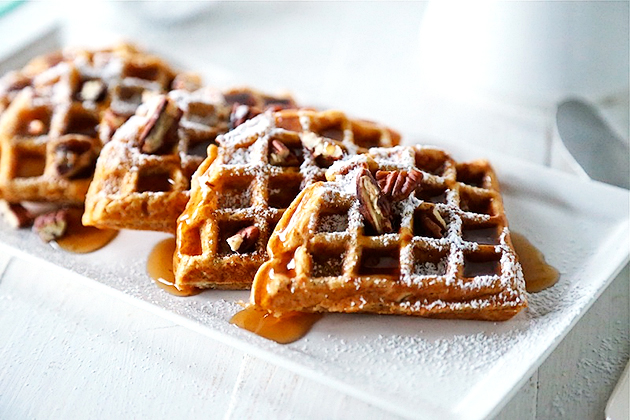 I served mine with chopped pecans on top and maple syrup. But I think this Coconut-Vanilla "Honey" Syrup from my fellow Tasty Kitchen Blog contributor Faith of Edible Mosaic would be splendid, too!
Breakfast is the most important meal of the day, and it should be totally cozy to boot! Thanks the girls at Carolina Heartstrings for sharing their recipe. Although they are no longer actively blogging, be sure to check out their TK recipe box for more recipes, like these Red Velvet Moon Pies! Have mercy!
What is your favorite weekend breakfast? Do you go all out on Saturday with pancakes? Or are you a savory breakfast fan? Tell us your favorite in the comments below, or leave a link for your fellow Tasty Kitchen friends!
Printable Recipe
See post on Carolina HeartStrings's site!
Description
We are celebrating the sweet potato crop here in North Carolina with a month of delicious recipes. What better way to begin the month than with one of my favorite breakfast foods: waffles! This recipe is easy and tastes so good on a cool fall morning or when you decide to have breakfast for dinner. Drizzle maple syrup and pecans over the top and dig in!
Ingredients
1-¾ cup Flour
2 teaspoons Baking Powder
½ teaspoons Salt
1 teaspoon Cinnamon
½ teaspoons Ground Cloves
½ teaspoons Ground Nutmeg
3 whole Eggs
1-¾ cup Milk
1 Tablespoon Sugar
½ cups Vegetable Oil
½ teaspoons Vanilla Extract
½ cups Sweet Potato Puree (see Directions Below)
Preparation Instructions
Note: I like to make my own sweet potato puree. Take two medium sweet potatoes, peel them and cut into chunks. Cook on medium heat until soft. Drain and put in a food processor until they are of puree consistency.
Sift together flour, baking powder, salt, cinnamon, cloves and nutmeg. Beat eggs thoroughly and whisk milk, sugar, oil and vanilla into beaten eggs. Add the egg mixture to dry ingredients. Mix gently to combine. Add sweet potato puree. Mix gently. Batter will be lumpy.
Preheat your waffle iron, spray if needed. Ladle 1/2 to 3/4 cup batter into the waffle iron. Cook until the waffle is golden brown. Makes 4 to 6 waffles.


_______________________________________
Megan Keno is the writer and photographer of Country Cleaver, a food blog fueled by Nutella and images of June Cleaver—if June wore cowboy boots and flannel, that is. A self-proclaimed country bum, Megan creates from-scratch recipes that range from simple to sublime and how-to's to build your cooking repertoire. But she couldn't do it without the help of her trusty—and furry—sous chef, Huckleberry. He's a world class floor cleaner.