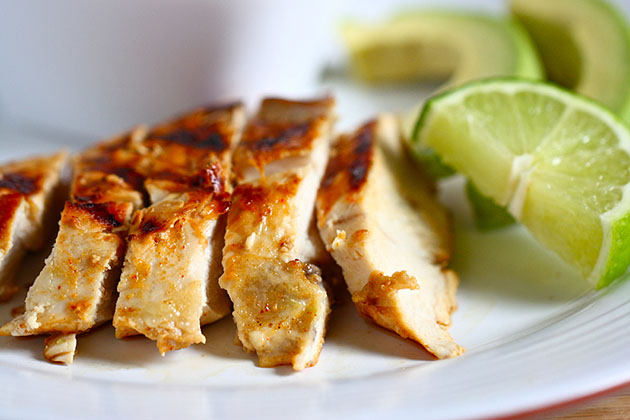 I don't know about you, but I'm always on the lookout for a new chicken marinade recipe. It seems like throwing a marinade together would be easy, but for some reason the idea of creating my own stresses me out. Which is why I was so excited when I found this recipe for Spicy Tequila-Lime Marinated Chicken from EatsSweetsTreats!
I love spicy food and this sure fits the bill. I'm sure it would be fabulous in a burrito, but we enjoyed our grilled marinated chicken with a side of Cuban black beans, rice, guacamole and margaritas. Extra salt, please!
Let's be honest, I really just wanted a reason to bust out the tequila.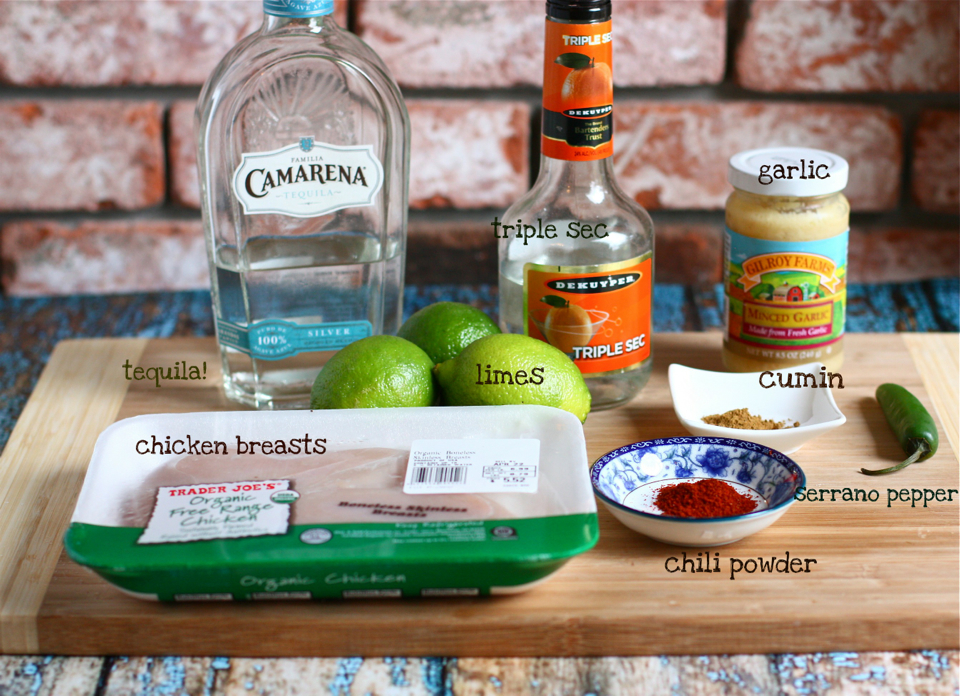 All I ask is can you not make a margarita while making this recipe?! Like I said, this marinade produces some pretty spicy chicken. To cut down on the spice, use a jalapeno pepper instead of a serrano and/or remove the seeds first.
To make the marinade, just process all ingredients (except the chicken, of course!) in either a food processor or high-speed blender.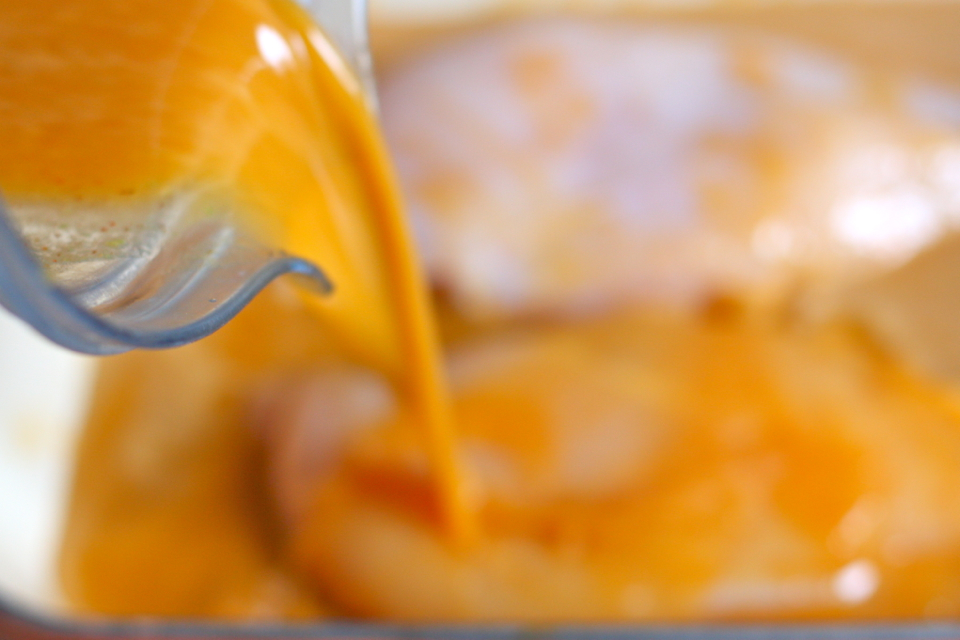 Then just pour the marinade over the chicken breasts, cover and stick in the fridge for a couple hours. You'll want to turn the chicken over halfway through to ensure even marination.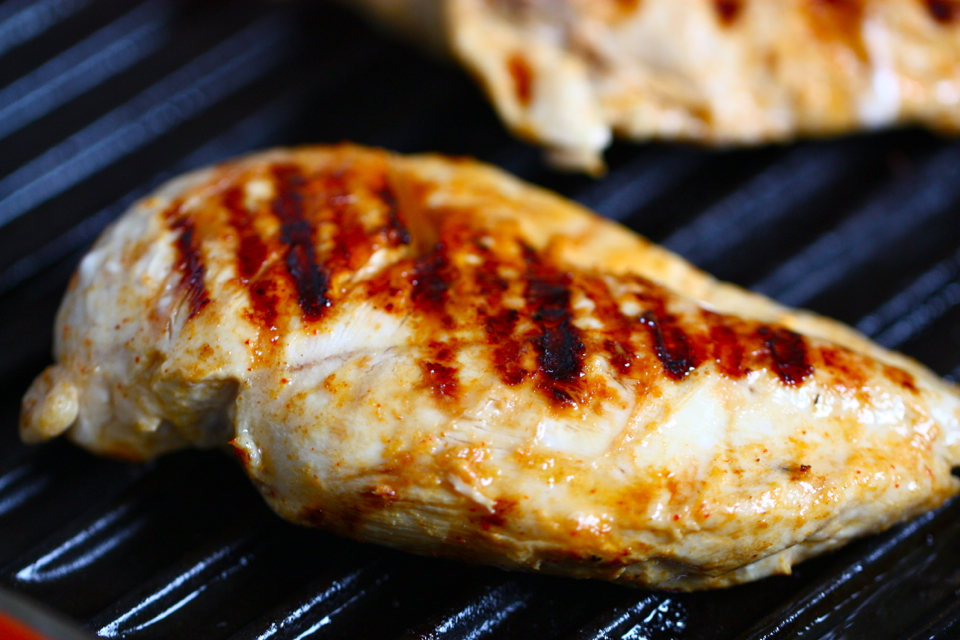 After your chicken is done marinating, you can either sear it in a cast iron skillet on the stove, grill it outside or do what I did and use your handy dandy grill pan! I love my grill pan.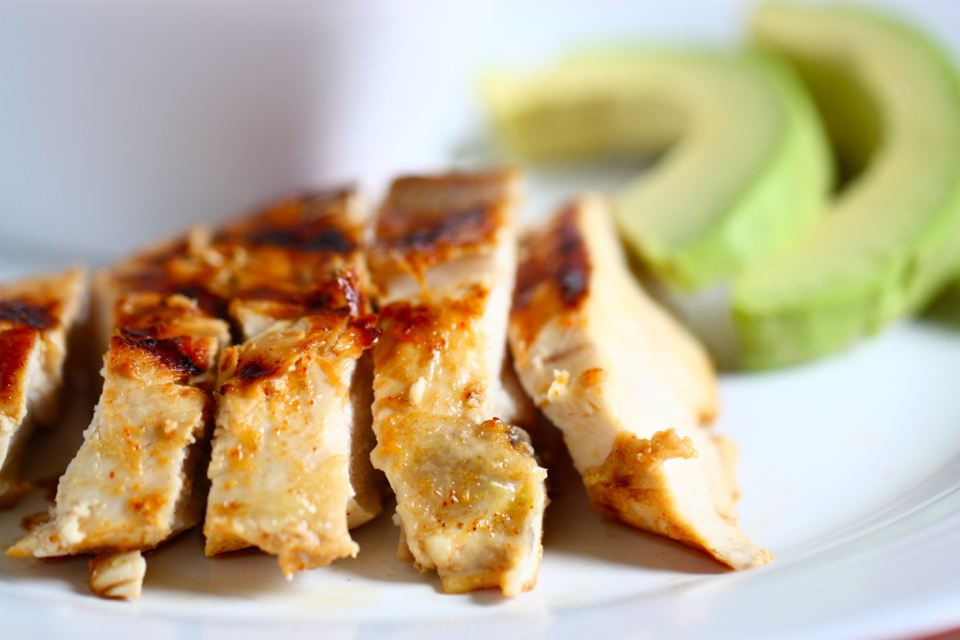 And there ya have it! So easy, delicious and perfect for slicing up and stuffing in burritos, tacos, you name it. After cooking, I squeezed a little more lime on my chicken and sprinkled some sea salt on top—it was spicy perfection!
Thank you Kimberly for such an easy recipe to kick off grilling season, and just in time for Cinco de Mayo. Visit the blog Eats, Sweets, and Treats! for more recipes and Texas restaurant write-ups.
Printable Recipe
See post on Kimberly's Treats's site!
Description
Perfect topping for homemade corn tortillas! Quick and easy for a weeknight meal.
Ingredients
½ cups Fresh Squeezed Lime Juice (for 1/2 Cup You'll Need About 2 Limes)
¼ cups Tequila
1 ounce, fluid Triple Sec
½ Tablespoons Olive Oil
¼ teaspoons Cumin
½ teaspoons Chili Powder
2 cloves Garlic
1 Serrano Pepper, Stem (and Seeds, Optional) Removed
1 whole Boneless Skinless Chicken Breast
Preparation Instructions
Combine all ingredients listed (except chicken) in the bowl of a food processor. Pulse until all ingredients are finely chopped and mixture is smooth.
Pour marinade into a shallow dish and place chicken in dish to marinate for 1-2 hours. Flip the chicken breasts once about halfway through the marinade time.
Place a pan over medium high heat and sear the chicken breasts on each side. It should take about 4-5 minutes per side. Reserve excess marinade.
After both sides are golden brown, reduce heat to medium low and remove chicken from pan. Put chicken onto a cutting board and slice chicken into strips, about 1/2 inch thick.
Return chicken to pan and add the excess marinade. Stir everything to combine and let simmer for another 3-4 minutes, or until chicken is cooked all the way through.
Remove from heat and use chicken anyway you see fit! My favorite way is to use the chicken for tacos and top with caramelized onions, guacamole, chopped tomatoes, and lettuce!


_______________________________________
Jenna is a food writer who has worked as a pastry chef and bread baker. Her blog Eat, Live, Run has great recipes, travel stories, and the perfect slogan: "Celebrating life, one crumb at a time."