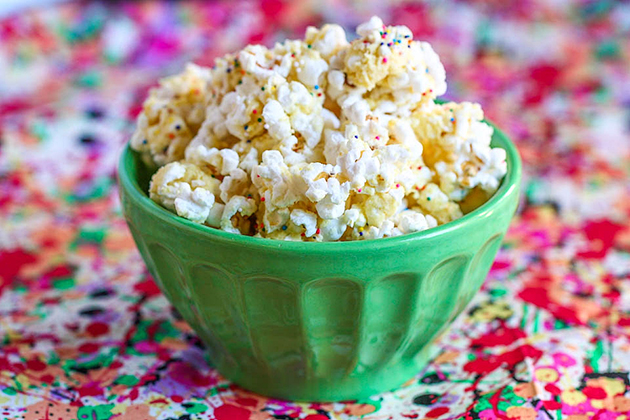 When I was saw this recipe by Mrs. Schwatz a few weeks ago, I knew I had to stop everything and make it immediately. Birthday Cake Batter Popcorn? Yes, please. As a lover of anything salty and sweet, I knew it would be a winner. Plus, it involved rainbow sprinkles. Enough said.
 
I made this the day before going on vacation, and had grand plans to take it with me in little plastic baggies for the flight.
 
Let's just say it never made it that far.
 
Between munching all day while I worked and going back for "just one more kernel", all I had left to fill my plastic baggies were popcorn seeds. Oops.
 
Here's what ya need!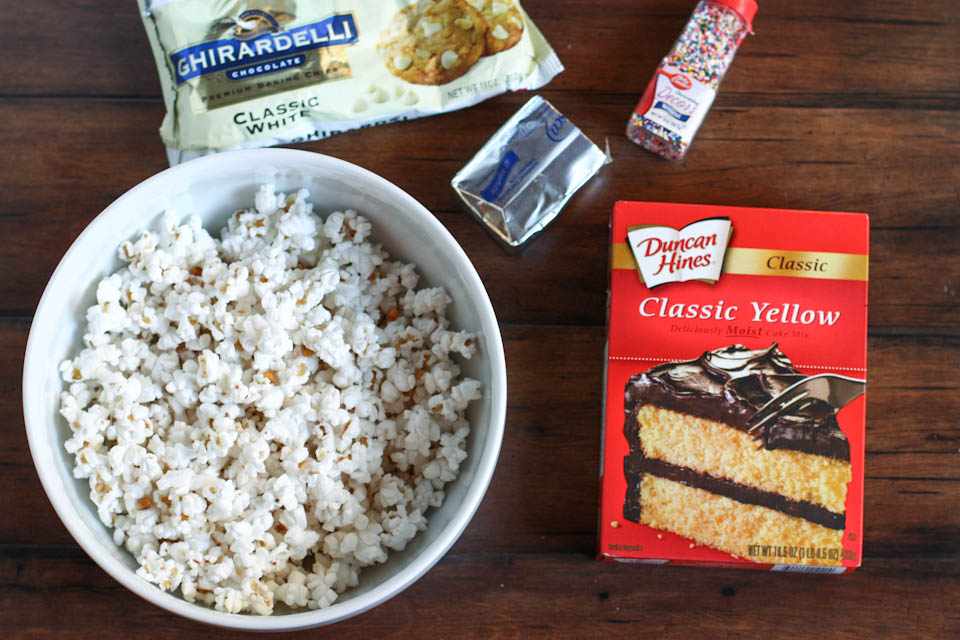 Simple yellow cake mix, some popcorn (I just popped one bag in the microwave), vegetable shortening, white chocolate chips and sprinkles. Five ingredients—it doesn't get better than that!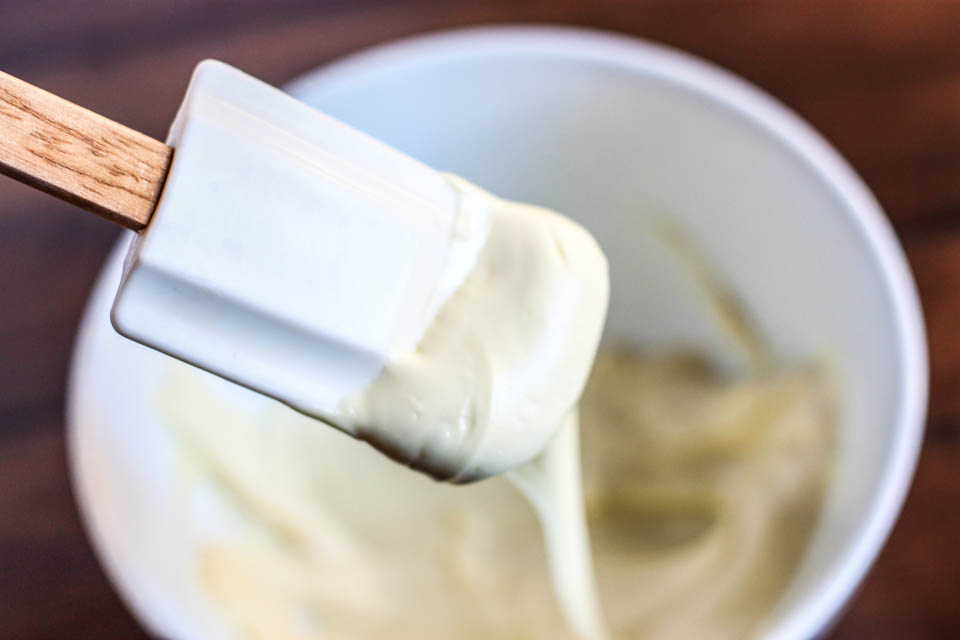 The first step is melting your white chocolate. I just zapped this in the microwave in short thirty-second intervals until it was all melted. I think it took a minute and a half total.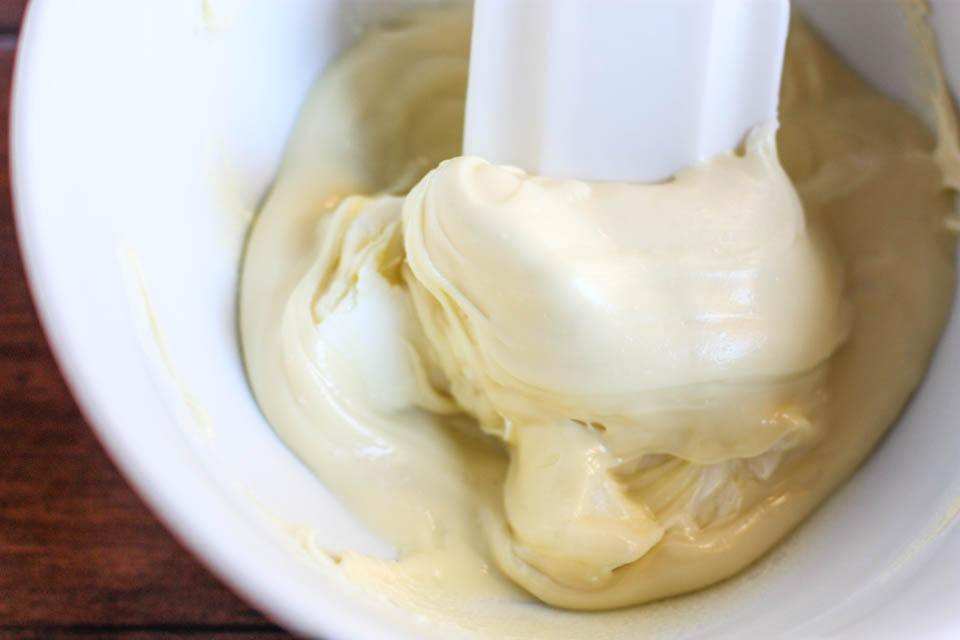 Then, stir in your vegetable shortening to the melted white chocolate …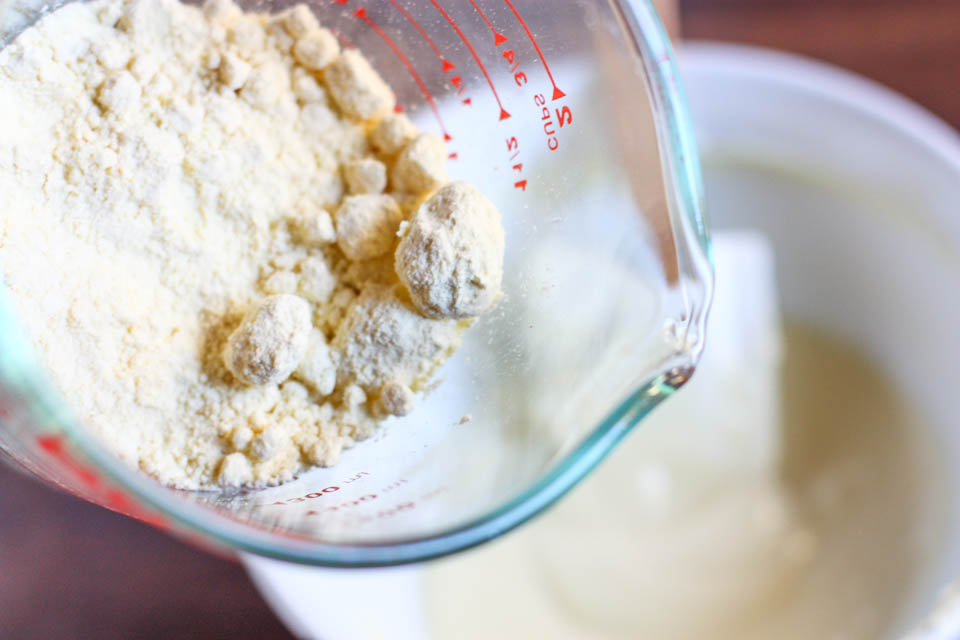 And add cake mix! How fun is that? I would never in a million years think to add dry cake mix to melted chocolate. The recipe says to add 1 – 1 ½ cups cake mix, but I would err on the lesser side because it makes the chocolate mixture really, really thick.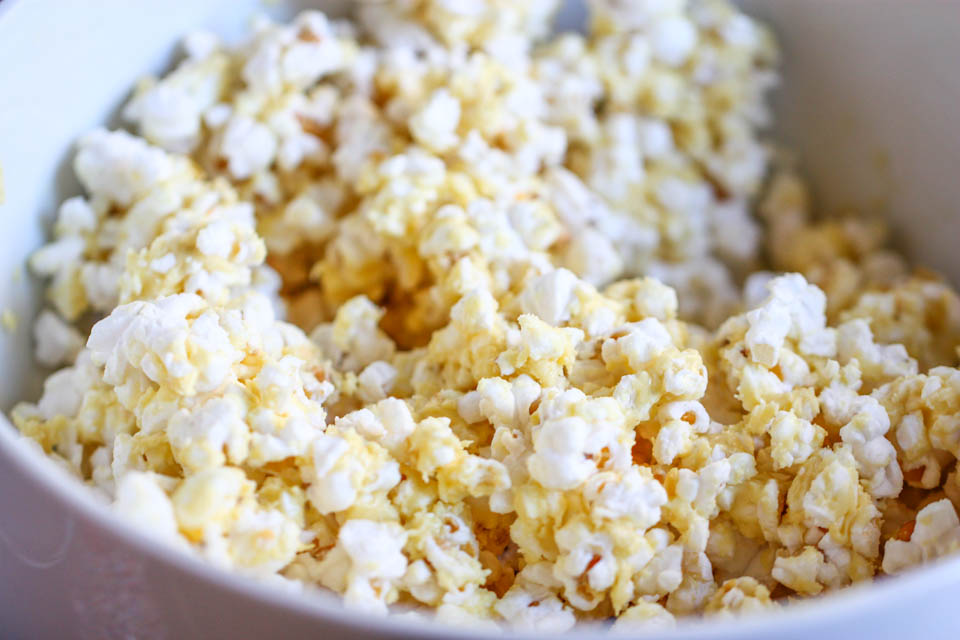 Add this to the popcorn and use your hands to toss everything together—watch out, it's gonna get messy! Don't worry if you don't get all the white chocolate cake batter clumps perfectly mixed in with the popcorn. It will harden anyway and work out just fine.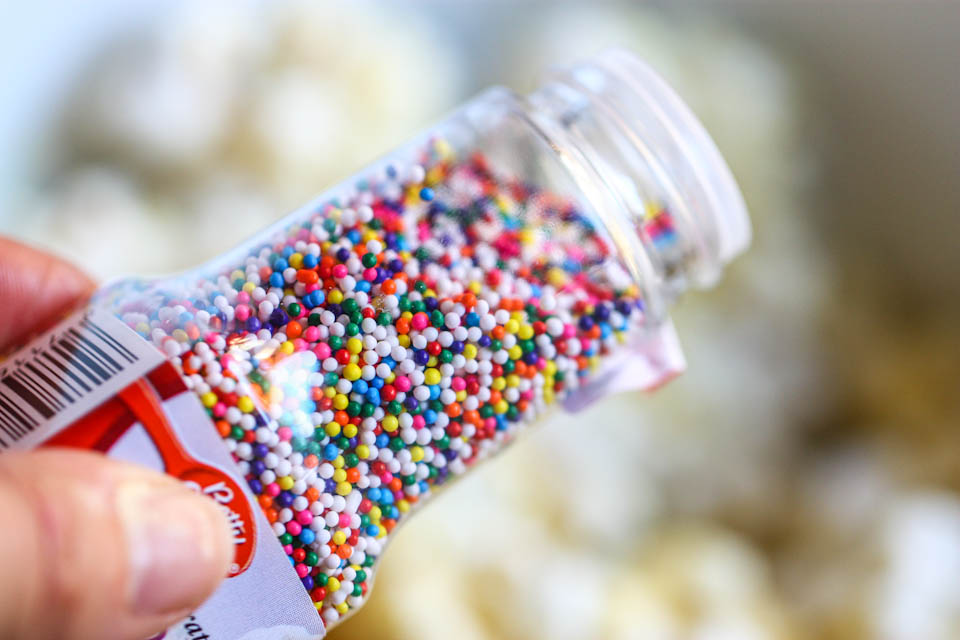 Now comes my favorite part: sprinkles! I love rainbow sprinkles and add them to anything and everything.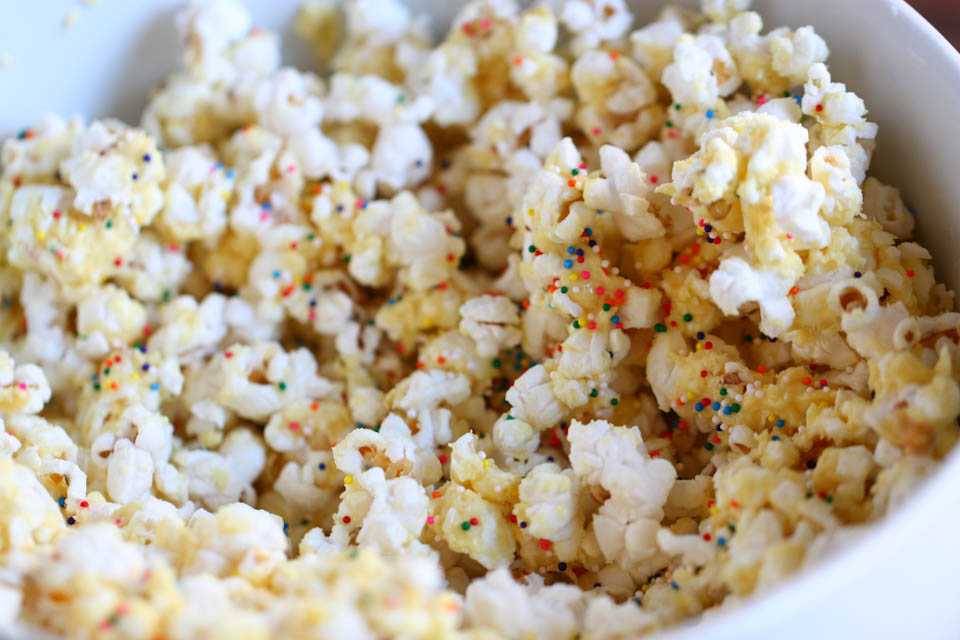 Let the popcorn cool and set to harden up a bit—if you can stand it to wait, that is.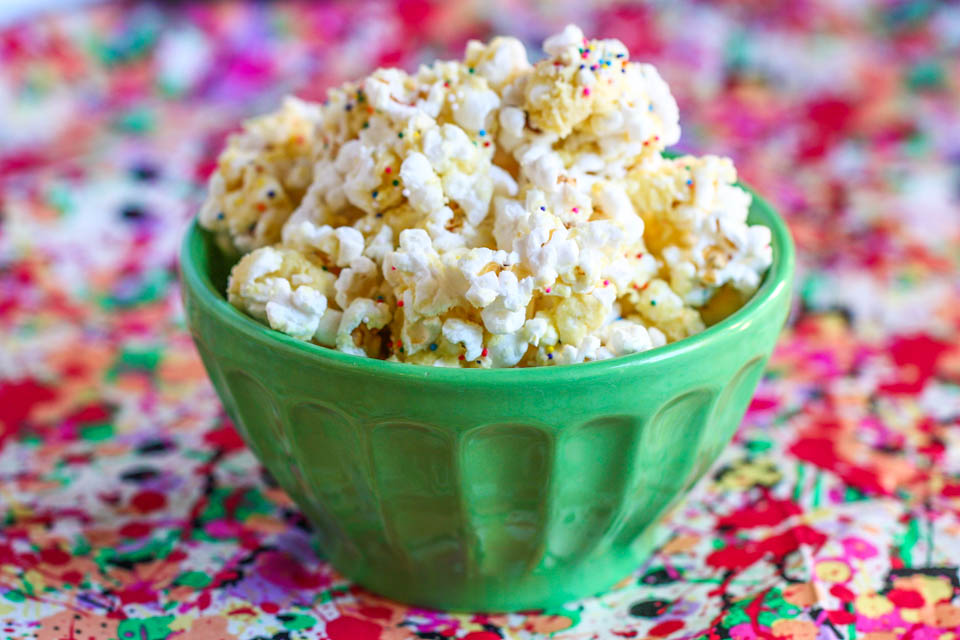 Ta-dah! How fun and festive is that?
 
I love taking a perfectly healthy snack like natural popcorn and dumping chocolate and cake mix on it, don't you?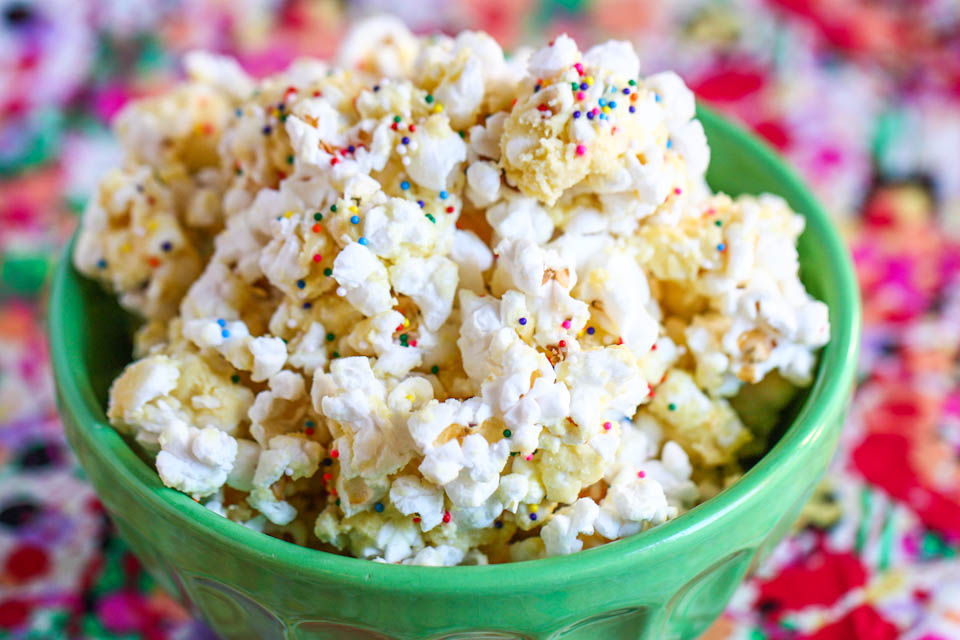 If you want to be sneaky, you can put this in a bag, hide it in the bottom of your largest purse and hit up the movies with your girlfriends. You didn't hear that from me though.
 
Thank you, Mrs. Schwartz, for such a fun easy recipe! Head over to her blog Mrs. Schwartz's Kitchen to find more of her recipes.
Printable Recipe
See post on Krysten Schwartz 's site!
Description
Salty, sweet, crunchy and colorful! What else would you want in a snack or dessert?
Ingredients
1-½ cup Melted Almond Bark Or White Chocolate
¼ cups Vegetable Shortening
1-½ cup White Or Yellow Cake Mix
6 cups Popcorn (popped)
¼ cups Sprinkles
Preparation Instructions
Melt the almond bark/chocolate in the microwave. I put it in the microwave in 30-second intervals, stirring between each 30 seconds until it is fully melted.
Add the vegetable shortening to the almond bark/chocolate and stir until it is melted. I usually don't have to put it back in the microwave to completely melt it but you can if you have to.
Then add the cake mix to the almond bark/chocolate.
Pour the coating onto the popcorn and coat evenly. I use 2 spoons and toss it almost like a salad.
Pour the popcorn out onto cookie sheets to cool/harden. Sprinkle immediately with your choice of sprinkles.
Wait until fully hardened (if you can) and enjoy!


_______________________________________
Jenna is a food writer who has worked as a pastry chef and bread baker. Her blog Eat, Live, Run has great recipes, travel stories, and the perfect slogan: "Celebrating life, one crumb at a time."