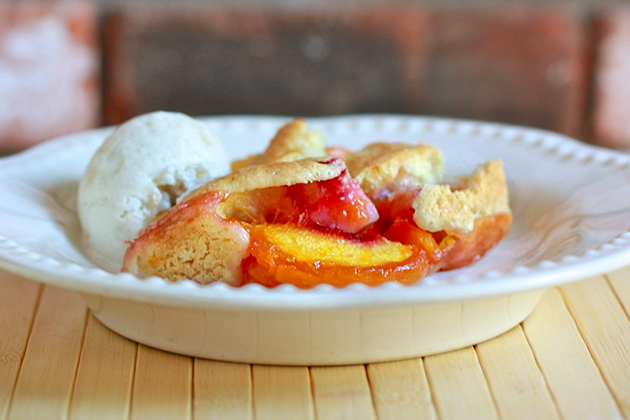 I may be a chocolate girl, but peaches will always have my heart. They bring me back to my true Southern roots! And though I love a good slice of gooey chocolate cake like the rest of them, if given the choice I will always choose peach cobbler for dessert.
Peach Cobbler.
Sweet, juicy peaches topped with sweet biscuits and served with vanilla ice cream. It doesn't really get better than that, folks. It really doesn't.
So, the other day when I needed to make a spur-of-the-moment dessert to take to a friend's house for dinner, I was very pleased to come across this recipe called The Yummiest Peach Cobbler by CountryCookinMama. I knew it would be a winner for two reasons. The first was that the name of the recipe was simply "The Yummiest Peach Cobbler." That's it. No frills needed. Secondly, the member who submitted the recipe calls herself "CountryCookinMama." Amen.
So let's get started!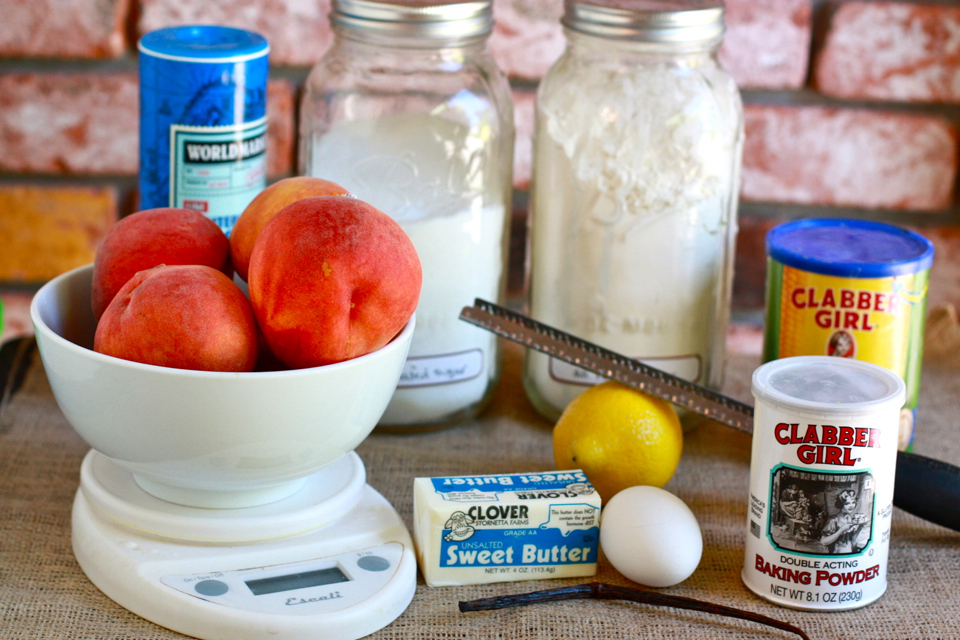 I was pleased that I didn't need to run to the store to grab any self-rising flour and already had most of the ingredients needed on hand. Nothing fancy here! Just good old fashioned butter, flour, sugar and peaches.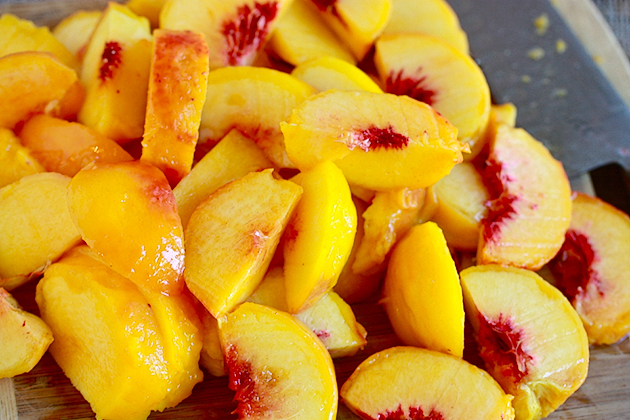 The recipe says to first peel and slice the peaches. Well, I know from experience that peaches can be difficult to peel so I quickly blanched mine for thirty seconds in boiling water, which caused the skins to peel right off! It's a fun little trick that us Southern girls keep up our sleeves.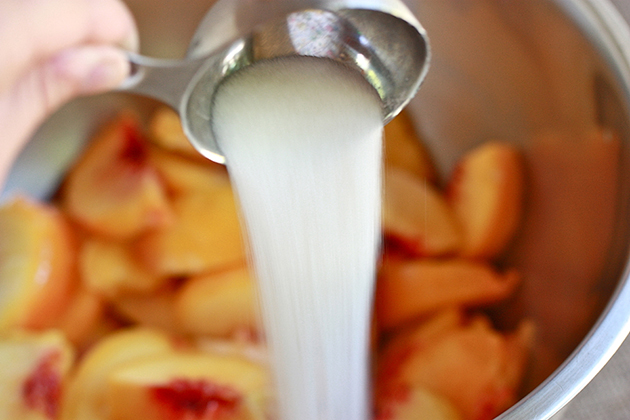 Then, I added a quarter cup of sugar to the peaches to get their juices flowin'.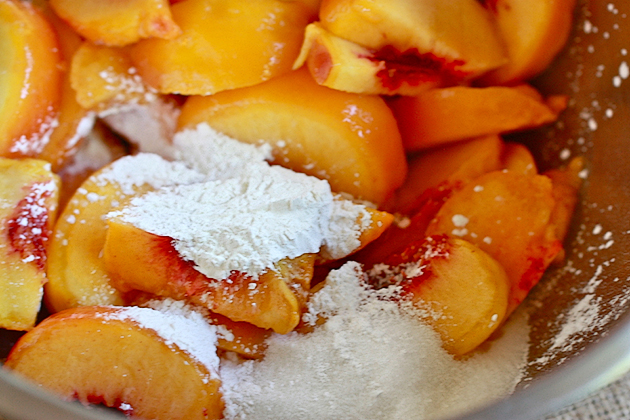 Followed by a wee bit of cornstarch.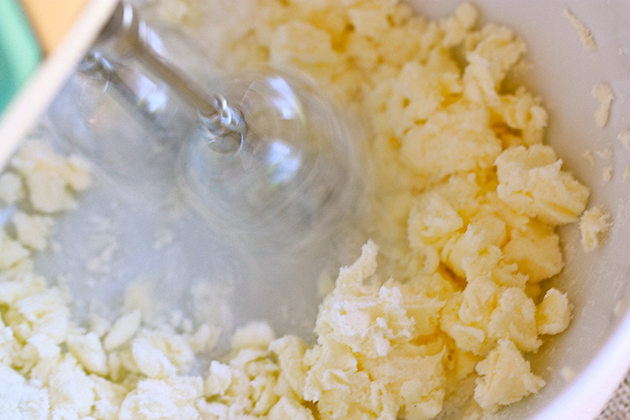 I set the peaches aside for a few moments and got to work on my dough! I used my thrift store beater to cream the rest of the sugar with my stick of soft butter until light and fluffy.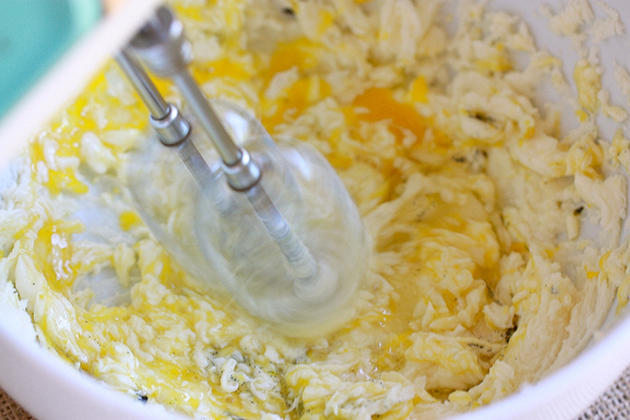 Then, I added an egg, fresh vanilla bean and lemon zest. It smelled absolutely heavenly!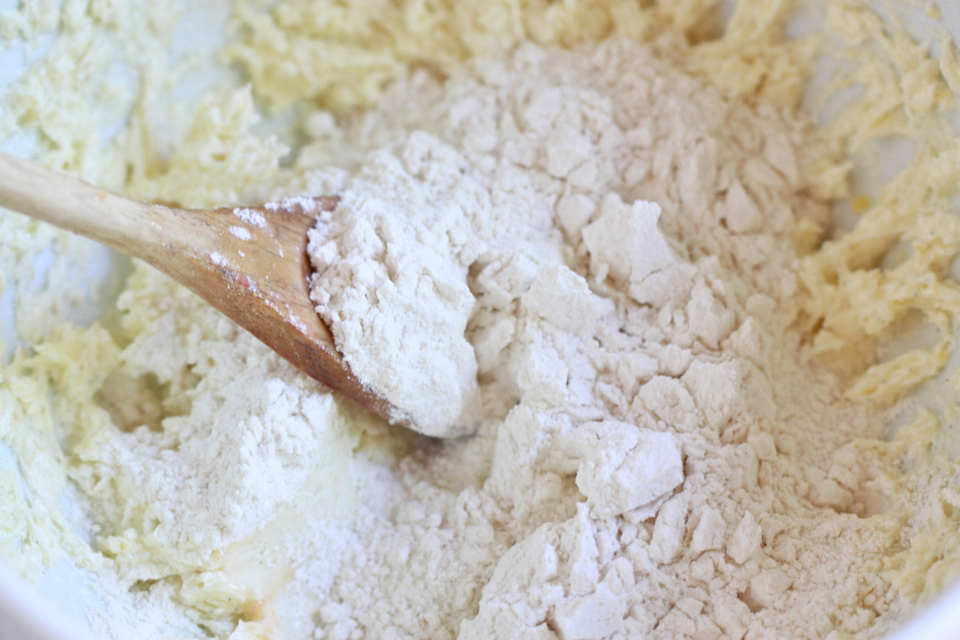 To that mixture, I added my flour and baking powder, being careful to mix only until a wet, somewhat shaggy dough forms.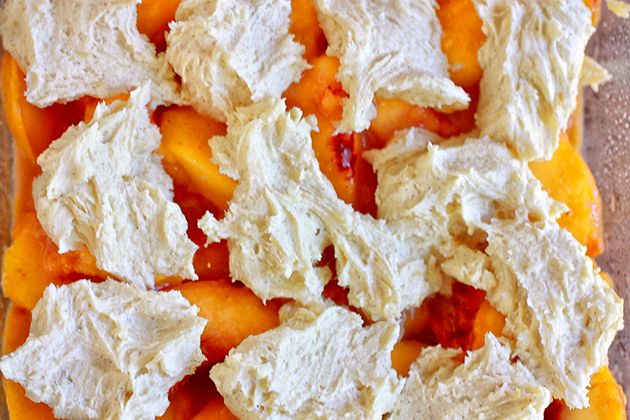 I poured my peaches from their bowl into a nine-inch baking pan and dotted it with the dough, like so. The dough is super sticky, so don't worry if it's not perfect! Mine certainly wasn't.
Then into the oven it went! Baking time here is about 50 minutes.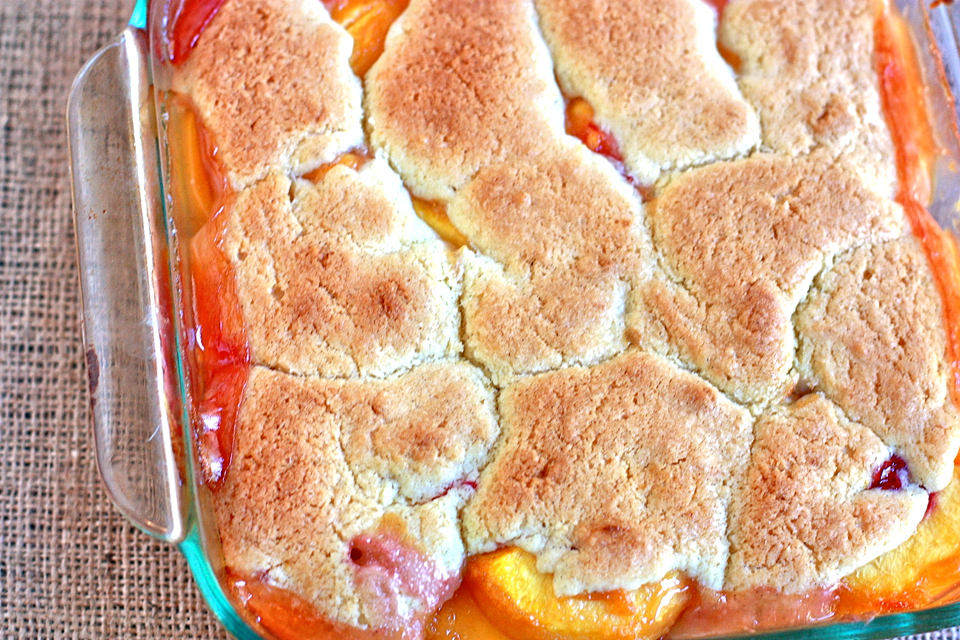 Voila! The topping almost tastes like a giant soft sugar cookie and the peaches are perfectly sweet and delightful. I've made a lot of peach cobblers in my day, and this is the recipe I will be going back to time and time again for sure. It was amazing!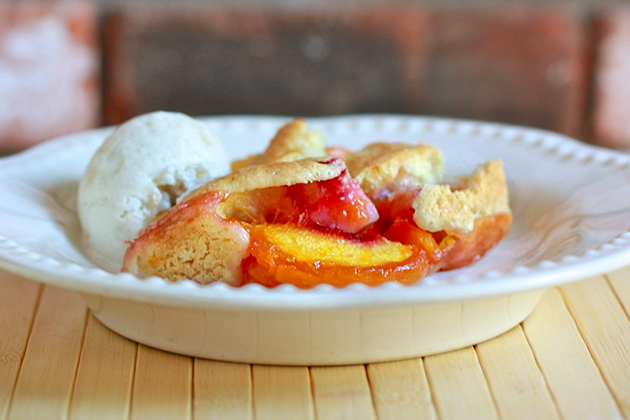 The dessert was a hit at my friend's house and I couldn't get over how easy it was to throw together. Best part though? Leftovers eaten straight from the fridge the next morning for breakfast!
Thanks, Kim, for such a wonderful cobbler recipe! Be sure to check her blog But Mama, I'm Hungry! for more of her fabulous family recipes.
Printable Recipe
See post on countrycookinmama's site!
Description
You'll have them begging for more!
Ingredients
2 pounds Ripe Peaches
¾ cups Sugar, Divided
1 Tablespoon Cornstarch
½ cups Butter, Softened
1 whole Egg
½ teaspoons Vanilla Extract
1 teaspoon Grated Lemon Zest
¾ cups Flour
¼ teaspoons Baking Powder
1 pinch Salt
Preparation Instructions
Preheat the oven to 375° F.
Peel, halve, and pit the peaches. Slice each half into 3 or 4 wedges.
Combine the peaches, ¼ cup of the sugar, and the cornstarch in a large mixing bowl. Let the fruit stand, stirring occasionally, until the sugar dissolves, 5 to 7 minutes.
Make the dough: Cream together the butter and remaining ½ cup sugar in a medium mixing bowl with a wooden spoon or an electric mixer until smooth. Beat in the egg, vanilla, and lemon zest until the batter is smooth, scraping down the sides of the bowl once or twice as necessary.
Add the flour, baking powder, and salt and stir until just combined.
Transfer the peaches to an 8-inch square-baking pan. Drop the dough in rounded tablespoonfuls over the fruit.
Bake until the fruit is bubbling and the crust is golden, 50 to 55 minutes. Let the cobbler cool slightly and serve it warm.


_______________________________________
Jenna is a food writer who has worked as a pastry chef and bread baker. Her blog Eat, Live, Run has great recipes, travel stories, and the perfect slogan: "Celebrating life, one crumb at a time."