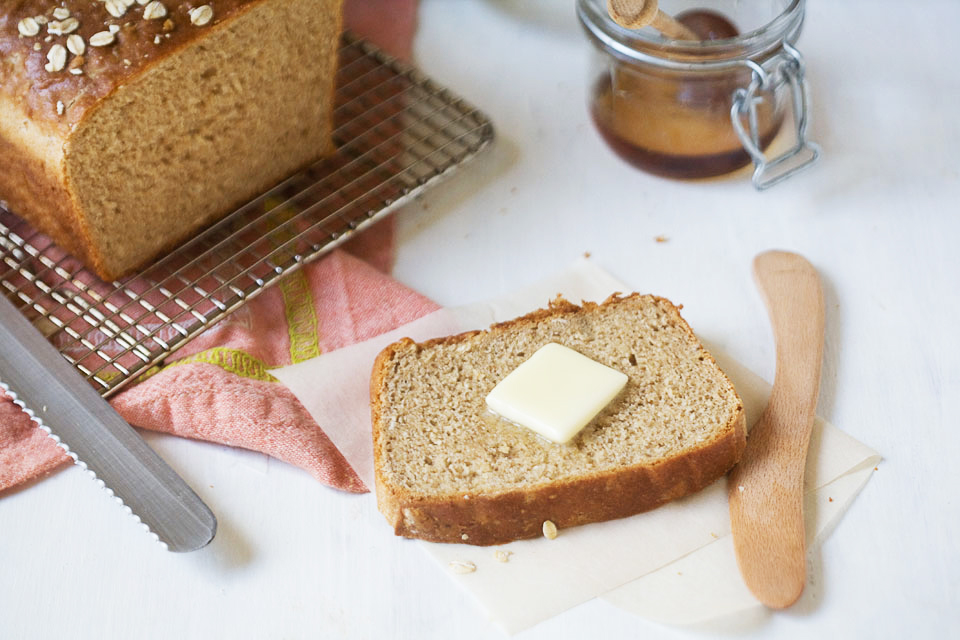 There's simply nothing like fresh homemade bread. Despite knowing the powers of "homemade," I usually leave bread as a grocery-store purchase but when I came across this Whole Wheat Honey Oatmeal Bread recipe by TK member Stephanie (a she recipe adapted from White On Rice Couple), I was enamored with the combination of oats, honey and whole wheat flour. When this loaf came out of the oven, I immediately made a commitment to myself to bake more bread. This bread yields a loaf that is slightly sweet in flavor, hearty in texture and utterly delicious when eaten warm. 
To get started, you'll need: water, honey, whole wheat flour, all-purpose flour, oats, butter and salt. 
You can make the dough in a stand-up mixer if you have one, but if you don't, you can make this whole loaf by hand. This dough is actually very easy to knead by hand. It won't leave you sweating like other doughs. 
Combine the water and milk in a microwave-safe bowl and nuke it for 30 to 40 seconds, until the mixture is warm. Then pour in the honey.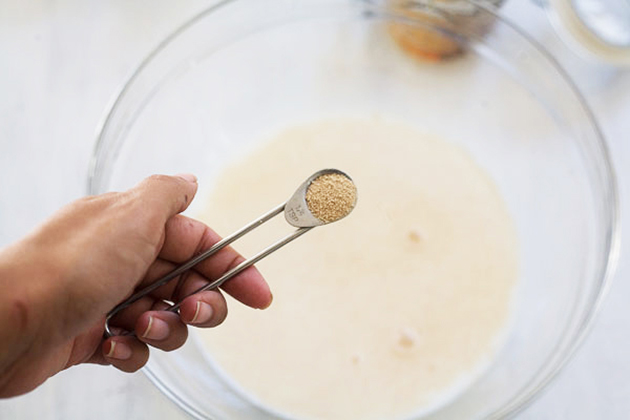 Sprinkle the dry active yeast atop the milk mixture and allow it to get nice and foamy, about 10 minutes. 
Add the whole wheat flour and all-purpose flour.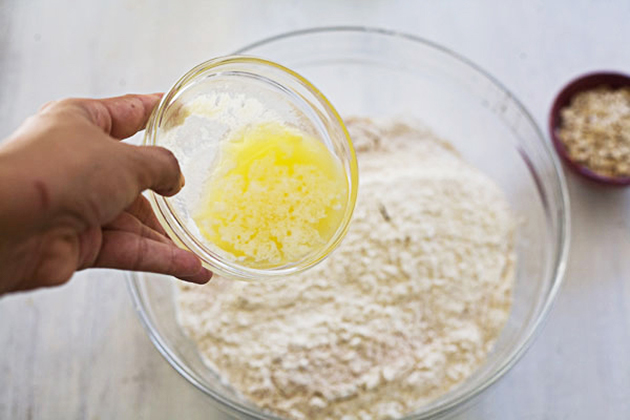 Pour in the melted butter and oats. 
Mix all of the ingredients together until the dough forms.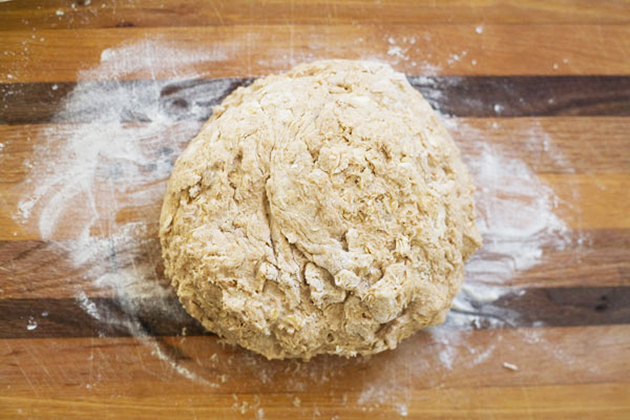 If you're using a stand-up mixer, you can knead the dough using the dough hook for 10 to 15 minutes. If you're using your hands, you can simply knead the dough on a heavily floured surface for 15 minutes until the dough transform from sticky to nice and smooth. 
When you're done kneading, transfer it to a clean bowl and cover it with a tea towel to rise for 1 hour or until the dough has doubled in size. 
After the dough is done with its first rise, this is how it'll look. 
Punch it down and transfer it to a lightly floured surface. Shape it into an 8-by-8-inch square. 
Roll up the dough …
And then transfer it to a 9-by-5-inch loaf pan, seam-side down. Cover the loaf again with a tea towel and let it rise for 30 minutes, or until the dough reaches the edges of the pan. 
Preheat the oven to 400ºF. Sprinkle the oats on top of the loaf and transfer it to the oven to bake for about 45 minutes. You'll know when the bread is done when the loaf's top is dark brown and the bread sounds hollow when tapped on the bottom. 
Allow the loaf to cool to room temperature and then slice it up!
This bread is a beauty when it comes out of the oven. It's ideal for everything from your weekday sandwiches to a snack with a cup of coffee. I personally enjoyed a slice with a smear of salted butter and a drizzle of honey. It was perfection. 
Thanks for sharing the recipe, Stephanie! Go check out her blog, Girl Versus Dough, for more of her recipes.
Printable Recipe
See post on Stephanie | Girl Versus Dough's site!
Description
Whole wheat sandwich bread made with oats and honey and a whole lot of yum.
Ingredients
1 cup Water
1 cup Milk
2-¼ teaspoons Active Dry Yeast
2 Tablespoons Honey
2-½ cups Whole Wheat Flour
2 cups Bread Or All-Purpose Flour
1 cup Rolled Oats, Plus More For Topping Loaf
4 Tablespoons Unsalted Butter, Melted And Cooled Slightly
1 Tablespoon Salt
Preparation Instructions
Pour water and milk into a microwave-safe bowl; heat 30 to 45 seconds until warm (about 115ºF). Pour into the bowl of a stand mixer.
Add yeast and honey. Let sit 10 minutes until yeast is foamy.
Stir in flours, oats, butter and salt. Using a dough hook, knead on medium speed 6 minutes until dough is smooth, elastic and only slightly sticky (alternatively, knead by hand 10 to 15 minutes on a lightly floured surface until smooth, elastic and only slightly sticky). Keep dough in bowl and cover with a tea towel. Let rise 1 hour until doubled.
When dough is doubled, punch down and transfer to a lightly floured surface. Press into an 8-by-8-inch square, then tuck in sides slightly and roll up into a log. Transfer to a lightly greased 9-by-5-inch loaf pan, seam-side down. Cover with a tea towel and let rise 30 to 40 minutes until dough reaches the edges of the pan (but not doubled).
Heat oven to 400ºF (375ºF if loaf pan is dark or nonstick). Sprinkle oats on top of risen loaf. Bake 40 to 50 minutes, rotating halfway through baking, until loaf is deep brown on top and sounds hollow when tapped on the bottom. Remove from loaf pan and transfer to a cooling rack to cool completely.
Adapted from White On Rice Couple.


_______________________________________
Adrianna is the lovely lady behind the scrumptious blog A Cozy Kitchen. It's filled with all kinds of mouthwatering recipes and gorgeous photography. Whether you're in the mood for something vegetarian or meaty, fancy or pure comfort, light or decadent, there's sure to be something there for everyone.