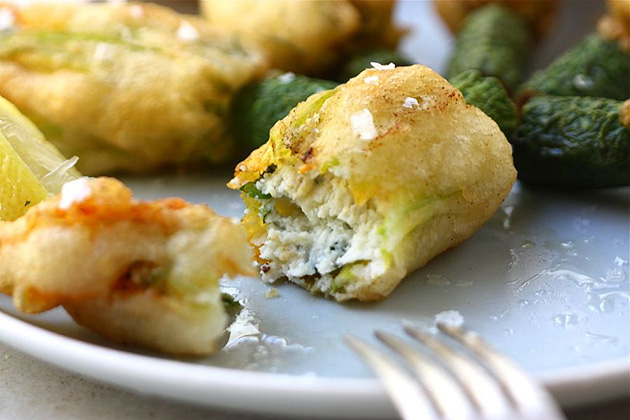 The markets are overflowing with summer squash and zucchini right now. With their arrival, you'll also find their pretty and delicate flower: the squash blossom. I love them on everything from pizzas to inside quesadillas with melty cheese. But my favorite way to consume them, hands down, is fried. While I've had them prepared this way at numerous restaurants, for some reason it has never dawned on me to simply do this myself. That was until I stumbled upon Miss Delish's recipe for Lemon Ricotta Stuffed Zucchini Blossoms.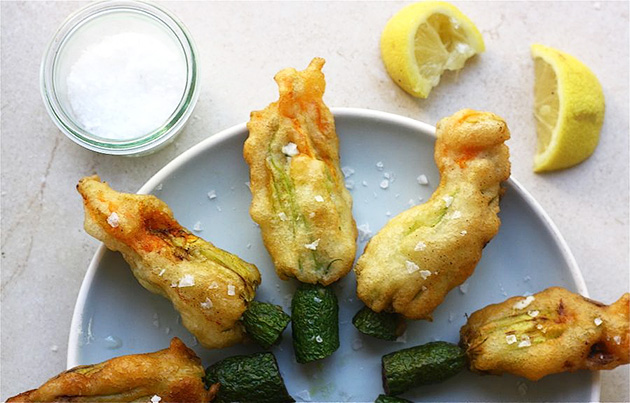 Let's get started!
Stuffing squash blossoms with cheeses like ricotta or goat cheese is pretty common. This recipe is definitely more special because there are two types of cheeses, loads of lemon flavor and fresh basil.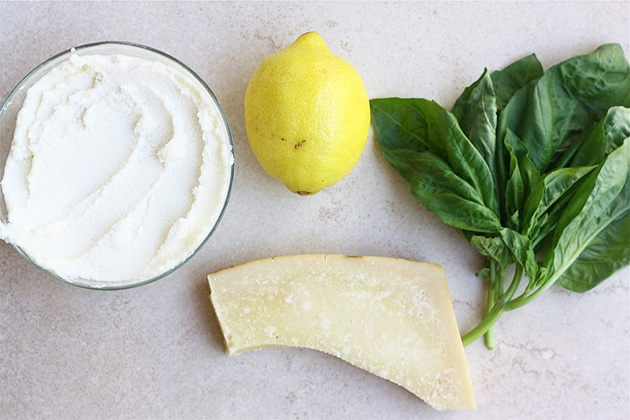 To start, you're going to finely grate the Parmesan-Reggiano, mince up some basil, zest a whole lemon …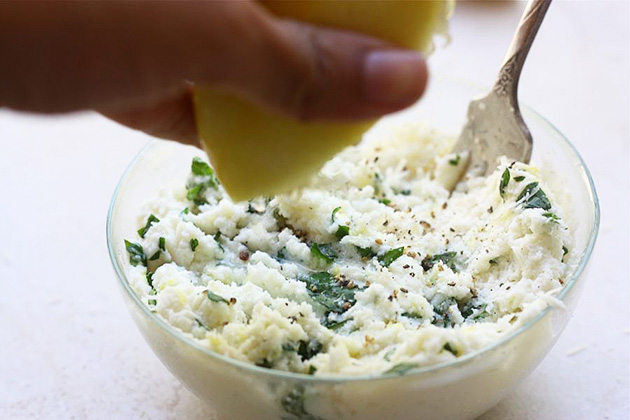 And squeeze its juices into a bowl of ricotta. Salt and pepper to taste and it all together.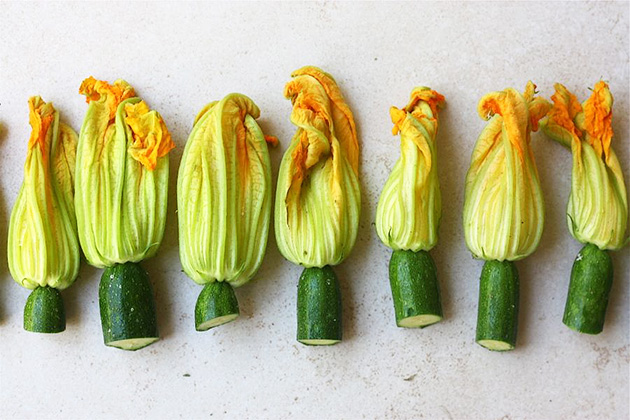 Whenever I cook with squash blossoms I like to remove their stamens or pistils. If you open up the flower, you'll find them on the inside base of the flower. After their removal, transfer the blossoms to a colander, rinse them with water, and gently pat them dry with a paper towel.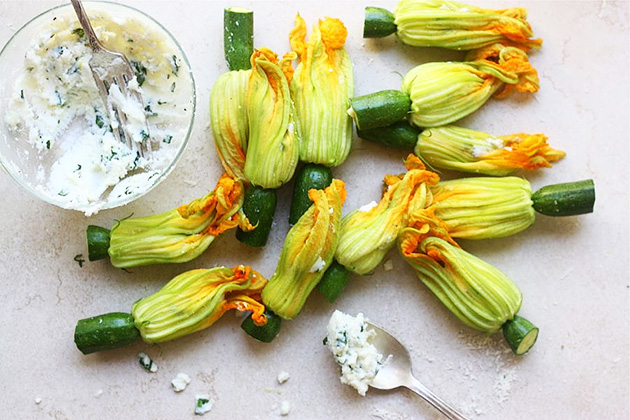 Begin to stuff the blossoms with the ricotta mixture. I used about a 1/2 teaspoon per squash blossom. If your blossoms are bigger, you might be need a full teaspoon. Just be sure to not overstuff them. They should be able to close at the top all on their own.
Once the blossoms are stuffed and ready to go, you want to heat up your oil. While the oil is heating up, it's batter time!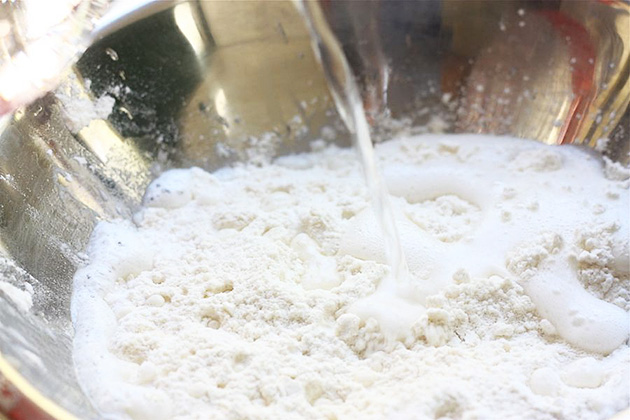 The dry ingredients go in a bowl, along with the soda water. A quick mix and the batter is ready.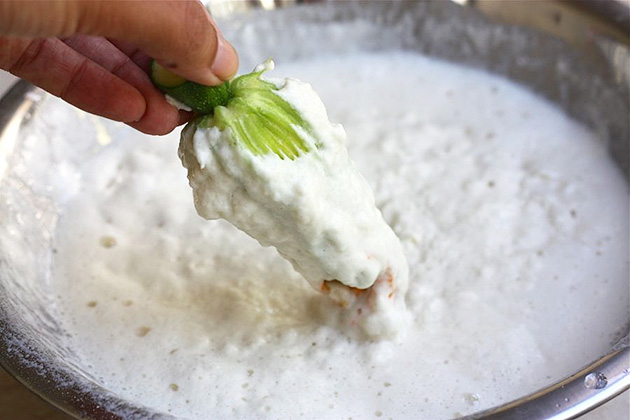 Dip, swirl and allow any excess batter to run off of the squash blossoms. A thin coat of batter is all you need.
Gently transfer to the hot oil and fry about 2-3 minutes on each side. And that's it!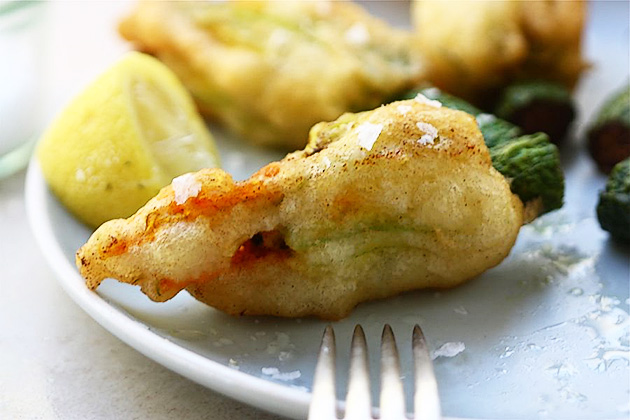 These squash blossoms have a lovely zing in the ricotta due to the lemon zest and lemon juice, but I still love serving them with a few wedges of lemon. Oh, and don't forget good sea salt. I'm a particular fan of big flakes of Maldon sea salt, but really any salt will do just fine.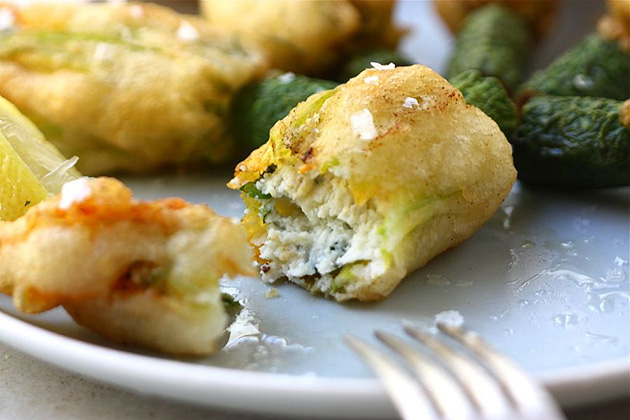 When you cut into these cute things, you'll be met with gooey, warm ricotta that has so much flavor. Simply lovely. Though they're fried, they're still light and perfect for the warm weather.
Thanks so much, Jill, for this recipe. It's really lovely. I'm sure you'll love it as much as I did. Go check out her blog Miss Delish for more yumminess and some beauty tips, too!
Printable Recipe
See post on missdelish's site!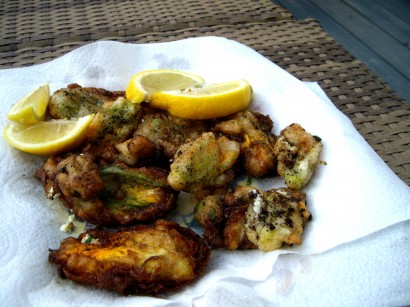 Description
Fresh zucchini blossoms stuffed with a lemony ricotta filling, lightly battered and fried until crisp.
Ingredients
1 cup Ricotta Cheese
¼ cups Parmesan Cheese
1 whole Lemon, Juiced And Zested
¼ cups Chopped Basil
Salt And Pepper, to taste
12 whole Medium Zucchini Blossoms
1-½ cup Flour
1 Tablespoon Baking Powder
1-½ cup Soda Water
Vegetable Oil, For Frying
More Lemon Slices For Serving
Preparation Instructions
In a bowl mix together the ricotta cheese, Parmesan, lemon zest and juice, and basil and then season with salt and pepper to taste.
Fill each of the zucchini blossoms with the ricotta mixture and make sure to squeeze the petals around the filling to secure it in place. Set aside.
In another bowl mix together the flour and baking powder, then carefully whisk in the soda water. Set aside.
In a heavy bottom pot or pan, heat about 2 inches of oil over medium high heat until shimmering. Dip the flowers in the flour mixture and turn them to coat completely. Fry in batches for 2 minutes per side until golden and crispy. Remove to a plate lined with paper towel and immediately season generously with salt.
Wait a minute to pop one of these in your mouth, don't be like me and scorch off all of your taste buds because you are impatient.
Serve with lemon slices to spritz over top. Enjoy!!


_______________________________________
Adrianna is the lovely lady behind the scrumptious blog A Cozy Kitchen. It's filled with all kinds of mouthwatering recipes and gorgeous photography. Whether you're in the mood for something vegetarian or meaty, fancy or pure comfort, light or decadent, there's sure to be something there for everyone.