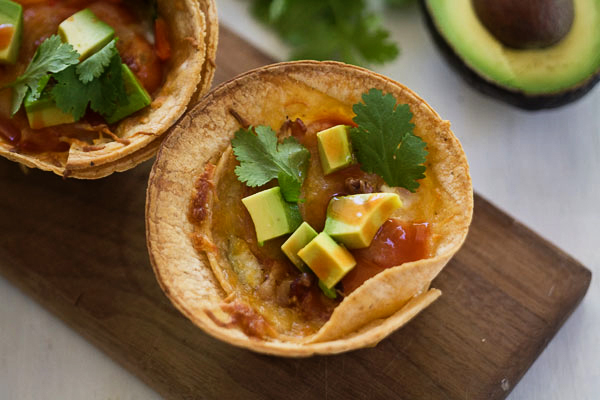 Breakfast, hands down, is my favorite meal. I can't think of a better day than one that starts with a stack of pancakes, and I've been known to put an egg on any dish to make it more "breakfast-y." When I came across this Breakfast Taco Cups recipe from Bev Weidner, I knew it would be a winner. Who wouldn't want a taco for breakfast?! And its "cup" form makes it super cute for serving at a party or brunch. As someone who is a texture enthusiast, my favorite element of these Breakfast Taco Cups is the crunch factor.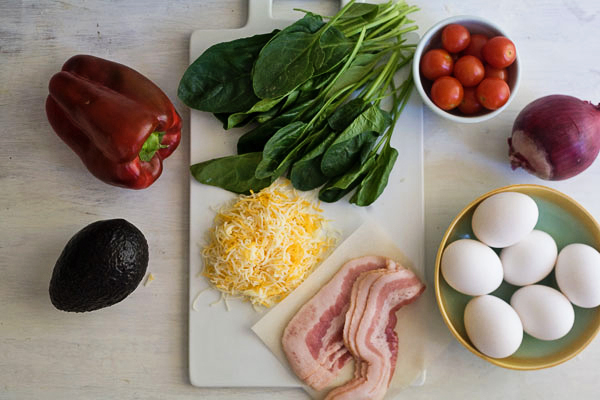 To get started, you'll need: corn tortillas, spinach or kale, eggs, salt, cheddar cheese, cherry tomatoes, red onion, red bell pepper, bacon and avocado. 
Coat the ramekins with cooking spray or rub them with olive oil. 
To make the corn tortillas a bit more pliable, nuke them for 15 seconds or so. Mine kept tearing when I tried to layer them in the ramekins, so I simply cut a small slit out of the center and made them into cone-shapes. It worked like a charm.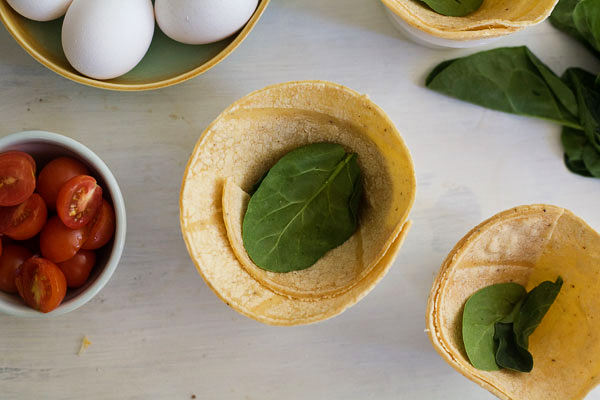 Start by placing a few leaves of spinach into each tortilla cup.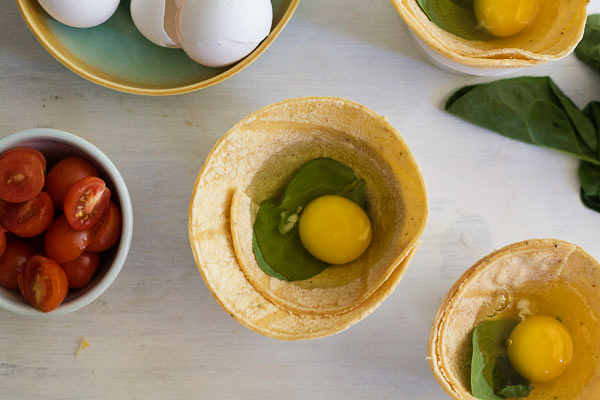 Next, crack an egg into each cup and top with a dash of salt.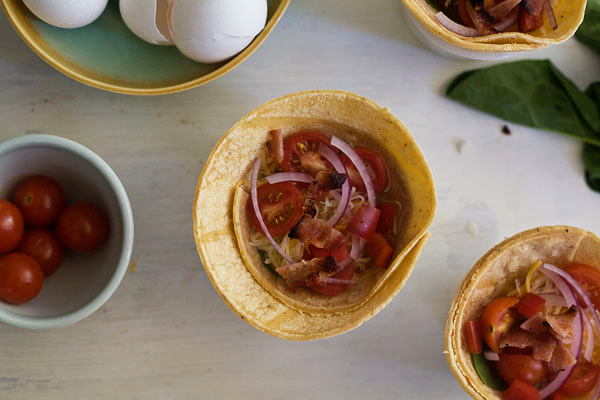 Top each egg with a handful of cheese, four tomato halves, a few slices of red onion, red bell pepper and a sprinkling of bacon bits.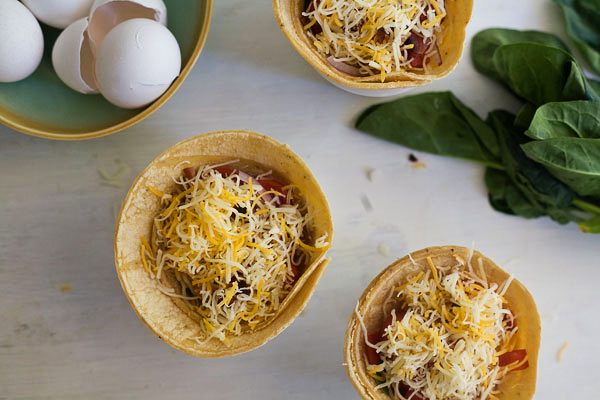 Place another handful of cheese atop the cups and transfer them to a baking sheet to bake for 20 to 25 minutes.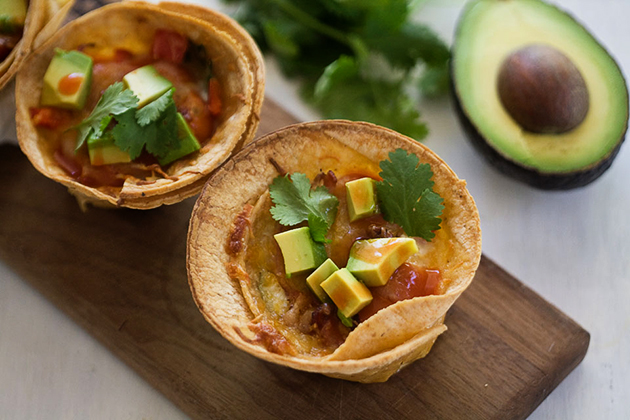 When they come out of the oven, the tortillas will be crispy, the egg runny and the cheese all melty. 
These make a perfect breakfast for a breakfast gathering. Or you could take my lead and eat two in one sitting. You'll enjoy them, trust me. 
Thanks, Bev, for the great recipe! Visit her blog Bev Cooks and you'll see why she's easily one of my favorites.
Printable Recipe
See post on Bev Weidner's site!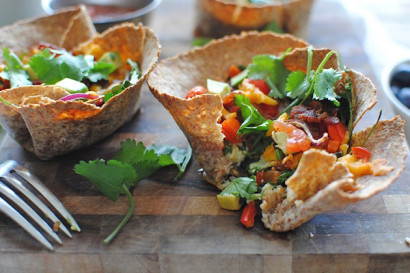 Description
Now you can have your taco and eat it too. Or something.
Ingredients
6 whole Taco-sized Corn Tortillas
2 cups Chopped Kale (or Any Other Green You Have On Hand)
6 whole Eggs
1 pinch Coarse Salt
½ cups Shredded Cheddar Cheese
12 whole Cherry Tomatoes, Halved
⅓ cups Thinly Sliced Red Onion
⅓ cups Diced Red Bell Pepper
3 slices Bacon Cooked Crisp And Crumbled
½ cups Diced Avocado
½ cups Salsa
½ cups Cilantro Leaves, For Garnish
Preparation Instructions
Preheat the oven to 375 F.
Stack the tortillas on top of each other on a plate and give them a quick zip in the microwave, for 15 seconds. This warms them so they're more pliable and easy to maneuver.
Lightly coat 6 individual serving size ramekins with cooking spray. Place a tortilla inside each ramekin, kind of folding it in. Layer a few kale leaves in the bottom of the tortillas, then crack an egg in each cup. Sprinkle a teeny teeny bit of salt on each egg. Then layer with cheese, 4 tomato halves, sliced onion, red bell pepper, and bacon. And more cheese. Put ramekins on a baking tray.
Slide tray in the oven for 25 to 30 minutes, or until the egg whites are set and the yolks are nearly done. Go a little longer if you want them hard cooked. Mine weren't soft by any means, but not totally done, which I love.
Garnish with avocado, cilantro leaves and a little drizzle of salsa. You could even add sour cream if you want!
Go crazy.


_______________________________________
Adrianna is the lovely lady behind the scrumptious blog A Cozy Kitchen. It's filled with all kinds of mouthwatering recipes and gorgeous photography. Whether you're in the mood for something vegetarian or meaty, fancy or pure comfort, light or decadent, there's sure to be something there for everyone.