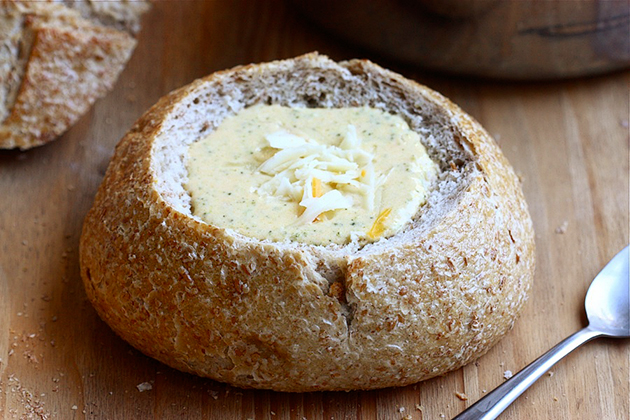 Broccoli cheddar soup will forever make me think of those cold college nights when my friends and I would head to Panera to eat copious amounts of soup in bread bowls. It was one of those college activities we did since Panera was super inexpensive, pretty delicious and one of the only restaurants open past 8pm in our teeny-tiny college town. I've been wanting to recreate one of my favorite college memories for as long as I can remember, so when I came across this Broccoli Cheddar Soup recipe from TK member Crystal, I knew it was mine for the taking.  
Let's get started, shall we?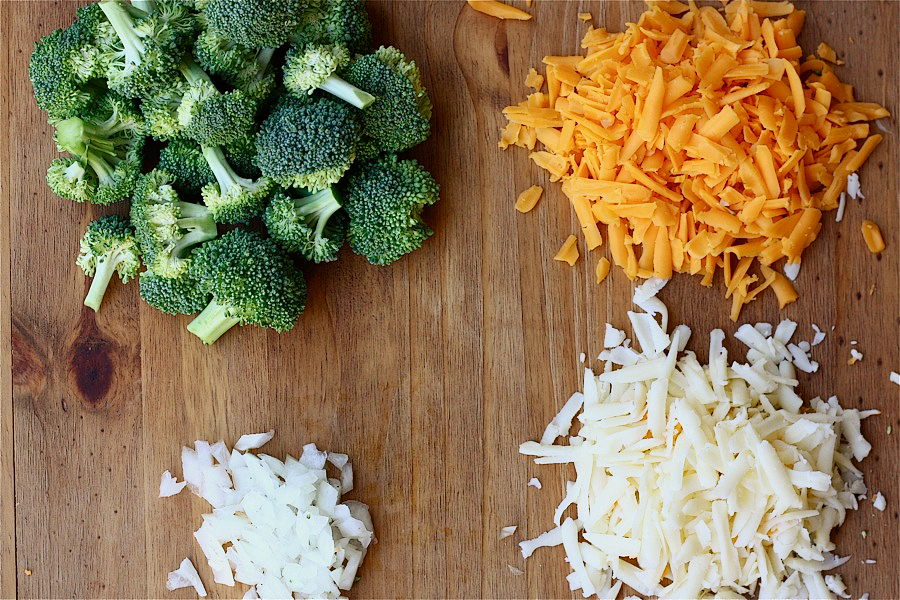 You'll need to steam some broccoli (I'll admit I totally forgot this step and it turned out great!), finely dice some onions, and shred two different types of cheeses: extra sharp white cheddar and extra sharp yellow cheddar.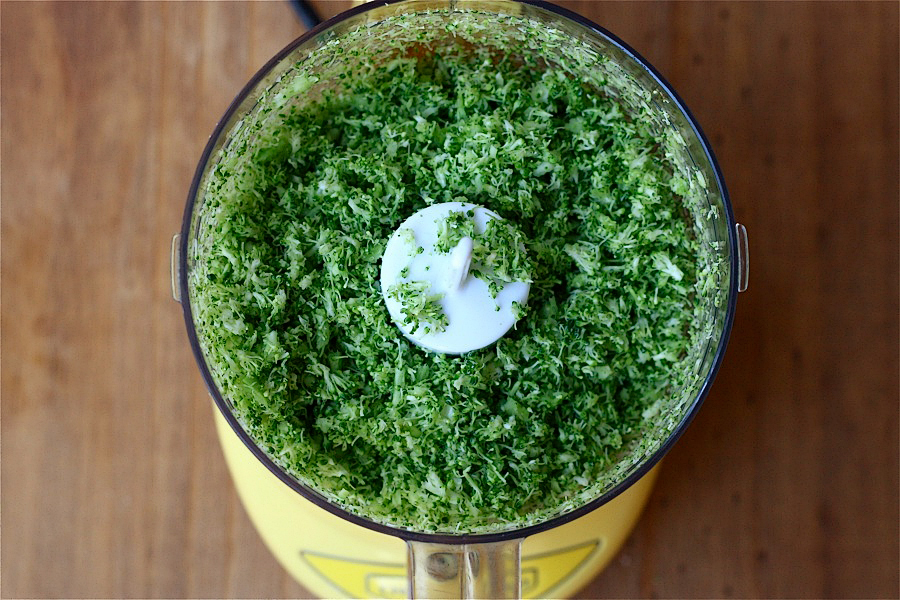 Next you're going to add the broccoli to a food processor and pulse until it's the consistency of a meal. 
In a large stock pot, melt the butter and add the onion. You'll want to cook them until they're translucent. Mine took 5 minutes or so.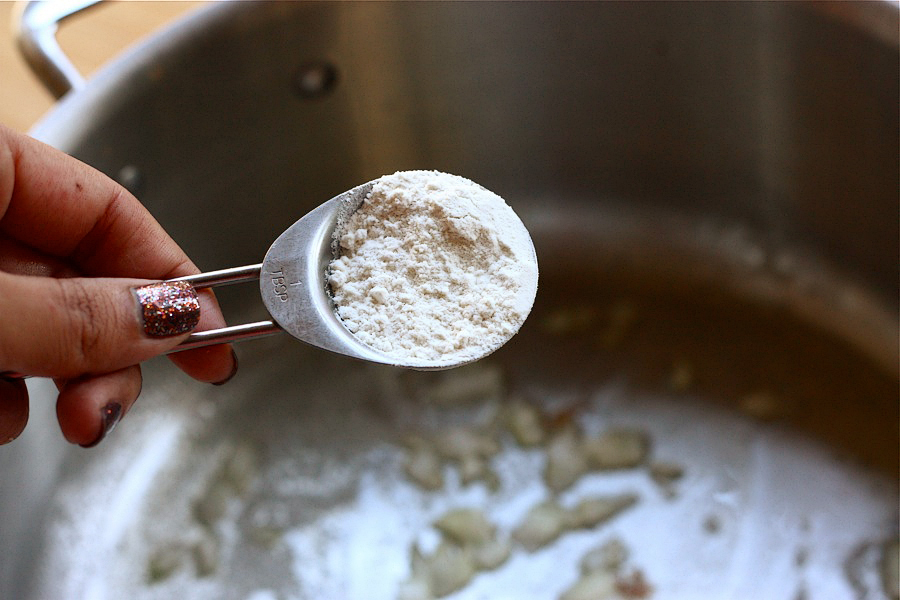 Then add the 2 tablespoons of flour and mix with the butter and onion mixture. You'll create a bit of a roux.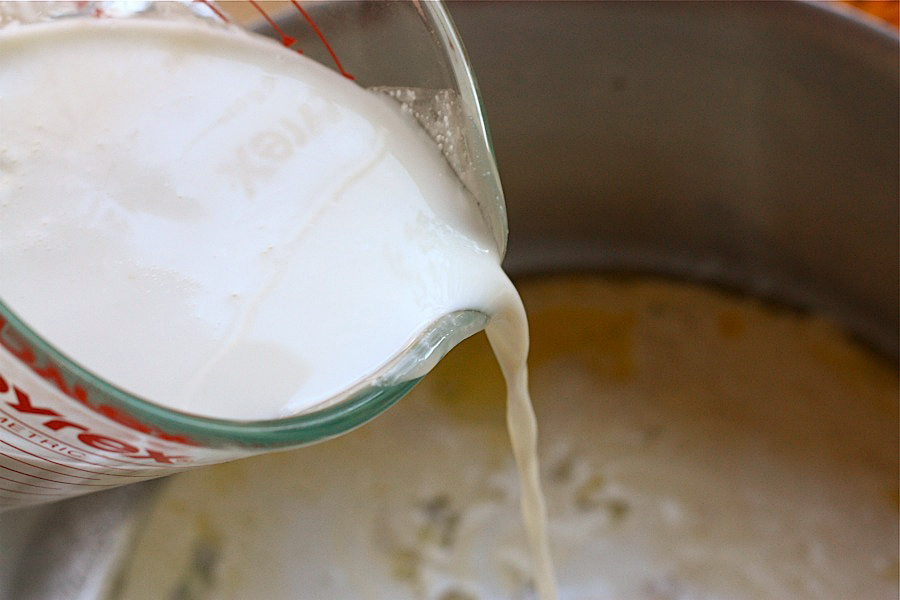 Next up, add the cream and milk, being sure to stir constantly.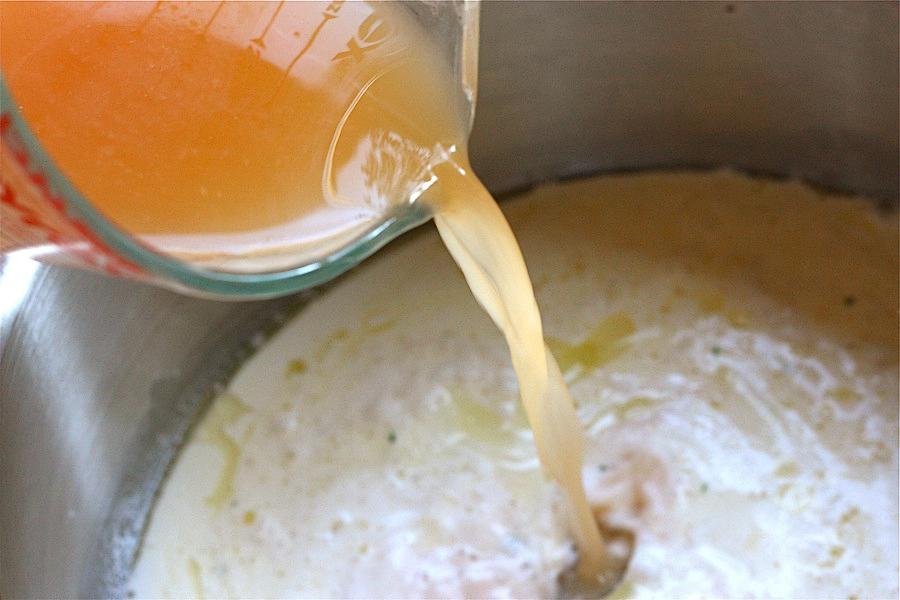 Then the beef stock. 
I had some vegetarian friends coming over so I opted for vegetarian stock; it worked wonderfully.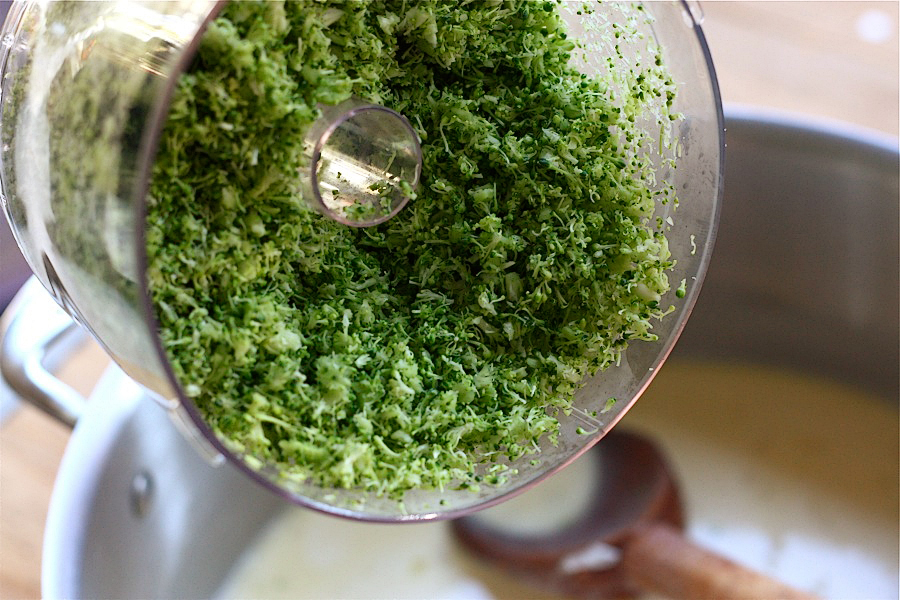 After you're done mixing in the milks and broth, gently stir in the pulsed broccoli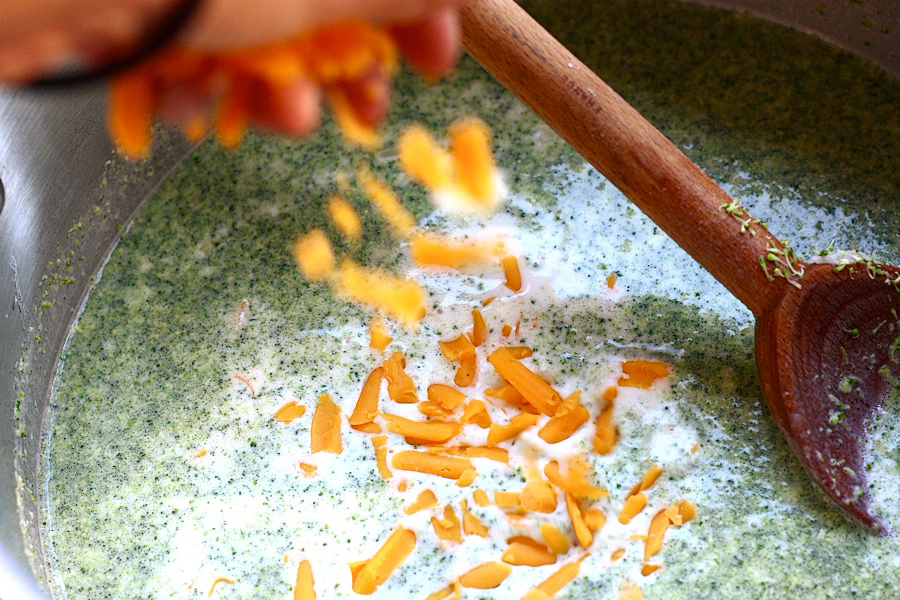 And then the yellow cheddar …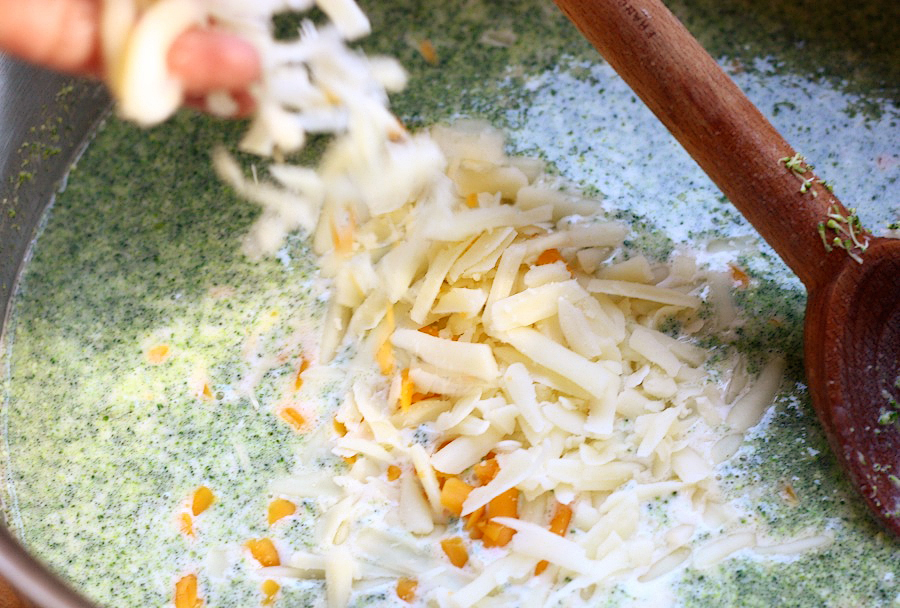 And then the white cheddar …
Are you getting excited yet?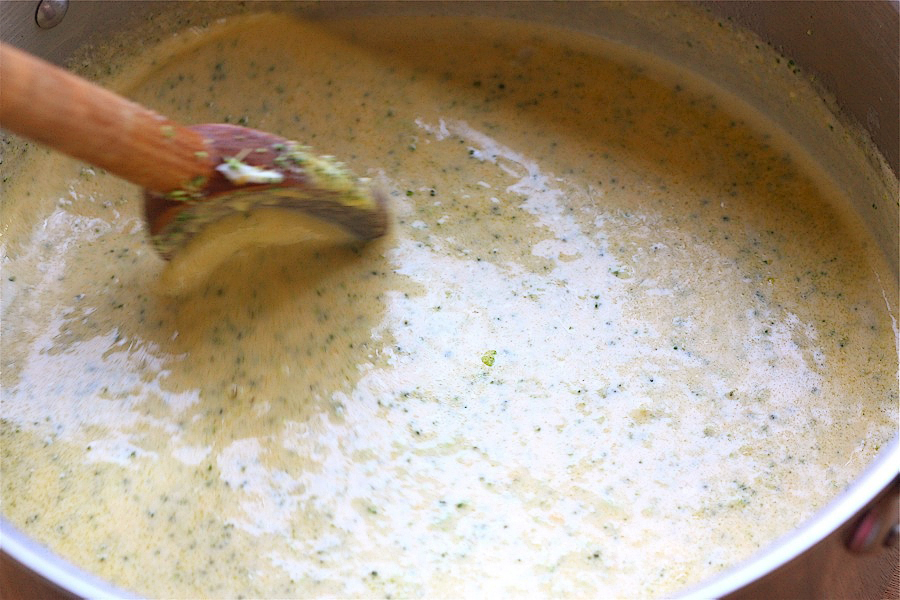 Mix it all together and then do a little taste test. I actually ended up adding about a handful extra of each of the cheese. I was going for extra cheesy! 
Add some salt and pepper if you feel like it needs it. Mine needed about a teaspoon of salt and pepper.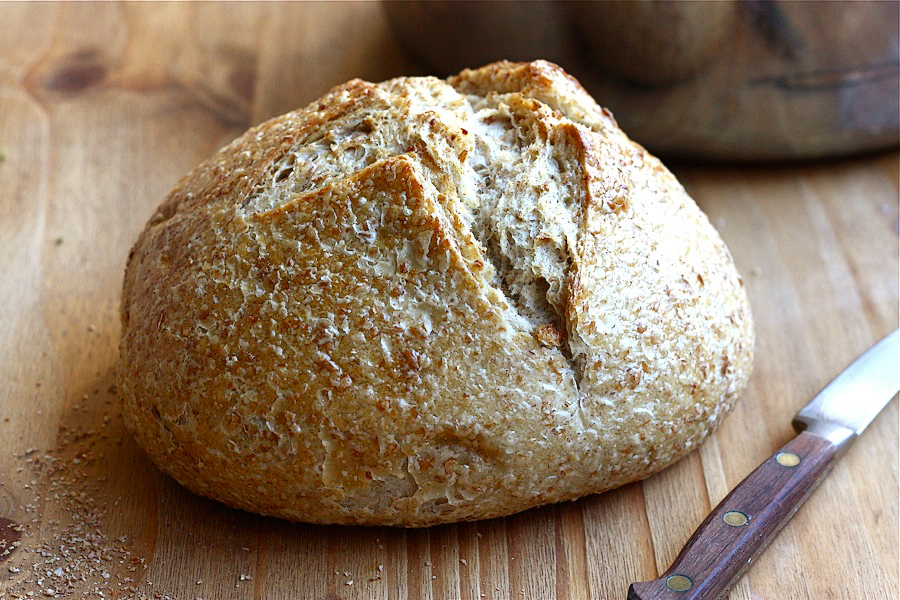 If you don't feel like doing the bread bowl thing, then your soup is totally ready to be served. 
If you do, grab the bread. I used a whole wheat sourdough.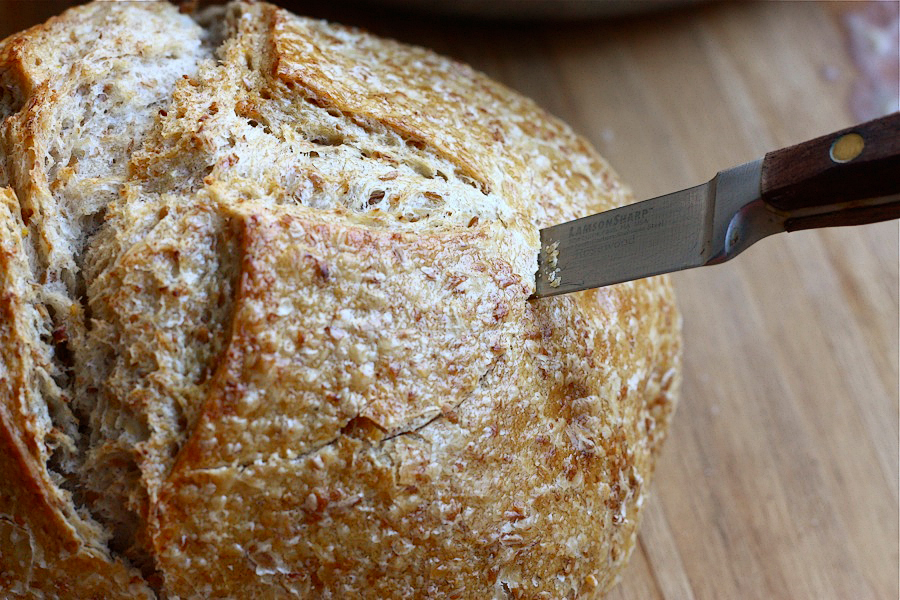 Cut a circle in the top of the bread.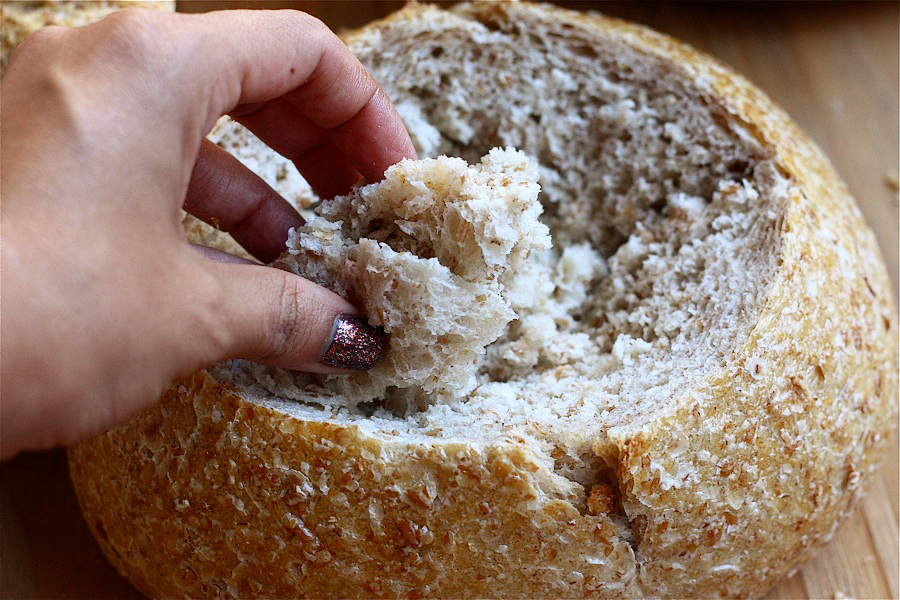 And take out the center, creating a bowl.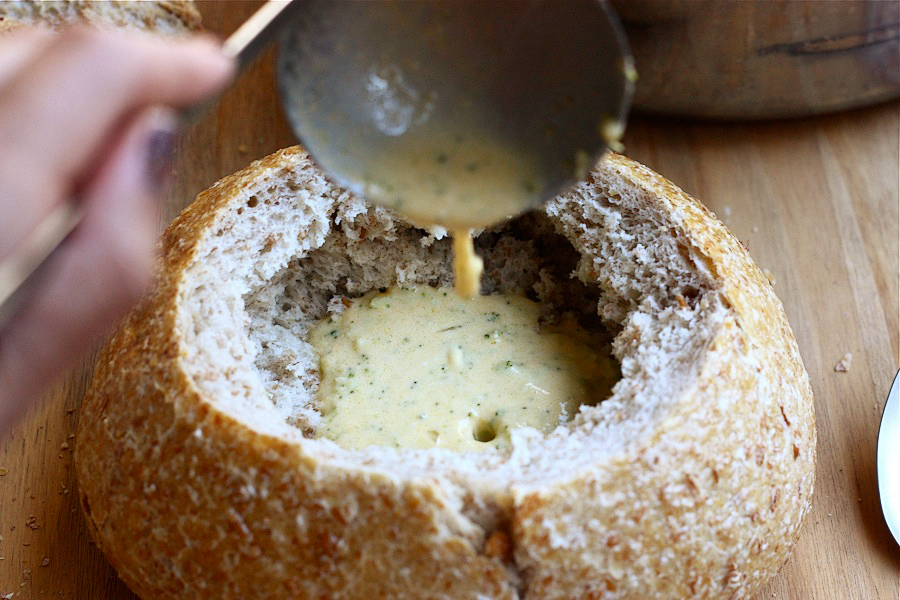 Ladle the soup into the center of the bread bowl until it's full.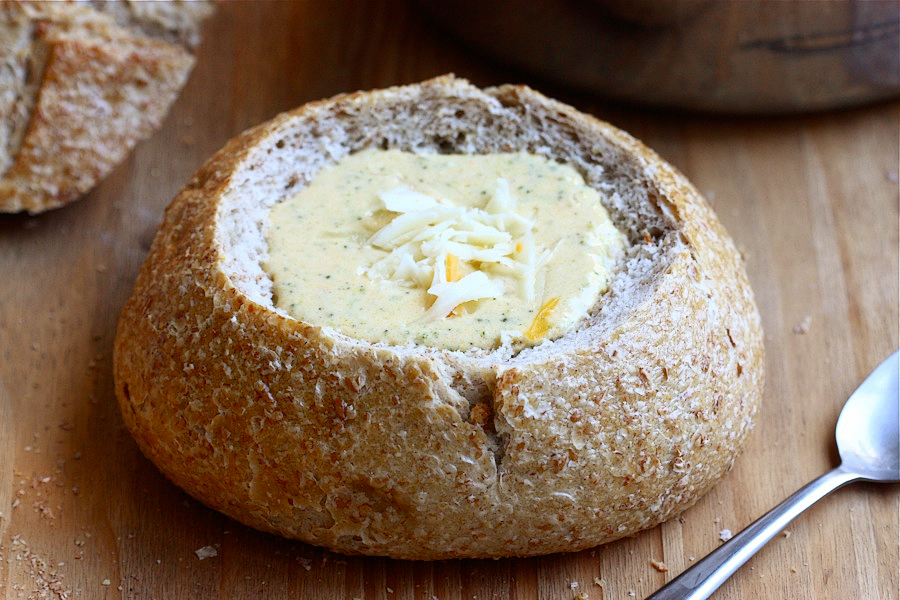 Top with a small handful of cheese … and dinner! 
This soup was everything broccoli cheddar should be: it's rich, thick, savory, and cheesy beyond belief, which makes it perfect for those cold nights we have in our near future.  
Thanks again to TK member Crystal, for this delicious tasting soup. 
Printable Recipe
See post on uumom2many's site!
Description
Soup so thick it sticks to a spoon. Tastes like liquified Broccoli and Cheese. This recipe makes 2 liters of soup. Enough for a big hungry family.
Ingredients
2 Tablespoons Salted Butter
2 Tablespoons Finely Chopped Onion
2 Tablespoons Flour
2 cups Beef Broth Or Bouillon
3 cups Whole Milk
1 cup Heavy Cream
1-½ cup Extra Sharp White Cheddar Shredded
1-½ cup Extra Sharp Yellow Cheddar Shredded
4 cups Steamed Broccoli Pulsed Into A Meal
Preparation Instructions
Melt butter in a large stock pot. Add onion and cook slowly until limp. Stir in flour and cook for 3 minutues, stirring. Slowly add the stock, milk and cream, alternating until all are combined. Heat to boiling, stirring frequently. Stir in the cheese and broccoli (see note below). Keep stirring until the cheese is completely melted. Add salt and pepper to taste.
The longer this soup sits, the thicker it gets, until you end up with a soup that won't fall off a spoon.
Note: to prepare the broccoli, steam until tender and pulse in a food processor until you get a meal-like consistency.


_______________________________________
Adrianna is the lovely lady behind the scrumptious blog A Cozy Kitchen. It's filled with all kinds of mouthwatering recipes and gorgeous photography. Whether you're in the mood for something vegetarian or meaty, fancy or pure comfort, light or decadent, there's sure to be something there for everyone.