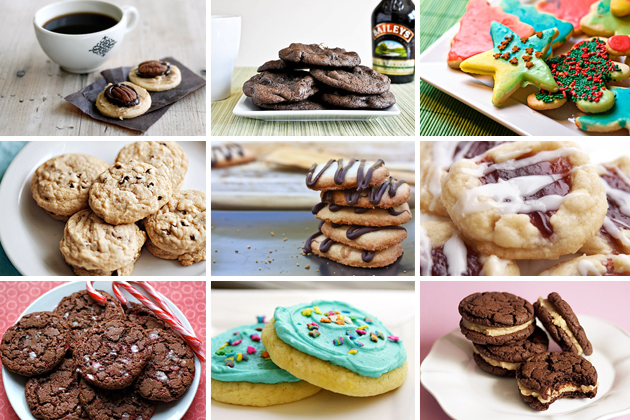 There's something about the holidays and cookies that just feels right. Like pumpkin and autumn. Ice cream and summer. Coffee and mornings. Chocolate and any-o'clock.
So, to send you off on your busy holiday weekend, we picked a few (okay, more than a few) cookie recipes for you, all highly-rated favorites here at Tasty Kitchen. Just in case you haven't baked enough yet.
You can't go wrong with chocolate chip cookies, and these Easy and Fast Chocolate Chip Cookies by breehester are no exception. The dough takes less than 10 minutes to whip up, too, so they're great for any last-minute cookie shortage.
This Lofthouse Frosted Cookie by Noshings is definitely a favorite. One reviewer writes that it gets better the longer it sits, so this would be a great make-ahead cookie.
Chocolate and gingerbread together! Now if these Chewy Chocolate Gingerbread Cookies by sundayrain don't do the trick, I don't know what will.
Okay, gingerbread may add a special holiday emphasis, but you can't beat chocolate and booze either. HowSweetEats brings us these Double Fudge Irish Cream Cookies made with Bailey's Irish Cream and a touch of coffee. I may eat all the dough before it has a chance to reach the oven.
Here's another classic cookie: Oatmeal Raisin Cookies by whisktogether. Mary Ellen says they taste just like the kind the restaurants serve.
Of course, sugar cookies are the go-to cookie for decorating, but Karly Campbell ups the ante with these Butter Cookies. Mmm. Butter.
Here's a cookie with a strange name and an unforgettable flavor: Zand Gebak by emmyd. It's a shortbread cookie with mocha butter spread on it, followed by melted chocolate and topped with a whole pecan. Erica Lea loved it too, and you can see her step-by-step post on the Tasty Kitchen Blog here. (That's Erica's photo you see up there.)
Want to make cookies that look like the kind you get in those fancy holiday tins? Try these Fudge Striped Shortbread Cookies by EatLiveRun. They're pretty and so simple to make, too!
Here's one of our all-time favorites, and one of Tasty Kitchen's most-rated cookie recipes: Chocolate and Peanut Butter Sandwich Cookies by mynameissnickerdoodle. I'd say more, but my mouth is already busy imagining it's enjoying one of these.
These cute and festive (and egg-free!) Raspberry Almond Thumbprint Cookies by CarenG are easy to make, need few ingredients, and absolutely melt in your mouth. One batch makes 24 cookies, so if you want a private stash, you may want to double the recipe. Or quadruple it.
It's still technically autumn, so go ahead and call these Pumpkin Oatmeal Cookies seasonal. Thanks for the recipe, Jennifer!
Here's another holiday-themed cookie: Chocolate Peppermint Crunch Cookies by twopeasandtheirpod. Because you can never have enough candy canes. Or chocolate.
And speaking of chocolate …
Rounding up our baker's dozen cookie extravaganza is this Hot Chocolate Chip Cookie by elimaxandlela. The photo was taken by savorysweetlife, who showed us how to make these incredible cookies in this Tasty Kitchen Blog post.
Did you know that the Cookies subcategory is the largest of all the TK subcategories? We have almost 250 pages of cookie recipes, and that's not even counting the ones that are gluten-free. There are so many other great cookies in here, so if you have any favorites, give them a shout out!
Here's wishing you well this weekend, whatever your plans are. May it be filled with love, laughter, and good cheer. And butter, sugar, and chocolate.