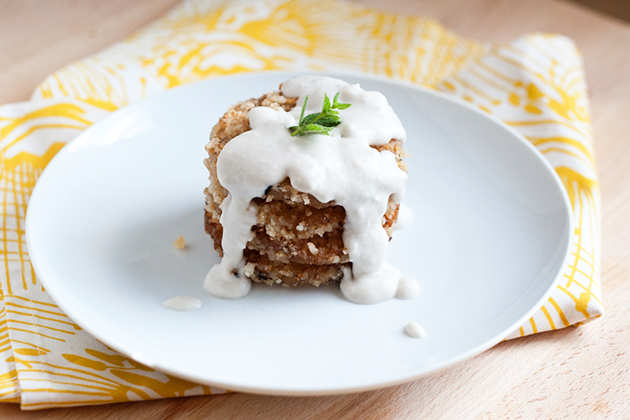 I big puffy heart love grilled pineapple. To me, it's right up there with corn on the cob, watermelon, and drippy popsicles on my favorite summer food list. Cover it in crushed macadamia nuts and coconut cream, though? It'll seem like you're indulging, but it's actually a pretty healthy treat!
I've been eyeing Taylor Kiser's recipes for a while and her Grilled Macadamia-Crusted Pineapple with Coconut Cream caught my eye. Naturally.
Let's make some!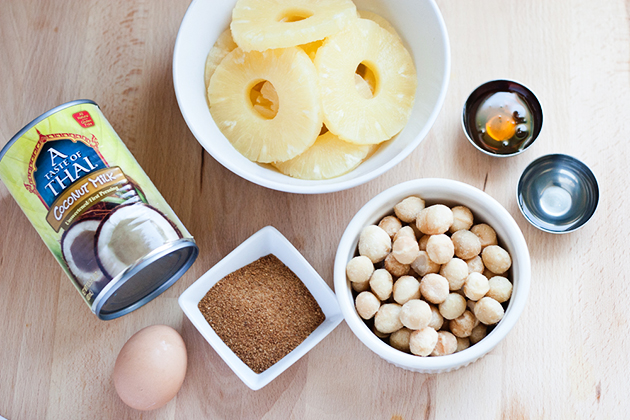 You'll need coconut milk, pineapple rings,macadamia nuts, honey, coconut oil, coconut sugar, and an egg.
Yes, I went with canned pineapple rings. I don't have one of those nifty pineapple slicers. Plus, I had a 4-month-old baby strapped to my chest.
You'll need to put the coconut milk in the fridge for several hours—preferably 24 hours.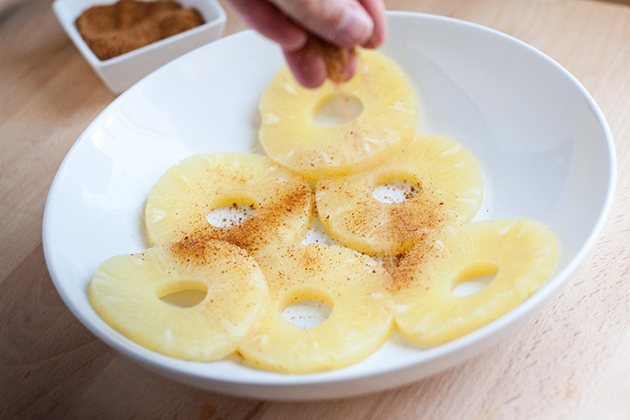 Sprinkle some coconut sugar on the pineapple rings.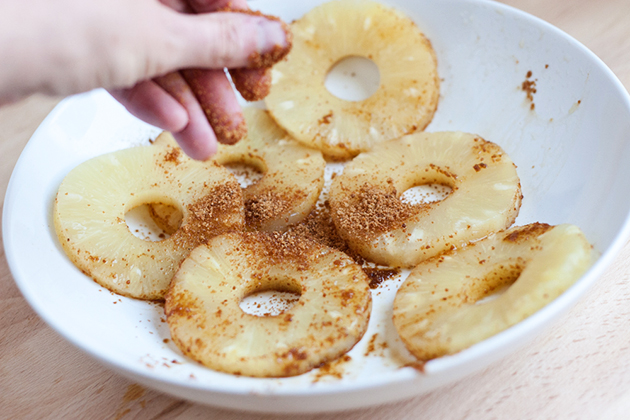 Flip them over and do the same on the other side.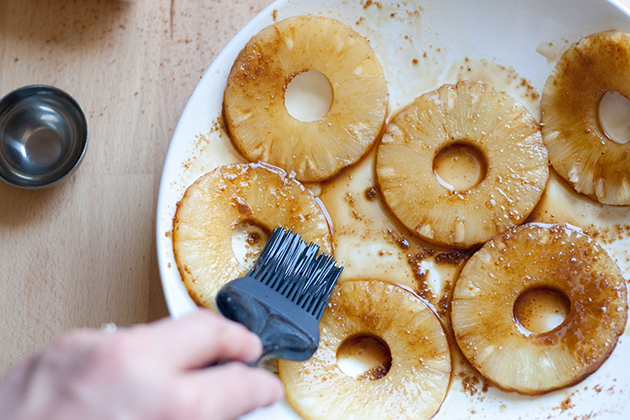 Brush them with coconut oil.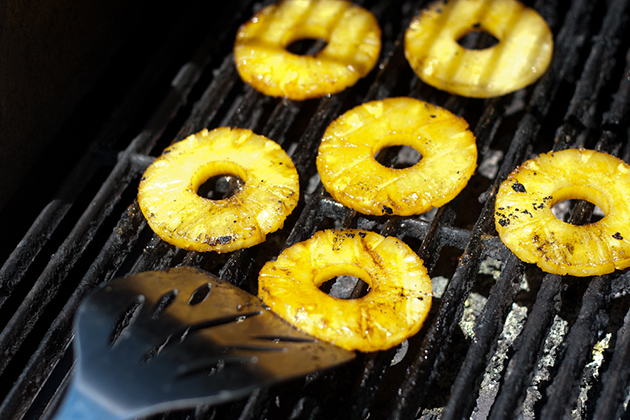 Is your grill hot? You mean you don't just leave it on all summer and constantly throw stuff on it? Party pooper.
Okay, grill those rings. You don't have to make distinct grill marks, just get them golden brown and heated through. Flip them once, let them grill a little longer, then pull them off and set them aside.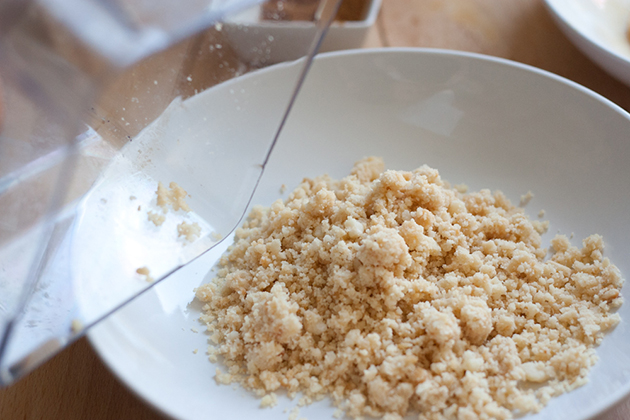 Crush the nuts in a food processor or if your processor bowl happens to be in the dishwasher, use your blender. But be careful not to make macadamia nut butter. Not that that's a bad thing, but in this case you might not want it.
Transfer the nuts to a shallow bowl.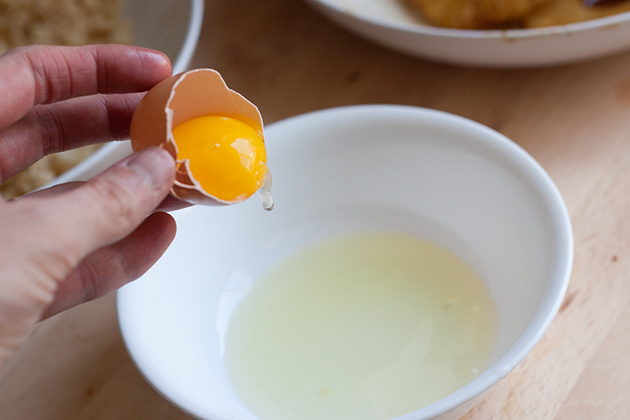 Put your egg white into another shallow bowl.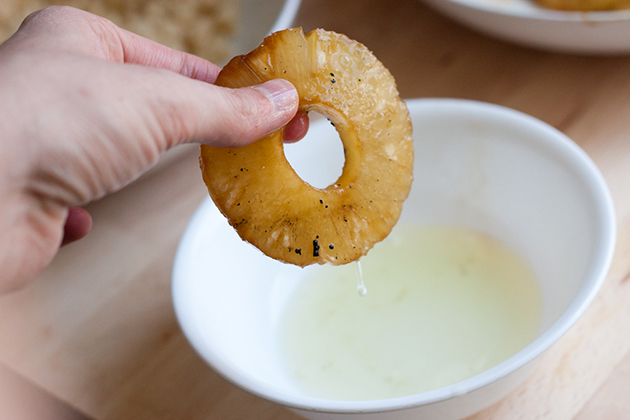 Dip each ring into the egg white.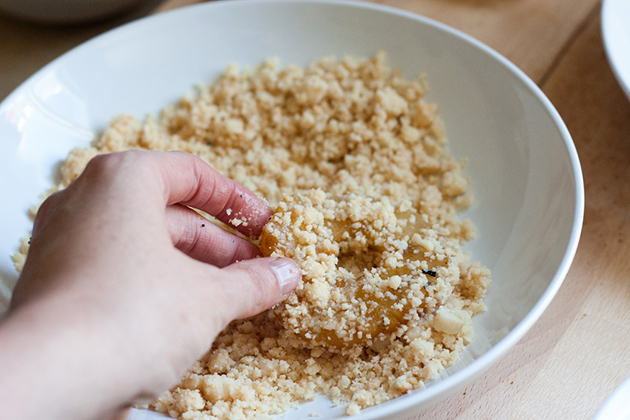 Then coat with the crushed nuts.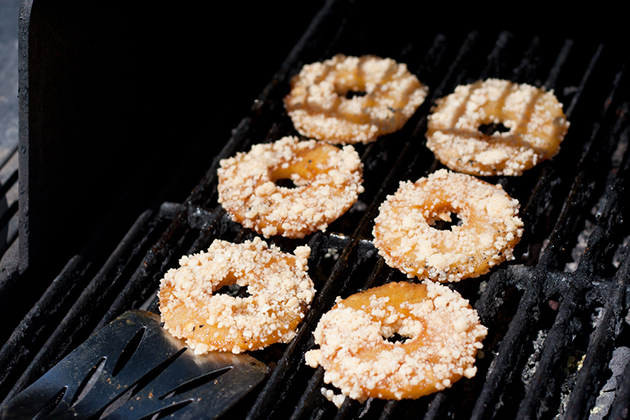 Throw the pineapple back on the grill for a few minutes until the nuts are lightly toasted. They burn easy, so keep an eye on them. I wouldn't try to flip them or you'll lose the coating.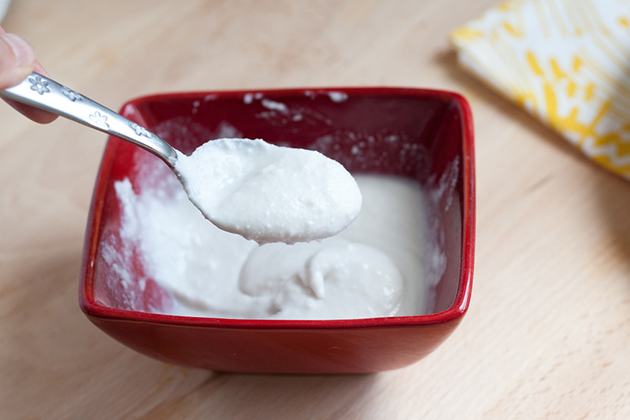 Pull the coconut milk out of the fridge. Turn it upside down and open it from the bottom. Pour out the watery coconut milk and scrape out the cream at the bottom of the can. This is the coconut cream. Pretty cool, huh?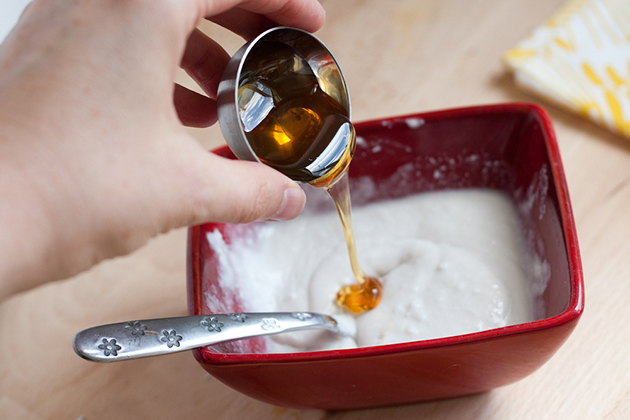 Stir in the honey, to taste.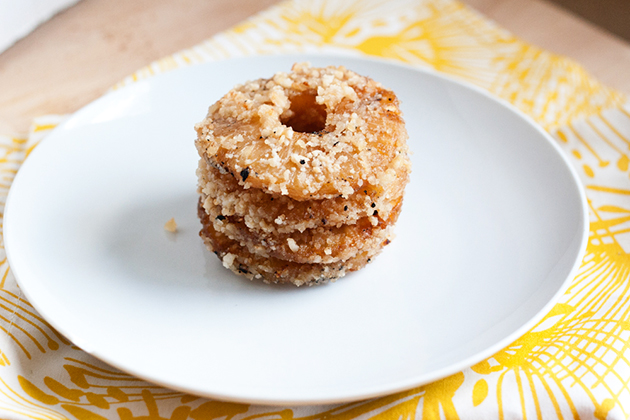 Stack a few of those grilled, toasty pineapple rings …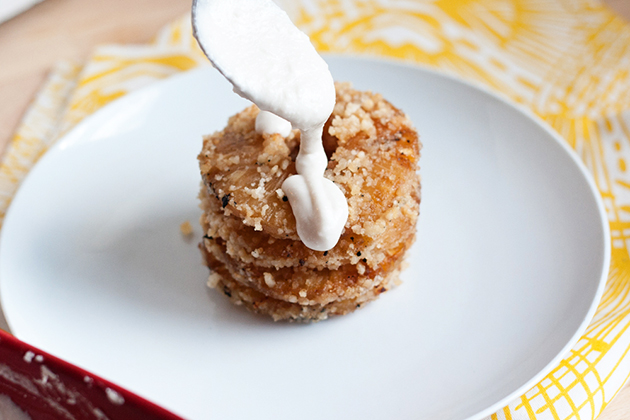 And drizzle some cream on top. You could also put the cream in the fridge for several hours so it thickens up. I can't wait that long. (Nor plan ahead these days.)
Eat up, friends.
Many thanks to Taylor Kiser for a delicious, light (paleo-friendly!) dessert! Go check out her blog Food Faith Fitness and her TK recipe box, which are both overflowing with great recipes.
Printable Recipe
See post on Taylor Kiser's site!
Description
Smokey-sweet grilled pineapple is crusted with macadamia nuts and then layered with coconut whipped cream for an easy, healthy, paleo-friendly summer dessert!
Ingredients
FOR THE PINEAPPLE:
12 Pineapple Rings
5-½ Tablespoons Coconut Sugar, Divided
1-¼ cup Dry Roasted Macadamia Nut Pieces
2 Large Egg Whites
Coconut Oil, Melted (for Grilling)
FOR THE COCONUT CREAM:
13 ounces, weight Canned Full-fat Coconut Milk, Chilled At Least 24 Hours
2 Tablespoons Honey
Mint, For Garnish
Preparation Instructions
Note: I like to whip my coconut cream a few hours in advance and then cover and refrigerate it. This way it hardens up and doesn't melt as quickly one sandwiched between the warm pineapple. If you want to do this, do step 7 first.
1. Rub your grill generously with coconut oil and preheat to medium/high heat.
2. Lightly pat the pineapple rings dry and place them into a large bowl. Toss with 3 tablespoons of the coconut sugar until evenly coated.
3. Place the pineapple onto the preheated grill and cook until lightly charred and caramelized, about 2 minutes. Flip and repeat again. Place grilled pineapple on a plate and set aside. Turn your grill down to medium heat.
4. While the pineapple cools, place macadamia pieces into a small food processor (mine is 3 cups size) and process until large crumbs form. Spread the crumbs into a large, sided plate. Place the egg whites into a medium bowl.
5. Take one pineapple ring and dunk it into the egg whites, shaking off the excess. Then, place the pineapple into the macadamia pieces, using your opposite hand, and gently press both sides into the nut pieces. You'll need to lightly press the nuts on to adhere them to the pineapple. Place onto a separate plate and repeat with remaining pieces.
6. Brush a little more coconut oil on the grill and place the pineapple back on it. Cook until the macadamia pieces are just beginning to look charred and the egg appears to set, about 1-2 minutes per side. Watch carefully so you don't burn them. Transfer to a plate and let them cool while you make the coconut cream.
7. Turn your can of chilled coconut milk upside down and open. Pour out the liquid that has risen to the top (save it for a smoothie later) and scoop the thick cream from the bottom of the can into a large bowl. Add in the honey and beat with an electric hand mixer until light and fluffy (see note).
8. Place one ring of pineapple down on your serving plate and spoon (or pipe, like I did) some coconut cream (about a heaping 1 ½ tablespoons) onto the center. Top with another ring and repeat. Finish with one more piece of pineapple and a squeeze of coconut cream. Repeat with remaining rings.
9. Garnish with mint, if desired, and devour immediately!


_______________________________________
Be sure to check out Natalie's own beautiful food blog, Perrys' Plate, where you can see her growing collection of lovely recipes. There's always something new to see there. Go visit now!