Today, Erica Lea will share with us this incredible Tasty Kitchen recipe she found. The name may sound funny and strange to some of you, but oh my. It's absolutely beautiful. Let's watch as Erica walks us through it!

I know what you're thinking, because I thought it as well:
"Zand what?!"
Then I read the description: shortbread cookies topped with mocha butter topped with chocolate topped with pecans/almonds. Irresistible. A little research revealed that zandgebak is just Dutch for shortbread.
This recipe, brought to us by emmyd, is surprisingly easy and forgiving. Confession: I (accidentally) halved the butter in this recipe. I read "1 cup of butter," and my mind said "1 stick of butter." Oddly enough, the cookies still turned out delicious. However, they were more like sugar cookies than shortbread.
Warning: Zand Gebak cookies are potentially addictive. It will be hard to eat just one. Proceed with caution.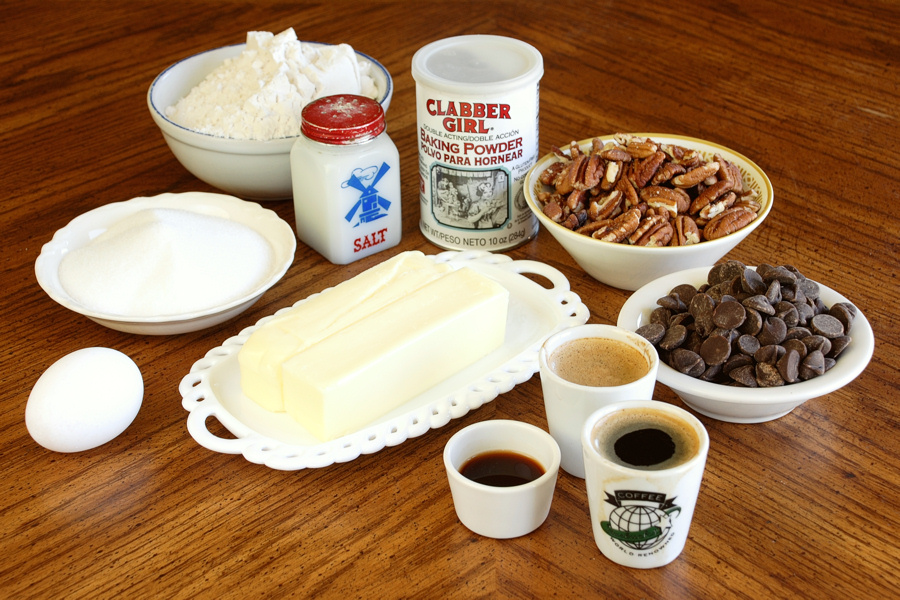 Here's what you'll need: butter (twice as much as I have pictured), sugar, vanilla, salt, an egg, baking powder, flour, strong coffee (I used espresso), chocolate chips (I like bittersweet), and pecans or almonds.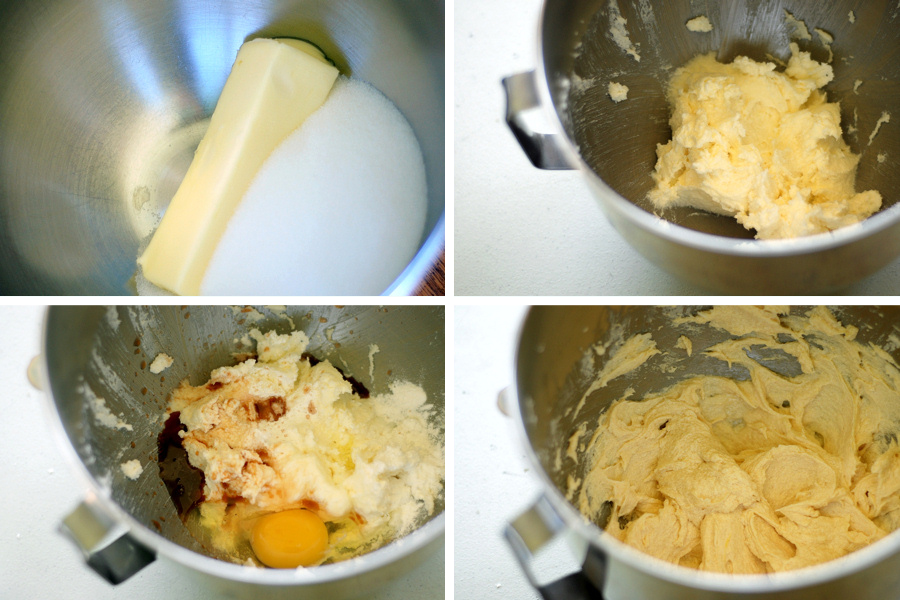 Place your butter and sugar in a bowl. Just image there's another stick of butter in there. Cream the butter and sugar. Add the vanilla, salt, egg and baking powder and mix.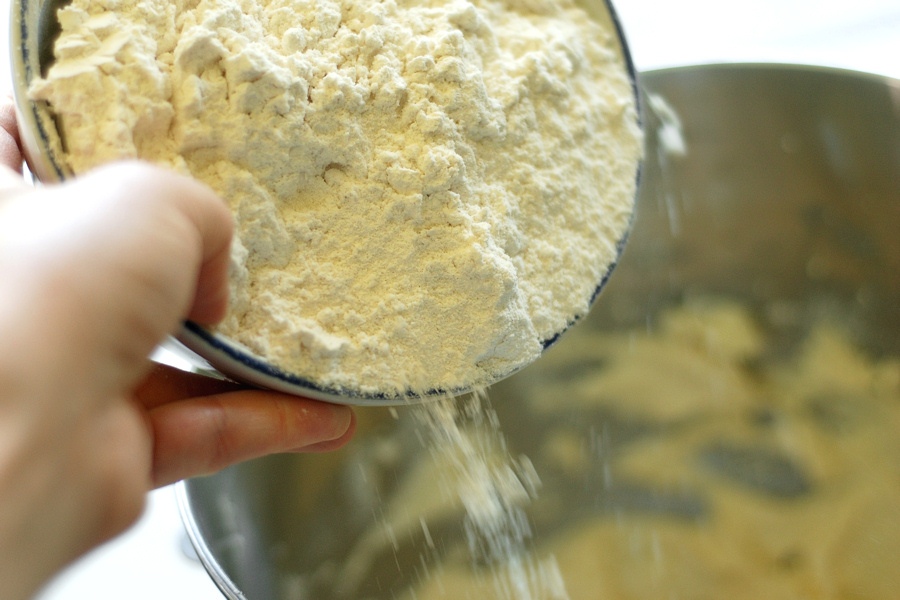 Dump in the flour.
Mix until you have a rollable dough, adding more flour if necessary.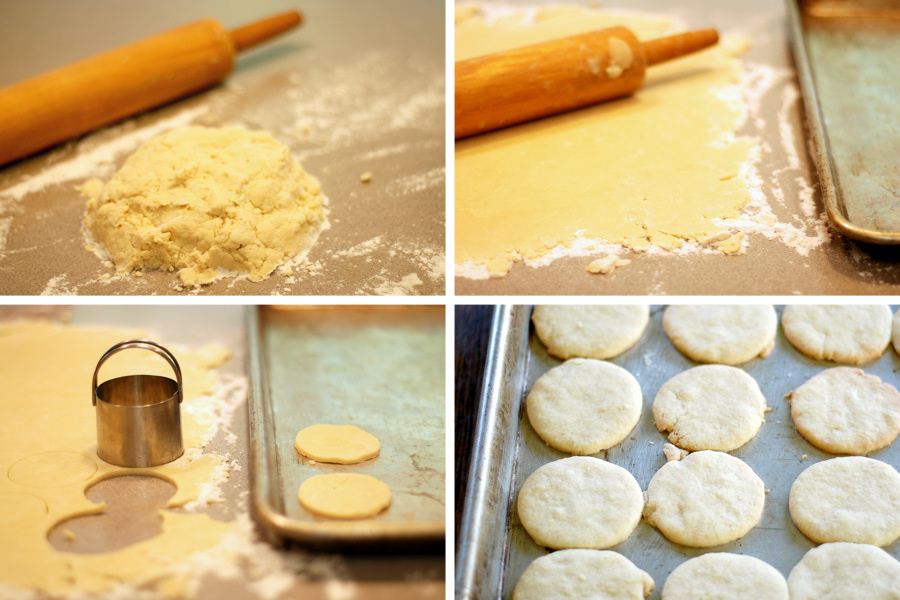 Place dough on a lightly floured surface. Roll out thinly and cut with a 2-inch cookie cutter. Place on an ungreased cookie sheet and bake at 350°F for about 10-15 minutes. Do not let the cookies brown. They should be a cream color. Remove to a wire rack to cool.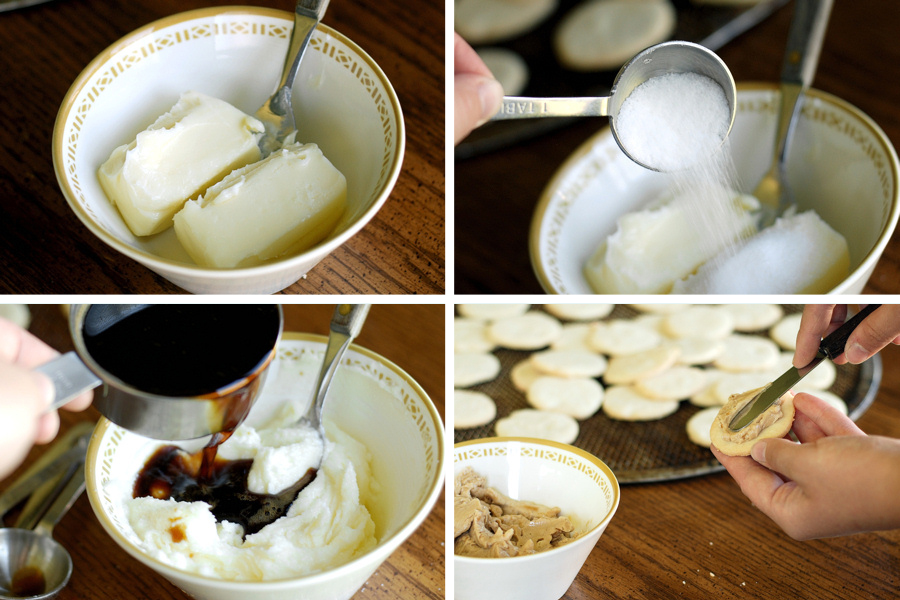 Now for my favorite part: the mocha butter! Place the butter in a bowl (again, imagine another stick of butter). Add the sugar and coffee. Beat until well blended. I used an immersion blender. Spread each cookie with about a teaspoon of the mocha butter.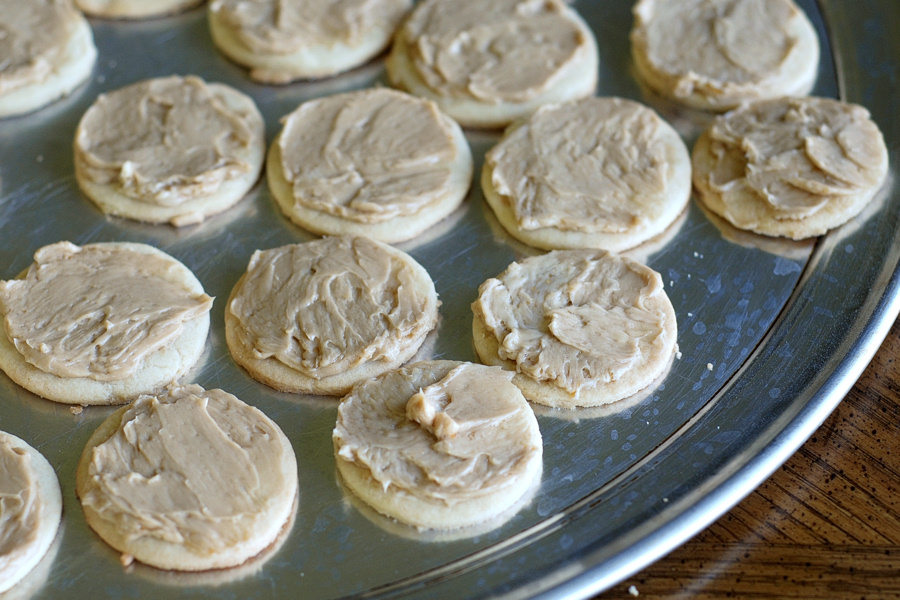 Put the cookies on a tray and place in the freezer until firm.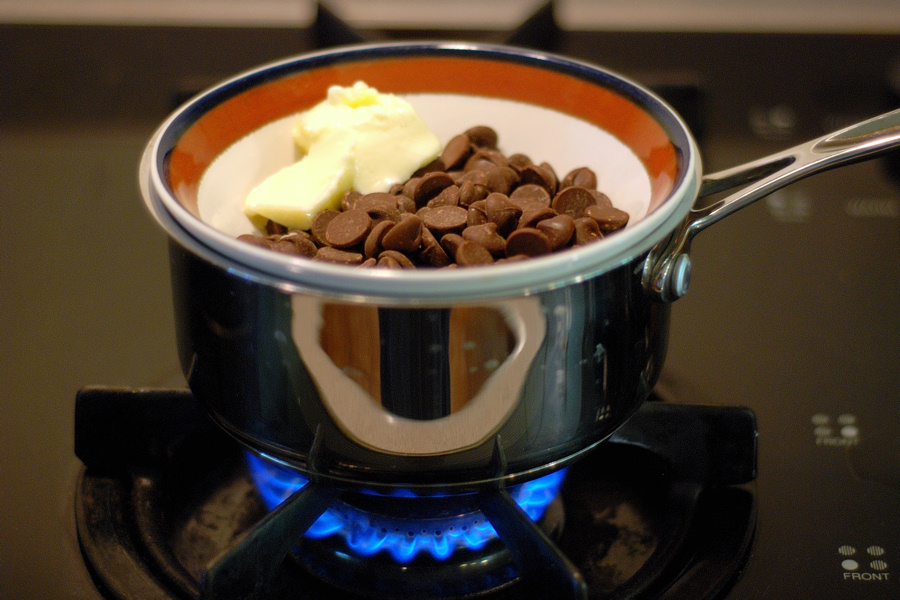 Meanwhile, melt the chocolate with a little butter. Allow to cool slightly.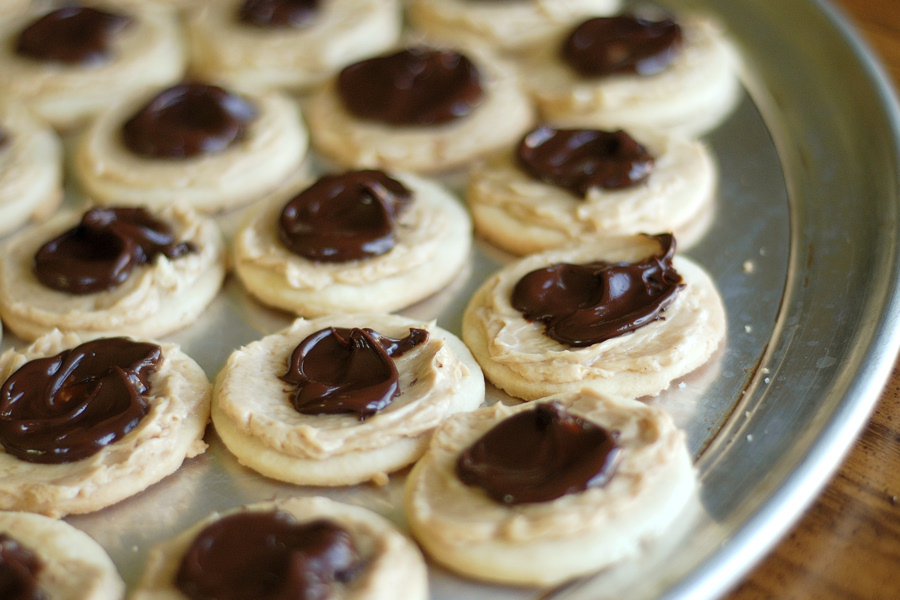 Drop a little chocolate on each cookie and spread out a bit.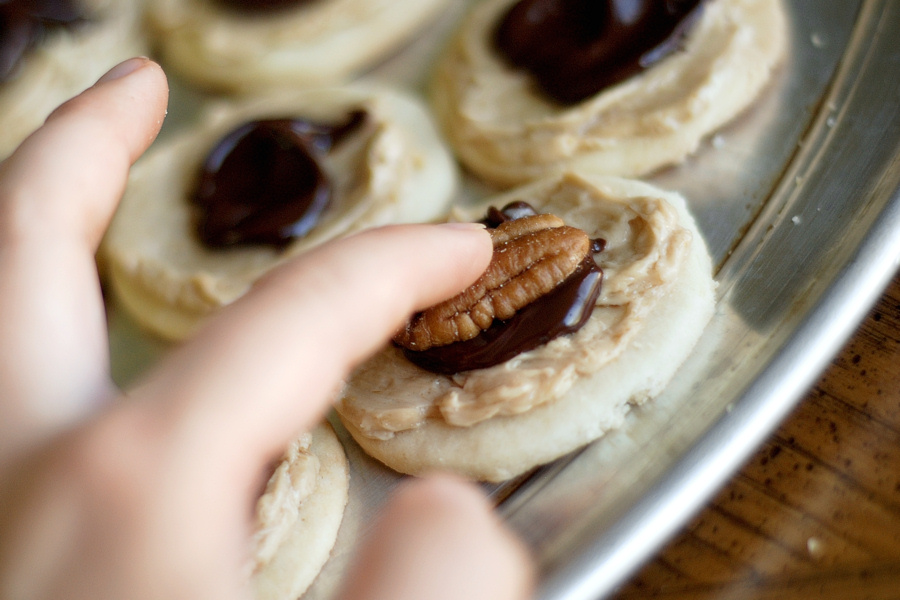 While the chocolate is still soft, add a pecan or almond to each cookie.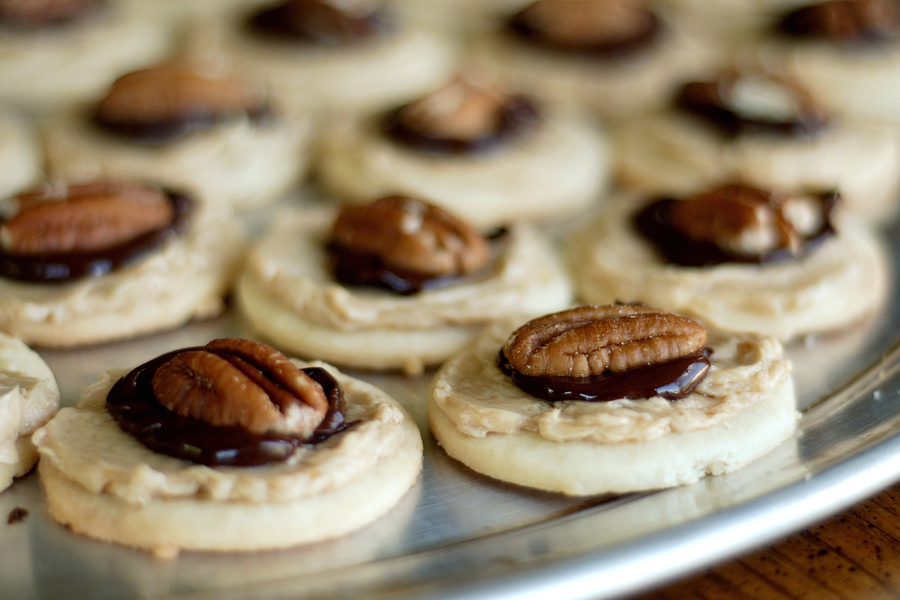 Store in the freezer or refrigerator. I doubt if you'll need to store them for long.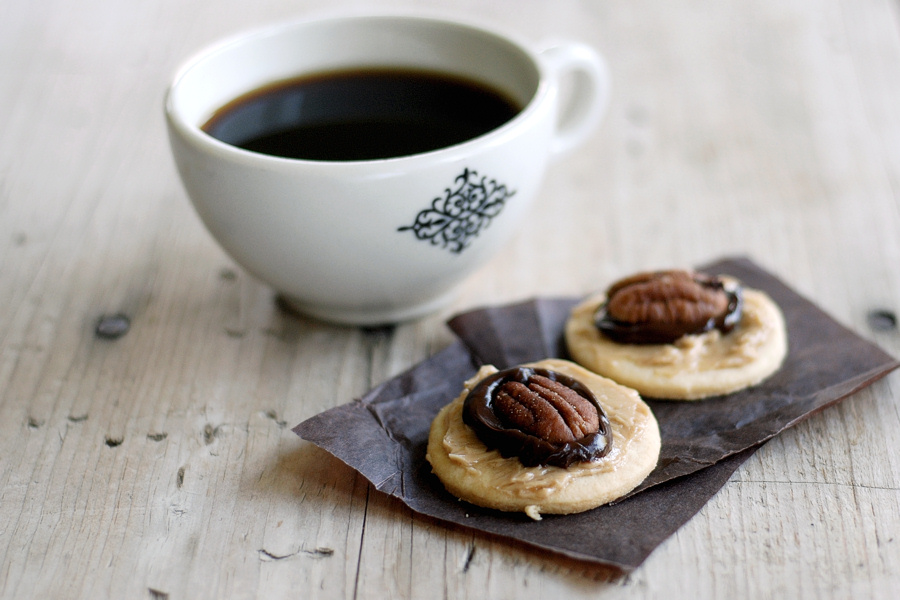 Notes: Even though these cookies were wonderful with half of the butter, I wish to make them again with the proper amount. Also, I will add more coffee to the mocha butter. It was delicious, but not strong enough. Perhaps I will try toasting or candying the nuts as well.
We polished off these cookies in two days. I will consider making a double batch next time.
Thank you, emmyd, for sharing this scrumptious recipe with us!
Printable Recipe
Description
Shortbread cookie + mocha butter + chocolate + pecan/almond = the very best cookie … ever!
Ingredients
FOR THE COOKIE DOUGH:
1 cup Butter
¾ cups Sugar
1 teaspoon Vanilla
1 pinch Salt
1 whole Egg
1 teaspoon Baking Powder
2 cups Flour, Or More As Needed
_____
FOR THE MOCHA BUTTER:
1 cup Butter
3 Tablespoons Sugar
½ cups Strong Coffee
_____
FOR THE TOPPING:
¾ cups Chocolate Chips
2 Tablespoons Butter
1 bag (about 6 Oz. Bag) Pecans Or Almonds
Preparation Instructions
To make the cookie dough, cream the butter and sugar with a pastry cutter. Then add the vanilla, salt, egg and baking powder, and then the flour. Start with 2 cups of flour, and add more if you need it. Knead for a couple of minutes. Dough should be rollable. On a floured surface, roll the dough out thinly (about 1/8 to 1/4 of an inch) and cut into 2-inch circles. Place on an ungreased cookie sheet. Bake at 350F for 10-15 minutes, but don't let them brown. They should just be a cream colour.
To prepare the mocha butter, put the butter in a bowl. This works best if it's softened (NOT MELTED). Then, while beating the butter, slowly add the sugar and coffee. I make strong coffee with 2 heaping teaspoons instant coffee in 1/2 cup of hot water. Test it every once in a while to get the mocha flavour you like. To get a stronger flavour, add more instant coffee to the water. Don't let the sweetness overpower the mocha flavour, or they'll end up way too sweet.
Take the baked cookie and top it with the mocha butter. Spread approximately 1 teaspoon on each cookie. Then, stick the cookies somewhere cold (in the coldroom, or the porch if it's winter, or the fridge or freezer) until the mocha part is hard.
Then, melt the chocolate chips with a little bit of butter, let it cool a little bit, and drip it over the mocha (I usually spread it out a tiny bit). Then, while the chocolate is still soft, stick a pecan or almond on top. I usually store these in the freezer, or they get too soft. They can be eaten straight from the freezer; they don't have to thaw.


_______________________________________
Erica Berge shares her wonderful recipes and amazing food photography on her blog, Cooking for Seven. She also writes about crafts and posts more of her beautiful photography in her personal blog, EricaLea.com. There really isn't much that this amazing young lady can't do, and we're thrilled she does some of it here.