Years ago my husband and I started a tradition with our good friends called 'Mussels Night.' Every so often we'd get together at one house or the other and make two giant pots of mussels—one in a creamy white sauce, the other in a spicy marinara. We cherished those evenings not only for the company, but for the ease of preparation and speedy cook-time, which meant we could focus more on our friends than fussing in the kitchen. When the mussels were done we'd put the steaming pots in the middle of the table, pull out a few baguettes, open a couple bottles of wine, and settle in for a good night of boisterous conversation and uproarious laughter. We'd start with large bowlfuls. By the end of the night we'd be sitting in front of a giant pile of shells, washing down the last sauce-soaked piece of bread with a gulp of red wine.
We no longer live in England, near those good friends, but mussels still hold a special place in my heart. These beautiful Thai Coconut Mussels from One Cook Two Kitchens reminded me that it's been far too long since our last 'Mussels Night.'
This recipe requires just six ingredients: chicken broth, green curry paste, fish sauce, mussels, coconut milk, and cilantro.
In a large pot or Dutch oven, bring the chicken broth to the boil.
Then add the green curry paste. If you're enthusiastic about curry (as I am!), you could add a bit more curry paste to increase the flavor and heat.
Then add the fish sauce to the mix and give the pot a stir.
Once mixed, pour in those mussels.
Then add the creamy coconut milk. I am giving you permission to splurge and use full fat coconut milk. It's just better.
Stir in the coconut milk.
Put a lid on the Dutch oven. Five to seven minutes later, this dish is done. You know the mussels are fully cooked when they've all popped open! If they don't pop open, don't eat 'em.
Stir in plenty of chopped cilantro (in my opinion, the greatest fresh herb on the planet).
Now this is the most important step: Make sure you enjoy these mussels with some good bread (or rice), a glass of white wine, and plenty of wonderful people!
Thanks to Lisa for this delicious recipe! Head over to her blog One Cook. Two Kitchens. for more recipes from her kitchens. (In case you were wondering, one is in a Toronto condo, and the other in a lake house. Both have gorgeous views.)
Printable Recipe
See post on One Cook Two Kitchens's site!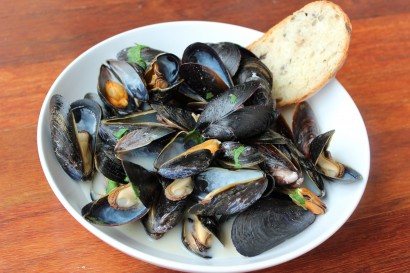 Description
Mussels are one of the healthiest, easiest fast-food dishes going, and yet they are impressively elegant to serve. Try this exotic Thai green curry, coconut-based broth for a meal that you can have on the table in less than half an hour.
Ingredients
½ cups Chicken Broth
1 Tablespoon Thai Green Curry Paste
2 teaspoons Fish Sauce
2 pounds Mussels, Cleaned, With 'beards' Removed
1 cup Coconut Milk (regular Or Light Works)
¼ cups Fresh Cilantro Or Basil, Chopped
Basmati Rice, To Serve
Preparation Instructions
In a large pot that has a lid (Dutch oven works well), heat the chicken broth to boiling. Add in green curry paste and fish sauce. If you are heat-sensitive, start with 1 teaspoon of the green curry paste, and add more at the end, to taste, if desired.
Add in mussels, stir. Add in coconut milk. Cook until the shells open, 5 to 10 minutes.
Add in chopped cilantro, if desired. (Basil is good too.)
Serve in bowls with lots of broth for each person and pass a bowl of basmati rice on the side.


_______________________________________
Three Many Cooks is the always-entertaining food blog of Pam Anderson and her two daughters, Maggy and Sharon. Pam is a well-known and much-respected food writer and author, Maggy is a "hippy adventurer meets 1950s housewife," and Sharon refers to herself as a recovering food snob learning to survive on a graduate student's budget. Theirs is a strong relationship both inside and outside the kitchen, and it shows in the food they create and the stories they tell.