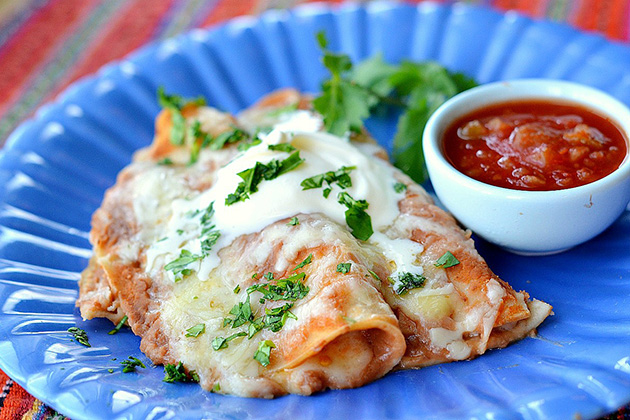 A simple alternative to fajitas and enchiladas, enfrijoladas make a fun weeknight pantry supper that also works for Meatless Monday. You can serve these enfrijoladas topped with sour cream, cilantro, and salsa. I've highlighted the simplest version, but there are other great recipes that include meat, vegetables, and even eggs! For fans of spicy food, add a little heat to the bean mixture or serve hot sauce with the other toppings.
Big tip: microwaving the corn tortillas before dipping them into the refried beans keeps them pliable enough to fold without breaking. Another bit of good news: there was enough sauce and room in the pan for eight tortillas, making it a perfect dinner for four.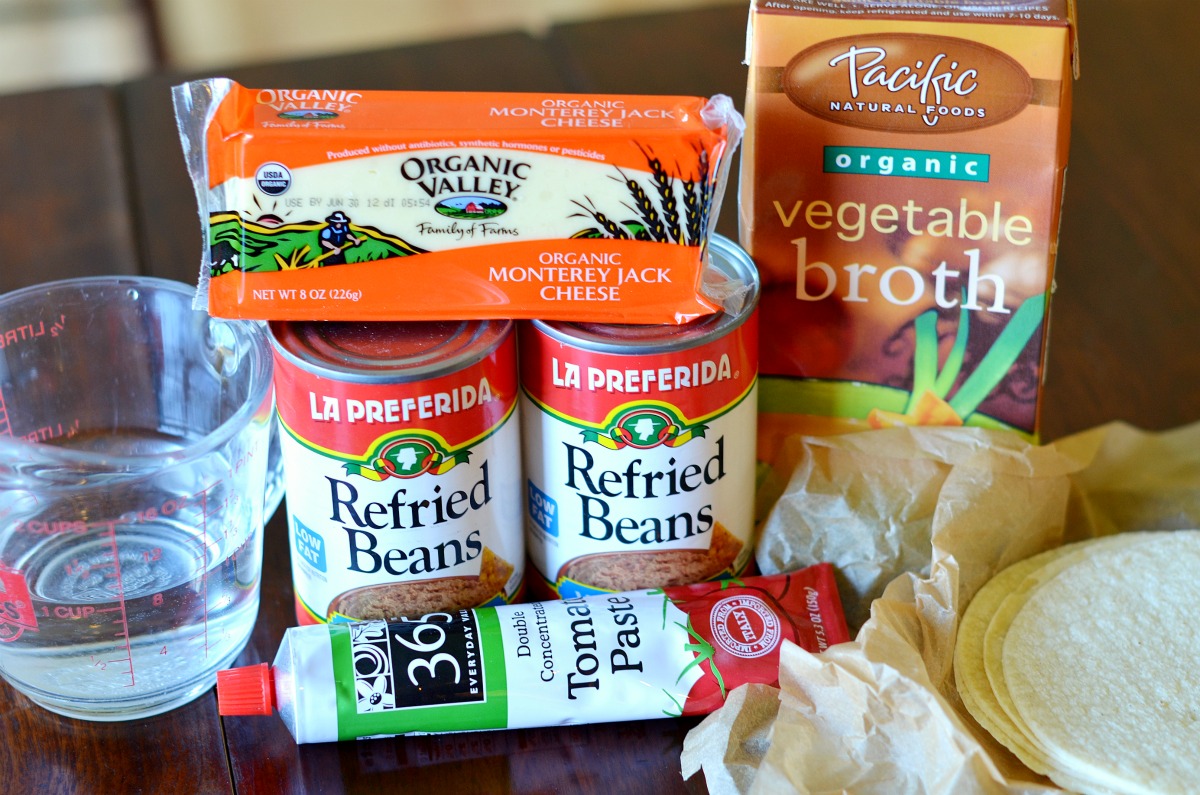 Start with these ingredients.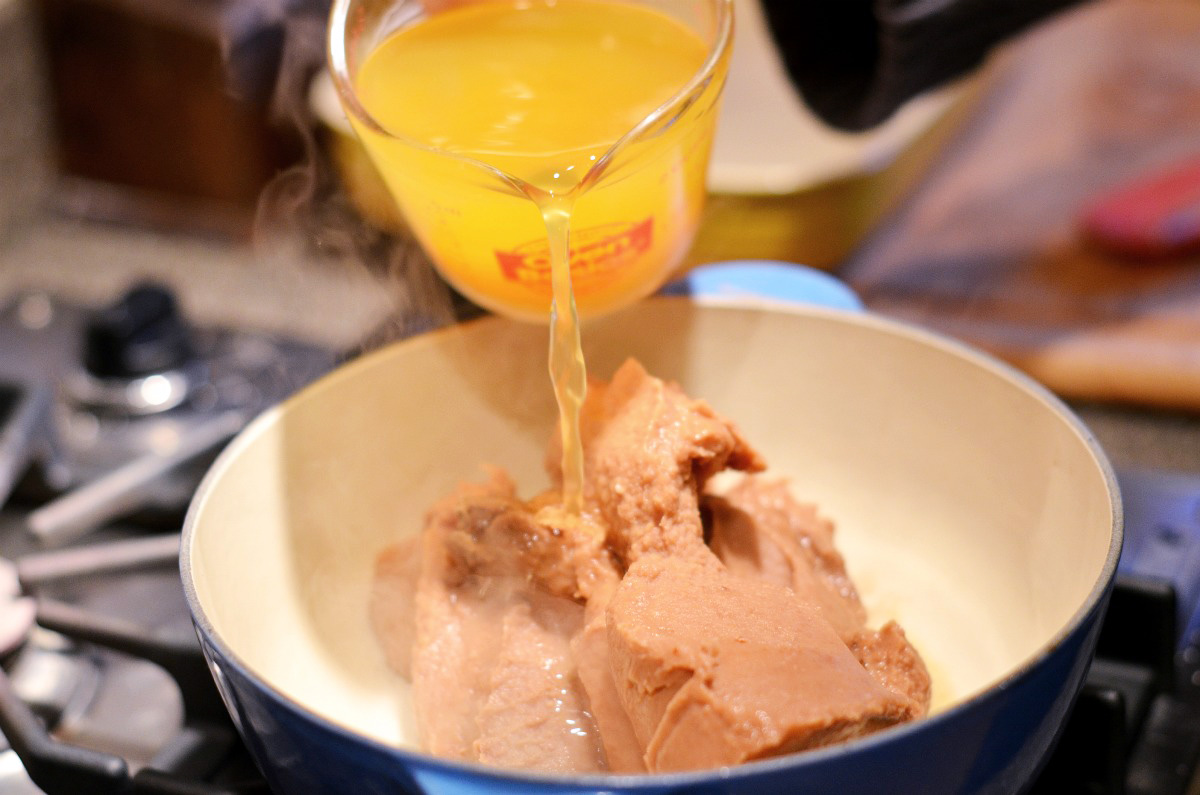 Heat the refried beans, broth, and water in a large pot. Note: I measured and mixed the broth and water in the Pyrex measuring cup and poured it all in at one time.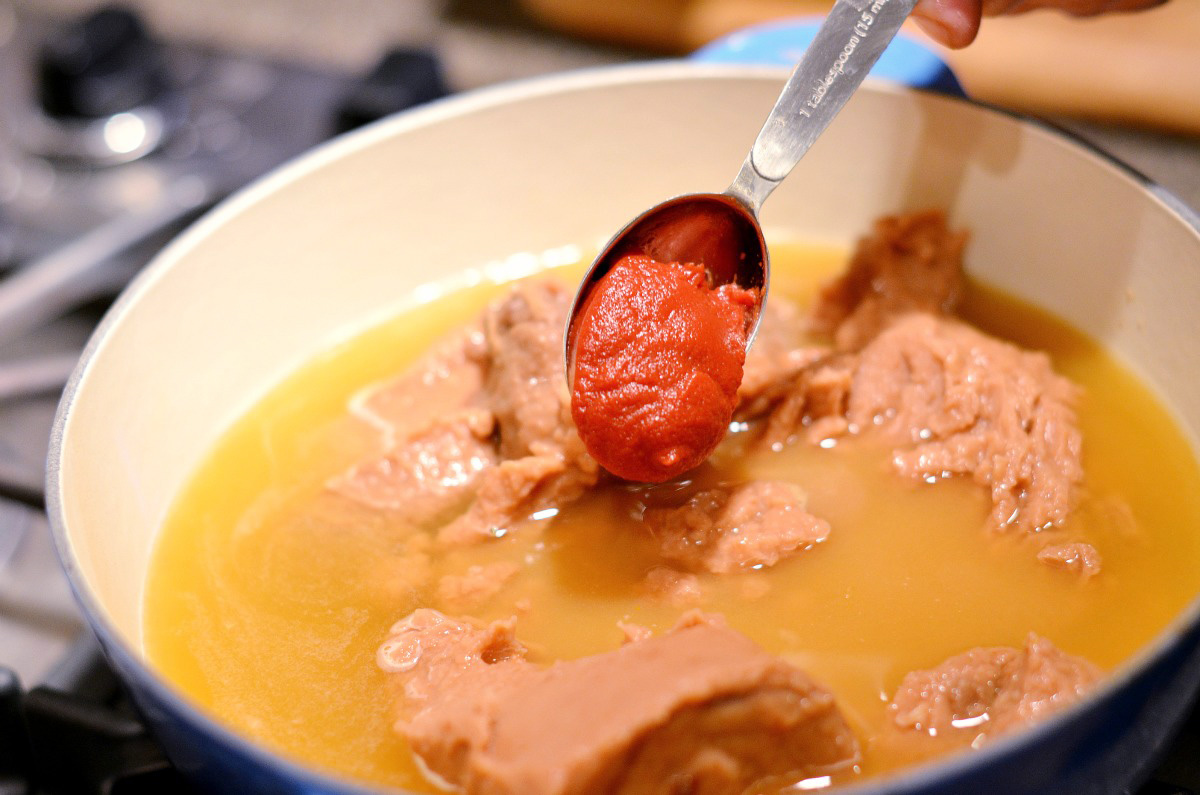 Then add the tomato paste.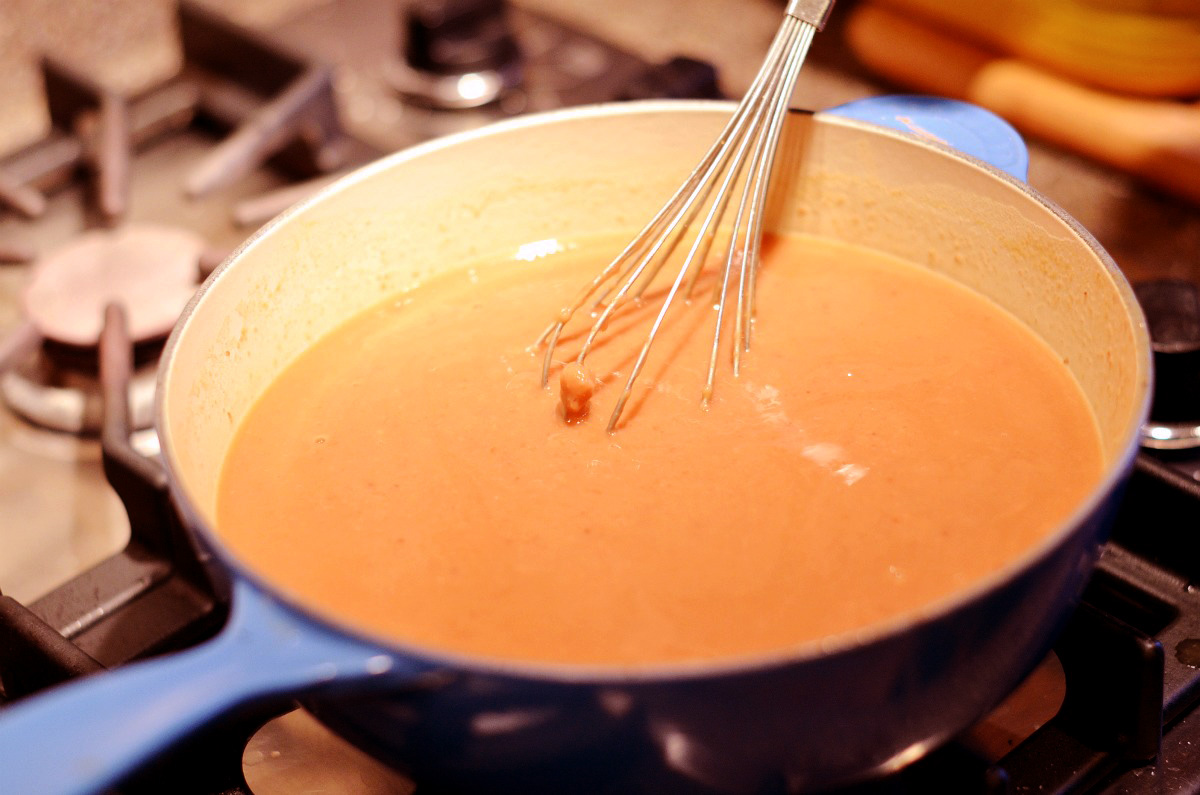 Whisk until thoroughly mixed. The texture should be pretty soupy! While the sauce is mixing and heating, microwave the corn tortillas until hot.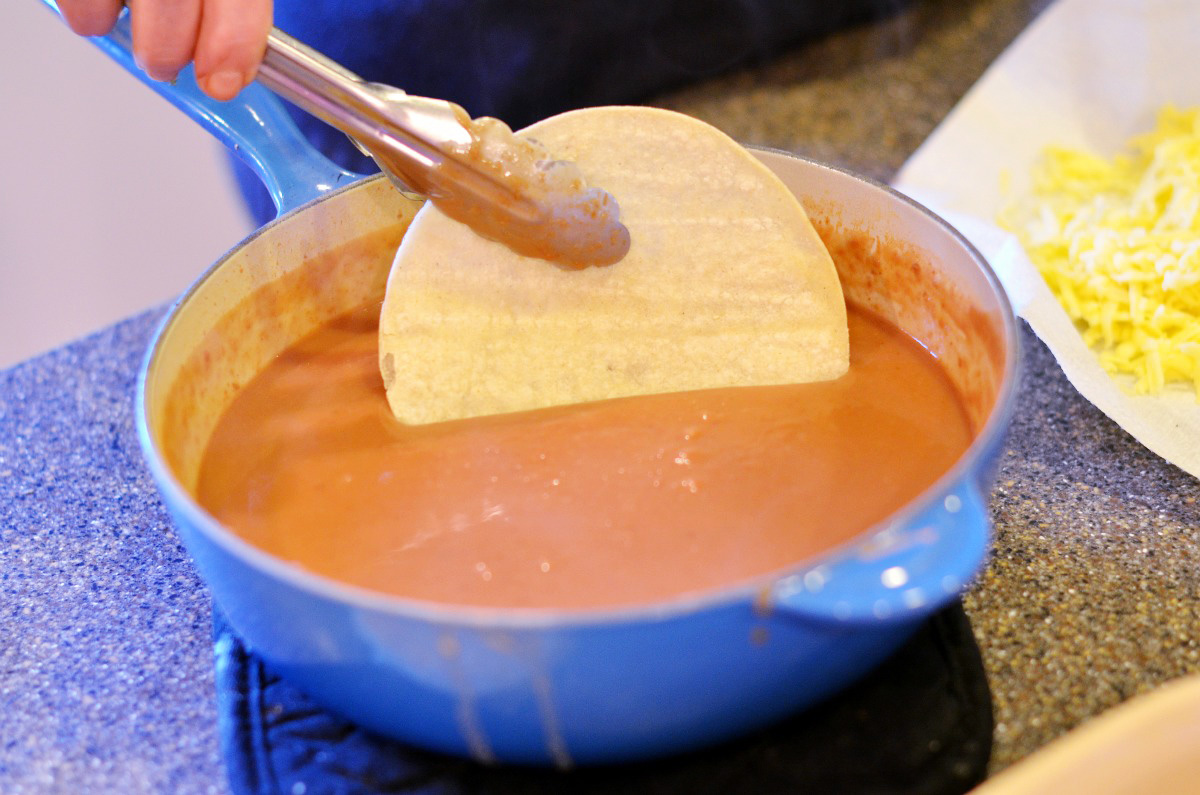 Now get set up with your baking dish, grated cheese, tortillas, and the bean mixture. Using a pair of tongs, dip the tortilla into the bean mixture and allow it to soak for just a moment.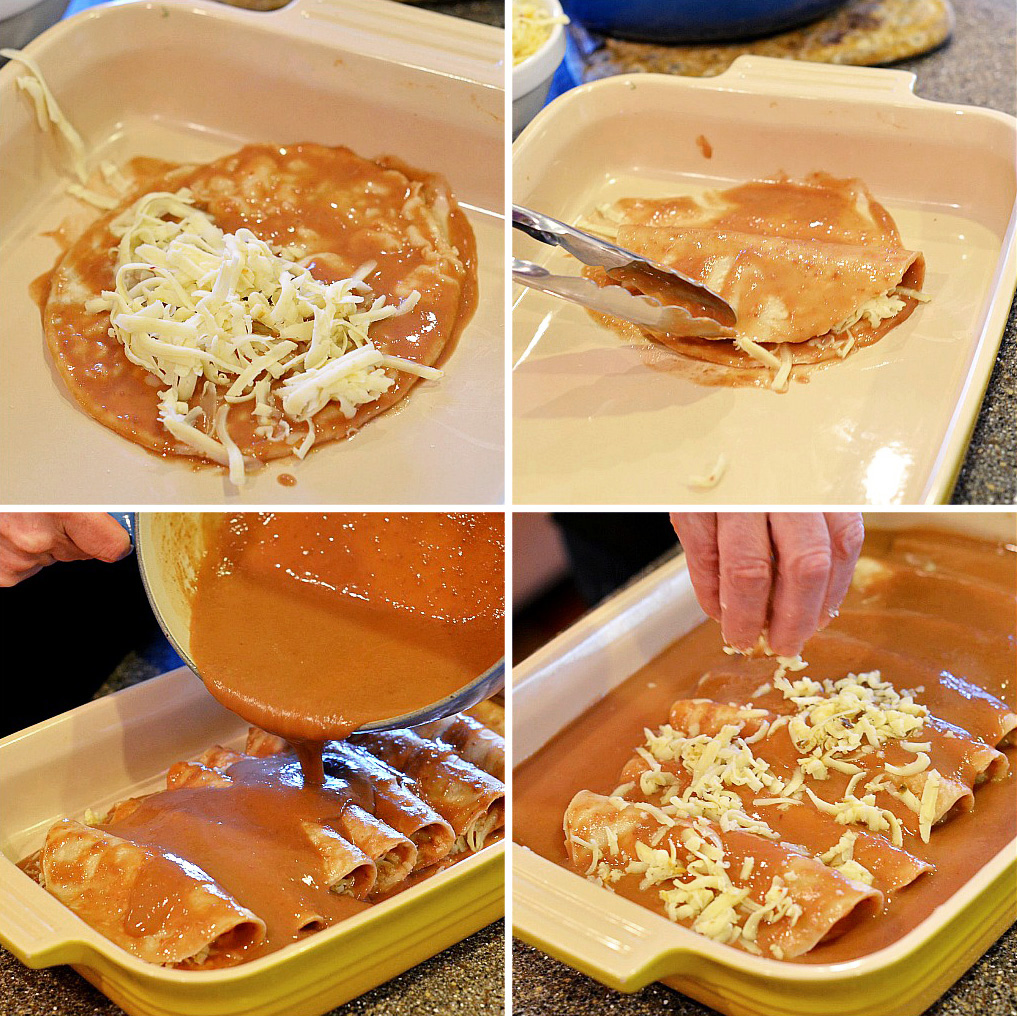 Place the bean mixture-coated tortilla in the baking dish, add a portion of cheese to one half, and then fold over. Repeat with the remaining seven tortillas, then top the dish with the remaining bean mixture and cheese.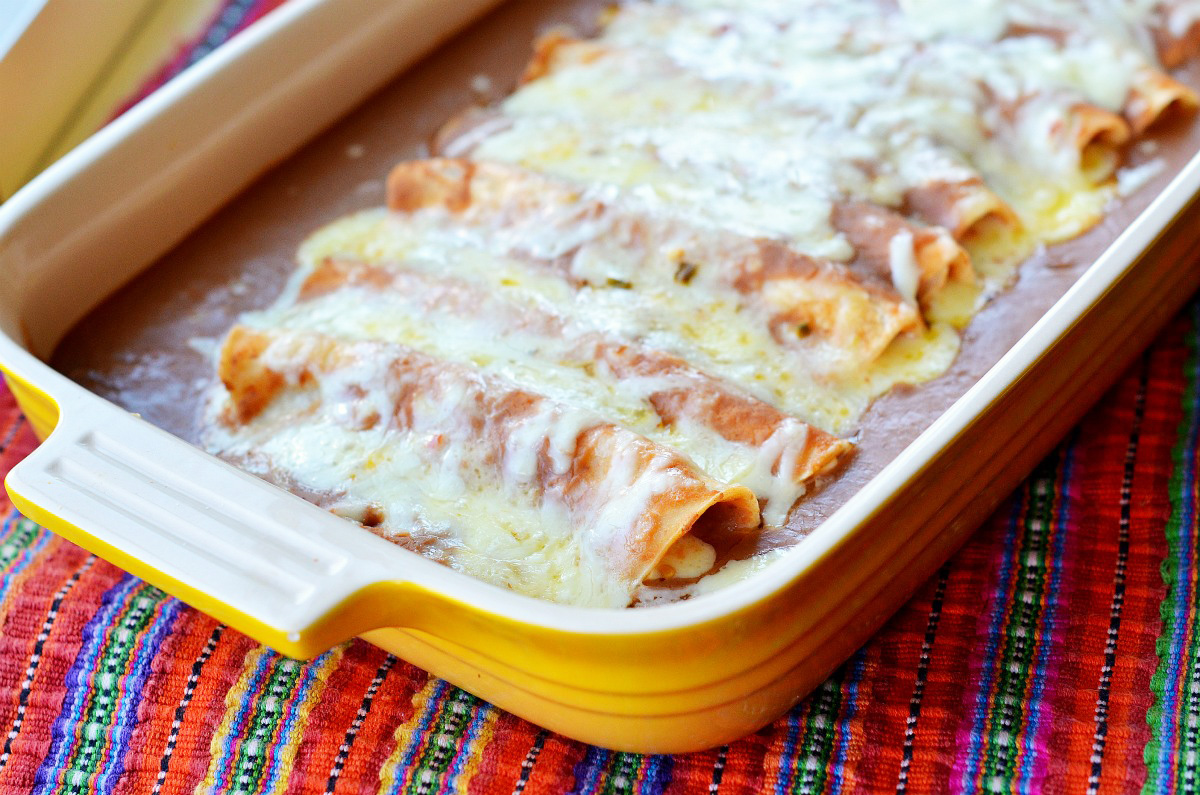 Bake at 350ºF for 10-15 minutes or until the cheese has melted and it looks like this! It took everything inside me not to dig into that dish with a spoon.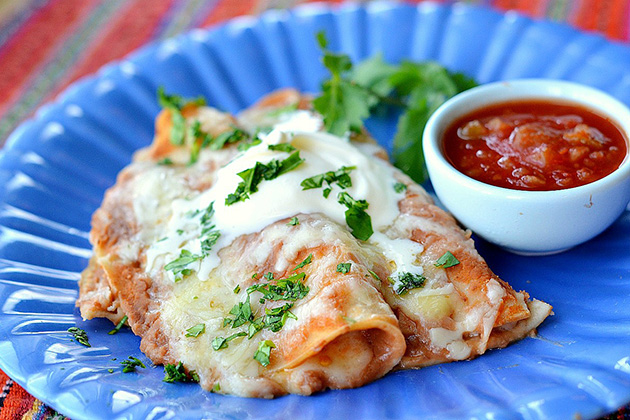 Serve with a dollop of sour cream, salsa, and chopped fresh cilantro!
Thank you, Caroline, for introducing me to this classic Mexican recipe. I will certainly be stocking refried beans in my pantry from now on so that I can make these again! Visit her blog, Pink Basil, for more recipes, thoughtful writing, and great photography.
Printable Recipe
See post on Pink Basil's site!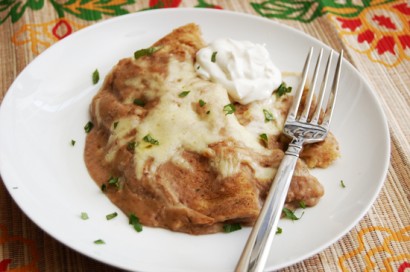 Description
Enfrijoladas: delicious Mexican comfort food!
Ingredients
4 cups Refried Beans
1 cup Vegetable Stock
1 cup Water
1 Tablespoon Tomato Paste
6 whole Small Or Medium Size Tortillas
3 cups Shredded Monterey Jack Cheese
Preparation Instructions
Heat up the refried beans in a large pan. Add in the vegetable stock, water and tomato paste and blend until smooth. You want the sauce to be very thin, so add more liquid if necessary. If the sauce is too thick it will weigh down the tortillas and tear them. Using tongs, take a tortilla and dip in the sauce. This is a bit of an art—you want them to soak through enough that they are pliable and won't tear, but soak them for too long and they'll come apart when you lift them out.
Lay the tortilla dipped in bean sauce flat in a small baking dish. Sprinkle some cheese on one side of the tortilla, and then fold it in half like a quesadilla. Repeat this with each tortilla until the baking dish is full. Pour the remainder of the bean sauce into the pan and sprinkle with remaining cheese.
Bake at 350ºF for about 10 to 15 minutes, or until the cheese has melted.


_______________________________________
Three Many Cooks is the always-entertaining food blog of Pam Anderson and her two daughters, Maggy and Sharon. Pam is a well-known and much-respected food writer and author, Maggy is a "hippy adventurer meets 1950s housewife," and Sharon refers to herself as a recovering food snob learning to survive on a graduate student's budget. Theirs is a strong relationship both inside and outside the kitchen, and it shows in the food they create and the stories they tell.