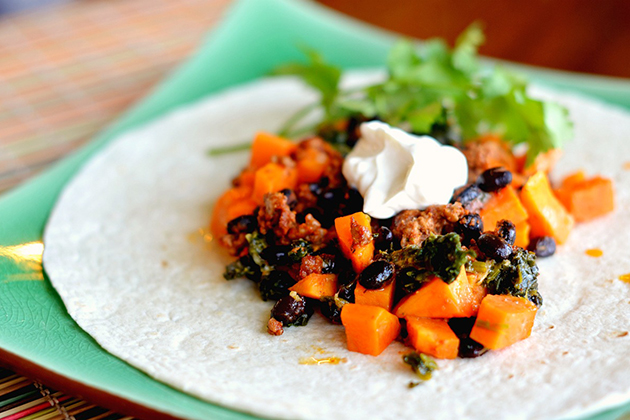 I thought about simply writing "best weeknight dinner…ever" and leaving it at that, but I also wanted you to know just why I liked this dish so much. I was first drawn to Natalie's recipe because of the solid reviews. Each person said how much their family loved it and how they'd made it again and again, so it was no surprise when I found the same true for me.
As I eat less meat these days, I'm always in search of recipes that move meat from focal point to flavoring, and I think this recipe perfectly exemplifies that. Sweet potatoes are a little unexpected in a dish with Mexican flavorings, but paired with a small amount of spicy meat it's a winning combination. The spinach and beans make the dish even heartier and healthier.
I don't have children (yet!), but I know that assembling foil packs is a fun way to involve kids in dinner preparation. Give this recipe a try, and I'll bet you join the other reviewers and me in declaring Sweet Potato Foil Packs a weeknight favorite in your home.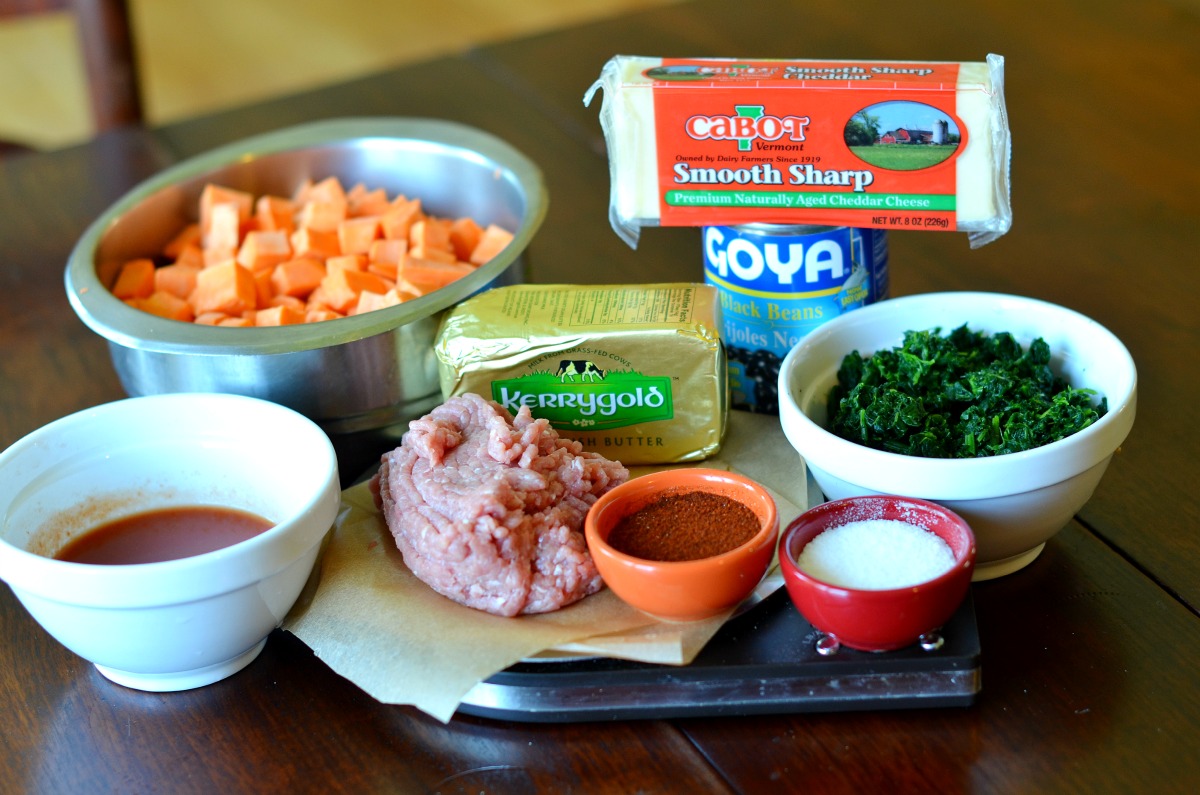 Here's what you need.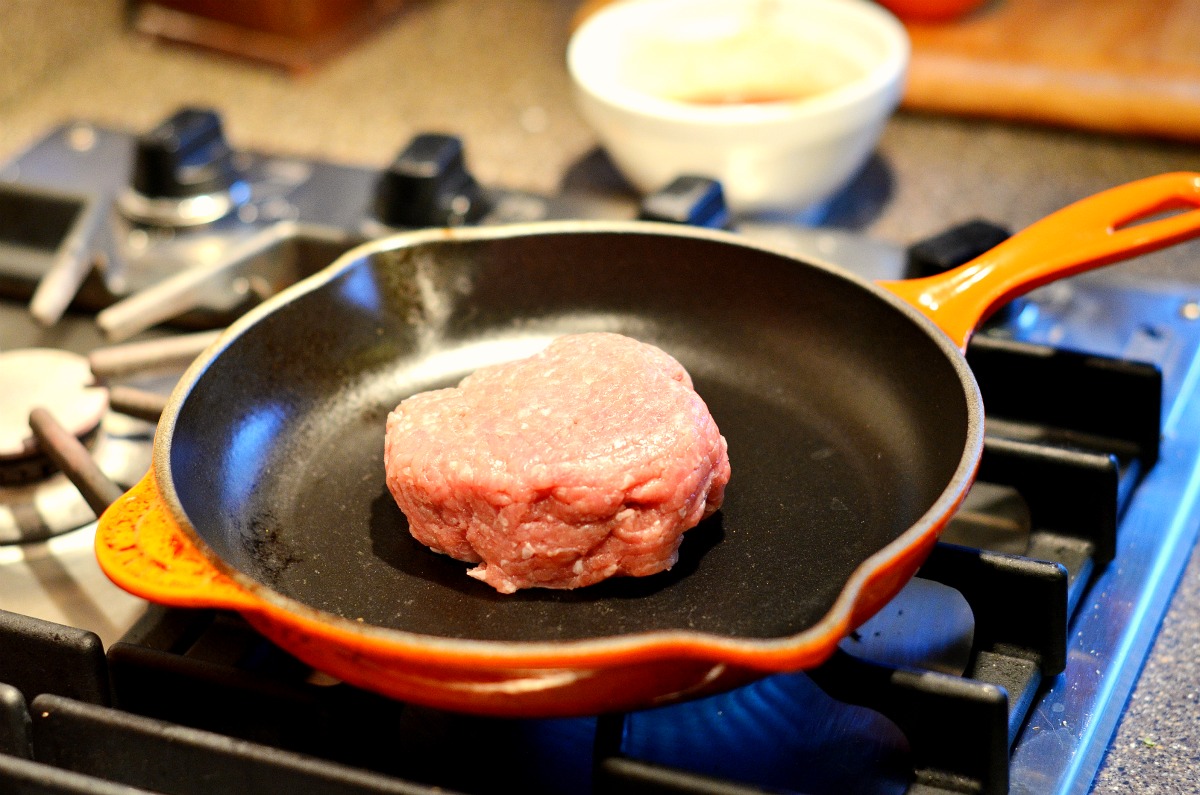 Start by browning the meat. I used ground turkey instead of beef because I prefer it, but any type of ground meat would work!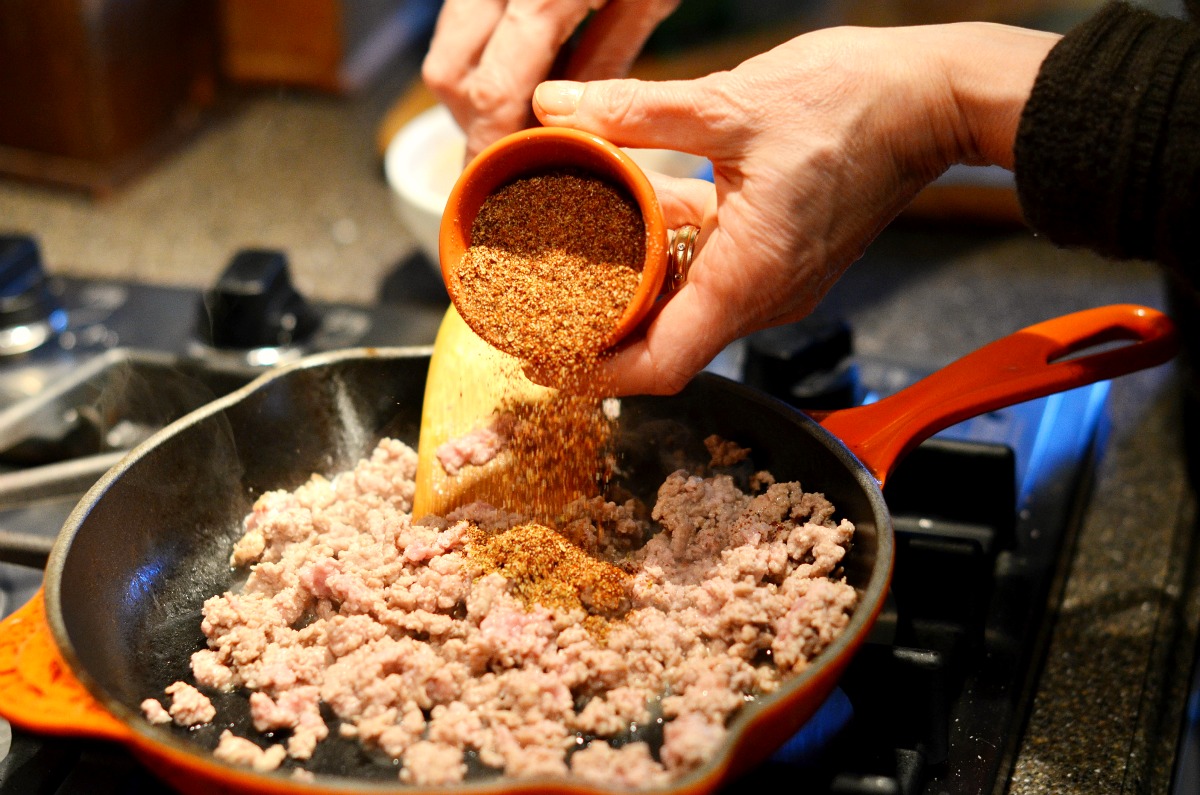 To the browned meat, add the taco seasoning…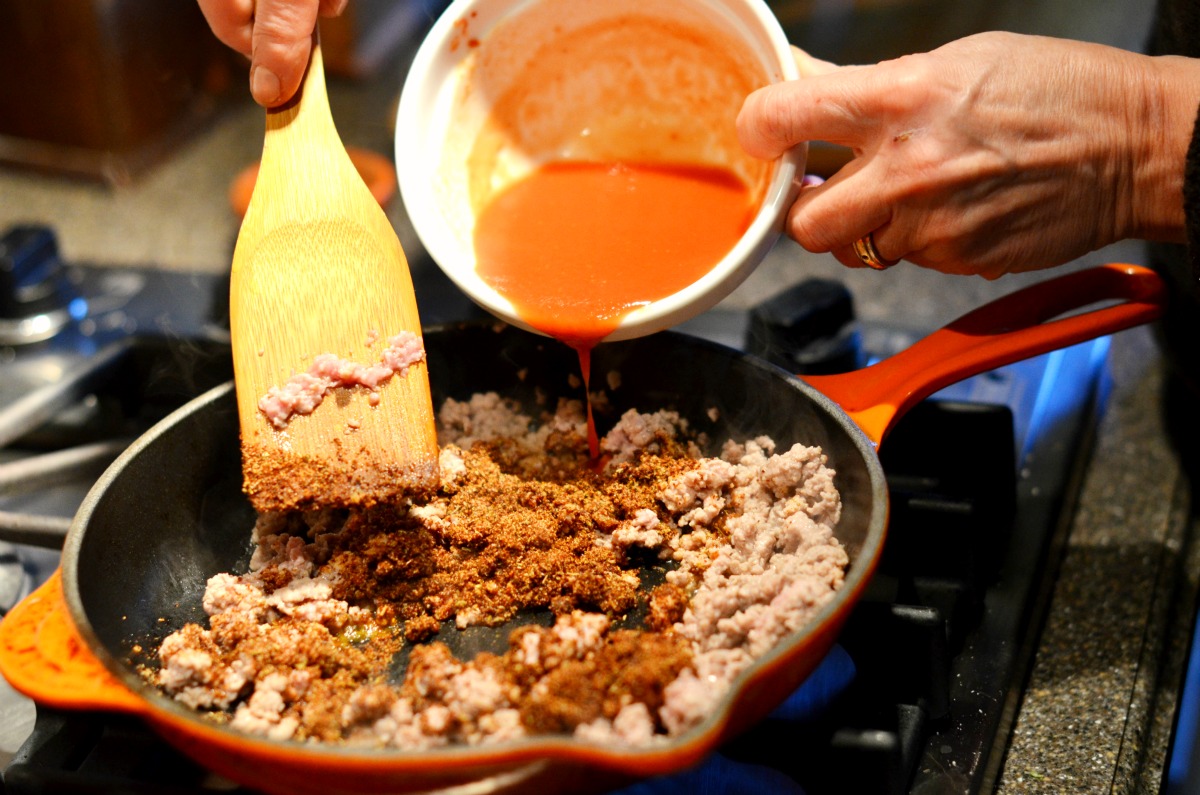 The tomato sauce…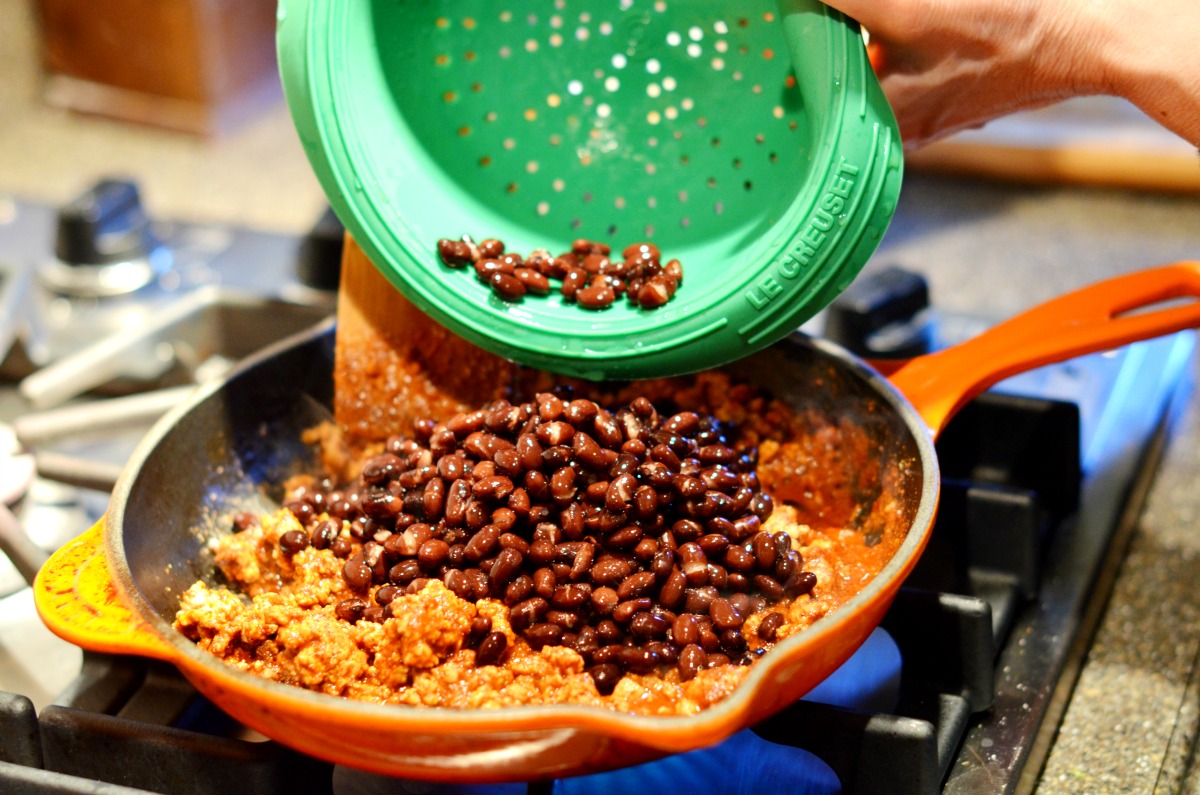 And the beans, stirring until evenly mixed.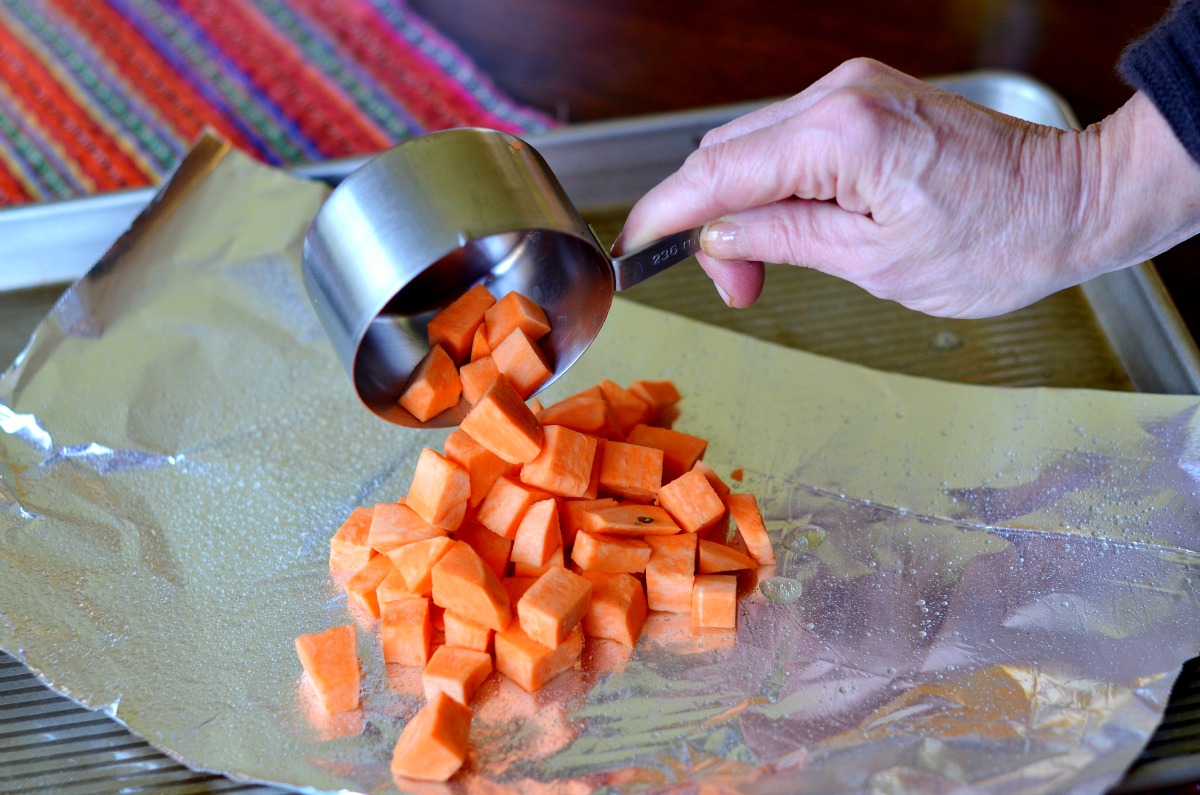 Next, cut six large pieces of aluminum foil, making sure to give yourself enough room to fold in all four sides. (Think of it like wrapping a gift; you don't want to get to the end only to realize you don't have enough!) Spray each piece of foil with cooking spray before assembling packets. Start by adding the sweet potato…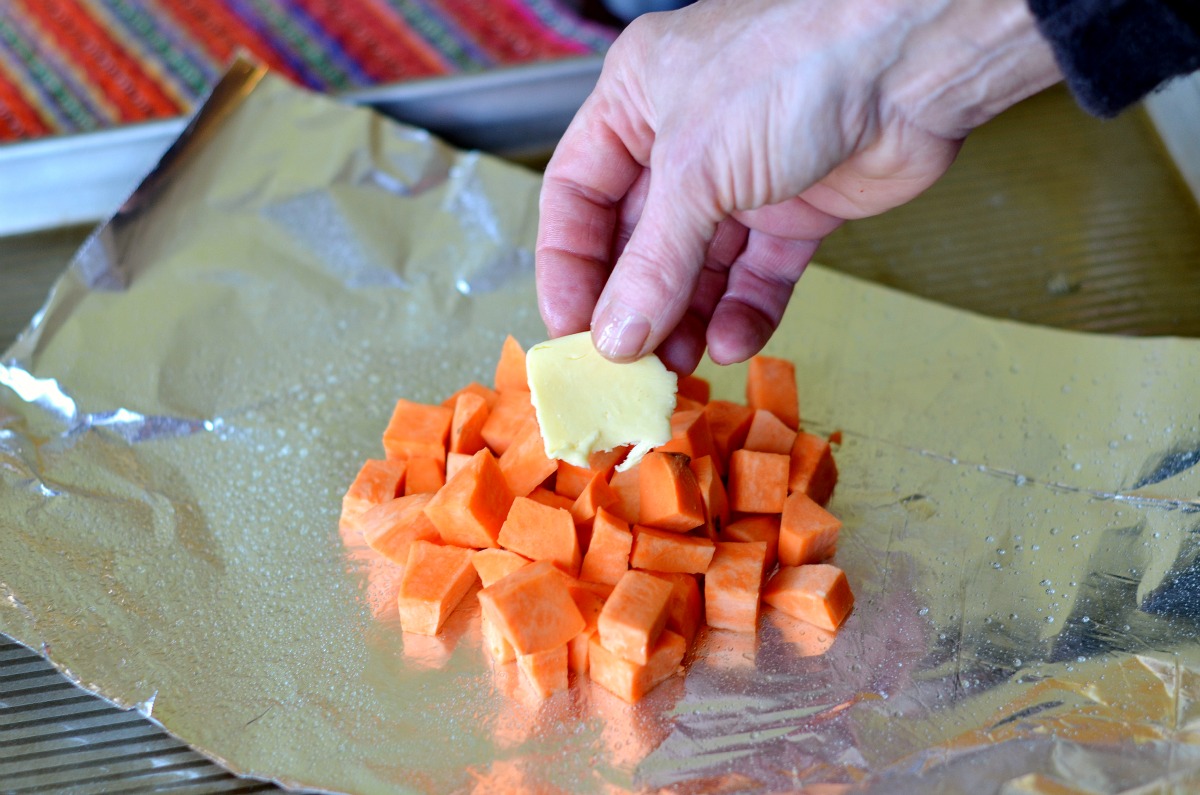 Then top with a little pat of butter. Butter and sweet potatoes? Yum!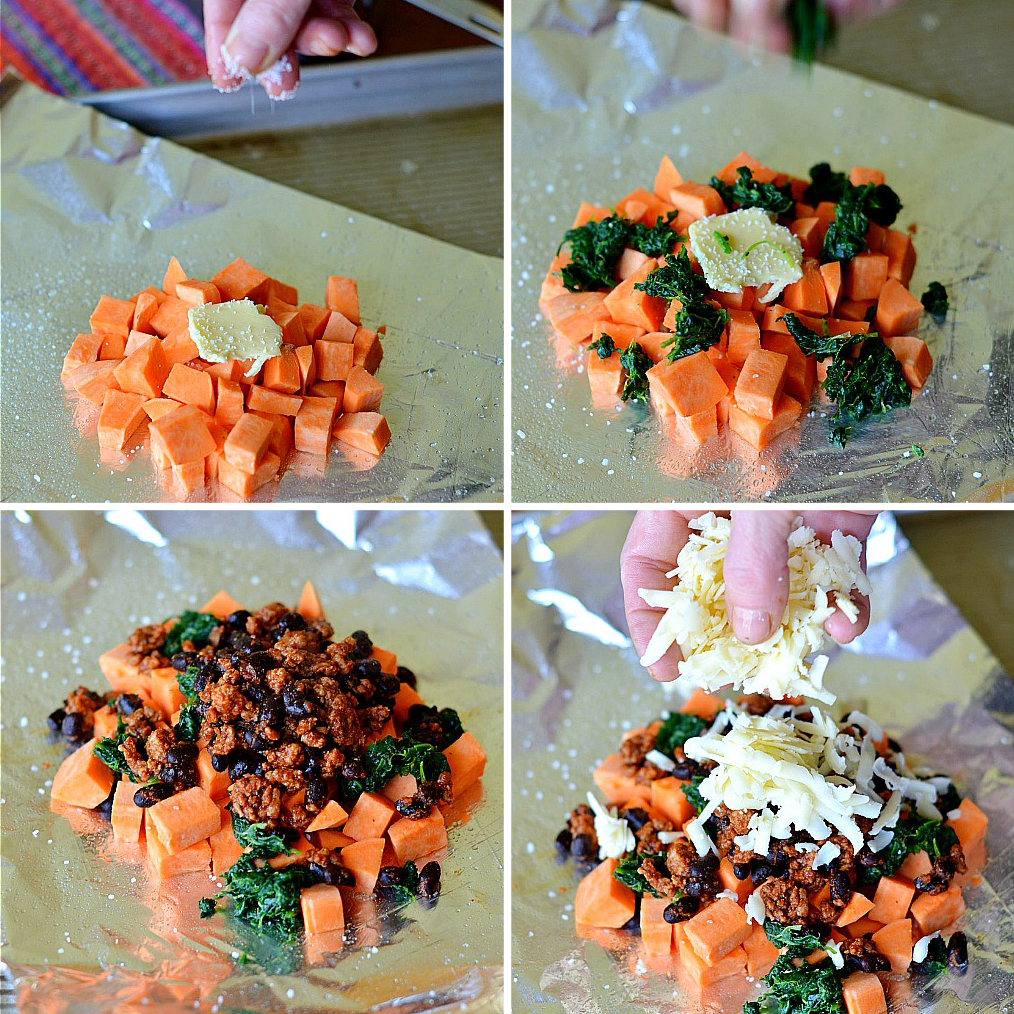 Then add a pinch of salt, followed by a portion of spinach, meat, beans, and plenty of cheese. Do you hear me? Plenty of cheese! Note: I used frozen spinach which I thawed, drained, and squeezed dry as that's what I had on hand, though the recipe calls for fresh spinach.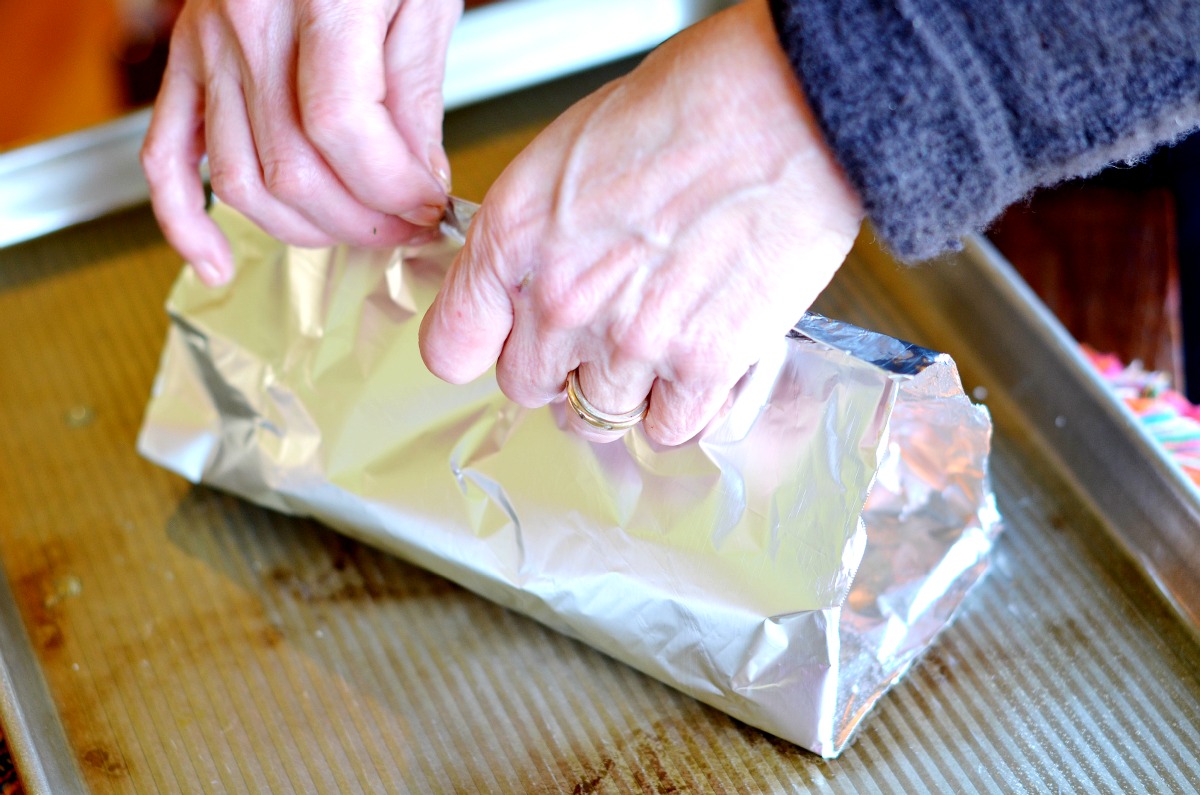 Once you've assembled your foil pack, pull together the sides and fold down. But be sure to leave a little breathing room in there!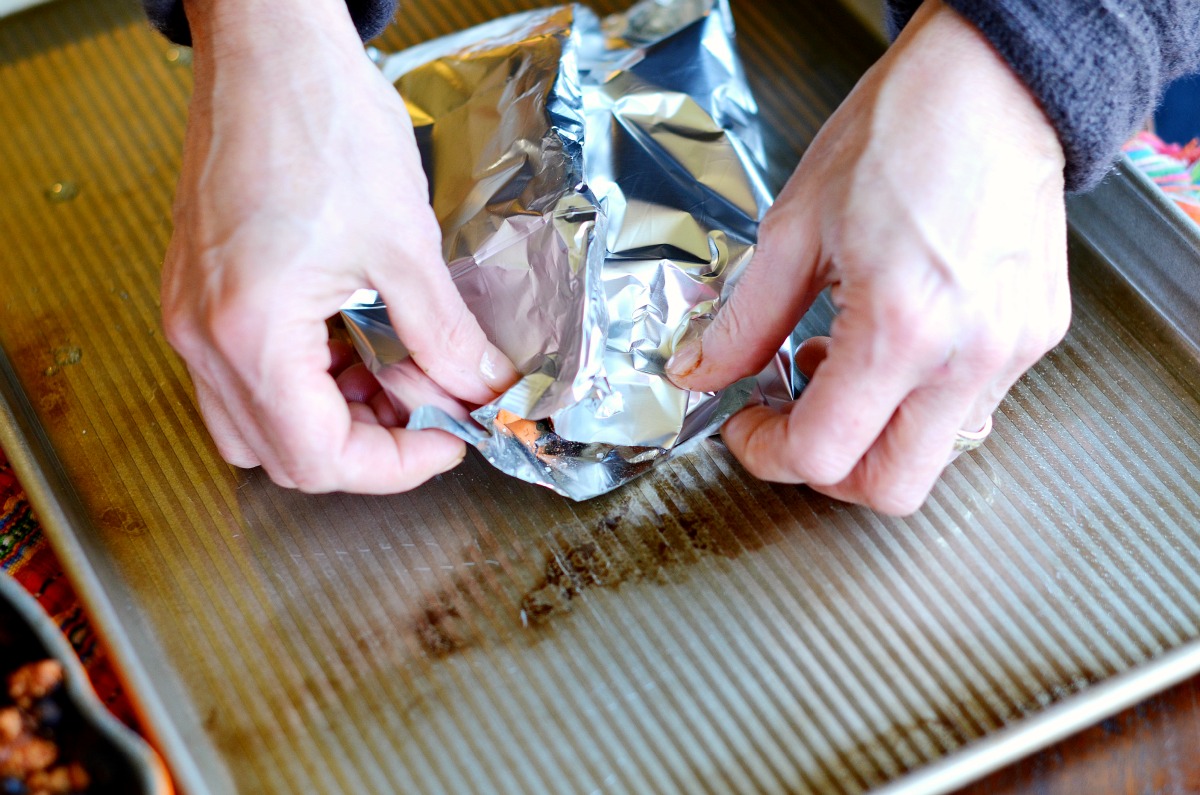 Then fold up the ends, just like wrapping a present.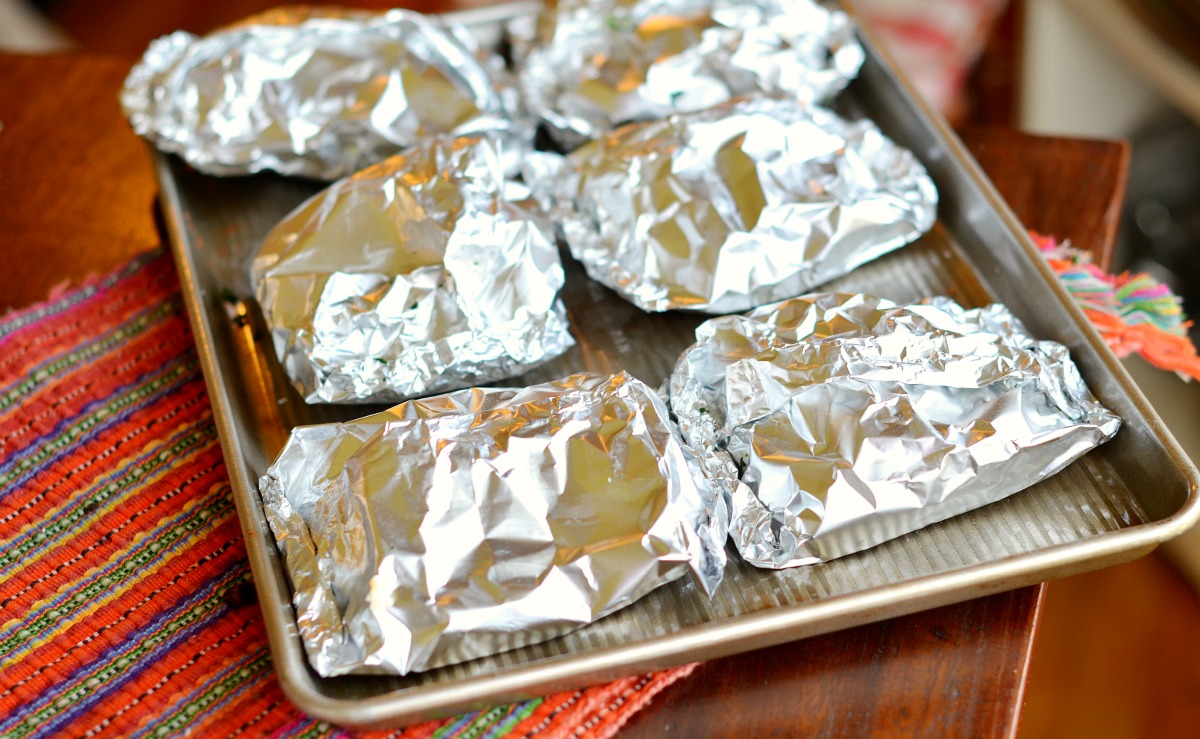 After sealing all the foil packs, place them on a rimmed baking sheet and bake for 25-30 minutes.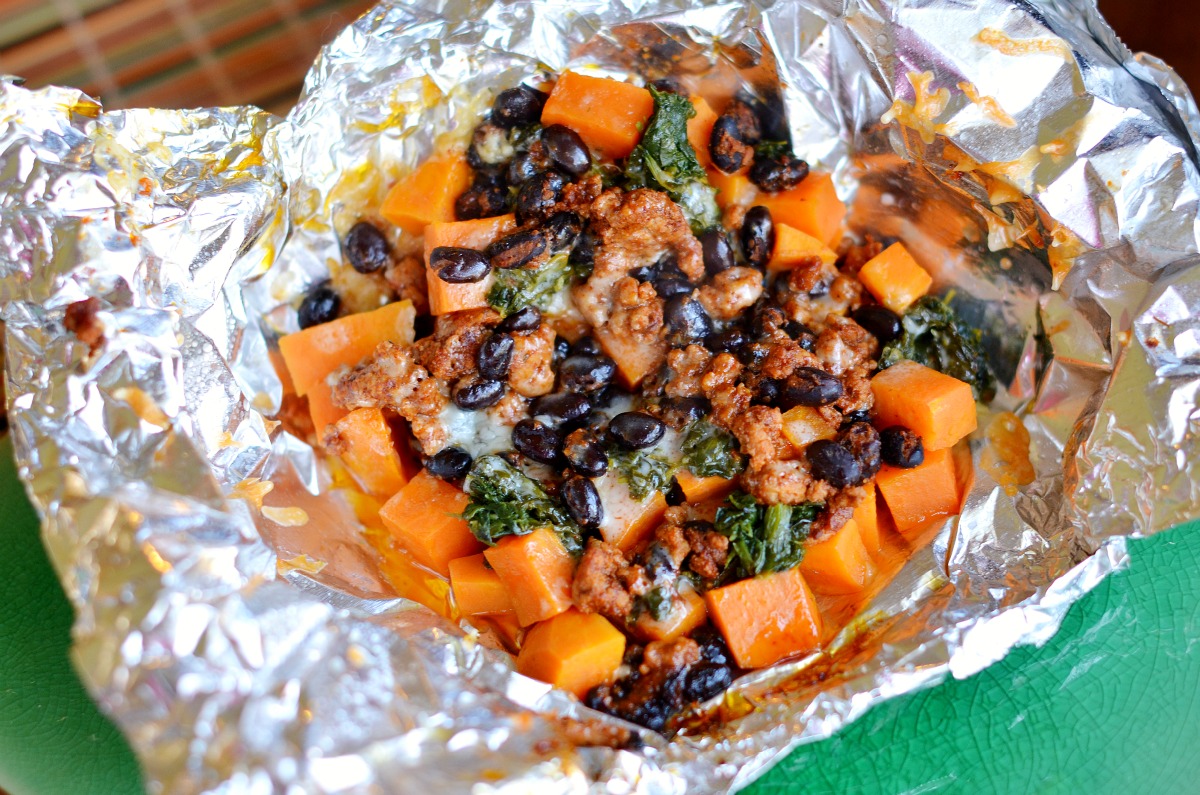 Once baked, open (being careful of any steam) … and inhale. The smell is divine!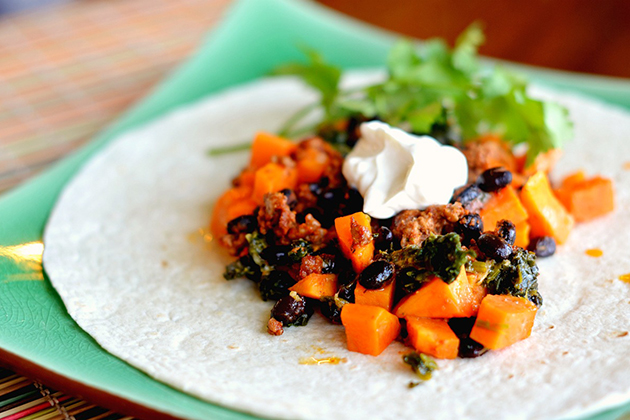 We served the foil packs on flour tortillas with a dollop of sour cream and a few sprigs of fresh cilantro.
Thanks to Natalie for this delicious weeknight recipe! I can't wait to make it again and try new variations. Do visit her blog Perry's Plate for more of her great recipes. She's always cooking up something good!
Printable Recipe
See post on Natalie | Perry's Plate's site!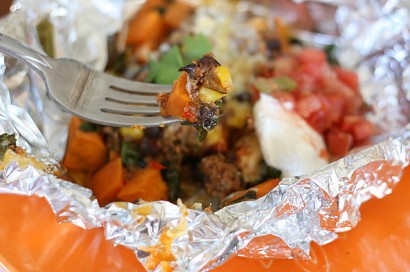 Description
Taco – tortilla + sweet potato cubes = a gluten-free alternative to tacos that your kids will adore!
Ingredients
½ pounds Ground Beef Or Turkey
2 Tablespoons Taco Seasoning
½ cups Tomato Sauce
1 can (15 Oz. Can) Black, Kidney, Or Pinto Beans, Drained
6 cups Sweet Potatoes, Peeled And Cut Into 1/2-inch Cubes
2 Tablespoons Butter
½ teaspoons Salt
1-½ cup Chopped Fresh Spinach
1-½ cup Shredded Cheddar Cheese
Sour Cream, Salsa, And/or Guacamole For Garnish
Preparation Instructions
Preheat oven to 425ºF.
Brown ground meat in a skillet over medium-high heat. Stir in taco seasoning, tomato sauce, and beans. Set aside.
To assemble packets, spray the foil with non-stick spray. Place 1 cup sweet potato cubes in the center of each piece. Top with a small piece of butter (about 1 teaspoon) and a pinch or two of salt. Sprinkle some chopped spinach over the sweet potatoes, followed by about 1/3 cup of taco meat and a sprinkle of cheese. Fold the sides in, then bring the top and bottom ends of the foil together in the center and fold, sealing the packet.
Repeat with remaining ingredients, placing the packets on a rimmed cookie sheet. Bake for 25–30 minutes, until the sweet potatoes are tender.
Serve with sour cream, salsa, and/or guacamole.
Makes 6 servings.
Note: For the taco meat, I used some leftover Hidden Veggie Chipotle Taco Meat I had in the fridge (recipe in my TK box).


_______________________________________
Three Many Cooks is the always-entertaining food blog of Pam Anderson and her two daughters, Maggy and Sharon. Pam is a well-known and much-respected food writer and author, Maggy is a "hippy adventurer meets 1950s housewife," and Sharon refers to herself as a recovering food snob learning to survive on a graduate student's budget. Theirs is a strong relationship both inside and outside the kitchen, and it shows in the food they create and the stories they tell.