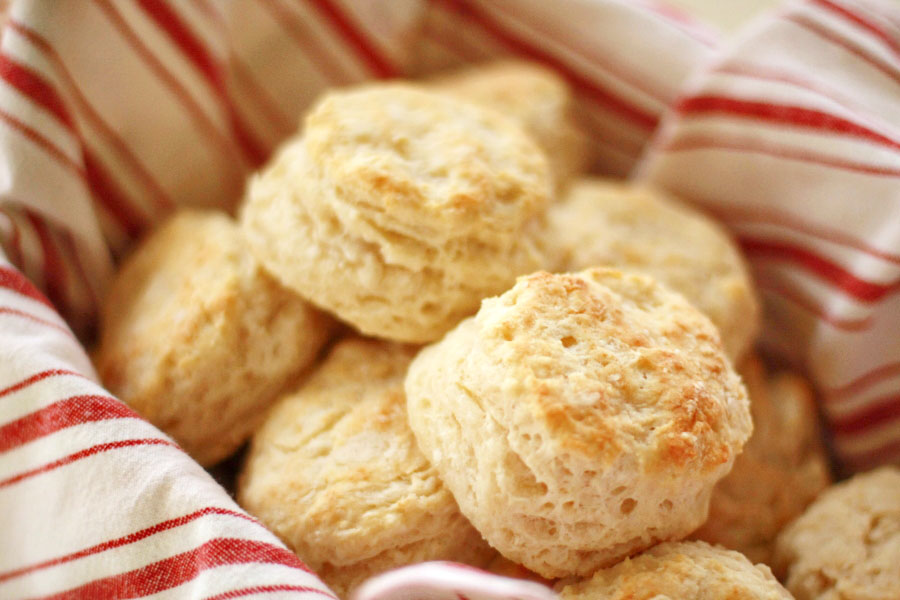 A warm biscuit is comfort food, plain and simple.
Being from the Mountain West, biscuits aren't exactly a staple at our dinner table. (My mom did make homemade buttermilk biscuits occasionally, to accompany cabbage rolls—one of my favorite childhood dinners.)
But my husband is half Southern; his mother's family is from Tennessee, and some things must be in the blood. He loves a good biscuit.
Happy to oblige his craving, I was supremely confident the first time I ever attempted biscuits. I loved mixing and rolling them and especially cutting them out with my brand new biscuit cutter.
But when my biscuits came out of the oven, they looked alarmingly flat. To my dismay (and shock), my biscuits tasted more like hockey pucks than the light, buttery biscuits I'd expected.
I'm not the sort to give up easily, so I tried several different recipes … and got varying degrees of the same result.
Biscuits are my nemesis, I decided, and I'd be better off with biscuits from a pop can, if I ever made them again.
But my failure niggled at me. It's just a biscuit after all, made from simple ingredients and simple tools. So when I spotted the recipe for Easy, Flaky, Buttery Biscuits from ranchinmom2five on Tasty Kitchen, I thought I'd attempt to make my husband happy and conquer my biscuit challenge.
The "easy" in the recipe sounded encouraging. So did the great reviews.
Here's how I finally made a biscuit worthy of serving to my family instead of the garbage pail.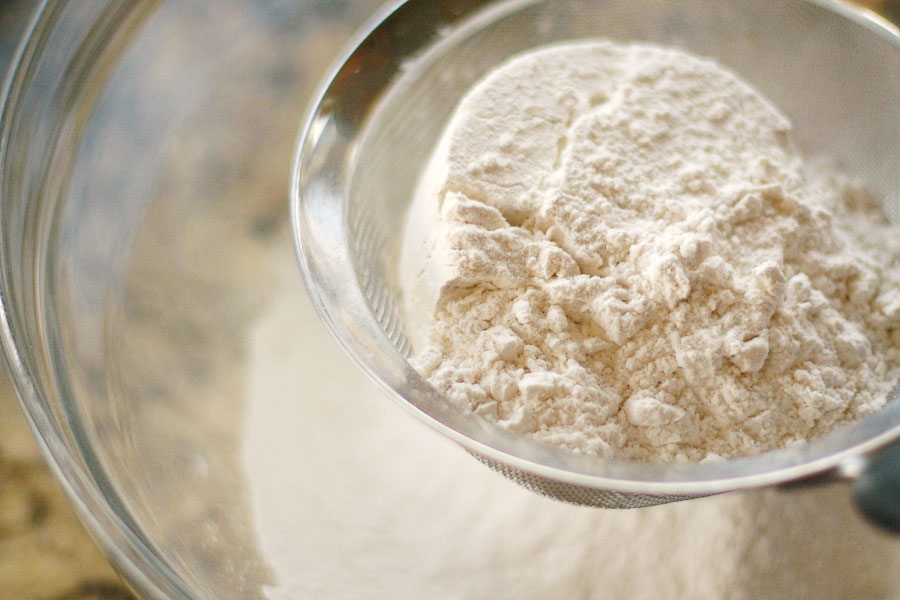 Start with all-purpose flour. The recipe does not specify sifting, but sifted flour is lighter, and I was aiming to avoid my infamous hockey pucks.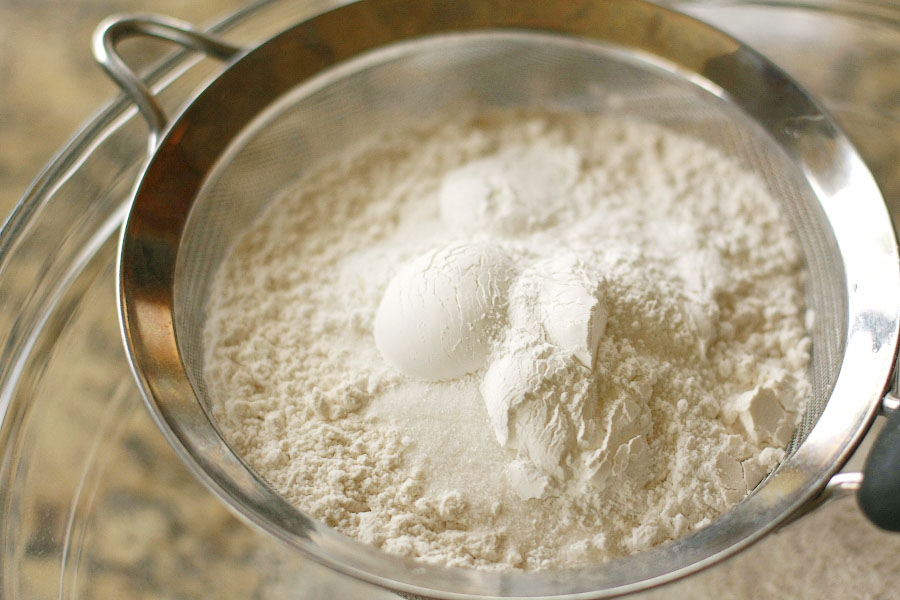 Add baking powder, sugar, cream of tartar and salt.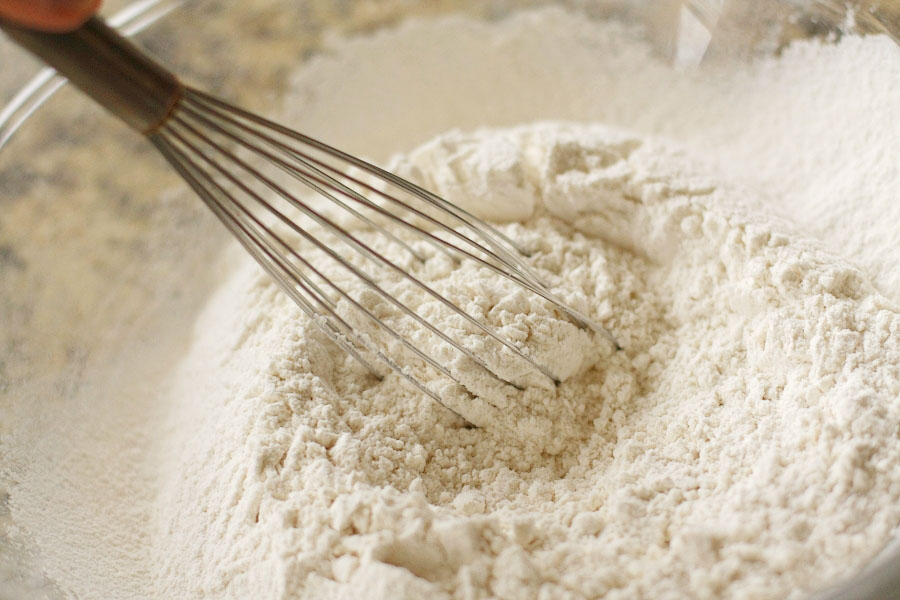 Give the mixture a good stir to make sure the ingredients are well incorporated.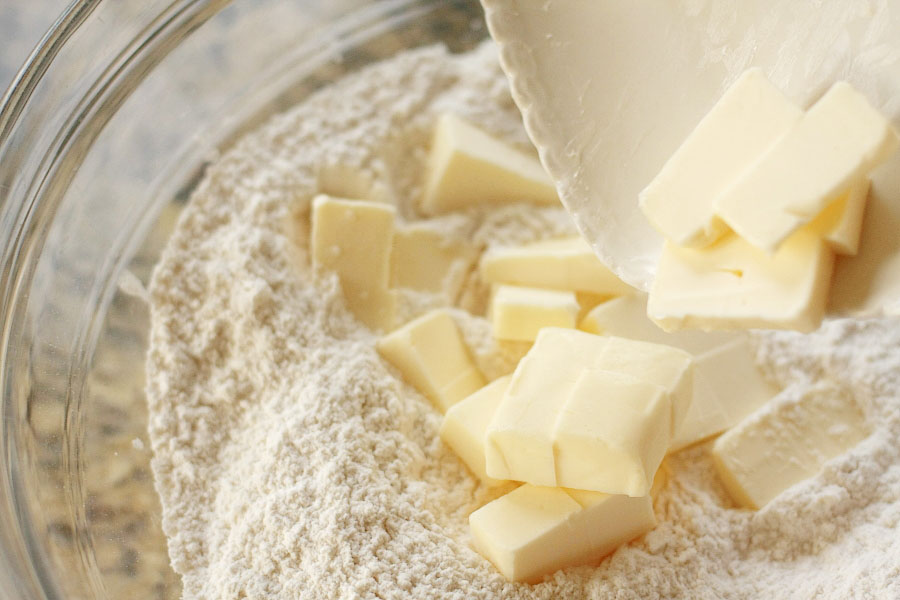 The recipe calls for cold butter. I like to cube it to make the cutting in easier. I've made this recipe several times and the last time, I substituted half of the butter for lard. It made a great recipe even better. They were my lightest, tallest, flakiest biscuits ever. If you have lard on hand, give it a try.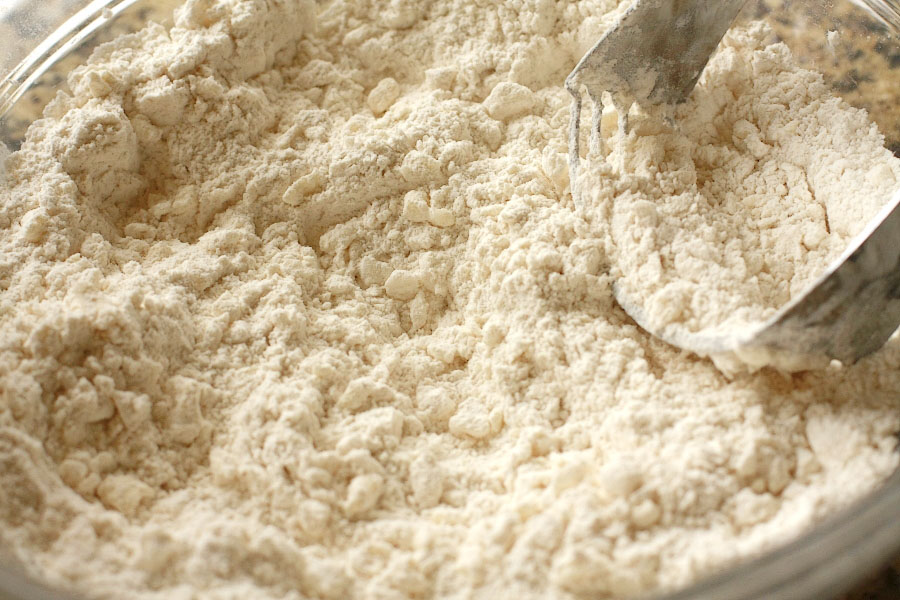 Using a pastry cutter or your hand, cut the butter into the flour until pea-sized pieces of butter remain. Don't overwork the cutting in. Just like with pie dough, this is the key to a flaky biscuit.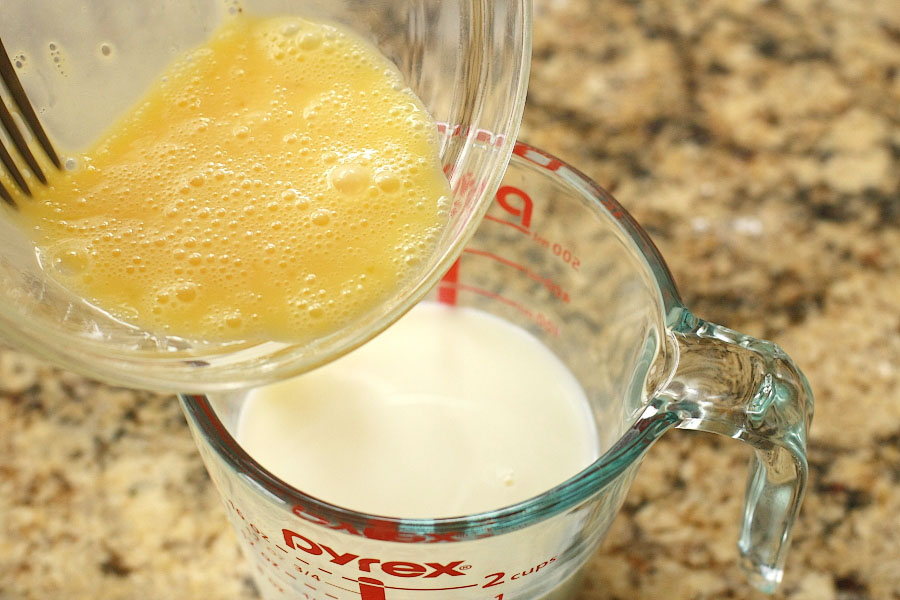 The recipe calls for milk, but I love the flavor of buttermilk. So, I substituted 1-1/4 cup buttermilk (since buttermilk is thicker than milk) for the milk.
In a small separate bowl, whisk the egg into the milk.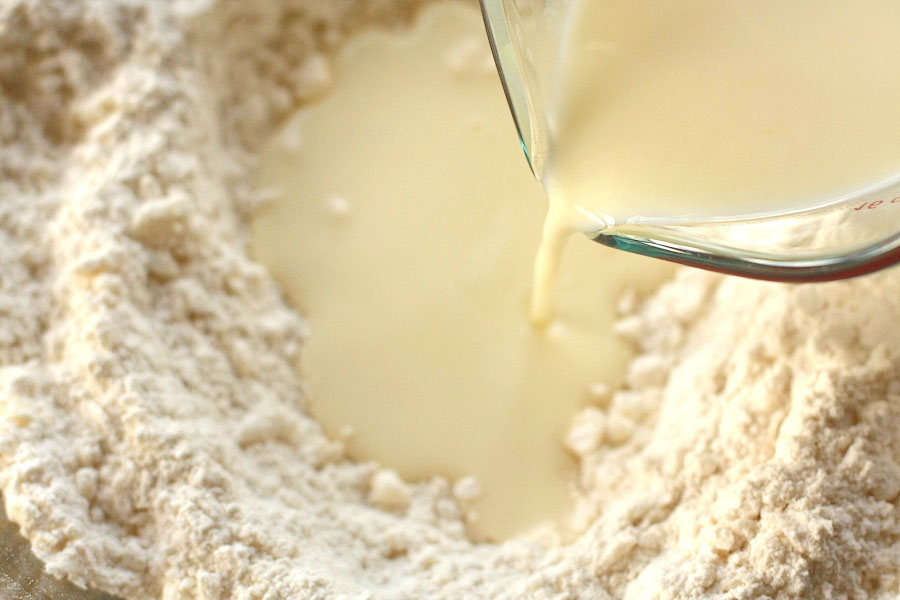 Pour the milk into the flour mixture.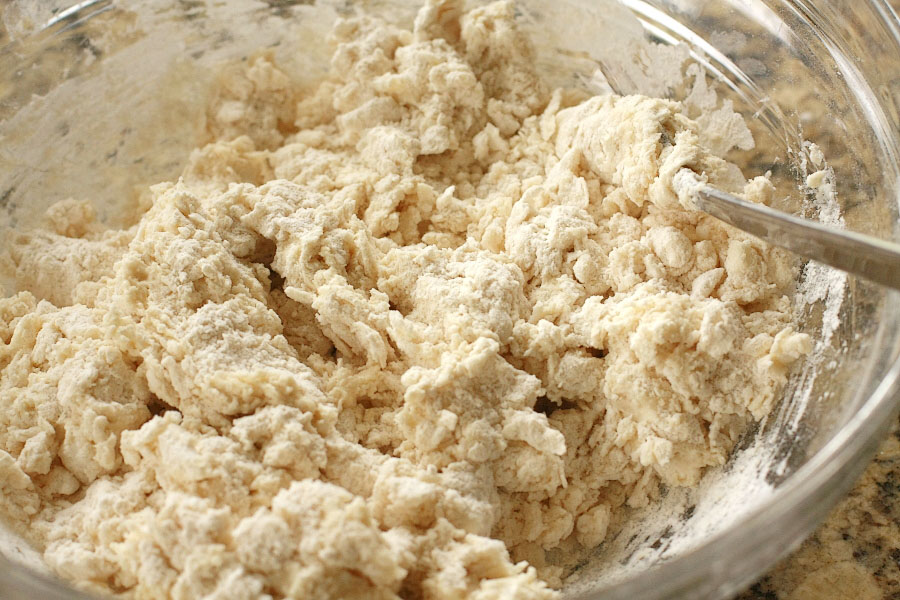 Stir together with a fork just until the mixture forms a loose ball. Again, don't over stir here. It's okay if all the flour isn't incorporated, it's going to be messy.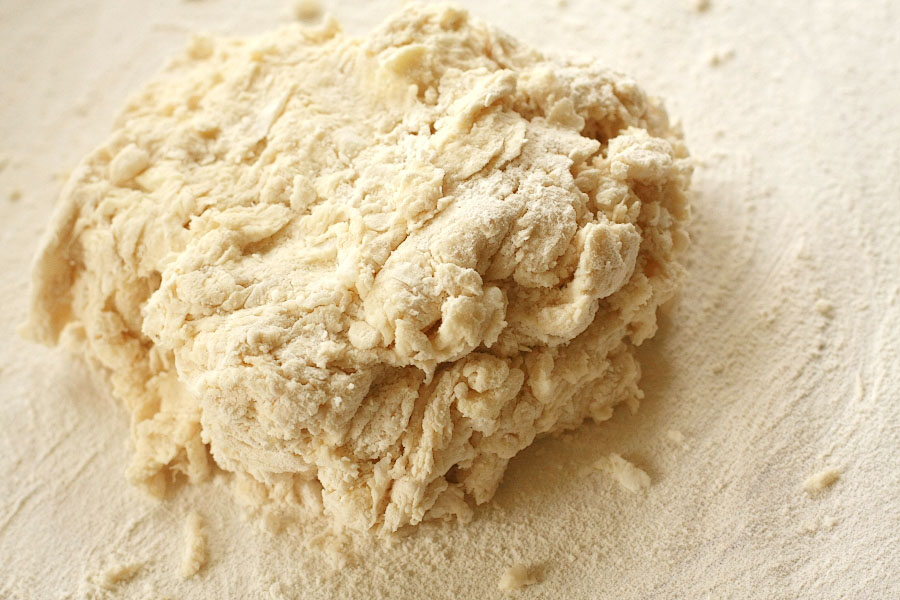 Turn your dough onto a floured counter. I'm using my favorite pastry frame instead of the counter. Knead lightly just a couple of times to form a round.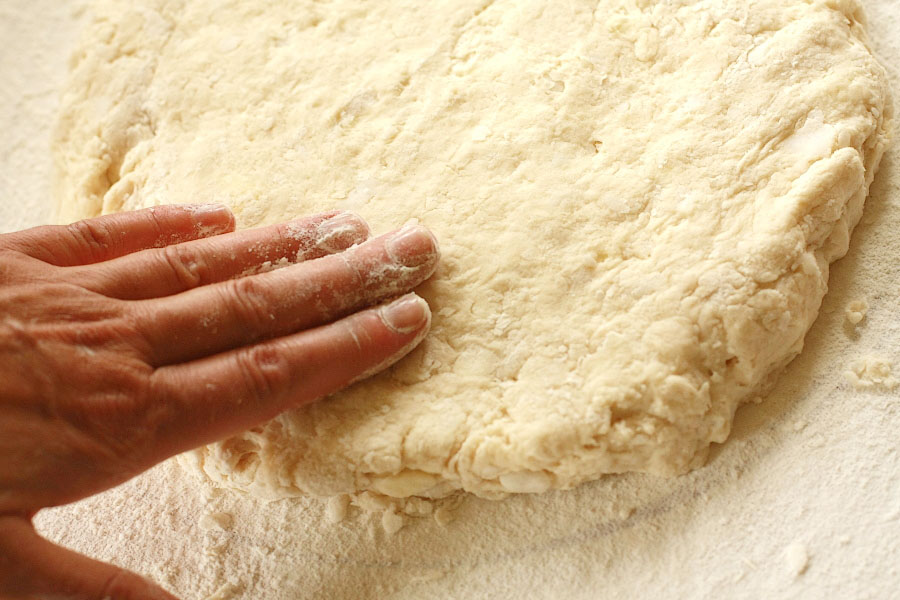 Pat down till the dough is 3/4″ thick. The recipe advises against using a rolling pin, since the biscuits will be less flaky.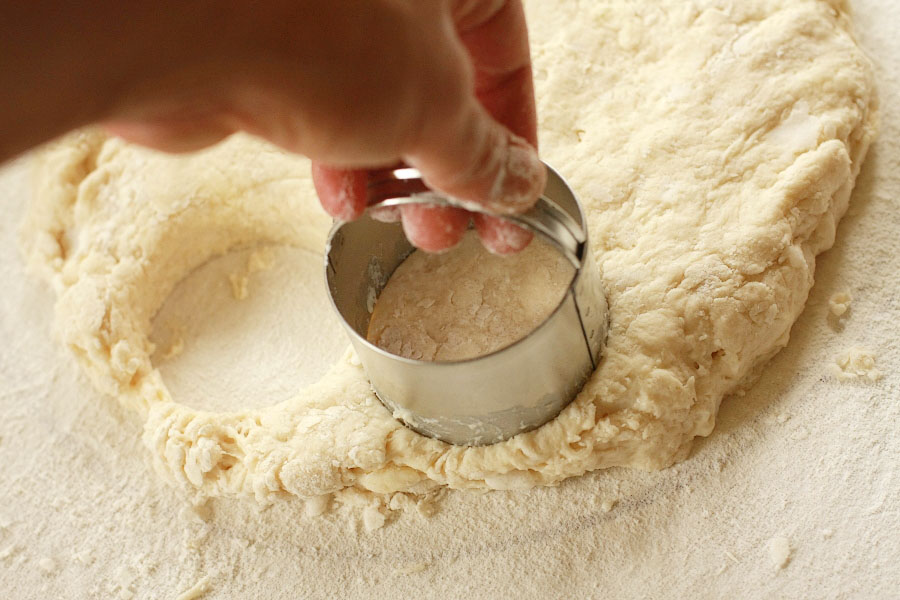 Using a biscuit cutter, cut rounds out. Here's a tip: As hard as it is to resist, don't twist the cutter when cutting your rounds. Pressing straight down without twisting helps your biscuit rise easier in the oven and keeps them light.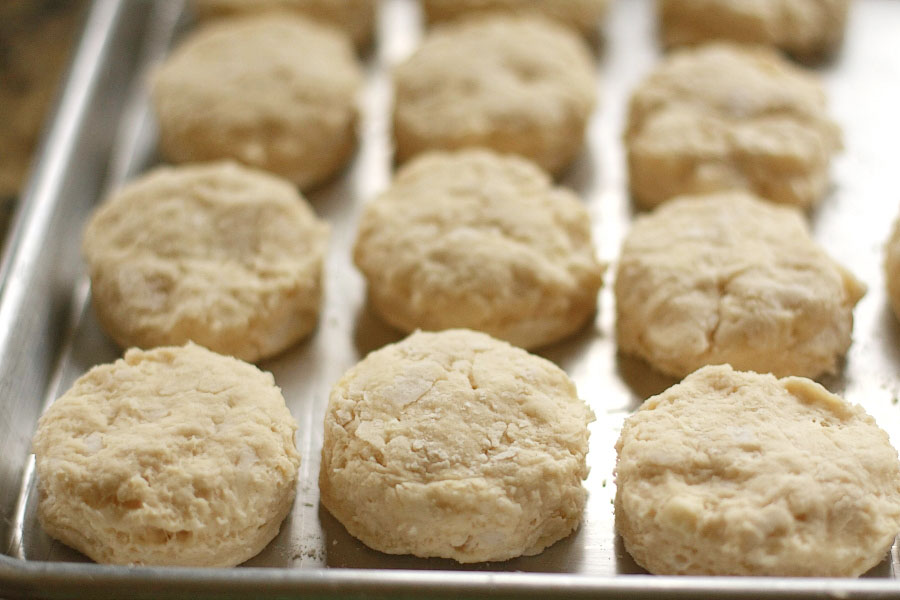 Place on an ungreased cookie sheet. The other trick I've found, after making this recipe a few times, is to crowd them a bit when placing them on the pan. They spread more when they are spaced out and are taller when more crowded.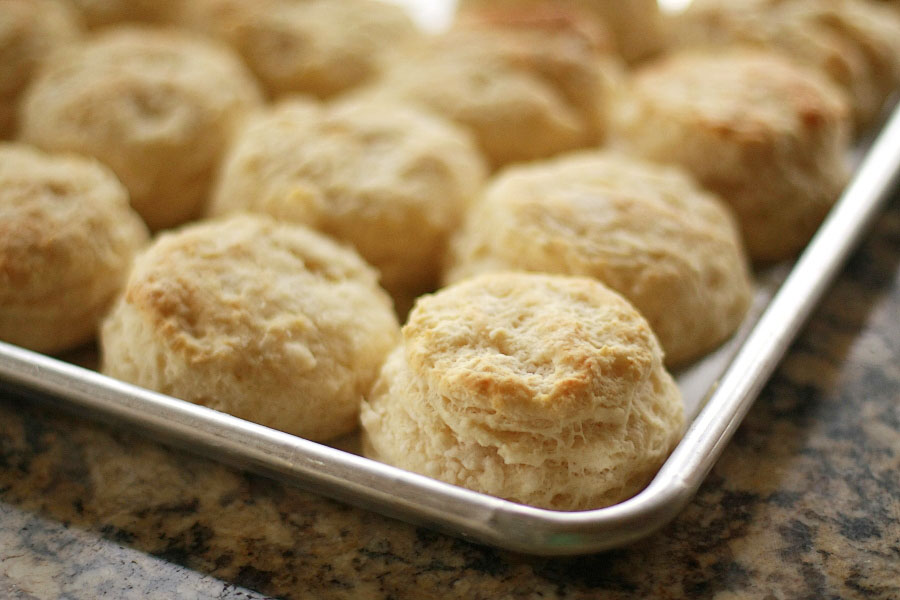 Bake at 450ºF. The recipe says for 10 -14 minutes. I cooked them for 15 -16 minutes in my oven, until they were golden brown. Rub the tops with a little butter if you are feeling sassy.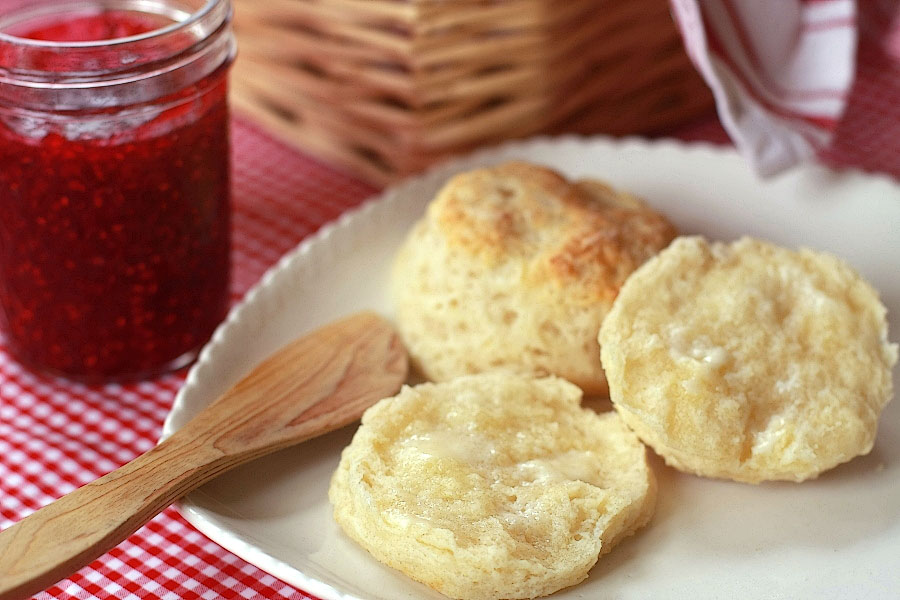 Finally I have a recipe for biscuits that I can be proud to serve! They are everything the name promises: light, buttery, flaky, EASY and good.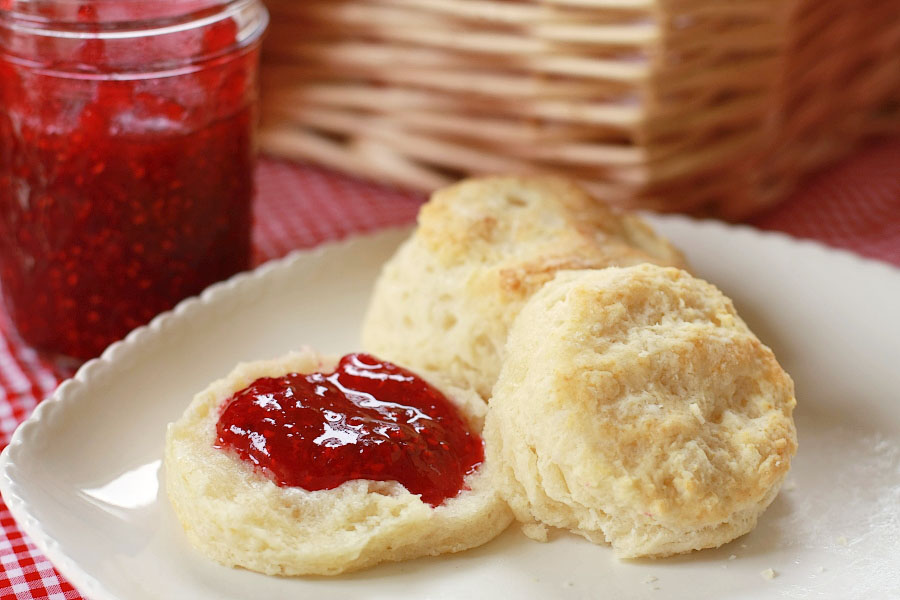 Biscuits are so quick and easy, you can whip them up in no time. They are perfect for breakfast with gravy or with butter and homemade jam. They are so fast, you can even whip them up on a weeknight.
Thank you ranchinmom2five for rescuing my baking reputation and sharing this wonderful recipe with us.
Printable Recipe
Description
These super easy biscuits are sure to please any picky crowd. Great without any toppings, or the perfect sausage gravy in the morning, or just some fresh, homemade jam!
Ingredients
3 cups Flour
4-½ teaspoons Baking Powder
2 Tablespoons Sugar
¾ teaspoons Cream Of Tartar
½ teaspoons Salt
¾ cups Butter, Cold
1 whole Egg, Slightly Beaten
1 cup Milk
Preparation Instructions
Preheat oven to 450 F.
Mix dry ingredients together in a large bowl. Cut in cold butter, until it is pea-sized. Mix egg and milk in a small bowl then pour into the dry mix. Stir together with a fork. Combine all the dry mix with the wet mixture until it forms a soft ball.
Turn out onto a floured counter. Pat down until it's about 3/4″ thick (rolling will keep it from being flaky so use your hands). Using a biscuit cutter (or whatever you have handy), cut biscuits out and place on an ungreased pan.
Bake for 10-12 minutes until golden and beautiful. Perfect for soups, breakfast, or just a yummy snack! Enjoy!
Please note: we live at 8500 feet, so I do add a little more flour—just enough for a soft dough—than the recipe calls for, and bake these closer to 14 minutes.


_______________________________________
Calli is truly a woman of many talents, from cooking, sewing, crafts, beautiful photography and gardening. Her blog, Make it Do is a treasure trove of recipes, household tips, crafts projects, sewing patterns … you name it. It's also peppered with photos of her beautiful kids. Go visit her site, and visit it often. There's always something new to learn there!