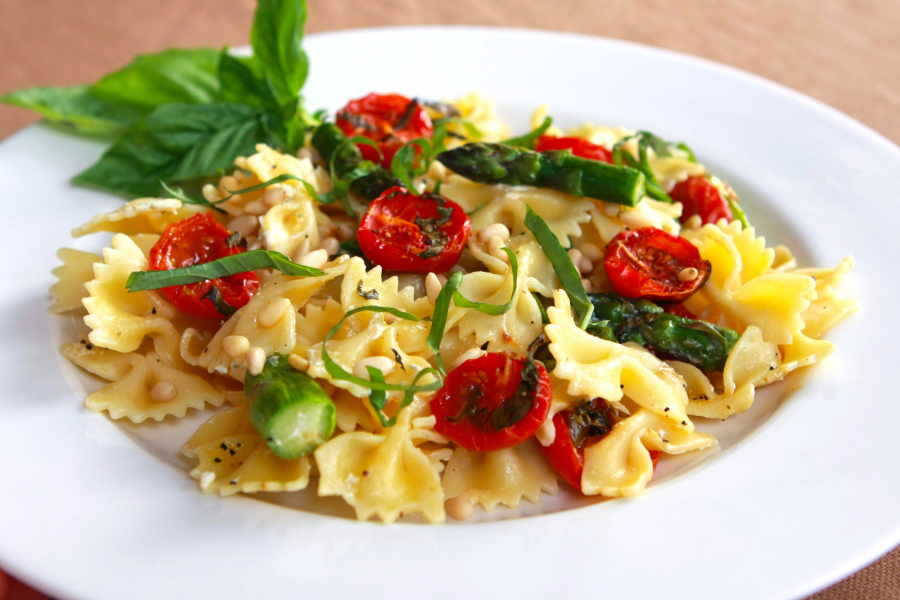 Ask my nine-year-old daughter what she wants for dinner and nine times out of ten the answer will be, "Bow Tie Pasta." What can I say, she is a very reliable girl.
As a mom, I find myself cooking foods that appeal to my husband and me, and I don't cater to the kids a whole lot. I hope that doesn't make me a bad parent. Luckily, my kids are pretty good eaters (maybe from necessity). But that doesn't mean I don't look out for the foods I know they love, especially when it's something we all can agree is delicious.
Because of my daughter's little obsession, I usually check out Bow Tie Pasta recipes when they catch my eye. When I saw the recipe for Bow Tie Pasta with Oven Dried Tomatoes, Asparagus, and Boursin from Tasty Kitchen member barefootbelle, I knew I had to give it a try.
Asparagus, oven dried tomatoes, pine nuts and Boursin … hold the phone, did you it just say Boursin?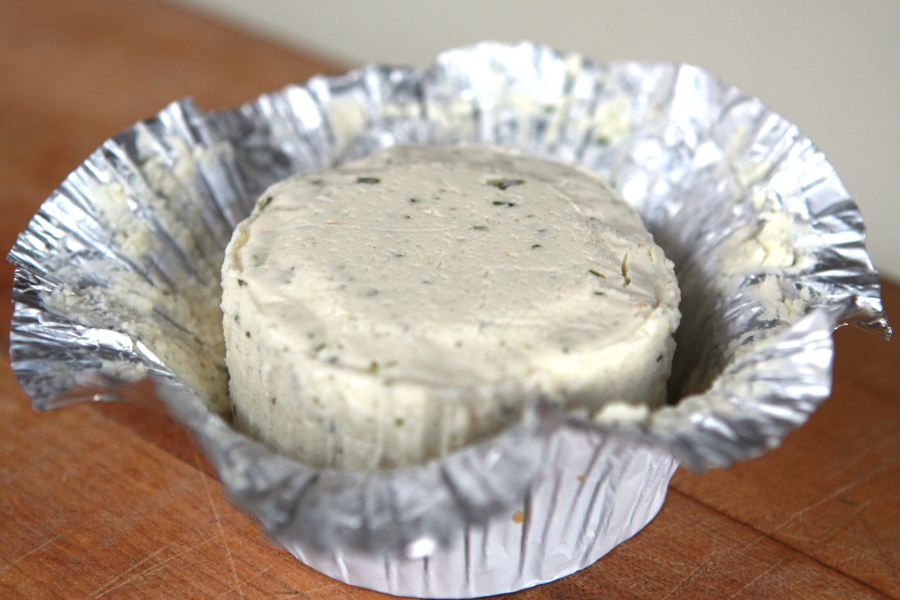 Oh me, oh my. How I love Boursin.
"Yes sweetie, I'd be happy to make Bow Tie Pasta for dinner tonight."
This is an easy recipe, but not one you can throw together at the last minute. The oven dried tomatoes take 3 1/2 hours. So you'll need to plan ahead. Despite the time involved, it's the oven dried tomatoes that totally stole the show for me. They have such a lovely sweetness and concentration of flavors.
Here's how I made barefootbelle's lovely Bow Tie Pasta: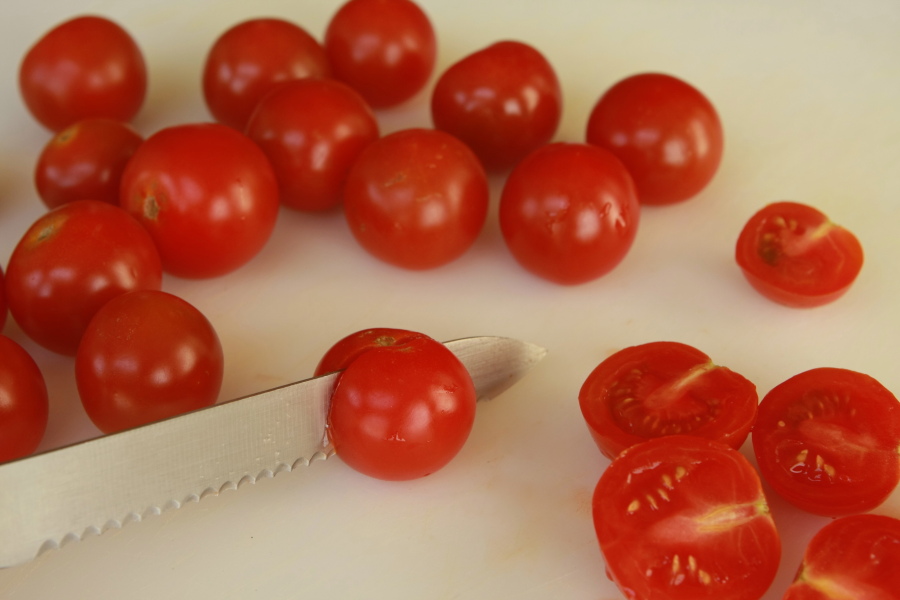 Start with cherry tomatoes. I think grape tomatoes would be delicious, too. Do yourself favor and make more than the recipe calls for. They are so yummy you'll want some for a crostini or for crackers with cheese (Boursin anyone?), or even eaten straight off the pan.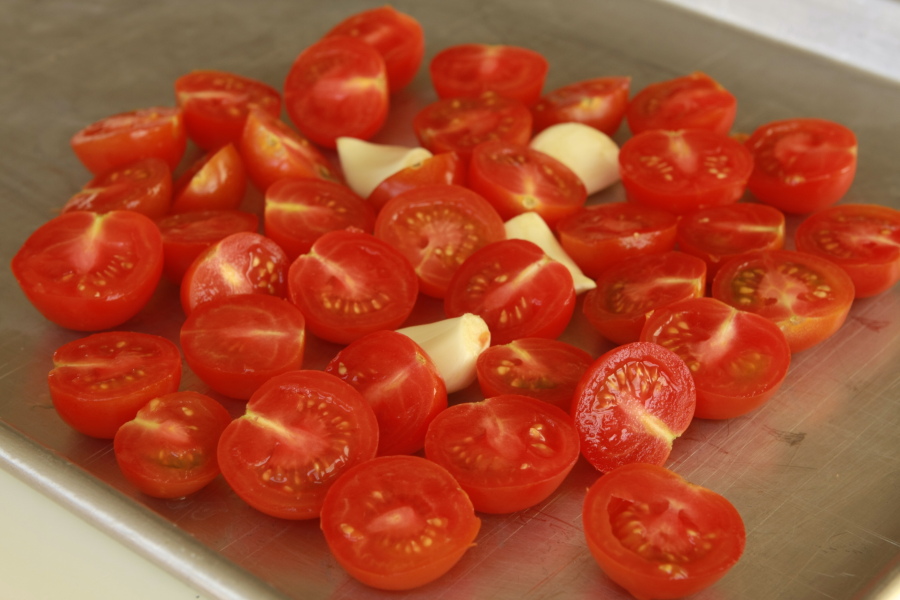 Halve the tomatoes and place them on your baking sheet facing up and tuck in the whole cloves of garlic. They slow cook until their flavor is mild, creamy and delicious.
Drizzle them with oil, pepper, a pinch of salt, and a pinch of sugar.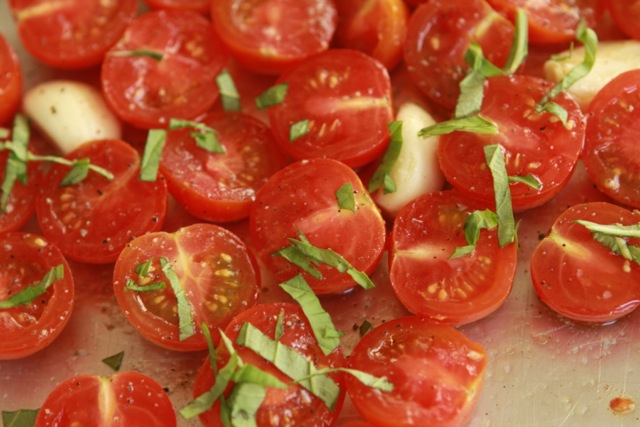 Sprinkle on some fresh chopped basil.
Throw the whole thing in the oven for 3 1/2 hours. It's a long time, but there is an upside: your kitchen will smell like a great Italian restaurant all afternoon.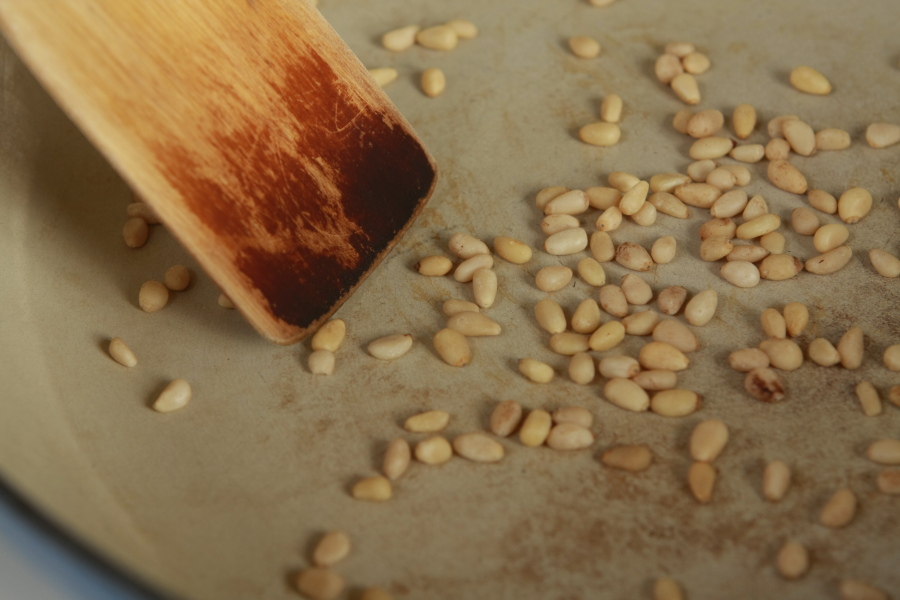 In a hot pan, toast the pine nuts until fragrant. That's my rule of thumb with any nuts. Cook 'em until they smell nice.
Cook your pasta in well-salted water. Since my husband doesn't like pasta cooked TOO al dente, I cooked my pasta according to the package instructions, and not the eight minutes recommended on the recipe. I think good Italian pasta takes a little longer anyway. Even after heating everything in the pan at the end, the pasta tasted perfectly cooked and not mushy. Be sure to reserve 2/3 cup of the pasta water before you strain it all away.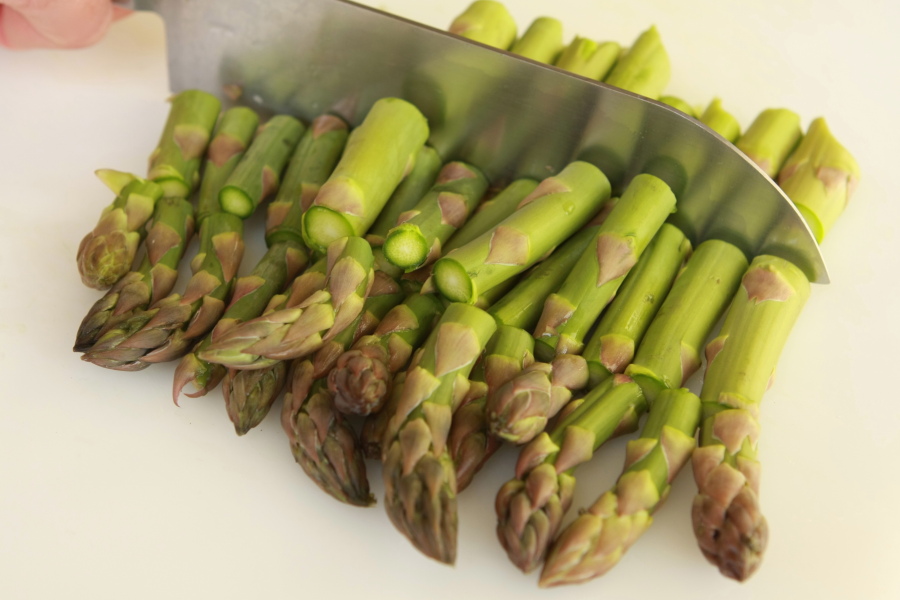 Here's where I departed a bit from the text. The recipe calls for the asparagus to be cooked in the last two minutes, boiled with the pasta. While I'm sure that would work just great, I love the flavor of roasted asparagus, so I chopped up my asparagus into bite-sized pieces …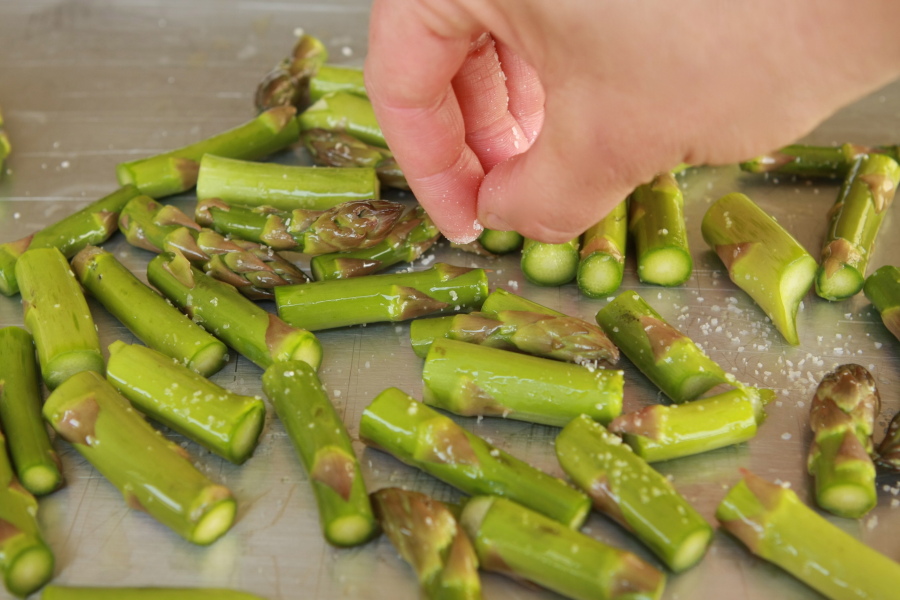 And I tossed them on a baking sheet, drizzled with olive oil, salt and pepper, then roasted at 400ºF until tender crisp, about 8 minutes depending on the size of your spears.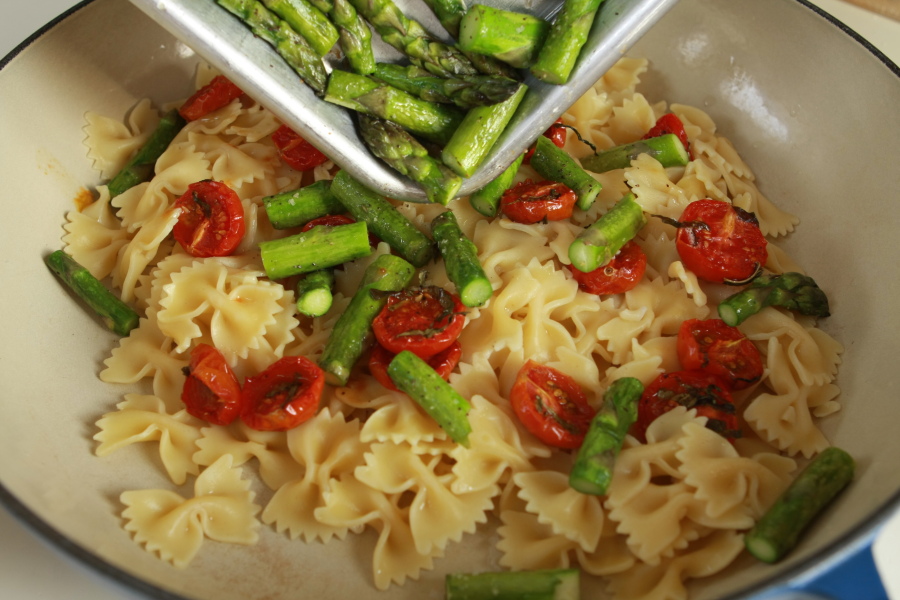 Now it's time to toss it all together. In a large pan, heat the olive oil over medium heat. Add the garlic. The recipe doesn't mention it, but I minced mine. Add the tomatoes to warm them. Add the pasta, asparagus and the reserved water. Toss to combine.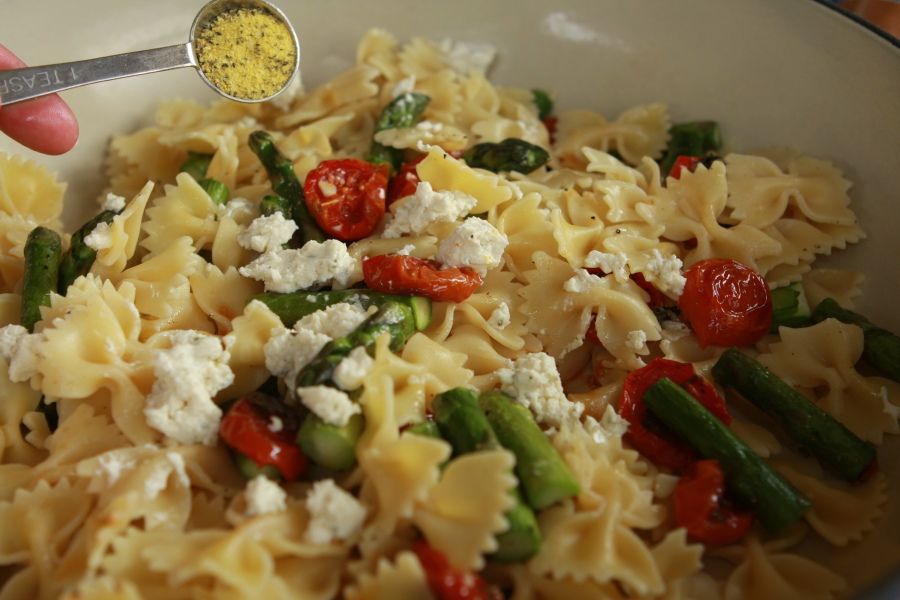 Pinch and drop the Boursin into the pan. Add the lemon pepper and pine nuts.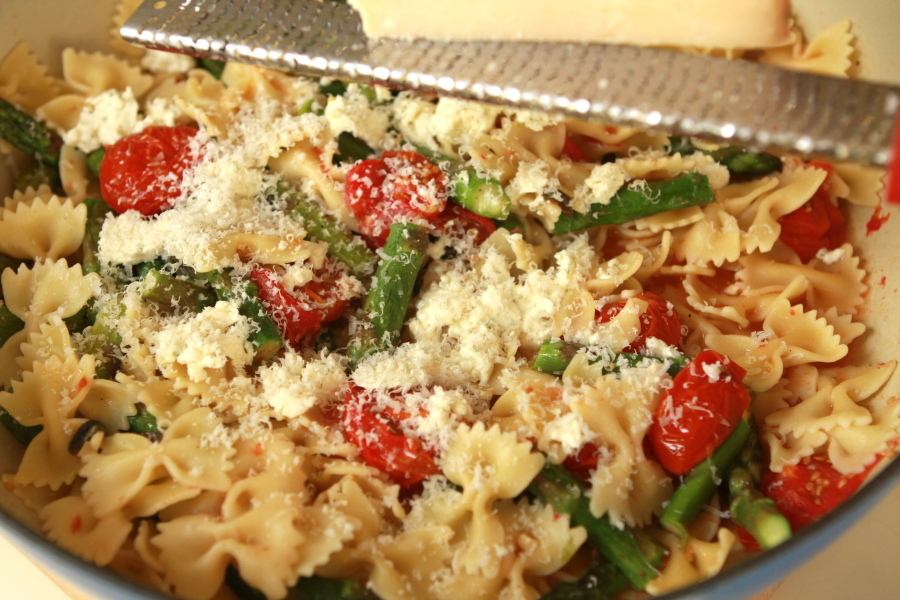 Sprinkle in the Parmesan cheese. Then season with salt and pepper to taste.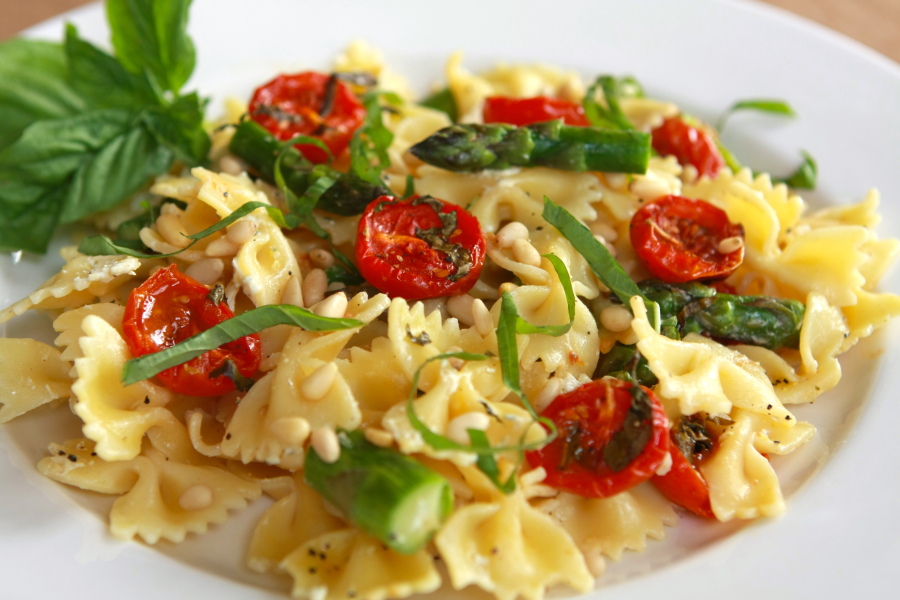 Enjoy! The pasta is great combination of flavors, and feels fresh and springy. I think I mentioned that I loved the oven dried tomatoes; they are amazing. I also love what the lemon pepper does to give the pasta a lighter zip. This is a meal that makes me and my girl very happy.
Thank you Dorothy for sharing all of your wonderful recipes! Be sure to check out Dorothy's wonderful TK recipe box and her blog Belle of the Kitchen. And have you read her Tasty Kitchen feature yet? You'll fall in love with her even more.
Printable Recipe
See post on barefootbelle's site!
Description
This fresh dish hits the spot for a springtime dinner.
Ingredients
FOR THE OVEN DRIED TOMATOES:
12 whole Cherry Tomatoes, Halved
3 cloves Garlic
1 teaspoon To 2 Teaspoons Olive Oil
1 pinch Sugar
1 pinch Kosher Salt
Freshly Ground Pepper
4 leaves Basil, Julienned
_____
FOR THE PASTA:
⅓ cups Pine Nuts
8 ounces, weight Bow Tie Pasta
1 bunch Asparagus, Ends Trimmed And Cut Into 2-3 Inch Pieces
1 Tablespoon Olive Oil
3 cloves Roasted Garlic (from The Above List), Chopped
12 whole Oven Roasted Cherry Tomatoes (from The Above List)
1 Tablespoon Fresh Basil, Julienned
¼ cups Grated Parmesan Cheese
¼ cups Garlic And Herb Boursin Cheese, Crumbled (a Good Herbed Goat Cheese Will Work, Too)
¾ teaspoons Lemon Pepper
Kosher Salt And Pepper
Preparation Instructions
For the oven-dried tomatoes:
Preheat the oven to 225 degrees. In a small baking pan (I used a round cake pan), place the cherry tomato halves, cut side up. Drizzle with olive oil, sprinkle with sugar, salt and pepper. Sprinkle with basil. Tuck the garlic cloves in between the tomatoes. Bake for 3 1/2 hours. The tomatoes should be shriveled, but still have some moisture. Refrigerate the tomatoes and garlic until ready to use.
For the pasta:
Place a medium saucepan over medium heat. Cook the pine nuts in the dry skillet, shaking or stirring the pan constantly, until the pine nuts are slightly brown on all sides. Remove to a bowl.
In the same saucepan, bring six cups of well-salted water to a boil. Add the pasta and cook for 8 minutes. Add the asparagus and cook for two more minutes. Reserve 2/3 cups pasta water and drain the pasta and asparagus in a colander.
In the same saucepan, heat the olive oil over medium heat. Add the roasted garlic and cook for 30 seconds, then add the roasted tomatoes to warm through. Add the pasta, asparagus and reserved water, tossing to combine. Add the basil, cheeses, lemon pepper, and pine nuts. Toss everything together and taste for salt and pepper.


_______________________________________
Calli is truly a woman of many talents, from cooking, sewing, crafts, beautiful photography and gardening. Her blog, Make it Do is a treasure trove of recipes, household tips, crafts projects, sewing patterns … you name it. It's also peppered with photos of her beautiful kids. Go visit her site, and visit it often. There's always something new to learn there!