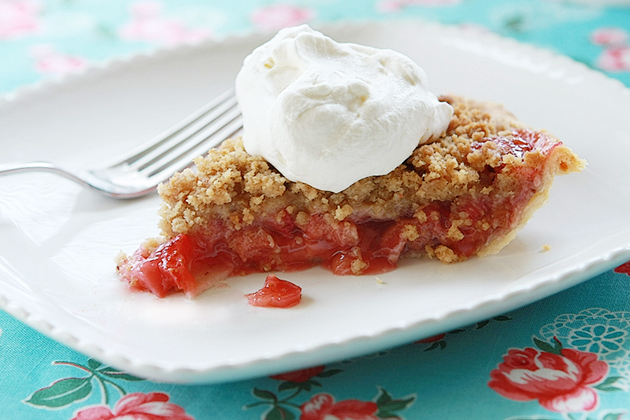 Growing up, I had a next-door neighbor named Laverne. She was a grandmother, a wonderful cook, and kept a large backyard garden. Every year in late spring, Laverne would call over the fence and invite me for a slice of her fresh baked rhubarb pie, topped with melting vanilla ice cream.
The rhubarb was fresh from her garden; the crust was made from scratch. I'm not sure who was more delighted, me with my slice of pie, or Laverne, knowing how much I loved it.
Despite my early love affair, I had never tried to make rhubarb pie, until I saw the recipe for Strawberry Rhubarb Pie with Streusel Topping from Melanie of Mel's Kitchen Cafe on Tasty Kitchen. Seeing the recipe evoked warm memories of Laverne's kitchen and the lovely sweet tartness of her pie. As soon as I could find fresh rhubarb this spring, I made Melanie's pie.
Was it good? Did it live up to my fond memories? Good doesn't begin to describe it. This pie is heavenly! It's right up there among my favorite pies of all time.
It's also easy. Easy as pie, really. So if you love the combination of sweet and tart, here's how to make Melanie's pie: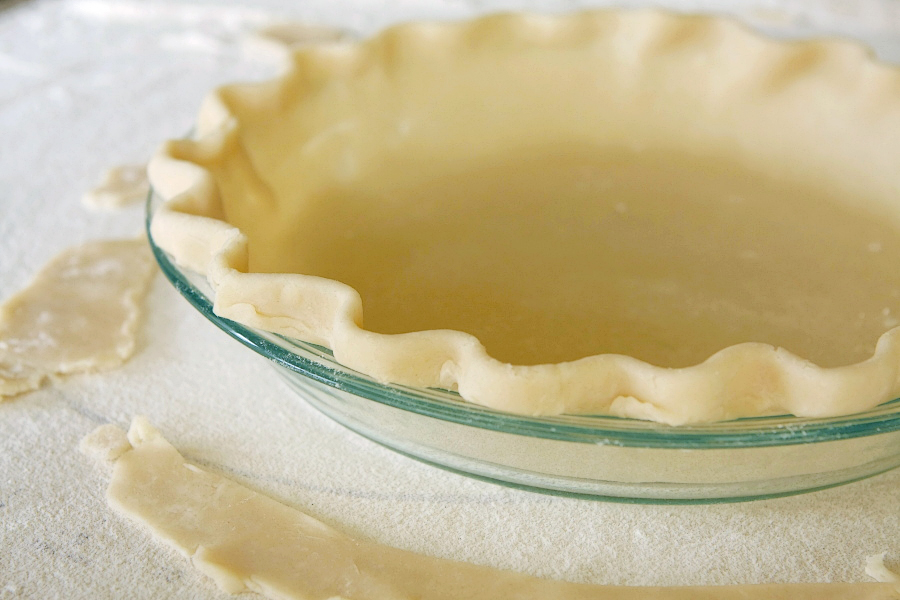 Start with your favorite uncooked 9″ to 9.5″ pie crust. You can pick one up in the freezer section at the store, or better yet, make your own from scratch. It's not hard once you've had a little practice. My homemade crust never looks perfect, but store bought just can't match the flaky goodness of homemade.
Once you've rolled out your crust, pop it in the refrigerator until you're ready to fill and bake.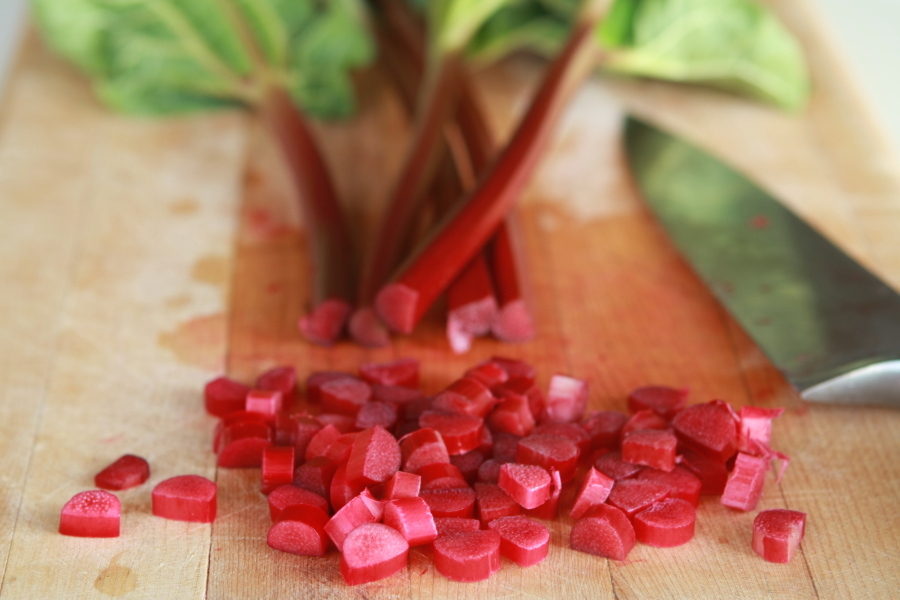 Chop up your rhubarb, just like celery.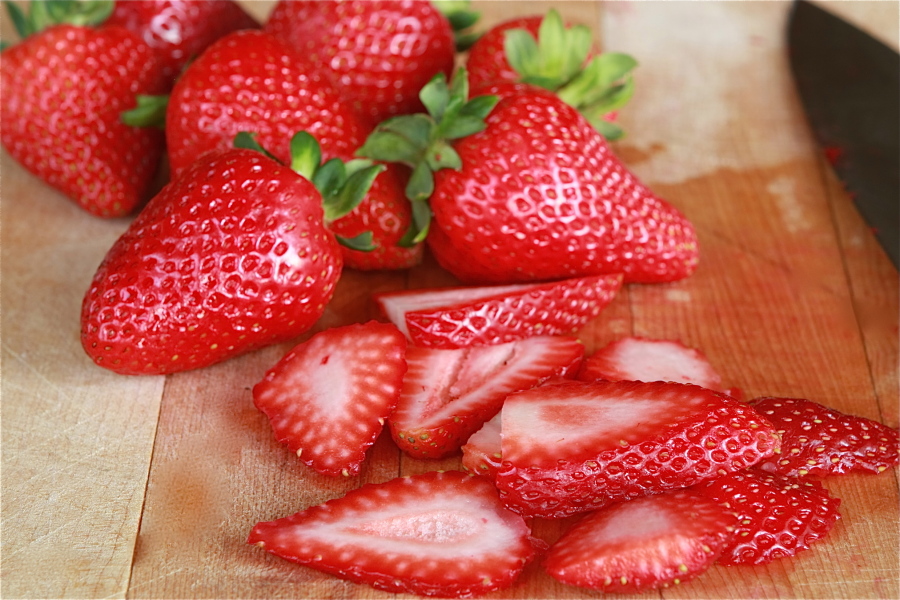 Slice your strawberries.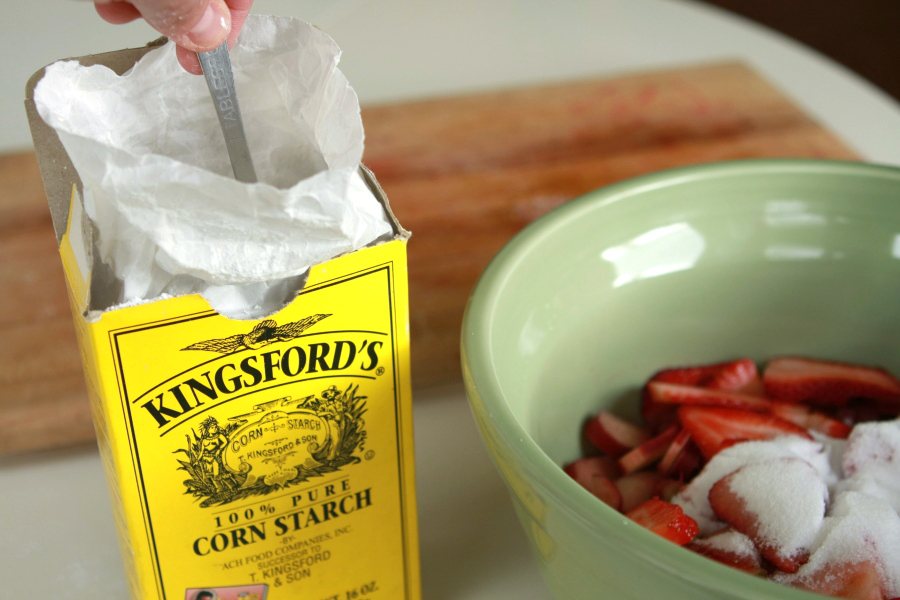 Add the rhubarb and strawberries into a mixing bowl, along with sugar and cornstarch. The cornstarch is the reason this pie is so pretty when cut and served. Many delicious pie recipes taste amazing, but are messy to serve. Not this pie; it holds together nicely.
Stir together until it looks thick and syrupy. The sauce that forms is a lovely shade of pink.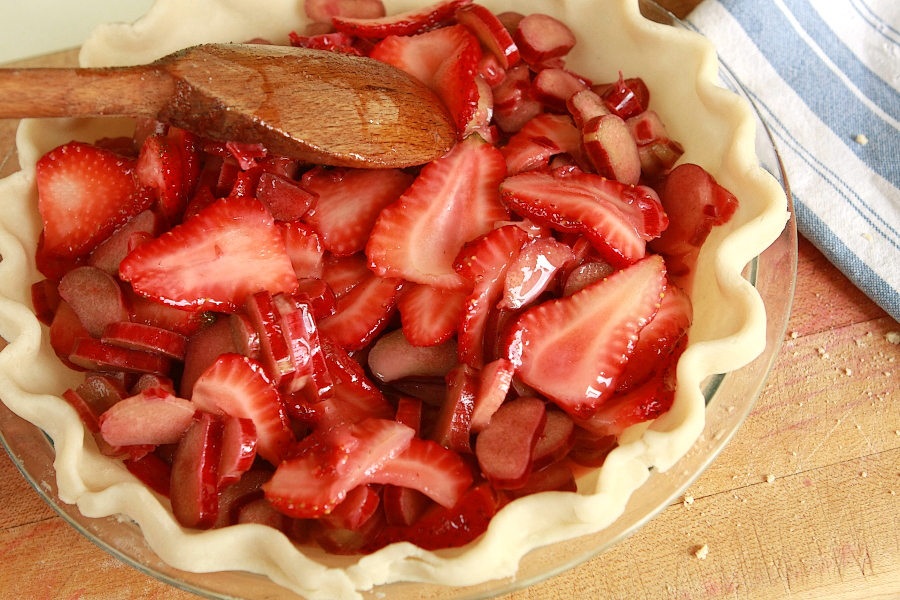 Pour the fruit mixture evenly into your unbaked pie shell.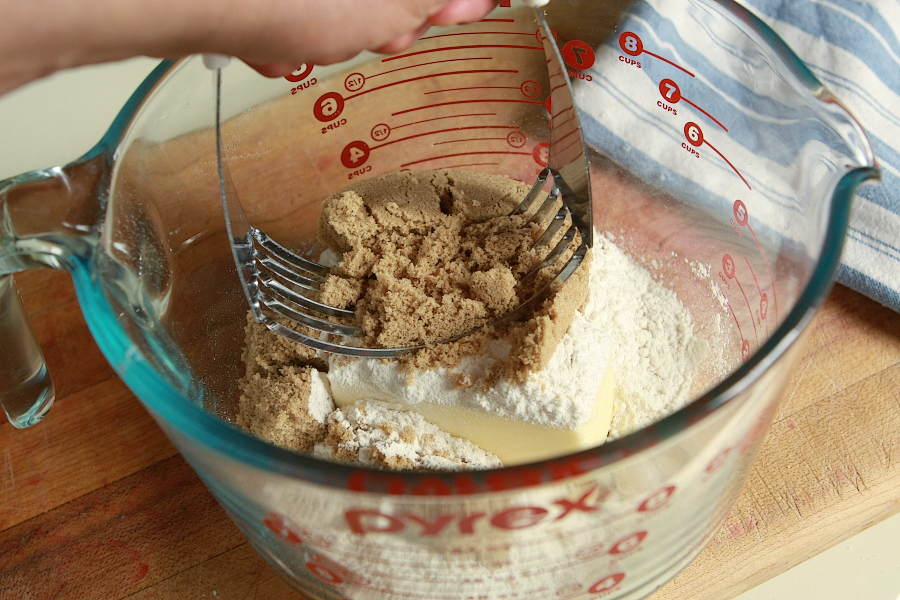 For the streusel top, add one cube of butter, flour and brown sugar into a mixing bowl. Why does everything I love have a cube of butter?
Cut the butter into the flour and sugar using a pastry cutter. You could make do with two knives. But do yourself a little favor and pick up a pastry cutter at the grocery store for a few dollars. It'll be worth its weight in pie.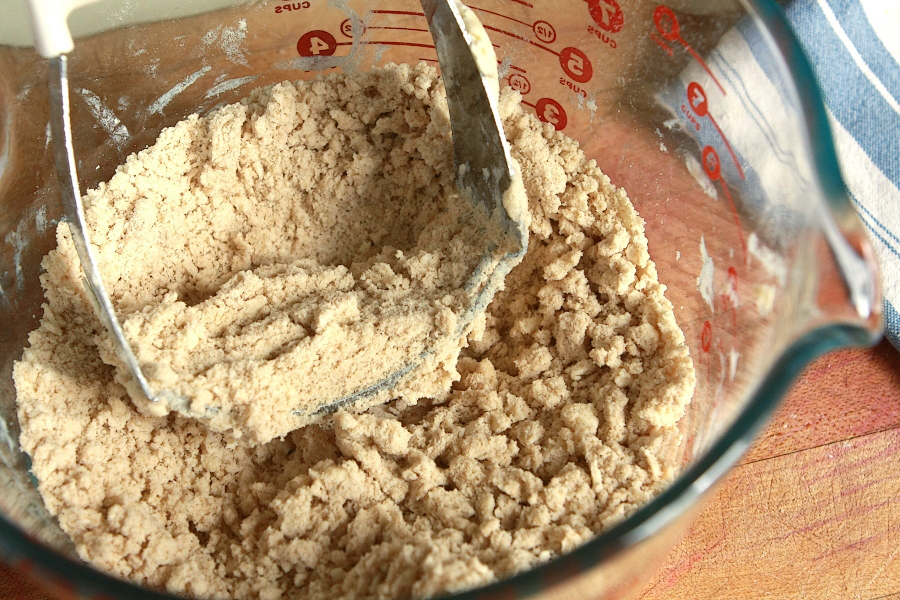 Cut in the butter until it has the consistency of coarse crumbs.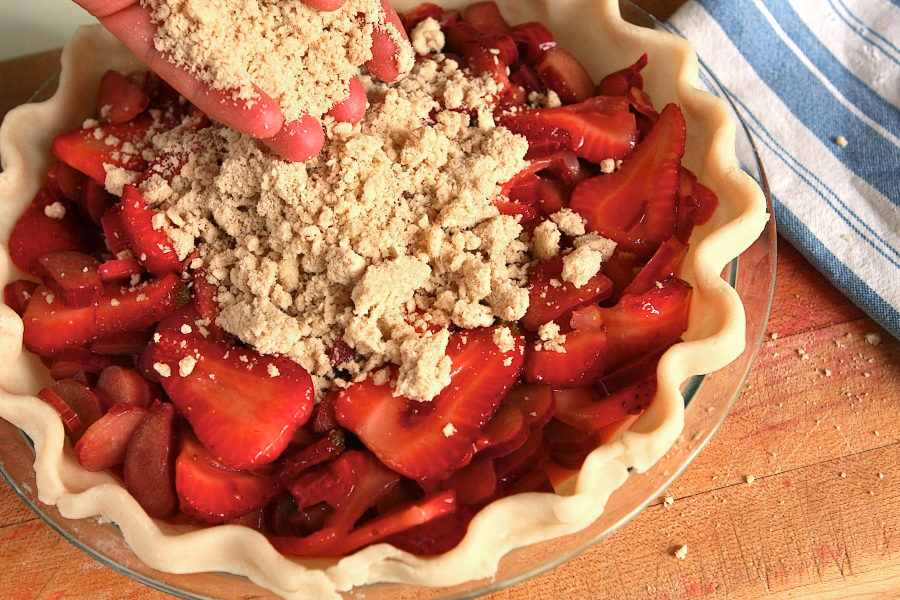 Sprinkle the streusel evenly over the top of the pie.
I took Melanie's advice and cooked my pie on a baking sheet with a rolled edge. (I've cleaned burnt fruit from the bottom of my oven before—not fun!)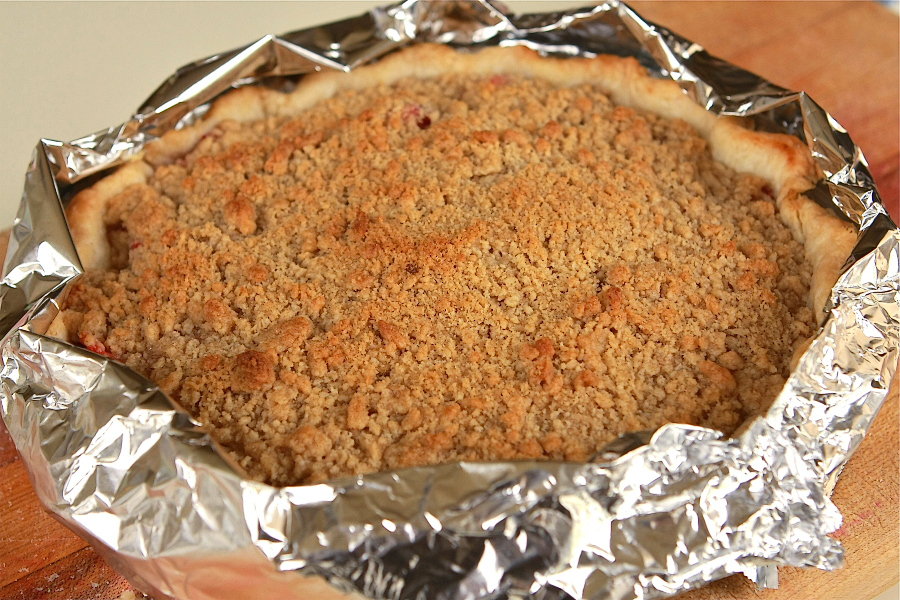 Halfway through cooking, wrap the edge of your crust with foil to keep it from over browning.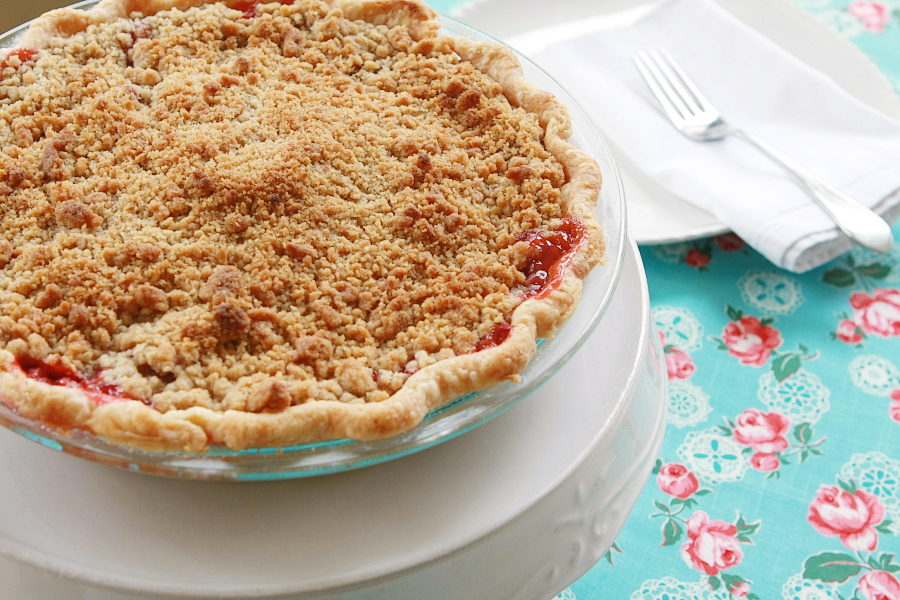 It's a hard thing to do, but let your pie cool before serving. A watched pot never boils and a watched pie never seems to cool. Especially when you can hardly wait for a bite.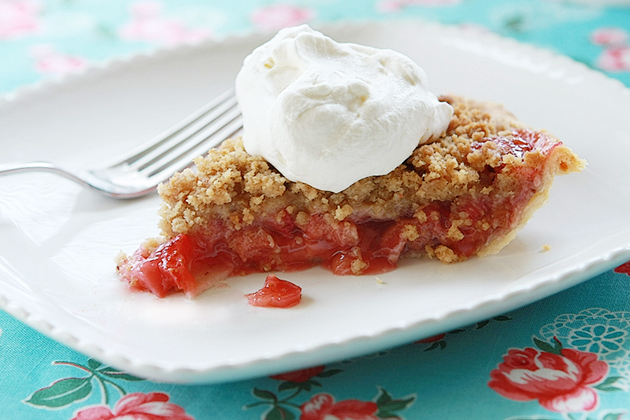 We served our pie with whipped cream like Melanie suggested. Next time we'll give vanilla ice cream a try, in homage to Laverne.
Thank you Melanie for sharing this treasured pie recipe. It was a lovely stroll down memory lane and I know it will be one of our favorites for years to come. Be sure to check out Melanie's blog Mel's Kitchen Cafe. She makes the kind of food I love to cook—on the healthy side, not super fussy, fresh and made from scratch. And she has four of the cutest sous chefs you'll ever see.
Printable Recipe
See post on Melanie - Mel's Kitchen Cafe's site!
Description
This pie is filled to brimming with juicy, sweet strawberries, tart rhubarb and a healthy amount of sugar to help lessen the rhubarb's puckery flavor. Topped with a delicious and buttery streusel topping, this pie is worth the wait for fresh rhubarb.
Ingredients
FOR THE FILLING:
2-¾ cups Sliced Fresh Rhubarb, About 5-6 Medium Stalks
2 cups Sliced Strawberries
⅔ cups Sugar
3 Tablespoons Cornstarch
_____
FOR THE STREUSEL TOPPING:
1 cup Flour
½ cups Brown Sugar
½ cups Butter (1 Stick), Cold And Cut Into Small Pieces
1 Unbaked Single Pie Crust (store Bought Or Your Favorite Recipe)
Preparation Instructions
In a medium-large bowl, combine the rhubarb, strawberries, sugar and cornstarch. Mix well. The mixture should be thick and syrupy after being stirred well.
Roll out pie crust according to recipe or package instructions and place in a 9- or 9.5-inch pie plate. Pour the strawberry/rhubarb mixture into the crust, using a large spoon to fill evenly.
For the topping: In a small bowl, combine the flour and brown sugar. Cut the butter into pieces and using a pastry cutter or two knives, cut the butter into the flour/sugar mixture until it has the consistency of coarse crumbs. Sprinkle the streusel topping evenly over the top of the pie.
Place the pie on a rimmed baking sheet and bake at 400 degrees for 50-55 minutes, covering the pie crust edges with foil halfway through in order to prevent over-browning.
Let the pie cool completely before cutting into pieces. Serve with a dollop of freshly whipped cream, if desired.


_______________________________________
Calli is truly a woman of many talents, from cooking, sewing, crafts, beautiful photography and gardening. Her blog, Make it Do is a treasure trove of recipes, household tips, crafts projects, sewing patterns … you name it. It's also peppered with photos of her beautiful kids. Go visit her site, and visit it often. There's always something new to learn there!