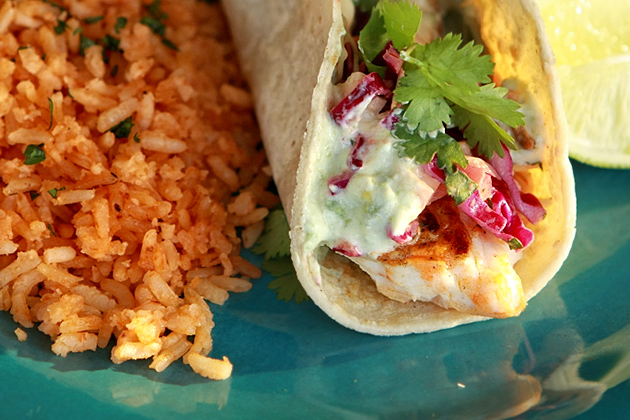 My husband and I LOVE fish tacos. We order them every chance we get. But since we live in a small community roughly 700 miles from the nearest ocean, a great fish taco is hard to come by.
When Patio Daddio's Spicy Grilled Fish Tacos recipe popped up on Tasty Kitchen, I knew it might just be our lucky day. Patio Daddio (John) has a proven track record for wonderful recipes. Plus the recipe included some of my ingredients:
Corn tortillas. Check.
Grilled fish. Check.
Cabbage (with a twist). Check.
Lime. Check.
Cilantro. Check.
Spice and FLAVOR. Check.

I couldn't wait to give them a try.
Guess what folks? These tacos rock. Yes, they are a little unconventional. But that's what I love about them. The spicy recipe also includes a cool and delicious Avocado Cream instead of plain old sour cream. Yum. Patio Daddio also recommends topping the tacos with his crazy good chipotle and adobo Southwest Slaw.
I was surprised to see Frank's Hot Sauce making an appearance on the fish but it really works. Buffalo Frank goes south of the border this time.
So if your mouth is watering like mine, here's a step-by-step: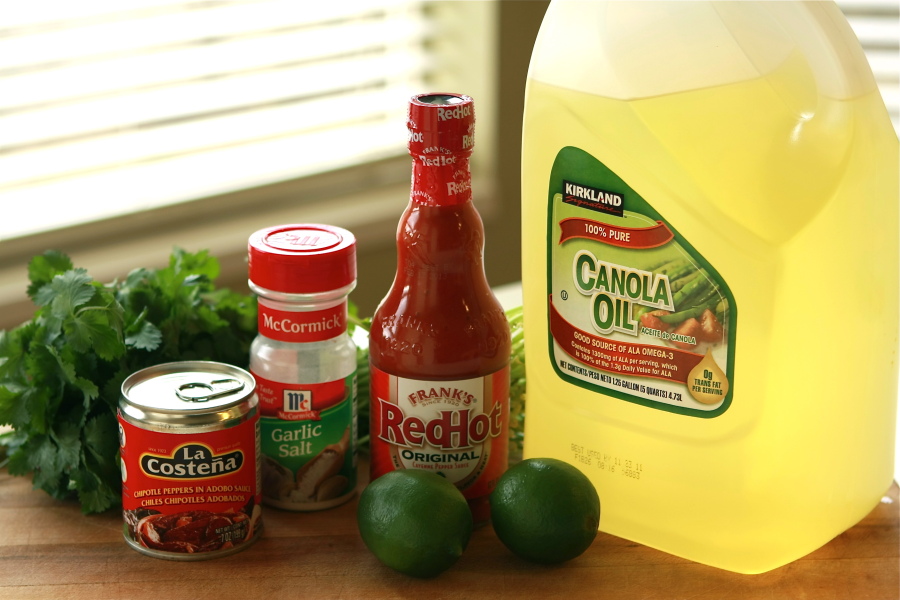 Start by making the marinade for the fish. Since they only need to marinate for 30 minutes, this meal is doable for a weeknight meal. Yeah!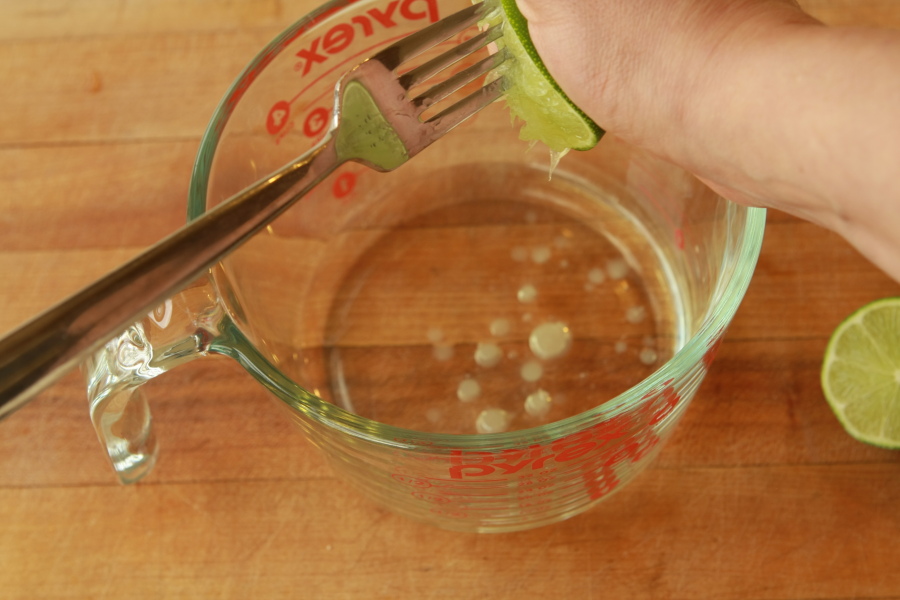 The marinade is simple enough. Add canola oil, juice of two limes, and garlic salt into a small mixing bowl. Open up a can of chipotle peppers in adobo. Measure two tablespoons of the sauce and don't worry, you'll use more of the can for the Southwest Slaw.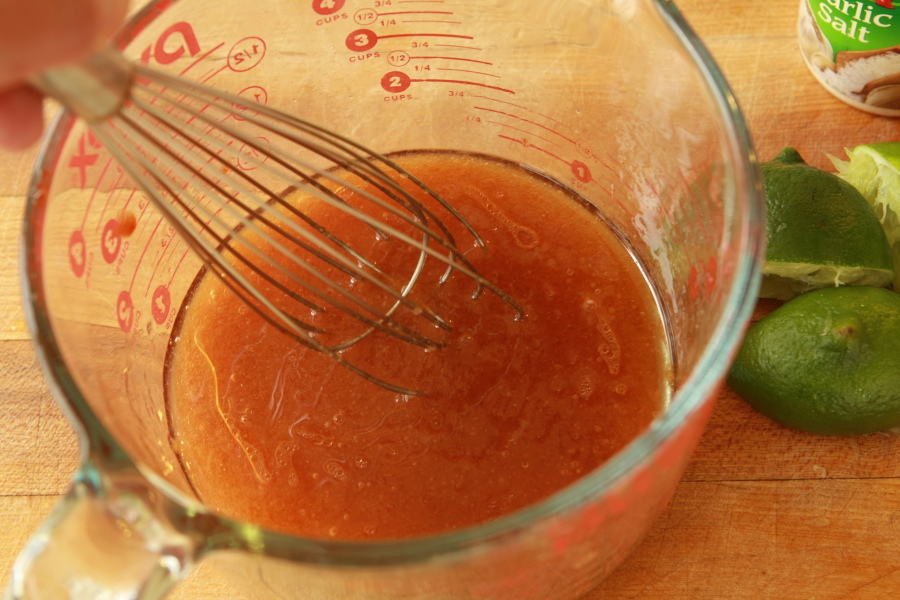 Whisk it all up…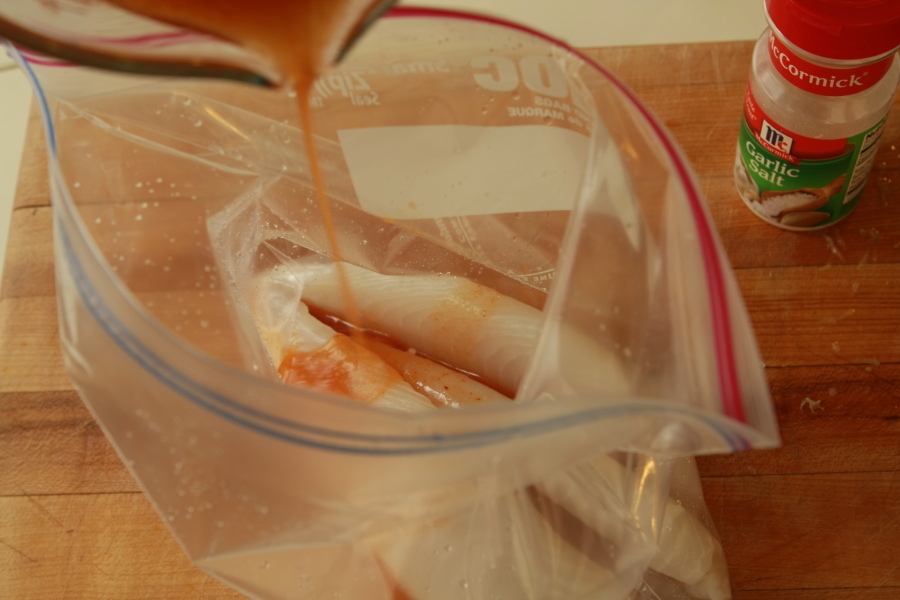 Pour it over your fish in a gallon zip-top bag. John recommends tilapia fillets for the fish and that's what I used. I love tilapia for its mild flavor and texture and because it's very budget-friendly, but you could also use mahi mahi, halibut or any white flaky fish.
Set it aside to let it work its magic, about 30 minutes.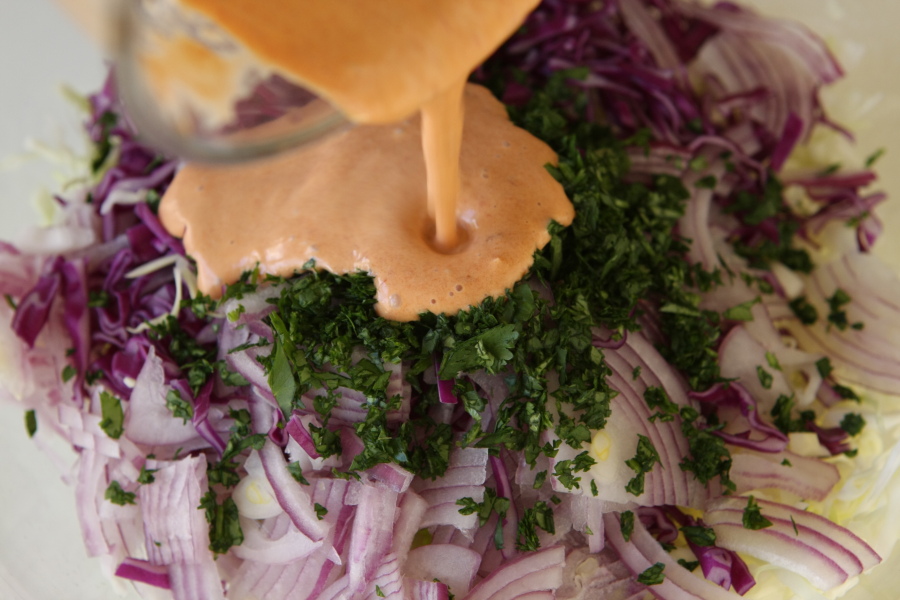 I'm not sharing the step-by-step photos for Patio Daddio's Southwest Slaw, but trust me on this one and just make it. Adding the slaw really completed the taco. The chipotle in adobo is spicy and smoky all at once. I could (did) eat it by the spoonful.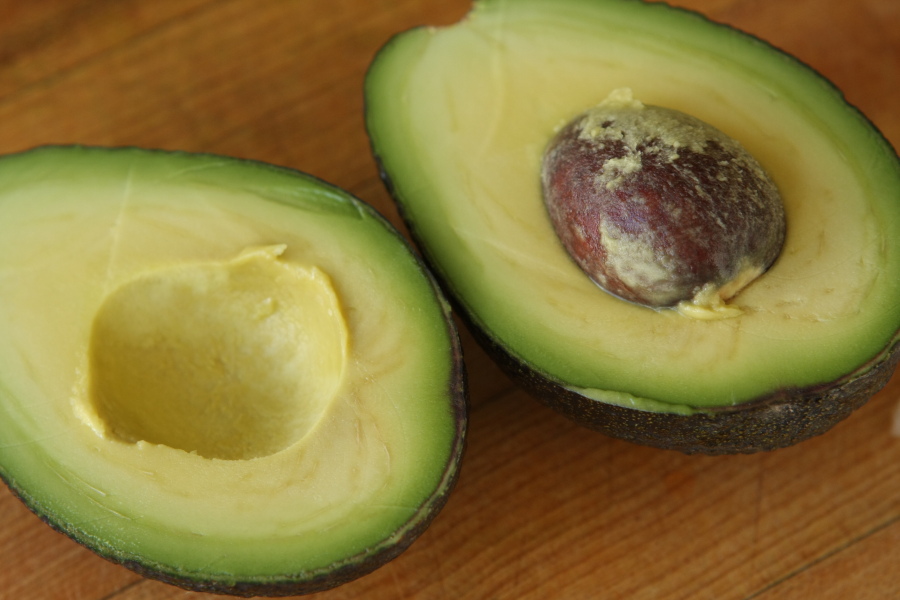 Now for the avocado cream. The first time I made it, I followed the recipe to smash the avocado on the cutting board with the side of a knife. The next time, I did it right in my mixing bowl with a fork. My way might take a little longer on the smashing part but I liked having less mess. A ripe, soft avocado works best.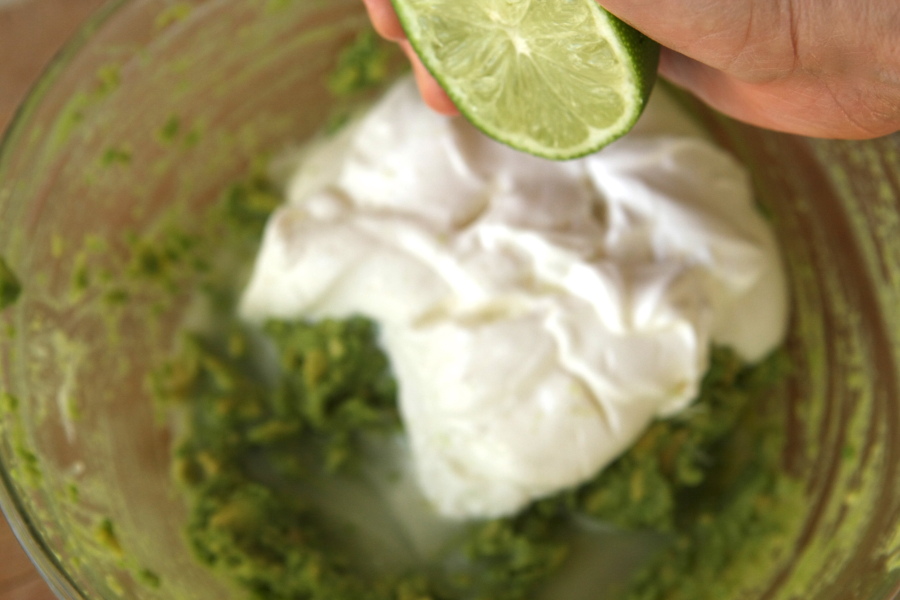 Add the juice of one lime, sour cream, garlic salt…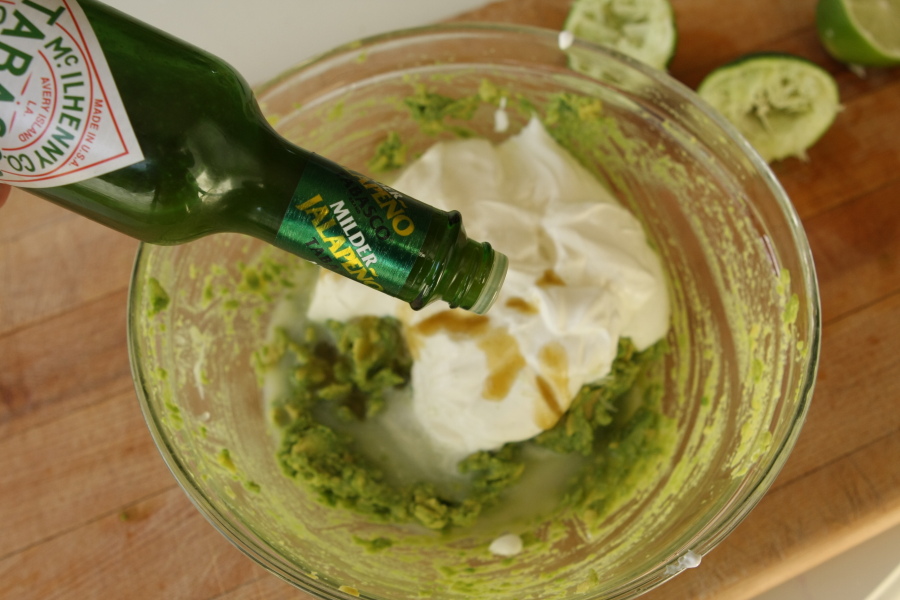 And your favorite hot sauce. I opted for milder jalapeño Tabasco since I wanted the avocado cream to cool down the spiciness of the slaw and fish. I also liked the idea of a green sauce in the green cream.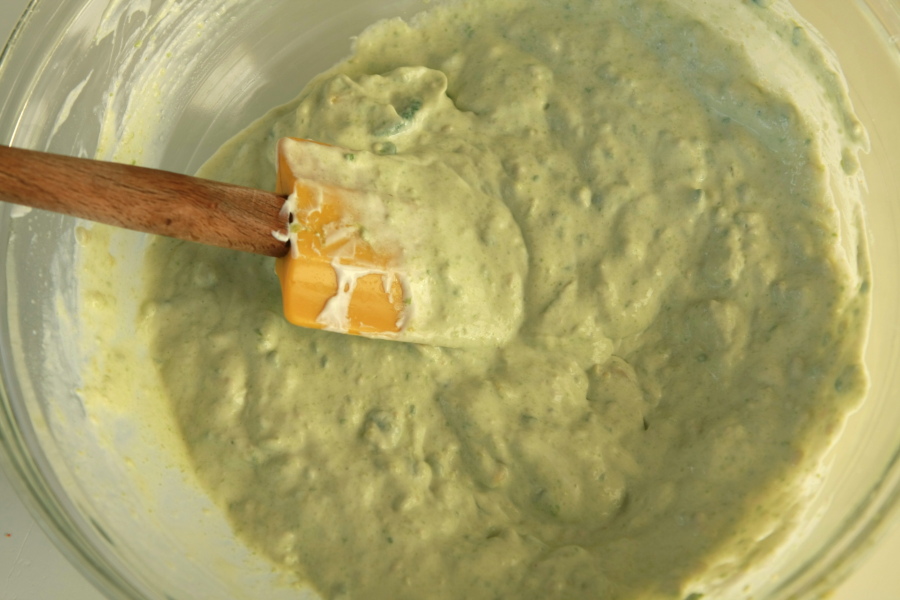 Stir it up and set it aside.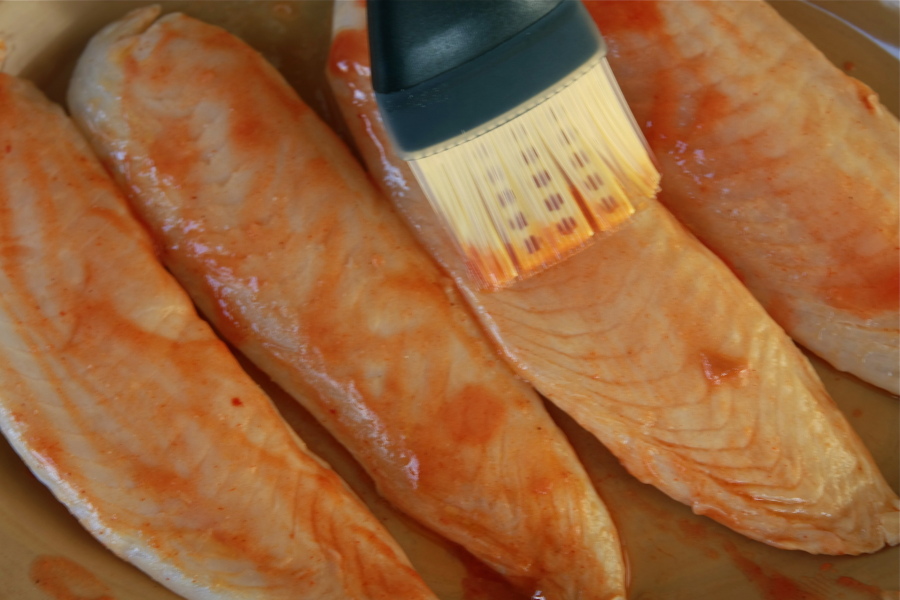 Remove the fish from the marinade and pat dry with a paper towel. Then brush the fish with Frank's Hot Sauce and canola oil.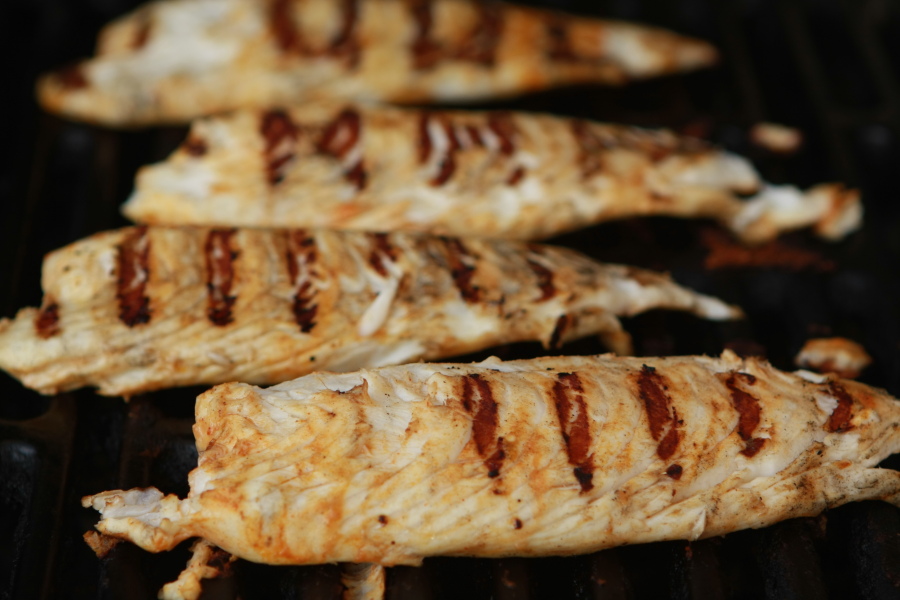 Oil the grill and toss them on. Cook them until they are just cooked through and flaky but still moist.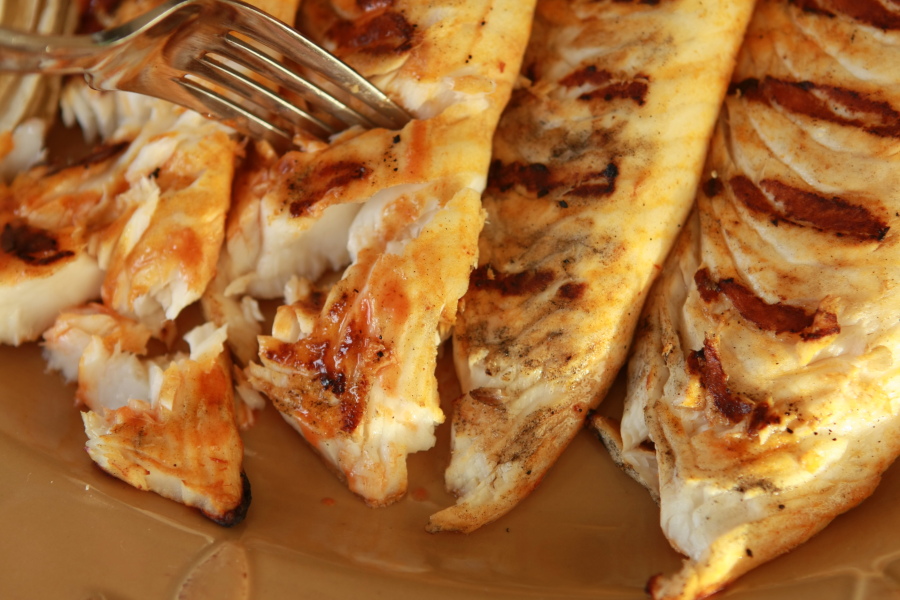 Once off the grill, I poured a bit more Frank's on my husband's and my fish but left it off of the kids. 'Cause they're wimps. Break up the fish into nice-sized chunks.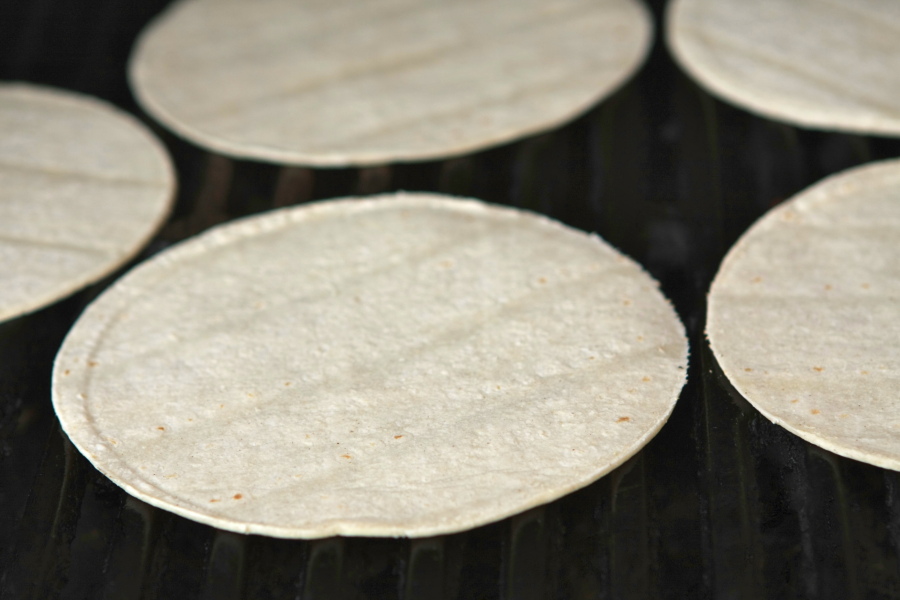 Quickly grill the corn tortillas to warm them up.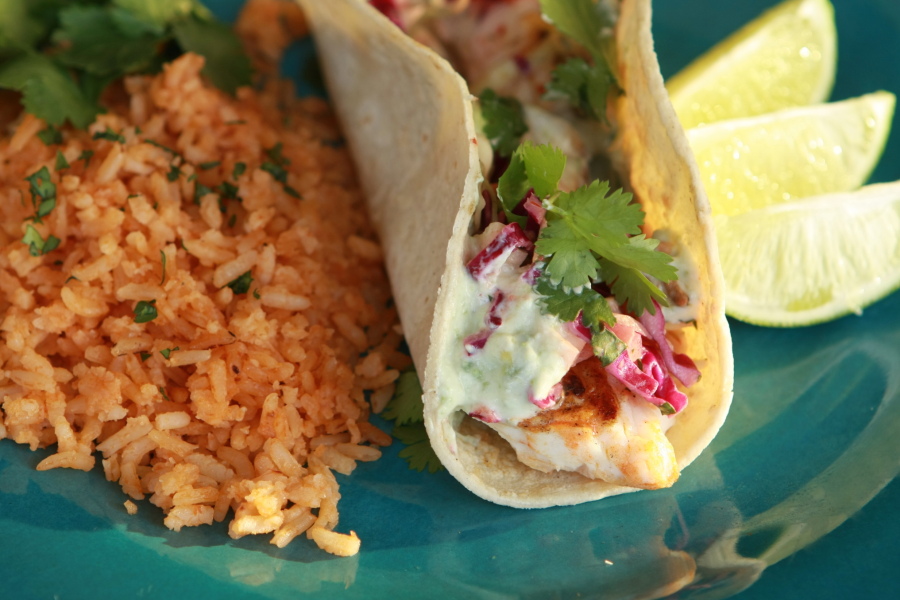 We serve our tacos family style. I love sliced up limes, cabbage for the kids, rough chopped cilantro, and the Southwest Slaw and avocado cream, of course. Everyone gets to build their own just the way they like them. And like them we did, right down to the youngest.
Thank you John for bringing the perfect fish taco right into my own kitchen! Check out his blog Patio Daddio BBQ for more of this man's incredible work. (I'd say more, but just … just go there. You'll see.)
Printable Recipe
See post on patiodaddio's site!
Description
At the risk of being ridiculed by those in the know, I will call these "somewhat authentic." Or, you might think of them as "Authentic Gringo Fish Tacos." I was going to use that for the post/recipe title, but I had second thoughts.
Shoot, call me and the recipe whatever you want. Let's get cookin'!
Ingredients
6 whole Talapia Fillets (or Other Mild Flaky White Fish)
2 Tablespoons Hot Sauce (I Use Frank's Red Hot)
Canola Oil
Lime Juice, To Drizzle On Grilled Fish
12 whole Corn Tortillas
1 cup Southwest Slaw (see My Recipe Box)
¼ cups Cilantro, Chopped Medium-fine
_____
FOR THE MARINADE:
⅓ cups Canola Oil
2 whole Limes, Juiced
1 teaspoon Garlic Salt
2 Tablespoons Adobo Sauce (from A Can Of Chipotles In Adobo)
_____
FOR THE AVOCADO CREAM:
1 whole Large Hass Avocado, Peeled, Seeded And Diced (I Recommend Calavo)
1 cup Sour Cream
1 whole Lime, Juiced
2 teaspoons Your Favorite Hot Sauce
1 teaspoon Garlic Salt
Preparation Instructions
Important: Make sure the fish is fresh! It should be firm, with good color, and a clean briny (not fishy) smell.
If you can't find talapia, any mild white flaky fish would work. Mahi mahi, cod, red snapper, or halibut would be fine.
Combine all of the marinade ingredients in a small mixing bowl and whisk to combine.
Put the fish in a gallon zip-top bag and add the marindade.
Slosh the fish and the marinade gently in the bag to ensure that all of the fish is coated.
Seal the bag (removing the excess air) and set aside to marinate for 30 minutes.
Mash the avocado on a cutting board with the side of your knife.
Combine all of the avocado cream ingredients in an medium mixing bowl and whisk to combine, then cover and refrigerate.
Tip: The marinade and/or avocado cream can be made up to a day in advance.
Start your grill and prepare for direct cooking over a hot fire (450-500º).
Remove the fish from the marinade and drain well.
Pat each filet dry with a paper towel.
Smear each side of each filet with a teaspoon of hot sauce, applying it as evenly as you can.
Oil the grill grate and both sides of the fish lightly with the canola oil. The oil on the grate will smoke, so wait for it to dissipate.
Put the fish on the grill and cook for three minutes.
Flip the fish over and cook for another minute.
Move the fish to a warm platter, drizzle the fish with lime juice, and cover the platter with plastic wrap.
Quickly warm each tortilla on the grill.
To serve, offset two tortillas by half, smear the inside with avocado cream, add some fish chunks (separated with forks), then top with about two tablespoons of slaw and some cilantro.
Or, serve it family-style so that everyone can build their own.
Enjoy!


_______________________________________
Calli is truly a woman of many talents, from cooking, sewing, crafts, beautiful photography and gardening. Her blog, Make it Do is a treasure trove of recipes, household tips, crafts projects, sewing patterns … you name it. It's also peppered with photos of her beautiful kids. Go visit her site, and visit it often. There's always something new to learn there!