We're so happy to welcome Calli to the Tasty Kitchen Blog. We love her and her blog Make it Do. It's pretty, it's yummy, and it has so many handy tips for making things around the house a little bit easier. (I'm waiting for her to invent automated laundry.) And what a gorgeous salad to start us off with, courtesy of TK member courtneyjoy. Take it away, Calli!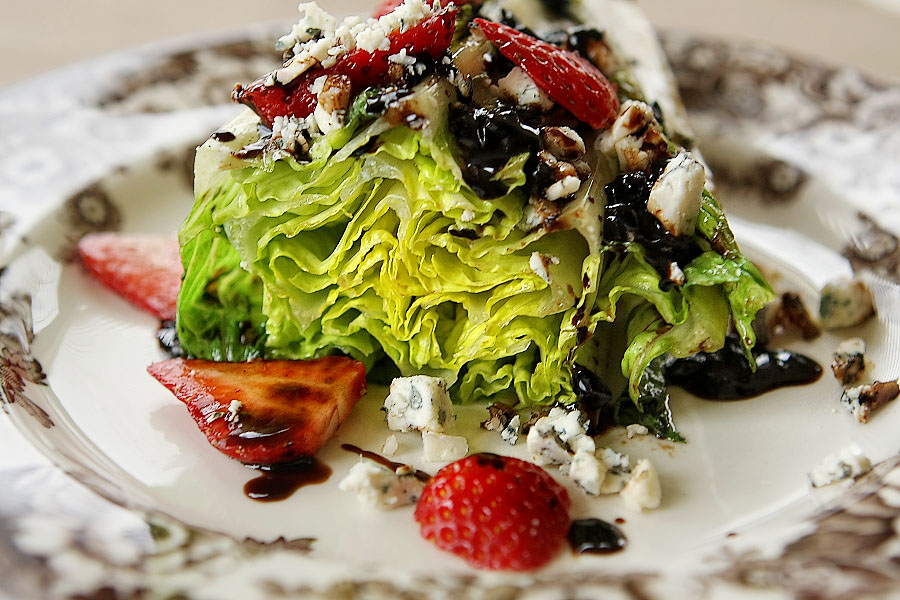 Let's face it, it's really easy to get into a recipe rut.
I knew I was in one when my 10 year old son walked into the kitchen and said in a ho-hum voice, "It's Tuesday so I bet we're having spaghetti for dinner." The meat for Spaghetti and Meatballs was being thawed at that moment. Uggh! Was I really that predictable? His question needled at me to shake things up and try new things.
It was in this spirit of culinary adventure that the recipe for Grilled Salad with Strawberry Balsamic Reduction from TK member courtneyjoy caught my eye.
Lettuce on the grill? For REAL? The recipe looked easy enough, plus it included two of my latest favorite salad ingredients: strawberries and gorgonzola. Why not!
In less than 30 minutes I was drizzling my balsamic reduction over warm grilled romaine. It looked gorgeous and smelled even better. After a run to the silverware drawer for a fork and a knife, I dug in. Oh my! Totally unique and delicious.
Grilling really enhances the lettuce flavor and gives it a lovely smokiness, which is nicely balanced by the sweetness of the strawberries. Add to that the creamy goodness of gorgonzola and the balsamic reduction … well, it takes this salad over the top.
Are you sold? Are you ready for an adventure? Let's make a salad.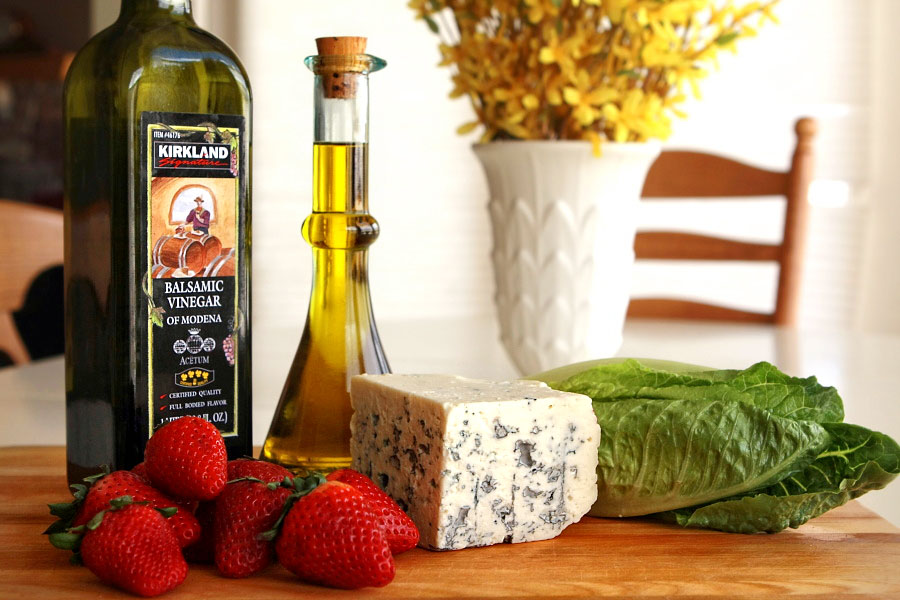 I just love seeing those ingredients. So nice and simple.
Start by firing up the grill.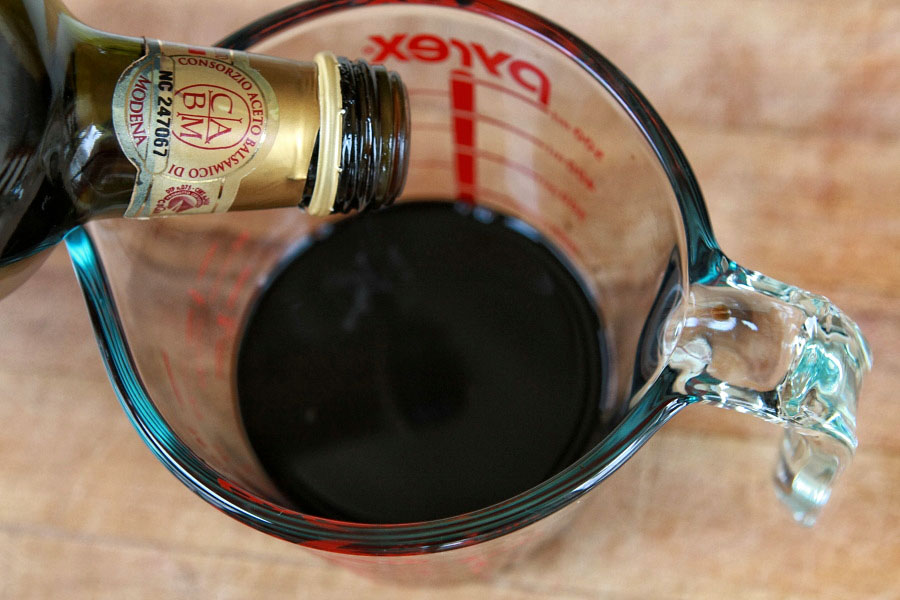 While it's heating, make the reduction. In a small sauce pan, measure a cup of good balsamic vinegar.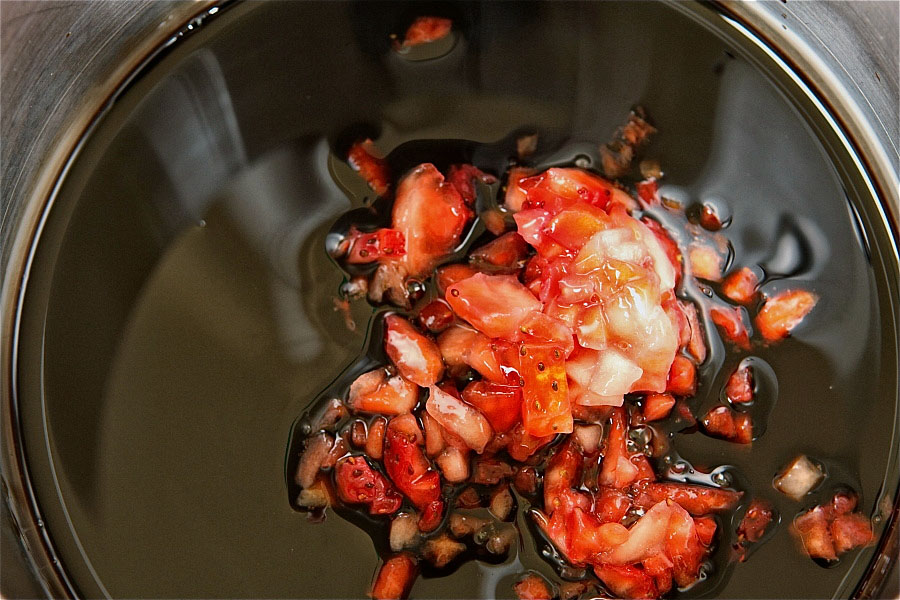 Add in the sugar and strawberries. The recipe calls for sliced strawberries, but I decided to chop mine. It just seemed like the right thing to do.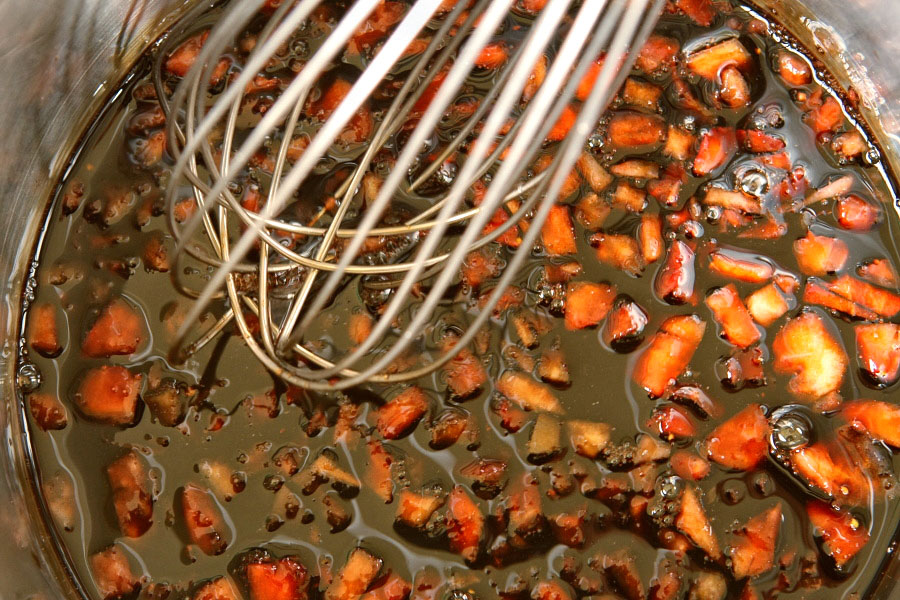 Bring the mixture to a boil, then reduce the heat to medium and simmer until reduced by about 1/3. The reduction is syrupy and delicious.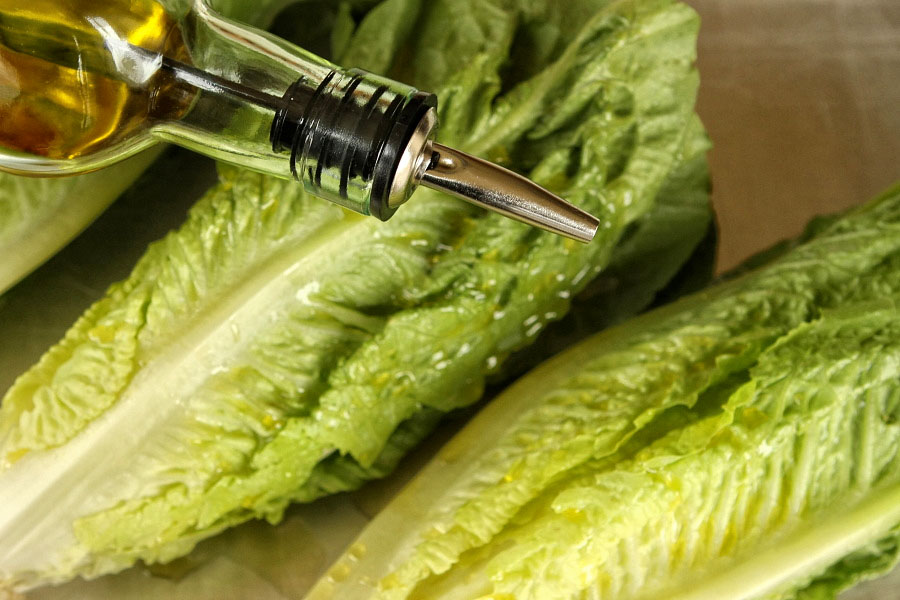 Drizzle your washed and dried lettuce with olive oil. The first time I made this recipe I used the whole heads of romaine. The next time I removed the tougher outer leaves and got closer to the heart where the leaves are more tender. This was a good improvement to the recipe. (And yes, I used the outer leaves on sandwiches. Waste not!)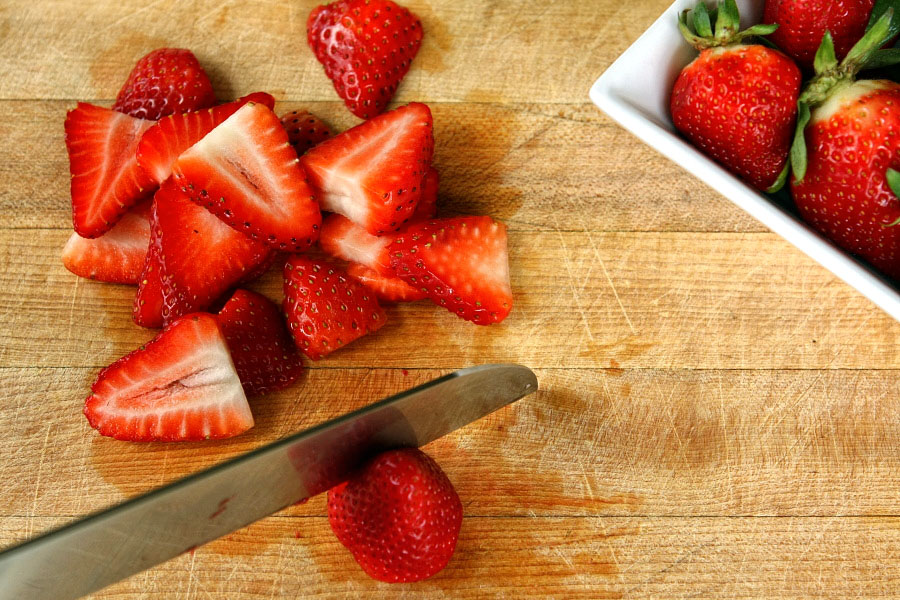 Before grilling, chop the rest of the strawberries. Crumble the gorgonzola too, so it's all ready to go.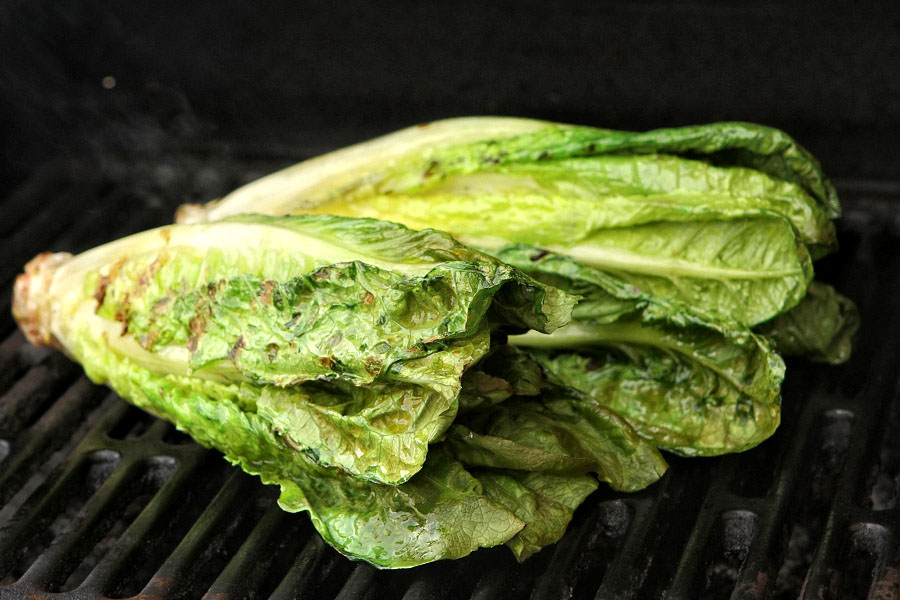 By now your grill should be nice and hot (mine was at 500ºF) and ready for the lettuce. It cooks really fast, so this is no time to switch the laundry! I basically stood next to the grill with the lid open and tongs in hand. Turn when the lettuce has nice charred grill marks. The recipe warns not to cook your lettuce too long or it will be limp, and who wants to eat limp lettuce! Not me.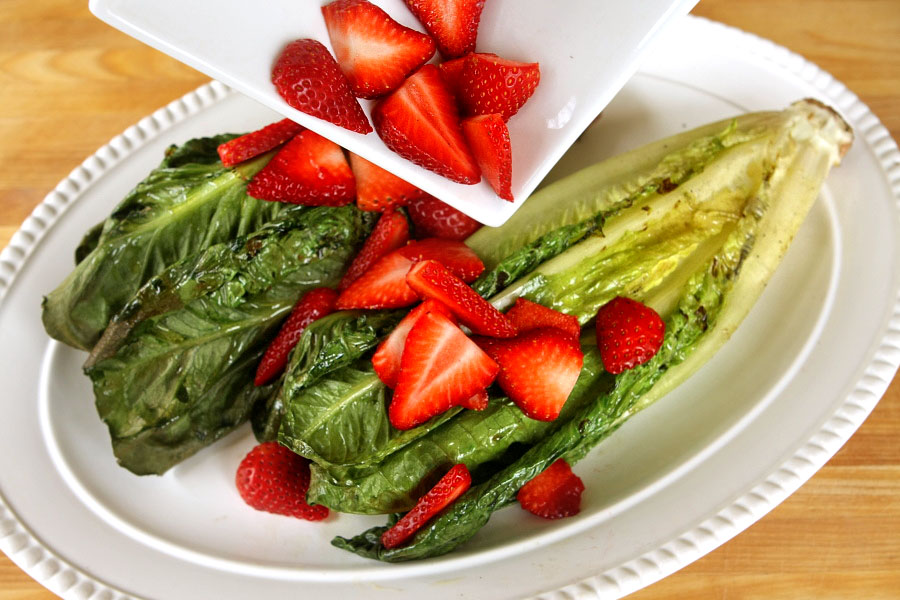 Assembling the salad was a snap. Toss on the strawberries.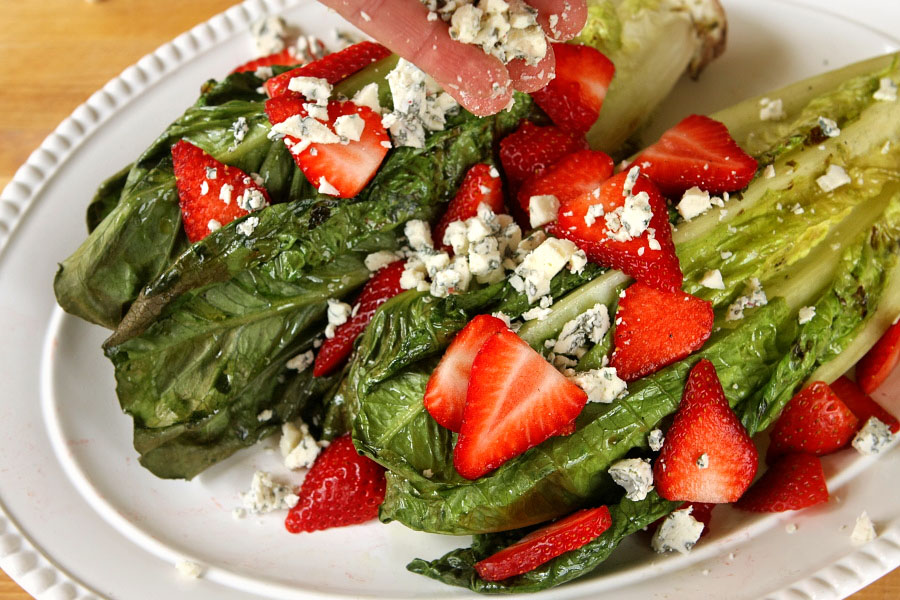 A generous sprinkling of gorgonzola cheese …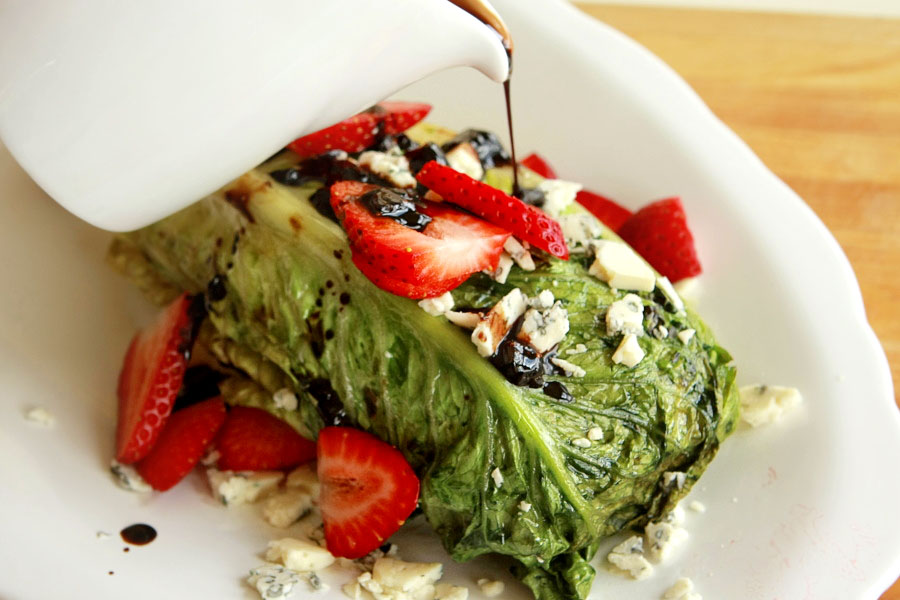 Add a drizzle of the balsamic reduction.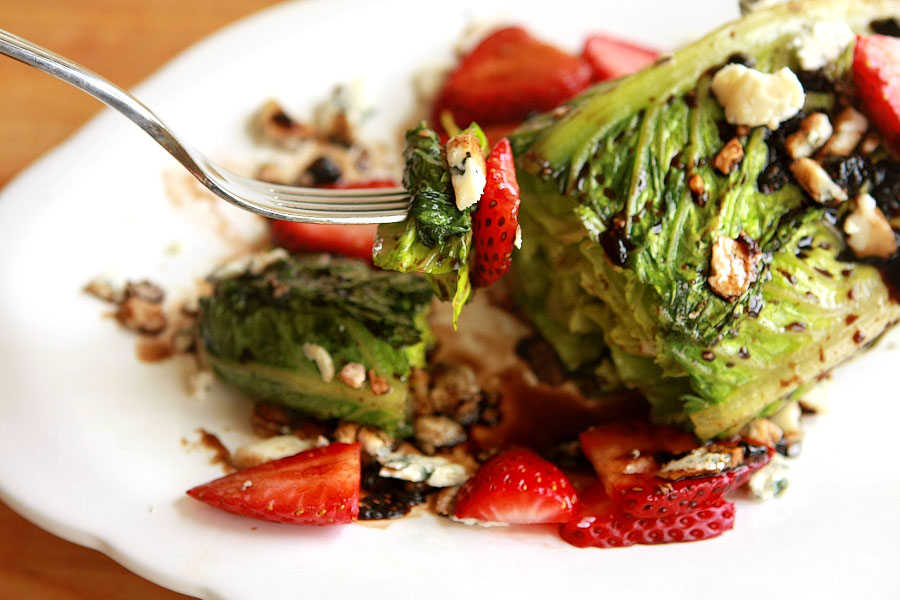 Make sure to serve while it's still warm if you really want to be impressed.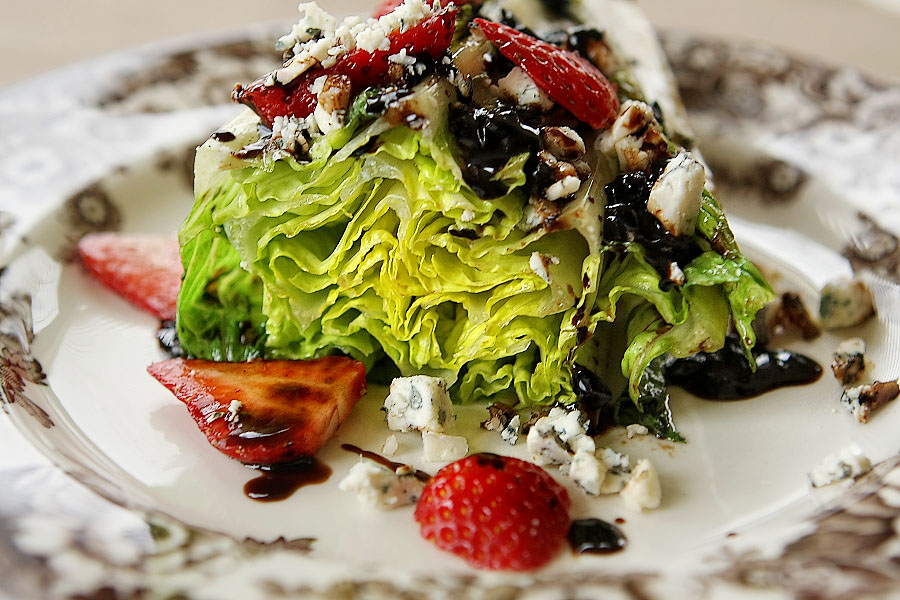 Go ahead. Surprise your family and make this salad for dinner tonight. You'll be glad you did.  
And a big thank you to courtneyjoy for sharing a new and adventurous side to salad!
Printable Recipe
Description
A refreshing grilled salad that is perfect by itself or with a meal.
Ingredients
2 heads Romaine Lettuce
2 Tablespoons Olive Oil
1-½ cup Sliced Strawberries
1 cup Balasamic Vinegar
¼ cups Sugar
½ cups Crumbled Gorgonzola Cheese
Preparation Instructions
Light your grill and set to high. While the grill is warming, drizzle the lettuce with the olive oil and set aside. Slice your strawberries.
For the dressing, in a small pot, boil the vinegar, sugar and 1/2 cup of the strawberries. Once boiling, turn heat to medium and let it reduce by 1/3 so that it gets slightly thick.
To grill the lettuce, using tongs, place the lettuce on the hot spots of the grill so that it gets warmed and slightly charred but not limp. We don't want limp lettuce! Keep turning it so that it's evenly charred. Not burnt! This only takes a few minutes tops.
To serve, place whole heads of lettuce on a platter, drizzle with the dressing, the remaining strawberries and the gorgonzola cheese.
Yum!


_______________________________________
Calli is truly a woman of many talents, from cooking, sewing, crafts, beautiful photography and gardening. Her blog, Make it Do is a treasure trove of recipes, household tips, crafts projects, sewing patterns … you name it. It's also peppered with photos of her beautiful kids. Go visit her site, and visit it often. There's always something new to learn there!