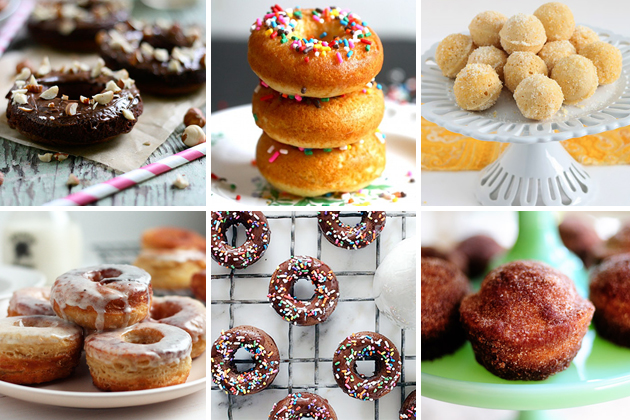 I was all set to start searching for one or two tempting kabob recipes to show you, mostly because I'm still in the throes of a "summer is finally heeeere!" kick. But then I noticed my Instagram feed was taken over by pictures of donuts, interrupted here and there by snaps of luscious-looking coffee and cute kittens. So how is it National Donut Day and I find out only by accident? And okay, I learned that today is the day that honors "donut lassies" of the Salvation Army, as opposed to November's National Doughnut Day, which celebrates the actual doughy treat. But if you want to celebrate today via increased consumption of said treat, I won't argue with you. I'm just here to go with the flow. And for the donuts. (Is it donuts or doughnuts? Can someone please tell me?)
So get ready to be tempted, and if you see something you like, just click on the photos to get the printable recipe. It's time to make some donuts!
Glazed Cake Doughnuts. A classic.
Speaking of classics, here's an oldie but absolute goodie. Muffins That Taste Like Donuts. Yes, yes, these aren't technically donuts and these muffins are just crashing the party. But they sure taste like they should be! These were all the rage back in the day, and they're still one of my favorites.
Chocolate Donuts. Stay paleo and gluten-free with this easy recipe!
Baked Nutella Doughnuts. Nutella? Check. Eggs? Check. Flour? Check. Done. You have the three ingredients you need to make these.
Lemon Baked Donut Holes with Lemon Sugar. A healthier version using yogurt and the bright flavor of summer lemons.
Vanilla Buttermilk Glazed Croissant Donuts. We've been seeing a lot of baked versions, but let's face it: donuts are traditionally fried. Throw in a modern twist and go for broke with cronuts. These looked so good, we just had to make them in this here Tasty Kitchen Blog.
Now go forth and make ye some donuts! And if you have a favorite recipe you think we should absolutely try, let us know!
Happy Friday, everyone!