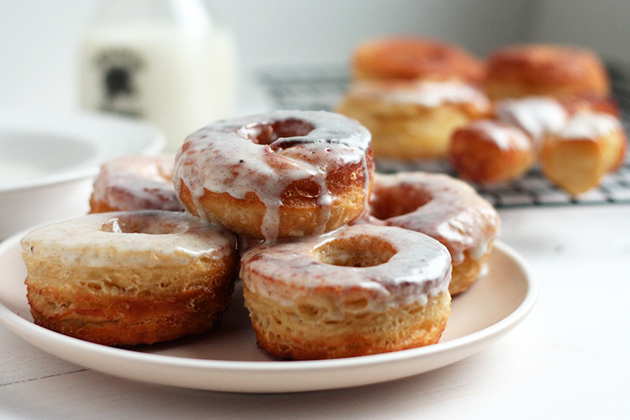 I love a good food fad. I remember the first time I heard the word "cronut" and I was utterly confused! But I was also equally intrigued. How could a mash up of croissant and doughnut possibly be a bad thing? When I saw Chris Castro's recipe for Buttermilk-Vanilla Glazed Croissant Donuts, I knew that the "cronut" bandwagon was one I had to hop on!
Breads, and especially croissants, can be a little time-consuming. But these were worth it in every single way. So if you haven't tried your hand at bread-making, dive into it with these!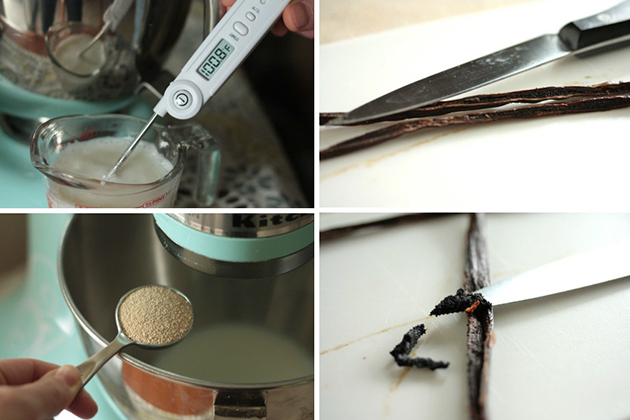 Sprinkle the milk with yeast and let it bloom. While it's working its magic, scrape the seeds inside a vanilla bean.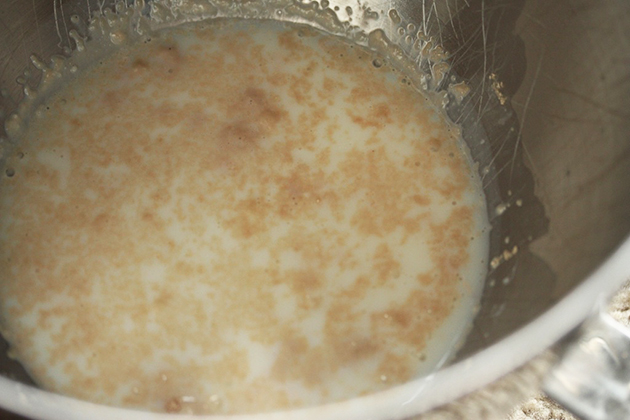 One your yeast has bloomed and is a little foamy, it's time for the next step.
Crack an egg right on into the yeast and mix it in.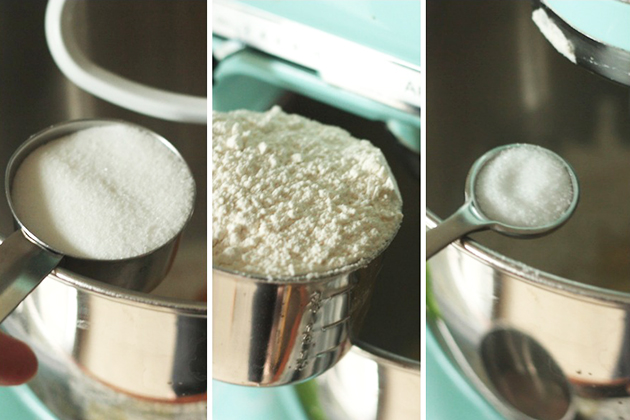 Next, with the mixer on low, add in the sugar, flour (reserve 1/4 cup for the vanilla butter later) and sugar until combined.
Knead the dough in the mixer until it's all combined and nearly smooth. Don't leave any dry bits at the bottom! Once it's all done, cover the dough and place it in a warm, dark place to rise until doubled in size. My favorite place to let my dough proof is on my dryer when I'm doing laundry—it's nice and toasty, perfect for proofing!
In a clean bowl or in your stand mixer, combine the butter, vanilla bean seeds, and the remaining flour.
Roll out the proofed dough into a rectangle and smear the vanilla bean butter over the dough. Fold the dough into thirds, cover and place in the fridge to rise and chill the butter. Keeping your butter cold is important in these steps.
After an hour, roll out your dough again. This time, turn the dough 90 degrees, and roll it again. Fold into thirds again, cover and place in the fridge. This is how the layers of croissants get created.
Finally, you're ready to do your final roll. Roll out the dough and using a doughnut cutter, cut out your cronuts! Heat the vegetable oil in an electric skillet or a Dutch oven. When heated to 350ºF, fry your cronuts until deep golden brown on each side. Remove from oil, place on a paper towel to drain, and voila!
When they're cool, don't forget to dip them in glaze! That's what seals the deal. Wouldn't you agree?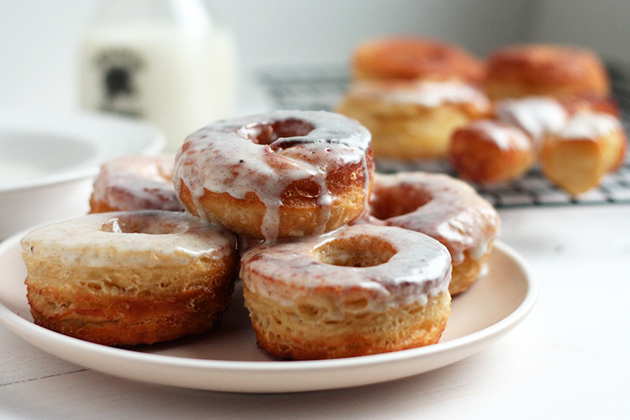 Thanks for getting me on the cronut bandwagon, Chris! It's one I don't want to hop off anytime soon. Check out his blog, Salt and Smoke, for more of this cool dad's recipes.
Printable Recipe
See post on Salt & Smoke's site!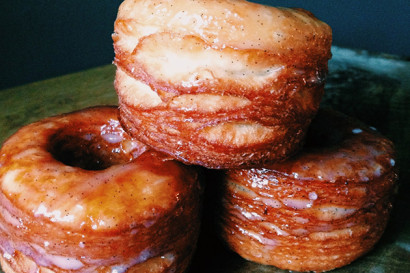 Description
Golden brown flaky layers of crisp and light dough with flecks of vanilla beans throughout, drizzled in buttermilk glaze. Yum!
Ingredients
FOR THE CRONUTS:
¾ cups Milk, Warmed
1 Tablespoon Active Dry Yeast
2 Large Eggs
⅓ cups Sugar
2 teaspoons Vanilla Paste Or 2 Beans, Split In Half Lengthwise With Seeds Scraped Out, Divided
3-½ cups All-purpose Flour, Divided
1 teaspoon Salt
2 sticks Butter, At Room Temperature
Oil, For Frying
FOR THE VANILLA BUTTERMILK GLAZE:
1 cup Powdered Sugar
2 Tablespoons Buttermilk
1 teaspoon Vanilla Paste Or 1 Bean Split In Half Lengthwise With Seeds Scraped Out
Preparation Instructions
Stir together milk and yeast in a large bowl and let it sit for about 5 minutes. Stir in eggs, sugar and 1 teaspoon of vanilla paste (or 1 bean scraped), then mix well. Add a cup of flour and salt and mix, then gradually add another 2 1/4 cups of flour.
Stir and knead for several minutes until smooth and elastic, and still somewhat tacky.
Transfer dough to a baking sheet and cover with plastic wrap. Chill in the refrigerator for about 30 minutes.
Meanwhile, beat butter, 1 vanilla bean (scraped) or another teaspoon of vanilla paste and remaining 1/4 cup flour in the bowl of an electric mixer for a couple of minutes until smooth, scraping down sides of bowl as needed.
After dough has chilled, turn it out onto a lightly floured surface then roll it into a rectangle that is around 12″ x 18″, and about 1/4″ thick. Spread the butter mixture evenly over the dough. Fold the dough as you would fold a letter before inserting it into an envelope (in thirds). Cover dough in plastic wrap and put it back in the refrigerator for another 45 minutes to an hour.
Pull dough out from the refrigerator, remove plastic and put dough on the counter top, with open sides to the left and right. Roll it out and readjust shape into a rectangle. Fold the left third towards the middle, followed by the right third. After folding, cover with plastic wrap and put it back in refrigerator for another 45 minutes to an hour.
Remove it from the refrigerator again. Roll and fold again as specified above and refrigerate dough. Do this two more times—until you've done it a total of four times. Then cover dough and refrigerate for another hour, or overnight (I prefer overnight, it doesn't seem as labor intensive).
Roll out dough to about 1 1/2″ inch thickness, then using a donut cutter, cut out 12 donuts reserving holes (re-roll the dough scraps if necessary). Place cut donuts on a baking sheet and put it in the fridge until ready to fry, removing only the ones you are going to fry to keep the butter cold.
In a heavy pot, heat a couple inches of oil to around 350°F, or until hot but not smoking. Drop in a small scrap of dough to test the temp, it should sizzle. Then cook doughnuts in batches being careful not to crowd the pot (this affects the temperature of oil causing it to cool). Flip as necessary until both sides are deep golden, then transfer them to a baking sheet lined with a paper towel. Repeat until you've fried all of them.
Meanwhile, whisk together powdered sugar, buttermilk and vanilla to make glaze. Drizzle over doughnuts while still warm.
Makes 1 dozen donuts and holes.


_______________________________________
Megan Keno is the writer and photographer of Country Cleaver, a food blog fueled by Nutella and images of June Cleaver—if June wore cowboy boots and flannel, that is. A self-proclaimed country bum, Megan creates from-scratch recipes that range from simple to sublime and how-to's to build your cooking repertoire. But she couldn't do it without the help of her trusty—and furry—sous chef, Huckleberry. He's a world class floor cleaner.