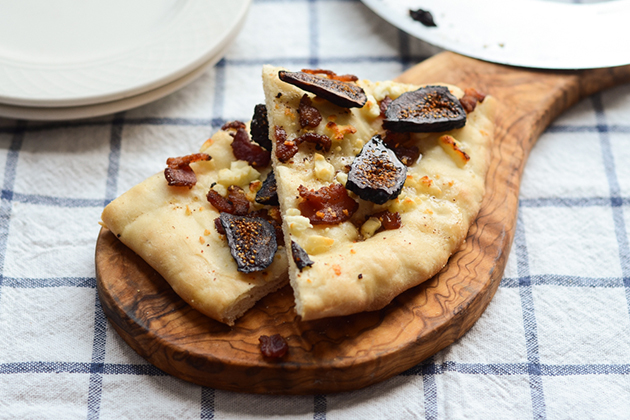 First of all, the name of this recipe (brought to us by the lovely Christina) is just ridiculously fun to say. I have to admit that it influenced my decision to make this pizza. It also involves bacon, so I was basically obliged to cook it.
I loved the mix of flavors: the savory bacon, the tangy feta, and the sweet figs to balance it all out.
This little pizza would make a fantastic (fancy) appetizer for a dinner party. Granted, it will take some time and create a bit of a mess. But it IS surprisingly easy to make, and the list of (just ten) ingredients is actually quite reasonable: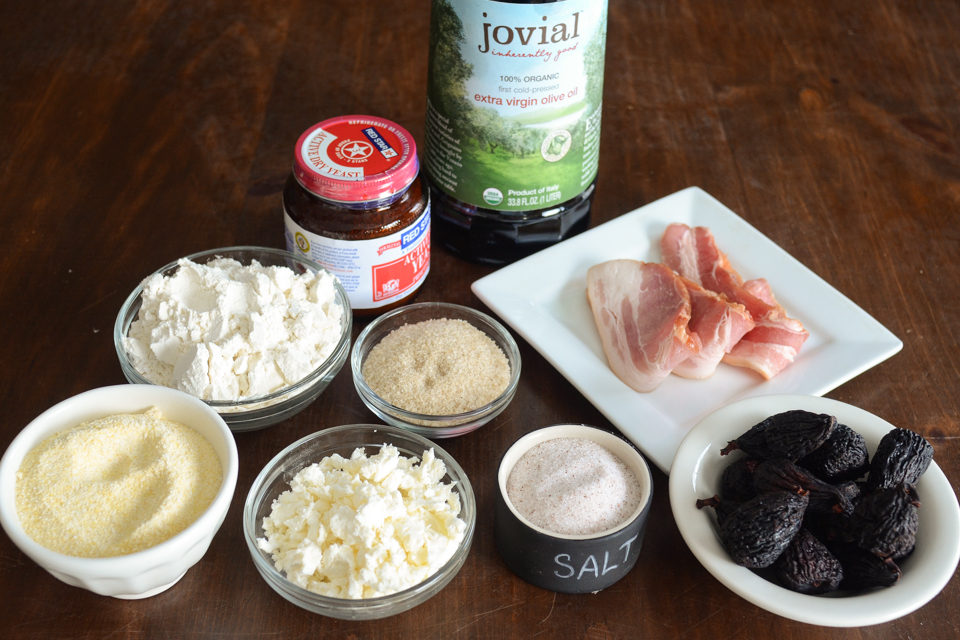 Water (not shown), sugar, yeast, flour, salt, olive oil, cornmeal, bacon, feta cheese, and dried mission figs.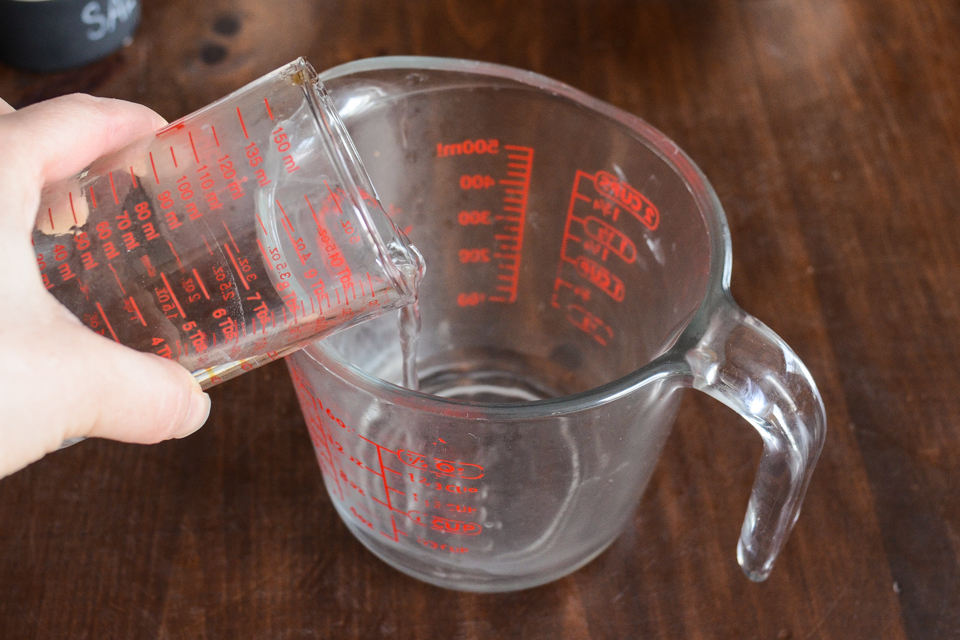 Place five tablespoons of water in a measuring cup.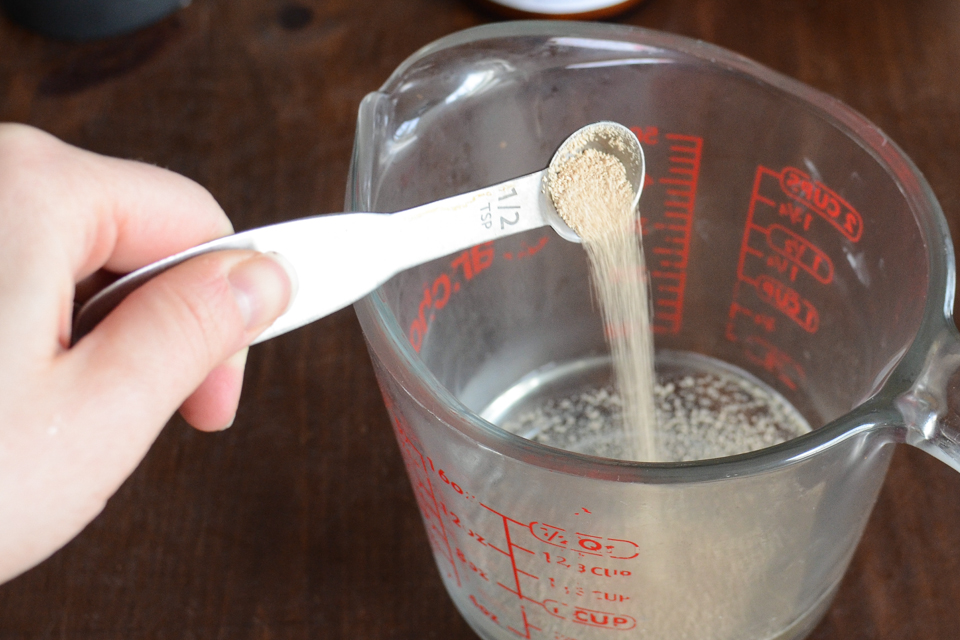 Add the yeast and sugar. Give it a gentle stir and allow it to sit for a few minutes.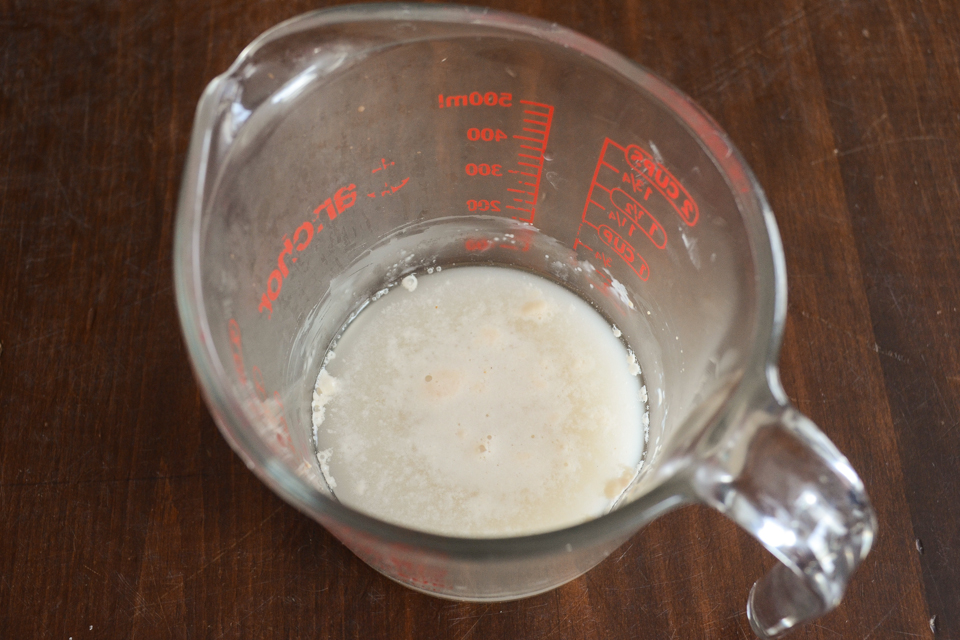 Once it starts to get foamy, you're good to go. This could take anywhere from 5 to 15 minutes, depending on the temperature of your kitchen.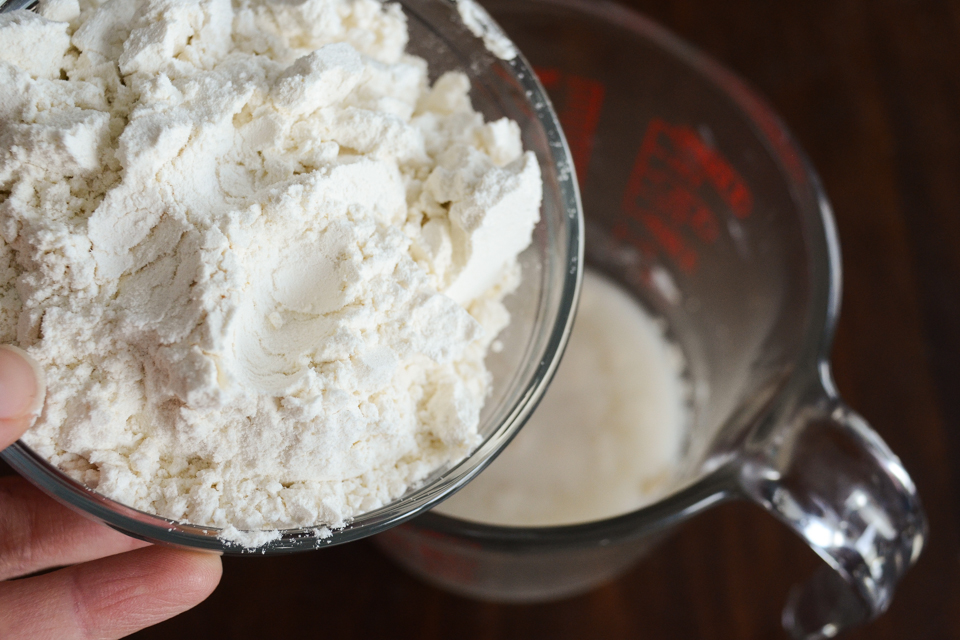 Now add your flour.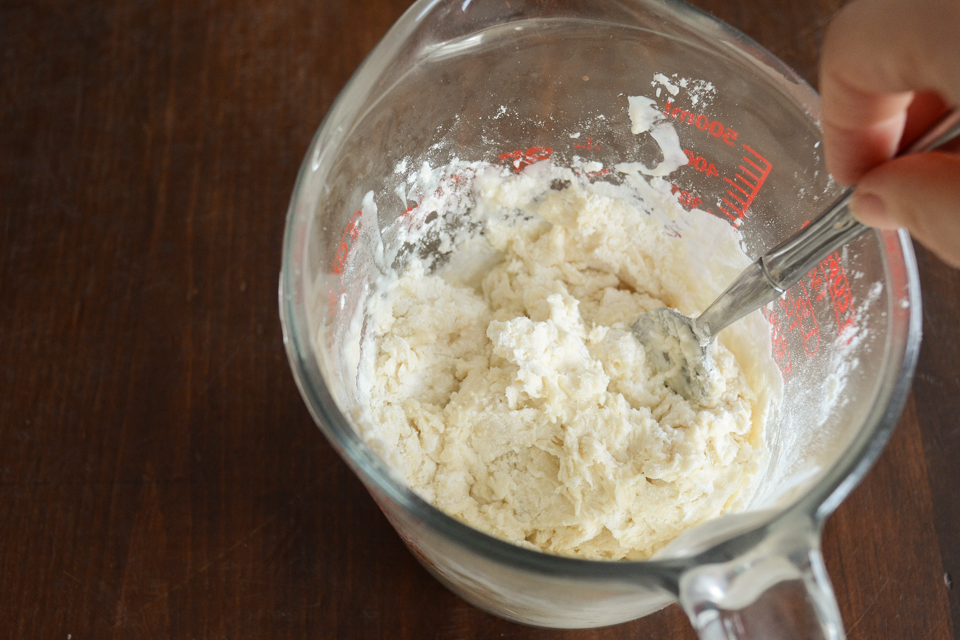 Give it a good stir.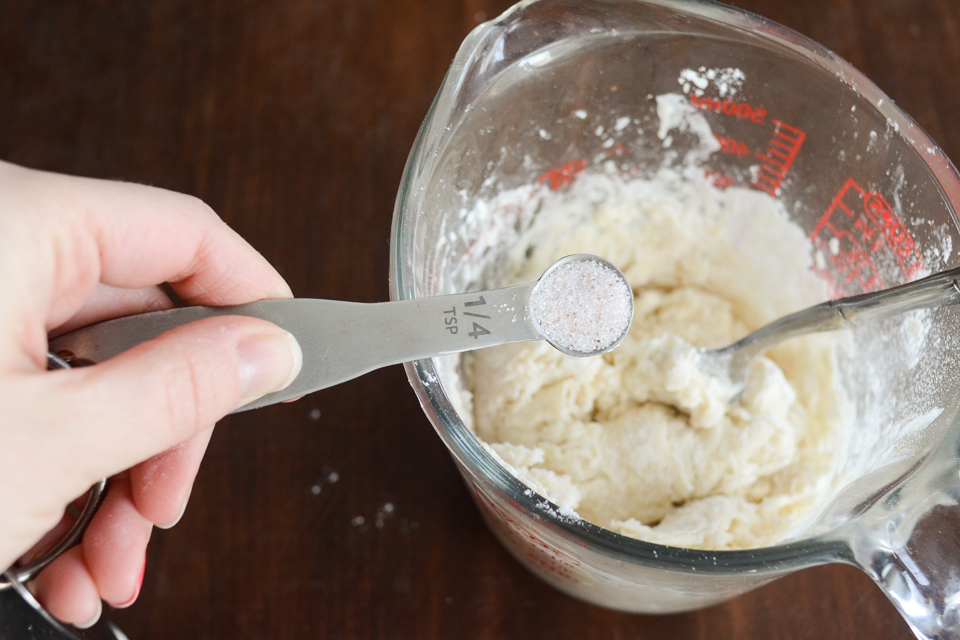 Dump in the salt …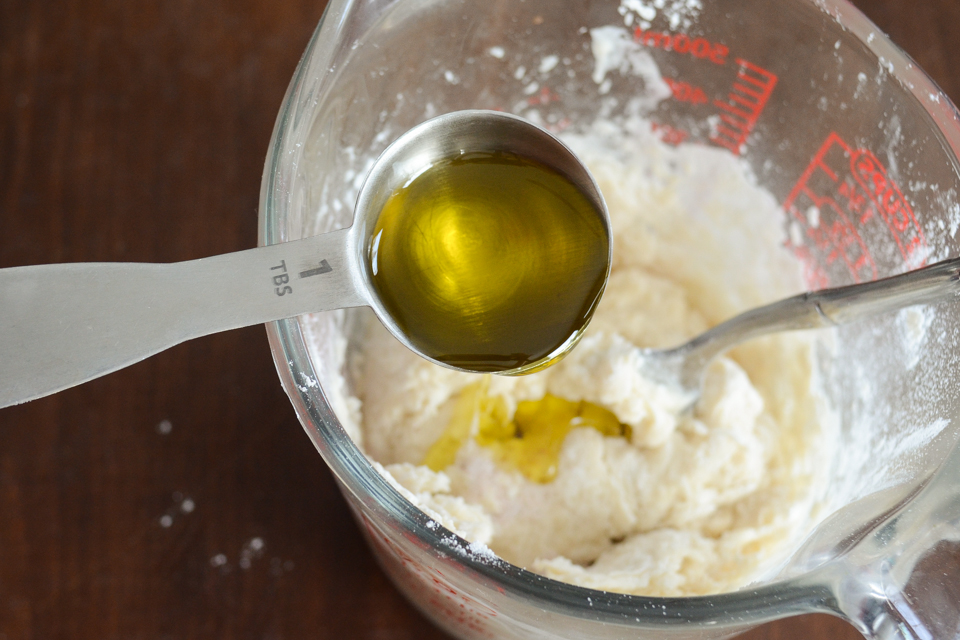 … and the olive oil.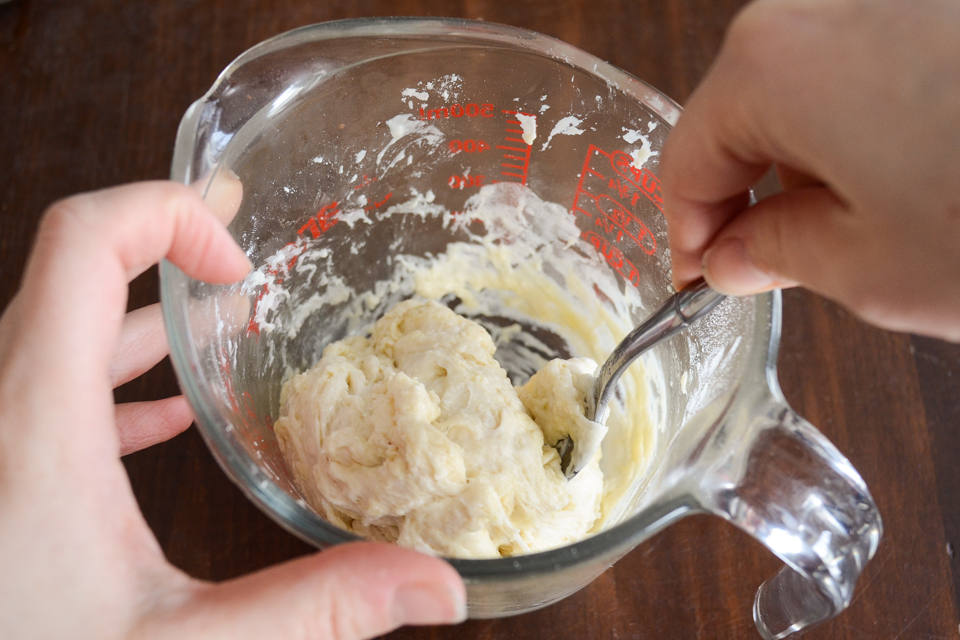 Stir it all together until you have a shaggy dough. It will seem somewhat sticky.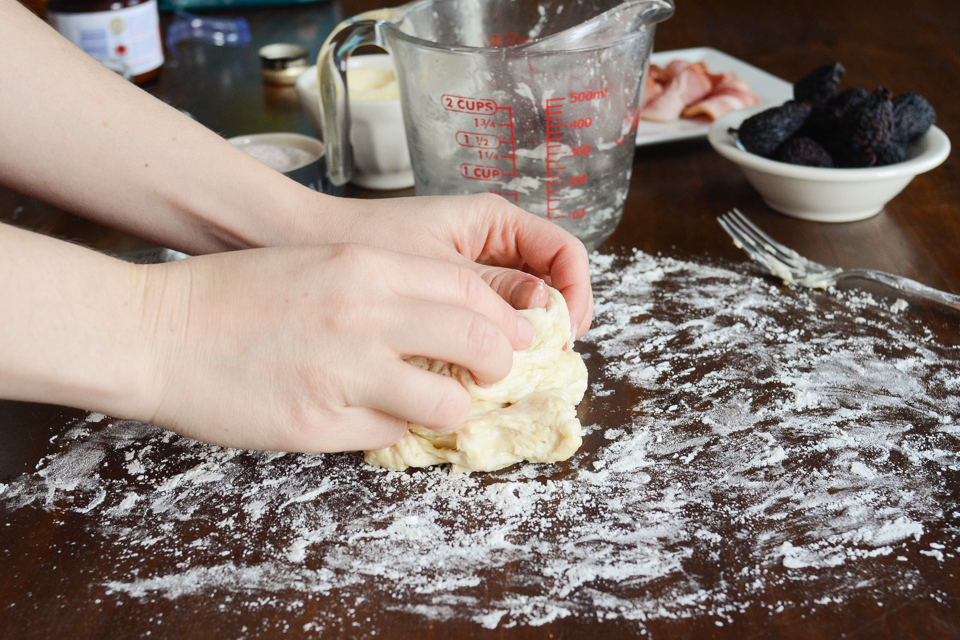 Now place the dough on a floured surface and knead for about a minute.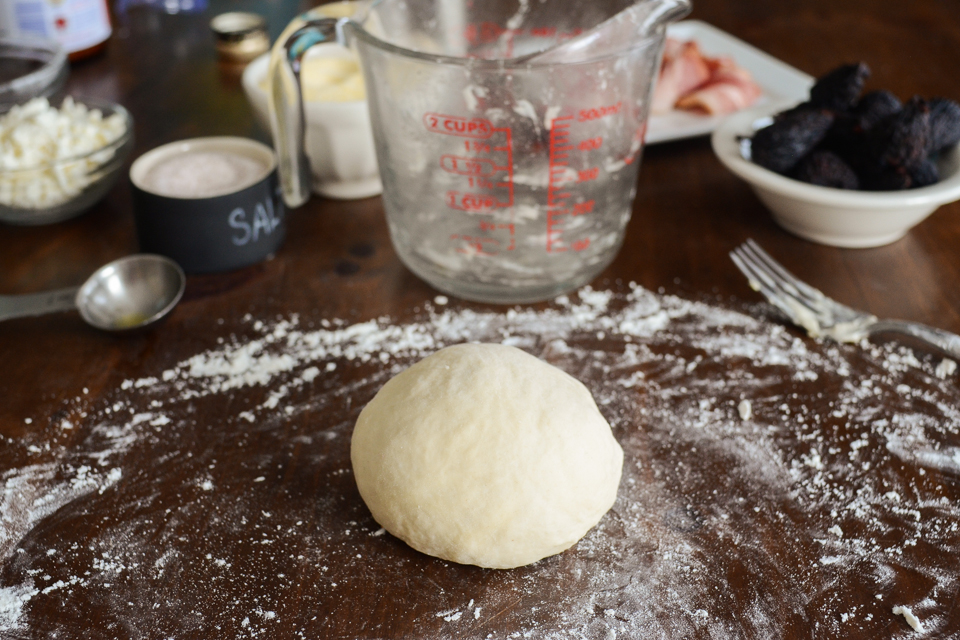 What you have now is a ball of dough that's no longer sticky.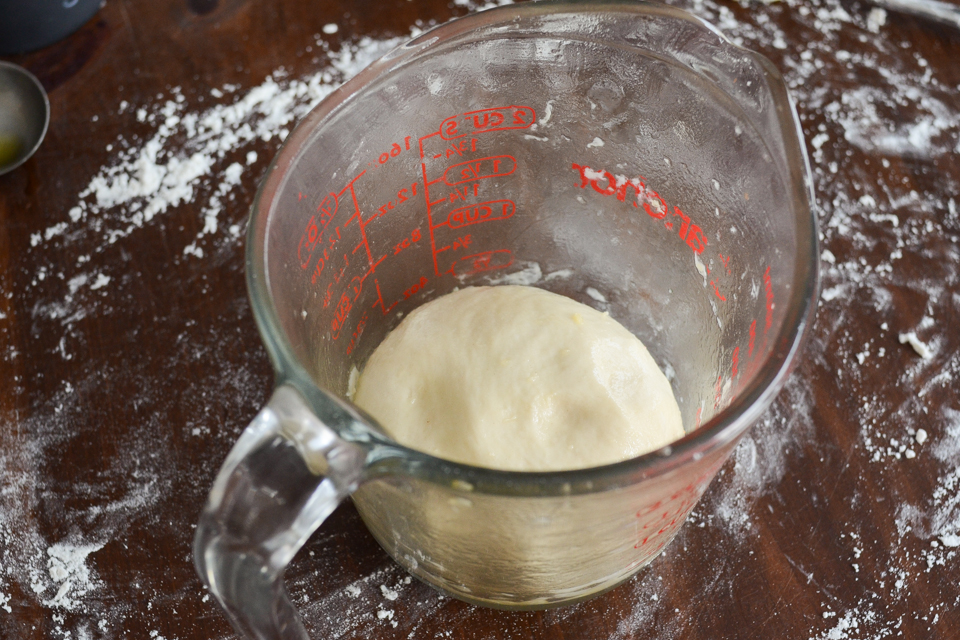 Rub your measuring cup with some olive oil and plop the dough inside. Flip it so it's coated with the oil. Leave in a warm spot of your kitchen until it has doubled in size, about 1 hour.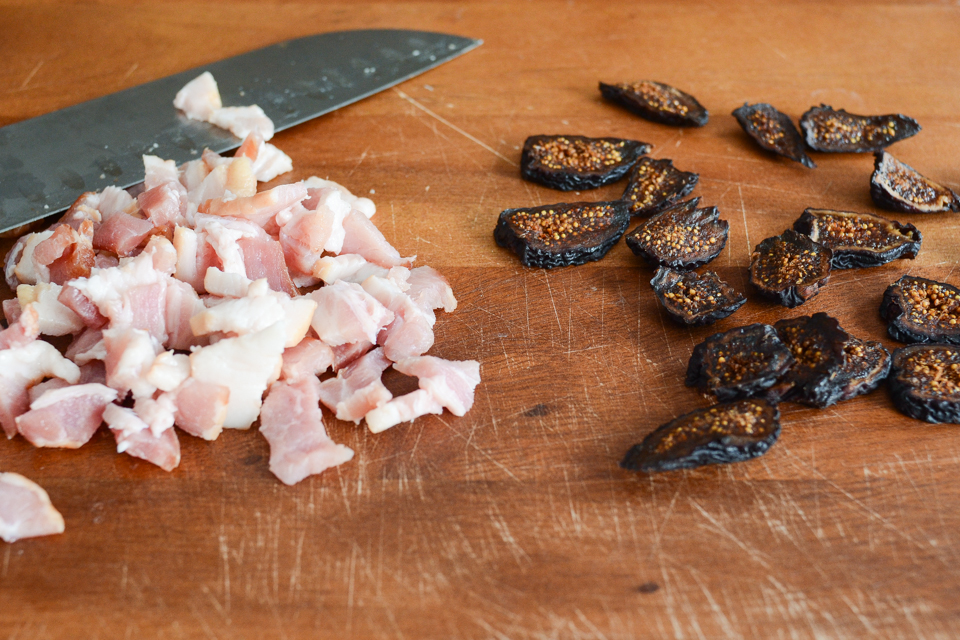 Now it's time to prep your topping ingredients. Chop up the bacon and thinly slice the figs.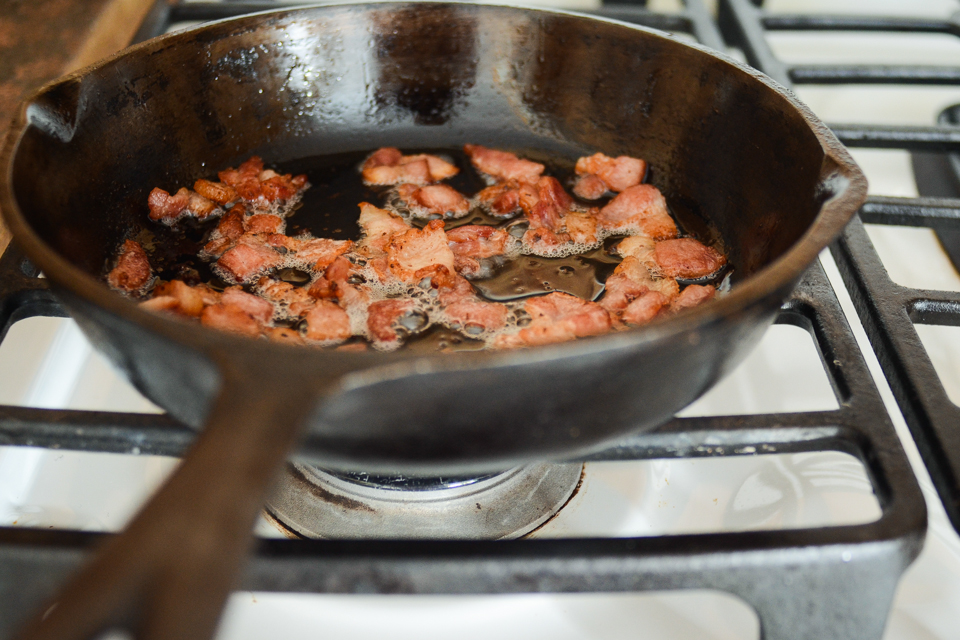 Cook the bacon in a skillet until it's not quite as crispy as you'd like. It will cook longer in the oven on the pizza. Make sure you reserve the bacon grease!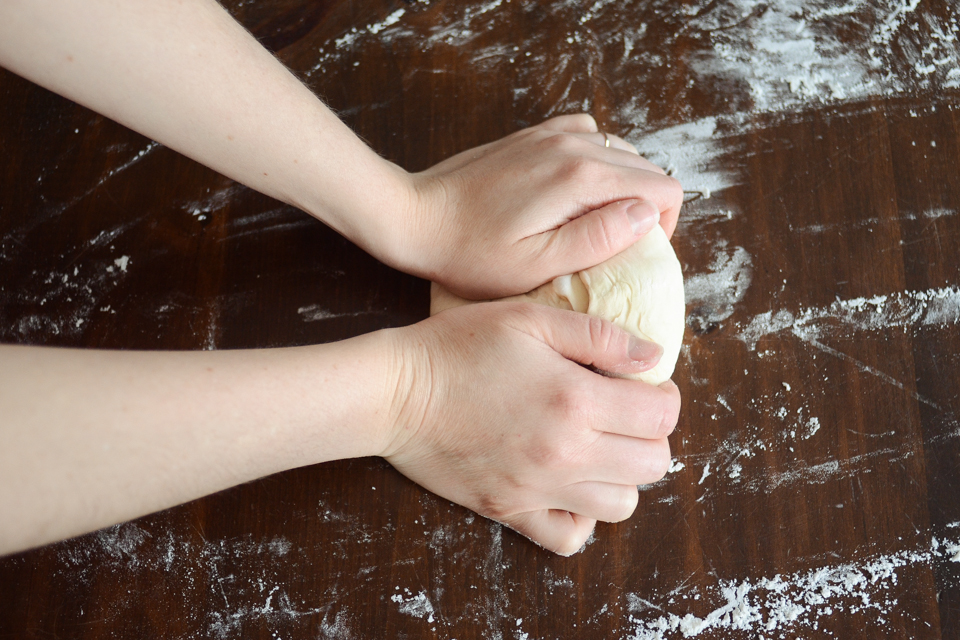 Once your dough has risen, turn it out onto your work surface a knead if for another minute.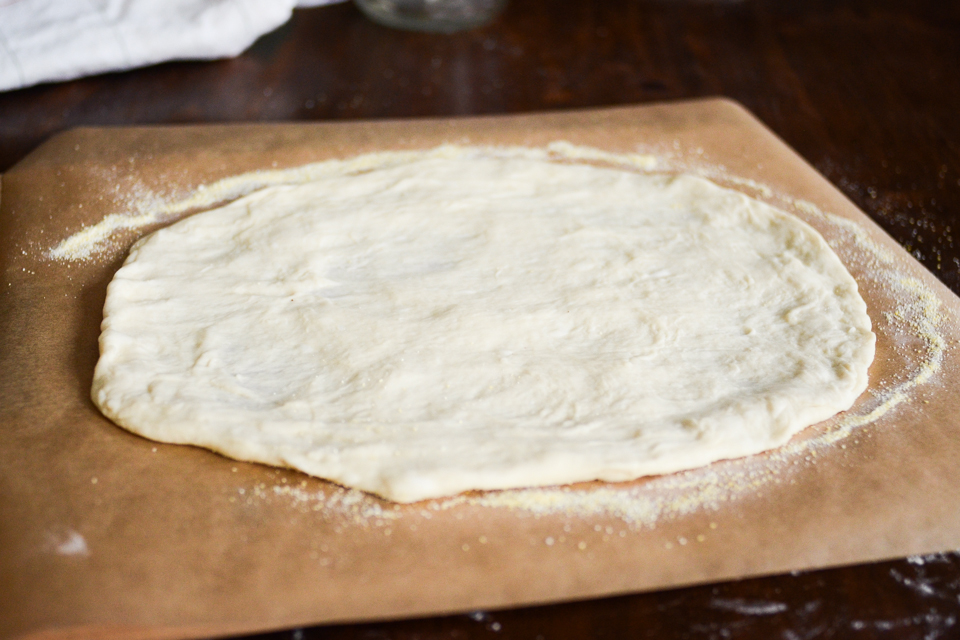 Shape the dough (I used a combination of letting it drape over my fists and patting it out) and place it on a cornmeal-dusted piece of parchment paper. You can also just put it on a cornmeal-dusted pizza peel or cookie sheet, but I find it's much easier to transfer the pizza to the oven if it's on top of parchment.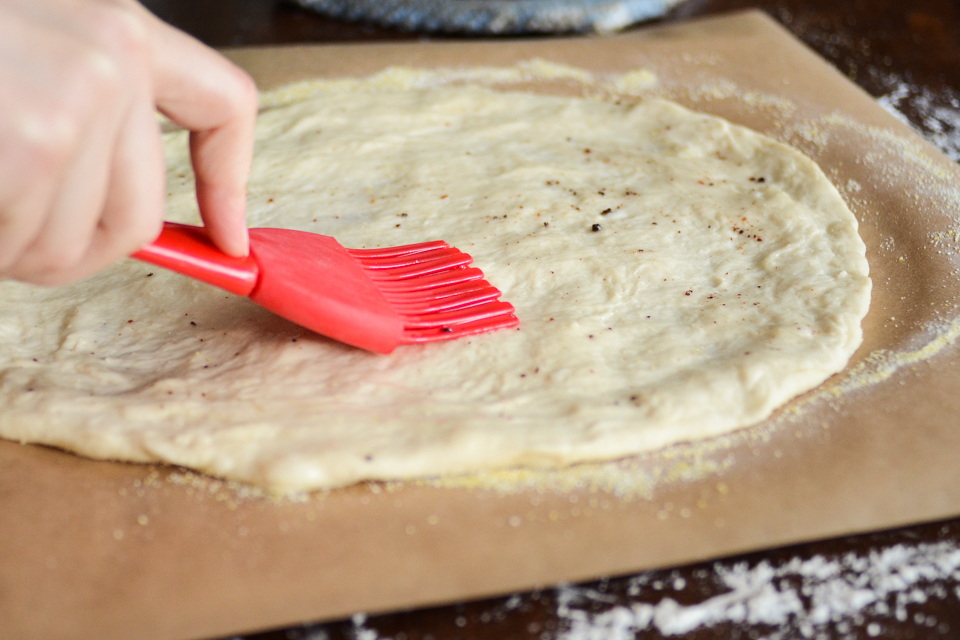 Brush the pizza crust with some of the bacon grease you saved earlier.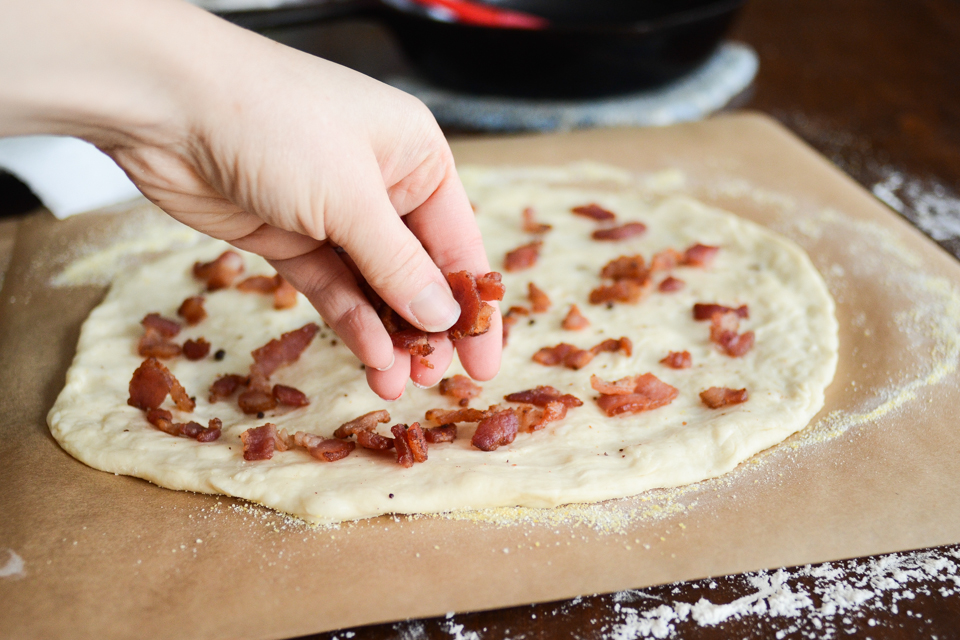 Add the bacon.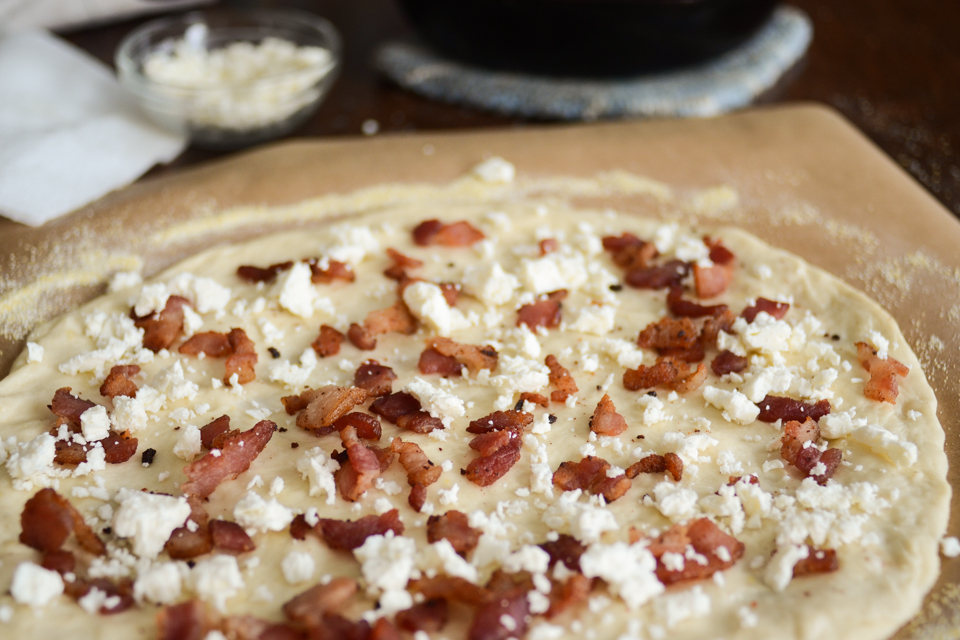 Sprinkle on the feta cheese and pop that baby into a (very) hot oven until the crust turns golden brown.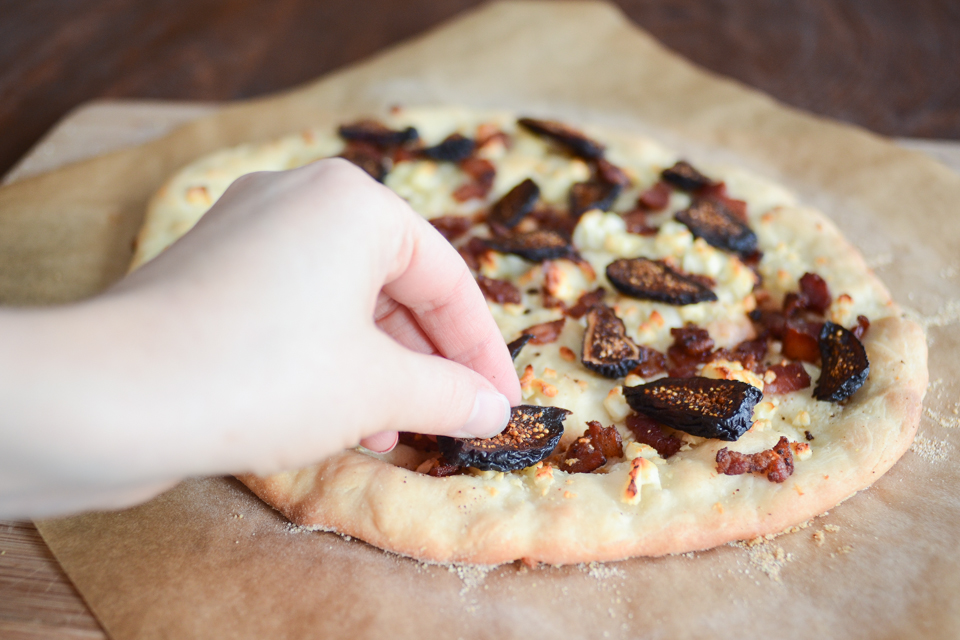 Once the pizza is cooked to your liking, add the fig slices.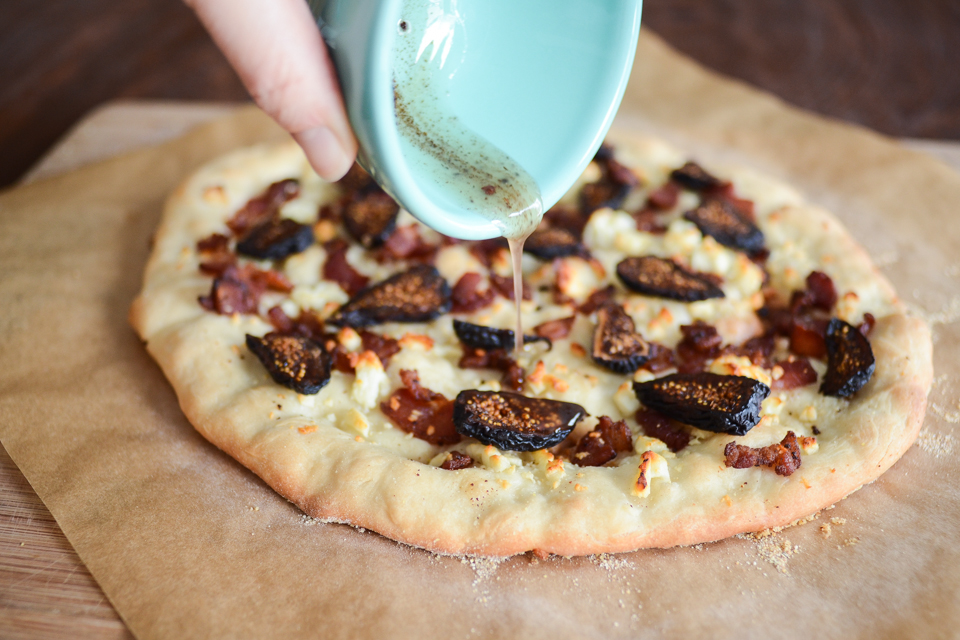 Pour any leftover bacon grease all over the pizza. Serve immediately.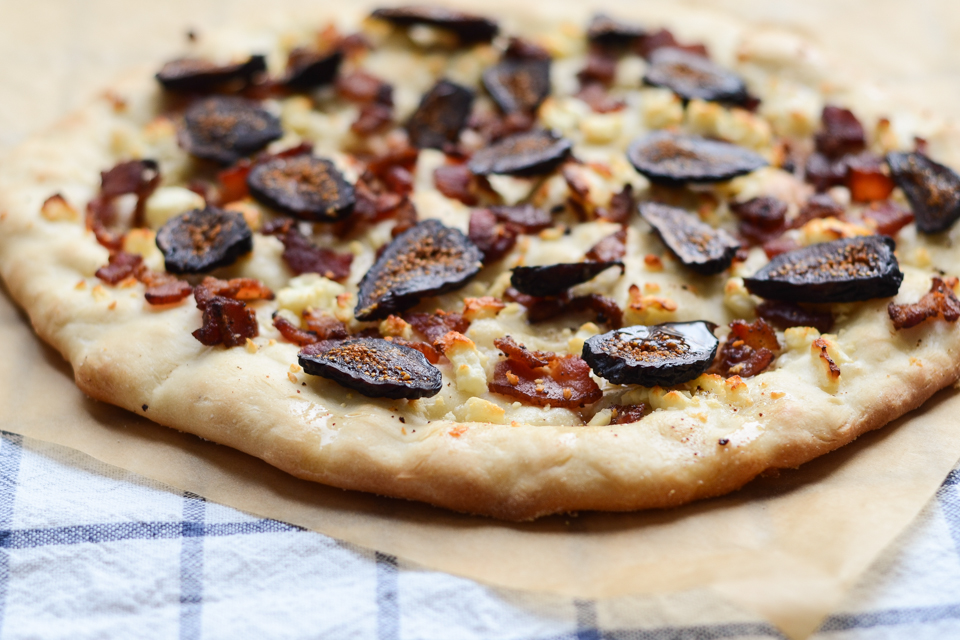 Notes: 
1. I held back on the feta because I thought it would be overpowering. We ended up adding more once the pizza was done. I would recommend being liberal with the cheese.
2. My husband was thinking of this as a traditional pizza, not an appetizer. So he thought that, while there were some awesome flavors going on, it was a tad dry. I think a drizzle of olive oil or balsamic reduction would be awesome.
3. If you really want to make this a speedy appetizer, you could make the dough beforehand, have the bacon cooked up and the figs sliced. Then you can slide it into the oven at the last minute and serve it piping hot to your guests.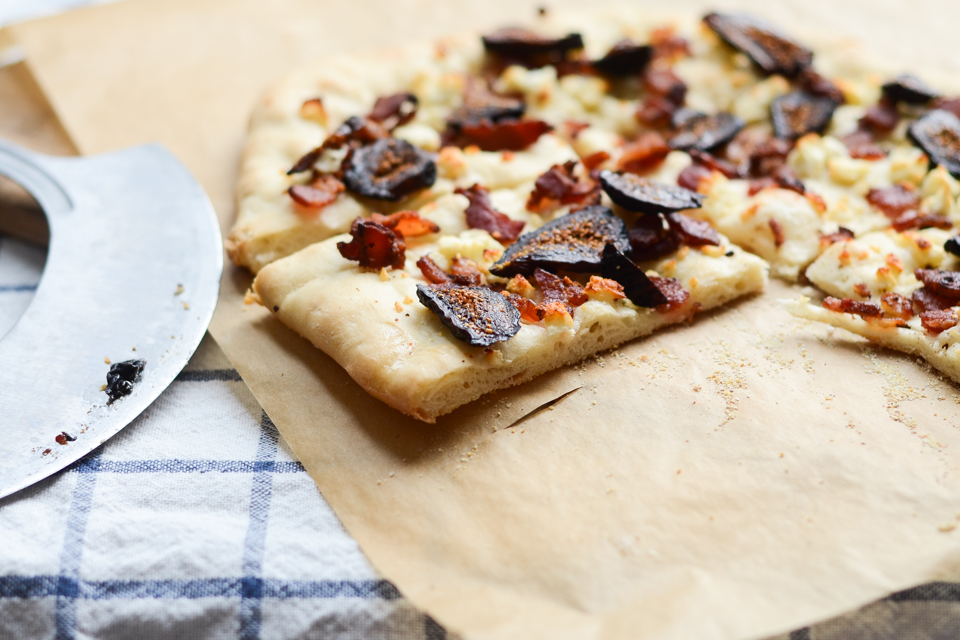 Many thanks to fellow TKB contributor Christina for submitting this pizza. You've probably heard of her lovely blog, Dessert for Two. If you haven't, make sure to check it out! She has lots of delicious-looking recipes.
Printable Recipe
See post on DessertForTwo's site!
Description
Homemade pizza for two topped with bacon, figs, and feta!
Ingredients
FOR THE DOUGH:
5 Tablespoons Warm Water (105-110 Degrees F)
½ teaspoons Sugar
½ teaspoons Dry Active Yeast
¾ cups Flour
¼ teaspoons Salt
1 Tablespoon Olive Oil, Plus More For Bowl
Cornmeal For The Baking Sheet
FOR THE PIZZA:
2 slices Thick Cut Bacon
3 Tablespoons Crumbled Feta Cheese
4 whole Dried Mission Figs, Sliced
Preparation Instructions
First, make the dough: In a 2-cup measuring cup, combine the warm water, sugar and yeast. Stir to dissolve. Let it sit for 5 minutes, or until foamy. If the yeast does not foam, it's dead and you'll need to start over.
Next, add the flour and stir. Then, add the salt and olive oil. Stir with a fork until a shaggy dough forms. Remove the dough from the cup and knead it a few times on a floured surface. As soon as you start kneading, the dough will come together and lose all the stickiness. Knead for about 1 minute. The dough should be easy to work with, pliable, and not sticky. Grease the measuring cup with a bit of extra oil, and plop the dough back in it. Turn the dough over once to coat it in oil, then let it rise in a warm place until doubled in bulk, about 1 hour.
Meanwhile, slice the bacon into lardons and fry in a dry skillet over medium heat until almost crispy. Don't let it crisp all the way, because it will continue cooking in the oven. Drain the bacon on a paper towel. Reserve the bacon grease!
Preheat the oven to 400 F and place a pizza stone in the oven (if you have one). Alternatively, you could use a baking sheet coated lightly with cornmeal.
Flour your hands, and remove the dough from the measuring cup. Lightly flour the counter and knead the dough for 1 minute. Then, pat the dough out into a circle. Pick up the dough (just like you see them do in pizzerias) and let it drape over your two fists. Slowly start stretching the dough out in a circular motion around the edges to a diameter of 6″. You could also make an oblong shape, like I did for the photos.
Next, sprinkle cornmeal on a pizza stone or baking sheet. Place the dough on top of the cornmeal. Brush some of the leftover bacon grease on the top of the pizza, then top with the cooked bacon and feta.
Bake for 10 minutes, until the dough starts to brown. Cooking time will vary if you're using a baking sheet versus pizza stone. Keep an eye on it. When it's ready remove pizza from the oven. Top the cooked pizza with the fig slices, drizzle with a smidge more bacon grease, and serve immediately.


_______________________________________
Erica Kastner has always been one of our most cherished members of the Tasty Kitchen community. She shares her wonderful recipes and amazing food photography on her blog, Buttered Side Up, and she also writes about crafts and posts more of her beautiful photography in her personal blog, Simple Days. There really isn't much that this amazing young wife and mother can't do, and we're thrilled she does some of it here.