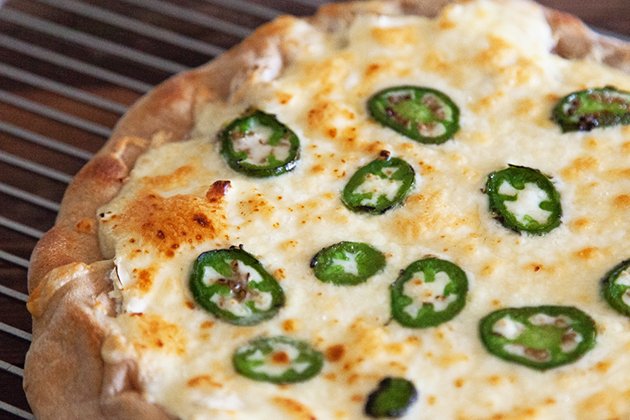 If you're like me, anything that ends with 'pizza' is pretty much the best thing ever. I'm obsessed to say the least! So when I ran across this Jalapeno Popper Pizza from Dax Phillips over on Tasty Kitchen, I knew it was destined to be in my future!
This tastes just like one of those insanely addictive jalapeno poppers, but it's on a pizza! A pizza, you guys! It's going to rock your world—and all of your tailgate parties from here on out!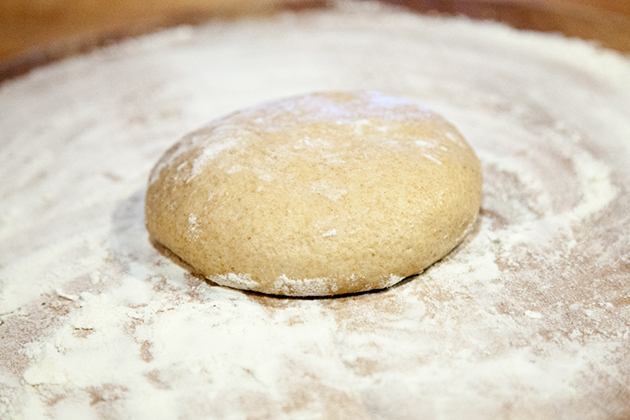 First you'll need some pizza dough. You can make your own, or buy some freshly made at the market. I opted for the market.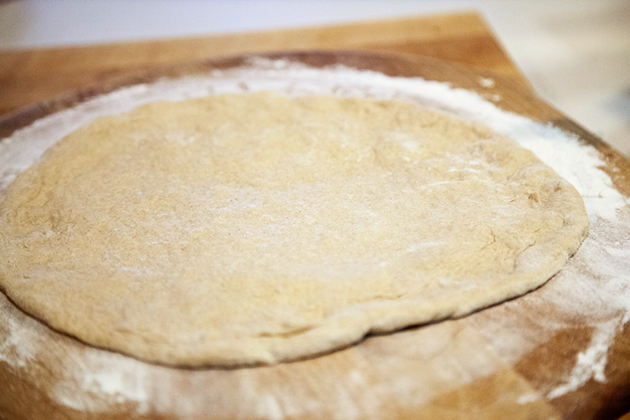 Roll out the dough to whatever shape you want.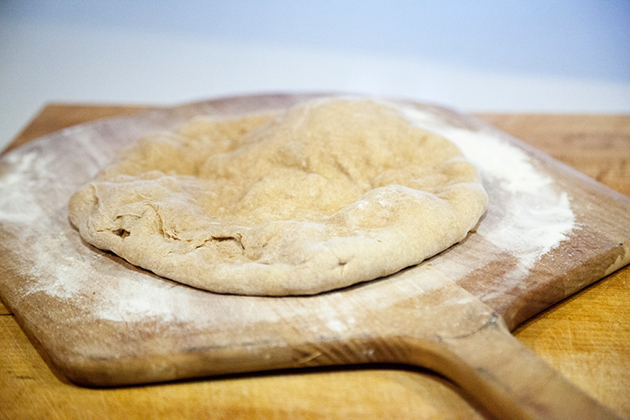 Slide the dough into the oven and par-bake it for a few minutes until it starts to puff. Try not to start snacking on it right now. I know it's hard to resist freshly baked dough!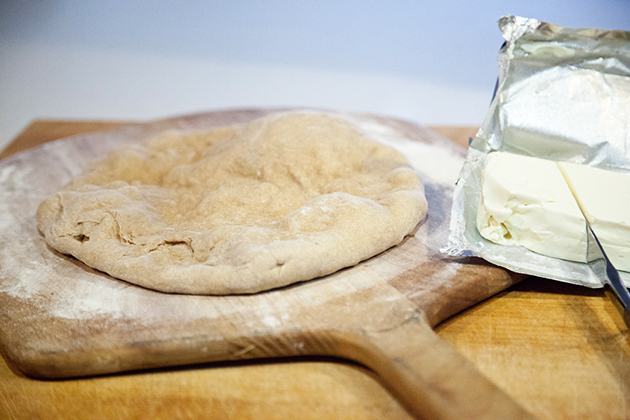 Next you'll need some cream cheese.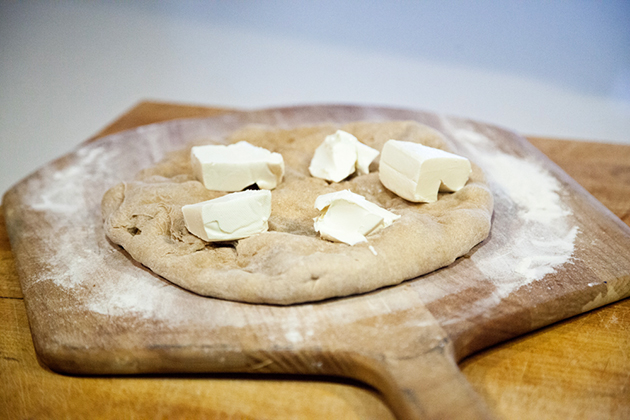 Dot the top of the dough with the cream cheese and let it start to soften.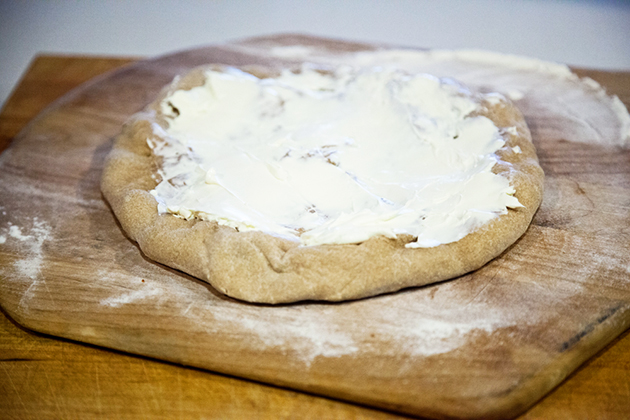 Slather the cream cheese all over the dough. You could even jazz things up at this step and use a flavored cream cheese! Chive would be extra delicious, if you ask me.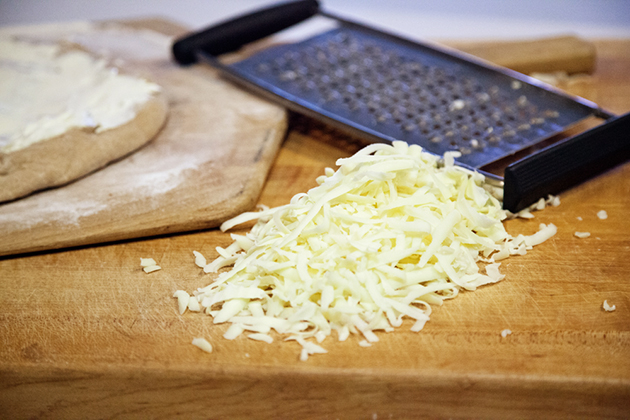 Next, let's grate some cheese. Again, refrain from snacking on all of the cheese like me.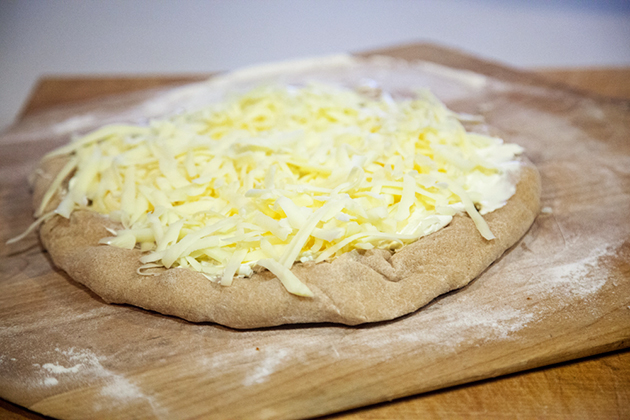 Pile the cheese on top of the pizza.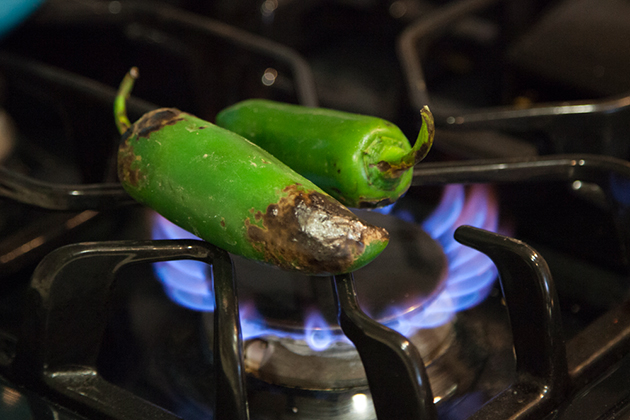 Throw a few jalapenos over an open flame and roast them until the skin is black.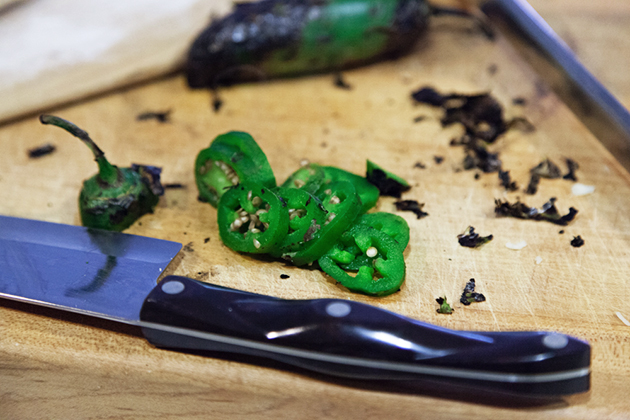 Remove the blackened skin from the pepper and slice the remaining green parts into rings.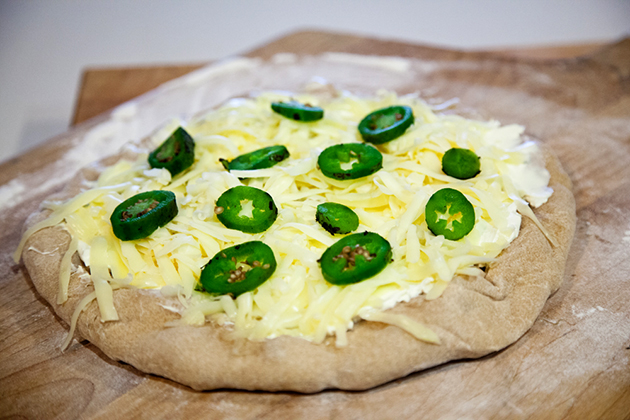 Arrange the jalapeno rings on top of the cheese and slide the entire thing back into the oven until the cheese is bubbly and melted.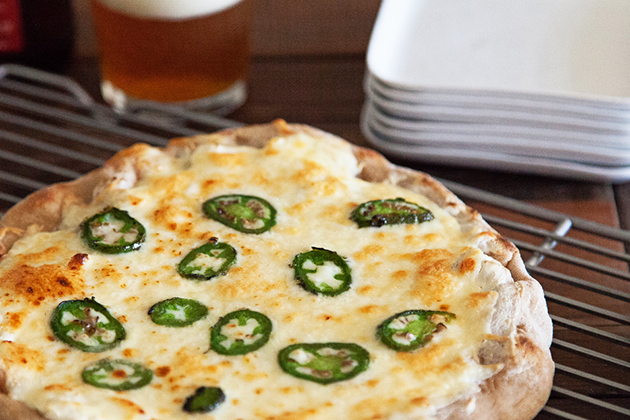 Pour yourself a cold beverage and enjoy!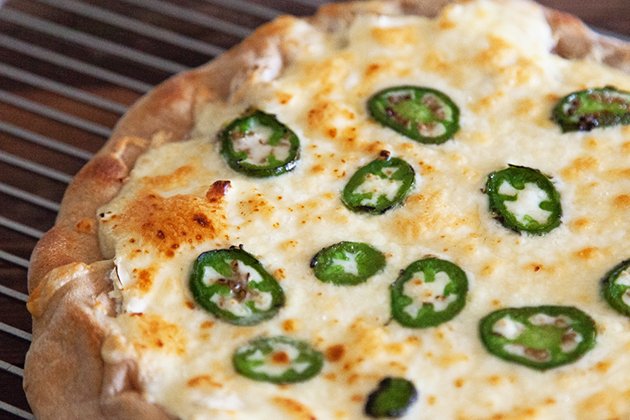 A big thanks to Dax for this killer recipe! I'm 100% hooked. Have you seen his blog Simple Comfort Food? It's loaded with tons of great recipes like this. Go check it out!
Printable Recipe
See post on Dax Phillips's site!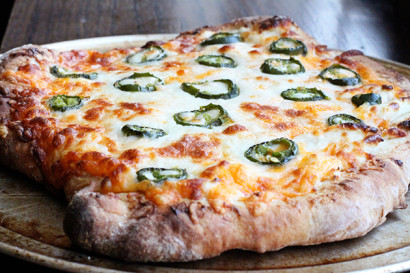 Description
Everything you want and expect in a great jalapeño popper, but turned into a pizza.
Ingredients
FOR THE PIZZA DOUGH:
3-¾ cups Bread Flour
2-½ teaspoons Active Dry Yeast
¾ teaspoons Table Salt
¾ teaspoons Sugar
1-⅓ cup Room Temperature Water
FOR THE PIZZA:
1 whole Pizza Dough, Shaped Into Your Desired Circumference And Thickness
6 ounces, weight Cream Cheese, Room Temperature
½ cups Shredded Cheddar Cheese
1 cup Shredded Mozzarella Cheese
2 whole Jalapeño Peppers, Roasted, Skins Peeled And Discarded, Sliced
1 whole Pizza Stone, Optional
Preparation Instructions
Note: The pizza dough recipe makes enough for 3 large sized pizzas. The toppings in the above list are enough for only one pizza.
For the dough:
In a large bowl combine the flour, yeast, salt, and sugar. Mix. Add the water, and with your wooden spoons, or hands, mix until blended. I use my KitchenAid mixer for this process to keep everything in the bowl during the rising process. Mix for about 30 seconds. The dough should be a bit stiff. Cover the bowl with a towel, and let it sit at room temperature until the dough has doubled in volume, about 2 hours.
Once risen, divide dough into three portions. Add a sprinkling of flour to a large pastry board and put one of the dough portions on top. Start rolling it out into your desired pizza shape. If you are adventurous, try tossing the pizza, to get your desired thickness.
Preheat your oven to 500 F with the pizza stone inside.
When oven is preheated carefully place the shaped pizza dough into the oven on the preheated pizza stone, and bake for about 10 minutes.
Remove the pizza stone from the oven, then smear the cream cheese over the top of the crust, leaving about an inch border. Top with the cheddar cheese and the mozzarella cheese, then arrange the sliced jalapeño peppers over the top.
Place it back into the oven for an additional 15 minutes or until the crust is nice and golden and the cheese is fully melted.
Remove it from the oven and let it cool for about 5 minutes before slicing into it, then dig in.
When you first bite into it, you get that surprise from the cream cheese base, and it has that richness to it. But when you get that paired with the roasted jalapeño peppers, well, then it all comes together. This is a real treat, and one slice will do you just fine. Hope you enjoy.


_______________________________________
Gaby Dalkin is the young lady behind What's Gaby Cooking, a food blog that's bursting at the seams with incredible recipes and food photography. She's a personal chef and professional recipe developer, and if you follow her on Twitter, you'll soon discover her two-fold obsession: guacamole and cheese. She has small feet, a large heart, and a smile that can light up the whole building. We're pretty stoked to have her here.