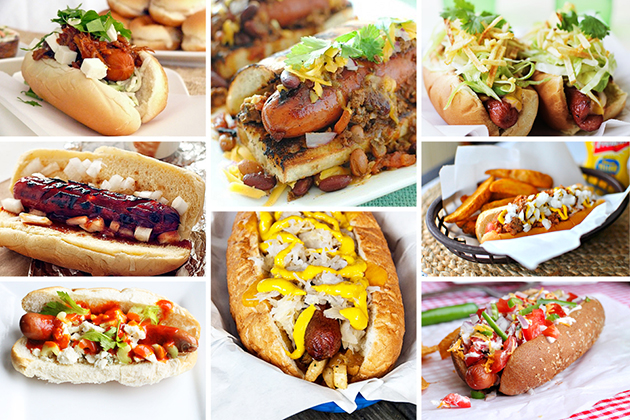 I want to know one thing: What happened to summer? It feels like only last week, I was watering my lawn in a t-shirt and capris. Wait, that really was last week. Then bam! I'm standing outside in the morning with the actual temperature below freezing and a stiff breeze making it feel like 24 degrees and December.
Except it's October. Oy.
The past years have brought unusual weather. We've started seeing snowfall as early as October. We've had nasty hurricanes up north in October, too. Everything's changing. But you know what we can count on as a constant? Baseball. You can always count on baseball giving us a great show in October. Hello, World Series.
When it comes to baseball grub, more than peanuts or Cracker Jacks and yes, even beer, I think of hot dogs. Tradition has it that the practice of serving hot dogs at baseball parks started in St. Louis. (See how all this is coming together?) Fast forward more than a hundred years, and hot dogs are still standard fare at the game. So whether you prefer your hot dogs with neon green relish "dragged through the garden" and stuffed into a sesame seed bun, or topped with mustard and a simple onion sauce, or if you'll take your Fenway Frank steamed (I had to give them a shout-out too), we all have our favorite way to enjoy hot dogs.
There's just something about a hot dog that's both supremely satisfying and nostalgic, and apparently, many of our members agree because we have some pretty creative sandwiches here, inspired by various regions around the country, and even outside this land of baseball. Let's take a quick tour, shall we?
Detroit-Style Coney Dogs: natural casing hot dog, chili, mustard and onions. Classic.
Jalapeño Chili Dog: a Tex-Mex style hot dog topped with chili, jalapeño peppers, chopped tomatoes, avocado, cheese, sour cream, and salsa. Spicy cream smoky goodness.
Colombian Hot Dog: fried hot dog seasoned with oregano and cumin, topped with a vinegar-based cabbage slaw, thinly sliced onion, avocado, three different kinds of sauces (garlic cilantro mayo, anyone?), and topped with shoestring fries. Perro caliente indeed.
The Spud Dog: beef hot dogs in a hoagie roll, topped with cheddar, fries, caramelized onions, sauerkraut and yellow mustard. John's homage to Idaho and his German roots.
Fancy Pants Street Vendor Hot Dogs: all-beef hot dogs marinated in apple cider vinegar, garlic and brown sugar, grilled then topped with a sweet BBQ sauce, onions, pepperoncinis, and pickles. Inspired by a hot dog stand in Utah. Yowza.
Buffalo Chicken Hot Dog: a chicken hotdog or sausage, dressed with Buffalo sauce, crumbled blue cheese, and celery. All the flavor of a Buffalo wing, without the messy fingers.
Pulled Pork Hot Dogs with Broccoli Slaw: a hot dog topped with pulled pork, broccoli slaw, queso fresco, and cilantro. A little bit of south, a little bit of Mex. It's all over the place, in the best way possible.
Gourmet Chili Dogs: this isn't necessarily tied to any one region either, but goodness, just try resisting this! The beef-and-bean chili gets extra depth from red wine and the "hot dog" is actually Polish sausage grilled and slightly charred, cradled in a baguette and topped with onions, cheese, and cilantro. Sign me up.

All this talk of hot dogs is giving me the urge to host a World Series party and set up a hot dog bar with every kind of topping possible. Then I think of having to clean up after and all the beer that might be consumed and all the hooting and hollering and toppings flying everywhere, and I'm tempted to set up the hot dog bar just for myself.
How about you? Do you have any favorite hot dog variations? Strong feelings about ketchup on a hot dog? Do you like them grilled, fried, deep-fried, or steamed? Cooked onions or raw? Did I make you want hot dogs now? (I hope so!)
Have a great weekend, everyone!