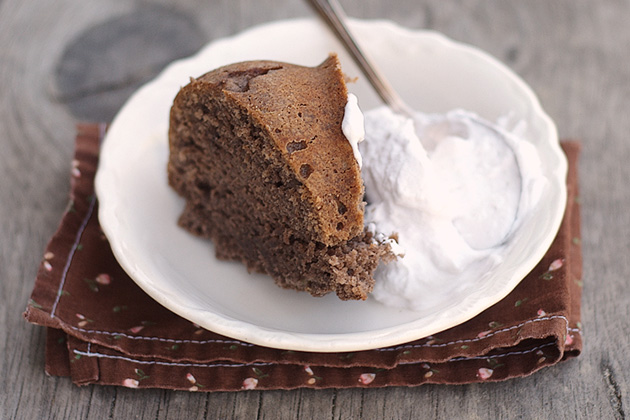 Whenever I see a recipe that calls for wine, I must admit that I'm immediately drawn to it. It adds such a wonderfully distinct flavor that cannot adequately be replaced by fresh fruit juice. Just a splash can create depth in a quick pasta sauce.
Before making this cake, I had never used wine in baking. I was a bit apprehensive about how it would turn out, but I was quite pleased with the results. The red wine lends a different taste that is quite pleasant and makes you want to carefully observe the flavors. The bit of chocolate and cinnamon complement the wine perfectly.
Today's recipe, brought to us by cyniczora, would be a wonderful end to a sophisticated or even a hearty meal. Add some ice cream or wine-infused whipped cream, and you have scrumptious dessert.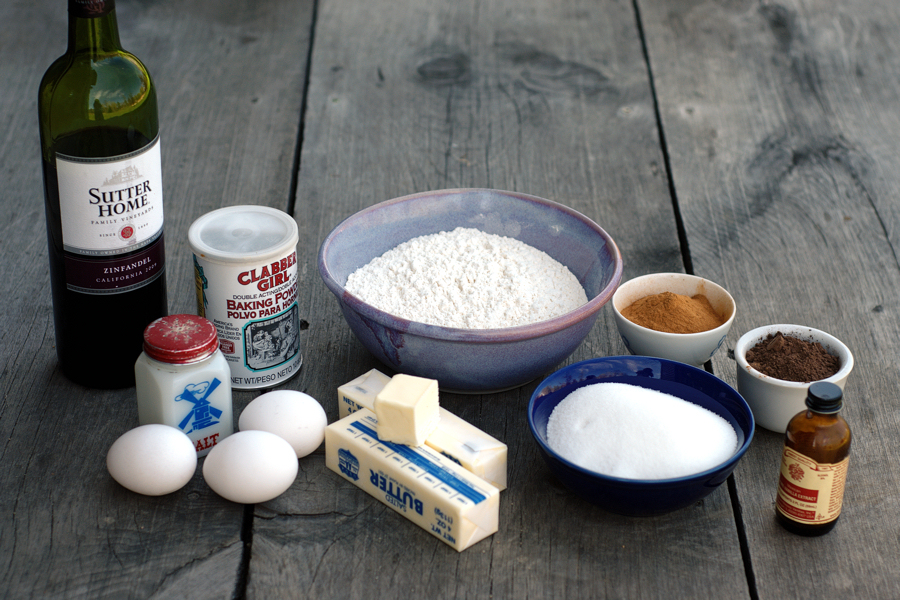 Here's what you'll need: butter, sugar, eggs, vanilla, cocoa powder, cinnamon, baking powder, flour, red wine, and salt (the original recipe didn't call for salt, but I decided to add a pinch for added flavor).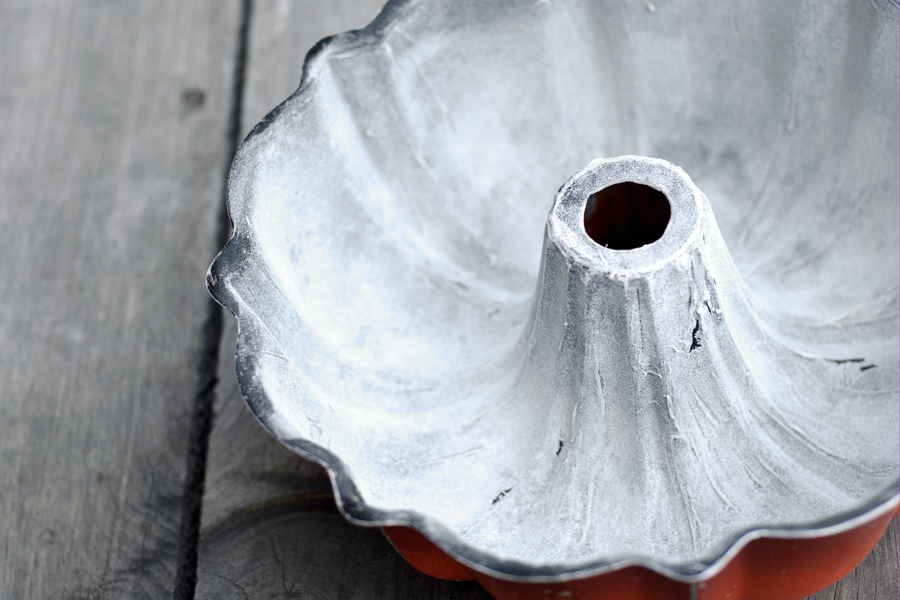 Begin by buttering and flouring a bundt pan. Make sure you grease and coat with flour EVERY INCH of the pan. You'll thank me later.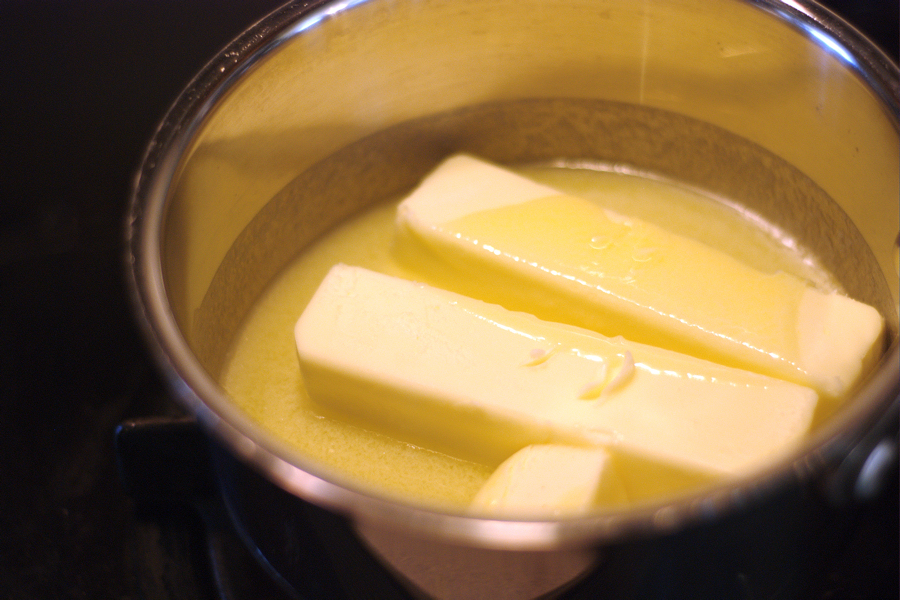 Melt the butter.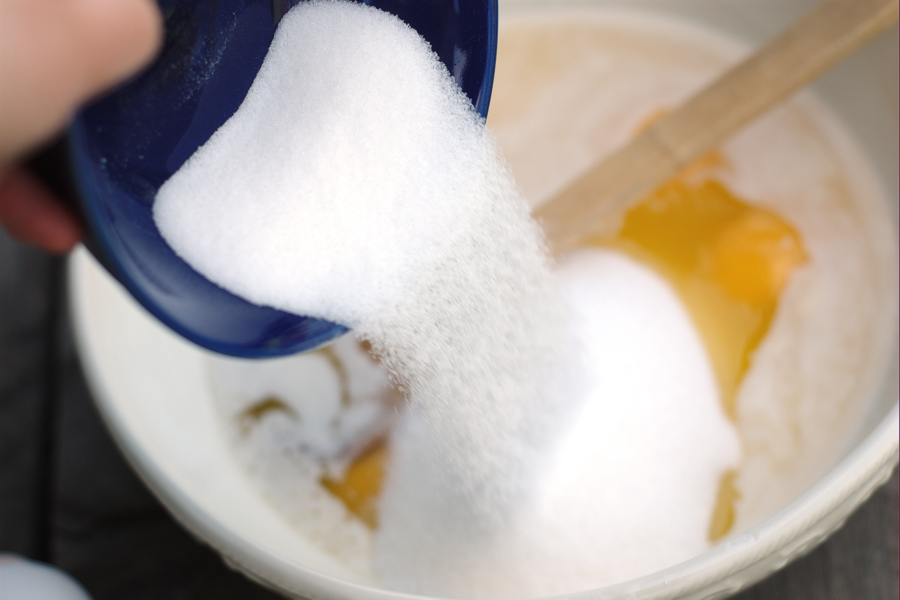 Pour the butter into a large bowl and add the eggs and sugar. Stir.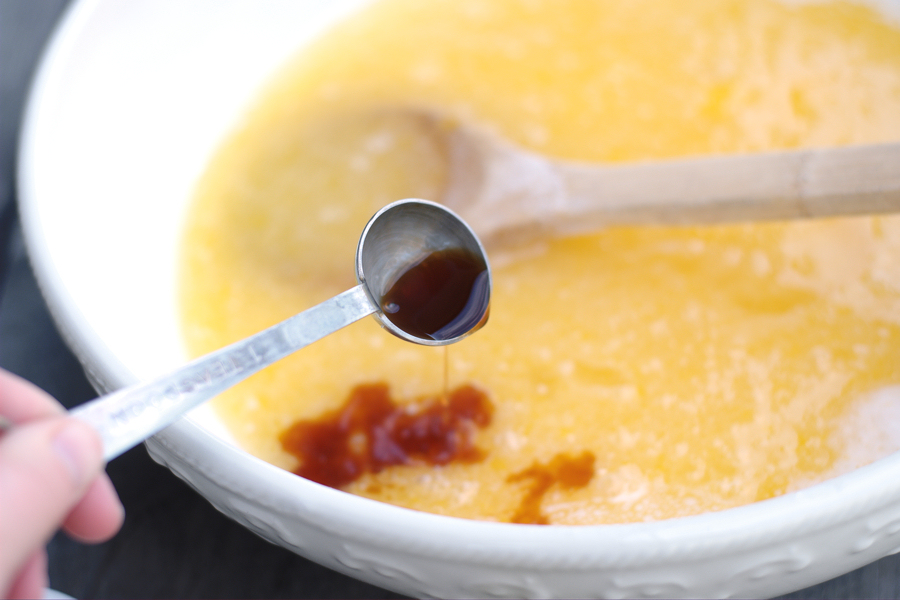 Add the vanilla. (Only use pure vanilla, never imitation. Ahem.)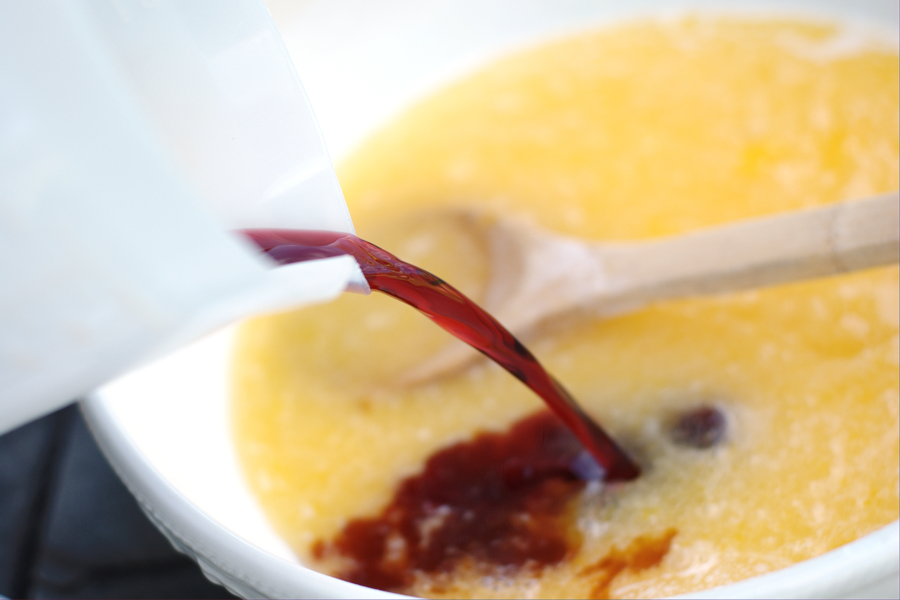 Pour in the red wine. Stir to combine.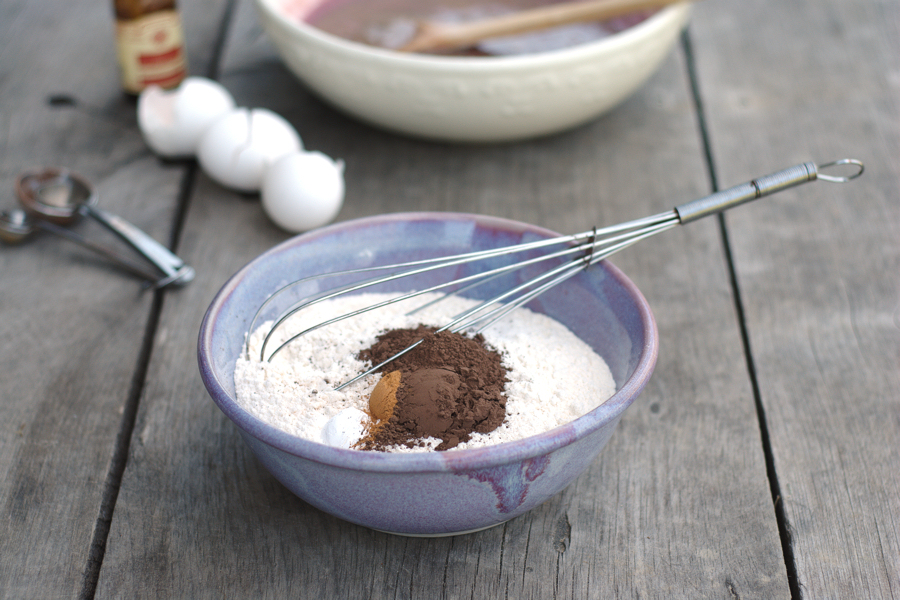 In a separate bowl, whisk together the dry ingredients.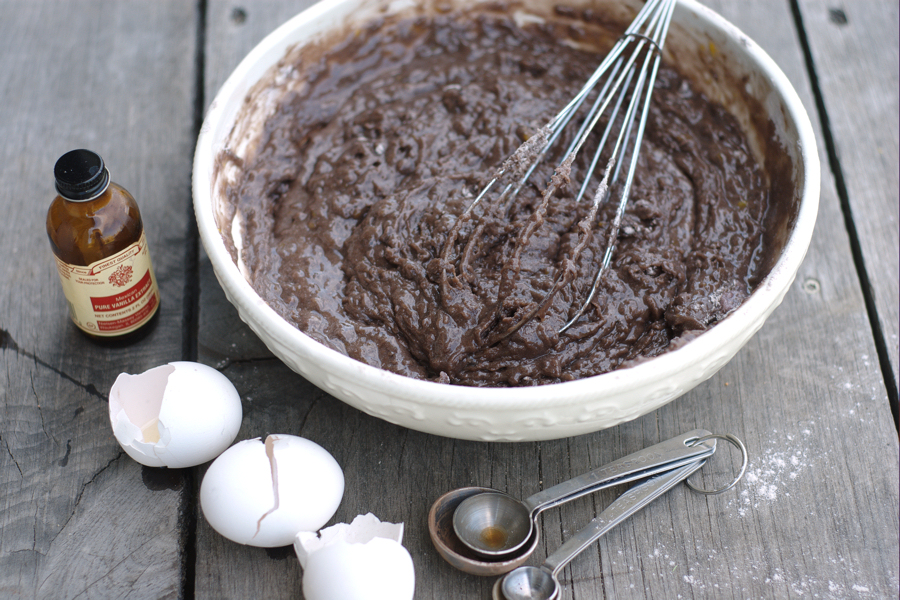 Add the dry ingredients to the wet ingredients and stir to combine.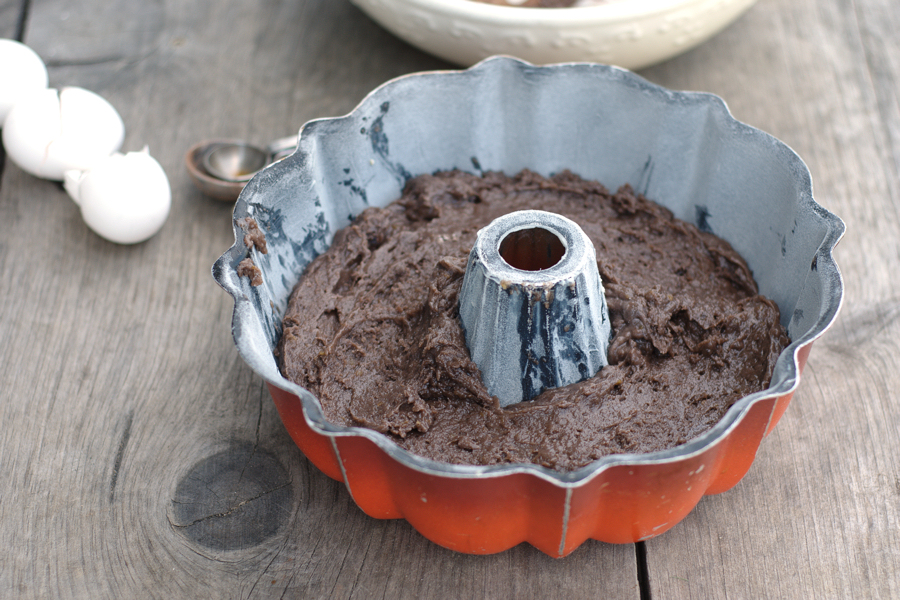 Scrape into your prepared bundt pan. Bake in a preheated 350°F oven for 40-45 minutes. Remove from oven and let cool in pan on a rack for 10-15 minutes. Invert onto the rack to cool completely.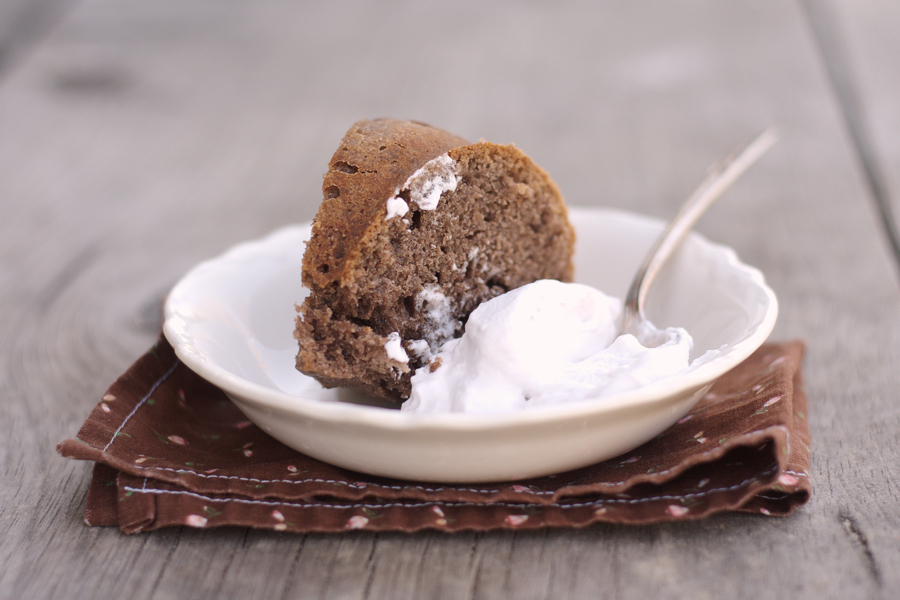 Serve with good vanilla ice cream or homemade whipped cream. Enjoy!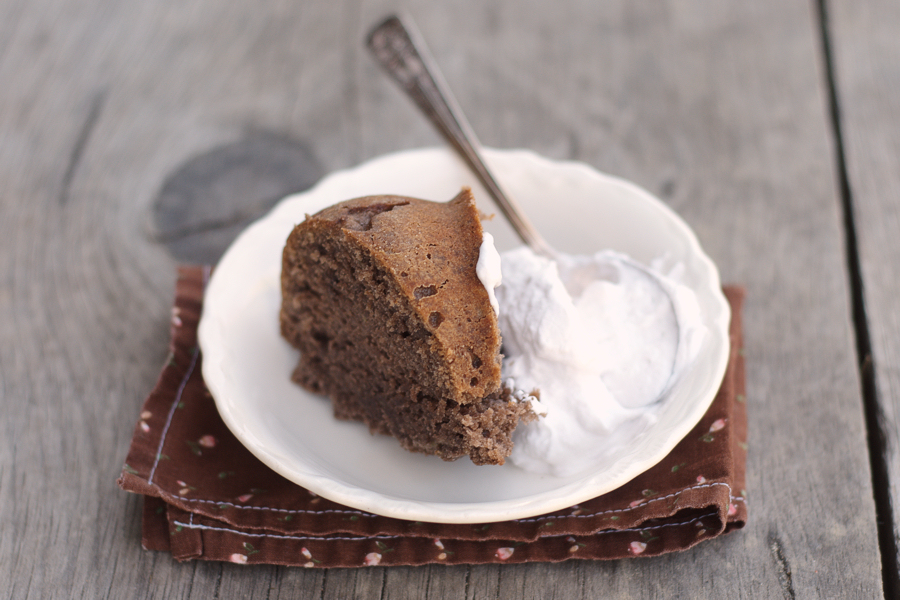 Notes:
1. As mentioned, the original recipe did not call for salt, but I added a pinch so it wouldn't be too bland.
2. My only quarrel with this recipe is that the cake is a bit dense or heavy. Another time I would probably add more wine or decrease the amount of flour.
3. I made wine-infused whipped cream to serve with the cake by adding a bit of red wine to the cream before I whipped it. It nicely complemented the flavors in the cake.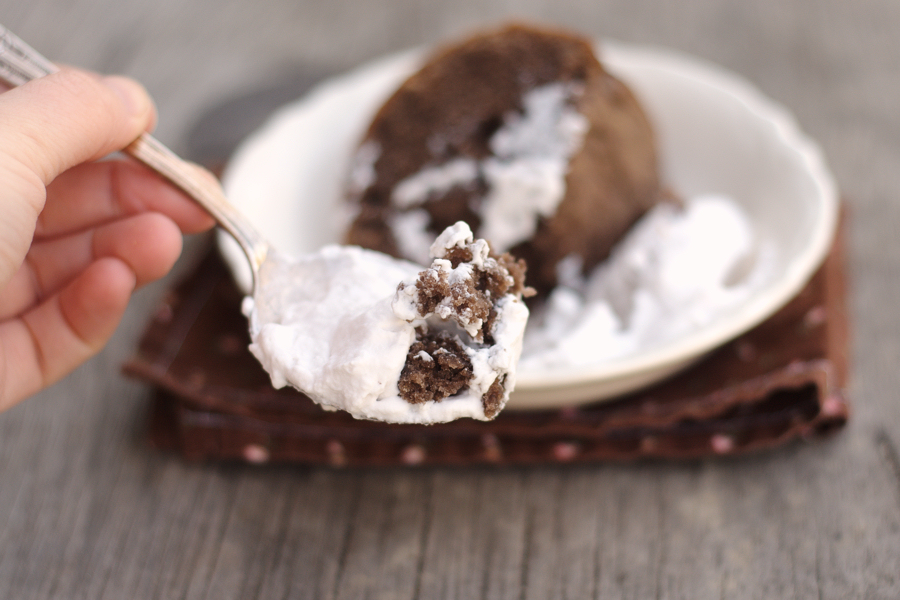 Thank you, cyniczora, for bringing us this awesome recipe.
Printable Recipe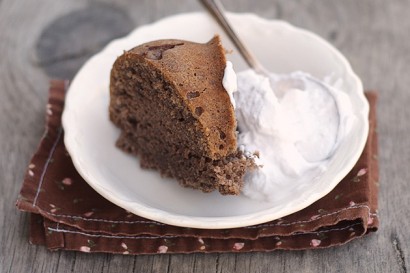 Description
I haven't met anyone so far who didn't like this cake.
Ingredients
½ pounds, ⅞ ounces, weight Butter
½ pounds, ⅞ ounces, weight Sugar
3 whole Eggs
1 teaspoon Vanilla
2 Tablespoons Cocoa Powder, Unsweetened
1 teaspoon Cinnamon, Ground
1 teaspoon Baking Powder
¾ pounds, 2-⅛ ounces, weight Flour
8 tablespoons, 1 teaspoon, 5-⅞ pinches Red Wine
Preparation Instructions
Melt the butter in the microwave, then mix it with sugar and eggs. Add all the other ingredients. (It doesn't really matter in what order.) Mix it all together.
Preheat the oven to 350 degrees F.
Put the batter in a greased bundt cake pan and bake it 40 – 45 minutes.
I live in high altitude and therefore use 150 milliliters red wine.


_______________________________________
Erica Berge shares her wonderful recipes and amazing food photography on her blog, Cooking for Seven. She also writes about crafts and posts more of her beautiful photography in her personal blog, EricaLea.com. There really isn't much that this amazing young lady can't do, and we're thrilled she does some of it here.