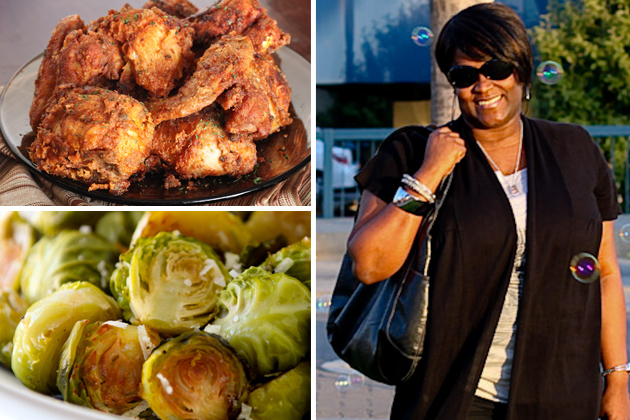 She's a beautiful lady, inside and out, and we're so glad she shares her recipes with us in our little cooking community. Let's meet Shelisa, known to us here at Tasty Kitchen as big2beautiful!
Shelisa comes from a huge family. Her grandmother had 9 children, and she is the 6th of 27 grandchildren. "Of course I was her favorite," she adds. From the tender age of 6, Shelisa spent her time in her grandmother's kitchen, snapping peas, picking greens, hulling nuts, learning to roll and cut buttermilk biscuits. With a family full of great cooks (although some, she admits, were more suited for supplying paper goods for family gatherings), it's easy to see where Shelisa gets her natural instincts in the kitchen.
Shelisa grew up eating and cooking traditional Soul food, and up until her mid-20s, just about the only international dish in her repertoire was spaghetti and meat sauce from a jar. "But give me oxtails, peas and okra, mustard greens, dressing (not stuffing), and I could cook it in my sleep."
(I'm not even sure I can cook that wide awake.)
Old school or new, soul food rocks. Just take a look at her recipe box.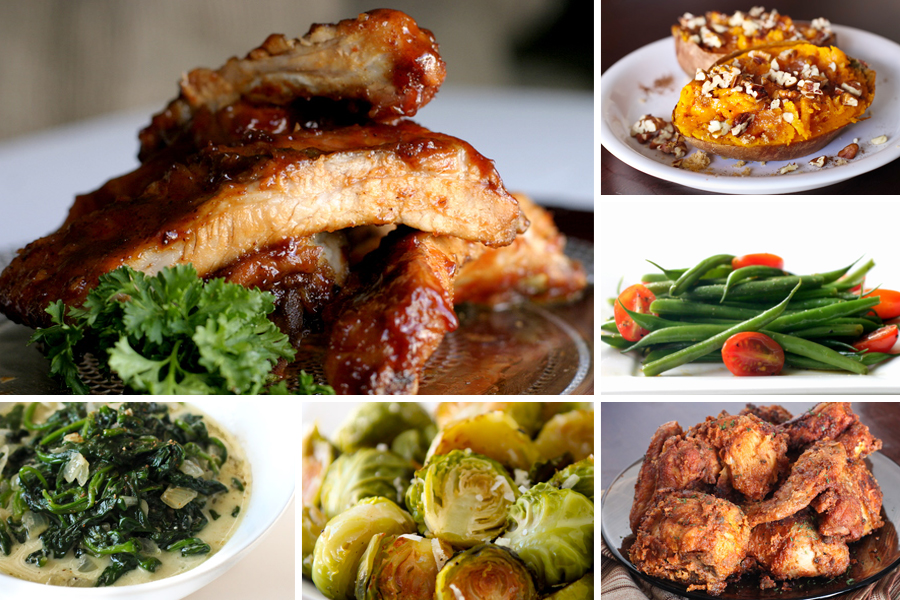 Clockwise from top left: Sweet and Savory Ribs, Sweet Potato Delight, Green Bean Salad, Southern Fried Chicken, Roasted Brussels Sprouts, and Creamed Spinach.



Shelisa lives in the Tampa bay area with her husband Curtis and three children. Their kids will eat anything, thanks in part to their frequent grocery store "treasure hunt" trips. Even at a very young age, Shelisa would take them exploring around the produce section where they would grab the most unusual fruits and vegetables. "We would go home and learn all about them, where they came from, how long they took to grow, and most importantly, how they taste and how to cook with them."
Shelisa, too, expanded her food world. Her move away from Tallahassee led to her love affair with authentic Italian food, which she explored with the same passion. Now she says that Italian food is actually her favorite, although we need to keep that a secret from her family. Especially her mom.
It looks like somewhere along the way, she got quite adept at so many other international cuisines as well.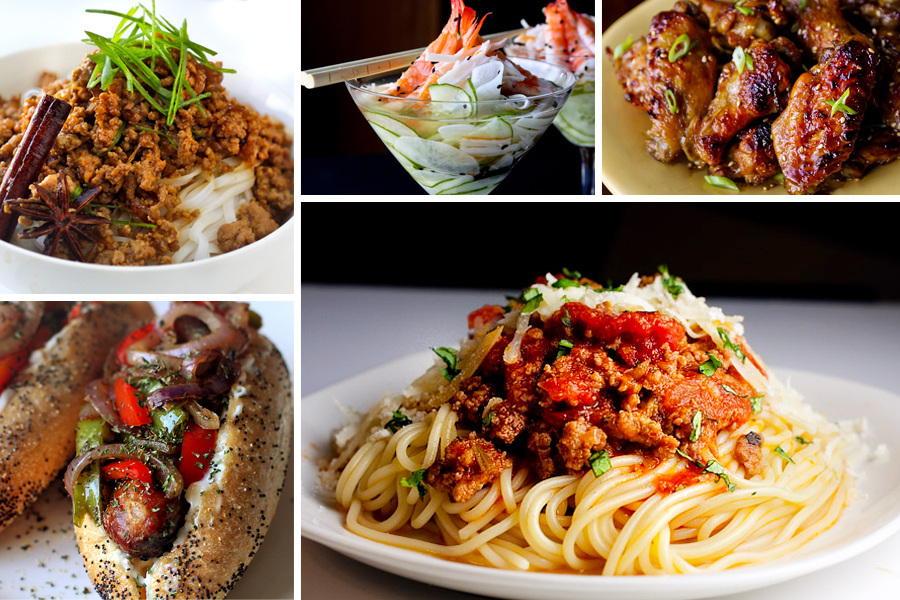 Clockwise from top left: Taiwanese Pork and Noodles (Lo Ba), Japanese Cucumber Salad, Teriyaki Glazed Wings, Spaghetti and Meat Sauce, and Sausage and Peppers.



Shelisa is also a seafood junkie. She loves crab and shrimp. Her go-to dish is Garlic Shrimp Pasta, which has all her favorite ingredients: butter, shrimp, and pasta. Freshly fried fish with hot sauce and mustard on sliced bread is one of her Friday favorites, and from the looks of the grouper sandwich below, it could easily be one of my favorites too.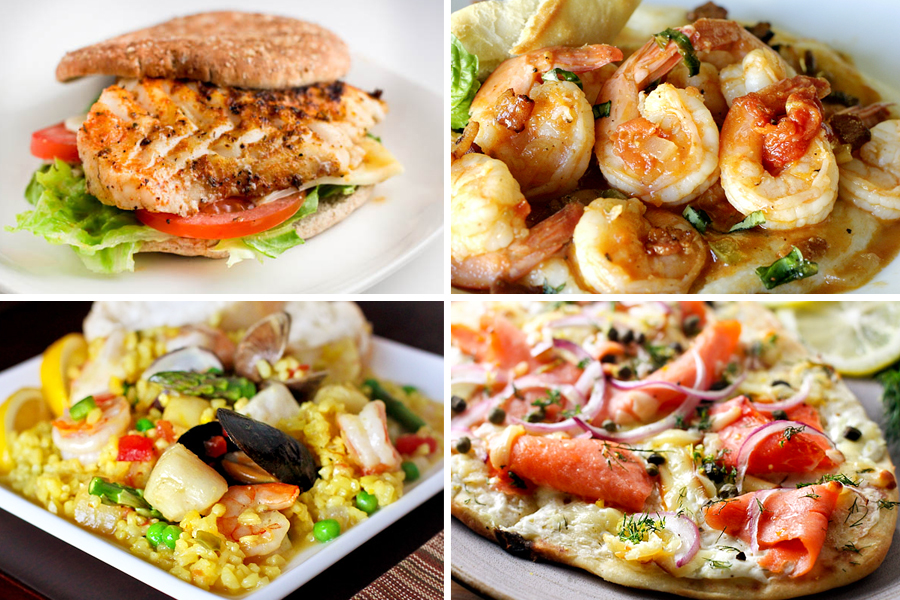 Clockwise from top left: Grouper Sandwich, Shrimp and Grits, Smoked Salmon Pizza, and Paella.



Shelisa sums it up nicely when she says, "Food is the center of family joy, and even sometimes pain in my family. We celebrate everything from births to farewells with meat and vegetables."
I know many of us share that sentiment.
Now let's sit down with Shelisa and get to know this beautiful woman even better. (I always enjoy this part!)


Q: What do you enjoy most about cooking?
A: The most enjoyable aspect of cooking to me is eating! I love all kinds of food and I am very open to trying anything once. I love taking the ingredients from a recipe handed down by grandmother then finding a recipe from a culture using the same ingredients but with different spices to create something new for my family to enjoy.
My kitchen is the hub of my home like most families. I have learned more about my teenage kids over a big bowl of spaghetti than I would if we sat down to discuss their day in a more formal setting. I've always told my husband, I show my emotions in my food. I show love with a pot of collard greens, I may express excitement with Key Lime pie. And if I am pissed, I show him the big drawer next to the refrigerator where we keep the take out pizza menus.

Q: Any favorite chefs or food celebrities? Who inspires you?
A: My grandmother by far is the person that inspired me the most. She had 9 kid and got by on 44 dollars a week and loved and nurtured her family. There was never, ever a time that I can remember growing up and not having food to eat (good food at that). She made meals out of nothing. She feed an army of hungry people with little or nothing.

Q: Quick: if you had to eat something rig now and had only 3 minutes to get it ready, what would it be?
A: An oven-broiled Peanut Butter and Apple Jelly sandwich. OMG, it's the best. A thick layer of peanut butter, of course. Slather the peanut butter on one slice of the bread and just a thin layer of jelly on the other slice then place it under a broiler or toaster oven for a couple of minutes. The peanut butter gets all hot and toasty and the jelly melts right into the bread, and when you place them together, I swear I hear a song every time.

Q: What gives you the most trouble in the kitchen?
A: Rice! I know it might sound strange but for some reason I couldn't cook a good pot of rice. Either it would be too sticky and gummy or the outside would be cooked and the inside crunchy. Or the rice would burn on the bottom but still have water bubbling on the top. Now I own a rice cooker. Problem solved.

Q: What is your favorite kitchen tool?
A: My garlic peeler and my ceramic chef knife are by far the best things ever created. I use them every single day. My garlic peeler has become the center of some dinners at my home. My friends might walk into the kitchen and ask if there's anything I need help with and I will hand them some garlic and the peeler, and it keeps them busy. And the result of their efforts is I have garlic already peeled and ready to go for the next day. As for the knife, I took a knife skills class at a local cooking school and the chef suggested I try the ceramic knife. I fell hard for the knife; it was love at first use! I love it so much because it's lightweight and doesn't require sharpening but once every few years.

Q: Give us one of your favorite kitchen tips that you wish you'd always known.
A: Marinating adds so much flavor to your meat! Even if you only have time to let you meat marinate for 15 minutes, I would say never skip this step. Also, if you ever over salt your vegetables, use sugar to balance out the saltiness. It almost like a magic wand.
_______________________________________

Thank you, Shelisa!

Shelisa's blog, Big2Beautiful, is studded with more of her incredible recipes and mouthwatering photos. There are also lovely snippets of her family life, including her adorable children (yes, I just called teenagers adorable). There's such a wide variety of deliciousness in there, so be prepared to get hungry!