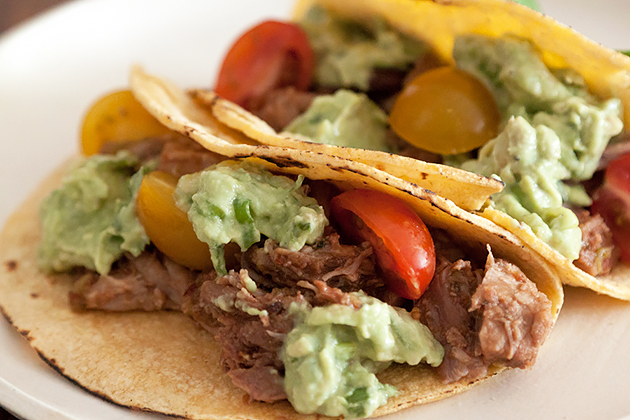 It's Taco Tuesday-plus-one-day! I can't believe we haven't talked about tacos yet. I've been remiss! I don't know anyone who doesn't like tacos, and those that don't probably just haven't had a proper one. Tacos are the perfect lunch grab or quick weeknight meal, and they're diplomatic, too: they aim to please everyone and address all possible needs. Gluten-free? Make sure you have corn tortillas. Vegetarian? Just serve extra vegetables or beans. Tacos are also fun to assemble, so all you have to do is provide a few choices for fillings and garnishes, and everyone can customize their own.
So let's talk tacos today! Tell us:
What's your favorite way to enjoy tacos?
I love making homemade tortillas. They are so simple to make, and put store-bought tortillas to shame. I make corn tortillas, and all you need is masa harina (or fresh masa if you can get it), water, and a touch of salt. If flour tortillas are your preference, I think the Homemade Flour Tortillas we featured here are a good place to start.
As for fillings, I'm very easy to please: I like them all, thank you very much. Carne asada street tacos, fish tacos, chorizo, sweet potato tacos, breakfast tacos, you name it. If it'll fit in the tortilla, I'm not afraid to eat it. Well, maybe except goat cheese. I'm still working on that.
How about you? What's your favorite way to enjoy tacos? Do you have any tips for making taco night extra special? Any secret sauces or favorite garnishes? Any strong opinions about what belongs and what doesn't belong in a taco? Come share with us below!