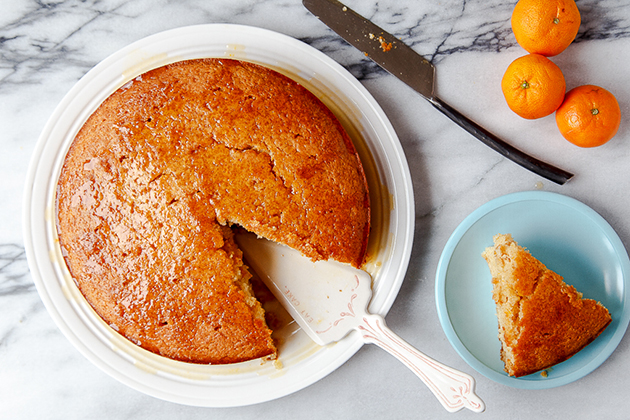 When someone says "healthy dessert," I immediately grab two forks. To me, a healthy dessert means I can eat double the servings! Wait, is that not the point? It's funny what a little whole wheat flour and yogurt in a cake will make you do.
This Whole Wheat Clementine Yogurt Cake by Tasty Kitchen member Stephanie was a must-make for me. I think I grabbed the last bag of clementines for the season last week, and I saved 4 little clementines for this cake. It was so worth it, too!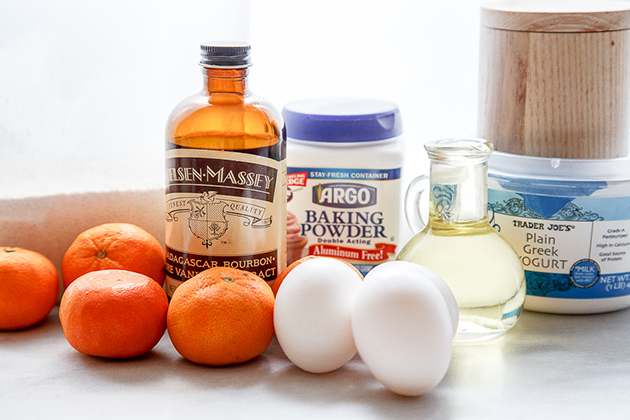 First up, our simple, couldn't-be-easier ingredients that you probably already have in your pantry: whole wheat flour, regular all-purpose flour, granulated sugar, Greek yogurt, vanilla, vegetable oil, eggs, salt and baking powder. Oh, and clementines! Pretty standard cake stuff, right?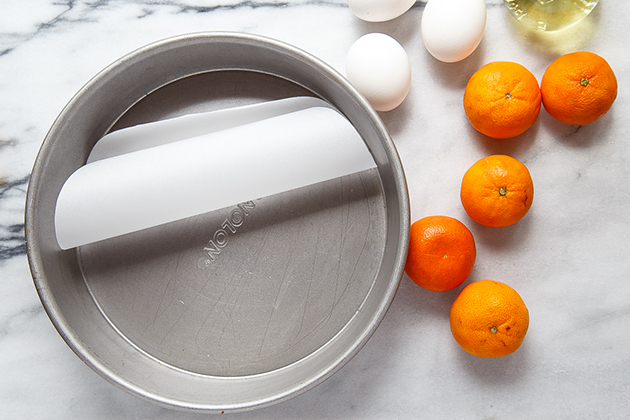 Stephanie recommends spraying and lining your pan with parchment paper. I say good call, Steph. When a recipe calls for the extra step of lining the pan, don't ignore it. It could be the difference between a pretty cake that releases perfectly from the pan and a cake that comes out in pieces!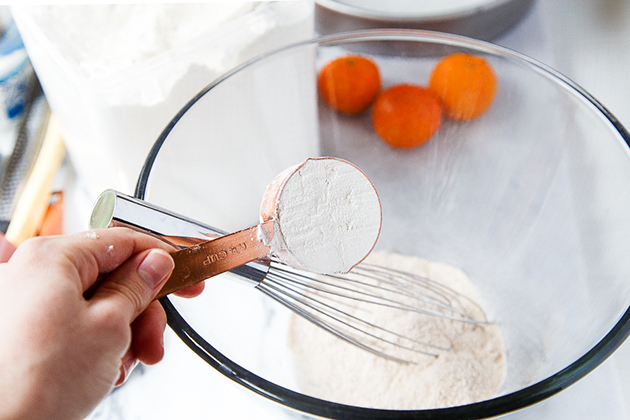 Now we can get to work on the cake. First, we combine the dry ingredients: both flours, salt, and baking powder. Whisking it together helps break up the clumps and eliminates the pesky step of sifting.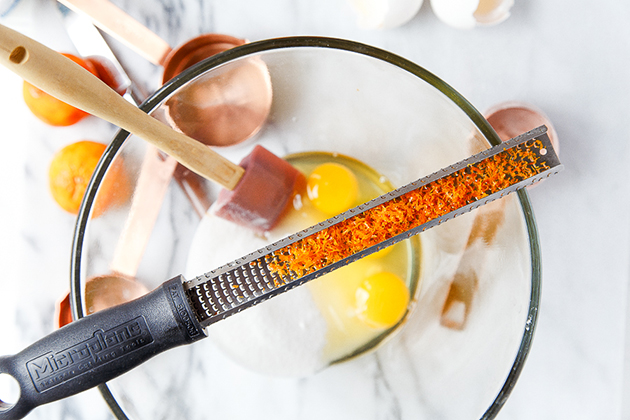 Once the dry ingredients are combined, it's time to mix the wet ingredients together: combine the sugar, eggs, clementine zest, and vegetable oil. Anytime a recipe calls for citrus zest I get excited, because I know it's going to be delicious. The zest is where all the flavors of the fruit hide. It's full of oils that will perfume your whole cake.
I use a microplane grater to get as much zest off each clementine as possible. I only scraped my knuckles twice doing this. Totally worth it, though.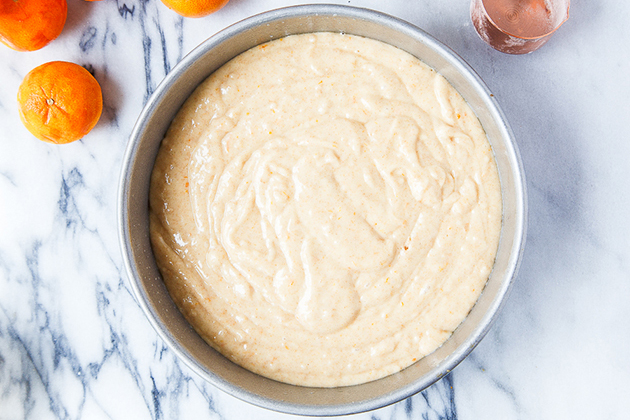 After folding together the wet and dry ingredients until no streaks of flour remain, I scraped the batter into the pan. Off it went into a 350ºF oven for 45 minutes. Steph recommends 40-50 minutes, which means you should start checking on the cake at 40 minutes. Increase the baking time by a few minutes until the cake starts to pull away from the edges of the pan, and a toothpick inserted comes out clean with only moist crumbs clinging to it. For me, 45 minutes was the magic number, but every oven is different, so be patient!
Now we're getting to the good part: after a 10 minute cool-off session, the cake comes out of the pan. Remember those clementines that we scraped bald for their zest? It's time to juice them into a pan with some sugar! We're going to poke holes all over the cake and pour this warm, sugary juice on top. Yep. It's exactly as good as it sounds.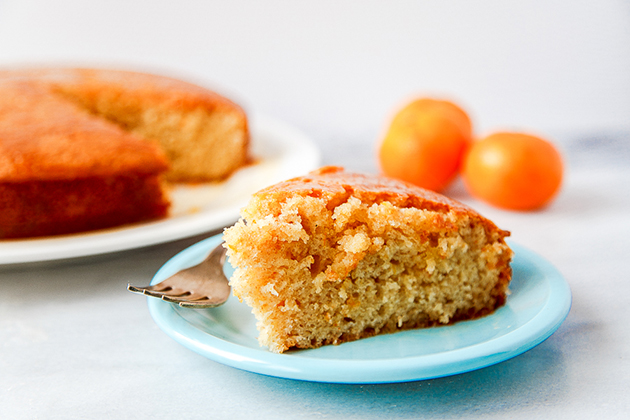 I ate a slice of this cake warm, and then another slice cool. And then another slice warm again just to figure out my preference. Before I could have another slice cool, the cake was gone. I guess we'll never know the best way to serve it, but one thing is for sure: this cake is delicious! Thanks for a great lightened-up cake recipe that I can feel good about eating at snack time, Steph! Check out her TK recipe box and visit her beautiful blog, Girl Versus Dough, for more of her masterpieces!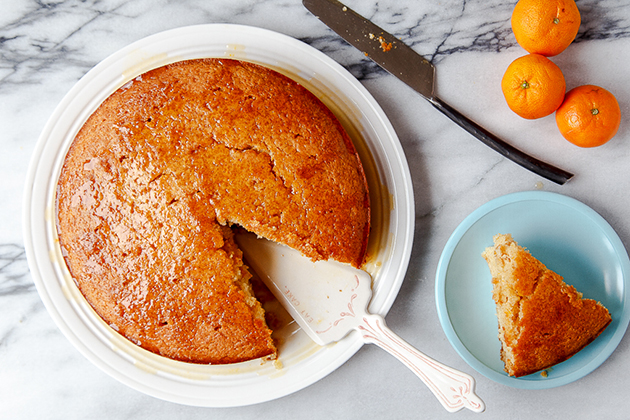 Printable Recipe
See post on Stephanie | Girl Versus Dough's site!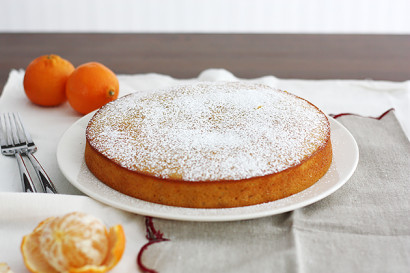 Description
A tangy, sweet, moist and citrus-y cake for breakfast, dessert, snacking or all of the above.
Ingredients
¾ cups Unbleached All-purpose Flour
¾ cups Whole Wheat Flour
2 teaspoons Baking Powder
½ teaspoons Salt
1 cup Plain Greek Yogurt
1-⅓ cup Granulated Sugar, Divided
3 Eggs
2 teaspoons Grated Clementine Zest (from About 2 Clementines)
½ teaspoons Vanilla
½ cups Vegetable Oil
⅓ cups Fresh-Squeezed Clementine Juice
Powdered Sugar, For Sprinkling (optional)
Preparation Instructions
Heat oven to 350F. Grease bottom and sides of a 9-inch round cake pan with baking spray with flour; line bottom with parchment paper and spray paper.
In a large bowl, whisk together flours, baking powder and salt until combined. In a separate large bowl, whisk together yogurt, 1 cup sugar, eggs, clementine zest and vanilla until combined.
Slowly stir wet ingredients into dry ingredients until just combined. Stir in oil. Pour batter into prepared pan.
Bake 40 to 50 minutes until a toothpick inserted in the center comes out clean. Cool 10 minutes in pan, then carefully remove from cake pan and transfer to a cooling rack with a rimmed baking sheet or clean sheet of parchment or wax paper underneath.
Meanwhile, cook the clementine juice and remaining ⅓ cup sugar in a saucepan over medium heat, stirring until sugar is dissolved. Carefully pour evenly over warm cake on cooling rack. Cool completely.
Sprinkle top with powdered sugar before serving, if desired.
Recipe adapted from Ina Garten.


_______________________________________
Growing up in a food-obsessed family and spending a lot of time in her Aunt Rose's restaurant as a child, Christina was destined to be a fantastic cook. She's a private chef during the day, but cooks for two at home. Like all of us, she has a sweet tooth that needs indulging after dinner. After becoming frustrated with the lack of recipes made for two, especially in the dessert category, she took matters into her own hands and started her blog, Dessert for Two, to share how she takes Southern classics (and a few surprises) and turns them into recipes that are perfect for just a few people. Her first cookbook, Dessert for Two, is now available at your favorite bookstore.