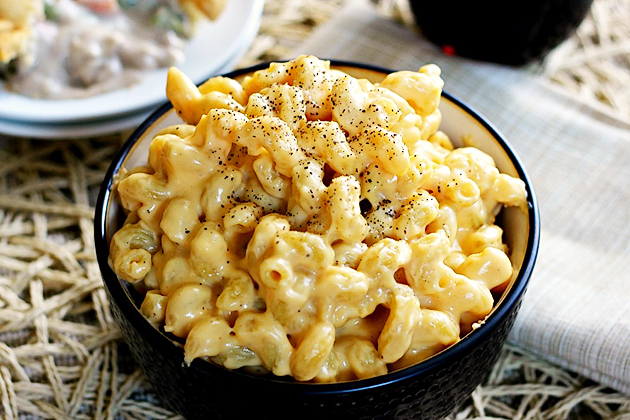 It's Friday! The weekend is here, tax day is behind us, and we've been good lately, talking about all kinds of healthy spring vegetables. Let's reward ourselves, shall we? Preferably by way of carbs, smothered in melted cheese. It's the right thing to do, trust me.
Mac and cheese is high up on the list of most folks' comfort food list, and for a reason. It's warm and filling, and fairly simple, too. Just good old pasta, bathed in a creamy rich cheese sauce. It doesn't get much better than that. It's no wonder even kids so easily fall under its spell.
Let's look at a few versions of this well-loved dish, and maybe you'll be inspired to break out this classic at some point over the weekend! Just click on the photos to get the printable recipe.
Stovetop Macaroni and Cheese. Let's start with mac and cheese at its simplest, the one most of us fell in love with at first bite. This is just pasta with butter, cheese, and a bit of cream, all in one pot. No blue box required.
Creamy Stovetop Macaroni and Cheese Let's add one more step and get into Mac and Cheese 101: macaroni, bechamel sauce, and cheese. This pairs the traditional cheddar cheese with mozzarella, giving it some extra creaminess. You can also use it as a starting point and start playing with the cheese combination using your favorites, like smoked cheese (a personal favorite). Or go bolder with a touch of blue cheese or gorgonzola! You can play with the bechamel sauce too, making a beer cheese sauce to create an updated grownup version.

Lobster Macaroni and Cheese. Add lobster and make it your main course! This one features Vermont cheddar with Maine lobster, which is all kinds of New England genius to me. If seafood isn't your thing, just add whatever you're craving! Chicken, taco meat, pulled pork, chili, bacon … or veggies like spinach, artichokes, or tomatoes if you want to keep it vegetarian. Better yet, create a mac and cheese bar with a variety of mix-ins and let everyone make their own!
Baked Gnocchi Mac n' Cheese. Mess with the "macaroni" part of the dish and use gnocchi instead!
Macaroni and Cheese Stuffed Jalapeno Peppers Wrapped in Bacon. Got leftovers? Stuff them into jalapeno poppers! Or make fried mac and cheese balls. So good, you'll want to make extra just so you can have these.
I hope we've given you ideas for your weekend menu, and if you have a favorite variation of mac and cheese, we'd love to hear it! And now, if you'll excuse me, I'm off to my refrigerator to check on my cheese supply. I must have bookmarked half a dozen recipes, and may be short a pound or four of cheese.
Have a great weekend, everyone!